Electric bicycles are no longer taboo in the cycling world. There's a whole host of reasons why you should buy one and make your cycling journeys more enjoyable. So let's see what the best electric bikes on the market are!
E-bikes make your commute faster and easier, help you climb hills more efficiently before a DH run, and allow you to ride longer on your road bike.
They'll also help you recover from an injury or haul a big load of cargo that your legs are not strong enough to pull.
Whatever the reason, there's A LOT of choice in the e-bike world right now. There's a high chance you'll find exactly what you're looking for, but making the right choice might take some time.
Check out our recommendations for the best electric bikes in these SEVEN popular categories: E-HYBRID | E-MTB | E-ROAD | E-CITY | E-CARGO | E-FOLDING | E-WOMEN
Let's get electrified!
Ebike Classes Explained
---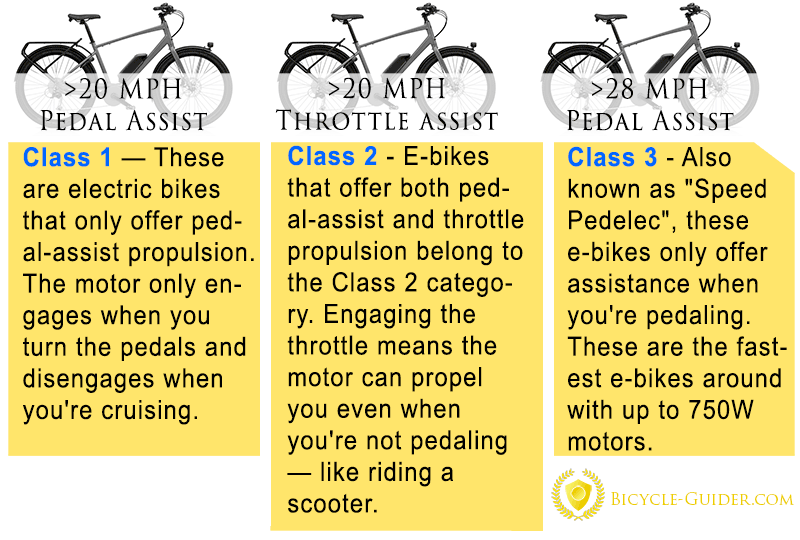 Not all electric bicycles are made the same. Depending on the type of assistance (pedal-assist or throttle) they offer and the maximum speed they can develop, e-bikes are separated into three classes:
Class 1 — These are electric bikes that only offer pedal-assist propulsion and can go up to 20 mph. The motor only engages when you turn the pedals and disengages when you're cruising.
Class 2 — E-bikes that offer both pedal-assist and throttle propulsion belong to the Class 2 category. Engaging the throttle means the motor can propel you even when you're not pedaling — like riding a scooter. Their top speed is also capped at 20 mph.
Class 3 — Also known as "Speed Pedelec", these e-bikes only offer assistance when you're pedaling, but develop speeds of up to 28 mph. These are the fastest e-bikes around with up to 750W motors.
Class 1 and Class 3 e-bikes are allowed in most countries around the world without the need for a license. Some countries require a license for Class 2 e-bikes and the speed of throttle assistance comes with a 20 mph limit.
See our guide on how to choose an electric bike to learn more.
How Did We Choose These Best Electric Bikes?
---
We analyzed the market and chose the top electric bikes from different manufacturers. Then we compared the price to the value and picked the best electric bikes in each of the SEVEN categories.
You can see that the most expensive bike isn't our number one choice all the time; however, it is still one of the winners because it found a place on our list.
The reason is that we compared "how much bike you get for the money." Of course, in most cases, a higher price will get you better electrical components, but that difference doesn't make one bike much better than the other.
Higher-end bikes have better components, but the balance between what you get and what you pay might be better with cheaper ones.
More information follows below with our suggested models!
Jump to E-HYBRID | E-MTB | E-ROAD | E-CITY | E-CARGO | E-FOLDING | E-WOMEN
---
Best Electric Hybrid Bikes
---
1. Rad Power RadCity 5 Plus
Consider also: Best electric bike value-wise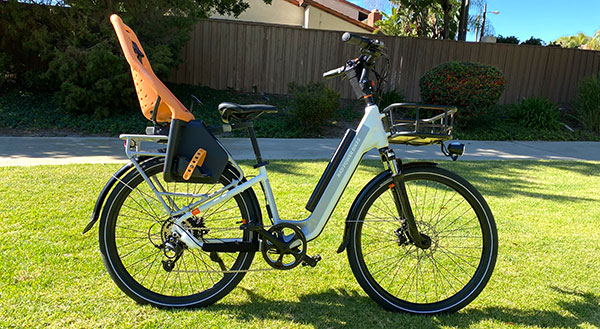 MSRP $1,999
Class: Class 2
Speed & Battery: 20mph & 672Wh

Features: Pedal-assist and throttle modes, front and rear lights, mechanical brakes, aluminum frame, 7-speed drivetrain
Rad Power Bikes has established themselves as a bicycle company that definitely knows what they are doing when it comes to making e-bikes. They are known for offering unprecedented value at the lowest possible price.
As a result, you can get RadCity 5 Plus a capable and well-built city electric bike. It differs from other models we've shown you so far in that it has both pedal-assist and throttle modes with 5 levels.
Therefore, if you don't feel like pedaling, a 750W rear hub motor can help you go up to 20 mph. This direct drive motor is combined with a 672Wh battery that can be charged by regenerative braking.
RadCity 5 Plus is also known for its utilitarian nature. This is an e-bike built to be used every day, for commutes to work, to the shop, or running errands around the city.
It comes fitted with front and rear lights, fenders, a kickstand, and a rear rack, but you can add other accessories to make it even more useful.
For added comfort, RadCity has a fork with 50mm of travel and grippy 26″ x 2″ puncture-resistant tires that ensure traction in all weather conditions.
If you have a limited budget, but you want a bike to commute, use and abuse every single day, RadCity 5 Plus is a choice you can't go wrong with.
---
2. Lectric XP 3.0
Excellent price, even better components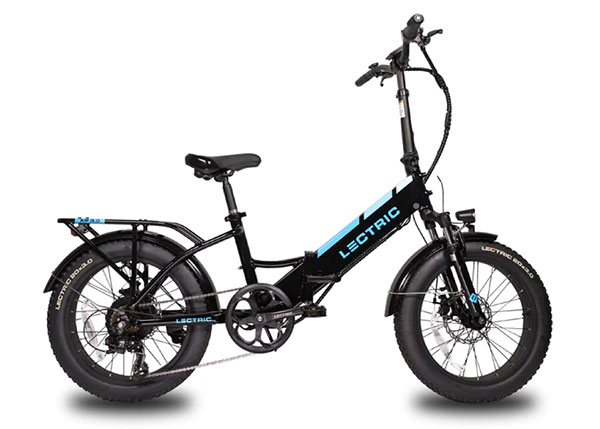 MSRP $1,099
Class: Class 2 and 3 capabilities
Speed & Battery: 20 or 28 mph & 460 Wh

Features: 1000W peak motor power, easy to fold, 330 lbs carrying capacity, suspension fork
Full Review of the Brand
Lectric XP 3.0 is an affordable folding e-bike that will completely change the way you look at urban cycling. Even though this is one of the cheapest bikes on our list, it still comes with some very attractive features.
This is a Class 2 e-bike that features a pedal-assist system that sustains speeds of up to 20 mph. However, if you want to go faster than that, you can increase the top speed to 28 mph in the settings and turn this Lectric into a class 3 e-bike.
It's equipped with a 500W (1000W+ Peak) brushless geared rear hub motor and a 460 Wh integrated battery. The battery charges fully in just 4-6 hours and provides you with up to a 45 mile range.
Lectric XP 3.0 comes out of the box with fenders, lights, and a rear rack, so you're ready for urban riding in all conditions.
This bike is tiny, but it's suitable for heavier riders due to its impressive 330 lbs carrying capacity. If comfort matters to you, you'll like the plush saddle that absorbs a lot of road vibrations and smooths out your ride.
Lectric XP 3.0 also sports a geared drivetrain and Tektro mechanical disc brakes, both of which are perfectly suited for city riding.
Buy it if you want a compact electric folding bike that does not cost much but has everything to meet your daily cycling and commuting needs.
See Our Top E-Folding Bike Picks
---
3. Trek Allant+ 8S
First Place! Best Hybrid Electric Bike Overall
MSRP $4,450
Class: Class 3
Speed & Battery:  28 mph & 625 Wh

Features: Lightweight aluminum frame, mid-drive motor, hydraulic brakes, multiple accessories
Full Brand Review of Trek Bikes
Trek Allant+ 8S is a high-performance electric hybrid bike ready for any task. When designing it, Trek had urban commuters and serious recreational riders in mind, which is evident in the high-quality Bosch electronics and the long list of accessories.
The Allant+ 8S boasts Bosch Performance Speed mid-drive motor with 85 Nm of torque and a 625 Wh battery with more than 60 miles of range. The motor is sufficiently strong to quickly reach and maintain the 28 mph top pedal assist speed and make short work of most hills.
At 56 lb, this ebike is not really lightweight, but it's not too heavy either. Thanks to the Shimano Deore 10-speed rear derailleur, you'll be able to pedal home even if you run our of battery in the middle of your ride.
What we like the most is the 4-piston Shimano hydraulic disc brakes, which are often seen on heavy-duty cargo electric bikes.
The $4,450 price tag is significant, but it's good to know that you won't have to make any further investments. The Allant+ 8S comes with fenders, a rear rack, a kickstand, and front and rear lights, so you're all set for year-round commutes.
---
4. Vvolt Sirius
Best Maintenance-Free E-Bike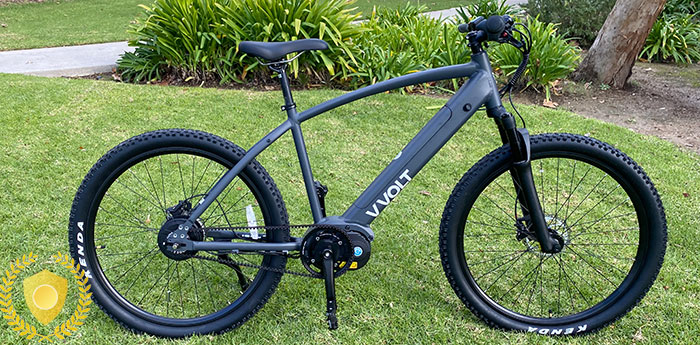 MSRP $2,799
Class: Class 1
Speed & Battery:  20mph & 375Wh

Features: Lightweight aluminum frame, a mid-drive motor, front suspension, wide tires, hydraulic brakes
Full Review of Vvolt Bikes
Vvolt Sirius is a reasonably priced electric bicycle relative to the quality of parts it delivers. All of its electric components have MPF written on them, which is an assurance of reliability and durability.
The mid-drive motor sustains speeds of up to 20 mph, and the 375 Wh battery can get you 60 miles away from your home.
Vvolt Sirius's motor is controlled via the LCD screen that shows you ride statistics and lets you choose functions. It even features a Walk Assist function to help you push the bike uphill.
But that's not all the tech you get. Vvolt Sirius comes with a comfy saddle, front suspension, torque sensors, and hydraulic disc brakes.
If you want to pedal on your own and get a good workout, you can do so with an Enviolo TR rear hub that offers stepless shifting and a 380% gear range. It's combined with a carbon drive belt instead of a chain, so the entire drivetrain is maintenance-free and guarantees durability.
Make sure to buy Vvolt Sirius if you don't want to break the bank but still want to get the best electric components.
---
5. Schwinn Coston DX
Runner up! Best electric bike for both men & women
MSRP Check on Amazon
Class: Class 2
Speed & Battery: 20mph & 360Wh

Features: 250W brushless geared motor, 45-mile range, mechanical disc brakes, 7-gears
Full Overview of Schwinn Bikes
Schwinn Coston DX is a remarkable electric bike that will surprise you with its price and impress you with its components.
When it comes to the electric parts, the Schwinn Coston boasts a 250W brushless geared motor. Added to that is the 360Wh battery. While this isn't much, this class 2 electric bike has enough power to satisfy all your needs.
See more: Overview of Schwinn Electric Bikes
Schwinn Coston DX has a step-through frame, so it perfect for both men and women.
When you're not in need of assistance, you can pedal smoothly on your own thanks to Microshift's 7 gears.
Apart from speed, this bike also boasts comfort. While this bike comes without suspension, the 27.5″x2.6″ tires dampen the impact. Paired with Schwinn's very own saddle, the comfort of this bike is superb. Talking about the saddle – there's a hidden compartment for your keys and phone.
If you use this bike for commuting, you'll get a lot of value out of the rear rack and integrated front and rear lights. Fenders and a kickstand are included as well.
---
Best Electric Mountain Bikes
---
6. Trek Fuel EXe 9.5
Best Electric Mountain Bike Overall
MSRP $6,500
Class: Class 1
Speed & Battery: 20 mph & 360 Wh

Features: Carbon frame, 150mm of travel, Shimano Deore 12-speed, mid-drive motor
The Fuel EXe 9.5 is a high-performance electric mountain bike that, as Trek says, "bridges the divide between ebikes and traditional bikes." It features a lightweight and compact mid-drive motor and battery that have minimal negative effect on ride quality.
The TQ-HPR50 250W motor has 50 Nm of torque, so it will help you climb more easily and reach higher speeds on flat straights. The 360Wh battery provides 2-5 hours of assisted riding, but with an optional 160Wh extender you can increase that to 3-7.5 hours.
As a capable trail bike, Trek Fuel EXe 9.5 boasts a RockShox 35 Gold RL 150mm fork and a RockShox Deluxe Select+ RT rear shock, so you can take it down some sketchy descents.
The 12-speed Shimano Deore drivetrain is slightly underwhelming at this price, but it's a tried and true option that shifts precisely and crisply. On the other hand, the 4-piston Shimano MT4100 hydraulic disc brakes are a perfect choice.
Last but not least, the Fuel EXe 9.5 rolls on 29″ x 2.5″ Bontrager XR5 Team Issue tires provide ample traction on chunky surfaces and the frame has room for one bottle cage.
Get the Trek Fuel EXe 9.5 if you want an electric mountain bike that's just as capable as traditional trail mountain bikes.
---
7. Rad Power Bikes RadRover 6 Plus
Best e-fat Tire Bike For Lighter Rides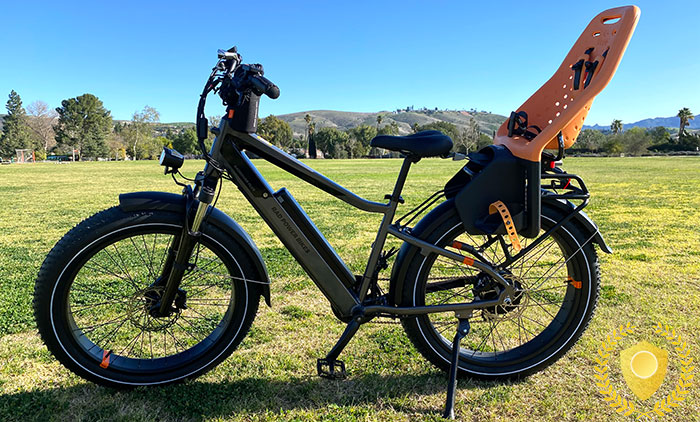 MSRP $1,999
Class: Class 2
Speed & Battery: 20mph & 672Wh

Features: Shimano Acera 1 x 7 drivetrain, Tektro Aries mechanical disc brakes, 80mm front travel, 26″ x 4″ tires
FULL REVIEW of Rad Power Bikes
Rad Power Bikes' RadRover 6 Plus is the cheapest of the e-MTBs we recommend and offers plenty of fun and performance for the money. It was easy to decide to include it on our list.
The Rad Power Bikes RadRover electric MTB has entry-level front suspension suitable for light trails and everyday exploitation.
The front suspension fork has 80mm of travel and features lockout and preload adjustment. Therefore, you can lock it if you ride on paved roads and fine-tune it to fit your weight and preferences.
When you come face to face with a hill, just engage the 750W motor which will assist you up to 20mph with pedal-assist and throttle. The 672Wh battery has the longest possible range and comes rated for 800 charge cycles. That means it will last you for years before it loses capacity.
Rad Power Bikes RadRover rolls on gnarly Kenda Juggernaut 26″ x 4″ fat tires and brakes using Tektro Aries Mechanical disc brakes paired with 180mm rotors. It's also fitted with a 1×7 Shimano Acera drivetrain, so it's capable of some climbing with and without the electric boost.
Have fun downhill and take a break uphill with this Rad Power Bikes fat bike model! 
---
8. Santa Cruz Heckler 9 C S
Best Full Suspension E-Bike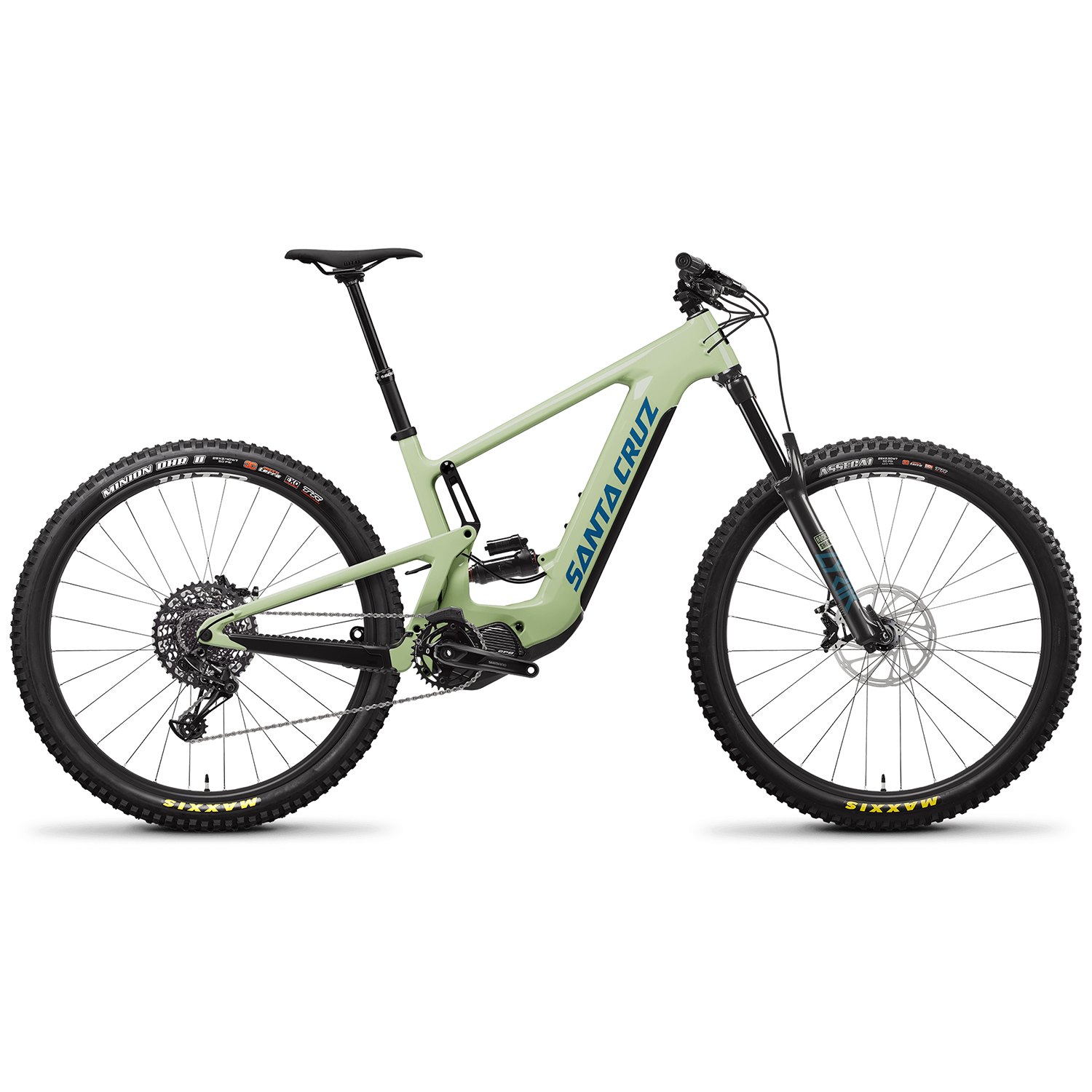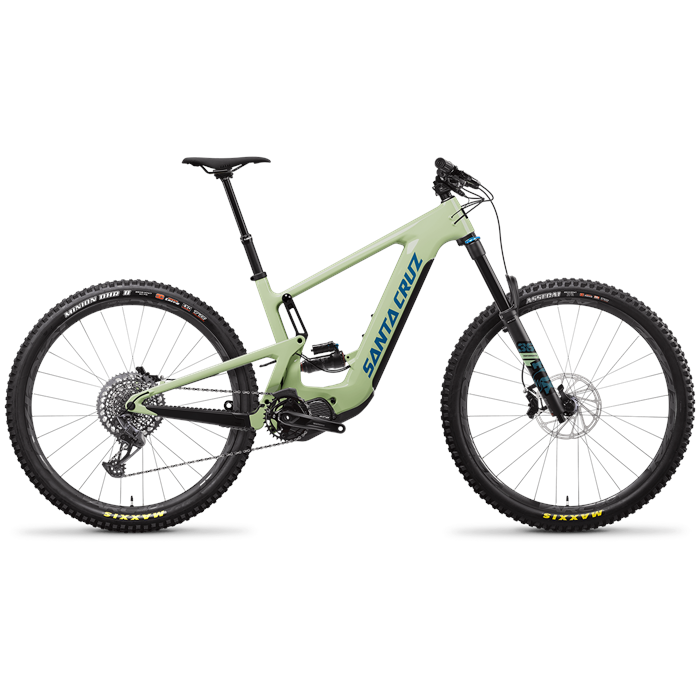 MSRP $10,399
Class: Class 1
Speed & Battery: 20mph & 720 Wh

Features: Powerful motor and battery, 12-speed drivetrain, full suspension
Full Review of Santa Cruz Bikes
Santa Cruz Heckler C S is an all-mountain/enduro eMTB powerful Shimano electronics. This is a serious MTB ready to ride anywhere, the capabilities are endless. Therefore, it's suitable for many different applications.
First things first, this e-bike boasts an EP8 motor together with a massive 720Wh battery integrated into the down tube.
Thanks to this setup, you can expect a 20 mph maximum assisted speed and a large range, depending on how much assistance you use.
Other notable features include hydraulic disc brakes, an SRAM GX Eagle 12-speed drivetrain, a 29″ x 2.4″ Maxxis Minon DHR II DoubleDown rear tire, and a 29″ x 2.5″ Assegai EXO+ front tire. The Santa Cruz Heckler is one of the most equipped electric bikes we have seen when it comes to performance components.
The suspension is a Fox 36 Float Performance 160mm fork and the RockShox Super Deluxe Select+ 150mm shock. We recommend this electric bike to anyone who wants an e-bike that offers pure performance.
---
9. Norco Sight VLT C1
Consider also: Best Long-Travel E-Mountain Bike
MSRP $8,999
Class: Class 1

Speed and Battery: 20 mph & 450-900 Wh
Features: Powerful Shimano Steps motor, SRAM Eagle X01/GX drivetrain, Oneup dropper post
If you want the best of the best in terms of mountain biking and electric assistance, you need the Norco Sight VLT C1 e-bike.
This bike is truly wild when you take it out on the trails thanks to the massive 2.4″ Maxxis Dissector and 2.5″ Assegai tires and 29″ wheels. Moreover, the Fox 36 Float Factory GRIP2 fork has 160 mm of travel, whereas the Fox DPX2 Factory rear shock has 10mm less.
As this is an FS beast made for descending, the powerful Shimano EP8-RS motor will help you get to the top of the hill more easily. The high power battery will definitely allow you to get a few more runs before the end of the day.
Norco Sight VLT C1 has a steep price that is fully justified the moment it starts flying up the steepest of hills.
These Shimano electronics are paired up with an easy-to-read display that keeps track of your statistics and lets you know how much more assistance and range you have left.
The SRAM Eagle 12-speed drivetrain is the best you can get. It's perfect for pedaling on rough terrain even when your battery runs out of juice.
The electric Norco Sight also comes with a Oneup adjustable dropper post that quickly gets the saddle out of your way when you decide to storm a descent.
It's the best full-suspension e-MTB we could find for the money!
---
10. Aventon Aventure.2
Best Electric Bike For Mountain Newbies
MSRP $1,999
Class: Class 3
Speed & Battery: 28mph & 720Wh

Features: Front suspension, 26″ wheels and 4″ tires, 8-speed gearing, torque sensor
Full Review of Aventon Bikes
The idea behind electrified mountain bikes is to help you conquer stubborn hills more easily and leave you with more energy to hit descents and have more fun.
Aventon Aventure.2 is one of the best e-bikes out there with an impressive 720Wh battery capacity and 750W motor.
Aventon Aventure.2 comes equipped with a 750W motor that offers plenty of torque and assists your pedaling up to 28 mph.
The battery has a 720Wh capacity, so you'll get up to 60 miles of range per charge. That's more than enough for a very long day on the trails.
The Aventure.2 has a few other smart solutions as well. Its aluminum frame is optimized for 26″ wheels wrapped in 4″ fat tires, which gives you excellent ability on the roads and a trail.
This bike also comes with an 80mm front suspension fork that is more than capable of tackling some lighter terrain.
A few other smile-inducing features include an 8-speed groupset, a thumb throttle, and hydraulic disc brakes.
If someone tells you that e-bikes are boring, just tell them to give Aventon Aventure.2 a try – it's one of the best electric bikes out there!
---
---
11. Santa Cruz Skitch
Winner! Top-notch electric gravel bike
MSRP $6,299
Class: Class 3
Speed & Battery: 28 mph & 430Wh

Features: Lightweight Carbon frame, hydraulic brakes, SRAM Apex Eagle groupset
The Skitch is one of Santa Cruz's top gravel e-bikes. Thanks to its powerful electric components, everyone can enjoy it and ride it longer than ever before.
Santa Cruz Skitch is a high-end carbon gravel ebike that comes with an efficient Fazua Ride 60 motor unit with 250W of nominal power and a 430 Wh battery.
As this is a Class 3 ebike, the motor will assist your pedaling up to 28 mph. But, this beauty can certainly go much faster than that if you push it.
Santa Cruz Skitch is a pricey high-quality electric gravel bike that can tackle a wide variety of terrains.
If you run out of battery, you can easily propel the Skitch e-bike with a SRAM Apex Eagle drivetrain and slow down with hydraulic disc brakes.
The Santa Cruz Skitch electric gravel bike has a balanced geometry, which means it is incredibly fast with and without electric assistance while staying comfortable on longer rides.
If you want to ride faster and longer than ever before and you're ready to pay for it, the Skitch will make your heart race.
---
12. Trek Domane+ AL 5
Second by a hair's breadth! Strong performer
MSRP $3,500
Class: Class 1
Speed & Battery: 20 mph & 250Wh

Features: 250W HyDrive, 250Wh battery, lightweight aluminum frame
Trek Domane+ AL 5 is a serious road e-bike that will help you ride longer than you have ever dreamed possible.
It's built around a premium aluminum frame and fitted with a Shimano 105 11-speed drivetrain, as well as Shimano RT66 disc brakes with 160mm rotors.
The heart of the Domane+ AL 5, however, is its 250 Wh battery. The battery powers a HyDrive 250W hub motor with 40 Nm of torque. Most e-bikes in this price category have weaker drive units.
On such long rides, comfort is of utmost importance. Trek Domane+ AL 5 has Bontrager R1 700x32c tires and a comfortable saddle to achieve that.
Finally, this bike also features a capable rear rack that you can use to carry a child seat or panniers filled with groceries or other necessities.
If you want your electric road bike to power your rides and have the most modern technology, Trek Domane+ AL 5 won't disappoint you.
---
13. BMC Roadmachine 01 AMP X Two
Podium finisher! High-end tarmac machine
MSRP $7,300
Class: Class 1
Speed & Battery: 20 mph & 350 Wh battery

Features: SRAM Rival eTap AXS components, hydraulic brakes, premium carbon frame
At first glance, BMC Roadmachine AMP Two does not look like an e-bike. All of its electronic parts are well-hidden, so it takes riding it to figure out its possibilities.
This bike's name makes a lot of sense — it will help you complete centuries even when going uphill or after you become too tired to continue.
A combination of a Mahle X20 motor and 350 Wh battery will help you reach a 20 mph speed and maintain it for a long time. That does not make BMC Roadmachine the fastest out there, but endurance is its strong side.
You can control how fast you want to go and how much assistance you require using three assistance levels, which allow you to get more range out of the battery.
In addition to these high-quality electric components, The Roadmachine also uses SRAM Rival eTap AXS components, as well as SRAM Rival eTap AXS HRD disc brakes. That makes it fast and capable on every road.
So if you're in the market for a reasonably-priced best electric road bike with an excellent money-to-value ratio, we can safely recommend the BMC Roadmachine.
Interested in more electric road bikes? See our list of the best electric road bikes.
---
Best Electric Bikes for City Cycling
---
14. Ride1UP 700 Series
Best electric bike for everyday commutes!
MSRP $1,695
Class: Class 3
Speed & Battery: 28mph & 672Wh

Features: Comfortable upright geometry, aluminum frame, hydraulic discs, fenders, rear rack, kickstand, front and rear lights
Ride1UP 700 Series is the ultimate bike for daily commutes. This simple, yet effective e-bike will impress you with the type of technology you get for a very reasonable price.
First of all, the rear hub geared motor is supplied by Shengyi, which is a brand that is known to offer excellent value at a low price. Many bikes in this price range are powered by these electronics. It offers 500W of nominal power and 60Nm of torque.
This is a Class 3 e-bike with pedal-assist and throttle, so it has a 28 mph top speed in pedal-assist mode and 20 mph top speed when you engage the throttle.
Daily urban commutes don't get much better than when they're done on Ride1UP 700 Series. Ditch your car and save money twice.
The battery has a 672Wh capacity, which is almost the highest you can get out there. If your commutes are not too long, you might get away with one recharge per week. According to the company, you can expect a range of 30-50 miles, depending on how you ride.
The 27.5″ x 2.4″ Schwalbe Super Moto tires are praised as comfortable and grippy. They're neither too narrow nor too wide for city riding.
You also get a rear rack and a kickstand, which really improves the practicality of this bike.
To sum up, Ride1UP 700 Series is any urban commuter's dream bike due to its accessible price, attractive looks, and decent components. It is definitely one of the best electric bikes out there!
---
15. Aventon Level.2
Our 3rd Choice! Best city e-bike for men and women
MSRP $1,799
Class: Class 3
Speed & Battery: 28mph, 672Wh

Features: Comfortable geometry, geared hub motor, 60-mile range, and a charge time of 4-5 hours.
The Aventon Level.2 is one of the best-selling city e-bikes that you can get on the market. It is a solid and stable bicycle that's characterized by comfort and practicality.
It's not as flashy as some other models on this list, but it still looks very good. If you live close to a beach or you like cruising casually, it will fit the image well.
First of all, the Level.2 is a Class 3 pedal-assist e-bike with a decent 500W motor and a 672Wh battery. It will provide you with solid assistance in most daily situations, allowing you to carry more weight and cover longer distances.
One of the Level.2's biggest selling points is the internal hub motor with Shimano gearing attached.
What daily commuters will like the most is definitely the Shimano gearing which gives silky smooth gear shifting alongside the motor's power. It requires very little maintenance, that's why this is so easy to own this bike.
So, if you want a comfy electric ride with wide tires, flat handlebars, and a step-over frame, the Level.2 is one of the best electric bikes for both men and women.
---
Best Cargo Electric Bikes
---
16. RadWagon Electric Cargo
Our Favorite! Best-equipped cargo e-bike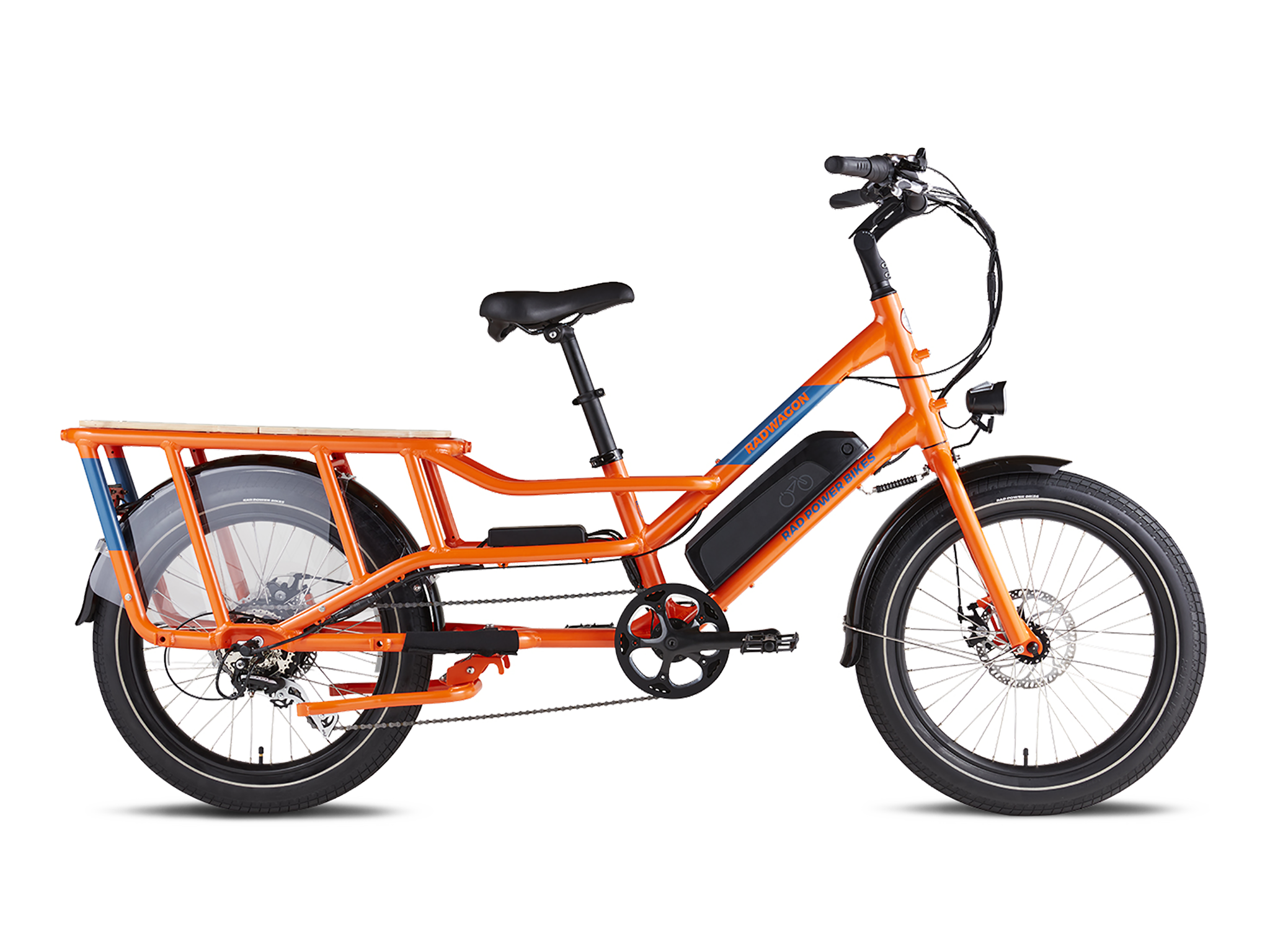 MSRP $1,999
Class: Class 2
Speed & Battery: 20mph & 672Wh

Features: Robust aluminum frame, sturdy cargo area, wooden footrests, regenerative breaking, fenders, lights, throttle
Rad Power Bikes make affordable, high-quality bikes and the RadWagon electric cargo bicycle is no exception. Most e-cargo bikes out there cost thousands of dollars, but RadWagon remains well below the $2,000 mark.
Its frame is constructed using lightweight 6061 aluminum, whereas the fork is made from durable steel. However, due to oversized tubing, the weight of the entire bicycle is 73 lbs, which seems rather heavy.
But, that weight makes more sense when you realize that RadWagon has everything you'll ever need to transport heavy cargo loads.
Rad Power's RadWagon offers practical value that's almost impossible to find elsewhere at the same price point.
The rear rack is integrated and incredibly sturdy and comes with wooden footrests that double as cargo support. You can ride it day or night, rain or shine, thanks to front and rear fenders and lights.
The RadWagon electric cargo bike is powered by a 750W, 80 Nm motor and a 672Wh battery, so it can go strong for a long time. It features a throttle as well, which will make it easier to start pedaling under a heavy load.
It rolls on Kenda K-Rad 26″ x 2.3″ that are perfect for the job. They offer puncture protection so there's no need to worry about flats.
If you buy RadWagon, we recommend making it truly your own by equipping it with some of the numerous available accessories: baskets, panniers, kids seats, passenger seats, handrails, and so much more.
---
17. Benno Boost E 10D
Runner up! Best practical design and maneuverability
MSRP $5,499
Class: Class 3
Speed & Battery: 28 mph & 500 Wh

Features: Utility design, strong aluminum frame, one-size-fits-all frame, wide 24″ tires, Bosch motor and battery
Many cargo e-bikes have one big problem — they're clunky and hard to maneuver. That's why Benno Boost E 10D was invented. It is characterized by excellent mobility that's not impaired by the ability to carry very heavy loads.
Related: Full Review of Benno Bikes
It's a great bike that has a huge amount of different purposes from taking the shopping home to even the kids to school. Being electric too, it's a very easy bike to ride and use.
To haul a big load, you need a lot of power. The 250W Bosch Performance motor certainly does not lack it and it can supply it for a long time thanks to a 500 Wh battery. You can keep notice of all the most important stats on the high-tech display.
Benno Boost E 10D has a sturdy aluminum frame with a low-step design and tall handlebars that makes it easy to get on and off and puts the rider in an upright position.
This bike also comes with a comfortable padded saddle and wide 24″ x 2.6″ tires that grip well and absorb bumps and vibrations.
It is equipped with powerful hydraulic disc brakes and a Shimano Deore 1×10 drivetrain. This will allow you to climb hills more easily and descend with confidence.
See More: Best Cargo Bikes
If you want a cargo bike that handles like a MTB even when fully loaded, Benno Boost E 10D is just the thing you need.
---
18. Aventon Abound
Strong Third Pick! Excellent for riding with kids
MSRP $2,199
Class: Class 2
Speed & Battery: 20mph, 720Wh

Features: 750W motor, 440lb capacity, hydraulic disc brakes, torque sensor
The Aventon Abound has a name that stands out from the bunch, and its looks follow the same pattern. This bike is built to carry heavy loads, so everything on it is designed to support that idea.
Aventon Abound's essence is a lightweight aluminum frame coupled with a 50mm travel suspension fork. The frame is pretty low, so it's easy to get on and off even when the bike is fully loaded.
The Abound comes with an integrated rear rack which is impressively long. You can easily fit two small kids back there.
This e-bike is powered by a 750W motor and a 720Wh battery, both of which provide enough juice to move heavy loads. In addition to the rider, this bike can haul 440lb of weight.
The Abound also has small 20″ wheels, which makes steering easier. The 2.4″ puncture-resistant tires are perfect to keep the riding comfortable but quick.
Related: Review of Aventon Bikes
Another great part about Aventon's Abound is that it comes with lights and fenders.
---
---
19. Engwe Engine Pro
Our Top Choice: Best Folding Fat E-Bike
MSRP $1,500
Class: Class 3
Speed & Battery: 28 mph & 624Wh

Features: 750W motor, 50+ mile range, foldable frame, mechanical disc brakes, 7-speed drivetrain
See More: Full Review of Engwe Bikes
Engwe Engine Pro is our top choice for the best foldable electric bike out there. It offers unprecedented value for money that's reflected in the electric parts, mechanical components, and practicality.
This is a Class 3 e-bike which means it will assist you up to 28 mph with pedal assistance or throttle. It has a geared rear hub motor that develops 750W of power, which is more than enough for everyday commutes and moderate hills.
Engwe Engine Pro is a versatile electric machine that doesn't cost much and is perfect for daily commuting or off-road exploring.
The 624Wh battery is placed in the top tube, so the weight is balanced out nicely. It is removable and replaceable, plus it will give you up to 50 miles of assistance per charge.
Engwe is made with a foldable aluminum frame and has a front suspension fork that greatly improves comfort. The drivetrain offers 7 wide-range gears to help you pedal more efficiently.
Its 20″ x 4″ tires should also be mentioned, as they give you more than enough traction and allow you to traverse paved and unpaved roads.
This bike also has front and rear fenders, a rear rack, a kickstand, and front and rear lights. Therefore, it is ready for commutes at any time of the day.
If you want a super-affordable and practical foldable e-bike that's the best in its class, go for Engwe Engine Pro!
---
20. RadExpand 5 Electric Fat Bike
Number One Choice! Best Electric Fat Folding Bike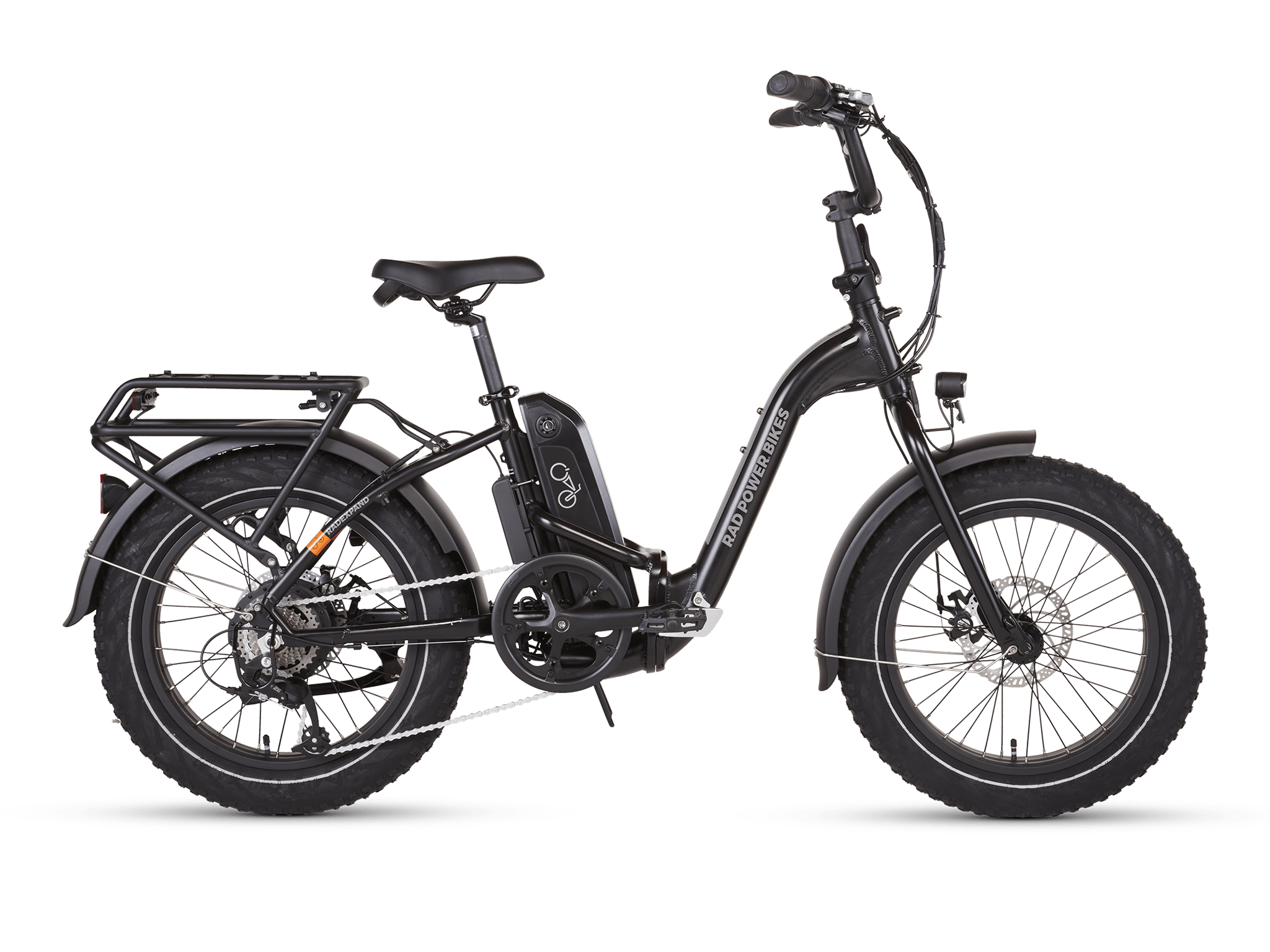 MSRP $1,549
Class: Class 2
Speed & Battery: 20mph & 750Wh

Features: Folding frame, wide 4″ tires, 672Wh battery, front and rear lights, twist grip throttle, mechanical discs
Folding bikes are extremely practical, but electric folding fat bikes are on another level! Rad Power Bikes RadExpand 5 has fat tires and folds into a compact package. That makes it our top choice in this category.
When you decide to take it for a spin, the 672Wh battery will give you a 45-mile range, which is pretty decent. The 750W geared hub motor is capped at 20mph and operates in pedal-assist and throttle modes. Thus, RadExpand 5 can assist your pedaling, or it can go on its own.
RadExpand 5 is built so it takes as little space as possible when not in use. It folds down small in three easy steps, so you can carry it in your trunk, on the train, or store it in your apartment.
This compact bicycle is capable of dealing with paved and unpaved roads thanks to 20″ x 4″ CST BFT tires with puncture protection. This is a rare folding e-bike with fat tires.
The out-of-the-box version comes with front and rear fenders and front and rear lights that are powered by the battery.
This small bike packs a strong punch and will help you commute longer and ride more often.
---
21. Lectric XPremium
Just Behind! Premium In Every Sense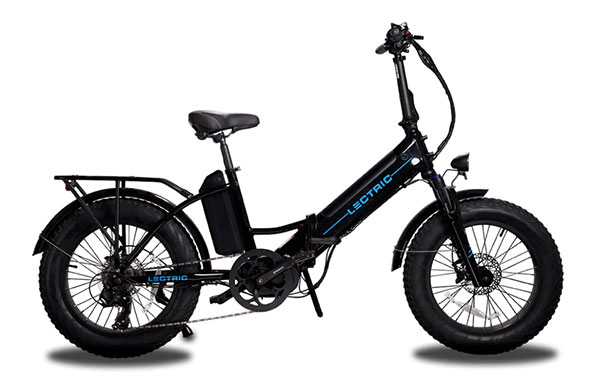 MSRP $1,999
Class: Class 2 or 3
Speed & Battery: 28 mph & two 48v batteries

Features: 7-speed drivetrain, aluminum frame, up to 100 mile range, 20″ wheels, 4″ tires
Lectric XPremium is a premium folding electric bike (for the price range). Like all other Lectric folding bikes, it folds down in a few easy steps, so you can catch the train even when you're running behind.
This bike is not the lightest. Picking up a 75 lb electric bike can be difficult, but remember, the bike can carry up to 330lbs of weight (up to 55lbs on the rear rack).
The XPremium is built around a powerful aluminum frame with an 80mm suspension fork. The 500W (800W peak) is more than powerful enough to get you going as fast as 28 mph. Now pair that with two batteries.
Lectric XPremium also features a 7-speed drivetrain and quality hydraulic disc brakes. Ride it day or night, rain or shine thanks to a set of fenders and front and rear lights that shine brightly.
All in all, this is a classic and classy-looking folding electric bike that you should buy if you want maximum carrying capacity from a folding bike.
---
22. Aventon Sinch.2
Unique frame design
MSRP $1,799
Class: Class 2
Speed & Battery: 20mph, 672Wh

Features: Pedal-assist and throttle mode, 55-mile top range, LED headlight, aluminum frame, mechanical disc brakes
Aventon Sinch.2 e-bike is all you need for a comfortable urban ride and a commute. This is one of the rare folding e-bikes that features solid components at a low price.
The Sinch.2 e-bike folds down quickly into a compact package.
A special feature of Aventon Sinch.2 is that it can be ridden in pedal-assist and throttle modes. Therefore, you can keep the bike going even when you're not pedaling.
The company states that the maximum range this bike can achieve is 55 miles, thanks to a massive 672Wh battery. That's it's enough for a few days of riding or commuting to work.
If you choose to ride with no assistance, you'll be dealing with an 8-speed drivetrain, which is good for flat and hilly terrain. Pick up too much speed, and a set of mechanical disc brakes will slow you down efficiently.
If you're on a tight budget, but you want the best electric bike that folds, the Aventon Sinch.2 e-bike is a great choice with a powerful motor and long range.
---
Best E-Bikes for Women
---
23. Charge Comfort 2
Our First Pick! Women's Ebike with Best Accessories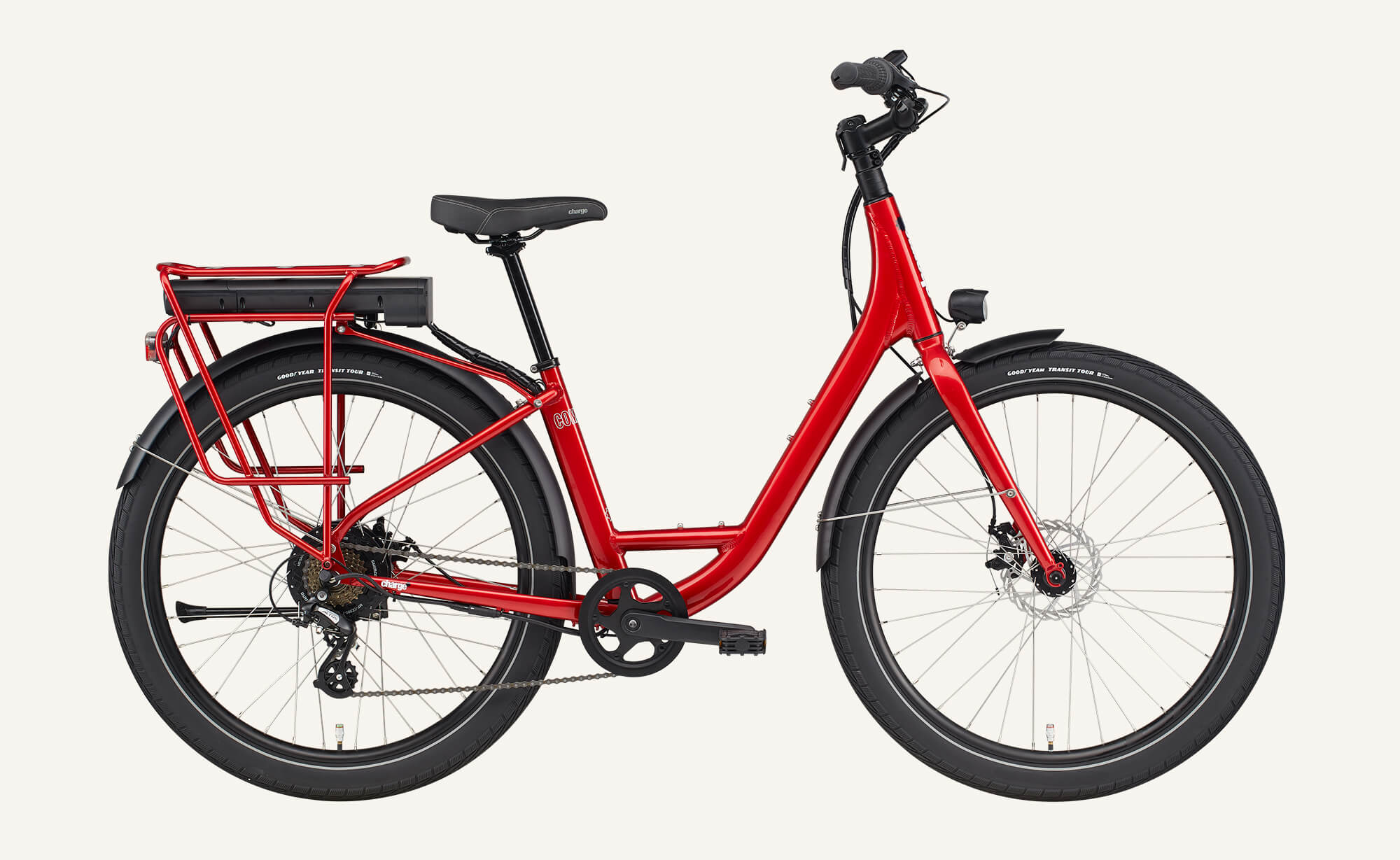 MSRP $1,899
Class: Class 2
Speed & Battery: 20 mph & 418 Wh

Features: 50-mile range, 250W Bafang motor, aluminum frame, throttle, foldable features
If you want to ride in an urban area and enjoy maximum practicality and comfort, you need a bike that can do that. The Charge Comfort 2 is the right e-bike for the job. This well-equipped electric bicycle has a 50-mile maximum range and excellent accessories, especially considering the price!
The Comfort 2 boasts a 418 Wh li-ion battery and a 250W Bafang rear hub motor that will support your pedaling up to 20 mph with PAS and throttle, which makes this a Class 2 e-bicycle. Unfortunately, the battery is not integrated but sits on the rear rack, which is a slightly outdated solution.
The Charge Comfort 2 hybrid e-bike features a 7-speed drivetrain that's perfectly suitable for long commutes and leisure rides on any type of terrain.
Other notable parts include mechanical disc brakes and wide 27.5 x 2.6" tires that greatly improve comfort and safety.
The Comfort 2 is made with a lightweight aluminum frame that features low stepover clearance. It allows riders to easily get on and off the saddle. That works wonders for confidence.
Depending on how much support you need, you can choose one of the multiple available pedal-assist levels using the display controller or simply press the thumb throttle for maximum power. Use them wisely to extend the range as much as possible.
The Charge Comfort 2 also has excellent accessories, such as a foldable handlebar for easier storage, lights, fenders, a rear rack, and a kickstand. Therefore, you don't need to invest even a cent over the original price to ride it year long!
---
24. Priority Bicycles Current
Second Best in Class! No-maintenance carbon belt
MSRP $3,299
Class: Class 1 to Class 3
Speed & Battery: 20mph (to 28mph) & 500Wh

Features: Shimano Inter-5 internal hub, ultralight aluminum frame and fork, hydraulic brakes, 650B tires
Priority Current is a remarkable women's electric bicycle outfitted with some of the best technological solutions money can buy at the moment. Technically, this is a unisex bike, which means it fits men and women equally well.
The main characteristic of Priority's bicycles is that they all come with a carbon belt instead of a chain and an integrated gearbox. 
The carbon belt on Priority Current requires no maintenance and will not stain your pants or your dress because there's no grease on it.
The Current is fitted with a Shimano Inter-5 internal hub with five smooth gears. That's comparable to a hybrid bike gearing, so it will take you up any hill and it's super-easy to use.
In terms of electronics, this bike is powered by a 500W mid-drive motor and a 500Wh battery. The estimated range is 30-60 miles, depending on how you use the assistance.
Priority Current also boasts front and rear fenders, as well as front and rear lights. This bike is best suited for urban settings, but its 47mm wide WTB tires can deal with unpaved roads as well.
Get it if you want a maintenance-free bike that you can ride every day for miles and years to come.
How to Choose the Best Electric Bike
---
Motor & Watts
There are two kinds of motors you can see on best electric bikes: Mid-drive and Hub motors. Both of them have pros and cons and are usually seen at different price points.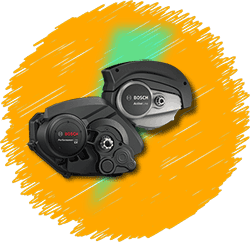 Mid-drive motors are more popular and they're fitted around the bottom bracket. They transfer power directly through the cranks as you're pedaling. More expensive mid-drive motors have sensors that analyze the amount of pressure you put on the pedals, providing assistance accordingly. Cheaper models have motion sensors so the motor kicks in whenever the pedals are turning.
Hub motors can be seen on both front and rear wheels, though it's much more common to see them on rear wheels. They're an excellent choice as well, as they give you the possibility to use them in throttle and pedal-assist modes. But not all hub motors have this option. Plus, they can be retrofitted on "regular bikes" as electrical kits.
When it comes to Wattage, most e-bike motors provide 250W, 500W, or 750W of power. In this case, as you can guess, the more you have the faster you can go and you can also tackle steeper hills.
Learn more: Guide to Electric Bike Motors
Battery & Watt-Hours (Wh)
Pretty much every e-bike sold nowadays has a lithium-ion battery that provides the best energy density compared to the price and the weight penalty. Most batteries are placed on or inside the downtube, but they can also be placed on the rear rack.
The capacity of a battery is measured in Watt-hours (Wh), and the most common values you can see associated with e-bikes are 250Wh, 300Wh, 400Wh, or 500Wh. The more, the merrier.
Most electric bikes nowadays have a minimum range of around 20 miles, whereas the maximum range can exceed 100 miles if all conditions are right.
But still, most electric bikes can only reach the promised range by riding rather slowly. So when looking for the best electric bike to tick all the boxes, this is something to remember.
Things that can affect the range of the battery include the weight of the rider, the level of pedal assistance, temperature, terrain, and so on.
Generally, modern e-bike batteries are rated for 800 full charge cycles, but you need to know how to charge an e-bike properly in order to maximize its lifespan and get the most out of every charge cycle.
Other Features of Best Electric Bikes
As electric bikes are rising in popularity, manufacturers are paying more attention to other features that improve comfort, safety, and battery efficacy. Some common trends seen recently include:
Integrated batteries with locks
Manufacturers are starting to develop ways of integrating batteries more seamlessly into the frame and making them as inconspicuous as possible. As a result, a lot of e-bikes nowadays look like regular bikes at first glance.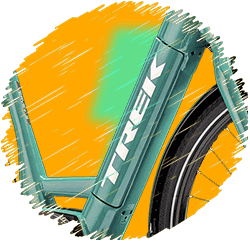 Nowadays, batteries are also removable and lockable. As batteries are pretty vulnerable to theft, it's important that you can lock them and deter thieves from trying their luck.
Being able to remove a battery also means you can take it with you and protect it from theft, but you can also carry your bike more easily up stairs or simplify battery charging.
Wide tires
Electrical components add a lot of weight to the bike, so e-bikes are quite a bit heavier than regular bikes. Wider tires are important to provide additional support, as well as improve grip and comfort.
Most e-bikes are used for urban rides and commutes (there are exceptions, though), so wide tires make it easier to navigate less-than-ideal city streets, potholes, and traffic.
Battery-powered lights
Most e-bikes come with battery-powered lights that turn on the moment you power up the bike. This is a fantastic feature to have, but it's not a dealbreaker as you can install a lighting system on your own.
Disc brakes
As e-bikes are heavier than regular bikes and develop high speeds more easily, they need good brakes to slow down and stop. Disc brakes have become the go-to solution as they provide the most braking power and the best precision.
Rear rack and fenders
Finally, a lot of city e-bikes come with a rear rack and fenders out of the box. Again, as with lights, it's not a dealbreaker if yours doesn't. You can add these easily on your own without spending much.
Frequently Asked Questions
Final Thoughts About Best Electric Bikes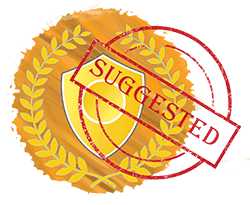 E-bikes are phenomenal inventions that are slowly beginning to
change the face of cycling
. More and more people are starting to commute by bicycle to work or to the store. Moreover, people with injuries or bad joints can continue riding bikes and stay fit and healthy.
If you need an e-bike to continue cycling or you think it would be fun to have one, you can consider one of our favorite models we've shown you above, depending on the category you're interested in.
E-bikes often cost more than regular bikes, but they're invaluable to the right people, and it's very easy to fall in love with them once you get a taste of pedal assistance.
Let us know what you think about e-bikes in the comments below!