If you're looking to spend less time in your car or public transportation and add the fun factor to your daily commute, one of these Best Electric Commuter Bikes might be for you.
It's no wonder that the sales of e-bikes have gone through the roof in recent years.
People in big cities are getting fed up with sitting in traffic jams needlessly every day and instead opting for a better solution—electric commuter bikes.
Electric commuter bikes are a viable way of getting from home to work and vice versa for a number of big reasons.
Thanks to the motor and battery they can maintain a pretty high average speed, they let you easily squeeze through traffic, and allow you to save money on gas and maintenance in the long run.
If you don't know where to start, check out our recommendations for the best electric commuter bikes out there.
We've thoroughly analyzed the selection on the market and included high-quality models with powerful electronics that are built to last.
Tern Vektron D8 (Folding)
Best Choice for Multi-Modal Commutes
MSRP: $2,799
Battery / Motor: Bafang 250W motor and 400Wh battery
Personally, we've recently been quite obsessed with folding bicycles. Unfortunately, folding commuters are still quite underrated. In our opinion, not enough people realize that these bikes are ideal for commuting, especially when they also come with an electric motor and battery, like Tern Vektron D8.
This is a high-quality folding electric bicycle with a Bafang M400 mid-drive system that delivers 250W of assistance and 80Nm of torque. The 400Wh battery is located behind the seat tube and delivers an enviable 25-56-mile range. Tern Vektron D8 will assist you up to 20 MPH, as it is a class 1 e-bike.
Lightweight aluminum frame that folds down in a matter of seconds.
High-quality Bafang mid-drive motor that delivers 250W and 80Nm of torque.
Shimano Claris 8-speed drivetrain.
Schwalbe Big Apple 20″ x 50mm tires.
Weighs ~50 lbs. and fits riders from 5'3″ to 6'5″ tall.
Even though it comes with tiny 20″ wheels, the motorized bicycle rides fast thanks to a Shimano Claris 8-speed drivetrain and an electric motor. The ride feel is smooth and natural and the assistance from the mid-drive unit is not jerky.
This bike also features Shimano hydraulic disc brakes, so it stops on a dime even in wet weather. It's nicely equipped with accessories as well, so you get fenders, a rear rack, a kickstand, and front and rear lights.
The reason we love folding e-bikes so much is that they are incredibly practical. You can travel fast on them thanks to the motor, but you can also fold them and put them in your car trunk or take them on a train. Storage is made easy as well, so give Tern Vektron D8 a try.
Priority Current E-Bike
Maintenance-Free Option w/ Gates Carbon Belt
MSRP: $3,299
Battery / Motor: 500W mid-drive motor and 500Wh battery
One of the reasons why many people don't commute on a bicycle is because they loathe bike maintenance or think it's rocket science. If you're one of these people, then the Priority Current e-bike could change your mind.
This is a low-maintenance electric commuter with a sealed Shimano 5-speed internal gear hub and a Gates carbon belt drive instead of a traditional chain. These are parts that you don't need to adjust, clean, or lubricate at all. Though you could give your bike a wash with soap and water from time to time.
500W mid-drive motor and an integrated 500Wh battery pack.
Class 1 (can be increased to class 3) e-bike with a 20 MPH maximum speed and 30-60 miles of range.
Gates carbon belt drive and Shimano 5-speed internal gear hub.
Tektro hydraulic dual-piston brakes.
Plush 650B tires guarantee comfort on city streets.
This electric bicycle comes with a 500W mid-drive motor that develops up to 140Nm of torque, which is quite a bit. The bike ships as Class 1, but you can change it to Class 3 by increasing the max speed to 28 MPH in the settings if your local laws allow it.
Other features that make this one of the best choices for commuters include fenders, front and rear lights, a kickstand, and powerful disc brakes. You can also install a rear rack to carry all the necessities or attach a child seat.
If you get Priority Current, all you need to do is hop on and ride, day in and day out.
RadWagon 4 Electric Cargo Bike
Best Electric Cargo Bike w/ 350 lb. Capacity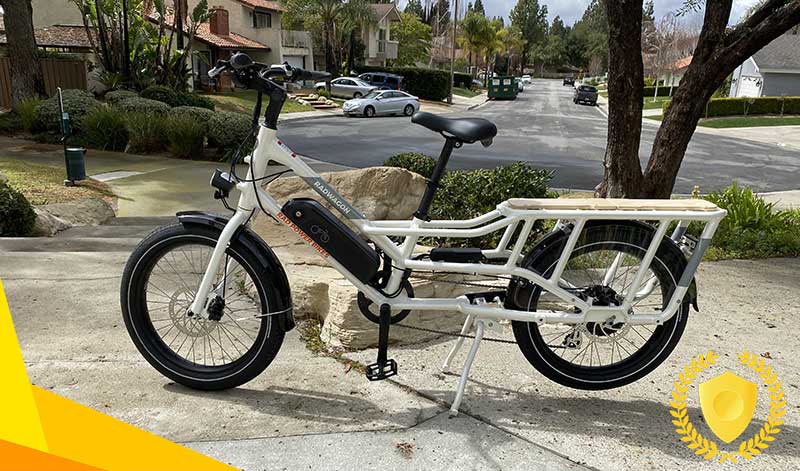 MSRP: $1,699
Battery / Motor: Bafang 750W motor and 672Wh battery
Rad Power Bikes' RadWagon has become one of the most popular electric cargo bikes in the US by far. A cargo e-bike is not the first thing that comes to mind when you think about commuting, but this is a great choice for a number of reasons.
RadWagon is powered by a lively Bafang rear hub 750W motor and a high-capacity 672Wh battery that can easily pull you and any cargo you need to carry. You can load this e-bike with up to 350 lbs (including the rider) on the long integrated rear rack.
Custom-made 22″ x 3″ tires can navigate paved and unpaved roads.
Shimano Acera 7-speed drivetrain helps when climbing hills.
Comes loaded with practical accessories for everyday commuting.
The 750W motor will assist you up to 20 MPH for up to 45+ miles.
The integrated rear rack packs lots of cargo and can be customized.
If you need an e-commuter bike to take your kids to school, RadWagon is the best choice as you can fit two child seats on the rear rack. Alternately, you can load the bike with two sets of full-size panniers.
RadWagon is ready for any type of ride as it comes with mechanical disc brakes, fenders, a wheel skirt, lights, and a dual-leg kickstand. You can add a bunch of other accessories as well to personalize it even more.
This is truly one of the most exciting electric commuters on this list, especially as it's available for a very reasonable price.
Lectric XP 2.0
Most Versatile Folding Electric Bike
MSRP: $1,099
Battery / Motor: 500W motor (800W peak) and 460 Wh battery
Lectric is a new e-bike company that's getting very good at making them. Lectric XP 2.0 is an affordable and practical e-bike that rides like a charm thanks to high-quality components and a high-quality build.
XP 2.0 is a foldable e-bike with a brushless geared rear hub 500W motor and an integrated 460Wh battery. This is a very capable electric system that does not cost much. It will assist you up to 28 MPH for 45+ miles, depending on how much assistance you use.
7-speed drivetrain for easier climbing.
Full fenders, lights, kickstand, and a rear rack improve practicality.
Quality electronics guarantee reliability and natural pedal assistance.
Mechanical disc brakes offer the necessary braking power.
20″ x 3″ tires provide grip and comfort.
One of the highlights of Lectric XP 2.0 is that it comes with bright front and rear lights which are a must if you plan to ride at night. Moreover, it also has full fenders, a kickstand, and a rear rack that you can use to carry your stuff.
In addition to this model, Lectric also makes the Step-Thru model with front suspension, available in black and white colors. It's ideal for women or short riders.
If you opt for Lectric XP 2.0, you'll also get a 70mm suspension fork and a 7-speed drivetrain, as well as powerful mechanical disc brakes. These are all important features for urban commutes.
To sum, we like Lectric XP 2.0 because it guarantees a comfortable and hassle-free commute in all types of weather.
Yuba Kombi E5
High-Value Urban Cargo Bike
MSRP: $3,200
Battery / Motor: Shimano STEPS E5000 250W with 36V/418Wh battery
Yuba's Kombi E5 is a quirky-looking urban electric cargo bike with a fitting name. It can move adults, cargo, and kids along city blocks with ease, thanks to powerful Shimano electric parts.
This is a class 1 e-bike that offers pedal assistance up to 20 MPH with a Shimano STEPS E5000 250W motor. It's paired up with a 418Wh battery, so you can expect a 20–50-mile range per charge, which is enough for up to a week of riding.
Kombi E5 also features a 9-speed Shimano drivetrain so it's easy to start pedaling even when fully loaded. It's easy to stop as well thanks to Shimano Alivio hydraulic disc brakes.
Chromoly frame and fork with a long integrated rear rack.
Three levels of pedal assist up to 20 MPH and a walking mode.
Integrated front and rear lights, fenders, rear rack, dual-leg kickstand, and wheel skirt.
Hydraulic disc brakes and a 9-speed Shimano drivetrain.
Versatile 24″ by 2.5″ tires and double-wall alloy rims guarantee comfort and durability.
Yuba Kombi E5 has a 440 lbs carrying capacity, including the rider. Therefore, you can easily load the rear rack with all of your necessities and take a long commute.
The assistance from the Shimano motor is natural and smooth and the system offers more than enough power even on very steep hills. You can get just the right amount of assistance thanks to the 9-speed drivetrain.
We can guarantee that Yuba Kombi has all you need to leave your car at home, pedal more, and have loads of fun on your own or with friends and family.
Pedego City Commuter
Classic Retro Geometry and Appearance
MSRP: $2,295 – $2,795
Battery / Motor: 350W motor with a 360Wh or 540Wh battery
The Pedego Electric Bikes City Commuter electric commuter bike is a reasonably-priced option with decent components for the money. Pedego is one of the biggest e-bike manufacturers in the US, with the biggest dealership network. Therefore, it is a great option for those who value customer support and timely service.
The Pedego City Commuter we have here is a Light Edition that proves sometimes less is more. This is a comfortable e-commuter with a raised, swept-back handlebar, a 350W rear hub motor, and either a 360Wh or a 540Wh battery.
Cruiser frame geometry provides a relaxed riding experience.
Built-in rear light and front reflector improve your visibility at night.
A soft dual-spring saddle provides you with comfort where you need it the most.
Five levels of pedal-assist and throttle help you get the right amount of help.
Also comes with mechanical disc brakes and a Shimano 7-speed drivetrain.
Pedego City Commuter is a class 2 e-bike meaning it has five levels of pedal-assist and a twist-and-go throttle. The system also includes a large LCD display that comes with a USB charger. This bike will assist you up to 20 MPH which is plenty for an efficient commute.
Pedego packs yet more value with mechanical disc brakes and a 7-speed Shimano drivetrain, which are very important considerations for urban commuting.
Pedego City Commuter is an excellent electric commuter bike with high-quality components. However, the main reason you might decide to buy it is definitely the customer service, which is easily the best on the market.
Cannondale Tesoro NEO X 2
The Biggest Cool Factor
MSRP: $4,100
Battery / Motor: Bosch Performance Line Speed 250W with 500Wh battery
Full review of Cannondale bikes
Cannondale Tesoro Neo X 2 is a zippy and quick-handling hybrid, equipped with a host of advanced features that you'll be happy to have on your daily commute. Being that it's made by Cannondale, it has a recognizable high-quality build and top-tier components.
This bike is available with either a step-over aluminum frame or with a step-thru frame, called Remixte. You can choose whichever suits you better, as both come with the same components.
Like most Cannondale e-bikes, Tesoro Neo X 2 is powered by a Bosch Performance Line Sport 250W mid-drive motor and a 500Wh battery. According to Cannondale, the maximum pedal-assist range is 52 miles, which is excellent. The motor is well-known for its power and natural ride feel.
Lightweight aluminum step-over or step-thru frame with a 100mm suspension fork.
Lively and reliable Bosch Performance Line Sport 250W motor with a 500Wh battery.
Shimano Deore 11-speed drivetrain and hydraulic disc brakes.
Excellent accessories, such as fenders, rear rack, kickstand, lights, and more.
Capable commute-ready Schwalbe G-One 29 x 2.25″ tires.
One of the reasons we included this bike on our list is because of the cool factor. It's painted in a simple black color, so it looks elegant and inconspicuous. It's perfect for business people or anyone who cares about their style.
Cannondale Tesoro Neo X 2 is ideal for commuting as it comes with bright lights, fenders, and a kickstand, so you have everything you need to do city rides in all imaginable conditions.
Tern GSD S00
Feature-Packed Folding Electric Cargo Bike
MSRP: $6,199
Battery / Motor: Bosch Cargo Line 85Nm motor with 500Wh battery
If your commute is exceptionally long or you simply want to have the most possible range and not worry about running out of battery, Tern GSD S00 is the best electric commuter bike for you. It holds two 500Wh battery packs and offers a range of up to 125 miles!
This is a compact electric cargo bike with some really impressive features and capabilities. It's powered by a Bosch Cargo Line 85Nm mid-drive motor that can haul up to 440 lbs of weight with ease.
Tern GSD S00 has a long, integrated rear rack that you can use to carry two child seats or a week's worth of groceries. This bike is also foldable, so you can collapse it to store it or transport it more easily.
Bosch Performance motor and a dual-battery system for a range of up to 125 miles.
Heavy-duty sealed Enviolo cargo groupset.
Magura MT5 4-piston hydraulic disc brakes.
Custom 20″ Schwalbe tires with puncture protection.
Long integrated rear rack, foldable design, and a 440 lbs. carrying capacity.
GSD S00 is practical for people who dislike bike maintenance. It comes with a sealed Enviolo Cargo Groupset with a 380% gear range. Therefore, you don't need to adjust it or lubricate it ever.
Tern GSD S00 is also equipped with fenders, a dual-leg kickstand, front and rear lights, chainguard, and an Abus wheel lock. Therefore, you can just hop on and ride from the moment you buy it.
Related: Best Folding E-Bikes
It's one of our favorites for moms with kids and big families that want to drive their cars less.
Co-op Cycles CTY e2.2
Unprecedented Comfort at a Bargain Price
MSRP: $2,399
Battery / Motor: Shimano E6100 250W and 504 Wh battery
Co-op Cycles CTY e2.2 is an affordable electric commuter bike that emphasizes style and comfort. Co-op Cycles is REI's company, so with this brand, you get recognizable quality for a much lower price.
This e-bike is built around a lightweight 6061-T6 aluminum frame with a 75mm SR Suntour fork. The frame is available in a unisex step-over design with a low-top tube, so there's plenty of standover clearance for riders as short as 5'0″.
Co-op Cycles CTY e2.2 boasts a Shimano E6100 250W, 60Nm mid-drive motor that offers pedal assistance up to 20 MPH through three assistance levels. The 504Wh battery is not huge, but it easily delivers a 50-mile range, which is enough for most commuters.
Shimano Alivio 7-speed drivetrain.
Powerful Shimano hydraulic disc brakes.
Comfy and versatile 27.5 x 1.95″ Schwalbe tires.
Reliable Shimano electric motor and battery for easier pedaling.
Available with handy accessories.
This Co-op Cycles e-bike comes equipped with a 9-speed Shimano Alivio drivetrain. As it is intended for city-wide commutes, nine gears are more than enough. It also sports a pair of hydraulic disc brakes, which will give you confidence when coming to a full stop at traffic lights or pedestrian crossings.
In addition to an attractive modern look, another one of CTY e2.2's main traits is comfort. This e-bike rolls on 27.5 x 1.95″ Schwalbe Big Ben tires and comes with an ergonomic saddle that will let you ride without having to wear bib shorts.
If you commute year-round, you'll be happy to know CTY e2.2 also boasts full-length fenders, a rear rack, lights, and a kickstand.
All of this makes Co-op Cycles CTY e2.2 ideal for casual riders who want to get from A to B in style and without fuss.
---
Best Electric Commuter Bikes For Women
---
Electra Vale Go! 9D EQ S
Simple and Well-Equipped Cruiser-Inspired Commuter
MSRP: $3,600
Battery / Motor: Bosch Performance Line Sport 250W motor with 500Wh battery
The bike we have here is the step-through version of Electra Vale Go! 9D, which is our top pick in the overall electric commuter category. That's why this e-bike is our top suggestion for female commuters as well.
It's a streamlined and affordable cruiser-inspired commuter that has lots of flashy features and doesn't cut any corners.
Electra Vale Go! 9D is powered by a Bosch Performance Line Sport 250W mid-drive motor with a 500 Wh battery. This combo will assist you up to 28 MPH and you can expect a 20–80-mile range, which is plenty for an average daily commute.
Comfortable, upright frame design with a swept-back handlebar.
Versatile 27.5 x 2.4 in. Bontrager tires, ideal for city streets and bike paths.
Powerful hydraulic disc brakes and a wide-range 9-speed Shimano drivetrain.
Pedal assistance up to 28 MPH with a Bosch mid-drive electric motor.
Built around a lightweight aluminum frame and fork.
Electra Vale Go! 9D is a bicycle for casual riders. It's an ideal choice for someone who doesn't take cycling too seriously but takes their commute, health, and well-being extremely seriously.
This electric commuter will provide you with more than enough assistance up steep sections, but you won't lose the satisfaction of riding a cruiser bicycle.
It's packed will most features and accessories you need daily, including fenders and bright lights, so you're ready to commute day and night, come rain or shine.
Cannondale Treadwell Neo EQ
Stylish E-Commuter w/ a Massive 70-Mile Range
MSRP: $2,650
Battery / Motor: MAHLE ebikemotion X35 250W with 250Wh battery
Cannondale Treadwell Neo EQ has a lengthy name but a lengthy list of attractive features as well. This is a fast and good-looking electric commuter bike with a low-step frame that's great for women, elderly riders, or anyone who prefers this type of frame.
We included this e-bike because we love the value you get for your money. It's equipped with a MAHLE ebikemotion X35 250W motor and a 250Wh battery, which is a really popular system on Cannondale e-bikes. The battery provides an amazing range of up to 70 miles, whereas the motor will assist you up to 20 MPH.
The e-bike is available in only one color—black—but the frame and tires have highly reflective accents that will make you more visible at night. The bright front and rear lights will help here as well.
Lightweight low-step aluminum frame paired with numerous accessories.
Shimano Alivio 9-speed drivetrain and hydraulic disc brakes perform well for commutes.
Reliable and powerful Bosch electronics guarantee good range and dependable assistance.
The Maxxis DTR-1, 650b x 47mm tires will smooth out rough roads, gravel, and potholes.
Helpful accessories include fenders, a front rack, kickstand, lights, and more.
Cannondale Treadwell Neo EQ is a very versatile bike thanks to 47mm wide Maxxis tires. It can be ridden on paved and unpaved roads equally well, so don't be afraid to make an occasional detour.
If you're looking for a modern electric commuter that will last and stay relevant for years to come, Cannondale Treadwell Neo EQ is an attractive choice and a smart investment.
Features To Look For In the Best Electric Commuter Bikes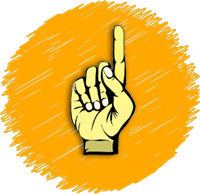 Purchasing an electric commuter bike differs slightly from choosing a regular bicycle for recreation or fitness.
Related: Best Commuter Bikes
The best electric commuter bikes need to meet a few important requirements:
The motor and battery need to be powerful, durable, and reliable.
It should have components that are dependable and able to withstand daily abuse.
The bike should come with all the important accessories to be practical for commuting.
It should be built with reliable and high-quality materials that last for years.
Before considering our recommendations for individual models, make sure to read through the buying guide below to understand your requirements better and get the best electric commuter bike for your personal needs.
To get a better idea about how to choose electric bikes, and what to look for, take a look at our in-depth electric bike buying guide.
Motor and Battery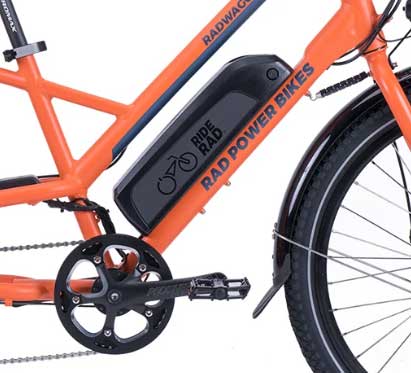 The motor power and battery capacity are rider-dependent. For example, a 250W motor might be sufficiently strong for one rider but another rider might require something with more oomph. The same is true for the battery.
Most electric commuter bicycles come with 250W or 500W rear hub or mid-drive motors, but there are those with 350W or 750W units as well.
A 250W motor will suffice if you live in a relatively flat area and you're not a heavy person. If your commute involves hills or you like having a snack too many, go for something stronger.
Make sure to pay attention to the torque as well—a 40Nm motor is significantly less lively than one with 80Nm.
Think about the class of the e-bike as well (in legal terms) and whether or not you need a throttle. Having a throttle makes it easier to start pedaling from a dead stop, but Class 2 e-bikes require licensing and taxes in some countries.
When it comes to the battery, you don't really have to worry too much. Batteries have come a long way, so most commuter bikes have a low range of at least 20-30 miles and a high range of 100+ miles. If your daily commute is longer than that, you can take the battery to your office and recharge it before your commute back home.
Related: Best Electric Bikes Of 2021
High-Quality Components
Apart from the powerful electric parts, the best electric commuter bikes should also come with high-quality mechanical components. Commuter bikes are typically ridden almost every day, so all the parts need to be durable enough to withstand the pressure.
Shimano and SRAM drivetrains with multiple gears are a must unless your commute is short or it doesn't involve any hills. If you dislike maintenance, look for a model with internal gears and carbon belts, as these systems require no lubrication or adjustments.
Related: Groupsets – SRAM, Shimano, Colnago, etc
If you plan to ride in bad weather, disc brakes will make a big change. They brake much more reliably in rain or snow compared to standard rim brakes. But if you want to save some money or you hate riding in the rain anyways, rim brakes will bring you to a stop as well.
Finally, the majority of popular commuter e-bikes also come with wider tires that improve comfort and grip. Ideally, these tires should also have a puncture-resistant layer because the last thing you want to do is have a flat when you're late for work in the morning.
Accessories
In our opinion, the best electric commuter bike should have the following accessories:
Fenders
Racks
Battery-powered lights
Bell
Kickstand

Apart from taking you from point A to point B, your commuter bike should also be able to carry all of your belongings. That's why it's important to have a rear or front rack or a basket. You can use the rack to carry panniers, strap your backpack, or even attach a child seat and take your kids to school.
The best electric commuter bike should also be practical regardless of the weather or the time of the day. That's why it's important to have full-length front and rear fenders and battery-powered lights. You can then ride it at night and even if it's raining.
If your commute takes you through busy city streets, we recommend getting a bell as well, to be able to warn other people around you about your presence. A kickstand is a nice bonus to have in case you make a short stop—you'll avoid looking for a place to lean your bike and potentially scratch the paint.
FAQ
Are e-bikes good for commuting?
Electric bikes are perfect for commuting. They allow you to ride every day even if you are not a fit cyclist, without exerting too much energy. Moreover, you can get from one place to another faster than before and travel farther than on a non-electric bike.
What are the disadvantages of electric bikes?
One of the biggest disadvantages of e-bikes is the weight. E-bikes weigh more than regular bicycles due to all of the electric components. Moreover, e-bikes are more expensive than non-electric bicycles and require a bit more maintenance and more frequent servicing. They are also hard to ride if the battery runs out.
Is it worth getting an eBike?
Getting an e-bike is worth it if you need some assistance while riding. If you live in a hilly area or you commute by bike every day, you will enjoy riding an electric bicycle. It is also an excellent choice for elderly riders and those who are struggling with injuries.
What are the pros and cons of electric bikes?
Electric bicycles make cycling easier and more accessible for everyone. However, they are more expensive than regular bikes and weigh more. They allow you to ride faster and go farther, but you need to charge the battery frequently and replace it occasionally.
How much should I spend on an e-bike?
If you are a complete beginner and you plan to ride occasionally, we recommend spending less than $1,000. However, if you plan to ride frequently and cover longer distances, we advise spending more than that, preferably between $1,500 and $3,000.
How long do batteries last on electric bikes?
The batteries on electric bicycles are usually rated for between 800 and 1000 charge cycles. After that, their capacity and the bike's range will decrease. However, this also depends on how you ride the bike, how you store the batteries, and how you charge them.
What to know before buying an e-bike?
Before buying an e-bike, you should familiarize yourself with all the advantages and disadvantages that e-bikes have. You should also understand your local e-bike laws to stay out of potential trouble. Finally, learn how an e-bike works and how to use it in the best and safest manner.
Do e-bikes work in winter?
Yes, electric bicycles work in winter. Most models are water-resistant, so snow and light rain will not harm the electrical components. However, if you live in an area with extremely low temperatures, your range might decrease because these can affect the capacity of the battery.
Final Takeaways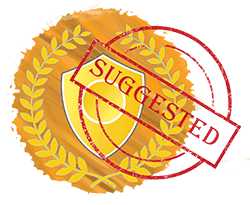 A commuter bike differs from a recreational bike in that you will probably be riding it a lot more often. Therefore, you should feel good about hopping on the saddle, which factors in style and appearance as well.
What is the best electric commuter bike? It's the one that fits you well and meets all of your requirements.
We've tried to comprise our list by including electric commuter bikes that would fill these needs for the majority of riders out there. All of the bikes we recommend here have been tried and tested time and again in the real world for performance, components, durability, and the wow! factor.
Whichever you choose, it will allow you to pedal more, drive your car less, get places faster, and enjoy sunny days a lot more than before.