Aventon Aventure fat tire bike is the cross-country/hybrid electronic bike in Aventon's lineup. With five pedal assist levels, throttle on demand, and a Class 3 unlock taking the bike up to 28mph, the Aventure is one of the most versatile fat tire e-bikes.
The 26 x 4" tires hint at the wide range of capabilities of the Aventon Aventure e-bike.
With suspension, 8-speed shifting, and a 400 lb. payload capacity, there not many things the Aventure can't do.
Aventon now also has a younger brother, a second-generation model that's based on the first model but boast some important improvements. Click here to jump to the section where we talk more about it.
Aventon Aventure Specs
Aventon Aventure is the company's cross-country/hybrid e-bike with fat tires and front suspension. In the Aventon Aventure electric bike, you will find a list of features that paint the picture of a high-quality fat tire e-bike.
Related: Full Review of Aventon Bikes
Let's run through the list of Aventon Aventure specs:
Motor: 1130W (Peak) 750W (Sustained), 48V Brushless Rear Hub Motor
Battery: 48V, 15Ah (720Wh)
Range: 45 miles average
Charge time: 4-5 hours
Top speed: 20 mph (can be modified to go up to 28 mph)
Weight capacity: 400 lbs
Bike weight: 73 lbs
Fork: suspension fork with 80mm travel
Drivetrain: 8-speed 12–32T
Brakes: hydraulic disc brakes with 180mm rotors
Tires: 26 x 4" Ebike rated
Accessories: five levels of pedal assist, throttle on demand, cadence and speed sensors, IPX4 water-resistant standard, front and rear fenders, and kickstand
Durable Aluminum Frame
Aventon Aventure is built with an internal battery and a 6061 Single-Butted Aluminum Alloy frame. This is a mid-range frame that is strong and sturdy, perfect for tackling all sorts of terrain.
By designing an aluminum alloy frame, Aventon has helped keep the Aventure's price down, with the entire fat tire e-bike being available for just $1,499.
The Aventon Aventure's weight is 73 lbs which is what you would expect from a fat tire electric bike with a 45-mile range.
However, the Aventure's weight could be a big deterrence for riders who need to carry or transport their bike.
Aventure's weight won't be a problem while riding thanks to the 48V motor, but it can be a challenge to carry up a flight of stairs.
Components
Aventon Aventure comes with basic components from Aventon, complete with an 8-speed 12–32T cassette.
There are five pedal assist levels, plus the throttle, which provide a wide range of electric assistance.
Aventure has a 170mm 46T crankset, and hydraulic disc brakes. For a bike at this price point, the hydraulic disc brakes with 180mm rotors are an excellent value add.
Reliable Electronics
With its 48V brushless rear hub motor, Aventure has a top speed of 20 mph out of the box, with the option of increasing that range to 28 mph.
The Aventure's 750W (peak 1130W) motor is on the high-end for electric bikes at this price point.
Aventon Aventure battery is a removal lithium-ion 48V battery that offers an impressive range of 45 miles on average.
There is also the Aventon Aventure Class 3 unlock which allows the Aventure to go up to 28 mph. Aventon Aventure ships as a Class 2 electric bike with pedal assist and throttle, with a maximum speed of 20 mph. You can even remove the throttle from the Aventure if you happen to be riding in an area where throttles are prohibited.
With the bike unlocked, the Aventure unlock speed is 28mph with pedal assist.
Suspension
One of the best features of the Aventon Aventure is the fork, which is a suspension fork with 80mm travel.
The fork helps cushion impacts from the road and enables the Aventure to tackle a wide variety of terrain including city streets, light gravel, and singletrack trails.
---
What's New with Aventon Aventure.2?
Aventon Aventure.2 is the new and improved version of the old Aventure model. It was released on January 19, 2023, boasting several major changes, primarily in the accessories and ebike components department.
To begin with, Aventure.2 now finally has a torque sensor instead of a speed/cadence sensor combo, which will have a positive impact on the riding experience. It also has a more modern LCD display and comes with four assist levels instead of the five on the previous model.
Speaking about pedal assistance, Aventure.2 has the same motor and battery as the older model, but it promises a 60-mile range, which is a significant improvement. The bike ships as a class 2 ebike, but you can raise the top speed to 28 mph and remove the throttle to upgrade it to class 3 compatibility.
What we like the most is the introduction of integrated rear lights that double as turn signals and the addition of a rear rack. Now you can carry more cargo more easily, and you still get fenders and a headlight.
Hydraulic disc brakes, an 8-speed drivetrain, and a front suspension fork are the same as before, so the new model has retained its off-road capabilities and enhanced its urban practicality.
---
Aventon Aventure Compared
Aventon Aventure has several direct competitors in the fat tire e-bike market, namely the Himiway Zebra and Radrover 6 Plus.
First, the Himiway Zebra vs Aventon Aventure battle is all about the battery. Himiway Zebra has a massive range of 60–80 miles on a single battery charge.
Plus, it includes a rear rack, integrated taillight, and half twist throttle.
Secondly, looking at Radrover 6 Plus vs Aventon Aventure side by side, they are very similar but have a few sharp differences. Radrover 6 Plus only has a 275 lb payload capacity compared to the Aventure's 400 lb capacity.
The Radrover 6 Plus also has an LED headlight and an integrated taillight with a brake-light indicator to increase safety and visibility.
Lastly, Radrover 6 Plus has a slightly lower range than the Aventure at 25–45 miles on a single charge compared to the Aventure's 40-mile average range.
Step-Through Models & Sizing
Aventon Aventure step-through models are also available. The Aventon Aventure step-thru offers all of the same specifications and features as the Aventure, but with a new frame.
The Aventon Aventure step-through e-bike is not just a low-step frame, but it is a step-thru model that is perfect for casual riders and those with limited mobility.
Aventon Aventure comes in three different sizes that fit most adults. Here is the complete Aventon Aventure size chart:
Small: 5'1″ – 5'9″
Medium: 5'7″ – 5'11"
Large: 5'11" – 6'4″
The step-through models are available in two sizes:
S/M: 4'11" – 5'7″
M/L: 5'8″ – 6'2″
FAQ
Final Verdict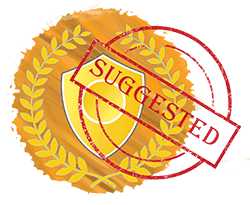 In this Aventon Aventure review, we've taken a detailed look at Aventon's fat tire electric bike. The cross-country/hybrid frame has an impressive amount of features and accessories at this price point.
The Aventure also comes with a 750W motor and 48V, 720Wh battery with an average range of 45 miles. Paired with an 8-speed drivetrain, five pedal assist levels, and throttle on demand, the Aventure has a wide range of capabilities.
4" fat tires and hydraulic disc brakes are two more standout features of the Aventure which is designed for novice and experienced electric bike riders.
The front fork suspension adds an element of comfort and control, while the 400 lb maximum payload capacity offers potential for plenty of adventure on the Aventon Aventure.