Comprehensive Bicycle Guide for 2023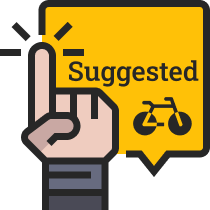 So it seems that you've decided to buy a new bike? That's a great idea!
But how do you get started? There is so much information out there on different types of bicycles and components that it's easy to get overwhelmed.
You might be wondering what type of bicycle to get and how much money to spend on a new bike in 2023.
Since you're here, you've probably thought about giving up due to how confusing the entire process is.
Well, it's good that you haven't!
You're in the right place to learn everything about choosing the best bike for your needs!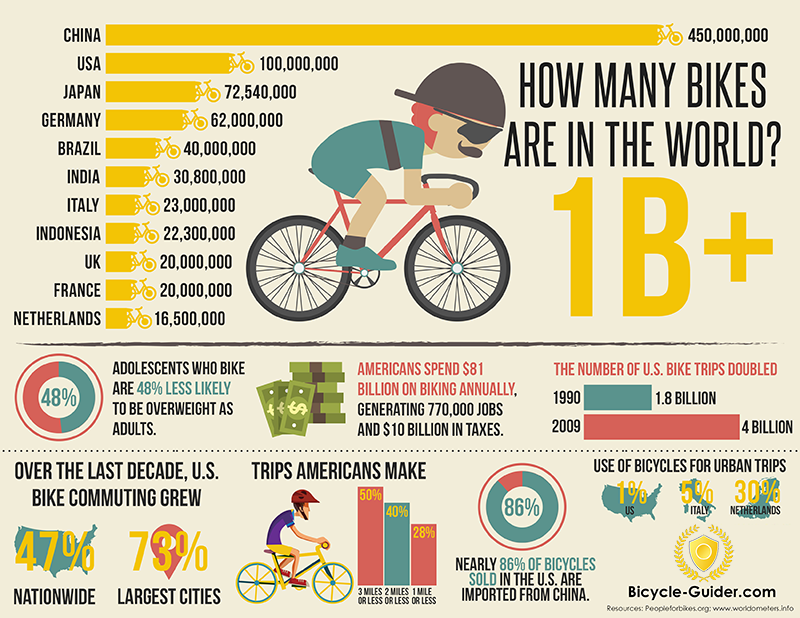 I've been riding bikes for years, mainly mountain, hybrid, and road bikes. I know the advantages and disadvantages of every type. I've also tested quite a lot of different brands. I started giving advice to my friends and now I'm here. Bike reviews on this website have helped over 5,000 people choose bikes based on their likes and dislikes!
I used to race, but I've given that up to be able to teach riders how to become better at racing and enjoy riding more.
So, let's get started. This guide is about 1,500 words long (5 minutes read). So take a deep breath, grab something to drink, and let's get started.
The 5 Steps I Cover on This Page:
Without further ado, let's jump to Step 1!
Choosing the Right Bike Type
There are numerous types of bicycles you can choose from out there. In this post, we'll cover the six most common ones.
In order to find the best type of bicycle for your needs, you should ask yourself a few crucial questions:
What kind of a rider am I?
What types of routes and surfaces do I ride?
Do I prefer speed or comfort?
Do I seek adventure and adrenaline?
Would I benefit from accessories or not?
Once you know the answers to these questions, you can learn more about the six most popular types of bikes below and choose the one that fits your needs the best.
Mountain bikes are made for riding off-road, but they can basically go anywhere. Their wide, knobby tires make them ideal for dirt roads and trails as they improve grip on loose surfaces. There are also different subtypes you can choose from, such as hardtail, full-suspension, cross-country, trail, enduro, downhill, and so on. Modern mountain bikes typically roll on 27.5″ or 29″ wheels and have heavy-duty disc brakes.
Buy if: You like riding off-road and spend most of your time exploring unpaved routes.
Road bikes are ideal for speed junkies who stick to paved roads. This type typically has drop bars that allow you to get into an aerodynamic riding position, as well as narrow tires that roll fast on smooth roads. Road bikes make it easier to cover longer distances compared to other types thanks to high average speeds. They're ideal for racing, fitness, or just recreational riding. Most road bikes are also pretty lightweight as they are built around carbon or aluminum frames.
Buy if: You stick to smooth, paved roads and enjoy high average speeds and long-distance rides.
Hybrid bikes are the do-it-all type that can be used for off-road and road riding. They are a combination of road and mountain bikes, taking the best features from both categories. Hybrids usually have semi-wide wheels, upright geometry, flat bars, wide gearing, and a few accessories. They're great for commuting, fitness, and all-around leisure riding.
Buy if: You ride a little bit of everything and prioritize comfort and practicality over pure speed. 
No. Words. Needed.
Electric bicycles have an electric motor that assists you as you pedal. Depending on the type, an e-bike can supplement your own power via pedal assistance or act as an electric scooter if it has a throttle. Electric bicycles make it easier to climb hills, pedal against headwinds, maintain a high average speed, and cover longer distances. They're perfect for commuters, senior people, or riders dealing with physical injuries.
Buy if: You need some help while climbing, you're out of shape, or you simply don't want to pedal hard and arrive at a destination drenched in sweat. 
As their name tells you, commuter bicycles are perfect for getting from point A to point B efficiently. These bicycles usually have upright geometry, wide tires suitable for paved roads, disc brakes, and wide-range gearing. They also feature accessories such as fenders, a kickstand, rear rack, lights, etc. Different types of bicycles can be considered to be commuters depending on your needs, including hybrid, gravel, cyclocross, touring, and city bikes.
Buy if: You want to ditch your car and ride your bicycle to work, school, or the grocery store. 
Need more types – read here. 
How Much Money Should I Spend?
New bikes can be expensive, but repairing an old rackety two-wheeler can be costly too. Therefore, it's always better to buy a new bike if you can.
However, Walmart bikes cost a few hundred bucks, whereas bikes made by popular brands can cost much more. Where's the middle ground?
Let me clarify one thing — the brand, frame materials, and components are the main factors that decide the cost.
But what do you need?
Well, it all depends on how you plan to use the bike that you buy.
If you are a Sunday rider, then you don't really need the lightest and best-equipped bike out there.
If you ride regularly, then you need a bike with durable and well-made components that won't wear prematurely.
If you want to race, then you need a bike with top-tier components and lightweight materials that can take a lot of abuse.
Benefits of Buying Online
On this website, I only recommend bikes that are available for sale online because online shops provide more value for the money. The online supply chain often excludes warehouses, retailers, and other middlemen that increase the price.
The brand label on your bike can also inflate the price tag. Oftentimes, the money you spent on a bike from a boutique brand could get you much better components if you went for a less popular brand. That's definitely something to consider.
In general, if you are a Sunday rider, a bike priced under $1,000 should meet your needs. If your idea is to train and get in better shape, you should look for bikes that cost around $800–$2,000 because they have stronger components that last longer. If you train hard and participate in races, you should look for a bike that costs upwards of $2,000. These models have stronger, lighter, and more efficient components that will make a big difference in races.
Let this sink in for a second, and then let's proceed!
Consider Your Specific Needs
Different types of bicycles have different geometries. Endurance and comfort bicycles offer a more upright riding position. However, the faster you want to go, the more aerodynamic position you need. This isn't a crucial step when it comes to hybrid bikes, but it is when considering mountain or road bikes.
The best model for your needs is the one that allows you to ride without big, frequent repairs and costly maintenance.
Related: Bike Ride Advantages — Why You Should Ride
When we talk about mountain bikes, we can differentiate between two different types – Hardtail and Full-Suspension. The main difference is that the latter allows the rider to pedal faster on technical terrain while staying seated.
So which one is better? I would advise beginners to go for hardtails and more experienced riders to choose full-suspension models.
How to Choose the Right Frame Size?
Well, this is the biggest concern for people who are afraid of buying bikes online. How to choose the right bike size?
Some people claim that you must try a bike before buying it to get the right fit. But that's not always the case.
Why?
Because most brands provide size charts that help you choose based on your height and/or inseam length.
Most brands also provide a detailed geometry chart for each bike which helps you understand whether or not the bike will fit you.
Basically, there are three main methods you can use to find the best frame size for you:
Height – Choose the right size based on your height.
Leg inseam – Measure your leg inseam and choose based on manufacturer recommendations. Easy!
Bicycle size chart – Third solution. Check out the general size charts for mountain, road, and hybrid bikes.
And remember, if there's something wrong, you can always send the bike back and ask for a refund or a replacement.
Now that you know what to look for, you can go and order your new bike.
What to Keep in Mind When Your New Bike Arrives
Finally! The box has arrived! Before you can ride, you will probably need to assemble the bike first. If you are not sure how to do that yourself, then it's a good idea to take the box to a local bike shop and let them do it for you. It's much easier that way.
However, I like to assemble my bikes on my own — there are numerous videos on YouTube that will make things clearer if you get stuck.
Now that your bike is ready to ride, you can see that ordering online wasn't that hard thanks to our guide. It's 2023 after all.
Let us know how your new bike feels. I bet it's shiny.
However, before you go cycling, make sure to wear a helmet to protect your head!
Now you're ready to go for a ride!
If the bike feels a bit uncomfortable, try to give it some time. Ride and get used to your new bike. Explore and ride wherever you want.
A better physique means better mental health!
Also, don't forget to regularly maintain the bicycle. You should lubricate the chain at least once a week if you ride regularly.
Occasionally, bring your bike to a local bike shop to service the brakes, drivetrain, derailleurs, and whatever else is needed. Take good care of your bike and it will take good care of you.
I'm glad I helped you choose your new bike!
Jeff
Where to Proceed from Here?
Check out our huge collection of bike reviews organized in several categories based on different bike types.
Mountain Bikes:

Hybrids

Road Bike

Enjoy your ride!