Brimming with versatility, the hybrid bike is the true workhorse of the cycling world. It fuses the speed of a road bike and the resilience and practicality of a mountain bike to meet diverse riding needs.
If you're looking for the perfect two-wheeler that bridges city commutes and off-road adventures, then the hybrid bike is exactly what you need.
Whether you're weaving through city traffic or conquering a rugged off-road trail, the hybrid bike handles it all with grace and efficiency.
In the blog post below, we'll answer the "What is a hybrid bike?" question and tell you more about its features, strengths, and weaknesses. Let's begin.
What Is a Hybrid Bike?
As its name suggests, a hybrid bike is a blend of two different types of bikes—a road bike and a mountain bike. It combines the speed and lightness of a road bike with the comfort and ruggedness of a mountain bike.
Back in the day, 10-speed racing road bikes and steel touring bikes used to rule the cycling world, until mountain bikes came around in the 1980s, allowing people to ride off-road.
But riders needed something in-between that would be good on smooth tarmac, potholed city streets, and gravel side roads.
The industry's answer was to take the mountain bike frame and geometry and fit it with narrower wheels, flat handlebars, and lots of gears to create a bike that can do it all.
Today, hybrids are characterized by having 700c or 650b wheels, disc brakes, a wide gear range, and mounting points for numerous accessories.
What Is a Fitness Hybrid Bike?
Typically, hybrid bikes have tires that are narrower than those on mountain bikes, but wider than those on road bikes—somewhere in the range of 35-40 mm.
However, fitness hybrid bikes have tires that are closer in width to road bike tires, typically ranging from 25-30 mm. That makes them faster than regular hybrid bikes and more suitable for fast fitness rides on smooth tarmac.
In addition, they also have a more forward-oriented aerodynamic geometry, with flat handlebars positioned lower than the saddle. Therefore, they are ideal for riders who love speed and use their bikes for workouts but don't want to get a traditional road bike.
What Is a Hybrid Bike Good For?
A hybrid bike is a jack of trades, but a master of none, making it an excellent choice for various cycling situations. It can be the ideal choice in most situations, with two exceptions: a road race and proper mountain biking trails.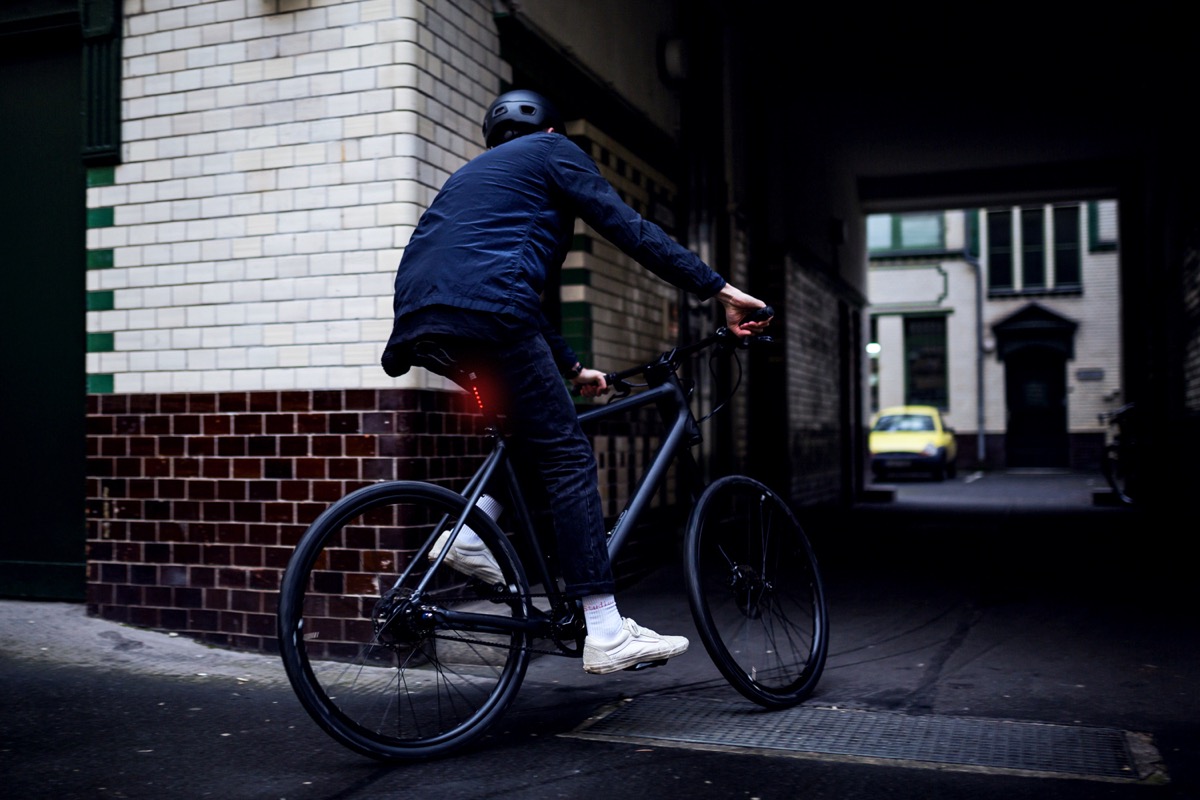 A hybrid bike is ideal as a daily urban commuter, as it can smoothly maneuver through busy city streets, allowing you to skip past traffic and get to your destination fast.
Its efficient tires and lightweight design give it a speed close to that of a road bike, making it a solid choice for long-distance rides on paved surfaces.
But a hybrid bike isn't limited to asphalt alone.
Thanks to its versatile geometry, wide-range gearing, front suspension and sufficiently wide tires, it can also tackle light off-road trails and gravel roads, providing you with the option to take an adventurous detour.
A hybrid bike is truly the Swiss knife of the biking world, boasting versatility for both urban commuting and off-road adventures, providing comfort and efficiency in all settings.
A hybrid is also ideal for those who crave comfort, as its upright seating position reduces strain on your back, shoulders, and hands during long days in the saddle.
In essence, a hybrid bike shines as a bicycle of all seasons and reasons, perfect for anyone who craves versatility. It is the Swiss knife of the biking world.
Important Hybrid Bike Features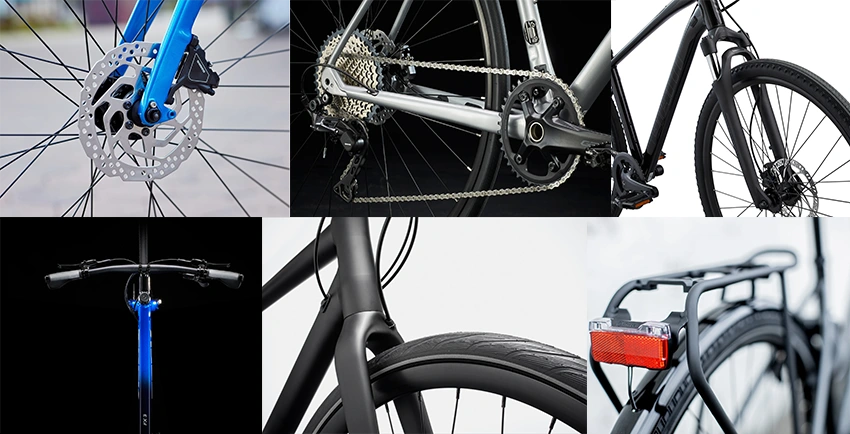 Every hybrid bike has some recognizable features that give it its versatility and unique characteristics.
Flat Bars: All hybrid bikes have flat handlebars borrowed from mountain bikes. These are comfortable to ride, versatile, and have easy-to-use MTB-style controls.
700C/650B Wheels and Slim Tires: Nowadays, hybrid bikes typically come with 700C wheels and narrow tires or 650B wheels and slightly wider tires. The first option is ideal for tarmac, whereas the second option is more off-road oriented.
Upright Geometry: Another important characteristic of hybrid bikes is an upright geometry that puts the rider in a comfortable riding position. However, some models, such as fitness hybrid bikes, have more aggressive geometry that offers better aerodynamics and higher speeds.
Racks and Other Accessories: Hybrid bikes are ideal for year-round city commutes as they usually come with numerous accessories, such as racks, fenders, lights, a kickstand, and so on. If they don't, they at least have mounting points to retrofit these parts.
Suspension Fork: Most hybrid bikes come with a suspension fork that offers anywhere between 40mm and 80mm of travel. That's less than what you get on a hardtail mountain bike, but enough to make the ride a lot more comfortable. Speed-oriented models usually come with rigid aluminum or carbon forks.
Wide Gear Range: Hybrid bikes used to have as much as 27-30 gears, until 2x drivetrains became more popular recently. Nowadays, most models come with 2×8, 2×9, or 2×10 drivetrains that offer enough gears for any terrain.
Hybrid Bike vs Mountain Bike vs Road Bike
The three main contenders in the cycling world are road bikes, mountain bikes, and hybrid bikes. Each comes with its unique set of strengths and weaknesses, so here's a quick breakdown of each type to help you choose the right one for yourself.
Road Bikes
The best road bikes out there, with their lightweight framesets and narrow, high-pressure tires, are designed for long-distance riding on smooth paved roads.
The drop handlebars allow for an aerodynamic riding position and multiple hand positions, reducing strain on long days.
Unfortunately, their lack of shock absorption and thin tires make them unsuitable for off-road adventures.
It's worth mentioning the gravel bike here as well, as it blends road bike features with mountain bike tires to create a fast, off-road capable machine.
Mountain Bikes
Mountain bikes are the true kings of off-road terrain and trails. They are the hardy all-terrain vehicles of the cycling world.
With wide knobby tires, heavy-duty frames, and superior suspension, a mountain bike can handle most off-road trails and obstacles.
However, these features make them heavy and slow on smooth pavement, so you can't use them for longer rides or commutes without getting tired and worn down.
Hybrid Bikes
Enter the hybrid bike that borrows the best from both worlds and that can do it all.
Its frame is lighter than a mountain bike and sturdier than a road bike, its tires are medium-width, and its geometry prioritizes comfort without neglecting speed completely.
However, while hybrids can handle both pavement and light off-road trails, they may not match the speed of a pure road bike or the off-road capability of a dedicated mountain bike.
In sum, your choice depends on where and how you want to ride.
For speed on pavement, go with a road bike; for rugged off-road trails, go with a mountain bike; and for city commutes and all-around cycling, the hybrid bike stands out as an ideal choice.
Is a Hybrid Good for Long Distance Cycling?
Depending on its geometry and features, a hybrid bike can be a great choice for long-distance cycling. It is a common choice among bicycle tourists who choose it for its versatility and heavy-duty build.
To be the right candidate for long-distance cycling, a hybrid bike needs to be light, have narrow tires, comfortable upright geometry, and wide-range gearing.
This set of characteristics would allow you to spend long hours in the saddle without pains and aches while using your pedaling power efficiently.
With its balance of comfort and speed, a hybrid bike stands as a prime choice for long-distance cycling, offering efficient pedaling and enduring comfort for lengthy rides, be they for leisure or commuting.
While it might not be as swift as a dedicated road bike due to its slightly heavier build, the hybrid provides a balance of comfort and speed, making it well-suited for covering long distances, whether for leisure or long commutes.
Where to Buy a Hybrid Bike?
With so many options to choose from, it's very difficult to give a definitive answer to this question. We recommend checking out our popular hybrid bike buying guides below as a good starting point:
Frequently Asked Questions
As its name suggests, a hybrid electric bike is a hybrid bike with an electric motor and battery. Hybrid electric bikes have become very popular in recent years as they allow riders to cover more distance and at higher speeds, all without breaking a sweat.
A hybrid bike can be pretty fast, but not as fast as a road bike. A good average speed on a hybrid bike is around 13-16 mph, though this depends on a lot of factors. Fitness hybrid bikes can maintain an even higher average speed, whereas off-road-focused models with 650B wheels will be a bit slower.
Almost all big-name brands in the cycling world offer several models of hybrid bikes, including Giant, Trek, Specialized, and Cannondale. There are also numerous smaller brands that sell high-quality hybrid bikes, such as Co-op Cycles, Priority Bikes, State Bicycle Co., and many more.
Final Thoughts
The hybrid bike is truly the jack-of-all-trades in the cycling world. It's a combination of speed and durability, made to handle different types of terrain. It's perfect for the city commute, long-distance journeys, and even a bit of off-road fun.
Hybrid bikes provide an incredible balance of performance and comfort, making them a go-to choice for many riders. As your trusty two-wheeled companion, the hybrid bike doesn't discriminate whether your path takes you through buzzing city streets, peaceful park trails, or challenging gravel routes.
Hybrid bikes offer speed, comfort, and versatility, making them ideal for city rides, long journeys, and even off-road trails to suit various riders' needs.
Whether you're a city rider or an off-road adventurer, the hybrid bike offers a great balance of speed, comfort, and versatility. Remember, the best bike for you is the one that fits your needs and riding style.
There are no comments yet, add one below.