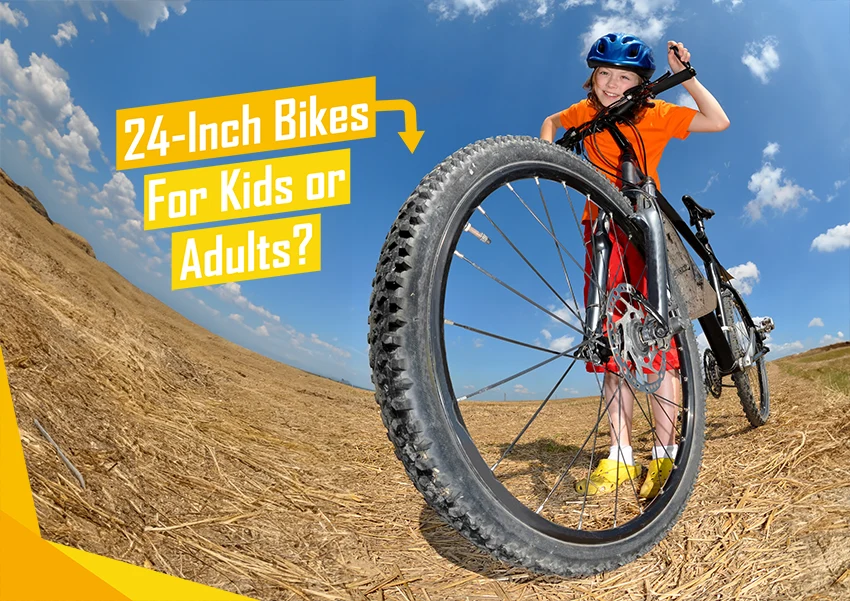 Bike sizes are one of the most confusing aspects of cycling, so it's no surprise so many people are wondering what size person a 24-inch bike fits. If you're concerned about whether or not a 24-inch bike is the right size for you, here's the short answer:
The term "24-inch bike" specifically refers to the diameter of the bicycle's wheels, not the size of the frame. This type of bike is versatile as it can accommodate both children and shorter adults comfortably. It's suitable for individuals with a height ranging from 4 feet 1 inch to 4 feet 9 inches. 
In this article, we will examine the characteristics of 24-inch-wheel bikes and outline which ages and types of riders they're best for, so you can choose the perfect bike for yourself or your child.
What Is a 24-Inch Bike? The Long Answer
As mentioned above, a '24-inch bike' is one with rims that measure 24 inches in diameter and is a term that typically refers to kids' bicycle sizes. Adult bike sizes use a frame size measured in centimeters (49 cm to 62 cm) or standard size labels (XXS to XXL).
However, depending on how tall you are, you can ride a 24″ bike even if you are an adult. If you're a short person, it could be the perfect choice for you. If you're taller than that, you should consider a 26-inch bike.
Kids' bike sizes range from 12″ to 26″, increasing in two to four-inch increments. 24-inch bikes are roughly for kids aged 7 to 11 or 4'1″ to 4'9″ in height.
For adult bicycles, wheel diameter is one of the most influential factors affecting performance, comfort, payload capacity, and handling. Each bike wheel size has a unique blend of characteristics, making it useful for certain styles of bikes.
For example, 29″ wheels are ideal for mountain bikes as they maintain momentum well and are more comfortable on bumpy terrain. In contrast, 24″ wheels are often used for cargo bikes as they are stronger, more agile, and allow a lower center of gravity.
Another popular use for 24-inch wheels is on folding e-bikes. However, most models use even smaller 20-inch wheels as they are more compact and lighter.
Can a 24-Inch Bike Be Used for Commuting?
24-inch bikes make great commuters. Some folding bike manufacturers choose this wheel size because it is compact, yet it offers a comfortable ride quality that typical 20-inch folding bikes don't have. Another style that uses 24″ wheels is the cargo or utility bike. Examples include the Yuba Kombi or Xtracycle's Stoker and RFA.
Advantages of 24″ Wheels Compared to Larger Wheels
24-inch wheels have specific advantages over larger ones that make them favorable for certain bike styles.
Maneuverability: The smaller the wheel, the more agile it is. This is better for turning in tight spaces or navigating technical terrain.
Acceleration: 24″ wheels accelerate faster than larger ones, which is valuable when riding in areas with frequent stops and starts.
Strength: Smaller wheels are stronger than larger ones as the rim and spokes experience lower loads and are less likely to flex.
Weight: 24-inch wheels are lighter, ideal for folding bikes that must be highly portable.
Lower Center of Gravity: Smaller wheels make the bike frame closer to the ground. A lower center of gravity makes it easier to balance a loaded bike.
Are 24-Inch Bikes for Kids or for Adults?
Both adults and children can ride 24-inch bikes. Most bikes with this wheel size are aimed towards kids, but, as mentioned above, several adult bike styles use this type of wheel.
In terms of kids' bikes, 24″ is the size at which they become more specialized. Many children aged around 8 to 11 are ready to choose a specific cycling style, such as mountain or road. Almost all 20″ and smaller kids' bikes are hybrids, designed for general riding.
Bike sizing varies hugely between manufacturers and even among models by the same manufacturer. This lack of standardization means each 24″ bike will fit a slightly different height or inseam range. For example, Marin's San Quentin 24″ fits 4'1″ to 4'8″, the woom 5 has a height range of 4'1″ to 4'9″, and the Trek Roscoe 24 is 4'3″ to 4'11".
What Is the Age Range for a 24-Inch Bike?
The age range for a 24-inch bike is roughly 7 or 8 to 11 years. However, the best metric to use is height or inseam. The children's bicycle brand woom provides a height and age range for all of its bikes. For example, the woom 5 mentioned above is designed for heights from 4'1″ to 4'9″ and ages roughly from 7 to 11.
How to Determine if a 24-Inch Bike Fits You
If you're an adult trying to determine if a 24-inch bike will fit, you should start by taking some key body measurements. If you want to buy a 24″ bike for your child, you should take the same measurements.
Once you have these measurements, you can use them to determine which bike frame size is suitable (adults' bikes) or if your child fits a specific 24″ kids' bike. The two most important measurements are height and inseam length.
Height: 24-inch bikes for adults will be sold with a one-size frame or with multiple sizes. You can compare your height to the manufacturer's charts on the product page. Choose the frame size you fit into, or try to test-ride both if you fall between sizes.
Inseam Length: Inseam length (the length of the inner leg, from the crotch to the ankle) is just as important as height. Some manufacturers provide an inseam range for their frame sizes. Some people's height and inseam won't match the same frame size. For example, if you have long legs for your height.
It's a good idea to test-ride a bike before buying it to ensure it's the right fit. Bikes are highly adjustable, so there is always room to modify the components to find a better fit.
What Size Person Is a 24-Inch Bike For?
A 24-inch bike for kids fits riders 4'1″ to 4'9″ tall. The size range for a 24-inch bike for adults will vary based on the model and manufacturer. For example, the Tern Node folding bike has a height range of 4'10" to around 6'5″. The Yuba Kombi cargo bike fits riders 5′ to 6'6″ and the Electric Bike Company Model A 24″ version fits riders 5'2″ and under.
Can a Woman Ride a 24-Inch Bike?
Some 24-inch bikes are excellent for women as they have lower standover heights, are lighter, and are easier to maneuver than larger wheels. For example, most of Electric Bike Company's e-bikes have 26″ wheels, with a free option to change to 24″ for riders 5'2″ and below. This is ideal for shorter women.
A 24-inch bike for kids is likely too small for a short woman, as the max height of these bikes is typically 4'8″ to 4'11". In addition, 24″ kids' bikes may have child-specific components and geometry unsuitable for adult females.
For example, a child's saddle is narrower than an adult's, but women typically need wider saddles than adult men because their sit bones are wider.
What Bikes Come with 24-Inch Wheels?
As we've seen throughout the article, several types of bikes come with 24-inch wheels, most of which are for kids. However, specific types of adult bikes also use this wheel size for its characteristics.
1. Mountain Bikes (Kids)
Mountain bikes like the Trek Roscoe 24 and Precaliber 24, Marin Rift Zone Jr. 24 and San Quentin 24, and woom OFF 5 are all examples of great kids' mountain bikes. Most MTBs for children are rigid (OFF 5, Roscoe 24) or front suspension-only hardtails (San Quentin 24, Precaliber 24). Some full-suspension kids' bikes include the Marin Rift Zone Jr. or the Norco Fluid 4.1 FS 24″.
2. Road Bikes (Kids)
Road and gravel bikes are much less common than the mountain and hybrid categories. One brand that creates kids' road bikes is Frog. The Frog Road 67 is a 24″ drop-bar bike that's designed for kids from 4'8″ to 5'6″. Another model is the Vitus Razor Disc which fits 4'4″ to 4'10". Finally, Decathlon's in-house brand B TWIN has a 24″ kids' road bike. Unfortunately, many of the models by large manufacturers like Specialized, Diamondback, and Raleigh have been discontinued.
3. Hybrid Bikes (Kids)
The most popular kids' bicycle is the hybrid. These bikes are ideal for the typical young rider who wants a fun way to get around, spend time with friends, or exercise. Hybrids usually have wide-ish tires which are comfortable to ride on pavement and capable of handling light off-road terrain. Most of these models are rigid (no suspension), but some have fork suspension.
Examples of 24″ kids' hybrids include the woom 5, Trek Wahoo 24, Co-op Cycles REV CTY 24, Cannondale Quick 24, and Diamondback Division 24.
4. Folding Bikes
Folding bikes are the ideal option for riders with small urban apartments, with multimodal commuting, or who want a bike that's convenient for road trips.
Most of the best folding bikes have 20″ wheels, as this is the most compact and lightweight size that still maintains decent comfort on paved surfaces. However, from time to time, manufacturers opt for 24″ wheels to increase comfort without completely sacrificing portability. An example of a model currently in production is Tern's Node with two builds, the D8 and D7i.
5. Cargo/Utility Bikes
Cargo bikes are designed to haul gear on the front, back, or both. They have high payload capacities and extra-long racks for attaching bags, bike seats, or other accessories. 24-inch wheels with wide tires provide a balance of comfort, strength, and stability for this type of bike.
The cargo and utility bike category is among the fastest growing, mainly due to e-bikes and their popularity. Cargo e-bikes allow riders to carry more and go farther, acting as practical alternatives to cars for short to medium-distance journeys. Some examples of 24″ cargo bikes include the four Benno Boost builds, Xtracycle's Stoker and RFA, and Yuba's Kombi.
6. Electric Bikes
Electric bikes commonly use 26″ wheels on specific models. In some instances, the 'Medium' and 'Large' frames have 26″ wheels, and the 'Small' frame has 24-inch wheels. For example, Rambo's Ranger and Ryder both have small frames with 24″ wheels. In addition, Addmotor's M-430 and multiple Electric Bike Company models offer smaller 24-inch-wheel frames. Buzz's Cerana is an example of a one-size 24-inch electric bike.
Frequently Asked Questions
Conclusion
24-inch wheels are used for both adults' and kids' bikes. The term '24-inch bike' typically refers to bikes for children aged 7 to 11. Various bike styles are available at this size, including mountain, road, and hybrid.
Adult 24″ bikes aren't as varied. They're most common on folding, cargo/utility, and small-frame e-bikes. The benefits of 24-inch wheels for adult bikes include better fit for small riders, high maneuverability, fast acceleration, high strength, low weight, and low center of gravity.
When choosing a bike for your kid, it's crucial to note that bike sizing varies significantly between manufacturers and models. We recommend you base your choice on their height and inseam length rather than wheel size alone.
For adults, compare your height and inseam length to the manufacturer's geometry chart to see which size is best. In all cases, test-riding a bike before purchase is the best way to ensure you choose the right size.
---
Related
Best Kids Bikes of 2023 (Balance & Pedal)
---
There are no comments yet, add one below.