If you're struggling to figure out how to choose your kid's first bike, we're here to help you out. We've written a concise and straightforward step-by-step guide that answers all of your questions and that you can follow even if you don't know anything about the topic!
Choosing your kid's first bike might have sounded like an easy job to you until you began the process. Now you're probably confused with all the different options and don't know how to proceed.
Balance bikes or training wheels? Hand brakes or coaster brakes? Foam tires or air tires? How to choose the right size? Kids' mountain bikes, Walmart kids' bikes, or an electric bike for kids?
So many questions but so few concise and comprehensive answers.
If you choose right, your child will likely fall in love with cycling; if you don't, they might come to believe cycling's not for them.
That's why we believe it's important to guide you through the entire process, step by step, and explain everything in a simple and straightforward fashion.
If you happen to have any unanswered questions when you reach the end of this guide, feel free to ask us in the comments below!
1. Choose the Right (Tire) Size
Kids' bikes are sized differently than adult bikes, which causes some people to get confused. However, don't worry, this actually makes things a bit simpler.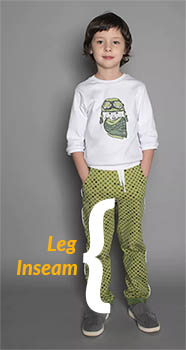 Bicycles for kids are sized based on the wheel size — the size of the frame is usually not considered at all (except for standover clearance). The typical wheel sizes for kids bikes are 12″, 14″, 16″, 20″, and 24″.
To find the right wheel size for your child (and thus the right size of the bike), all you need to know is your child's inseam length.
To measure the inseam, you should tell your child to stand up straight with their feet shoulder-width apart and then measure from the floor to the crotch with a tape measure.
Once you have this value, you can compare it to the chart we created below, as well as consider some other factors such as the age and height. Voila!
| | | | | | | |
| --- | --- | --- | --- | --- | --- | --- |
| Wheel size | 12″ | 14″ | 16″ | 20″ | 24″ | 26″ |
| Approx Age | 2 to 3 | 2 to 4 | 4 to 6 | 5 to 8 | 8 to 11 | 10+ |
| Approx Inseam | 14″ – 17″ | 16″ – 20″ | 18″ – 22″ | 22″ – 25″ | 24″ – 28″ | 25″ + |
| In cm | 35 – 43 cm | 41 – 51 cm | 46 – 56 cm | 56 – 64 cm | 61 – 71 cm | 64+ cm |
| Approx Height | 2'10" – 3'4″ | 3'1″ – 3'7″ | 3'7″ – 4'0″ | 4'0″ – 4'5″ | 4'5″ – 4'9″ | 4'9″ + |
| In Inches | 34″ – 40″ | 37″ – 43″ | 43″ – 48″ | 48″ – 53″ | 53″ – 57″ | 57″ + |
| In cm | 63.5 – 102 cm | 94 – 109 cm | 109 – 122 cm | 122 – 135 cm | 135 – 145 cm | 145+ cm |
NB! Choosing a kids' bike only based on age is not recommended. One 5-year-old might be too tall for a bike that fits another 5-year-old perfectly. Therefore, it's best to take all of the abovementioned factors when making the final decision.
2. Choose the Right Bicycle Type
Typically, kids' bikes are intended as all-around capable two-wheelers that can go everywhere and do a little bit of everything. Still, there are several types of kids' bikes you can choose from if your child prefers a specific form of cycling.
The most popular ones are:
Balance Bikes – Balance bikes, also known as push bikes or running bikes, are small bicycles intended to teach kids how to ride on two wheels. They have no pedals and no drivetrain, so kids propel themselves by pushing with their feet against the ground. Balance bikes are intended for children between 1.5 and 5 years old and are believed to be the best way to learn how to ride.
Training wheels – Kids' bikes with training wheels used to be very popular in the past, but are now slowly replaced by balance bikes. These bicycles have two small training wheels attached to the rear axle that help the child maintain balance and prevent them from tipping over. However, they're not thought to be as good of a teaching method as balance bicycles.
PS!

Read about why you should not use training wheels below.
Mountain bike – Kids' mountain bikes are usually available with 20″, 24″, or 26″ wheels. Most of them have very basic components and are intended for recreational riding. They're characterized by wide and knobby tires and many gears, so they can go off-road. Many modern kids' MTBs have front suspension and disc brakes as well.
Road – Similar to mountain bikes, kids' road bikes also come with 20″, 24″, or 26″ wheels. The tires are much thinner, though, which makes these bicycles fast and good for paved roads. Kids' road bikes have drop bars, lots of gears, and usually stop with rim brakes, but some modern models have disc brakes as well.
Single-speed – These are kids' bikes that only have one gear. They have no derailleurs or shifters and often feature a coaster brake. They're cheaper than mountain and road bikes but are only intended for rides on flat terrain. They're simple to use which makes them suitable for young children with little riding experience. Walmart kids' bikes usually fall into this category.
3. The Right Saddle Height
Contrary to what is true for adult bikes, there is not just one right saddle height when it comes to kids' bikes. In this case, the correct saddle height differs from one situation to another:
Balance bikes – The saddle should be 1″ to 1.5″ below the child's inseam.
Training wheels – Place the saddle 0 to 3″ above the child's inseam.
1st pedal bike – The saddle height should be the same as the child's inseam
Next pedal bike – Raise the saddle 2″ to 4″ above the kid's inseam.
Setting the saddle height correctly is important in order to make sure your child feels comfortable and confident on the bike. They should be able to touch the ground with their feet, which will make them feel more relaxed and help eliminate fear.
Different types of bicycles for children aim to accomplish different things. That's why the recommendations for saddle height vary.
With the saddle height set up correctly, they'll be able to get on and off the bike more easily and feel they're in full control at all times.
Read More: Bike Sizes For Kids
4. Choosing by Age
Choosing kids' bike sizes by age is the simplest way to do it. Manufacturers will typically write the ages a particular bike is suitable for, so that's the only thing you need to look out for.
However, keep in mind that this is not the most reliable method, even though it's quick and easy. The reason is that two kids of the same age can have completely different heights and body types.
Refer to our kids' bike size guide below if you choose to use this method.
What size bike for a 3-year-old?
A 3-year-old should get a bike with 12″ wheels.
What size bike for a 4-year-old?
A 4-year-old should ride a bike with 14″ wheels.
What size bike for a 5-year-old?
A 5-year-old should also ride a bike with 14″ wheels.
What size bike for a 6-year-old?
A 6-year-old should get a bike with 16″ or 20″ wheels.
What size bike for a 7-year-old?
A 7-year-old will fit on a bike with 20″ wheels.
What size bike for an 8-year-old?
An 8-year-old can ride a bike with 20″ or 24″ wheels.
What size bike for a 9-year-old?
A 9-year-old needs a bike with 24″ wheels.
What size bike for a 10-year-old?
A 10-year-old should get on a bike with 24″ or 26″ wheels.
What size bike for an 11-year-old?
An 11-year-old will also fit on a bike with 24″ or 26″ wheels.
What size bike for a 12-year-old?
A 12-year-old needs a bike with 26″ wheels.
What size bike for a 13-year-old?
A 26″ kids' bike is perfect for a 13-year-old.
What size bike for a 14-year-old?
You should get a kids' bike with 26″ wheels for a 14-year-old.
What size bike for a 15-year-old?
A 15-year-old needs a bike with 26″ or 27.5″ wheels.
What size bike for a 16-year-old?
Most 16-year-olds can ride bikes with 26″ or 27.5″ wheels, or even 28″, depending on the height.
5. Choosing by Tire Sizes
As mentioned briefly above, kids' bike sizes are measured in a different way compared to adult bikes. Instead of using the seat tube length to find the right size, we refer to the bike's wheel size.
Below you can see our kids' bike size guide based on the most common tire sizes found on bikes for children.
From what age are 12″ tires suitable?
Most commonly, 12″ tires are suitable for kids who are 2-4 years old.
From what age are 14″ tires suitable?
Kids' bikes with 14″ tires are suitable for 3-5-year-olds.
From what age are 16″ tires suitable?
Bikes with 16″ tires should be ridden by kids who are 4-6 years old.
From what age are 18″ tires suitable?
Children from 5 to 8 years of age can ride bicycles with 18″ tires.
From what age are 20″ tires suitable?
A 20″ kids' bike is usually suitable for 7-9-year-olds.
From what age are 24″ tires suitable?
Kids between 8 and 11 years old usually need a bike with 24″ tires.
From what age are 26″ tires suitable?
Bicycles with 26″ tires will fit kids from 10 years and above, depending on their height. They are even a good choice for some short adults.
---
Other Things To Consider
---
Forget About Training Wheels (Seriously!)
---
Children's bikes with training wheels were considered to be a no-brainer when it comes to teaching a kid how to ride. Most of us learned how to ride a bike by bouncing from one side to another awkwardly on these four-wheeled contraptions.
Even though it's possible to learn this way, there's a much better and faster method — balance bikes.
Balance bikes are small bicycles that usually come with 12″ or 14″ wheels and have no pedals, no cranks, chain, cogs, or training wheels.
They have very low standover clearance that makes it easy for kids to plant their feet firmly on the ground at any time. When they want to ride, they simply push against the ground with their feet, lift their legs in the air, and cruise by maintaining balance.
This is a more natural approach to training balance on two wheels that lets kids figure everything out on their own — they're more than capable of doing it.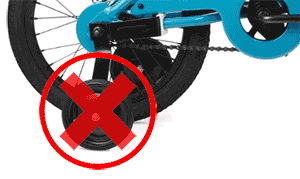 Once kids learn how to maintain balance on these push-bikes, transitioning to their first real pedal bike usually takes minutes or hours to master.
On the contrary, transitioning from training wheels means that kids need to unlearn everything they thought they knew about balance and start learning from scratch.
Go for Two-Wheelers Straight Away

For kids, riding a balance bike comes naturally and is basically walking with support.
Once you introduce a balance bike to a kid, they first straddle the bike and walk with it by holding the handlebar. Soon, as their balance improves, they start running with it and, in a couple of days, you can already see them gliding with their legs in the air.
These push-bikes are suitable for kids between 1.5 and 5 years old, which is about the right time to introduce them to their first pedal bike.
When transitioning from a balance bike, mastering a pedal bike may take a few minutes, a few hours, or a few days, depending on the child.
That's a much shorter period compared to switching from training wheels, which requires learning everything from scratch once again.
Wheelbase
---
Kids' bike sizes and wheel sizes, however, are not the only thing that you should pay attention to — the geometry of the bike should be considered as well, especially the wheelbase.
When it comes to the wheelbase, some kids' bikes have it short, others have it long. Bikes with a long wheelbase often sit lower to the ground, which makes them more stable. Those with a short wheelbase have a higher center of gravity, so they might tip over more easily.
But not everything is black and white, there are pros and cons to both types. The general rule is:

For beginner riders and those still learning, bikes with a longer wheelbase and lower center of gravity are a better choice. Kids feel more confident, more stable, and they can rest their feet on the ground more easily.
Can a Child Grow Into a Bike?
---
Children grow quickly, which is why a lot of parents choose to buy a bike that is one size too big to avoid having to buy another bike in a few years.
We understand that some parents want to save money and need to think about the family's budget. However, buying a bike that's too big for your child means they'll feel unstable, they'll lack confidence, and might come to the conclusion that cycling is not for them.
Make sure to purchase a bike that has a minimum seat height as close as possible to your kid's current inseam length. That way, you will have some room to adjust the fit as your kid grows.
Don't forget about the wheel size, either. It is the most important factor that will determine whether or not your child fits well on the bike and if they can enjoy riding it.
The wheel size also determines the standover clearance, which is important for safety, comfort, and stability.
Tires
---
The types of tires a kids' bike rolls on is very important. The tires are the only part of the bike that makes contact with the ground, so they're crucial when it comes to stability and control.
Kids' bikes typically come with either foam tires or air tires. Some very cheap models also roll on plastic tires, but we don't recommend those — they offer little to no grip and wear out quickly.
Air tires are the best choice you can make. They provide the best grip and can be inflated or deflated to improve comfort. However, many balance bikes also come with foam tires, which are also a decent choice for young and lightweight riders.

Generally, the fatter the tires, the more grip and stability they will provide. However, they will also require more power in order to move and pick up speed. Therefore, you need to find the golden middle.
Very skinny tires are not ideal for kids and are rarely seen on kids' bikes. They are best suited for older and more experienced riders.
Components
---
Bicycles for children are usually equipped with entry-level components intended for recreational riding. The most common ones you'll see are Shimano Tourney. That's perfectly fine as most kids don't need mid-range or high-end brakes and derailleurs — they'd just increase the price unnecessarily.
However, you should avoid bikes with the cheapest "no-name" components as they can easily get out of tune or even fail. In the best-case scenario, you'll have to adjust them frequently.
If your child wants to do road racing or ride the trails more seriously, then you need to look into higher-end kids' bikes that have components similar to those on adult bikes.
Another thing to pay attention to is to make sure the saddle can be adjusted in all directions — up, down, forward, and backward. Changing the position ever so slightly may completely change the fit and the feel of the bike.
If you want to help your child keep up with you on long rides, you can consider getting an electric bike for kids. These are also perfect for kids with disabilities or injuries that make it hard for them to ride on their own.
Brakes
---
The type and the quality of the brakes on bicycles for kids vary greatly depending on the model and the price.
Cheap kids' bicycles usually only come with coaster brakes that engage when you press the pedals backward. They're easy to use, which makes them a good choice for beginners. However, they're not very reliable when going at high speeds.
Coaster brakes can sometimes lead to unexpected stops as it is hard to control the amount of braking power, which could lead to falls.


On the other hand, more expensive children's bicycles usually have one or both hand brakes. Depending on the bike, these can be either rim brakes or disc brakes.
Hand brakes are more reliable than coaster brakes and children can begin using them at around 3.5 years old.
Most kids' bikes have short-reach brake levers that make it easier for kids' little hands to reach them and engage the brakes.
The only downside with hand brakes compared to coaster brakes is that they require more maintenance and more frequent adjusting.
Disc brakes on kids' bikes are often an unnecessary expense, but they can be seen on 20″ or 24″ mountain bikes intended for off-road riding.
Gearing
---
In terms of gears, bicycles for children can be separated into two groups — single-speed and geared.
Single-speed bikes have just one cog in the back and one sprocket at the front, so they are incredibly easy to ride. There are no derailleurs or shifters, which can be confusing for small children.
However, single-speed bikes are pretty difficult to ride uphill, even if the hill is not very steep. They're generally recommended for kids up to 7 years old. After that, it is a good idea to start introducing gears, derailleurs, and shifters.
The majority of kids' bikes have either 1x or 3x drivetrains. That means the crankset has 1 or 3 rings. The number of cogs on the rear wheel cassette usually varies between 7 and 9. That's more than enough gears for most kids to start conquering their first hills.
Gears are changed with shifters fitted on the handlebar, which can be grip-style or trigger-style. Grip shifters are better for younger kids with tiny hands, whereas trigger shifters are a better choice for older kids.
When you introduce kids to shifters for the first time, it's best to start with a 1x drivetrain and only the rear derailleur and shifter (typically 3, 5, 6 or 7 gears). Once your child has mastered it, you can introduce them to a more complicated 2x or 3x setup.
Related: How to cycle better
Maintenance
---
Bicycles for children do not require a lot of maintenance at all. The simpler the bike — the less maintenance you will have to do.
With that in mind, the only maintenance you'd have to do on balance bikes is to make sure all of the screws are tight enough and inflate the tires (unless they are made from foam).
When it comes to pedal bikes, maintenance is slightly more complex, depending on the type of bike, but most parents will be able to do almost everything by themselves with the help of the Internet and YouTube.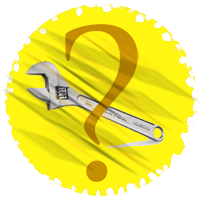 A checklist of things you need to pay attention to includes:
Make sure to tighten all the screws. That includes wheels, headset, cranks, pedals, etc.
Cleaning and lubricating the chain.
Tuning the brakes and changing the pads when they wear out.
Tuning the derailleurs, if there are any.
Trueing the wheels if they become wobbly.
Inflating the tires.
Washing the bike when it becomes dirty.
If you do not know how to do any of this and you're not interested in learning, you can take the bike to a local bike shop and they'll do a general checkup for a small charge.
Also, this is an excellent opportunity to teach your child the importance of taking care of their possessions. If you do any work on the bike yourself, ask your kids to help. If they are big enough, they can wash the bike or clean and lube the chain themselves.
Kids' Bike Accessories
---
When buying a bicycle for your child, make sure not to spend all your budget on the bike itself. Instead, leave some money on the side to also buy a few accessories that will improve safety and make riding more interesting and more practical for your child.
Here are some of the most common kids' bike accessories that we think every child should have on their bike.
Helmet – Children should always wear a helmet while riding a bike. A helmet will protect their head from a concussion and prevent brain damage in case of a fall. It's an absolute must when it comes to kids' mountain bikes.
Kickstand – This is a really handy accessory to have simply because it makes life easier. You can stop anywhere without looking for a place to lean your bike. On top of that, a kickstand also protects the bicycle since the frame and the rear derailleur can get damaged from leaving the bike on the ground.
Basket – All children have a favorite toy or a teddy bear they carry everywhere they go. A basket is a perfect way to carry those important things on the bike. It can also keep snacks and refreshments within arm's reach.
Gloves – Your child should always wear gloves while cycling because they will protect their palms from scratches and bruises in case they fall. Gloves also increase grip which improves safety on the bike.
Bell – Kids love bike bells because they are super fun. But they also improve safety because they can alert other cyclists or pedestrians that a bike is coming behind them.
Bike shorts – This is not a must for very young riders, but older kids who ride more will benefit from wearing designated bike shorts. They improve comfort and prevent saddle sores at the end of a long day.
Bike rack – Similar to baskets, a bike rack is a great way to carry important stuff, such as toys and snacks. Keep in mind that you can't fit a bike rack on all kids' bikes.
Related: Our best picks for kids bike accessories
---
Things You Need to Teach
---
No matter if your child is making their first contact with a balance bike or a pedal bike, chances are that they are going to be confused by some things.
Take as much time as necessary to explain all the basic principles to them. Here are some things that you should not omit.
Braking
Teach your kids how to use hand brakes to slow down and stop safely. If the bike has front and rear hand brakes, explain to them that they should use both at the same time to avoid skidding or going over the bars.
Motivate them to practice using the maximum safe braking power to achieve the shortest stopping distance without falling or losing traction.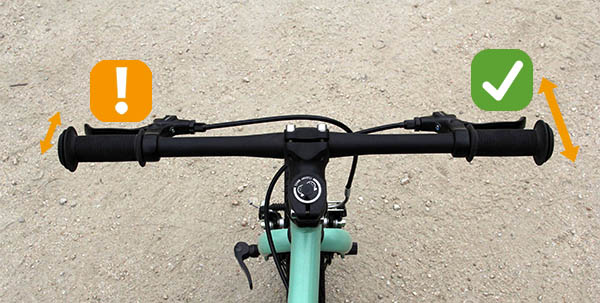 Your responsibility is to check the brakes and the wear of the brake pads regularly. When necessary, readjust the braking power and change the brake pads when they're too worn out.
Gears
Teaching a kid how to properly use shifters and change gears might take the most time. Even many adults don't know how to do this properly.
Focus on explaining that shifting should be done gently, without putting too much pressure on the pedals when the derailleur is changing gears.
Moreover, teach them how to avoid crossing the chain, which will lead to a smoother ride and less wear of the drivetrain. The biggest chainring on the front should never be paired up with the biggest cogs on the back, and vice versa.

Steering
Trying to turn around at high speeds will definitely lead to a fall. The higher the speed, the larger the turning radius. Therefore, the faster you go, the less you can turn the handlebar. Teach your kids this and ask them to practice braking and turning at the same time.
Wearing a Helmet
Don't forget to take the extra time to talk to your kids about bike safety. Wearing a helmet is crucial whenever you get on a bike, even if you are just riding around the backyard or going to the shop.
On top of that, the helmet should be fitted correctly and sit on the head snuggly, with safety straps tightly buckled. Children might protest at first, but they quickly get used to it and forget about it completely.

Check out the best cycling helmets for kids
Patience
Be patient and teach your children to be patient as well. Many adults don't know how to ride a bicycle or are not very good at it because their parents lacked the patience to explain everything thoroughly and practice things over and over again. Patience goes a long way toward building confidence on the bike.
How Much Should You Spend on a Kid's Bike?
This is a question that you will have to answer yourself. We can't do it instead of you. But, what we can do, is give you some guidelines to follow.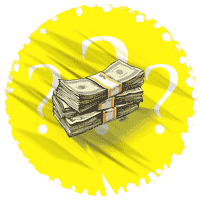 The final decision depends on your budget and how much you can afford to spend. You can try to spend as little money as possible, as long as the bike is safe to use.
Of course, the more money you spend, the less you need to worry about wear and tear, maintenance, and part replacement in the future. But you should try to find some golden middle.
Specialty bikes, such as an electric bike for kids, will also increase the price significantly. So consider what features really matter to your child.
If you can't afford a new bike, you can find a used one online for a pretty low price. You might need to put some work into tidying it up, but it will probably get the job done. Another alternative is Walmart kids' bikes that are usually affordable and get the job done.
You should also consider that kids usually outgrow bikes in a few years max, so it doesn't make a lot of sense to spend a lot of money, even though kids' bikes have good resale value.
FAQ
What Kids' Bike Brands to Consider?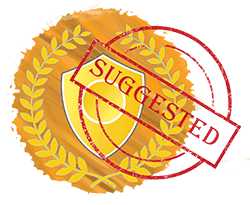 When buying a kid's bike, the brand that makes it should not be the most important factor. You should focus on getting
good value for your money,
good geometry, and quality components.
However, some brands that are renowned in the industry for offering bikes with these characteristics include:
…and many others.
You will likely not make a mistake if you choose a kids' bike made by one of these companies. They have plenty of experience and know what they are doing.