If dinosaurs had bicycles back in the day, they'd probably learn how to ride them on training wheels. But your child shouldn't. Instead, a much better option is teaching them how to ride on a Strider balance bike. If you're wondering why find out below.
Part of Best Bike Brands
Strider has made a name for themselves by producing balance bikes that work and popularizing them in the US.
Strider's founder, Ryan McFarland, was dissatisfied with the fact that his son could not learn to ride a bike on traditional learn-to-ride vehicles and follow him on his rides.
What was the next logical step?
Create a machine that suited his son better.
That's how he came up with the concept of Strider—light and simple two-wheelers that focused on the fundamental skill of balance and nothing else.
What Is a Strider Bike?
A Strider bike is a simple balance bike that has no pedals. It's used to teach a child how to ride a bike by helping them develop their balance on two wheels.
Strider bikes are available with 12″ and 14″ wheels and have a very low standover clearance. That makes it possible for children to have both of their feet firmly on the ground while sitting on the saddle, which boosts confidence.
To propel themselves, they simply push with their feet and maintain balance by pushing against either side with their legs. Once they learn the ropes, kids can gain momentum, lift both legs in the air, and happily cruise around on their own.
The 14″ Strider bike can easily be transformed into a pedal bike, so kids can use it to learn how to ride and continue riding it once they've mastered the art of balance.
What's the Right Age For a Strider?
Talking about the lower age limit, if your child can walk, they can also have fun on a Strider balance bike. Specifically, that usually means between 18 months and 5 years for Strider 12″ models and 3 to 6 years for the 14″ model.
However, if you want to get your toddler used to bikes even earlier than that, you can get them a Strider Rocking Bike, which we'll tell you more about below. It's a good choice for kids between 6 and 18 months of age who still haven't mastered walking.
If you've just discovered balance bikes and are wondering why training wheels are not the best choice, see our explanation of Balance Bikes.
---
12″ Balance Bikes
---
Strider 12 Classic
Inseam: 12.0″ – 17.0″
Age: 18 months – 3 years
Bike Weight: 6.7 lbs
Strider 12 Classic is the simplest and cheapest of all Strider bikes. It costs less than $100 and comes with all the features your little rider needs and none that they don't.
The frame and fork are made from steel, so they can carry a rider that weighs up to 60 lbs. The tires are made from foam, so you don't need to worry about adding air to them. They're great for light riders.
While Strider Classic has the lowest seat height of all balance bikes, the seat post can be upgraded to fit taller children as well.
The only downside to this budget-friendly balance bike is that it comes in one color. Good luck convincing your toddler to ride it if they're not a fan of red.
Strider 12 Sport
Inseam: 12.0″ – 20.0″
Age: 18 months – 5 years
Bike Weight: 6.7 lbs
Strider 12 Sport is the best all-around balance bike for all tiny-legged toddlers out there. If you want your little rider to enjoy their Strider bike for longer, you should get them the Strider Sport model.
It has pretty much all the same specs as the Classic model, but it fits children with an inseam of up to 20″ thanks to a longer seat post. Plus, it costs just $20 more.
It still rides on foam tires, has a plush saddle, and ergonomic tiny grips. An additional benefit of choosing this model is that it's available in six fun and exciting colors—blue, green, orange, pink, red, and yellow.
Get your kid the right tool to learn and a source of fun and adventure for years to come with the Strider Sport model.
Strider 12 Pro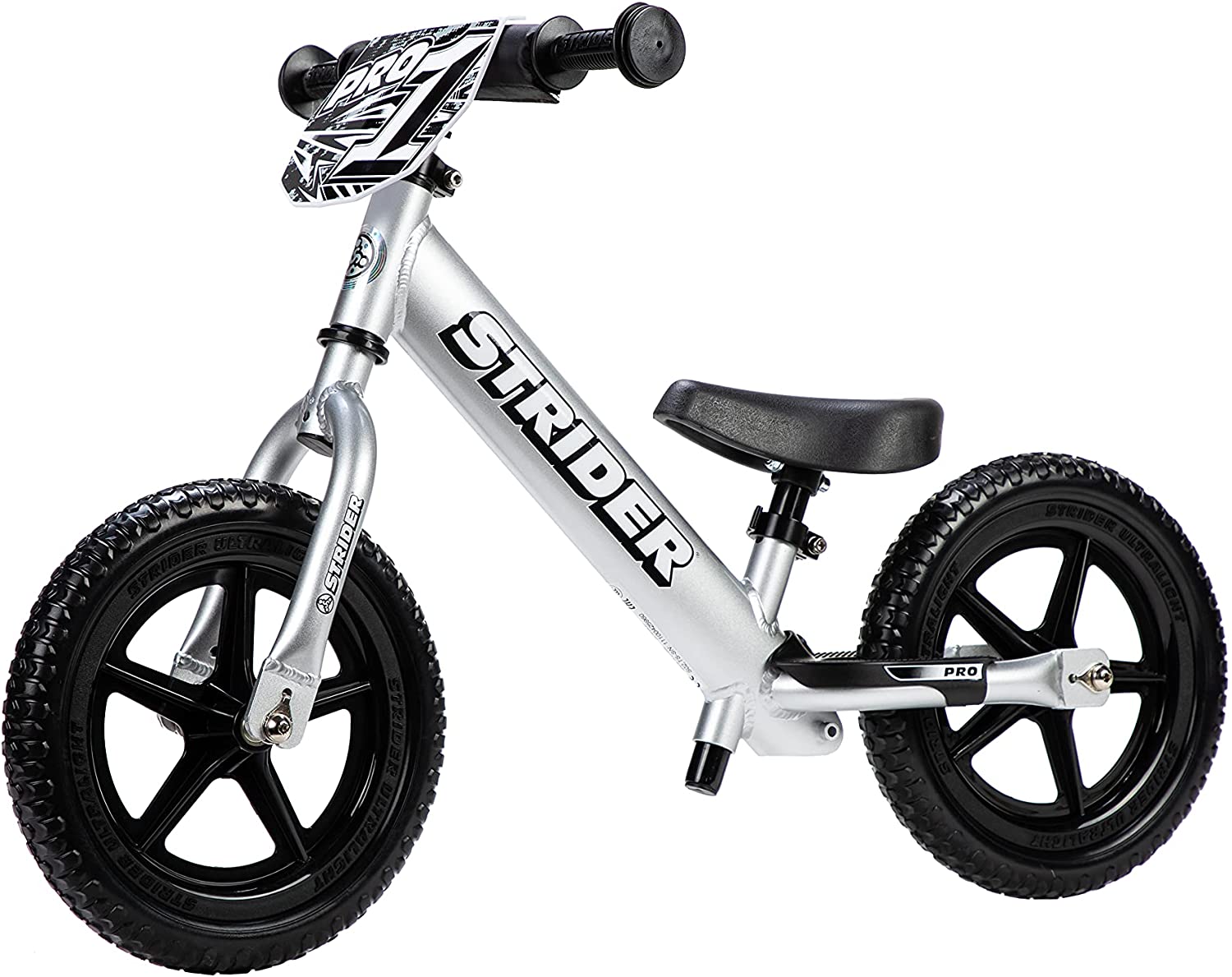 Inseam: 12.0″ – 20.0″
Age: 18 months – 5 years
Bike Weight: 5.6 lbs
Ideally, balance bikes should be as light and simple as possible. While 6.7 lbs for the Classic and Sport models is very low, Strider 12 Pro goes even lower. Thanks to its aluminum frame, this balance bike weighs just 5.6 lbs.
The saddle and handlebar are height-adjustable, so your child can use and abuse this performance-oriented two-wheeler until they're about 5 years old.
If your little rider craves speed, Strider Pro is the model that will put a smile on their face. It comes with textured footrests, so they have where to plant their tiny feat once they reach maximum velocity.
Again, the only downside is that it comes in two colors (silver and blue) which might not be every kid's favorite choice.
Strider 12 ST-R
Inseam: 12.0″ – 20.0″
Age: 18 months – 5 years
Bike Frame Weight: 466g
If you want the best, the lightest, the most nimble, and the fastest balance bike for your talented racer, then things don't get much better than Strider 12 ST-R. However, they also don't get much more expensive, as this carbon monster costs $900. Ouch!
Still, if your wallet is deep enough and you don't mind breaking the bank to get your toddler the meanest superhero bike, we say go for it.
Strider 12 ST-R has a full carbon fiber frame and fork with a carbon steerer and a Cane Creek® AER® headset with bearings. Moreover, the 10-spoke carbon fiber rims are wrapped in Schwalbe Big Apple tires that will stick to any surface like glue.
Strider ST-R is a special bike that's not for everyone. But any Strider Rider would feel like a superhero cruising around the neighborhood on it.
---
Strider 14X Sport Balance and Pedal Bike
---
Inseam: 16.0″ – 23.0″
Age: 3 years – 7 years
Bike Weight: 12.5 lbs (without pedals)
The Strider 14X Sport balance bike is the only Strider bike with pedals. This model rolls on 14″ wheels with air tubes and 1.75″ all-purpose tires. That makes it suitable for taller toddlers and preschoolers.
The beauty of the Strider Sport is that an additional pedal kit can be purchased and fitted on it. Therefore, when your mini rider masters balance, you don't need to go out of your way and buy another bike for them. Just fit this one with pedals and watch them have fun for a few more years.
The Strider 14X Sport balance bike is also equipped with wide footrests and comes in three funky colors: blue, green, and pink, making it suitable for both boys and girls.
Converting it from a balance bike into a pedal bike is quick and easy, as Strider provides you with all the tools and instructions you need. The pedal kit has coaster brakes, which will make skidding your Strider rider's new favorite thing to do.
Related: Overview of Woom Bikes
Rocking Bikes for Babies
Strider Balance bikes are intended for kids who are at least 18 months old or kids who have mastered walking even earlier.
But what if your baby wants to ride before that? Strider has thought about it. They can easily do it on Strider's Rocking Bikes.
Rocking Bikes are basically a 2-in-1 solution that can provide your child with loads of fun for years to come. Strider made these by offering their Strider 12 Sport and 12 Pro models with a special platform that supports the bike and allows it to rock back and forth.
When the baby is ready to start balancing on their own, the bike detaches and your kid is ready to feel the freedom and excitement that balance bikes bring.
Didn't find what you were looking for? Take a look at the best balance bikes (in our opinion).
Accessories
Apart from selling complete balance bikes, Strider also has a bunch of useful and quirky accessories. You can get these to make riding more enjoyable and more fun for your toddler cyclist.
For example, if you want to make riding balance bikes safer, you can get Strider's elbow and knee pads, helmets (a must!), lights, and gloves.
If you are looking for more fun accessories, see our best picks for kids' bike accessories.
To upgrade the bike and make riding more fun, you can get the Strider 14X pedal kit, a kickstand, variously colored grips, snow skis, carbon wheels, and more.
Basically, Strider can provide you with whatever you need to keep your kid's favorite balance bike running for a long time, even when they start growing out of it.
Consider Also: Woom 1 Balance Bike
Strider Events and Races
How to make children fall in love with cycling? Make it as fun as possible, of course! Strider's events and races are the perfect opportunities to show kids what riding bikes is all about—spending time outside, racing, making friends, and having a blast of a time!

Strider frequently organizes events and races all around the world that both kids and parents can enjoy. These can be both competitive and non-competitive, teaching kids about riding skills and sportsmanship.
We especially love the Strider Adventure Zone with obstacles, as well as Exploring and Discovery rides. But the racing events are super-fun and cute as well, and there are even nice prizes in place for the winners.
FAQ