No matter how old a child is or what kind of cycling they want to do, there's a woom bike out there that will fit them! These are child-friendly and pocket-friendly youth bicycles that every parent should consider first.
Woom bikes are a quality bike brand with headquarters in Austria, specializing in kids' bicycles of all sizes. The company was started by two dads who were disappointed with the fact that decent bikes for their children were hard to come by.
Woom's lineup includes balance bikes and pedal bikes for toddlers and preschoolers, as well as bigger kids' bikes suitable for school kids and teenagers.
They even make proper kids' mountain bikes with disc brakes intended for off-roading.
At first glance, woom bikes seem more expensive than the average, but the steep price is more than justified. These are high-quality and well-built two-wheelers that will last for years and may switch several little owners before they need to be replaced.
Here's our review of woom's lineup that will tell you more about the individual models and help you choose the right one!
---
Important Safety Recall Notice
woom bikes USA, in cooperation with the U.S. Consumer Product Safety Commission (CPSC) and Health Canada, is voluntarily recalling the woom ORIGINAL bikes from model years 2018–2021 with a one-bolt stem clamp design. The stem and handlebar on the bikes can detach and cause riders to lose control, posing a fall hazard. The risk of injury is more likely to occur when the stem clamp bolt is not sufficiently tightened using a torque wrench to the recommended 10 Nm.
Affected bicycles are woom ORIGINAL bikes in sizes 1, 1 PLUS, 2, 3, 4, 5 and 6 and can be identified by their one-bolt stem clamp design, using a single silver bolt.
Read the full notice on this link.
---
woom 1
MSRP $199
12″ Wheels, 6.6 lbs.
Fits: 1.5 – 3.5 years (31″ – 40″)
FULL REVIEW: woom 1
Woom 1 is an incredibly lightweight aluminum balance bike. It's ideal to teach your child how to maintain balance on two wheels.
This woom balance bike has a very low standover clearance, so it fits children as young as 1.5 years. If they can walk, they can certainly have fun on woom 1 as well!
The good news is that you won't have to buy another bigger balance bike before your little rider transitions to a pedal bike thanks to a long seat post that fits different inseam lengths.
One of the things that set woom 1 apart from other similar balance bikes is that it has a hand brake. It is attached to the rear wheel and operated with a short-reach lever ideal for tiny toddler hands.
Woom 1 balance bike has 12″ wheels with pretty wide air tires that are comfortable to ride on pavement, grass, and unpaved roads and backyards.
This excellent baby bike is available in five bright and fun colors and weighs just 6.6 lbs., which is probably lighter than your cat! If need be, small riders will be able to lift the bike themselves and even carry it.
If you want a reliable and durable bike that will teach your kid how to cruise on two wheels, woom 1 is a no-brainer.
woom 1 Plus
MSRP $269
14″ Wheels, 9.5 lbs.
Fits: 3 – 4.5 years (37″ – 43″)
FULL REVIEW: woom 2
Not all kids start learning how to ride a bike at the earliest possible age. Some toddlers start a bit later. That's why woom created the woom 1 Plus model.
This 14″ balance bike is made for toddlers between 3 and 4.5 years old who are ready to learn the ropes of riding on two wheels.
One of the things that stand out on this excellent balance bike is the wooden footrest. Once your toddler is confident enough to lift the legs in the air and pick up speed, they can place them on the footrest instead of holding them up.
Woom 1 Plus is not just bigger than the original woom 1, but it is better equipped as well.
Another big selling point is front and rear hand brakes. Older kids will probably be more eager to ride fast, so it is important for them to slow down and stop when necessary.
Woom 1 Plus balance bike is pretty safe as it comes with a steering limiter that prevents the handlebar from turning too far to either side. It can be quickly engaged and disengaged.
With Woom 1 Plus, kids aged 3+ can now learn how to ride a bike faster and easier than ever before!
woom 2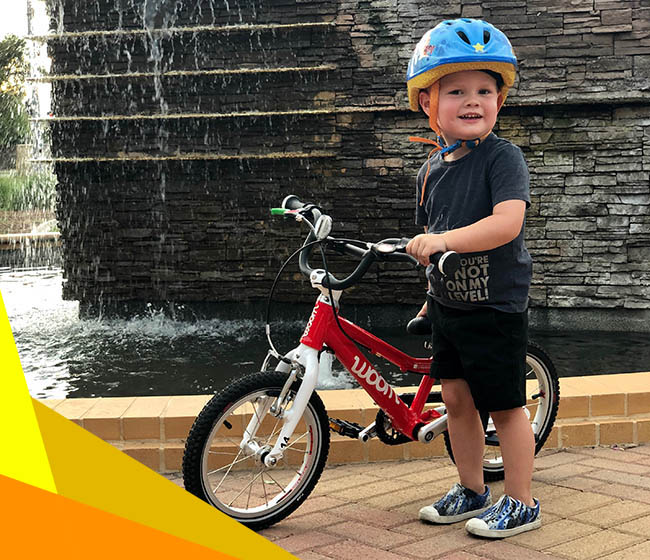 MSRP $359
14″ Wheels, 12.3 lbs.
Fits: 3 – 4.5 years (37″ – 43″)
Is your toddler already gliding on a balance bike with feet high up in the air and a big smile on their face? Then it's probably a good time to buy them their first pedal bike — woom 2!
It has everything a child needs to make their first confident pedal strokes. From wide tires and big pedals to brakes and solid grips.
Woom 2 is a tiny pedal bike with 14″ wheels and a very similar geometry to woom 1 Plus. It's intended for children older than 3 who have already mastered balancing.
The drivetrain comes with a chainguard that will prevent messing up the pants or smearing chain grease on legs. There's also a steering limiter (which comes standard on woom bikes) and even a kickstand to park the bike when taking a cookie break.
Woom 2 can be easily adjusted to fit kids between 37″ and 43″ in height. The saddle can be lifted by undoing a quick-release lever and the handlebar position can be adjusted as well.
We like this bike because it is light (12.3 lbs), rolls on wide and knobby air tires, and has a comfy saddle. Above all, it's an excellent first pedal bike to learn the basics of riding on.
Read our full review of woom 2
woom 3
MSRP $399
16″ Wheels, 13.1 lbs.
Fits: 4 – 6 years (41″ – 47″)
Children older than four usually have more than enough hand-eye coordination and good motor skills. This is the right time to start improving their riding skills and practicing pedaling and handling.
Woom 3 bike is the right tool to help kids get this fun job done. This 16″ wheel pedal bike has a long wheelbase and a low center of gravity. So, this bike is very stable and easy to handle.
Wide and knobby tires wrapped around lightweight SOOPA-DOOPA rims help make steering and riding easier as well.
With woom 3, you'll get all of the safety and comfort features seen on other models as well, such as a chain guard, steering limiter, plush saddle, and more.
Woom 3's brake levers are color-coded, which makes it easy for kids to remember which one is front and which one is rear. That will prevent many falls, scrapes, and scratches.
This bike comes with a kickstand included in the price, but you can equip it with other handy accessories as well, such as a water bottle cage, bell, lights, handlebar bag, and even a rear rack!
It seems like woom has thought about everything that's necessary to promote confidence and help kids pedal on their own as fast as possible.
woom 4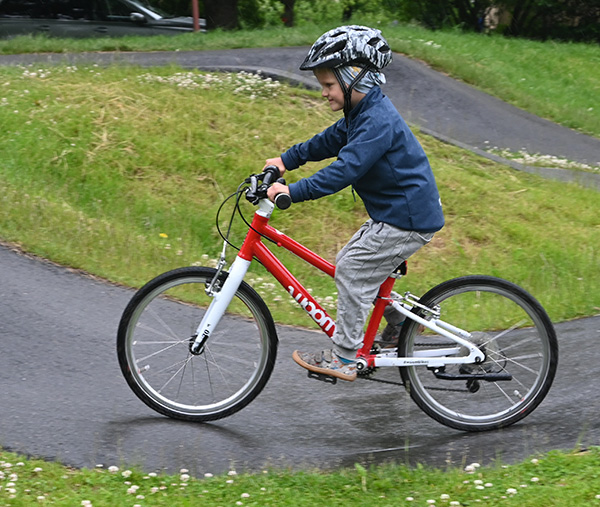 MSRP $499
20″ wheels, 17.9 lbs.
Fits: 6 – 8 years (45″ – 51″)
It's time to learn about shifters and gears! Woom 4 is a geared kids' bike with 20″ wheels. It's intended for preschoolers and school kids who are old enough to start learning how derailleurs work.
Woom 4 bike has a 1×8 drivetrain with a SRAM X4 derailleur that's easy to use. Kids only need to worry about the rear derailleur controlled with a grip shifter that kids can easily operate with their tiny hands.
If you think your little cyclist is tall enough for 20″ wheels and ready to be introduced to gears, shifters, and derailleurs, the woom 4 bike is the right tool to learn the ropes.
Having a derailleur will significantly expand the possibilities for the little rider and allow them to pedal more efficiently, climb hills, and have more fun.
Other interesting characteristics of the woom 4 kids' bike include quality front and rear V-brakes, low standover height, and knobby tires.
Woom's special adjustable stem allows you to make the bike higher or longer, which makes the bike grow with the child. Therefore, they can use it for longer, and you can postpone spending money on a new two-wheeler.
Like all other woom bikes, this one is available in five bright colors — red, blue, green, purple, and yellow.
woom 5
MSRP $529
24″ wheels, 20.3 lbs.
Fits: 7 – 11 years (49″ – 57″)
Take riding a bicycle to the next level and get ready for entering the adults' world of cycling with woom 5. This bike rolls on 24″ wheels, making it suitable for school kids and young teenagers who have already mastered pedaling, braking, and shifting on smaller bikes.
It's equipped with 8 speeds with a SRAM X4 derailleur that will give children the necessary freedom to go on adventures even in the hilly parts of the neighborhood.
One of woom 5's biggest selling points is its weight, as this bike weighs just 20 lbs. That's pretty light for such a big and capable bicycle.
Woom 5 bike also has reliable alloy dual hand brakes and an adjustable stem, so children will not outgrow it for a while.
The tires on this bike are 1.85″ wide and quite knobby. So, they're capable of tackling paved and unpaved roads alike. Plus, they'll last a long time since they're made by Schwalbe.
So, if you want a high-quality yet affordable kids' bike that will help them transition to an adult bike, woom 5 is a step in the right direction.
woom 6
MSRP $569
26″ wheels, 22.1 lbs.
Fits: 10 – 14 years (55″ – 65″)
Woom 6 bike is everything a "big kids' bike" should be. It has a lightweight aluminum frame, large color selection, quality components that can take some abuse, and versatile intended use.
This youth bike comes in at 22 lbs, which is considered to be light by all cycling standards. Like woom 5, it has 8 gears and an SRAM X4 rear derailleur, the combination of which works well for most hills.
The 26″ Soopa-Doopa-Hoops aluminum wheels on woom 6 are fitted with 26″x1.95″ wide Schwalbe tires that are ready for off-road riding. However, they're not too wide to prove sluggish on pavement either.
Woom 6 is the right two-wheeler to get a feel for adult bikes and practice the necessary skills to ride your first 27.5″ or 29″ bicycle.
This woom bike is also fitted with two hand brakes that engage front and rear V-brakes. The brake levers are soft and don't require too much force to come to a quick stop.
When it comes to the accessories, a kickstand on woom 6 is included for free, but you can equip it with other handy accessories such as a bell, fenders, bags, water bottle cages, and so on.
Therefore, with woom 6, your little rider can finally join you on adult rides and not lag behind.
---
woom Bikes OFF & OFF AIR Series
---
Woom OFF & OFF AIR series are kids' mountain bikes. The OFF series has wider knobby tires and OFF AIR has front suspension in addition to wide off-road tires. Both OFF and OFF AIR series come with capable disc brakes.
These bikes are mainly suitable for off-road riding on dirt and gravel roads, fire roads, as well as trails, and singletracks.
Woom OFF 4
MSRP $799
20″ wheels, 17.2 lbs.
Fits: 6 – 8 years (46″ – 51″)
Woom OFF 4 bike is known to be a high-quality and highly capable kids' mountain bike. And thankfully, one that will not break the parents' bank.
Like all other woom bikes we talked about, it's made with an attractive-looking and lightweight aluminum frame and child-friendly geometry.
The frame's top tube drops as it approaches the seat tube to provide more standover clearance. This makes mounting and dismounting the bike easy and provides more control on off-road rides.
Woom OFF 4 offers incredible bang for the bike as it has a reasonable price but offers a long list of trail-ready components.
The most important feature of woom OFF 4 is the tires. Schwalbe Rocket Ron tires are 20″ in diameter and 2.25″ wide, so they afford a lot of grip and last for a long time.
In addition to that, woom OFF 4 has powerful hydraulic disc brakes with 140 mm rotors. These should stop on a dime anytime.
SRAM's X5 rear derailleur shifts smoothly through all 9 gears that this bike comes with, ensuring consistent pedaling on climbs and flats.
You should consider surprising your little one with woom OFF 5 if they love getting muddy, exploring trails, and prefer riding off-road to perfectly smooth tarmac.
woom OFF 5
MSRP $849
24″ wheels, 18.9 lbs.
Fits: 7 – 11 years (50″ – 57″)
Woom OFF 5 bike is the ultimate off-road two-wheeler for kids aged 7 and up who want to hit the trails and be on par with their parents.
This mean-looking trail-gobbling machine has a lightweight 6061 T6 aluminum frame made from butted and hydroformed tubes.
The geometry provides a long wheelbase and a low center of gravity, so woom OFF 5 is super-stable on uneven terrain. The slanting top tube provides easy access at all times.
Any child who wants a capable bike that fits well and looks like an adult bicycle will ride woom OFF 5 with a big smile on their face.
Same as woom OFF 4, this model sports a light carbon fork with a 100 x 15 through axle and a 1″ – 1 1/8″ baby taper shaft that provides more strength and durability.
Hydraulic disc brakes and a 1×9 SRAM X5 drivetrain means that OFF 5 is capable of doing some serious damage on the trails.
The same can be concluded regarding the superlight woom aluminum wheels and 2.35″ Schwalbe Rocket Ron tires. They ensure low rolling resistance and high trail performance.
Thanks to woom OFF 5, 7-11-year-old kids can finally ride a proper mountain bike that most parents can easily afford to buy. It's a win-win!
woom OFF 6
MSRP $899
26″ wheels, 20.5 lbs.
Fits: 10 – 14 years (55″ – 65″)
The age span between 10 and 14 years is the time when kids acquire the most important trail-riding skills that will turn them into better riders in the future. With the right guidance, some of them might even become pros.
Woom OFF 6 bike is a step in the right direction as it acts as the perfect bridge between fun and laid-back mountain biking and the proper competitive sport. It can do a little bit of both.
This kids' MTB comes with a 9-speed drivetrain that can support some serious climbing. The crank with one 28T ring is paired with an 11-36T cassette in the back. This results in a wide gear ratio that will enable children to ride more and walk less.
Woom OFF 6 is the ultimate big kids' mountain bike with low total weight and high overall on-the-trail performance.
Like all other models from this series, woom OFF 6 is outfitted with hydraulic disc brakes, top-shelf SRAM X5 components, wide Schwalbe tires, and superlight woom rims.
The weight of the entire bike is just 20 lbs, so it will be super-easy to handle. Kids that love spending all day on the bike will enjoy the grips and the saddle which are child-specific and 100% non-toxic.
---
Woom Hardtail Mountain Bikes
---
This is a line of woom's off-road bikes that feature air suspension forks, in addition to massive tires and mighty hydraulic disc brakes.
They're capable of serious off-road rides on mountain roads or in bike parks, suit a wide range of ages and heights, and boast attractive price tags.
woom OFF AIR 4
MSRP $949
20″ wheels, 19.9 lbs.
Fits: 6 – 8 years (46″ – 51″)
A problem with many kids' mountain bikes out there is that they are intended for recreational riding, assuming that kids don't need high-quality tubing and components. That's not woom's approach with the OFF AIR series.
This ultralight MTB is made from a 6061 T6 aluminum frame and fitted with a quality air suspension fork that provides 60 mm of travel. It also offers a lockout function and rebound adjust, so it can be dialed in to fit the needs of each individual rider.
Woom OFF AIR 4 is a robust and high-performing youth mountain bike that has components on par with those seen on adult bikes.
Woom OFF AIR 4 bike is powered with a 1×9 off-road-specific drivetrain with an SRAM X5 derailleur and a trigger shifter. It will teach kids everything they need to know about gears and proper shifting.
All in all, this bike is very similar to the OFF 4 model. It rolls on woom's OFF DISCO TEC double-chamber aluminum rims with durable sealed bearings. These are clad in Schwalbe tires with low rolling resistance and excellent shock absorption.
The woom OFF AIR 4 will certainly satisfy the thirst for adventure and trails of any aspiring young rider. It's a foolproof choice for parents who are debating what to choose.
woom OFF AIR 5
MSRP $999
24″ wheels, 22.3 lbs.
Fits: 7 – 11 years (50″ – 57″)
Does a proper kids' mountain bike with hydraulic disc brakes and an air fork for $1,000 sound too good to be true? We assure you it is true and it's called woom OFF AIR 5.
This hardtail youth trail bike shares all the awesome features with the woom OFF series but adds a plush air fork instead of a rigid carbon fork.
On this model, you get 80 mm of travel, lockout, and adjustable rebound. The good news is that this fork adds just 2 lbs to the total weight. The OFF AIR 5 comes in at 22.3 lbs.
The biggest standout feature of woom OFF AIR 5 is the massive tires with tall knobs that will dig in deep into any kind of loose surface.
In addition to being capable of smashing dirt roads and forest trails, woom OFF AIR 5 can also handle some abuse in the form of jumps and drops.
Hydraulic disc brakes and a 9-speed SRAM X5 rear derailleur are standard equipment on all bikes in this series. They've proven to be an excellent choice, so why change something that works.
OFF AIR 5 bike has remarkable value for money considering the rich scope of riding options it provides to kids who want to specialize in off-road riding and have fun on the trails.
woom OFF AIR 6
MSRP $1,049
26″ wheels, 24.3 lbs.
Fits: 10 – 14 years (55″ – 65″)
How do you become a pro trail rider and master 27.5″ and 29″ adult bikes? One of the ways to do it includes practicing on the woom OFF AIR 6 youth bike.
Don't let the word "youth" fool you. This bike does not differ from adult mountain bikes in any regard but in size and geometry. Therefore, it is the perfect tool to transition from kids' bikes to bikes for big boys and girls.
Woom OFF AIR 6 bike has 26″ wheels, which makes it suitable for teenagers of up to 14 years. However, older and shorter kids can ride it as well.
Woom OFF AIR 6 is the best proper kids' mountain bike you can buy for less than $900 that's capable of serious all-mountain and trail riding.
It has a suspension fork with a lockout function that ensures comfort and performance when you need them the most. You can lock it on the way to the trails and unlock it when you get off pavement to unleash all of its power.
The hydraulic disc brakes are combined with special brake levers. These are designed for children's hands that increase safety and control in all situations.
The saddle is another important feature. It's designed specifically to support the anatomy of children's hips and allow them to ride for longer than before.
Therefore, woom OFF AIR 6 has all the necessary elements to become any kids' favorite friend on the trails.
See More: Best Bikes For Teens
---
Woom NOW Series
---
The NOW Series is a new line of bikes from woom. They offer so much for the price, so let's dive right in!
woom NOW 4
MSRP $749
20/16″ wheels
Fits:  6 – 8 years (46″ – 52″)
Woom makes lots of different racing bikes for kids and even mountain bikes, but have you ever seen a gravel touring bike for kids?
This is an excellent bike for a little traveler who wants to have an adventure around the local park and carry all their lunch themselves.
Woom NOW 4 bike has mixed 20/16″ wheels, which makes it suitable for up to 8-year-olds. The mixed wheels make controlling it very easy and extremely fun to ride. Along with the low range gearing it's a very entertaining bike to ride on.
Woom NOW 4 is the best proper kids' touring bike you can buy at this price range, that is capable of serious adventure and trail riding.
We absolutely love the front carry rack and the light on the front is excellent for not just visibility but also to make them seen. The frame bag is great for carrying their own little spares and toys.
The hydraulic disc brakes are combined with special brake levers. These are great for stopping quickly and teaching your child how to stop a bike safely.
Again the saddle is another important feature. It's designed specifically to support the anatomy of children's hips and allow them to ride for longer than before.
Woom NOW 4 is the perfect bike to introduce a more adventurous side of cycling to your child.
woom NOW 5
MSRP $799
24/20″ wheels
Fits:  7 – 11 years (49″ – 58″)
Woom NOW 5 is really similar compared to the NOW 4, but there are still some differences.
This is an excellent bike for a child to take their backpack to school and also for some great weekend adventures.
Woom NOW 5 bike has 24″ and 20″ wheels, which makes it suitable for teenagers of up to 11 years. The mixed wheels are slightly larger than the last model and give the bike excellent handling with that small wheel at the front.
Woom NOW 5 is the best proper kids adventure bike which is going to get them used to carrying there own toys around while in the park or on a local path.
It's an excellent little setup with the fenders to keep them clean, the carrying rack for everything they want to bring with them, the frame bag for snacks, and the lighting for safety.
The hydraulic disc brakes are excellent and have so much power. This really helps stop quickly and that is vital on a children's bike. We like the gearing as it's easy to use and has lots of options.
The saddle has been designed specifically to support the anatomy of children's hips and allow them to ride without feeling uncomfortable.
To sum it up, woom NOW 5 is the perfect bike for kids who love commuting or some adventure in their lives.
woom NOW 6
MSRP $849
26/20″ wheels
Fits:  10 – 14 years (56″ – 66″)
Woom NOW 6 is the largest model in the series, and it's suitable for 10-14-year-olds. But let's be fair, this is a perfect option for shorter adults too!
This is an excellent bike for 10 – 14 years olds and is full of character and space to carry things.
Woom NOW 6 bike has 26″ and 20″ wheels, which makes it suitable for teenagers of up to 14 years. The mixed wheels are excellent not only for making it look like some kind of speed machine but also for keeping the front light and agile.
Woom NOW 6 is the a great bike for adventures for a child. It gives them the option to ride on all terrain and also carry lots of things with them.
The bike is very equipped with all the fenders, lighting, rack, and frame bag. Its got a lot of storage space and generally looks incredible.
The hydraulic disc brakes are excellent and have so much power. It's got plenty of gears got getting up hills which are very easy to use.
All in all, woom NOW 6 is a good option for teenagers or shorter adults.
---
Woom Electric Bikes
---
woom UP 5
MSRP $3,599
24″ wheels, 35.6 lbs.
Fits: 7 – 11 years (50″ – 57″)
Going for a family bike ride with kids is a blast for kids and parents alike. You can now ride tens of miles with your kiddos thanks to the woom UP 5 e-mountain bike.
The aluminum frame that the woom UP 5 is built around is powered with a Fazua motor that operates in three modes and comes with a 250WH battery. The maximum speed is limited to 12.5 mph, which is pretty safe.
Related: Best Electric Bikes For Kids
Even without the assistance, your little rider will be able to climb most hills thanks to a 1×11 SRAM NX groupset with a massive gear range. It's operated with a trigger shifter, so it's quite easy to use.
Woom UP 5 is a unique electric hardtail bike intended for school kids that are between 7 and 11 years old. You can now take your children along even if you go on longer rides and you plan climbing steep hills.
When the electric motor gets you up a steep hill, you can safely control the descent with a pair of hydro disc brakes with kids-friendly levers.
The hydraulic air suspension fork with 80 mm travel has rebound dampening and adjustable compression features, so you can dial it properly as your child grows. It will make trail rides so much more fun and comfortable.
So if you want your aspiring rider to be able to follow along on more demanding routes, the woom UP 5 e-bike will put a huge grin on their face.
woom UP 6
MSRP $3,749
26″ wheels, 37.3 lbs.
Fits: 10 – 14 years (55″ – 65″)
Woom UP 6 delivers loads of fun for everyone involved. Whether your kids want to actively participate in long family off-road excursions or do day-long trail loops with their friends, they can easily do it with this capable kids' e-bike.
Woom UP 6 is made with a lightweight aluminum frame that's paired up with the same air fork seen on UP 5, but with 90mm of travel. The headtube is tapered and the fork has a thru-axle.
Woom UP 6 weighs 37.3 lbs, which is pretty light for an e-bike. It's powered with a 250W Fazua motor that will easily pull the bike and the rider up the steepest and most scenic hills.
However, the rest of the components are pretty much the same as on the woom UP 5 model. We have the SRAM NX drivetrain, hydro disc brakes, aluminum wheels, and 26 x 2.35″ Schwalbe Rocket Ron tires.
The stem can be flipped to adjust the handlebar height. Therefore, your child can continue using the bike as they grow.
All in all, woom built the UP 6 model for serious adventures and off-road trips. The 2.35″ Schwalbe tires can handle dirt roads and singletrack routes and the air fork and disc brakes support real off-roading.
---
Accessories
Surprisingly, woom doesn't just make great kids' bikes. They also make different accessories that can extend the practicality and the application of their bikes.
A kickstand is a standard accessory on many woom bikes (not OFF and OFF AIR), which is a handy touch. If you want to add any other accessories, you can get them directly from woom.
The options here include:
Bells
Lights
Gloves
Water bottles
Bottle holders
Bike bags
Bike locks
Rear racks
Fenders
This is just a small part of the selection. In addition to this, woom also makes and sells helmets, cycling apparel, and spare parts.
The good news is that these accessories are pretty reasonably priced. Of course, some of them seem pricey. That's because they're more difficult to make, such as the Roo Handlebar Bag.
Some must-haves that we recommend are a bell, bike lights, a water bottle and a cage, as well as fenders. This will significantly improve the comfort and the safety of your child when on a ride.
Woom Bikes upCYCLING Membership
Kids grow fast and quickly outgrow their bikes.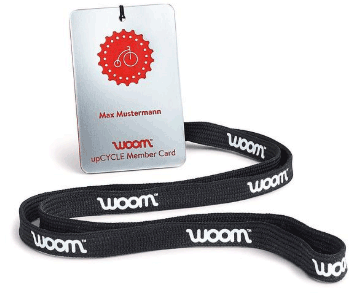 That means parents need to purchase several bikes until a child stops growing. All in all, it can gather up to be a lot of money.
Luckily, for just $59, you can get woom's upCYCLING Membership. The membership allows you to save on your future woom purchases by upcycling your old woom bike and getting a discount worth 40% of the returned bike's cost.
Upcycling requirements:
Already own a woom bike that's less than two years old.
Have purchased an Upcycle Membership.
Are buying a larger-size woom bike.
How to Upcycle an old woom bike:
Place an order for a new woom bike.
Email woom that you'd like to upcycle your old woom bike.
Receive the new bike at your front door.
Ship the old bike in a box you receive to woom.
Receive a refund if the bike is in an okay-to-be-used condition.
In addition to saving 40% off your next purchase, there's another reason to upcycle your old bike. They don't sell the used woom bikes. Instead, they donate them for free to elementary schools and charities.
It's a win situation for all.
FAQ