Priority Bicycles is a small NYC-based company committed to making high-quality, low-maintenance bicycles, and offering them with attractive price tags.
Priority
makes different types of bicycles, mostly intended for
commuting, fitness riding, and city riding
. But they offer a few electric and kids' models as well.
What's common for all Priority bikes are carbon belt drivetrains and internal Pinion/Enviolo gearboxes. These bicycles have carbon belts instead of chains and no derailleurs, so they require very little maintenance to keep going strong for years.
The founder of Priority Bicycles, David Weiner, started the company aiming to make bicycles that are good-looking, cheap, not very technical, easy to maintain, comfortable, hard to steal, and easy to use.
Judging by Trustpilot reviews, it looks like his customers think he has succeeded:

That's why we have decided to write this Priority Bicycles review, tell you more about the most popular models, answer any questions you have, and help you choose the one that will suit your needs the best.
Let's begin!
Priority Ace
MSRP: $599–$899
Type: Fixie or Single-Speed
Gears: Flip-flop hub with a Gates Carbon Belt
Colors: One color (Black)
Priority Ace is a one-of-a-kind bicycle. This is the first fixie bicycle with a flip-flop hub and a Gates Carbon Belt. It's available in two variations.
The cheaper, more basic Ace of Clubs model is ideal for casual riders who need a smooth daily commuter. If you are a recreational cyclist and you're in no big rush, this is the model for you.
On the other hand, Ace of Spades is a more performance-oriented bicycle perfect for urban riders who want speed, adrenaline, and excitement. It will leave a strong impression wherever you go.
They are ultra-cheap and deliver pretty good value for the money. If you want a fixie bike, why not get a super-fast one with a maintenance-free carbon belt?
Priority Bicycles 600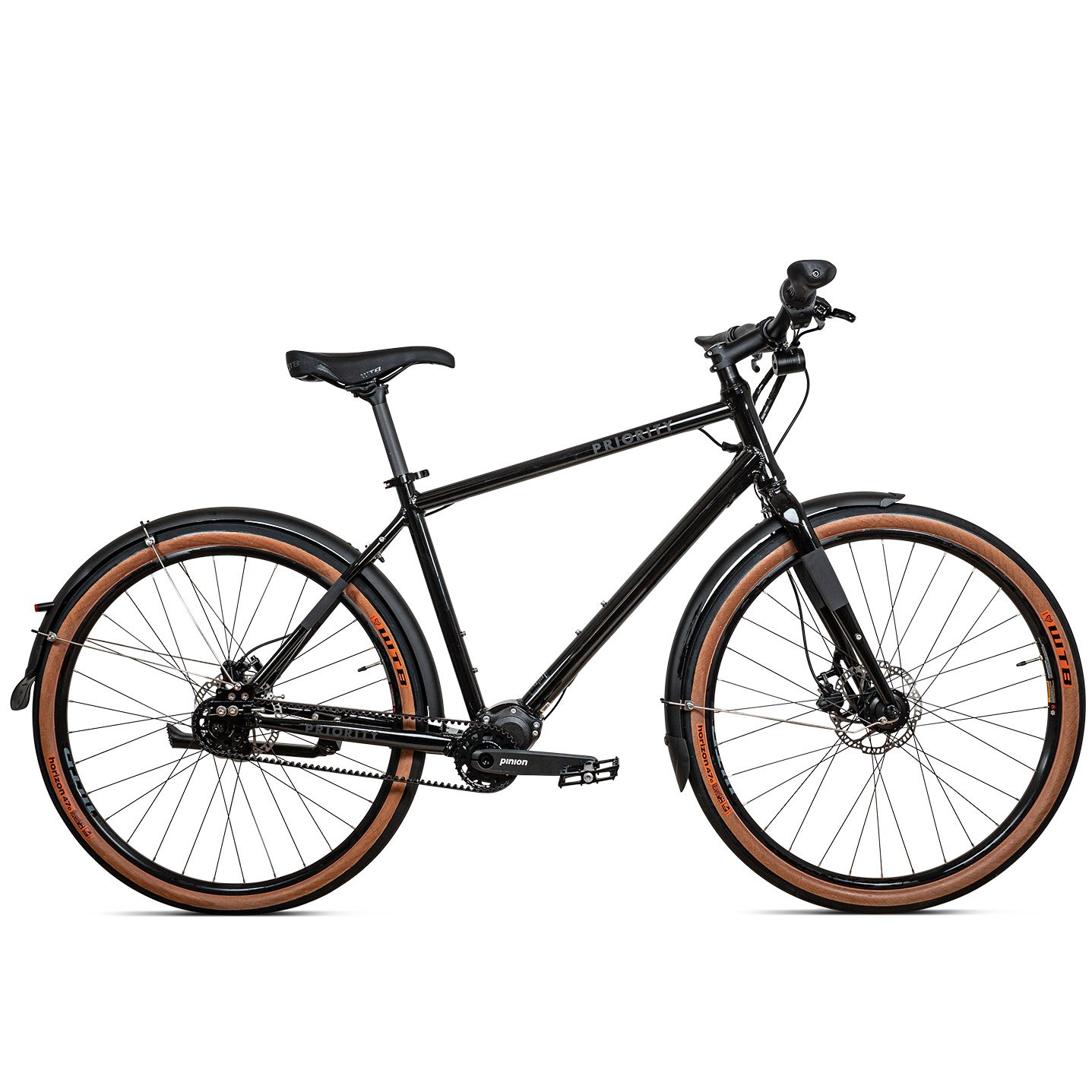 MSRP $2,499
Type: All-Road Daily Commuter
Gears: 12 Speeds (600% gear range)
Colors: One color (Black)
FULL REVIEW: Priority 600
Priority 600 is one of the most popular and one of the more expensive models coming off Priority's production lines. They describe it as an "automotive-inspired, all-road model" which is easy to understand when you look at the lines and the colors.
With an ultralight aluminum frame, 12-speed Pinion Gearbox, fully enclosed in the bottom bracket, it's everything you could ask for and more.
This is truly one of the most complete bicycles a daily commuter could ask for. It has the robustness of a do-it-all workhorse and an elegance that makes it stand out wherever it appears.
Priority Continuum Onyx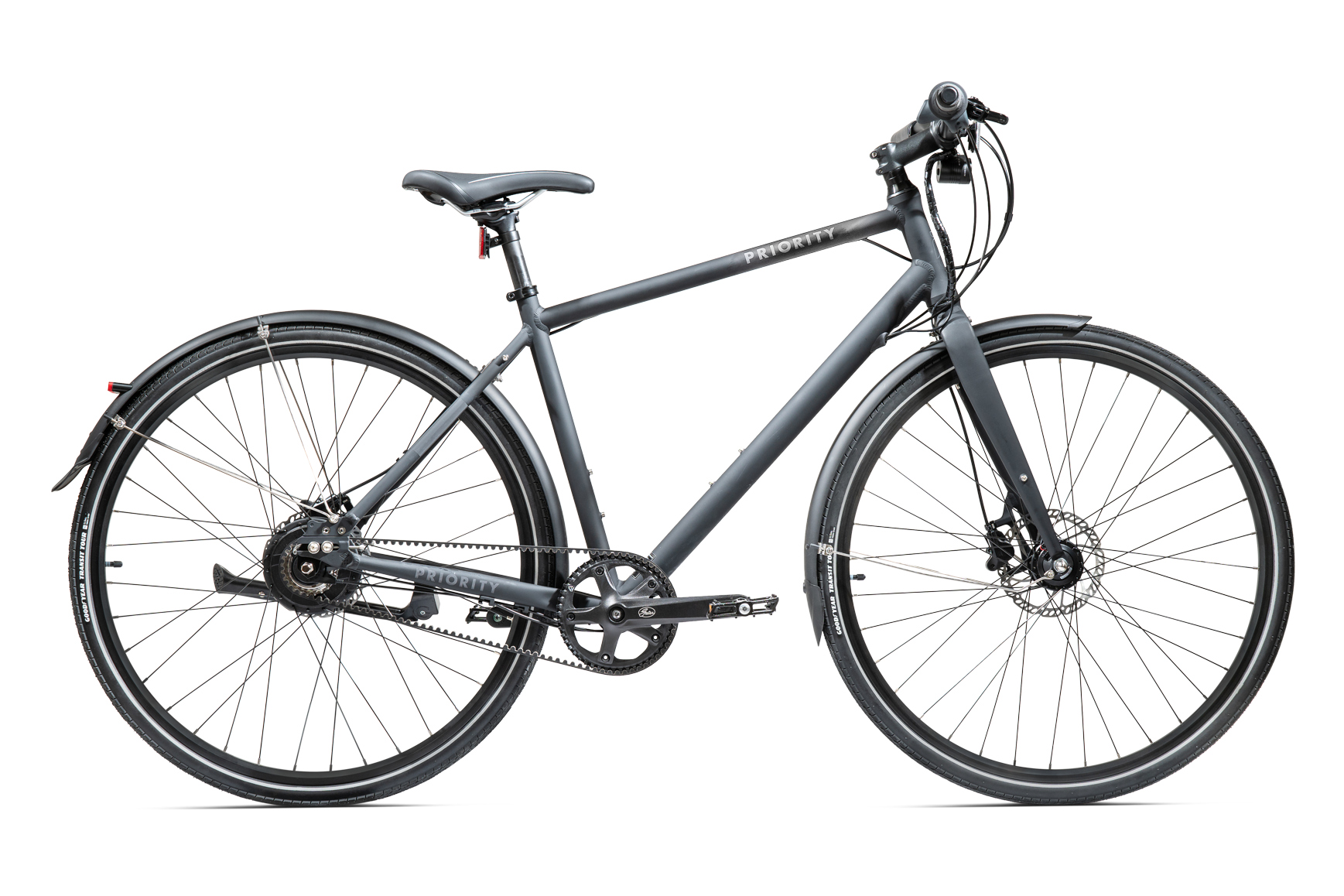 MSRP $1,299
Type: Hybrid commuter
Gears: Enviolo Trekking CVT (380% gear range)
Colors: One color (Black)
FULL REVIEW of Continuum Onyx
If you're on the lookout for an affordable and pain-free year-round commuter, I believe you have found it. Priority Continuum Onyx checks these three boxes with ease.
This is an aluminum commuter bicycle that can double as a sport-touring bike, or triple as a fitness bike. It has an unprecedented value for money reflected in the simplicity of the design, the quality of the parts, and the thoughtfulness that went into tiny details.
Priority Turi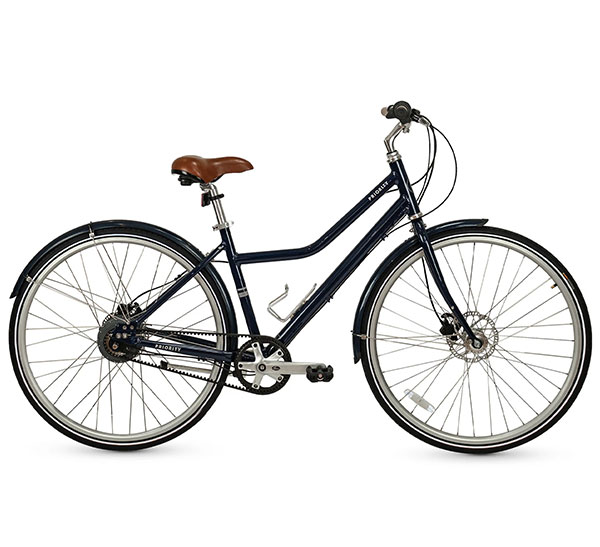 MSRP $949
Type: City bike
Gears: Enviolo City CVT (310% gear range)
Colors: One color (Blue)
If you're one of those riders and you need a bike for casual city rides, weekend leisure rides, and light commutes, Priority Turi might spark your interest.
This is the definition of a low-maintenance, fuss-free bike that you can ride all day long, store it overnight, and then do the same thing the following day with no hassle in-between.
Buy Priority Turi if you want a daily companion that will take you from point A to point B every single time and not ask for anything in return.
Brilliant L Train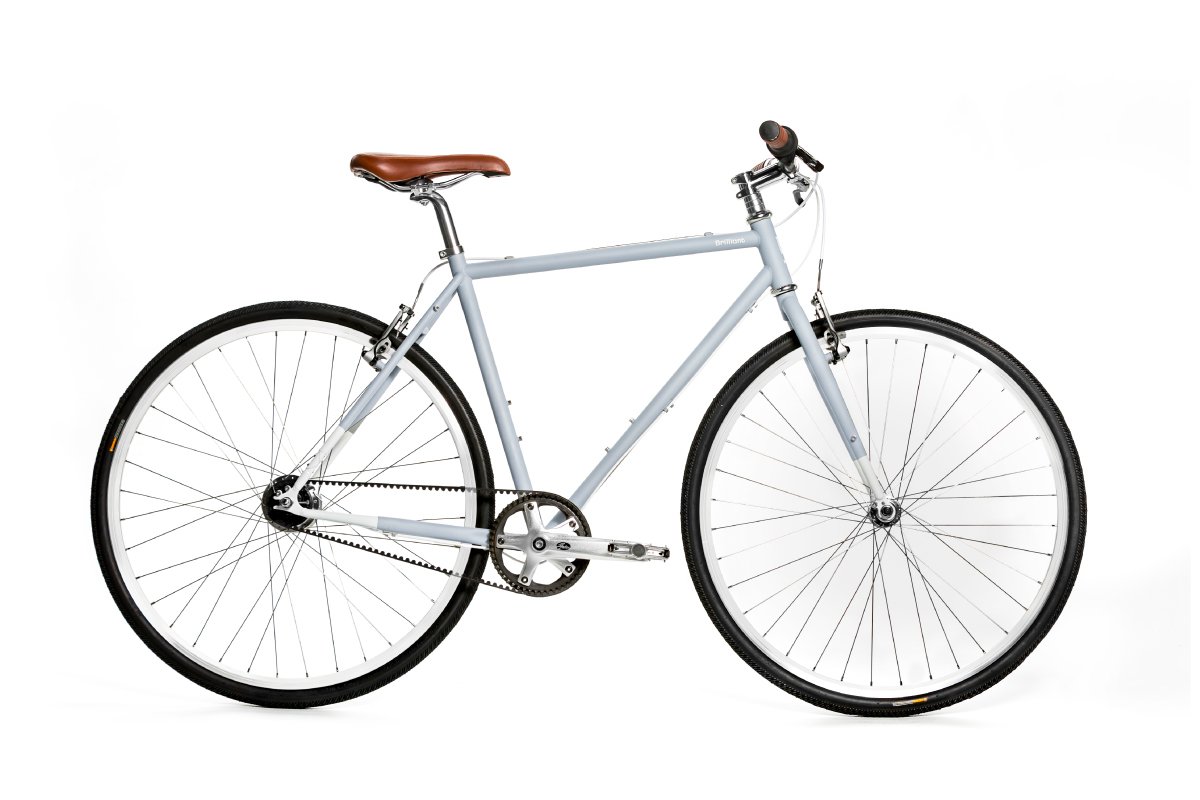 MSRP $750
Type: City Commuter
Gears: 7 gears
Colors: Two colors (Subway Grey & Hudson Blue)
Brilliant L Train is the brainchild of Dave Wilson, the founder of Priority Bicycles. It came as a result of collaboration with Priority's sister company called Brilliant.
This lightweight Chromoly commuter got its name from NYC's famous cross-town train that connects two parts of the city. That's exactly what the L Train bike will do as well — get you across the city in the shortest amount of time.
Same to all other Priority's bicycles, Brilliant L Train uses a carbon belt instead of a chain. With Shimano's 7-speed internal hub, powerful and dependable V-brakes and puncture-resistant tires, this bike is made to last.
Classic Plus Gotham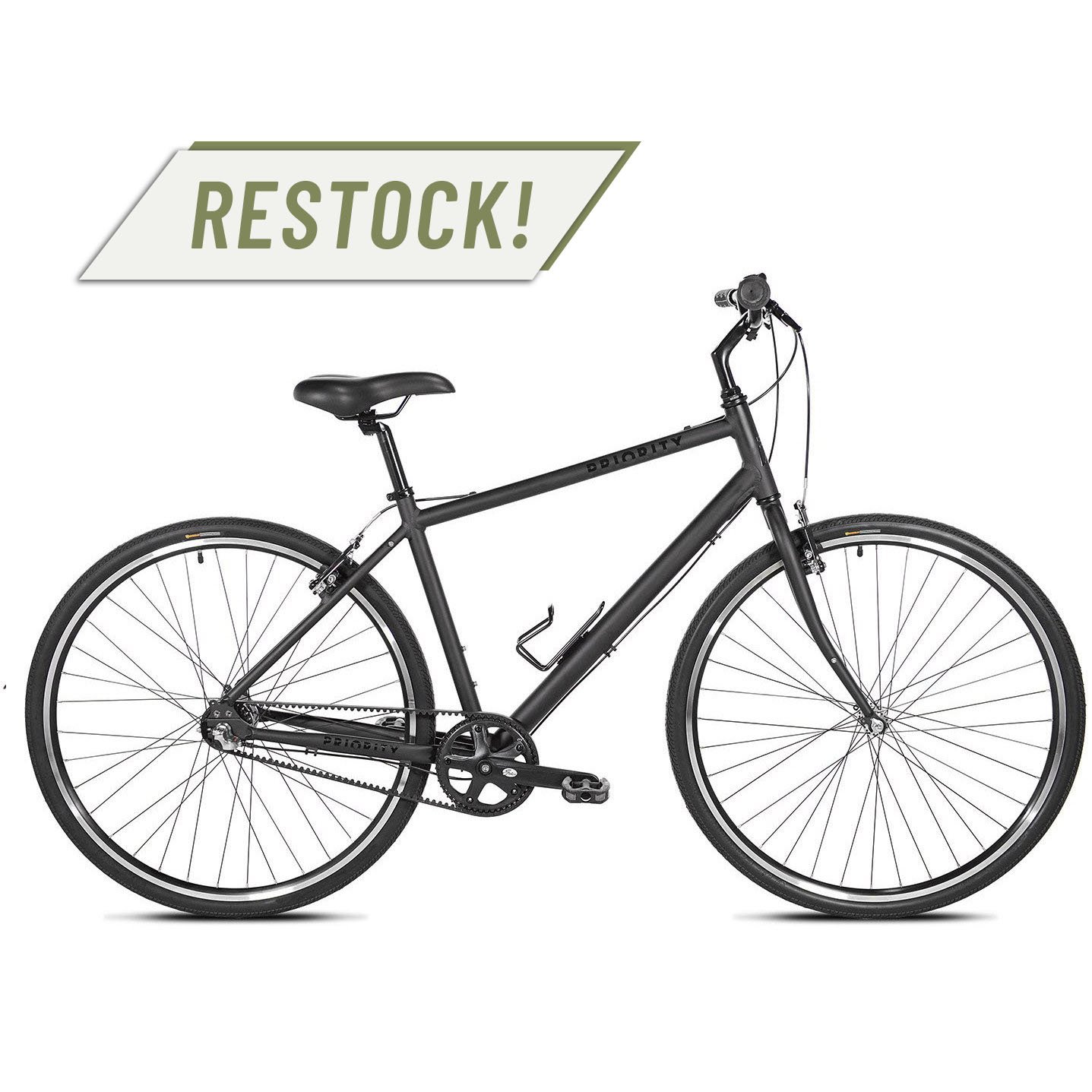 MSRP $599
Type: Hybrid
Gears: 3 Speeds
Colors: All-black Gotham design
If style matters to you as much as the quality of the ride, then you need a bike that looks good and rides even better. Priority Classic Plus – Gotham Edition is the right candidate to fill that role.
This versatile hybrid is feature-packed and painted in a Gotham all-black color. If Batman rode a bicycle, there's a good chance he'd choose this one.
Priority Classic Plus – Gotham is one of the most beautiful hybrid commuter bikes you can ride for less than $600. The value for money is hard to believe.
Best of all, Priority Classic Plus comes with a few additional pleasant surprises.
Priority Classic Plus
MSRP $599
Type: City
Gears: 3 speeds
Colors: Four colors
FULL REVIEW of Classic Plus
Retro-looking bicycles are slowly but surely rising in popularity and Priority is jumping on the bandwagon with the Classic Plus model. This is a simple and straightforward city bicycle with solid omponents.
Anyone who pays a lot of attention to style and appearance will appreciate the designers' work on Priority Classic Plus. You can ride it to work in a suit and a tie or pedal casually around the town and get wherever you need to be quickly.
Priority Classic Plus is a 3-speed city bike with a coaster/foot brake, which is not often seen on bicycles with carbon belts. But this combination is perfect for the Classic Plus.
All that's left is to choose your favorite paint job and start biking around.
Priority Coast
MSRP $599
Type: Cruiser
Gears: Single-Speed or 3-Speed
Colors: Four colors
Priority Coast is the perfect bike to ride around salty water and sandy beaches thanks to no-rust and no-grease parts.
This is a comfortable aluminum cruiser that puts you in an upright riding position and helps you ride for hours.
At $600, this bike is a great deal as it combines the three most important characteristics of high-quality cruisers — comfort, great looks, and rustproof durability.
Priority Coast is stylish, comfortable, and practical. That's why it's equipped with a double kickstand and puncture-resistant tires that will make your life a lot simpler.
Priority Embark E-bike
MSRP $3,999
Type: Hybrid E-bike
Gears: Enviolo Trekking Group (380% gear ratio)
Colors: Two colors (White or Charcoal)
Have you been struggling to get up those local hills without ending out of breath? Are you sick and tired of arriving to work drenched in sweat and completely beat up? If that's the case, you should get an e-bike. Priority Embark is one of the best out there.
Priority Embark is equipped with a Bosch Active Line Plus motor and a Bosch Powerpack battery. The motor develops up to 50 Nm of torque, so it's able to develop speeds of up to 15 mph (25 kph). The battery has a 400Wh and provides an average range of 41 miles (66 km).
Priority Embark is a versatile electric bicycle that will help you out when you need help the most. It's price is steep, but it's more than justified by quality Bosch electric components.
Other pleasant surprises include front and rear lights, fenders, a carbon belt (duh!), a kickstand, three sizes, and a 45 lbs total weight!
---
KIDS
---
Priority Start 16″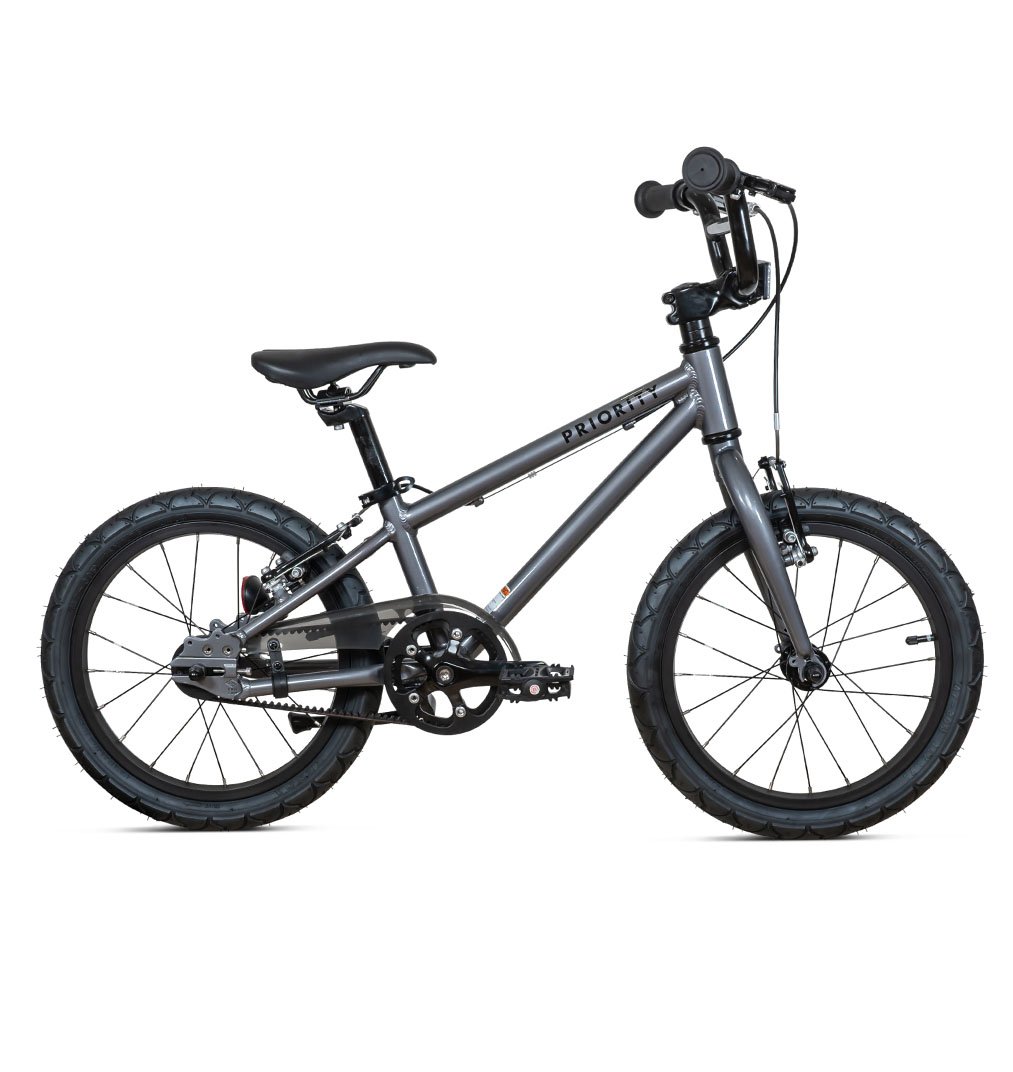 MSRP $329
Type: Kids' Pedal Bike
Gears: Single-speed
Colors: Four colors
Who needs a bike with a carbon belt, perhaps the most? Well, kids! One of the things that are inevitable when children start riding pedal bikes is getting their legs, pants, shoes, or socks smeared with chain grease. That's not possible with Priority Start 16.
In addition to the grease-free and maintenance-free carbon drive belt, Priority Start 16 has a freewheel construction. That means children can freely turn the pedals backward.
Priority Start 16 is an affordable bike suitable for 3-7-year-old children who have mastered balance and are ready to start pedaling on a real big kid bike.
All in all, if you feel that your child is ready to graduate from a balance bike to their first tiny pedal bike, Priority Start 16 is a durable and quality contender.
Priority Start 20″
MSRP $379
Type: Kids' Hybrid
Gears: 3 Speeds
Colors: Four Colors
The evolution of kids' bike riding usually looks something like this: balance bike > first tiny pedal bike > proper geared bike to practice skills. If your little rider has mastered the second stage, it means they're ready for Priority Start 20″.
Priority Start 20 is designed for children between 6 and 11 years. It's intended to teach them the basics about pedaling, steering, braking, and shifting gears. Most importantly, it's designed for fun.
The carbon drive belt is a standard piece of equipment on Priority bikes, along with a kickstand mounted on a lightweight aluminum frame.
Most importantly, Priority Start 20 looks really good, so kids will enjoy riding it. It's available in four joyful colors — charcoal, red, blue, and ultraviolet purple.
Priority Start 24″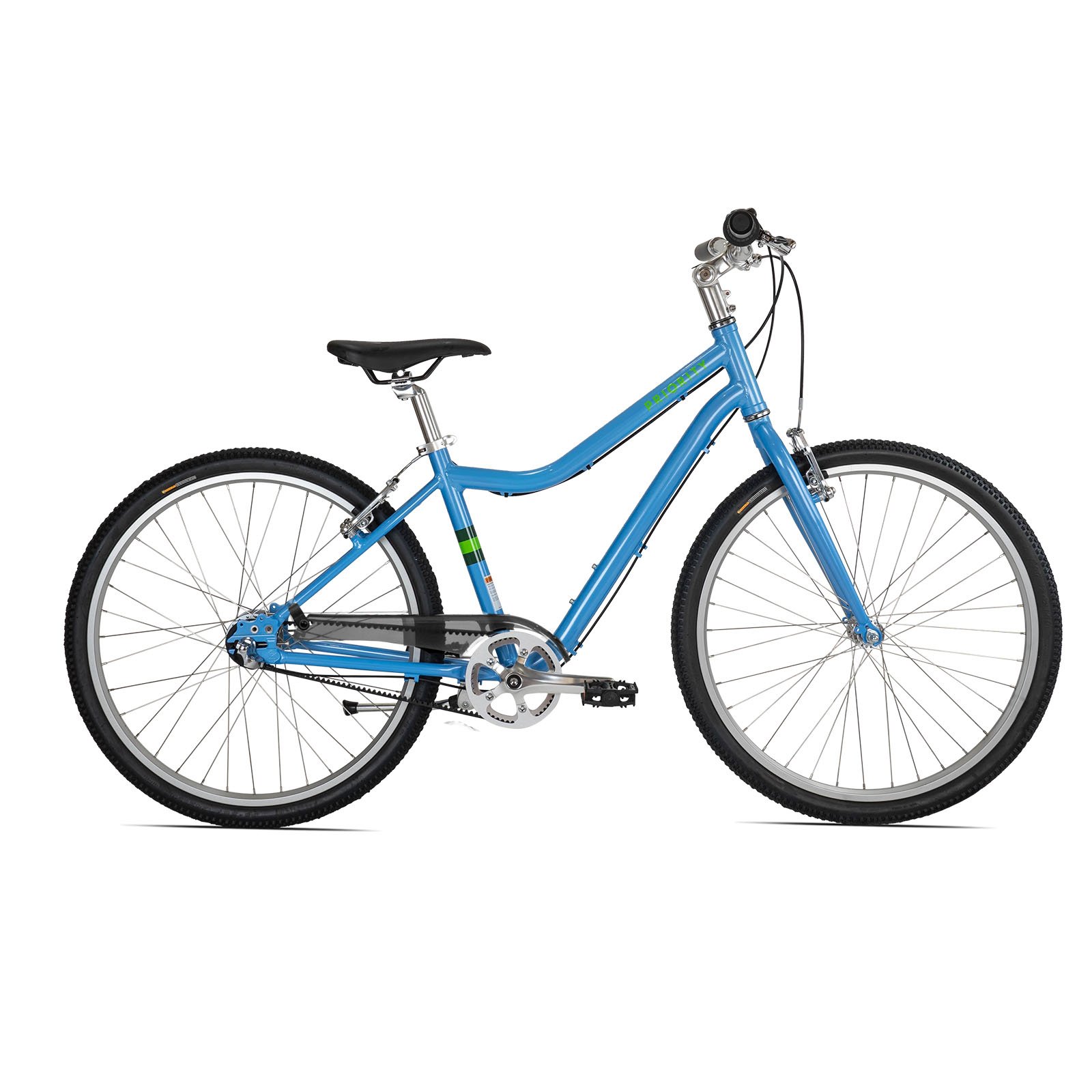 MSRP $449
Type: Kids' Bike
Gears: 3 Speeds
Colors: Three colors
The Priority Start 24 is a bike that's simple to ride for kids and even simpler to maintain for parents — it's a win-win.
The Start 24 has gears, but they are easy to use. The internally geared rear hub provides three gears. That is easier than operating a traditional 7 or 8-speed drivetrain.
Priority Start 24 is an excellent choice for kids who love cruising around the neighborhood with their friends, riding around the park, or riding to school and back.
Parents will also be happy with the adjustable angle stem that allows the bike to grow with the child. Therefore, you'll be able to postpone another bike purchase.
---
Rust and Maintenance-Free Carbon Drive Belt
All Priority bicycles, no matter the price or the type, come with a carbon drive belt instead of a traditional chain. Carbon belts require no lubrication and no cleaning and can last for thousands of miles — longer than a standard chain.
Therefore, carbon drive belts are considered to be the ultimate solution for maintenance-free bicycles. They're also completely rust-free and offer excellent power transfer from your legs to the drivetrain.
Weather-Protected Internal Gearbox
All geared Priority bicycles are fitted with Pinion, Enviolo, or Shimano fully-sealed internal gearboxes. Pinion and Enviolo are found on more expensive models and offer a gear ratio between 300% and 600%.
Moreover, Enviolo uses stepless technology, which makes changing "gears" as easy as changing the volume on a radio.
On the other hand, Shimano's 3-speed internally geared rear hub is found on cheaper Priority bicycles and offers enough gears for casual city riding.
What all of these systems have in common is that they are completely sealed and protected from the elements, so they require zero maintenance. You can ride and forget about them.
Attractive Urban Design
Priority bicycles are designed in New York City, which is reflected in the design. Most models are urban bicycles intended for city riding. So, they look modern and elegant.
The paint jobs are clean and simple and the lines of the frames are smooth and add to the retro-model look.
Priority is also known for paying a lot of attention to detail, which can be seen in the grips and the saddle, which are usually made from vegan leather and provide a nice contrast.

Multi-Functional Components
Priority Bicycles come in different sizes, types, and shapes. They're also equipped with different components that allow riders to use these bicycles for various types of riding.
Most Priority models come with wide multi-purpose tires, lights, fenders, a kickstand, a water bottle cage, and so on. The combination of some or all of these components make it possible to ride these bikes on paved and unpaved roads, in the sun and in the rain, during the day or during the night.
Basically, whenever you need a reliable ride!
Direct-to-Consumer Business Model
Priority Bicycles employs a direct-to-consumer business model. That means that they produce bikes and sell them to customers directly. This way, the company has lower overhead costs, which allows them to offer their bikes at more competitive prices.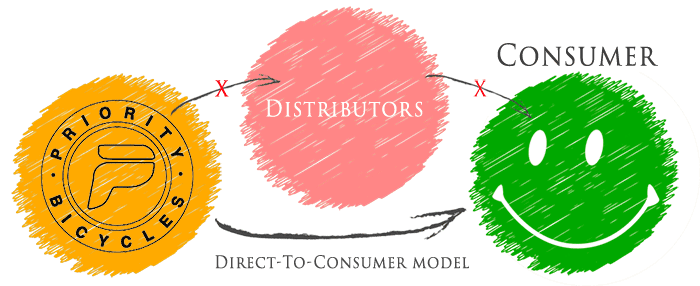 Most companies design and produce bikes, and sell them to sports stores or distributors who then increase the price before they sell it to the end customer.
---
Assembly Options
When ordering a bicycle from Priority, you can choose two assembly options:
At a Home Assembly
Your Priority bicycle is shipped to your home, 95% assembled. Usually, all you need to do when it arrives is to attach the front wheel, the handlebar, the pedals, and any remaining accessories. If you're not experienced, you can take the bike to a LBS for assembly, or you can watch Priority's instructional assembly videos for some guidance.

Velofix Home Delivery
Priority partners with Velofix, which is North America's largest mobile bike fleet.
If you choose this assembly option, Velofix will deliver your bike to your front door, completely assembled by a certified technician, and ready to ride. This service also includes professional size fitting and new bike orientation.
Shipping
Priority bicycles are shipped from a warehouse located in Pennsylvania. All orders received by 12:00 EST are shipped on the same business day if the bike is in stock.
The average shipping time within North America is between 1 and 5 business days. Standard shipping costs $30, whereas Velofix service costs $100.
Priority bicycles can also be back-ordered, in which case a shipping estimate date is given on checkout.
Returns and Warranty
Priority Bicycles obviously stand behind their products. They will accept all non-final-sale returns within 30 days of purchase, assuming the bicycle is returned in like-new condition, and give you a full refund.
If you don't like your Priority bicycle for whatever reason, you can return it no questions asked. You will be responsible for shipping and assembly fees only.
Bicycles marked as final sale carry a full warranty, but are not eligible for returns.
When it comes to warranty, Priority Bicycles provides all of its frames and forks with a five-year warranty against workmanship and material defects. This does not include the components and is void in case of improper handling or normal wear and tear.
F.A.Q.
Final Thoughts
Priority bicycles fill an important gap in the market. They are aimed at
urban commuters
who want to ride every day but are not interested in learning about bicycle maintenance.
We like Priority bikes because they solve a lot of problems. However, they don't offer those solutions at unreasonably high prices. They've been praised by Gizmodo and even Forbes for making life simpler and getting more people to ride a bike.
If you are a casual rider or a commuter and you're looking for a reasonably-priced bicycle to ride for years and thousands of miles with minimal upkeep effort and costs, one of the Priority models will do the job.