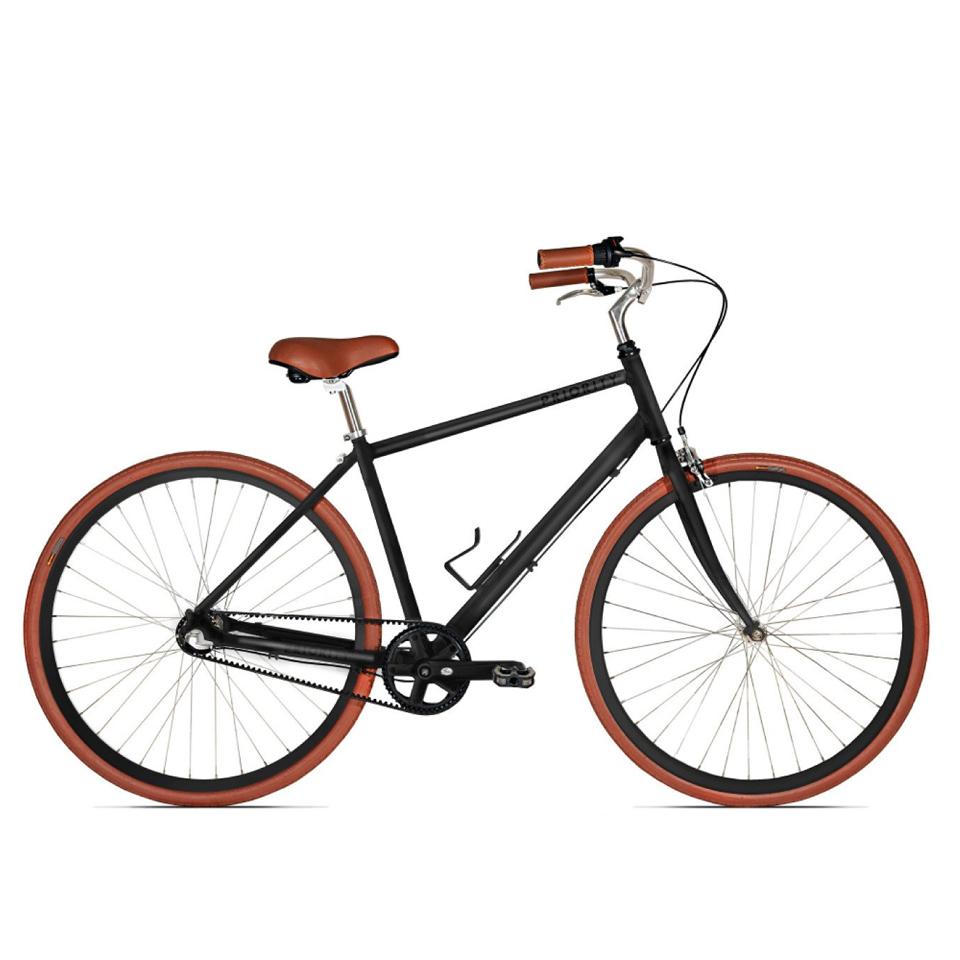 Priority Classic Plus is an old-school-cool yet modern bicycle that uses a grease-free belt and a rust-free frame to deliver a unique and innovative transportation experience.
Priority Classic Plus is the definition of a low-maintenance, feature-rich, and hassle-free city bicycle. This is an elegant and simple commuter that guarantees a comfortable ride as it gets you to your destination every single day.
Classic Plus is built around a lightweight aluminum frame and touts a Gates carbon belt instead of a traditional greasy chain. Both young and seasoned riders will appreciate its versatility and simplicity as they take it to work, to the grocery store, or on a recreational weekend ride.
This bike is available with a diamond or a step-through frame, as well as in a wide variety of colors.
Priority Classic Plus Key Specifications
At first glance, Priority Classic Plus looks like a simplified, old-school bicycle our fathers and grandfathers used to ride. While it's true that this bicycle cherishes the spirit of old times, it is is still a modern machine rich with high-tech features.
This combination of well-thought-out components ensures a hassle-free riding experience and maintenance-free ownership. Most of the time, all you need to do is pick a destination, hop on and ride.
Frame: Aluminum
Fork: Steel
Rear Hub: 3 Speed Internal Shimano Nexus Hub
Belt: Gates Carbon Belt
Brakes: Coaster Brake with Dual Pivot Hand Brake
Rims: Double Wall Alloy
Tires: Priority Puncture Resistant 700×35
Pedals: Nylon platform, sealed
Weight: 25 lbs.
Priority Classic Plus Full Review
Priority bicycles are designed by some of the industry's best engineers, made to ensure quality, comfort, and style. Classic plus is an incredibly lightweight bicycle, weighing just 25 lbs.
The bike has been touted by numerous high-profile magazines, such as Gizmodo, Men's Journal, Inc., and Real Simple. All of them stress its simplicity, good looks, and practicality for everyday commuting.
Here's our overview of the best features Priority Classic Plus has to offer.
Ultra-Light Aluminum Frame
Priority Classic Plus comes with a lightweight aluminum frame coupled with a comfy steel fork. The frame features slim and sleek tubing that ensures strength and comfort while keeping weight at a minimum. The result is that this bike tips the scales at 25 lbs., which is pretty impressive. Most of its competitors are a lot heavier.
Classic Plus is available with a traditional diamond frame and a female-friendly step-through frame. The diamond version is available in black and blue colors, whereas the step-thru comes in black, white, light blue, and pink.
The frame is well-balanced and resembles Dutch-style city bikes. It's designed to fit a wide variety of riders and to serve as a good all-around transportation solution in urban settings.
Premium Maintenance-Free Drivetrain
Like all other Priority's models, Classic Plus gets a maintenance-free Gates carbon belt drive instead of an old-fashioned chain. This is a grease-free solution that does not require cleaning or lubrication, so it's not time-consuming and it won't ruin your trousers. Plus, Priority says that their belts last much longer than chains, which is a big plus.
The Gates belt powers a 3-speed Shimano Nexus internal gear hub that will help you pedal more efficiently. You can switch between the three gears with a grip shifter mounted on the handlebar.
Priority Classic Plus does not come with a particularly wide range of gears, but it's more than enough for a flat to moderately hilly urban landscape.
Most importantly, the gears are completely sealed inside the rear hub, so you don't need to clean or adjust the mechanism at all.
See More: Best Belt Drive Electric Bikes
To stop or slow down, you can use a combination of a traditional coaster brake and a front hand brake. The coaster brake needs some getting used to, but the combo provides sufficient braking power.
Enhanced Wheels and Tires
City rides come with numerous challenges, some of which include potholes and sharp debris that could damage your wheels and tires.
Priority thought about that, so Classic Plus rolls on durable double-wall aluminum rims with 36 spokes. They're clad in puncture-resistant 700C x 35mm tires with a sleek profile ideal for paved roads and streets.
The tires are brown, so they also add to the style of the bicycle and perfectly complement the color of the frame.
Limited Accessories
When it comes to accessories, Priority Classic Plus has some room for improvement. Namely, the bike comes with a kickstand and a water bottle cage, but no lights or fenders. While the former are a good addition, the latter are very important for city commutes as well.
If you need additional accessories to make your Classic Plus more practical, you can find many on the official website. You can equip the frame with fenders, racks, baskets, lights, panniers, mirrors, and even bells and horns.
With a rear rack mounted on the bike, you can even fit a child seat on your Priority bike and share the ride with your kids.
Priority Classic Plus Sizes and Geometry
Priority Classic Plus has a relaxed upright geometry that puts you in a comfortable riding position. The traditional-looking sweptback handlebar means that you don't have to lean too much forward to ride, so you can enjoy the view. Most of your weight will be on the saddle, but the good news is that the saddle is plush and comfortable.
In terms of sizes, the diamond frame has three sizes, whereas the step-through frame has two sizes:
Diamond:
Small: 28″ – 30″ Inseam
Medium: 30.5″ – 32″ Inseam
Large: 32.5″ – 36″ Inseam
Step-Through:
Small: 26″ – 30″ Inseam
Medium: 30.5″ – 33″ Inseam
Frequently Asked Questions
Here are our answers to a few questions that we regularly get about Priority bikes and Priority Classic Plus.
---
Other Priority Models
---
Final Verdict
All things considered, Priority Classic Plus is an excellent choice available at a very reasonable price. This streamlined commuter costs just $599, which is remarkable considering all the features it comes with. Moreover, Classic Plus is maintenance-free, which most ordinary riders will love the most.
In our opinion, this bike ticks all the boxes required to be comfortable and practical for city rides. It has a lightweight frame, durable wheels and tires, three internal gears, and a grease-free Gates carbon belt.
If you want a bike that will get you from one place to another with no questions asked, that's also incredibly fun to ride, Priority Classic Plus is an affordable and good-looking option.