Rad Power Bikes RadTrike is one-of-a-kind. With a huge 415 lb weight capacity, upright frame, and 55+ mile range, there is hardly anything like it.
The three-wheel design is more stable than other electric bikes, and the folding handlebars make the RadTrike perfect for easy transport.
The RadTrike electric bike is all about accessibility. While other e-bikes are heavy and limiting, the RadTrike e-bike is quite the opposite.
Its step-thru frame allows riders with limited mobility to mount its extra-cushioned seat, with the folding handlebars making the RadTrike easy to store and transport.
In this article, we're going to provide a full Rad Power Bikes RadTrike review. From the specs and frame, to the motor and components, this is what makes the RadTrike special.
Main Specs
The RadTrike electric bike is built with quality specs from tip to bottom. At this price point, each feature is what you would expect. But the accessories and capabilities of the RadTrike set it apart. First, let's take a closer look at the specs.
Motor: 750W brushless Rad Power Bikes geared hub motor
Battery: 480 Wh
Frame: Chromoly steel
Fork: rigid steel
Drivetrain: 42T single-speed crankset
Brakes: front mechanical disc brake and rear coaster brakes with semi-metallic brake pads
Tires: Kenda Kontact 18" x 2.25" with K-Shield puncture-resistant liner
Weight: 82 lb (37 kg); 73.6 lb (33.2 kg) without battery
Sturdy Aluminum Frame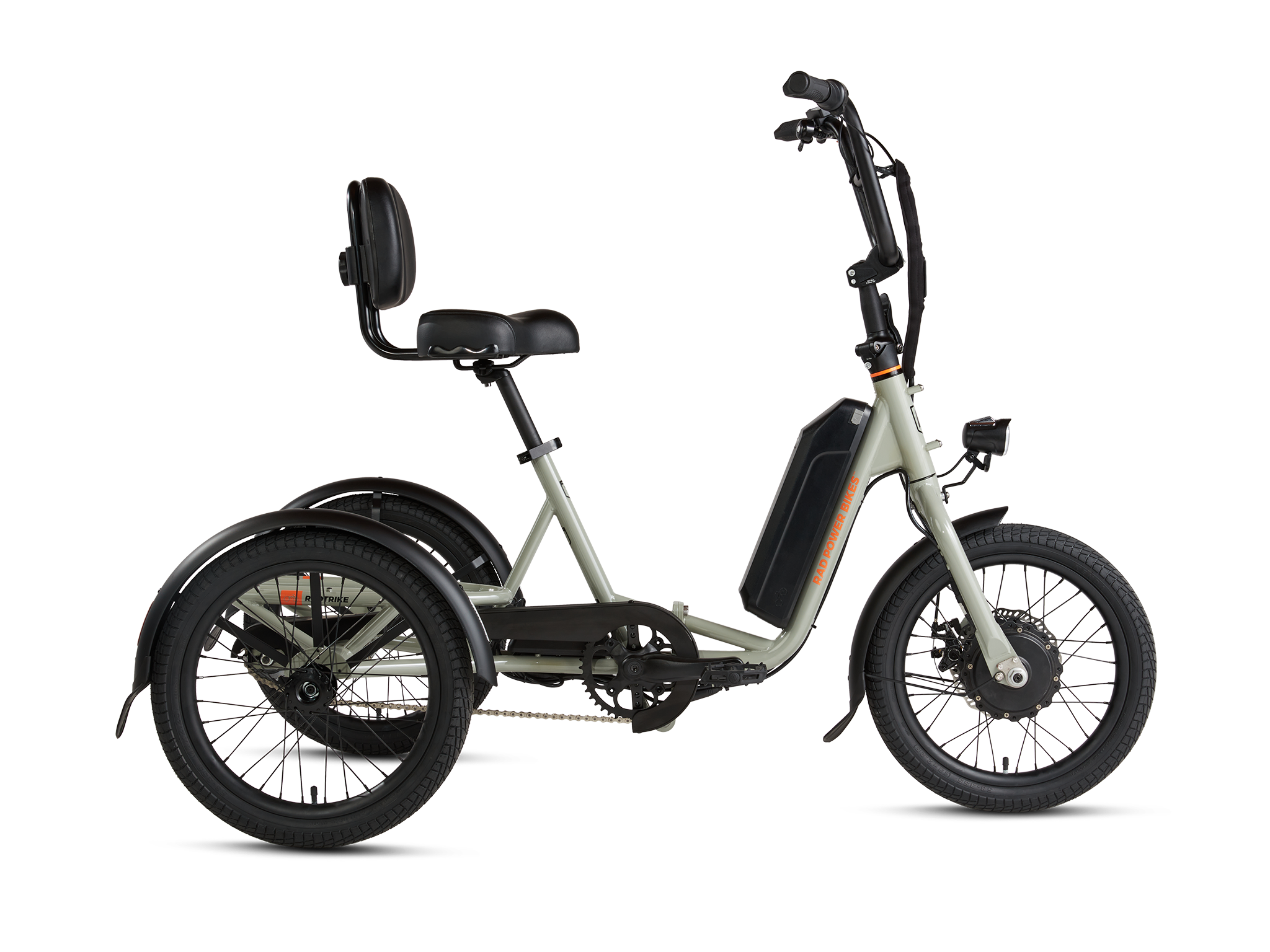 RadTrike electric bike has a super sturdy Chromoly steel frame supported by its three wheels. These combine to give the RadTrike a super stable feeling which is perfect for beginner cyclists.
The RadTrike e-bike has a steel frame that comfortably fits riders from 4'10" to 6'4" tall.
Its low-step frame design is perfect for riders with limited mobility since they can easily step over the bike to mount the saddle.
Rad Power Bikes has a complete sizing chart on its website, which includes inseam measurements and more for the RadTrike. This bike comes in one frame size. We recommend taking a closer look at the bike's sizing chart since the step-thru frame has quite a unique shape.
This bike is also built with an extra-cushioned saddle and backrest, which can be adjusted for the perfect and most comfortable riding position.
RadTrike electric bike is designed with a very upright position that is comfortable and confidence-inspiring. Its handlebars also have a fold-down feature that helps you load the RadTrike into smaller spaces or vehicles with lower clearance.
The handlebars are supported by a 50mm stem with a +30 degree tilt, making for a 35mm rise that is upright and comfortable.
Single-Speed Drivetrain
Rad Power Bikes RadTrike comes with a great list of components, starting with the 42T crankset and single-speed gearing. C-star 180mm brake rotors on the front wheel provide plenty of stopping power. Plus, the rear wheel is built with a coaster brake for extra stopping power.
Unlike other e-bikes, the RadTrike has a single-speed setup that does away with front and rear derailleurs. The 42T crankset is built with a steel chain ring and is somewhat limiting on hilly terrain. But that's where the pedal assist and throttle come in.
On this bike, you're riding on 18" x 2.25" tires, the Kenda Kontact. These tires are exclusive to Rad Power Bikes, and they come with both K-Shield puncture-resistant liner and reflective sidewalls.
Motor and Battery
RadTrike e-bike comes with a redesigned 10Ah/450Wh battery that powers a range of up to 55 miles. There are also 10 battery light indicators to help you better track your trips.
Powered by a 750W brushless Rad Power Bikes geared hub motor, the RadTrike e-bike has an estimated range of 20-55+ miles per charge. Intelligent pedal assist offers five different levels, plus a low-profile cadence sensor. There is also a half-twist throttle for an extra bit of assistance.
Water-resistant connectors and wiring harness keep the RadTrike's system safe from the elements. Front and rear LED lights keep you safe and seen, plus the integrated tail light includes a brake light.
As you might expect for a larger e-bike, the RadTrike has a top speed of 14 mph.
The bike comes with five levels of pedal assist and a throttle, which is perfect for all levels of e-bike riders. This makes the RadTrike electric bike a Class 2 e-bike since it has both pedal assist and a throttle.
An often underrated feature of the RadTrike e-bike is its turning and motor capabilities. Specifically, this bike can maneuver safely through curves, fit through most doorways, and go in reverse at the push of a button.
It also features a parking brake, the first time RadBikes included such a feature on one of their electric bikes.
Weight Capacity
RadTrike electric tricycle comes with an industry-leading weight capacity, topping off at 415 lb. (325 lb. max rider weight). That means you can carry a cooler, luggage, groceries, and more. With its three-wheel design, the RadTrike e-bike is super stable, even with 60+ lbs of luggage on board.
With such a large weight capacity, the RadTike's top speed is limited to 14 mph. But that doesn't mean you won't have plenty of assistance from the pedal assist and throttle.
Accessories
RadTrike e-bike is built for safety and efficiency. Reflective striping is built into the sidewalls of the Kenda tires, while LED headlights and taillights are included with every model.
The folding handlebars are a great feature of the RadTrike e-bike. That means you can transport and store the RadTrike in smaller vehicles or on trains or buses. You can also get it in and out of the house with ease.
There is also a power button with easy on, easy off. This is an underrated feature for beginner e-bike riders who may not know the ins and outs of electronic bike motors.
On the handlebar-mounted display, you can see your battery life, a fuel gauge for your electrons. You can also see your pedal assist level, with the higher numbers corresponding to the more powerful levels of the motor.
Every time you ride the RadTrike, the headlight turns on automatically. But of course, you can switch it off from the easy display.
Lastly, a PAS button allows you to safely use the throttle in reverse in case you get stuck in a tight spot.
Consider Other Models
Final Verdict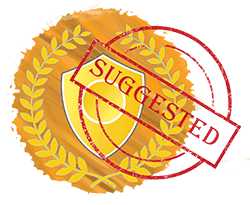 Rad Power Bikes RadTrike is the perfect choice for riders getting into e-biking for the first time. Its powerful motor and massive weight capacity make it fit for almost any rider.
The bike features a step-thru frame which is ideal for riders with limited mobility, and folding handlebars which make the bike easy to store and transport.
Overall, the RadTrike is designed for beginner e-bike riders looking for a comfortable ride with a large towing capacity.
You can fit hundreds of pounds on the RadTrike, while also taking advantage of the powerful 750W motor and 55+ mile range.
There are countless features that make the RadTrike ideal for beginners or older riders, and the upright position is perfect for those with limited mobility. The RadTrike is truly a reminder that e-biking is for everyone.
There are no comments yet, add one below.