Salsa Stormchaser offers something you don't see every day – it's a single-speed gravel bike. So, if you're looking for something simple, yet reliable, this is it.
Salsa is known for making unique bikes, and the Salsa Stormchaser single-speed model falls into that category.
Gravel bikes have been the go-to bike to buy for all-terrain riding. They are fast on and off the road and perfect for bikepacking. Gravel bikes in recent years have not only become one of the popular bikes to own, but you are also now getting professional races from the UCI (Union Cycliste Internationale).
So what sets this model apart? Let's find out in our Salsa Stormchaser review.
Specifications
Salsa Stormchaser is a sleek-looking bike. It also offers something unique in its single-speed drive chain, which isn't commonly seen on gravel bikes. That makes the bike much lighter, easy to maintain, and an ideal machine for gravel riding in the flats.
Frame: 6066-T6 aluminum
Fork: Stormchaser Carbon
Gearing: 17T and 18T cogs with spacer kit
Brakes: TRP Spyre-C Flat Mount brakes
Levers: TRP RRL levers
Wheelset: WTB ST i23 700 c TCS rim with RS470 Hubs
Tires: Teravail Rutland, 700c x 42 mm
Seatpost: Salsa Guide, 18 mm offset
Frame
The Salsa Stormchaser frameset is very well made, as we would expect with any Salsa product.
It's made of aluminum, like many gravel bikes, but it uses 6066-grade aluminum instead of 6061. This means the frame has high fatigue strength and also much more density.
Alongside this, Salsa Stormchaser has class 5 VRS (Vibration Reduction System), providing you with a very smooth ride.
The Salsa Stormchaser frameset sports the Stormchaser Carbon fiber fork, making the bike feel lightweight and agile.
This fork, unlike many other forks on the market, comes with routing for a dynamo and water bottle mounts, so if you are planning on bikepacking, it's ideal for a clean charging setup and extra space to store goods.
The geometry is made for all-day long comfort and long technical gravel paths with its upright riding position and slack head angle.
Single Speed Gearing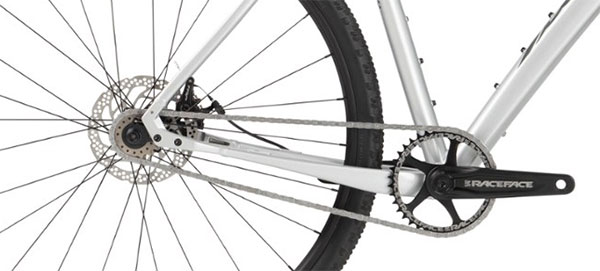 The Stormchaser is well equipped. It comes with a single-speed gear from Race Face. Unlike other bikes on the market, you don't have multiple options.
Having just one speed means the bike is lightweight, cheap to maintain, there's very little chance of it ever breaking, and it makes the bike look very clean.
However, you are limited to one gear which can make the riding more challenging, and you have to learn to use a variety of cadences. The Salsa Stormchaser frameset is compatible with 1X geared groupsets if you fancy giving it gears.
TRP-Spyre C disc brakes take care of stopping the bike. They are mechanical brakes, but with TRP's twin pull system, which makes both pads pull in from each side, it still makes for excellent stopping.
These are paired up with TRP RRL Levers, which provide a comfortable grip and look great.
Extra Tire Clearance
One of the main characteristics that makes a gravel bike unique is the large tire clearance, and when it comes to the Salsa Stormchaser single speed, it doesn't disappoint.
The bike is fitted with Teravail Rutland, 700c x 42mm, tubeless-ready tires with an extra durable casing. These monster tires will give you so much ability on loose terrain and fill your riding with the confidence it deserves.
However, if that's not enough and you want to go bigger to make the bike handle better or purely just for comfort, then the Stormchaser is compatible with tires up to 50mm.
The WTB wheelset, also being 23mm wide helps, and this will provide plenty of options to choose from when it comes to getting the perfect off-road tire and wheel setup for your riding.
Sizing
The Salsa Stormchaser comes in many different sizes to suit different riders. What we love about Salsa is they make bikes to suit all sizes and typically offer more than just four or five sizes. Salsa Stormchaser offers seven different sizes, and here's the guide to finding the right bike for your height.
| | | | | | | | |
| --- | --- | --- | --- | --- | --- | --- | --- |
| Size | 49cm | 52.5cm | 54.5cm | 56cm | 57.5cm | 59cm | 61cm |
| Rider Height | 142-157cm | 155-165cm | 162-173cm | 170-180cm | 178-188cm | 185-193cm | 190cm+ |
Our Thoughts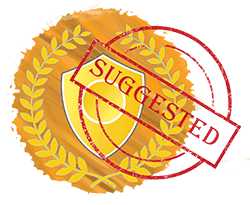 If you love mixed-terrain riding or spending your time on gravel, then the Salsa Stormchaser single-speed is the right bike for you. The bike is unique and stands out with its single-speed drivetrain.
Salsa Stormchaser is highly adaptable and offers high quality.
The Stormchaser has everything you can ask for in a gravel bike and more. It will be lightweight, fast, and offers a level of simplicity other bikes don't.
It's a casual gravel bike that can be easily turned into a race machine.
There are no comments yet, add one below.