Salsa Cycles is a USA-based bicycle company that is best described by their tagline "Adventure by Bike." Salsa makes unique backpacking, fat, all-road, and MTB bicycles that are highly renowned among adventure cyclists.
If your ideal cycling route includes only unpaved roads, you've probably heard about the Warbird, Journeyman, Horsethief, Rangefinder, or Beargrease — Salsa's most popular models.
Apart from complete bikes, this Californian brand also makes and sells parts, accessories, gear, and clothing, and does a lot for the bicycle culture by sponsoring athletes, organizing events, and creating awesome videos.
If you're a cyclist thirsty for excitement, venture, and a slightly different approach to riding two wheels, you'll thoroughly enjoy our Salsa Cycles brand overview below.
Check out what they have in stock for you!
Categories
All Salsa bikes are split into three categories that you can browse on the website:

Mountain Bikes
All Road Bikes
Fat Bikes
Each category includes a large number of models with different intended uses. When it comes to pricing, Salsa Cycles makes bikes for everybody's pocket — there are both affordable and very expensive models.
However, all three categories have something in common — they are capable utility vehicles made to go anywhere and handle plenty of abuse.
See all models on SalsaCycles.com or get from REI
Now, let's take a closer look.
---
— Mountain —
---
Salsa Cycles – HORSETHIEF
29″ Full Suspension Trail series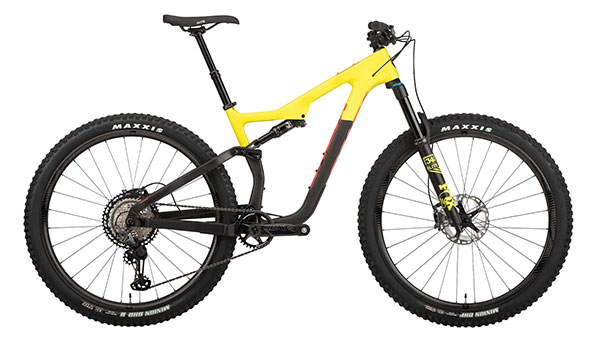 "Horsethief is the trail bike that prompts you to ride more: more miles, more terrain, more boldly."
It might sound cheesy to say that a bike can do it all, but that's simply true for Salsa Horsethief. That's what this bike is built for — versatility and fun!
It comes with a 140mm Fox Float 34 fork and a 120mm Fox Float DPS shock. That means you can choose a more challenging line that will make your heart beat faster. Plus, thanks to the Split Pivot® rear suspension system, pedal bob and brake chatter are things of the past.
A $7,099 price tag is STEEP, but that money will get you a full Shimano XTR groupset, including XTR four-piston brakes and 180mm rotors.
The Horsethief is available in 6 different iterations, the cheapest of which is the Horsethief SX Eagle at $2,799.
Assuming you're going to ride routes most people would steer away from, you'll be content to have the Reynolds C-Series 309 carbon wheels and Maxxis Minion tires under you on the XTR model.
Originally, Salsa Horsethief is a 29er, but you can fit it with 27.5″ wheels as well and make it even more fun (if that's even possible).
SPEARFISH
27.5″ / 29″ FS Trail for Tough Rides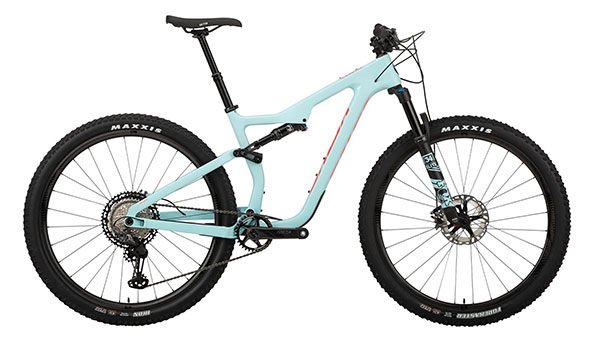 "Spearfish Carbon XTR is a light and agile XC and endurance mountain machine for when every ounce of effort matters."
Salsa Spearfish is an agile trail bike with thoughtful touches on all 6 available builds. These include model with carbon or aluminum frames and different quality groupsets such as XTR, XT, SLX, and Deore.
Of course, the most expensive model is the one with XTR parts. You'll have to spend $7,499 if you want to own it. But you can walk away with a Salsa Spearfish Deore for $2,799.
What all Salsa Spearfish builds have in common is 120mm of suspension up front and 100mm in the back. This will provide you with the best bump absorption and the most trail prowess.
This Salsa boasts the Split Pivot Rear Suspension System, low top tube design, top tube accessory mounts, internal cable routing, and much more.
If you want to ride with speed, precision, and challenge in mind, Salsa Spearfish is the bike for you.
RUSTLER
Playful 27.5″ Trail Bikes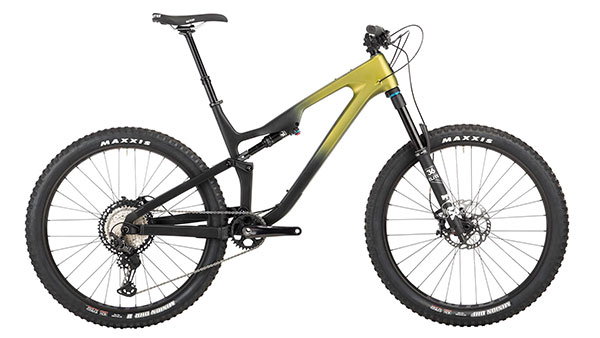 "Rustler can hustle up the trail just as well as it flows down."
The Rustler is the perfect example of a versatile Salsa mountain bike. It rolls on playful 27.5″ wheels that feel responsive and eager to please when taken out on the trails.
You can get it in one of the six available builds with top-level Shimano and SRAM groups. The most expensive XTR model costs $7,499, while the cheapest SX Eagle is $2,799.
What all of these models share is 150mm of front and 130mm of rear travel. That makes Salsa Rustler capable of enduro and trail rides. It also allows it to shine both when going up and when going down.
Hydraulic disc brakes and 2.6″ wide 27.5+ tires are also a given on all Salsa Rustler builds. Basically, with these specs, you'll have no other excuses left but your lack of practice.
Get the Rustler if you love a mix of trail and enduro riding on a nimble and actionable bike.
RANGEFINDER
Affordable 27.5 and 29 Trail Hardtail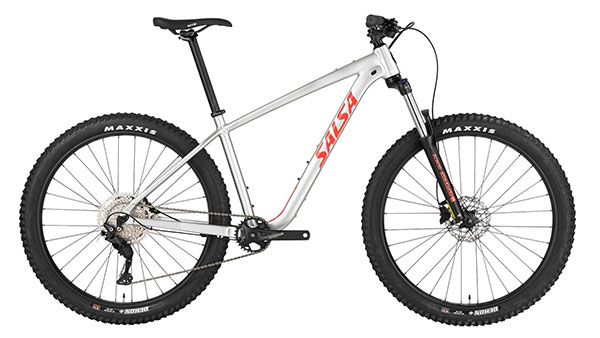 "Rangefinder's stable trail geometry, dropper post, and 120 mm fork keep confidence (and stoke) levels high on many trail types."
Full Review of Rangefinder series
The Rangefinder is one of the cheapest Salsa mountain bikes. It's intended for trail enthusiasts who want all the benefits of Salsa's expertise at a fraction of the price.
These are affordable hardtail trail bicycles perfect for men and women, available with 27.5″ and 29″ wheels. When it comes to the list of components, the Rangefinder can be enjoyed with microSHIFT Advent or Shimano Deore parts.
These are hung on a lightweight aluminum frame with internal cable routing, multiple mounting points, and even a dropper post.
All Rangefinder iterations sport SR Suntour's excellent XCR Air forks with 120mm of travel. That puts this bike in the do-it-all trail category.
What we love the most are the massive tires that make these bikes truly special. The 29″ models are 2.6″ wide, whereas 27.5″ models have 2.8″ wide footsteps.
If you're not a trail pro but you want to feel like one, Salsa Rangefinder is a no-brainer.
TIMBERJACK
Compact and Responsive 27.5+ or 29 Hardtail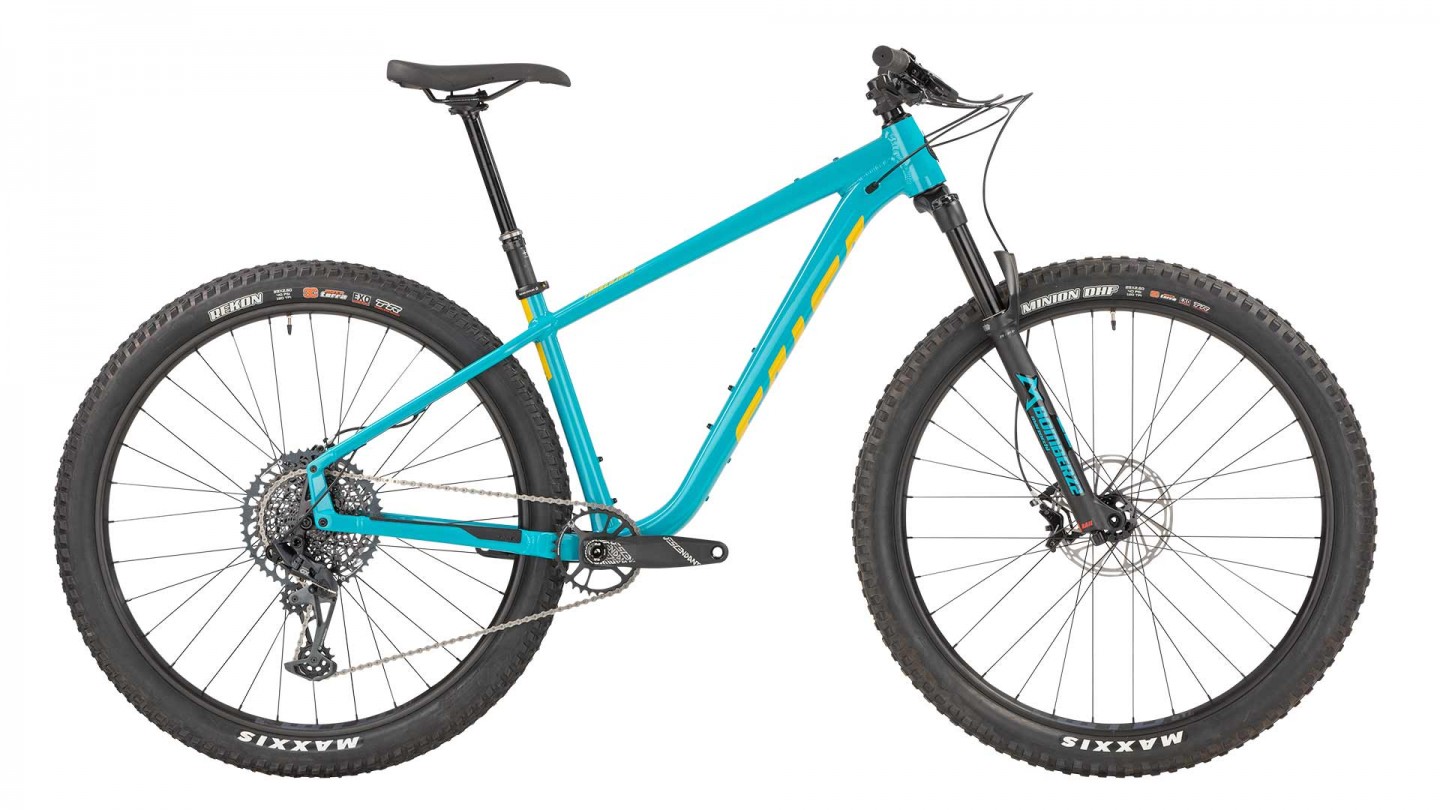 "Supreme traction from the 27.5 x 2.8" tires will get you up and over anything you encounter out there…"
Full Review of Salsa Timberjack Series
If loose and daring trails are all you ever think about, then you need a bike that's up to the challenge. Passionate daredevil mountain bikers can find their match in one of the Salsa Timberjack models.
You can get this 27.5+ / 29″ hardtail bike with one of 10 different builds, for a price that does not go above $2,500 for the most expensive one. You can also start with the cheapest single speed build for $1,699.
No matter which way you go, you'll end up with a trail bike with 130mm of travel and massive tires that feel relentless on the trails.
Salsa Timberjack will help you nail the fundamentals if you haven't already, or take your off-road skills to the next level if you've already learned the ropes.
Ride the trails on 27.5 x 2.8 or 29 x 2.6 tires with different knob profile front and back for maximum traction and performance, and a dropper post on all models. What more could you ask for?
---
— Fat Bike —
---
BEARGREASE
Best Salsa Fat Bike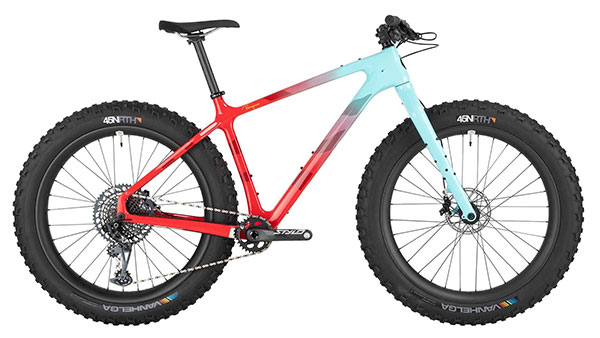 "This is the ultimate fat bike designed to convert strength and determination into speed."
Fat bikes are often considered to be clunky, slow, and unresponsive. If you share that opinion, Salsa Beargrease will force you to reconsider it.
This is a fast and fun carbon fat bike that comes with five different sets of components. Ride it with the X01 Eagle groupset for $7,099 or save $4,000+ and get one of the Deore versions.
You'll be happy with all Salsa Beargrease models as you'll get a high-modulus carbon fiber frame with a stable Beargrease geometry and awe-inspiring 3.8″ tires.
Beargrease is a utility bicycle, so it features reliable hydraulic disc brakes on all models. The frame is rich with eyelets, making it possible to fit the bike with different bags and racks.
All of this makes Salsa Beargrease one of the best and most fun fat bikepacking bikes you can get. The colors, as you can see from the photo, are pretty unique as well!
MUKLUK
Affordable and Good-Looking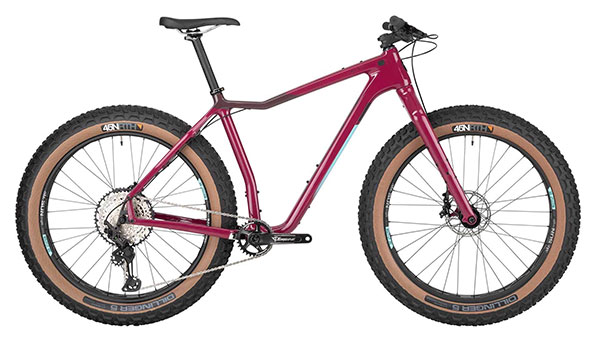 "Whether you're methodically attempting a first route in the Northwest Territories or chasing sunlight in Moab, Mukluk can do it all."
Single-speed or geared, that is the question. Well, the Mukluk Salsa fat bike lets you ride it either way. Its super-lightweight carbon frame has alternator dropouts that let you ride different types of drivetrains and different wheel sizes.
Mukluk comes with a XT, Deore, or Advent groupset, a rigid fork, and 4.6″ wide tires. The XT costs $4,249, whereas the Deore and Advent models are priced at $2,149.
Considering the value for the money, Salsa Mukluk is an affordable Carbon fat bike.
Mukluk has two pairs of double eyelets and two pairs of triple eyelets, including one on the fork. Therefore, you can fit several water bottle cages, as well as fork cages for additional storage.
This Salsa's fat bike is ideal for all types of explorations, including those attempted in the harshest of conditions.
Get it if you want the most traction and stability on any surface, coupled with precise performance.
---
— ALL ROAD —
---
WARBIRD
Best Gravel Racing Bike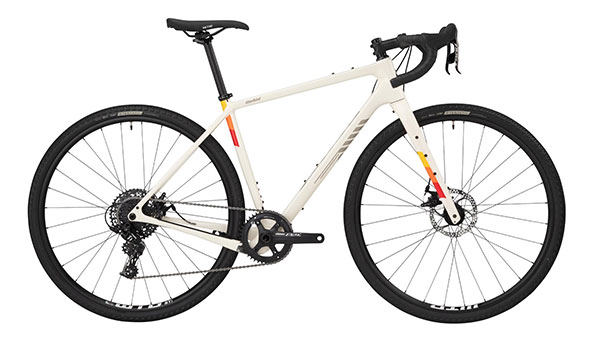 "Achieving gravel greatness takes hard work and tenacity—and a gravel race bike that can hang with you every pedal stroke of the way."
Gravel bikes and gravel riding are taking over the cycling world. The Warbird is Salsa's answer to this growing trend.
This is a phenomenal carbon gravel racing bicycle with efficient endurance geometry and breathtaking components. If you want to get the top-of-the-line Warbird Carbon Force ETAP AXS, you'll have to pay $7,999. But, Warbird Carbon GRX 810 is available for just $4,599.
Some features that characterize these bikes are wide-range 2x drivetrains with semi-compact and subcompact cranks, 42mm wide tires on 700c wheels, and powerful disc brakes.
Therefore, Salsa Warbird is ready to hit the gravel and dirt roads, though it can be ridden on the tarmac as well. Its wide tires might slow you down a bit, but it's still a remarkable all-road choice.
If you want one bike to ride on and off-road, all you need to do is choose the build kit you want your Warbird to come with.
Salsa Warbird also comes with a plentitude of mounting points on the fork and the frame, so it can be used for bikepacking and touring as well. Plan your next adventure!
VAYA
Best for Gravel / Light Touring
"Whatever your motivation, this light touring and any-road adventure bike is a versatile machine that feels great loaded or unloaded."
More and more gravel and road riders nowadays are going back to basics — steel frames are back in fashion. When it comes to comfort, nothing can come close to steel.
Read more: Frame Materials Explained
If you need a bike to travel and explore and you plan to spend days in the saddle, Vaya's comfy steel frame will make you a happy rider. It's complemented with a carbon fork, which maximizes power transfer.
This bike is made to handle any surface. It comes in a GRX 600 build, which costs slightly below $3,000, which is a sweet deal (frameset is also available).
The stock version of Salsa Vaya comes with 700c x 38mm tires, but the frame and fork have enough clearance for 50mm of rubber. That's probably more than you need, to be honest.
The frame lets you mount front and rear rack, three water bottle cages, fenders, lights, and so on. Basically, anything you might need to go on a long adventure.
MARRAKESH
World Touring Bike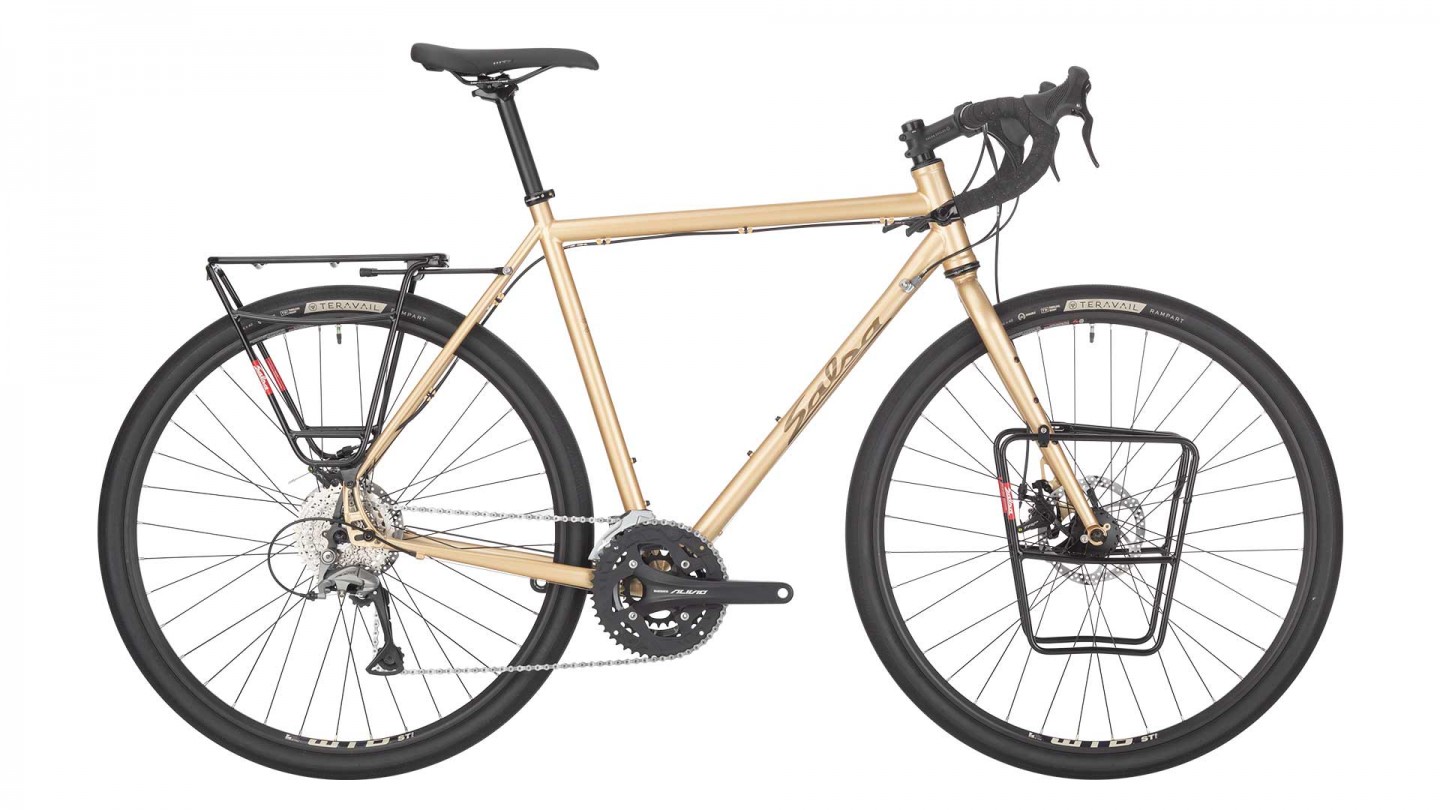 "Wherever your travels take you, Marrakesh is a touring bike that's ready to pile on the miles."
Do you dream about traveling the world? If you plan to do it on a bike, you need a two-wheeler that can handle it. Salsa Marrakesh is a classic expedition touring bicycle made to do long miles under a heavy load.
Many world travelers don't recognize any other material but steel when it comes to touring bikes. It's good to know that Marrakesh is built around a light and comfortable CroMoly frame and fork.
Salsa Marrakesh is ready to hit the road as soon as you take it out of the box since it comes equipped with either just rear or both front and rear racks, depending on the build.
For $2,049 you can get the Marrakesh Alvio, the only model available at the moment
With touring-specific gearing and mechanical disc brakes that brake strong and are easy to service anywhere in the world.
If you dream big, you need a bike such as Salsa Marrakesh that can ride big as well.
FARGO
Good Off-Road Touring and Bikepacking Choice
"A bit of a cult classic, it's designed for mixed surface riders and bikepackers who want the versatility to take any route and the capability to carry everything needed when they're out for days on end."
Full Review of Salsa Fargo Series
Simplicity and off-road touring is what compelled Salsa Cycles engineers to design and create a bike like Salsa Fargo. This is a utilitarian bikepacking machine eager to explore routes that few have trodden before.
It's made with a light and compliant triple-butted CroMoly frame and a stiff carbon fork, coupled with SRAM Apex 1. The bike comes with a $2,649 price tag.
If you want to start from scratch and build your own Fargo, you can get a Fargo titanium or steel frame and start sourcing parts.
Salsa Fargo rolls on massive 29″ x 2.6″ tires that can get you anywhere even when you're bikepacking and riding fully loaded.
The carbon fork features four sets of three-pack mounts that offer incredible load-carrying possibilities. The frame has plenty of mounts as well.
If you like the idea of exploring the path less pedaled, Salsa Fargo will certainly help you live your dream.
CUTTHROAT
Ultra Endurance Gravel Bikepacking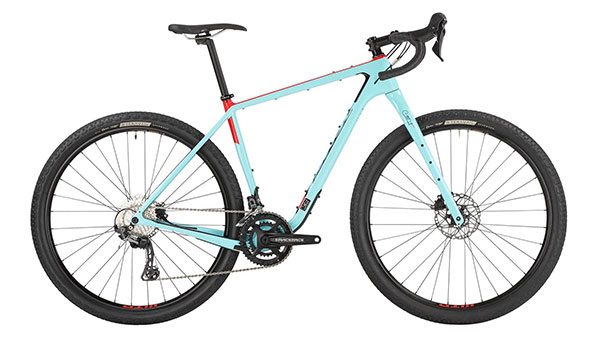 "Cutthroat's unique ride characteristics make it equal parts gravel and mountain bike, so it's ready to ride wherever you point it."
Don't let its name scare you away — Salsa Cutthroat (again, what an awesome model name!) has the potential of becoming your best friend. This is a premium drop bar mountain bike that combines high technology with the best possible performance.
You can get it with one of the four available build kits (with 1x or 2x drivetrains) that cost between $3,599 and $8,399.
According to Salsa Bikes, the Cutthroat is inspired by Tour Divide on the Rocky Mountains, so it's intended for some serious adventures.
The most expensive model boasts a X01 Eagle groupset combined with the same hydraulic disc brakes. Its DT Swiss rims are combined with 29 x 2.25″ wide tires. But there's clearance to go up to 2.4″ wide!
However, your attention should go to the frame and fork. The Cutthroat is implemented with the Salsa Cycles' Class 5 Vibration Reduction System that makes bumpy rides significantly more comfortable.
For more information, see our full review of Salsa Cutthroat.
Moreover, both the frame and the fork are made from carbon and designed to carry as much load as possible. There's room for three water bottles on the frame and more on the fork.
JOURNEYER
All Road Adventure Bike
The Salsa Journeyer series is Salsa's newest line full of introductory gravel, all-road, and light touring bikes. The name might sound familiar, but that's because the Journeyer replaces the Salsa Journeyman line. The bikes are pretty affordable, ranging from $1,029 to $2,799.
Depending on what you prefer, you can buy Salsa Journeyman with either drop or flat bars and with a variety of groupsets, such as Apex, Sora, or Claris.
Salsa Journeyer offers premium performance at a low price thanks to a lightweight aluminum frame and an even lighter carbon fork. They contribute to a comfortable riding geometry that feels gentle on your back, neck, and wrists.
Stock Salsa Journeyman in two tire sizes that promote stability and comfort on challenging rides. The 650B and 700C wheels make handling nimble and responsive and improve acceleration and rolling resistance.
The frame can be fitted with front and rear racks, fenders, lights, and other types of cages.
If you want to get the taste of gravel riding and off-road touring and bikepacking but still have money left in the purse for on-road expenses, Salsa Journeyer is a logical choice.
WARROAD
Endurance Road Bike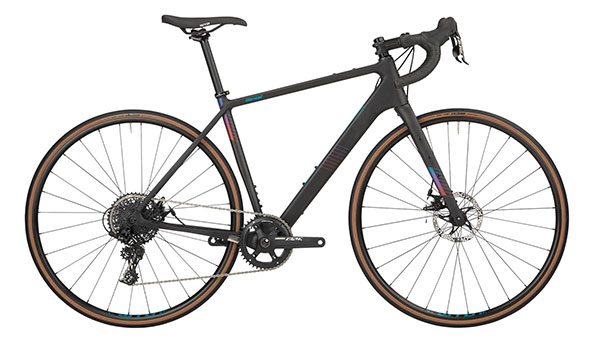 " '80% road, 20% whatever': the unofficial motto of Warroad."
Riders who like exploring both on and off-road usually come in two types — one type prefers paved roads and the other swears by gravel. Salsa Warroad is made for the former, but the latter will love it as well.
You need to spend between $7,999 and $5,499 for the high-spec models, but you can also get Ultegra for $4,599. Either way, you end up with a beautiful bike with endurance geometry that can race, train, and travel.
This high-end gravel/road bike comes with a full carbon frame and fork, equipped with some of the best SRAM and Shimano components money can buy.
Originally, Salsa Warroad rolls on 700c x 28mm tires, but you can fit 650B wheels on it and go up to 47mm wide. That would turn this bike into a proper gravel warrior.
If you want to get the best Salsa Cycles has to offer in terms of design, technology, and versatility, the Warroad is what you're looking for.
STORMCHASER
Single-Speed Gravel Model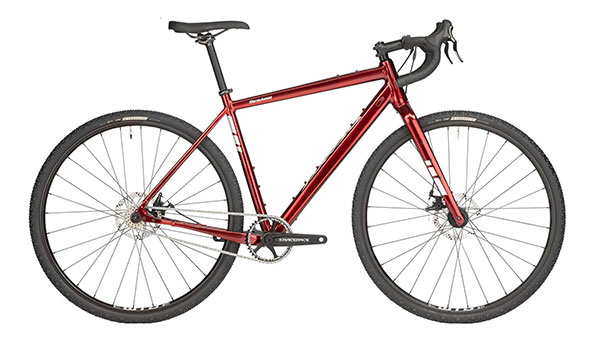 "Stormchaser is a single speed gravel bike designed to excel in the worst weather conditions nature can produce."
Last but not least is Salsa Stormchaser — a bike made to enjoy cycling. This single-speed gravel bike is made to tackle the most challenging terrain and conditions (but there's a geared version available as well, whit GRX groupset).
Its drivetrain requires minimal maintenance and with minimal parts on it, there's little that can go wrong if you go far away from civilization.
Salsa Stormchaser's rear wheel comes with two cogs (17t and 18t) that can be swapped by utilizing the sliding Alternator Flat Mount dropouts.
Stormchaser is built around an aluminum frame and a carbon fork, with comfortable geometry and internal cable routing. Salsa's famous Class 5 VRS system is implemented into the rear triangle, which makes bumpy rides super-smooth.
This Salsa gravel bike comes with 42mm tires, but you can bump that up to 50mm. You can also ride Stormchaser with 700c or 650b wheels.
Get Salsa Stormchaser if you're free-spirited and you want to bring simplicity back into your rides and experience gravel riding with minimal fuss.
---
---
Sizing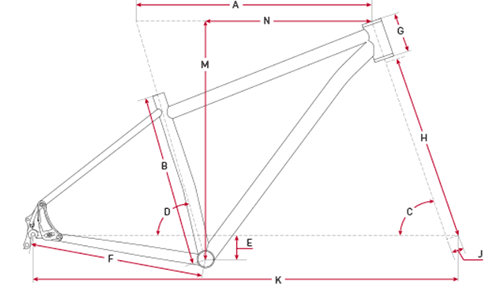 Depending on the model and the type, Salsa Cycles are usually available in four to seven unique sizes. These fit riders of different heights, typically in the 160cm to 190cm+ height range.
For example, Salsa fat bikes come in five sizes that fit riders between 157cm and 188cm+, except for Blackborow that comes in three sizes and fits the 168cm-190cm range.
Salsa mountain bikes are available in four or five sizes, suitable for riders as short as 157cm or 165cm and as tall as 190cm+.
Finally, Salsa gravel bikes have the best variety of sizing, as the frames have up to seven sizes and fit riders between 142cm and 190cm tall.
Therefore, finding the right fit on all Salsa bikes should not be a problem if you are in the average height range.
Warranty & Shipping
Salsa Cycles offers between one and five years of warranty on their bikes, frames, components, gear, and apparel. Check out our table below to find out the exact warranty terms for every type of Salsa product you might own.
| | | | |
| --- | --- | --- | --- |
| One-Year Warranty | Two-Year Warranty | Three-Year Warranty | Five-Year Warranty |
| All apparel | Aluminum chainstays of suspension frames | All Salsa components | Carbon front triangle of suspension frames |
| All frame bags | Aluminum seatstays of suspension frames | All Salsa forks | Carbon frames |
| | Carbon seatstays of suspension frames | Aluminum front triangles of suspension frames | Titanium frames |
| | All other suspension frame parts | Aluminum frames | Steel frames |
When it comes to shipping, Salsa bikes can be bought from authorized dealers and retailers, including both online and brick and mortar shops.
Therefore, the individual shipping rates of those retailers apply. Salsa bikes cannot be bought or ordered from the official Salsa Cycles website.
All Our Salsa Cycles Reviews
FAQ