Salsa Journeyman is a series of affordable gravel, all-road, and touring bicycles intended for entry-level or intermediate off-road cycling enthusiasts.
This series is characterized by its rich choice of builds and wheel sizes. Namely, each of the five builds is available with either 650B or 700C wheels. Plus, some models feature flat bars, whereas other come with the more popular gravel drop bars.
Salsa Journeyman's big selling point is its price and the value it provides for the money. The most expensive models cost $1,500, whereas the cheapest can be ridden for around $700.
If you want a practical and good-looking all-road aluminum bike with a carbon fork that can be used on and off-road or for traveling, you'll find our overview of the Journeyman series interesting!
For current models, see our review of the Salsa Journeyer Series. It's the new and improved version of the original Journeyman lineup.
---
Overview of Salsa Journeyman Models
Let's take a closer look at each of the available Salsa Journeyman builds and together try to figure out which one fits your needs the best!
Salsa Journeyman Flat Bar Claris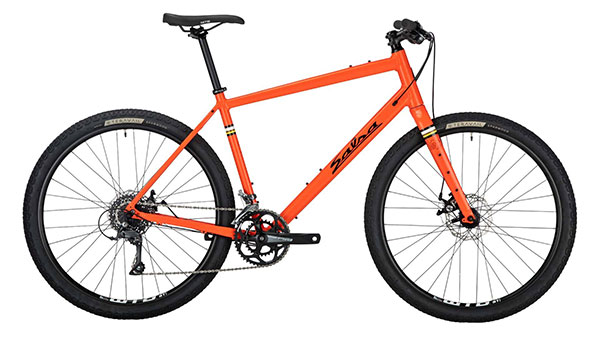 Salsa Journeyman Flat Bar Claris is an attractive-looking all-road bike that offers the ideal mix of speed, utility, and comfort.
It's made with an aluminum frame and an aluminum fork that feature full internal cable routing and come with numerous mounts for racks, fenders, and cages.
Salsa Journeyman 700C comes in a beautiful all-black color whereas the 650B model is painted in copper. The only difference between these two models is the tires.
Journeyman 700C rolls on WTB Riddler 37mm tires, whereas the 650B rolls on WTB Nano 2.1″ wide.
As the name tells you, these bikes have full Shimano Claris drivetrains with 16 gears, which is a good choice for beginners. The mechanical disc brakes utilize 160mm rotors for decent power and precision.
Salsa Journeyman Claris Flat Bar is a good introductory choice for recreational riders and beginners. If you want a cheap, high-quality, comfortable, and fast bike, you shouldn't hesitate to get it.
Salsa Journeyman Flat Bar Sora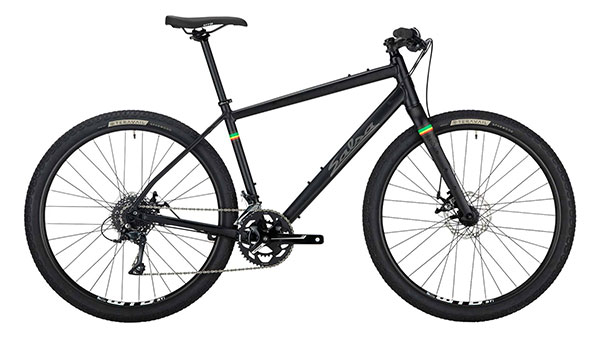 Salsa Journeyman Flat Bar Sora is a 2019 model that is still available on REI and with other dealers. Even though it's an older bike, it hasn't aged one bit, both in terms of design and technology.
Two things that are obvious about these bikes are flat bars and Sora components (duh!). Many riders prefer flat bars to drop bars because they are easy to get used to and cheap to maintain.
Salsa Journeyman's Sora groupset puts 18 wide-range gears at your disposal with an 11-34T cassette and a sub-compact 46-30T crankset. A great combination for riding hills.
Braking is done with Promax cable-actuated brakes with 160mm rotors. They're not impressive, but they are definitely capable of stopping you on a dime when necessary. You might need to adjust them more frequently, though.
Both 700C and 650B Journeyman Sora models are fitted with WTB ST wheels with 2mm spokes and brass nipples. However, the former rides on Teravail Cannonball 700C x 38mm tires, whereas the latter comes with Teravail Sparwood 27.5 x 2.1″.
If you prefer speed, get Salsa Journeyman Sora 700C, but if you prefer raw power, then the 650B version is for you.
Salsa Journeyman Claris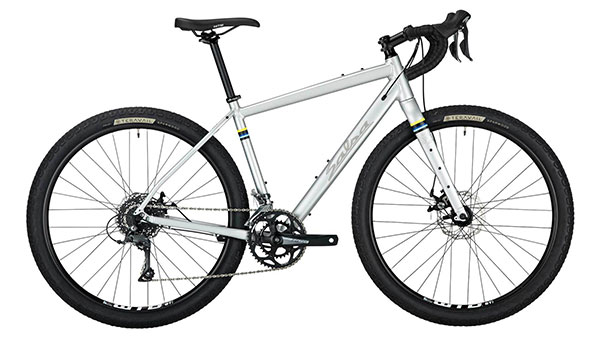 650B
700C
MSRP $849 – $949
If you are a fan of drop bars as opposed to flat bars, the cheapest Journeyman model you can get comes with Claris components.
Of course, it's available with 700C or 650B wheels, so you can choose whichever suits you best. If you plan to do a mix of road and off-road rides, I recommend 700C wheels. However, if you wish to stick to gravel and dirt, you can't go wrong with 650B.
Salsa Cycles' website lists both 2019 and 2020 models, though REI sells only 2019 models at the moment. However, these are pretty much the same.
All models have 16 gears with dependable entry-level Shimano Claris components and flat mount mechanical disc brakes.
The only difference is the different hubs and tires. The 2019 models have Novatec hubs and Teravail tires, whereas the 2020 models have Formula hubs and WTB tires.
In terms of width, Salsa Journeyman Claris 700 has 37mm tires and the 650B tires are 2.1″ wide.
If you want to ride in the drops, explore paved and unpaved roads, and save a lot of money, go with Salsa Journeyman Claris 700 or 650.
Journeyman Sora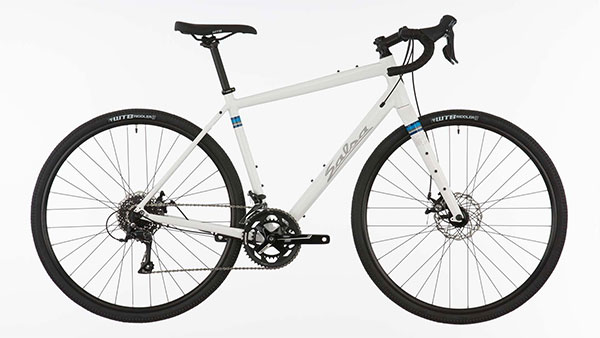 In my humble opinion, Salsa Journeyman Sora is one of the most beautifully designed bikes in this series. Plus, it has a phenomenal value for money reflected in Sora components.
While this bike is marketed for beginners, I believe that Shimano Sora is capable of some serious riding. More experienced cyclists might not like having only 18 gears, but the fact is that Sora shifts well and lasts a long time.
Salsa Journeyman Sora offers a lot of bang for the buck for beginner and intermediate riders with an affinity for paved and unpaved roads.
Journeyman Sora rolls on the same WTB STP wheels with Formula hubs and WTB Nano (650) and Riddler (700) tires seen on Journeyman Claris.
One big area where these bikes differ is the fork. Journeyman Sora is the first model with a Fantail Deluxe carbon fork, as opposed to aluminum forks on Claris models.
Another area where these versions differ is the weight. Journeyman Sora 700 is almost 2 lbs. lighter than the 650B version and comes out at 24 lbs.
If you ride frequently and cover longer distances, paying a bit more to get Salsa Journeyman with Shimano Sora components is definitely worth it.
Journeyman Apex 1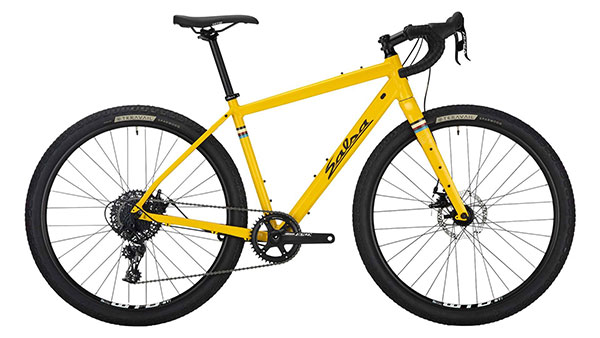 If you want the best of the best from Salsa Journeyman, you should settle for nothing less than the Apex 1 model. This iteration costs around $1,500 and gets you the mid-range SRAM Apex 1 groupset.
The SRAM Apex 1×11 groupset is suitable for off-road riding, but thanks to a 40T crankset, you can ride Salsa Journeyman Apex 1 on paved roads as well.
Compared to the cheaper Sora model, you also get more advanced TRP Spyre-C flat mount disc brakes with 160mm rotors. They offer even more braking power and more smoothness when trying to slow down in a controlled manner.
However, it's worth noting that Salsa has still not made the 2020 version of this bike. Only 2019 versions are listed on the official website and available on REI.
Journeyman Apex 1 has an aluminum frame and a deluxe carbon fork zig-zagged with a plentitude of mounts. You can equip it with front and rear racks, fenders, lights, water bottle cages, and other types of cages.
If you want to ride long distances, travel for weeks or months on end, or even enter some gravel events and races, you should be happy with your Salsa Journeyman Apex 1.
---
User Reviews
One thing that all Salsa Journeyman bikes have in common is overwhelmingly positive reviews. On average, these bikes have 4.8 to 5-star reviews on Salsa's official website, posted by cyclists who bought them and rode them for a while.
The Good:
The majority of positive reviews praise the geometry of the bike and the overall build. The comfort of the frame and the fork are also noted as positives.
Riders are also quite happy with Salsa's customer support team which deals with potential issues in a timely manner.
For example, one reviewer had a problem with spokes snapping on his WTB i19 wheels. Salsa stepped up and sent him a new WTB i23 wheel as a replacement.
The Bad:
The negatives include some outdated parts, such as the square-taper Sora crankset, which makes upgrading the BB a challenge.
There are also some reported issues with the derailleurs and the brakes, but these are common on all bikes and are usually quickly solved with a tune-up.
All in all, judging by the reviews, it seems that Salsa Journeyman bikes can be recommended and offer a pretty good bang for the buck.
See also:
Sizing
The Salsa Journeyman series comes in five frame sizes for the flat bar models and in six frame sizes for the drop-bar models.
The flat-bar models are sized as mountain bikes and fit riders between 147cm and 188cm+. The drop-bar models are sized as road bikes and fit riders between 152cm and 188cm+.
To find the right size for your height for flat bar Journeyman models, check out the details below:
XS – 4'10" – 5'3″ (147cm – 160cm)
SM – 5'3″ – 5'8″ (160cm – 173cm)
MD – 5'8″ – 6'0″ (173cm – 183cm)
LG – 6'0″ – 6'3″ (183cm – 191cm)
XL – 6'2″ + (188cm – UP)
To find the right size for your height for drop bar models:
50 cm – 4'12" – 5'3″ (152 cm – 160 cm)
52 cm – 5'2″ – 5'5″ (157 cm – 165 cm)
54 cm – 5'2″ – 5'9″ (165 cm – 175 cm)
55.5 cm – 5'8″ – 6′ (173 cm – 183 cm)
57 cm – 5'11" – 6'3″ (180 cm – 190 cm)
59.5 cm – 6'2″ + (188 cm – UP)
Which Is the Right Model For Me?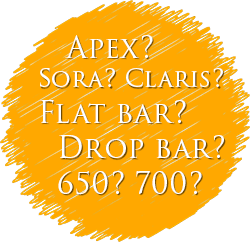 If you are making your first steps into gravel biking, then you should first determine whether you want a
flat bar or a proper drop-bar bike
. Personally, I prefer drop bars on gravel bikes without exception. They give you more grip positions to choose from, which is always a plus.
Then, you need to determine whether you'd be better off with 650B or 700C wheels and tires. The 650B size gives you more tire clearance so you can ride a wider rubber — this is great if you prefer riding on gravel and dirt roads.
The 700C size rolls faster and makes covering longer distances easier. Plus. narrower tires provide a good compromise for paved and unpaved roads.
Bottom point:
If you're a complete beginner or you're planning to ride recreationally and not too seriously, the Salsa Journeyman Claris models will work great for you.
However, if you want to cover longer distances, ride more challenging terrains, and abuse your bike a bit more, you should get Journeyman Sora or Apex 1, depending on your budget.
Have fun getting dirty and dusty!