Hello there! My name is Jeff. I only ride because I really love it. I used to mainly race, but now I've given that up to just teach riders how to become better at competing.
You can read about me on the right side of the screen, scrolling down. I want everyone to find out that you really don't have to spend a lot on bikes and even cheaper bikes can be great and true friends to you.
I've been ex-pro rider but enjoy cycling even more now 🙂
Write me at hello(at)bicycle-guider(dot)com
---
For Bike Manufacturers
Bicycle Guider is an excellent outlet to promote awareness of cycling products, from accessories to bikes. We review every type of bike, and we don't focus on any aspect of cycling in particular. At present, we are focusing on road, hybrid, and mountain bikes.
Bicycle Guider aims to produce in-depth reviews, and we strive to supply current and accurate info to all inquiries generating from our target viewership. We have our own non-pushy style, opting instead to empower the consumer with info which guides their own decision making.
Thanks to carefully selected and superior content,
Bicycle Guider's web site traffic is growing at a healthy rate. In 2016 we had around 105,000 unique visitors. In 2017, we've had around 402,000! In, 2018, we had 800,000!
So, yes, our viewership is rapidly growing – along with our conversion rates!
Who are Our Readers?
We aim, primarily, for site visitors from the US. Our country-of-origin profile on 2018 looks like:
So that's basically 90% of the traffic from English speaking countries.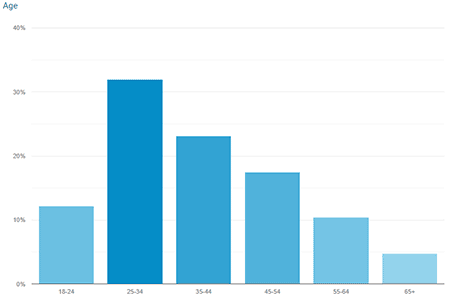 Our average visitor spends over four minutes on our site – and that's a lot!
So, is Bicycle Guider a good venue to promote your product?
Bicycle Guider consists of a lean, mean team of writers, proofreaders, a web developer, photographer, videographer and a designer. To make good bike reviews a reality, it's imperative to begin with great bikes, and also to have a team that knows how to showcase them to a targeted audience.
A few samples: Diamondback Haanjo 3 or State Bicycle Co – Wulf or Thousand Helmet
Please keep in mind:
Buying a review is unethical and against our core beliefs. You can't do it!
We are honest and positive, but if the review didn't present your product in the light you'd hoped, we can promptly remove it
Ideally, you're part of an affiliate network – but if not, that's okay too
Sound appealing and useful? Drop us a line at hello (at) bicycle-guider (dot) com and let's explore how we can spread the word about your fine wares to our viewers!
---
Affiliate Disclosure Policy
Bicycle Guider is reader-supported. When you buy something through links on our site, we may earn commissions. It is called affiliate advertising programs. Affiliate programs provide a means for sites to earn advertising fees by advertising and linking to other websites.
Amazon Affiliate Disclosure Policy
www.bicycle-guider.com is a participant in the Amazon Services LLC Associates Program, an affiliate advertising program designed to provide a means for website owners to earn advertising fees by advertising and linking to amazon.com and any other that may be affiliated with Amazon Service LLC Associates Program. Amazon and the Amazon logo are trademarks of Amazon.com, Inc. or its affiliates.
Bicycle Guider (www.bicycle-guider.com) is also a participant in AvantLink Merchant Referral Program.
What does it mean, that I spend countless hours weekly investigating and testing, analyzing, contacting and writing reviews. It really does takes me much of my time. That money I get, I forward to a better site (Web hosting, good writers to check my texts etc).
This model is called affiliate marketing and it's widely used on many popular sites. You can read about it here. We only recommend the products/services that we've personally used or found useful to our visitors. What you need to know about this model called affiliate marketing is that you don't pay anything extra.
Why did you let me know about it?
It's because I want to be honest with my readers. In my opinion, the best way to gain trust from your page visitors is to be 100% transparent and this is exactly what I'm currently doing. Aside from that, I'm also pretty friendly folk! 🙂
---
Prices & Accuracy
Prices may vary and some bike prices go over expected prices. It depends on the sellers. However, I try to keep all my posts up to date. If you see any false info, please let me know ASAP!
Cookies & Privacy Policy
Everyone loves cookies! We eat them to give you the best result. The cookies are mainly used for information, i.e I want to show you ads to remind you some pages or products. But like always, I don't want to spam you, never! What I collect is e-mail addresses and it is optional. I send newsletters about once after 2 months to give you the best information – you can always unsubscribe if find it unuseful!
Price Scale From $ to $$$$+
We all know that prices vary everywhere and on Amazon too. Therefore I can't point out exact prices (if I have somewhere, let me know!) I thought out that I want to give you an overview and therefore I work out the scale from $ to $$$$+. What does it mean? Well, being still subjective, it can give you a better overview.
What does the price scale tell you?
$ – Cheap – Somewhere around $100 – $300
$$ – Fairly cheap – Somewhere around $301 – $450
$$$ – Moderate – Prices around $450 – $1,000
$$$$ – Fairly Moderate –  Prices around $1,001 – $2,500
$$$$+ – Expensive – $2,501 +
However, those are still subjective but can give you the better overview!
Bike Guest Posts – Can I Write For You?
YES! I want your interesting stories. I am interested of publishing your stories as guest posts. Whatever your story with bicycles is – educational, funny, traditional etc. Write to me about your thoughts!
Write me at hello (at) bicycle-guider (dot) com