Contact Form
Or use the @BicycleGuider
*** We DO NOT ALLOW Sponsored Posts / Placements on our site. We will report such emails regarding paid placements of links or content to spam.***
How you CAN participate
Write to us. Are you an avid cyclist or a writer? No matter on what level and bike type are you riding. We pay our writers, so drop us a few lines below.
Comments on our articles and share your knowledge. We love getting feedback from you.
Suggest new topics you'd like to read about.
Spread our word on Facebook @BicycleGuider
What you CAN'T do:
We DO NOT OFFER any sponsored posts or banners. No matter what amount of money you offer to us. We have chosen the (harder) white hat way and there's no chance you'll get a sponsored post.
Steal pictures or content created by us. Bicycle Guider is a registered trademark, which helps us protect our rights. If you want to use our content, please ask for permission and link to the source.
What we can do for you?
Do you have a valuable cycling-related idea you want to spread? Let us know. We are always spreading good ideas that make the cycling world better. See full statistics of Bicycle Guider >
What is the purpose of Bicycle Guider?
Bicycle Guider is created to provide valuable information to people who are interested in cycling. We try to publish interesting, educational guides, articles, and reviews. We are expanding our base of articles and cover more and more valuable topics as time goes by.
The goal of Bicycle Guider is to teach, inform, and entertain. All of our writers are passionate cyclists who enjoy researching and writing about bicycles. Ideally, our writings will get a lot of new people on the bandwagon and help them stay there.
The Team
Jeff Balton – Founder and Editor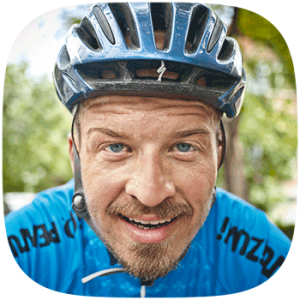 Jeff Balton is the founder and editor of Bicycle-Guider.com. He started this blog because he was that "bike-guy" who knew everything about bicycles. At least that's what his family and friends thought. 🙂
The truth is, if he didn't know something. He found all the answers on the internet and got satisfaction from the new information. That was the reason he started this blog back in 2015.
You can often find Jeff riding with his kids. At the moment, they're either in the child bike seat, or he's running next (read: far behind) their balance bikes.
Amy Law – Writer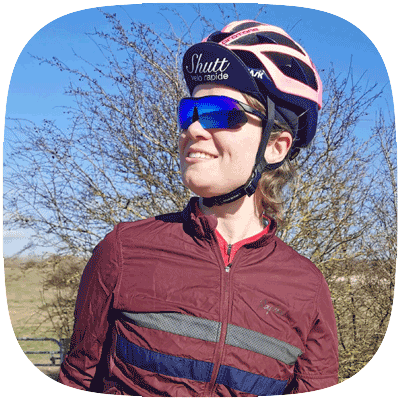 Amy is predominantly a road cyclist and having completed London to Paris twice now, she's looking for the next cycling challenge. She can often be found cycling a Col in Mallorca (typical cyclist, right?). Bikes are her life and have written articles and reviews on the subject for years. Amy likes to keep up to date with all things cycling by trying new bikes, equipment, and accessories out so expect first-hand experiences!
Dusan Randelovic – Writer & Editor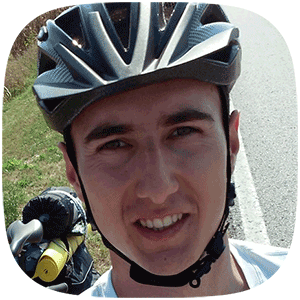 Dusan is our adventure and road specialist. He is originally from Serbia, but it's hard to find him in the same place twice. He's on the road frequently and has already seen basically the whole of Europe on a bike.
He studied the English language in university and has been teaching kids for more than 3 years.
He loves doing it, and in return, it gives him enough freedom to hit the road. Dusan travels at least 3 months per year and has explored close to 30 countries so far.
His cycling journey began when he was 8 years old and inherited his first bike, which was too big for him, from his cousin. But that did not stop him for falling in love with the freedom that comes with the road.
Zach Nehr – Writer
Zach is the head of ZNehr Coaching, a freelance writer, and an elite-level rider in road, gravel, cyclocross, and track racing. He earned his Bachelor's Degree in Exercise Science at Marian University- Indianapolis, and quickly thereafter earned his certification as a USA Cycling Level 3 Coach and TrainingPeaks Coach. He has a passion for writing and has a number of published articles on his website as well as Velonews, Cyclingnews, CyclingTips, TrainingPeaks, Final Surge, and Cyclist UK.
Isabel Khalili – Writer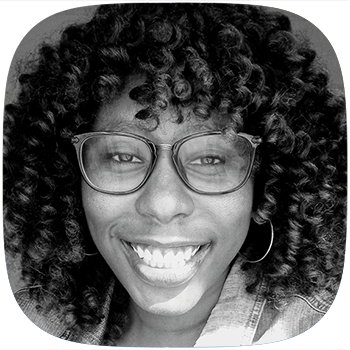 Isabel is an avid cyclist and an experienced content writer who enjoys everything about nature and being outdoors, especially when it includes a bike. What better way to discover new areas than on two wheels, right? She loves riding trails, roads, as well as bicycle touring whenever she's away from her keyboard.
Kevin Levi – Videographer & reviewer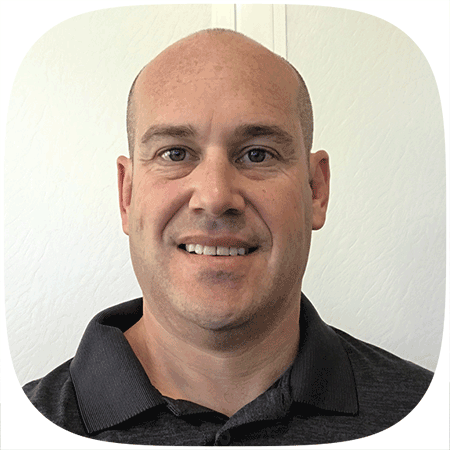 Kevin Levi is an avid recreational cyclist and ebike enthusiast who makes video reviews of various ebikes for our YouTube channel.
He loves to ride his road bike for exercise and his various ebikes just for fun. Kevin also has a YouTube channel called "The Frickin' Shredder", where he makes videos of his ebike escapades.
Emily Tailor – Press & Relations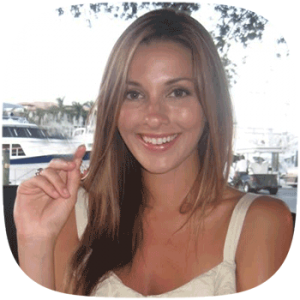 Emily is our Virtual Assistant. She was born in sunny Florida, but then fell in love and moved to New Zealand. She is passionate about both cycling and hiking.
Emily often goes on hikes and rides with her family all around the world. You can't resist her long stories about different journeys, how she forgot to bring the flysheet of her tent, how she lost her bicycle helmet, and so on. Her favorite cycling destination is Europe and Scandinavia.
Some anonymous ghostwriters
Some writers want to stay anonymous, so we can't reveal their names. Over time, we've worked with over 10 writers and we want to thank all of them for the indispensable help.
How do we work?
We dig into the research, spec-lists, and different materials and analyze hundreds of products to come up with comprehensive unbiased writings. We also cooperate with the best freelancers all over the world – writers, editors, designers, developers, and so on.
They all need to be paid well.
Also, in order to run a website, you have to pay for a domain, web hosting, privacy, and more. That's why you'll see affiliate links in our reviews. It means, that when you buy something through an affiliate link, we may earn a small commission. These commissions help us to grow and keep running Bicycle Guider.
Since we believe in transparency, we need it to be unbiased.
How do we rank products?
When stacking products, we take in mind different aspects like: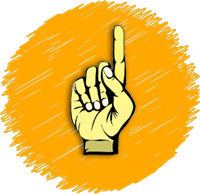 Price – One of the rules that we and our writers follow, is that the price needs to be fair. Since prices form based on so many different aspects, it's important for us, that our readers would get the best bang for the buck.
Quality – Quality is another aspect that plays an important role. We all want to get good quality products as cheaply as possible. Sadly, quality and price go hand-in-hand, so it's easy to stumble upon cheap products marketed as high-quality products, but in real life, they are inadequate.
Components – Different bikes use different components. We analyze and compare the components and make sure they are priced accordingly before including them in our reviews.
Brand – We put a lot of effort into analyzing the brands. Reliability is everything, so knowing the quality of their products and overall history is vital.
User reviews – We take user reviews seriously. When shopping for a bike online, this is usually one of the first things to take a look at for all of us. User reviews feature honest reviews, and they give a really good insight into the possible problems and good sides.
Keep in mind that the order of bikes is subjective and represents our research. No merchant can pay us to move their bike in front! Their bike should outperform their competitors.
Some questions you might ask
Why is [Bike Model] not on this list?
A: There may be different reasons: It simply didn't outperform its competitors, we didn't take it into account (There are thousands of bike brands and lots more models). It doesn't mean it's not worth buying! It may be worth buying if you do your research.
What should I do to get our bikes to your lists?
You can drop us a few lines but keep in mind that we prefer to work with well-established brands. You should build up a good reputation, customer support (crucial!), and a quality department.
Affiliate Disclosure: If you decide to purchase through one of the links on our site, we may receive a commission. More on Privacy Policy & Affiliate disclaimer