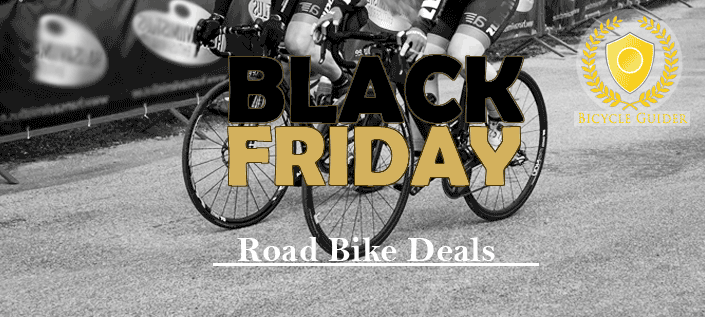 Black Friday weekend is the time we are waiting for! It's the time of best Black Friday road bike deals 2018!
Updated: November 24, 2018 (Added Diamondback Up to 40% Selection of Bikes & many more)
Black Friday weekend isn't just about deals with a better price, it's a time to do your cycling related purchases as well. I and my family make most of our cycling related purchases at this time of the year. I mean, I can have a better price at some shops, but during the Black Friday, we all see some high discount deals.
If you sum it up, you'll save a huge amount of $$, just by doing the purchases at the right time.
So, let's see the best Black Friday Road bike deals of 2018!
---
Jump to: GEAR / APPAREL / WOMEN / BIKES / WHERE-TO-SHOP?
---
GEAR
Let's check out some great road bike gear bargains on Black Friday.
Have you crashed recently? If yes, then consider changing your helmet. Best time for that is Black Friday, we all know that! Even if you haven't had a crash, a bike helmet should be used for a maximum of five years, so make sure to change it regularly!
Watches are no longer used just to track time. If you're an active person, a smartwatch will make you smarter! Suunto is one of the most popular producers of smartwatches, used by the likes of Kilian Jornet and Emelie Forsberg. That's a nice company to be in! Track your exercise, recovery, and receive smartphone notifications.
The Kryptonite Fahgettaboudit chain lock is perfect for securing your road bike in your garage, on a bike stand, or against a street post. During the testing period, it was shown that it can survive a 3-ton pressure, which is much more than what bike thieves can produce with their most commonly used tools. Protect your road bike and don't take any chances.
Have you considered upgrading your current groupset? Now it's the right time for that. Top-notch group-sets are expensive, but we've never seen them so affordable like now! It's by far the best road bike Black Friday deal we've seen so far!
This is the way to get faster when your legs can't get any stronger.
The best way to increase the speed on the bike is investing in a good set of carbon wheels. These wheels are seriously fast! Just look at them! The whole set weighs only 1320g and accommodates both SRAM and Shimano cassettes.
Or, have a look at all the wheels on sale…
Ask any experienced cyclist and they'll tell you that lightweight carbon wheels are worth the investment! Changing your stock wheels is one of the first upgrades you want to make to see some tangible results on your training. You'll be amazed at how much stronger you feel and how nimble your bike has become. Use this best black friday road bike deal of 2018 for that!
The link below has the best wheels including Mavic, DT Swiss, Shimano, HED, and more. Make your pick!
Upgrade your tires using Black Friday road bike deals!
Buy from Chain Reaction Cycles
The worst thing about cycling for me was getting back into shape in spring after a long winter. That was before I decided to buy an indoor trainer. There's no reason to stop training and lose your competitive edge during wintertime with one of these handy boys.
This LifeLine trainer fits 26″ and 700c wheels and also includes a riser block for the front wheel, to keep you in a natural position. No more excuses for having a beer belly in the winter season!
---
APPAREL
Black Friday is also a great time to buy apparel at a better price. Weather is getting colder, so let's prepare for it at a better price.
True cycling enthusiasts know how important looks are when on the road. That's not an issue with this Pearl Izumi long-sleeve jersey, which is available in a combination of light blue and dark blue, with an orange zipper for contrast.
Why did we include it to our best Flack Friday road bike deals section? Because it comes with great value – three pockets on the back and reflective stripes, so it will keep you warm and well-supplied, but also easily seen at night!
Sugoi Resistor Aero Bike Shoe Covers – $10.83 (was $45) – 75% Off
Shoe covers are an absolute must in autumn and winter. It's the best and the only way to keep your feet completely dry and warm even on the freezing days! Moreover, they are aerodynamic and have reflective stripes for improved visibility at night – what more could you ask for?
Currently Sold Out
The known Jawbreakers come with the extended field of view in the upper region, which gives you a much better perspective of the road. Available on Polished White or Aero Grey.
---
WOMEN
We've tried to gather women specific Black Friday road cycling deals as well. As we always mention, women can also use men gear. There are just some things that need to be women specific, and here they are, at a much better price!
Black Friday is the best time of the year for buying cycling apparel and Chain Reaction Cycles has some pretty sweet deals. These dhb women's bib shorts will always stay in place for a comfortable ride. Don't miss your chance to save 40 bucks on this great deal!
Buy from Chain Reaction Cycles
See all women bib selection on Chain Reaction Cycles >
Did you know that it's not the cold weather but the cold wind that made you shiver on your last ride? This dhb wind jacket protects you from the wind chill and makes you visible due to its flashlight finish. The night falls early in winter, so make sure you're seen on the road on your commute back home. Neon and Pink are available.
Serfas Tri Pro Titanium Saddle (Women's) – $47.73 (was $130) – 63% Off
If your current saddle doesn't feel comfortable enough, consider buying this one.
Sold Out!
The new Troika road bike shoes will take your cycling performance to the next level. There isn't a cheaper solution to getting much better at cycling than this one. The black and white color combo is sleek and stylish, so it matches well with most cycling apparel. It's perfect for entry-level riders, both for commutes and sportives.
Buy From Chain Reaction Cycles
---
BIKES
To make a seriously big saving, you need to check the bikes and their prices on Black Friday. On a $1,000 bike, you save $200-400 on average. It's a huge discount without a doubt! Let's take a look at some best Black Friday road bike sales below.
Diamondback has every kind of road bikes that you need, including budget, mid-range, and high-end models. They're known for top quality road bikes, trusted by both enthusiasts and cycling pros. Check out their one-time offer of discounted bikes this Black Friday!
The discount % doesn't seem that low, but even with the stock price, it has a nice balance between the value and price. Therefore, every dollar off of the price tag is just an additional plus! It's available in frame sizes between 45cm and 57cm, so it accommodates many different heights!
It's quite hard to find decent bikes for shorter people or juniors. However,  the Argon 18 Krypton Xroad is available in three different small sizes – Small, Extra Small, and XX Small. Treat yourself or your kid to a high-quality road bike and save $1,000 on it.
See This Krypron Xroad On JensonUSA
Or see all Argon 18 Road bikes
Are you a person of style and class? Do the aesthetics matter to you as much as performance? This Fuji Gran Fondo model has both! It's a seriously beautiful bike and an overall workhorse that will get you everywhere you need to be with no fuss. Save $800 on this deal!
Or see all the…
Don't miss checking this huge selection of different Fuji bikes, including triathlon and time trial bikes. You have a chance to find out for yourself why the Japanese craftsmanship is considered to be the best in the world. Get a bike for all your needs.
Raleigh works with Diamondback to produce bikes of top-notch quality, so their bicycles are well known around the world. Because of that, they are usually quite expensive, but this Black Friday you can get them super-cheap. You can choose from a selection of road and city bikes from different series, such as Superbe, Sprite, Cadent, Redux…
Diamondback Haanjo Trail – $1,599.99 (was $1,999.99) – Save $400
Road bikes are fast, nimble, and super-fun to ride. However, they don't offer a lot of possibilities when choosing which roads to ride. If you're looking for a road bike alternative that will allow you to hit some gravel and fire roads from time to time and explore your adventurous side, then choose a gravel bike. Make sure to check out this great Diamondback Haanjo Trail Black Friday deal!
Buy from Diamondback
Or see all Black Friday road bikes on Diamondback
Take a look at this great Black Friday road bicycle deal with a tempting price! Orbea has some of the best deals this Black Friday and Jenson USA is the place to get them. It's available in five sizes so you'll surely find the one you need.
Buy The Orbea Avant H40 from JensonUSA
Or see all Orbea road bikes on JensonUSA
Wilier, Colnago, Argon, Jamis, GT, Argon, Orbea, Masi, Giant – all the most important bike brands available on Jenson USA! Have a look to get the bike you want for up to half its original price.
See The Selection On JensonUSA 
GiantNerd does not mess around this Black Friday. They've decided to offer you amazing Italian Tommaso road bikes for as low as $524. The selection includes Tommaso Imola and Tommaso Forcella, which we've reviewed and recommended before! The models are suitable for entry-level and more experienced riders and available in different sizes and colors.
If you'd describe yourself as a constant adventure seeker, then you need something more than a road bike. This Fuji cyclo-cross model is the thing you need and it comes at a super affordable price on Black Friday. It's perfect for entry-level riders to take baby steps off the beaten path! It has all of the ingredients of a good ride: a lightweight alu frame, disc brakes, and Shimano components!
Good news! We tested this Diamondback Haanjo 3 and it was superb! It handled well on tarmac, gravel, sand, and on rooty roads. It is available now for an even better price.
Read the full review of Haanjo 3 >
Are you having a hard time keeping up with your favorite hobby – road cycling? There's no shame in that, but it would be a shame to quit it because of that. An electric road bike could be the solution to your problems and Raleigh has the best ones. This Black Friday, save $950 on one of their best selling models – Tamland.
Buy from Raleigh
Or see all Raleigh Electric bikes
---
We update this list daily. Keep your eyes open and follow us
on Facebook
.
Where to shop for the road bike deals on Black Friday?
GEAR & BIKES
Bike Merchants Only
Diamondback Bikes – Black Friday dates are 11/23 – 11/26. Up To 40% Off
IZIP Electric  – Reliable eBike merchant! Up To 55% Off Sitewide! Black Friday starts Midnight, 11/23 + Plus Free Shipping!
Raleigh – Great (electric) bike deals – starts 11/23. Free shipping. Up to 50%
---
Didn't find what you were looking for? Check these…