Do you have a road bike for 2020? If you don't then relax. In this guide, I will help you to choose the best entry-level road bikes.
The road bike is the most specialized of all the different bike types and meant only for riding on tarmac. I've thought the same. Going to your local bike store you can see them on sale with price tags starting from $800.
Those, I'm sure, last very nicely and are good bikes.
Here we go, I've brought out 8 9 best cheap road bikes for 2020!
Best Entry Level Road Bikes
---
Best Unisex Gravel with Carbon Fork
Co-op Cycles ADV 2.1 is every cyclist's dream come true.
The ADV 2.1 combines a super lightweight 6061 double-butted aluminum frame with light and extremely stiff one-piece carbon fork. Rear triangle even comes with rear rack mounts, so you can fit panniers on this bike for commutes or bike tours.
When it comes to the components, Co-op Cycles ADV 2.1 has Shimano written all over the place. The groupset this bike operates with is Shimano Claris, which is entry-level but more than enough for first-time roadies.
Related: Overview of Co-op Cycles' ADV series
In total, you'll have 16 gears at your disposal with a compact 50x34T crank.
Like most modern road bikes nowadays, ADV 2.1 sports a pair of mechanical disc brakes, which greatly improves its versatility. You can ride it on all types of terrains and even in rain.
The Kenda Flintridge tires are 35 mm wide and offer puncture protection — ideal for urban riders. You can certainly go a few millimeters wider and improve comfort and grip even more if you want.
All in all, if you want a cheap unisex road bike with a carbon fork that's ready for future upgrades and can grow with your skills, Co-op Cycles ADV 2.1 is a worthy candidate!
---
Best Quality For The Price
WOW, such cheap road bikes don't offer something like this very often, however, this Tommaso Forcella does! Carbon fiber provides maximum road vibration dampening and extra comfort. Hard to find another entry level road bike that is comparably lightweight like this one!
To get great speed, you have to have great wheels. TC-30 wheel-set is lightweight and aerodynamic for the price and is one of the best ever to be put on an entry level road bike.
Matte Black and Matte White are available!
Tommaso Forcella shows that the benefits of carbon can be enjoyed on quality entry-level road bikes as well.
This Tommaso looks like a real racing machine! You won't be able to tell that it is one of the cheapest road bikes on the market. I have seen too many Roadies with very expensive Specialized or Colnago bikes. They cost over $5,000! Can you imagine it? I know what it feels like to beat a guy who's riding a bike that expensive bike when you have a entry level road bike! You must try it, it'll make your day.
Assembly can be very tricky and require professionals to do it according to the manufacturer. The 8-speed cassette is also not the best choice for faster rides. And be careful to not choose an unsuitable size. For more details click in order to see the size chart. It undeniably has the best saddle of all three bikes and comes with a lifetime guarantee for the frame!
Don't forget that this bike has Presta valves. If you don't have it already, you're going to need a pump for it. I use This Presta pump which comes with a lifetime warranty.
Full Tommaso Forcella Review
Purchase safely from Giantnerd.com
---
Best All-Terrain Road Bike
The Cannondale Topstone adventure bike is one of the cheapest but at the same time one of the best entry-level road bikes for gravel that you can buy right now.
If you want to become a part of the gravel riding craze (which we definitely encourage because it is super-fun), this Cannondale model is going to help you learn the ropes.
One of the main characteristics of gravel bikes is comfort, which you will no doubt get thanks to the lightweight aluminum frame and a carbon fork. The result is a weight of 21 lbs., which is pretty decent.
To power this beautiful bicycle along even more scenic gravel roads, you will be using a 2×11 drivetrain equipped with Shimano Sora components. That's the best bang for the buck you can get for this price. It offers decent quality and performance, even though it's not race-worthy.
Cannondale Topstone is a no-brainer for anyone who has room for just one bike and needs a great performer on a variety of different terrains.
We also like the Promax hydraulic disc brakes because they are easy to maintain and repair. Hydraulic disc brakes are easier to use and brake slightly better.
Finally, Cannondale has opted to dress their Topstone model in 700c x 37 mm tires, with a discreet pattern, which makes this bike more suitable for faster gravel roads and paved roads.
Therefore, Cannondale Topstone seems like the perfect tool for gravel beginners to fall in love with this discipline and the great outback.
---
Best All-Around Road Bike
In our opinion (and we're sure many will agree), Tommaso makes some of the most attractive and the best looking road bikes. It is, without a doubt, one of the best bicycle manufacturers that you can consider at a reasonable price.
Their quality lies in the fact that they make entry-level, mid-range, and high-end models. Therefore, anyone can find something that they need.
Tommaso Imola, which we are reviewing here, is a mid-range model that even offers several glimpses of the high-end world.
It has a beautifully curved aluminum frame with a taller head tube that puts you in a more upright position.
This way, you will be more comfortable and be able to do long endurance rides on it. Because of this, Imola is very popular with riders who are buying their first road bike.
Tommaso Imola is light, fast, and elegant, offering an all-around great performance at a bargain price.
Other than that, Tommaso Imola has a harmonic combination of Shimano and Tommaso road components. They will provide you with 24 speeds on a 3×8 drivetrain. You'll do the shifting with Shimano Claris R2000 parts, and the 11-28T cassette is a part of the same groupset.
One of the things some riders might not be stoked about is the brakes. Namely, Imola comes with brake calipers. They offer great braking performance, but more and more riders prefer disc brakes nowadays.
The tires are Kenda, and they're 25 mm wide. This is the most popular width you can find on most road bikes. It is perfect for entry-level riders who should have more grip when cornering for safety and confidence reasons.
If you're buying your first road bike and you want it to last a long time and get you through many long rides, you can't go wrong with Tommaso Imola.
BTW: There are 6 different sizes and 3 attractive colors to choose from, whoa! Read the full review.
---
Wise Gravel For Beginners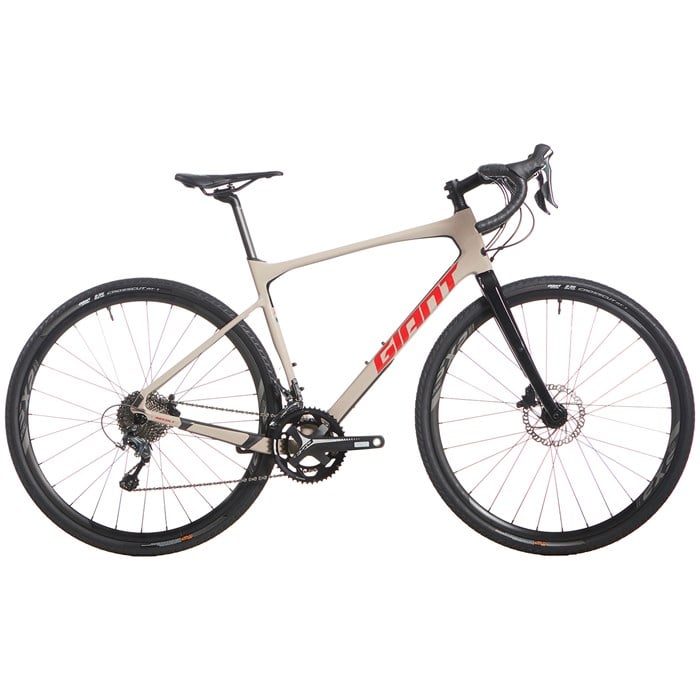 Giant has been making bikes now for almost 40 years and has guaranteed a high market share. In its price range, this ride is hard to beat, especially on entry-level gravel bikes for cyclists who don't know how to buy a bike!
Giant is perhaps the best example of cheap road bikes meaning that these are cheaply priced, but well built!
For some, $1,850 might not seem cheap, but it's hard to find this list of components for less.
It comes in one color that will match any gravel road perfectly. Plus, you can choose from one of six sizes – from XS to XL!
Users mostly have good things to say about it: Shimano Tiagra components, robust Giant's wheels and tires, very light carbon fiber frame and fork with good geometry, comfortable seat made of memory gel.
This bike comes in a single box and is almost entirely assembled. But if you feel insecure, scroll down and see how to assemble it!
Giant Advanced Revolt 3 is our top pick due to a fantastic design and bargain components for beginner roadies still learning the ropes.
This bike brakes with Giant Conduct hydraulic disc brakes which is a good refreshment from Shimano and TRP brakes seen on most other gravel bikes. They're operated with Tiagra levers.
Related: Fix your ride – Silca T-Ratchet & Ti-Torque Kit Review!
But still, it's a pretty lightweight bike for the affordable price and weights something around 22 lbs. The customer reviews are good and most of the owners are stunned by the quality of the bike.
So, if you want to jump on the gravel bandwagon and you don't want to spend every last penny on your new passion, Giant Revolt Advanced 3 is an excellent compromise.
---
Strong Performer on Gravel
Gravel bikes are the new hot trend in the cycling industry. They have a lot of similarities with road bikes, which is why the Salsa Journeyman bike deserves a place on this list! Gravel bikes are usually not cheap, but you can get a decent model for less than $1,000, as is the case with this Salsa.
This mean gravel machine is available in two colors: orange and copper. Honestly, we have a very hard time deciding which one we like more.
The frame and the fork are made from aluminum, so the total weight of the bike is 25 lbs. That's pretty low considering that this is a gravel bike and that it costs less than $1,000.
Salsa Journeyman is the ideal choice for riders who intend to stray off the beaten path and put their foot in the gravel racing world.
There are several other surprises the Salsa Journeyman has. It's absolutely jam-packed with mounts, which makes it a fantastic solution for all of your adventure rides. The stock version does not come with any accessories, but you can easily fit it will lights, fenders, racks, bike bags, and anything else you might need for long journeys.
As you can guess from the name, the Journeyman is equipped with Shimano Claris components, which is a decent choice at this price range. It has a 2×8 drivetrain with a wide-range cassette, so no need to worry about running out of gears. It also has a pair of mechanical disc brakes, which is a must on gravel bikes!
Let's not forget the versatile 37mm tires on 700c WTB STP i19 wheels, which can rip trails in half.
If you want a beginner two-wheeler for adventure trips and recreational riding, then Salsa Journeyman is the best entry-level road bike for gravel you can get!
Related: Best Bikes For Gravel
---
Best with Racks Already Installed
Co-op Cycles ADV 1.1 touring road bike is clearly a capable machine that is available in 5 sizes – from S to XXL.
The ADV 1.1 touring road bike is built around a double-butted Chromoly steel frame and fork with a geometry created to ensure comfort over long daily rides.
Component-wise, it's much more than what you'd expect from a bike at this price point. Shimano Deore LX front and rear derailleurs offer 30 gears with a touring crank that's excellent for climbing.
The TRP HY/RD hydraulic disc brakes are a good choice for the money as well, offering excellent braking power under heavy load.
The bike rolls on 700c size wheels and 38 mm wide tires, which is a great compromise between speed and comfort.
Co-op Cycles ADV 1.1 is the best touring bike that can take you on month-long tours with front and rear panniers and all of your camping gear.
The biggest advantage of this bike is that it comes equipped with front and rear racks out of the box. Therefore, all you need is some bike bags.
However, ADV 1.1 is not without its cons. The biggest one for me is the seat, it is too stiff, which can be a problem when you're riding all day long.
One thing to keep in mind is that this bike isn't completely assembled, and some mechanical skill is required. This isn't necessarily a con but you might want to factor in the cost of assembly by an experienced mechanic before buying. A proper tune-up and inspection are vital to make this bike function properly.
All you need to do is assemble the front wheel, seat, attach the shifters to the handlebars, handlebars to the head, pedals (included), and connect the brakes. Then, inflate the tires, do some minor tuning to the brakes and shifters and you are all set!
Find your size and purchase safely from REI.com
---
Best Women's Mid-Range Road Bike
We've been seeing more and more women cyclists on the roads lately, which means that the need for beginner road bikes for women is growing.
Here we have the best entry-level road bike for women in our opinion. It's a good choice to get used to pedaling, improve your fitness, and fall in love with the sport.
The first characteristic of the Cannondale Synapse Disc Tiagra is obvious from the moment you take the first look at it, which is the design. The color is simple, yet the bike stands out when it's out on the roads. The dark details on the bright orange paint job look very nice.
Another reason why this is the best mid-range fitness road bike for women is the fact that it is made specifically for the female body geometry. This means that it has a shorter top tube than usual, shorter stem, narrower handlebars, and a women-specific saddle. This will make a massive difference when it comes to comfort, especially on longer rides.
Cannondale Synapse Disc Tiagra is a high-value entry-level road bike with an attractive paint job making it a dream bike for any female beginner roadie.
When it comes to the components and parts, there are many things the Synapse Disc Tiagra can boast about. For example, it has an aluminum frame and a full carbon fork, strong mechanical disc brakes, and 28 mm wide tires.
This road machine also has a 2×10 Shimano Tiagra drivetrain which is a good choice for intermediate riders.
All in all, the Cannondale Synapse Disc Tiagra can be recommended as the best mid-range road bike for women who are just starting to ride or want to upgrade their entry-level bike.
---
Best for New Roadies
Schwinn Fastback got its place on my list immediately as a good cheap road bike and here it has remained. I bet you all knew the Schwinn before. It used to be one of the best-known manufacturers around, but it has been sold several times in the last years and a bunch of times before that as well.
Typically these purchases can bring with them changes to the quality of the bike, but with Schwinn, it luckily has remained the same and the price has even gone down on the best budget road bike.
So they have become known for making good bikes for starting out.
I am personally impressed by the quality this bike exudes for this amount of money.
I'm sure that with this setup, you can ride for years to come. You'd most likely need to visit the local shop 3-4 times to have the wheels re-trued and maybe upgrade some parts (the saddle for example) but everything else is simple – sit and ride.
Schwinn Fastback brings together a list of reliable components on a quality aluminum frame that makes it the biggest bargain in entry-level road cycling.
And if you are a true roadie, then you'll want to upgrade it so as to make it lighter and otherwise faster. Still, at 22 lbs, it is already pretty light.
Users suggest replacing the rim tape. This is important because the tape of the rim is quite thick and can rub your tire and you'll end up getting a flat. You can be sure to find something from Amazon, Zefal is a good enough choice. You can get one for less than $10. Concerning the pedals- when you want to train harder, you should get yourself Shimano clipless pedals.
Schwinn Fastback is available in six sizes that fit riders between 4'11" and 6'4″. Also, it comes in a beautiful glossy blue color that makes it look more expensive.
Find your size and purchase safely from Amazon
Always Lock Your Bike! Best Bicycle Locks Out There
---
---
Expert Opinion – Which one to choose?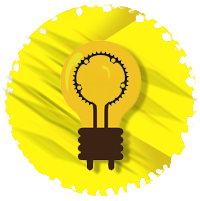 All these bikes are value-added possibilities, but, if we drill into the details, then the Giant Revolt model is probably the best choice for longer training rides on varying terrain. It's the best gravel road bike for intermediate riders that we've found.
For example, the Forcella model is a great pick and in this current model iteration, comes standard with an unexpectedly-nice component set. For men & female, who wants a lightweight road bike with a carbon fork, we proudly present you the Co-op Cycles ADV 2.1.
If you need a light, fast, durable, and attractive versatile road bike, Tommaso Imola is there for you. Also, a strong performer on gravel roads is the Salsa Journeyman, with a nice set of components and relaxed frame geometry.
If going cheap is what you have in mind, then we'll point you at the Schwinn Fastback. Yes, it'll be equipped with a cheaper component group, but, if normally maintained, the bike will work nicely for years to come. Our second choice for minimal investment is the Co-op Cycles Adv 1.1 – it comes fitted with racks so it's ready for traveling.
The best newcomer is definitely the Cannondale Topstone AL 2. It has a nice balance between price and components and performs excellently on gravel.
If you prefer longer training rides, then the Tommaso brand may be best for you. It offers bikes with a more relaxed geometry, and thus, enjoyment. Another excellent pick for women who want to take up road biking is the Cannondale Synapse Disc Tiagra, which has women-specific parts and geometry and a decent set of components.
Don't forget that all these bikes are the best picks for beginners!
---
NEW! Not sure, how to assemble a bike? Click here to order proper bike assembly from Amazon! NEW!
---
Are Cheap Road Bikes Worth it?
Yes! They definitely are.
But only the best cheap road bikes are here to stay. These fantastic bikes will last you many great years.
Like the expensive ones, their advantages are in speed, lightness, and an aerodynamic riding position. You can ride, get further in a shorter amount of time and see much more. Typically the road bike is more expensive compared to other types, but there are good budget variants on the market which, while not meant for races, offer up heaps of enjoyment and sweet adrenaline while riding them.
Road Bike Sizing – Choosing The Right Bike Size
I know what it feels like to shop with a limited budget. But the last thing you want to do is to get the first inexpensive bike you come across.
I want you to choose a bike that meets two criteria – it's affordable and you love it. And about sizing, bike size is measured in a way shown on the picture – from the seat-post to the crank.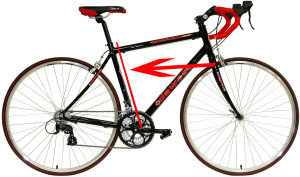 Your height / Bike Size
4'11" – 5'3″ = 13 – 15 inches
5'3″ – 5'7″ = 15 – 17 inches
5'7″ – 5'11" = 17 – 19 inches
6'0″ – 6'2″ = 19 – 21 inches
6'2″ – 6'4″ = 21 – 23 inches
6'4″ and taller = 23+ inches
I will show you some of the best entry level road bikes that are worth buying. I'll explain all the pros and cons of each bike so that you could spend money only on those aspects that play a role for you. I want you to know everything about buying your first road bikes for beginners, so I'll give you the additional easy bike size charts to make sure you pick out a road bike with the right size, in case the information above wasn't sufficient.
Entry Level Road bikes – Are They Expensive?
Not always. If you choose wisely. If you go to a Local Bike Shop (LBS) you can see very expensive prices. Also, you can check online to find the best inexpensive road bikes. The main difference of price comes from secondary costs like warehouse, marketing, assembly etc. That's why you can find road bikes for a good price.
All you must do is to choose wisely. Let's say, 80% of expensive bikes are good. But only 20% of road bikes are expensive. So think again, why should you pay more for the same quality?
GEAR UP: BEST ROAD BIKES UNDER $1,000
How To Do Assembly to Your New Entry Level Road Bike
Amazon bikes come partially assembled and are shipped out in boxes.
Many new owners tend to complain about it, but it isn't something impossible for you to do.
There are two ways to assemble a bike.
#1: Take it to the bike shop and they will do it for about $40. Still, a pretty good value if you add it on to the price you paid for your entry level road bike.
Or, #2: Do it yourself, if you can think logically and work a wrench, then it really isn't hard. Everything is cable activated and these cables need to be tightened properly in order for the bike to shift and brake properly.
Outside of the cable, you likely need to attach the handlebar. Did it sound like it might be a bit tricky? Then I have a video for you:
So you need to adjust them sometimes. And it doesn't matter, whether you're riding a cheap bike or an expensive one. So it will certainly be a good skill to have -adjusting brake and gear cables. But if it looks impossible, let your friend do it or pay the guy in your local shop.
So there are a few extra costs at the beginning but it evens out when you are on the saddle of one of the best entry-level road bikes there is.
Enjoy! As I have and continue to do.
I bet you need it when you're starting out with the new bike!
Extra Bike Buying Guides You Might Like: