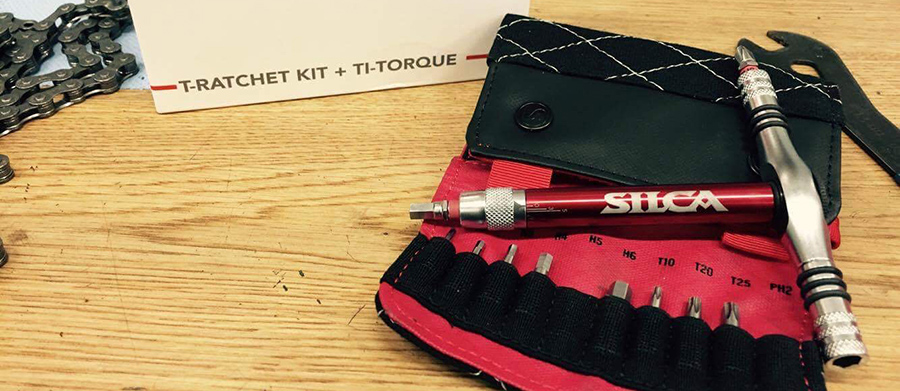 We headed to the local bike shop and let the mechanics test it. They are used to different tools and can point out the strengths and weaknesses better than anyone else. Is this t-ratchet and torque kit just another fancy tool, or will it ease the work?
Please Note: The Ti-Torque beam with updated readings on our photos is currently unavailable and will be on market in fall. Meanwhile, you can purchase the one with current readings.
Every cyclist needs a basic tool kit that can be used for daily fixes like tightening screws, stem bolts, and adjusting derailleurs. We decided to test the Silca's T-Ratchet + Ti-Torque kit. These tools can be used for basic fixes and adjustments on the bicycle. Since most components today have tightening torque marks, you should upgrade your old tools anyway to ensure proper torque specifications are met.
PS! Silca sells the T-Ratchet kit, and this T-Ratchet + TI-Torque kit! Make sure you pick the one that you prefer the most.
Skip the overview and jump straight to testing ->
About Silca
Silca is 100 years old, and the oldest company in bicycle history happens to be owned by the same family company. Silca started by making frame attached bicycle pumps.
Since then, they have been seeking the perfect balance between beauty, function, strength, durability, and longevity.
The products are well designed with good functionality. We live in a world that revolves around consumerism, and as a result most item's lifespans are short. However, Silca strives to be different, so they still does things the old way, where things were built to last.
This kit was originally fundraised by Kickstarter crowdfunding. Silca raised $303,725 which is about 1200% of its original $25,000 goal. This definitely shows the need for this kind of tool despite the fact that the bike tools market is already flooded with competition!
Appearance
Silca T-Ratchet + TI-Torque kit comes with nice looking pouch, which at first glance could be mistaken for a wallet. All of the tools inside the pouch have their own place. There is a torque bar, handle with extensions, and 10 sockets.
The pouch fits in your pocket for everyday rides, or can of course be kept in your tool drawer. I bet no woman would even have to say "Hey, clean up your bikes tools!", because the pouch is so clean looking.
When you first look at them, the tools appear strong, but are they really?
TI-Torque
Ti-Torque is the body of this set. It is made of titanium and aluminum with indicators for newton meters. The first thing you'll notice is the fact that it doesn't have pre-set values so it only works during live use. The second thing you'll notice is the tiny numbers. We got slightly different (updated) scale and it looks like Silca has since made some improvements on the reading, which is little-bit better.
The updated model in this review has several different scales, not just one. There are three scales marked on the Ti-Torque: 0-2-6 Nm, 0 – 3 – 5 Nm, and 0 – 4 – 8 Nm.
You have to be very close to see these numbers though.
T-Ratchet
The T-Ratchet is made of titanium and has switch for clockwise, and counterclockwise turning. It consists of two pieces which are attached via a magnet. At first, we didn't know why it is separable, but when tested it in real situations, we got answers. Sometimes there's less space (i.e adjusting V-brakes or attaching water-bottle cage). Accidentally (don't ask why), we also tried to remove the extension by turning it with pliers and as a result – no scratches!
So it's quite forgiving for rookie mistakes or stupidity!
It also has extension, if you need greater length.
Sockets
There are 10 hardened sockets on Silca kit. We didn't test the smallest hexagon (H2), because we didn't find where it should fit. However, it doesn't have slot head socket (which may be used for reflectors). For some bikes, you'll need 8, 9, and 10mm hex sockets, which you can get, but those aren't included. See the picture.
Overall, the sockets have magnets on tips and as a result they attach pretty firmly. They have sizes marked too, so you can't mix them up with others from your tool set.
Silca T-Ratchet + TI-Torque in action
Like we mentioned above, a bike mechanic used the tools for this test while performing seasonal maintenance. At first, it took time to get used to the new tool. In your hand, it fits nicely.
The T-Ratchet can be used as T-shape but for some jobs, or you can use it as an L-shape. Another advantage to this is that it has long, large power arm, which helps for loosening stubborn and rusty bolts.
It has live scale, which means you don't have any pre-set capability
Typically, the main tool for mechanics is a three ended allen key. The T-Ratchet is good because you can also put your other preferred sockets into it.
In hand, the tool is small and compact. Another positive is the fact that, thanks to its color, it is noticeable on the work bench (which is always full of stuff).
When there's need to adjust older derailleurs, you might need additional hex sockets (8, 9 or 10mm). When we used the tool for review, it got stuck to the H6 socket (which you can use as an extension to other sockets).
We don't know why this happened. It is probably because the H10 socket we used was warn, and therefore it turned in slot and wedged.
The 10 Silca sockets are strong and after use they had no scratches. The main problem with cheap tools is that they wear out and the heads start to round. Once this happens they are useless and can ruin the components. This doesn't happen with the Silca.
Testing
We also used other newton meter tools to measure the precision for review. On the same parts, all tools read the same.
It didn't prove anything but the big change would push us to additional tests.
Silca itself claims to have 5% precision. So for 8Nm, it may have 7.6 – 8.4Nm which is acceptable.
We were at first unsure about the Phillips. However, it looked like the angles were well designed so we gave it a shot on both large and small screws. It seemed to manage them rather well!
TIP: If you have a bolt stuck and it exceeds over 8 Nm, use the T-Ratchet, not the Ti-Torque to turn it off. Never exceed the 8 Nm. It can ruin the tool, since it isn't meant for higher than 8 Nm.
Bottom line
Silca T-Ratchet + TI-Torque kit is suitable for everyone. Keep in mind that many damages done to bikes are caused by tightening bolts and screws to the wrong torque!
Having things too loose can result in disaster when you push your bike to the limits. Where overtightening can straight up ruin the components.
You maybe have an old tool set for your bike fixes, but ask yourself, is it still adequate to use on your newer bike which has specified torque standards?
It is pretty costly, but how often do you buy these kind of kits? Hopefully once, and use it forever.
For daily adjustments which you should do yourself, this Silca T-Ratchet + Ti-Torque kit is enough. If you need to do something more complicated, you'll need additional tools.
If we consider the versatility vs size, then it is definitely a strong tool with lots of outputs.
What Did The Mechanic Say?
This kit should be used not only by mechanics, but also by riders for their everyday fixes. We see quite often cracks in carbon frames and components because people still believe in force. As you know too much can be dangerous!
Definitely a handy tool for riders!
The tool is easy to use for fixes that don't need newton meter checking. The live scale was uncomfortable at the beginning but we managed to get used to it after some time. After a fair bit of usage, I can say that I can do around 80% of my torque adjustments with this Silca.
It also takes less time compared with previous torque tools that I have used. There are no usage marks on sockets or on the tool which makes me believe that the build materials are well chosen.
Silca T-Ratchet + Ti-Torque KIT
Pros
Compact (can fit in pocket)
Strong components
Nice looking (also a good gift idea)
Wide range of usages
Can be used for most of the adjustments a rider needs to do
Cons
Pricey
Can't be used for all fixes (i.e pedals)
Should include 8, 9 &10mm hex sockets
No click when you exceed the 8Nm mark