Replacing the handlebar tape is one of the easiest and cheapest ways to improve the comfort, appearance, and ride feel of your bike. It's also one of the most underappreciated upgrades.
Handlebar tape is a piece of bike gear that rarely gets the attention it deserves.
It wraps around one of the main contact points on your bicycle that supports your entire upper body. Sounds a bit more important now, right?
While bike bar tapes are simple, the effect they have on your experience of riding a bike is pretty complex. Namely, with the right bar tape, you will increase comfort, improve grip in wet conditions, and deck out an old bike.
Check out the best handlebar tapes we recommend and find out more about why you should consider this incredibly affordable upgrade, the things to keep in mind before doing it.
Handlebar Tapes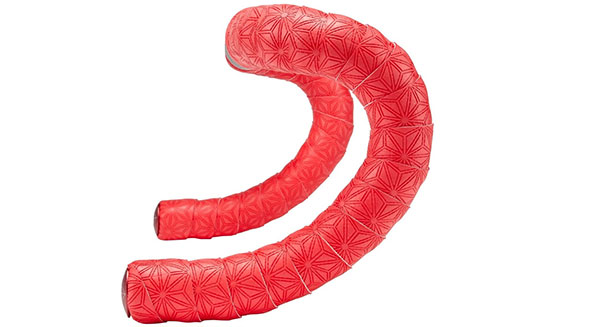 Handlebar tapes, as the name implies, wrap around the handlebar to provide comfort, grip, and style. They're commonly seen on bicycles with drop bars, such as road, gravel, cyclocross, and touring bikes.
On the other hand, bikes with flat bars have grips made from rubber or other suitable materials.
Related: Road Bike Types
Cushioning, shock absorption, and control are some of the main benefits you get from choosing your bike bar tape wisely. The effect the bike tape has on these ride aspects depends on factors such as material, thickness, elasticity, and overall quality.
In addition to all of the abovementioned benefits, a brand new bicycle handlebar tape is a breath of fresh air on your bike. It's one of the cheapest ways to improve the appearance of your bike, and let's be real—life's too short to ride an ugly bike!
---
Best Bar Tapes
---
Lizard Skins DSP Bar Tape 2.5 mm
Best Road Bike Handlebar Tape
2.5 mm thick
Made from DuraSoft polymer
Comes in four colors
If you're looking for the best balance between comfort, low weight, and responsiveness, this version of Lizard Skins bar tape is what you need.
With a 2.5 mm thickness, this bike tape is pretty comfortable on short and moderately long rides. It's made from DuraSoft polymer that's grippy in dry, wet, and sweaty conditions.
If you also worry about the aesthetics, it's good news that Lizard Skins DSP comes in four colors and has an appealing tactile imprint.
Buy if: You're an all-around road ride and you want a bicycle handlebar tape that provides comfort and grip.
Silca Nastro Cuscino Bar Tape
Best Bar Tape for Wet or Humid Weather
Improved grip and cushioning
Tri-Laminate design
Textured surface
Keeping your hands on the handlebars can be a challenge on wet or super-humid days. Silca Nastro Cuscino Bar Tape is a strong-textured bike handlebar tape with medium to high tackiness that ensures grip in all conditions.
It's made from a combination of Tri-laminate, SILCAlon foam, and TPU finishing tape, so it's both comfortable and sticky. Plus, its textured surface prevents slippage and improves road feedback.
It seems obvious that the handlebar tape would be thick, but far from it. The Ultra Performance 3.75 mm thick Tri-Laminate design delivers cushioning equivalent to 5.0 mm thick tape.
Buy if: Your two main priorities are cushioning and stickiness for long rides and wet days.
Longer Read: How to Improve Your Cycling
Cinelli Cork Ribbon Handlebar Tape
Best Cheap Bike Bar Tape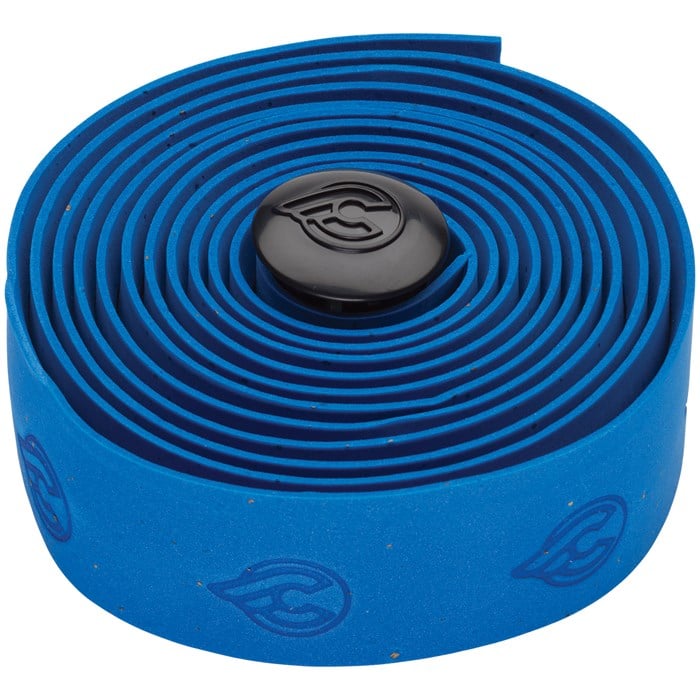 Great vibration dampening
Weighs 68g
Available in numerous colors
Cinelli Cork is a classic bicycle handlebar tape that never gets out of style. It's characterized by excellent grip in all riding conditions and even better comfort and vibration dampening.
This bike tape weighs just 68g and costs only $15, which makes it one of the cheapest options around. Though, keep in mind that cork is a less durable material than synthetics, so you might have to replace it more often.
Still, Cinelli Cork is perfect for hardpacked gravel rides, commutes, as an all-around road bike handlebar tape, and for those who are just looking for a stylish option.
Buy if: Get this bike bar tape if you want a timeless option that looks good, grips well in wet weather, and improves comfort.
Supacaz Super Sticky Kush Bar Tape
Best Looking Road Bike Handlebar Tape
Sticky synthetic material
3 mm thick
Stylish aluminum plugs
The Supacaz Super Sticky Kush is one of the best-looking and stickiest bike handlebar tapes on the market. It's made from grippy polyurethane with comfy padding that gives it a healthy 3 mm thickness.
This bike bar tape is also an excellent choice if you're looking for a funky color that matches your style—it's available in a large number of colorways.
What we also like about it is that the package includes two aluminum laser-etched plugs that increase the cool factor.
Buy if: You want the ultimate stickiness combined with great comfort thanks to the 3 mm thickness.
Salsa Glyph Gel Cork Bar Tape
Best Handlebar Tape for Gravel
Memorable design
Comfortable
Good grip
When it comes to the best bar tapes for gravel riding, we recommend taking the maximalist approach. The Salsa Glyph Gel Cork bar tape is a good example.
Related: Best Gravel Bikes
This bike tape offers unmatched vibration absorption on rough gravel routes. Its surface is soft and tacky, so you'll also get a great grip when the road gets bumpy.
The tape is available in several colors (and in simple black), and is decorated with simple symbols of good life.
Buy if: You love riding gravel and want the best grip and the most comfort on rough and bumpy rides.
Brooks Leather Handlebar Tape
Best Bar Tape for Retro Bikes
Synthetic leather
EVA foam
Very stylish
Let's face it, nothing beats a leather bar tape when it comes to style and appearance points. As the name suggests, this Brooks Leather bar tape is made from leather.
It's available in brown and black colors, so it matches different bike paint jobs. Keep in mind that this is not the grippiest or lightest bicycle tape you can get, so it's not recommended for wet rides or weight weenies.
This is a fantastic option for commuters and recreational cyclists who want to achieve a classic look.
Buy if: You have a retro build that you want to complete with a high-quality tape that mimics leather.
Best Bar Tape for Low-Vis Riding
Super-grippy
Light and thin
Reflective elements
Bontrager Grippytack is a thin and incredibly sticky bike handlebar tape that ensures fantastic responsiveness and control.
It's made from a combination of a grippy microfiber outer layer and a foam underlayer, so it's reasonably comfortable as well.
Another nice touch is a pair of reflective bar end plugs that will improve your visibility in low-light conditions. Moreover, the bike tape itself has lots of reflective perforations (red or yellow) that make you more visible.
Buy if: You want one of the stickiest bar tapes that eliminates the worst chatter but doesn't completely kill road feedback.
Looking for more interesting ways to personalize your bike? See our list of best bike accessories.
---
What to Look Out For
---
Bar tapes are inherently simple and so should be the way we think about them.
When shopping around for a new bike handlebar tape, there are two main aspects to consider: the material they're made from and thickness.
Materials
Bike bar tapes can be made from a variety of materials, the most common and popular of which are:
The most common synthetic materials used for bike handlebar tapes are polyurethane, silicone, and rubberized polymers. This is a durable and affordable choice available in different thicknesses that offer varying tactile experiences. Some models are thin and firm, others have a foam or gel core that improves comfort.
Leather bar tapes look good and last the longest, but they don't offer the most cushioning and lack comfort until you break them in. Leather also provides a classic appearance, which looks good on retro bikes.
Finally, cork bar tapes are the best choice for riding in wet weather because cork offers good absorption and remains grippy even when it becomes wet. The thickness also improves comfort, but due to high absorption, these bike tapes typically become dirty faster than synthetic and leather options.
Thickness
When it comes to thickness, bicycle handlebar tapes can be 1-2mm thin or up to 5mm thick. It all depends on what you want to get out of it, how you ride, and what your needs are.
For example, crit racers go for very thin and minimalistic bar tapes that offer better response and control at high speeds and in tight corners. Road bike handlebar tapes are also typically very thin.
On the contrary, gravel and endurance riders prefer thick bike bar tapes with good cushioning that improve comfort on long rides and rough terrain. Some riders even double-wrap their handlebar tapes to maximize comfort.
Choosing the Right Handlebar Tape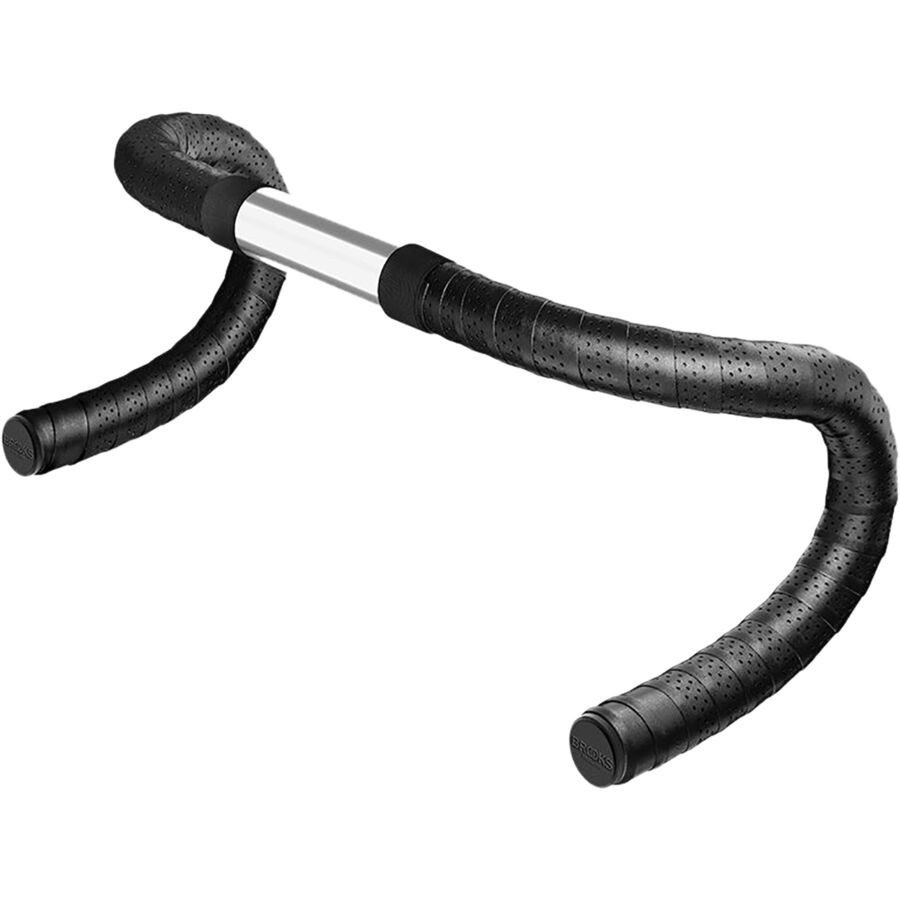 When it comes to purchasing any bike gear, the golden rule to follow is to have a good understanding of WHY you want to buy a certain product.
That is, ask yourself what you want to get out of it and what improvements you expect to achieve.
Even though, as we've already mentioned, bike handlebar tapes are pretty simple, the selection online is mind-boggling. Therefore, you need an efficient way of sifting through those choices and finding something that reflects your needs.
Start with the following considerations:
Thin, grippy bike tapes are perfect for hard, moderately short efforts and races that include a lot of sweat, high speeds, and tight corners. They'll give you good feedback and keep your hands on the bars.
Thick bicycle handlebar tapes provide vibration absorption, which is especially important on bikes that lack front suspension. A cushioned bar tape will improve comfort and confidence on bumpy rides.
If maximum durability is your main priority, nothing beats a classic leather bar tape.
When it comes to style and appearance, most riders prefer cotton, leather, and cork tapes. Synthetic bike tapes can look good, but they prioritize performance.
FAQ
There are no comments yet, add one below.