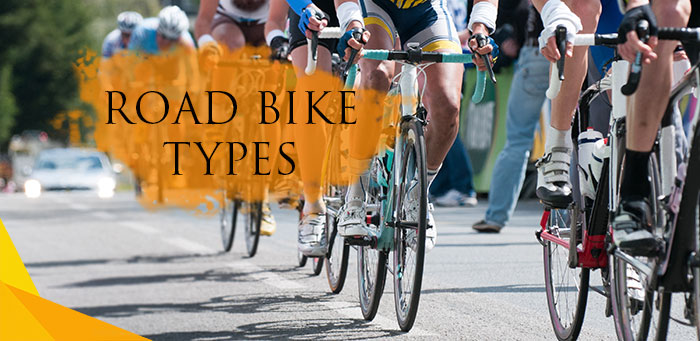 Road bikes dominate the cycling market, and for good reason—they're a versatile bunch with the ability to appeal to almost any kind of cyclist. Whether you're looking for speed or aerodynamics, there's the right road bike type out there for you.
Part of Types of Bikes
You see, road bikes have far more uses than mere casual pavement riding. This type of bike can zip through time trials, zoom over gravel and light trails, and maximize your aerodynamic properties to keep you pedaling along resistance-free.
Whether you're a long-hauler, a racer, or a fitness fiend, there's a type of road bike that's built specifically for your needs.
Road Bike Types in a Nutshell
The main types of road bikes include: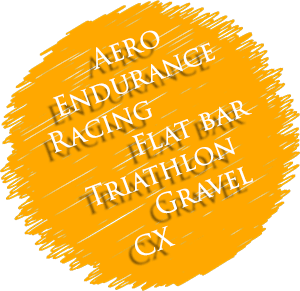 Two road bikes can be very different despite both being designated for the pavement. A time-trial bike has a low headtube and handlebars, smaller wheels, and a frame geometry that keeps your body parallel with the ground, giving it ultimate torque to keep you flying over flat pavement fast.
On the other hand, a fitness bike for recreation comes equipped with 700c wheels and a frame built for comfort. They're both road bikes, but they couldn't possibly look more different!
One thing's for sure: you can't go into a purchase knowing only that you want a road bike. With criteria that broad, you'll be overwhelmed by the options and might not end up with the best fit for your biking style.
You need a full understanding of their differences and how each type performs under different conditions. From there, you can make the best decision for your cycling needs.
Here's a roundup of every type of road bike, from endurance to cyclocross:
---
1.

Endurance Bikes
---
An endurance road bike has the aerodynamic frame geometry of a racing bike without the short headtube and long reach (which can equal serious back pain over long distances of hunching over).
While traditional racing bikes are fast, they're definitely not comfortable for long hauls.
Marathon racing still requires speed, but not at the expense of comfort. These bikes cover both so you can keep outdoing your best time (without the back strain that comes with always leaning over a time-trial bike's handlebars).
Endurance road bikes should be your go-to choice if you plan to do regular long rides, complete centuries, or enter randonneuring events.
Related: Long Distance Cycling – A Guide to Tackling Long Distances
Endurance bikes accomplish this with a design that includes:
A carbon fiber frame with a flexible layup for comfort
Upright, comfortable, non-aggressive frame geometry for long rides
Large wheelbase for stability, usually accommodating 32mm to 38mm tires
Moderate gearing with compact chainrings for easy-to-handle uphill rides
Pros
Comfortable geometry
Plenty of gearing for uphill treks
Stable wheelbase
Marathon-level speed
Great shock absorption and vibration dampening
---
2.

Racing Bikes
---
Racing bikes are built to achieve high speeds for relatively short sprints, making them perfect for heated competition.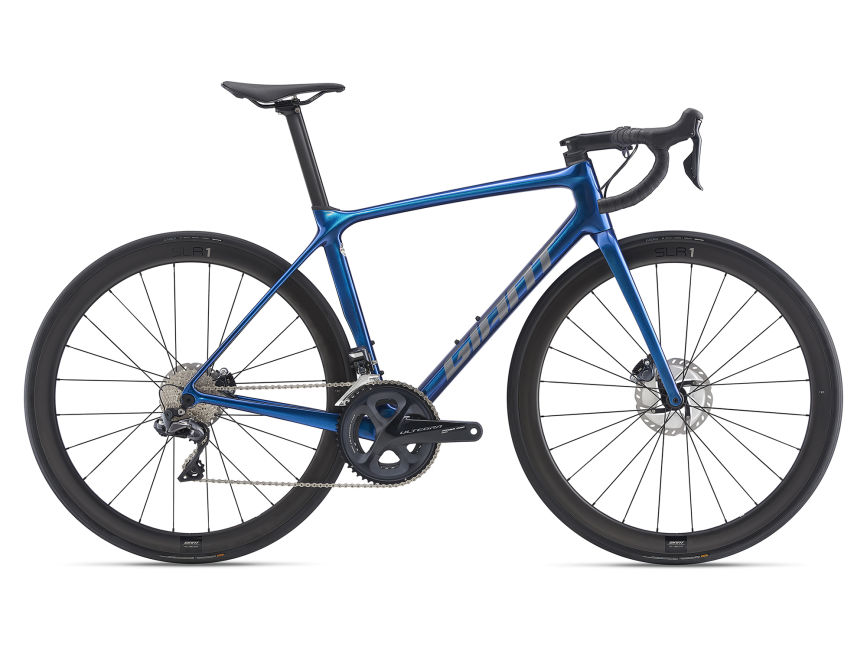 The original road racing bikes were called 10-speed bikes, descriptively named for their gear systems. Today's racing bikes more often have 11 gears on the rear cassette and 2 front chainrings.
This type of road bike is characterized by 700C wheels with 20 to 25 mm tires, usually on aerodynamic rims. Lightweight carbon fiber is the most popular material for both frames and rims since low weight is critical for keeping speed steady from the start to the finish line.
Road racing bikes prioritize speed, low weight, and pedaling efficiency by utilizing an aggressive geometry, lightweight materials, aero properties, and high-end components.
Disc brakes are the most common mechanism on road bikes in 2021, but they've only been legal in road racing since 2018. Older racing bike models from pre-2018 often use caliper brakes for their aerodynamics and lightweight, though disc brakes perform better in the rain.
Electronic shifting systems are a new development in today's racing bikes. Since 2018, most professional racers use electronic shifters, and the systems are becoming popular among amateur racers as well.
Pros
Lightweight carbon fiber or aluminum frame
Aggressive frame geometry
Aerodynamic for high top speeds
Electronic shifting for better control
Disc brakes for safe braking on wet roads
---
3.

Aero Bikes
---
As the name implies, aero bikes are built to gain and maintain speed with an aerodynamic design that outplays other lightweight racing bikes.
If you're a fan of Peter Sagan, aero bikes are all he rides, and he has racked up a shocking 116 wins as of May 2021.
Besides the frame geometry of an aero bike built to save time on the course, but the wheels could be the most important part of a streamlined ride. Wheels with a larger depth help increase aerodynamics and lessen drag.
The mechanics of an aero bike include:
Aggressive geometry that features a short headtube and longer frame reach
Aero tube profile that's long, thick, and sculpted at the tail and leading-edge and straight, flat top tube for a reduced frontal profile and increased compliance and stiffness
Integrated design with brakes hidden under the bottom bracket, cables are hidden within the frame via ports, and cutouts on the seat tube or fork to accommodate the brake
Steep seat angle, usually close to 72 degrees to allow riders to stay close to the top tube of the frame to mimic the bike's aerodynamics with their bodies
Deep section wheels that reduce drag and increase aerodynamics, normally with a depth of 40 mm to 80 mm
If you're on the market for a professional-level aero bike, then another feature to consider is larger gear ratios, usually with a 53/49 crankset and 11-25 cassette for smooth gear shifting and a bigger speed cap. Aero bikes for amateurs are more likely to have a compact gear system for slower speeds and easier pedaling.
Aero bikes are built with the intention to maximize aerodynamic properties by minimizing drag with the use of aggressive geometry and aero tube profiles.
Pros
Low drag and high aerodynamics to keep you rolling toward the finish line at top speeds
Accommodates roads and races that require more stability without sacrificing speed
High compliance thanks to aggressive geometry and an aero tube frame profile
Riders use their own bodies aerodynamically when they lean over the top tube toward the short headtube, creating a parallel line with the ground (80% of drag is rider-generated)
---
4.

Triathlon Bikes
---
You may know these aggressively speedy models as triathlon bikes or time trial bikes. Either way, these bikes are set to score you the best time on the cycling leg of your next triathlon competition.
In every triathlon length, the bicycling leg is the longest, making it extra important to choose a bike that can score speed without exhausting you before the final leg.
Time trial bikes accomplish fast speeds over triathlon distances with the unique geometry, which:
Reduces wind resistance
Decreases drag
Increases speed
Like many road bikes used for competition, triathlon bikes have a forward rider position that aids aerodynamics and speed. That is a particularly strong advantage during triathlons, where you'll jump off the bike and move directly into running.
If you chose a nonspecific road bike as your triathlon ride, then your quads are probably hurting by the running portion of the competition. The triathlon bike saves your quads with that forward rider position, preserving your leg power for when you'll need it the most.
Triathlon bikes are fast, aerodynamic, and ensure efficient pedaling. They're intended for triathlon competitions and time trial events.
Plus, triathlon bikes typically have aero bars instead of the standard handlebar style. Aero bars have enough room to support your entire forearm from elbow to wrist. It helps to ensure that you're not putting your full weight into your hands for the entire ride. This can help your stamina considerably.
Pros
Less stamina-intensive, thanks to a forward rider position that distributes weight evenly and saves your thigh strength; and aero bars that support your forearms instead of simply your hands
Wide hip angle for increased range of motion because of the steep seat tube angle. Usually, around 78 degrees, which puts you ahead of the bottom bracket of the frame
Aggressive top speeds with low rolling resistance from deep-width wheels and tires with tread patterns that have a measurable impact on performance
Low aerodynamic drag with an oversized tube profile that targets wind resistance on the front fork, downtube, and seat tube (the areas most vulnerable to turbulence)
---
5.

Flat Bar Bikes
---
Known as flat-bar bikes, fitness bikes, and recreational bikes, these hybrid models make up a majority of the road bikes on the market today.
You might also hear certain brands call them comfort bikes, referring to the focus on casual cruising that doesn't sacrifice your back, legs, or core.
They're the most straightforward of the modern road bikes, built to get you from point A to point B in comfort (but not too slowly—you'll never want to compete on a fitness bike, but its road bike wheels ensure that you get where you're going at moderate speed).
A flat-bar bike's geometry keeps your body posture upright as you ride, focusing on an ergonomic fit to minimize pain and strain. It's the go-to choice for commuters and fitness riders.
These bikes usually have fully adjustable handlebars, stems, and seat posts, so they would be ergonomic to your body.
Recreational flat bar bikes are also a top choice for casual cyclists. Their top speeds leave enough to be desired for competition. Instead, these bikes are the best choice for daily riding, casual fun, and long commutes.
Pros
Super ergonomic design with adjustable frame components for a personalized fit. Fully upright rider position to keep you from straining your shoulders and back
Consistent performance on pavement, roads, and gravel with 700C wheels and a wide tire with plenty of tread for wet conditions
Plush comfort with padded handlebars and saddles to keep strain off your biggest pressure points while riding
---
6.

Gravel Bikes
---
There's nothing easy about riding on gravel… unless you have a gravel bike. These models are built to absorb the shock that inevitably comes with displacing gravel as you cycle on trails.
The average gravel bike has a heavy, shock-absorbing frame geometry, with a long wheelbase to stabilize you as you ride over unpacked gravel.
Pairing a long head tube and short top tube keeps you in an upright position, which means less stress on your hips and shoulders compared to road bikes that are more performance-oriented.
These types of road bikes are better suited to trail riding than to competition. Mainly because they have a bit more wind resistance and are less aerodynamic.
Most gravel bikes come with ultra-wide tires to complement that unique geometry.
Gravel bikes strike a balance between road bikes' speed and mountain bikes' comfort and off-road properites. They're ideal for gravel and dirt roads, as well as for light trails.
Wide tires between 30 mm and 40 mm are better at gripping unstable surfaces, and they also add to the comfort of your ride over considerably shaky gravel. Disc brakes are the right pairing with oversized tires, since they create more clearance, which provides better control.
Related: Gravel Bikes vs Road Bikes – the main differences explained
Pros
Unparalleled shock absorption to protect your joints and save your stamina when the trails get bumpy
Ergonomic upright position reduces strain on your shoulders and hips
Prioritizes stabilization with heavy frame designs and ultra-wide tires
Gearing options specifically for steep climbing rides, targeting range over speed
Extra clearance and control with disc brakes that eliminate the need for calipers to take up space
---
7.

Cyclocross Bikes
---
CX (Cyclocross bikes) are a combination of aggressive and rugged, built for short-and-dirty fast competition on uphill trails.
Like gravel bikes, these models come with a strong focus on stability, shock absorption, and stabilization. At the same time, cyclocross bikes have an impressive ability to gain and maintain speed over steep, short distances.
Not only that but cyclocross competitions are held year-round in all kinds of cold European (and to a lesser extent, American) winter conditions, even in the snow. Dirt, sand, ice, rocks, jumps, and even stairs are common obstacles that a cyclocross bike must zoom over in a typical hour-long cyclocross competition.
A cyclocross bike manages obstacles with a slack head tube angle that offers greater control on slow descents, which is critical on short, technical courses that are obstacle-heavy. A raised bottom bracket area gives the rider more space to clear obstacles and pedal through corners, though this also somewhat raises the center of gravity.
Cyclocross bikes are primarily intended for CX competitions, but they can also serve as great commuters and versatile road bikes.
One unique aspect of a cyclocross competition is shouldering, or dismounting to clear large obstacles, which can be challenging with a standard tube shape that's not built for carrying. Cyclocross bikes have top tubes with flat undersides. It makes them fit your body more ergonomically when the frame is slung over your shoulder.
The tires on a cyclocross bike are bigger-than-standard with knobbly tread to increase traction and grip. The range for cyclocross tires is 32 to 40 mm, but UCI-sanctioned competitions restrict the tire size to 33 mm. You'll typically find cyclocross frames with a tall fork height, which gives plenty of clearance from mud and debris.
Pros
Aggressive frame geometry allows competition-worthy top speeds without sacrificing handling or shock absorption
Extra control on slow, steep descents thanks to a slack head tube and extra clearance on the bottom bracket
Comfortable design for shouldering over obstacles that are too big to cross—the flat top tube is built for lifting and carrying in a pinch
Big clearance prevents mud and debris buildup with a tall fork height, keeping maintenance manageable
High traction and grip keep you stable on gravel, snow, and dirt with UCI-sanctioned tires up to 33 mm and non sanctioned tires up to 40 mm
Read More: CX vs Gravel Bikes – Differences
The Right Road Bike Type for Every Cyclist
The bottom line is, the right road bike depends on the cyclist. If you go into a bike shop knowing only that you want a pavement bike, you're going to have a hard time even knowing which bikes fit your vague criteria.
Road bikes encompass all kinds of competition and recreation, from traditional races to triathlons to cyclocross. There are even road bikes for casual commuters and road cyclists: flat bar bikes, we're looking at you!
That being said, there's no reason to restrict yourself to just one style of a road bike. If you're a cyclist of many colors, you could get plenty of kilometers out of a racing bike for competition, an aero bike for training, and a flat bar bike for getting to work or riding with your crew.