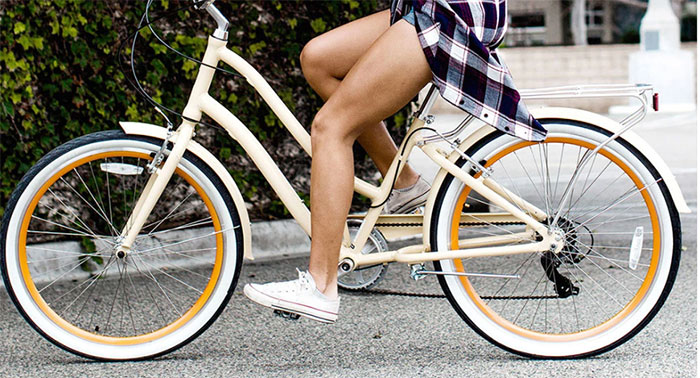 The EVRYjourney cruiser is built for comfort with a classic design to have necks turning when you go riding. With a timeless and classic design, this modern bike is the perfect companion for riding to the beach, on flat terrain, or around the city.
Different models are available when it comes to the Sixthreezero EVRYjourney cruiser, but you will still get the quality comfort and speed you need.
The customizable features also make the Sixthreezero EVRYjourney a fantastic cruiser bike to buy.
Nothing compares to the simple pleasure of riding a bike!
Main Specifications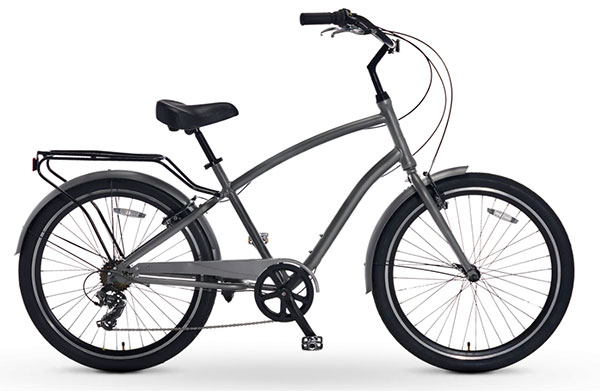 One of the main features of the Sixthreezero EVRYjourney cruiser bike is the aluminum frame that is lightweight to make maneuvering around the city easy.
This bike is designed to be safe for all riders with front and rear V brakes for easy stopping.
The Sixthreezero cruiser bike model comes 80% assembled and weighs 38.1lbs when put together and ready to ride. Depending on your style, you can choose between Matte-Black, Matte-Grey, Steel-Blue, or Matte-Black step-through colors.
You can go for a single-speed model, 3-speed model, or 7-speed model, depending on where you are riding. Sixthreezero offers electric versions of the bike too, but they are noticeably pricier.
You can be sure to get a comfortable ride out of the Sixthreezero EVRYjourney cruiser bike with 26" wheels and 2" semi-slick tires for excellent roll and a stable ride.
Among other things, the bike is fairly affordable.
Frame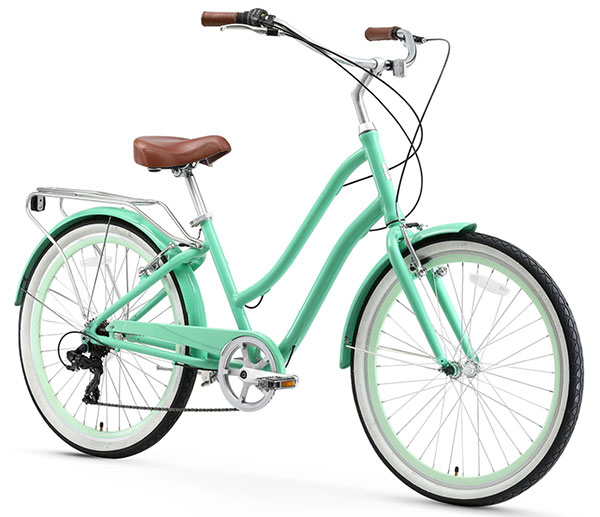 The low step-through frame on the Sixthreezero EVRYjourney cruiser bikes makes it easy to mount and dismount when riding. The frames are made of light aluminum material with a foot forward pedal position that is more comfortable for most riders.
The pedal position also allows riders to plant their feet flat on the ground while still staying on the saddle. The design of the Sixthreezero frame offers an upright riding position to keep your back straight when riding.
This position is suitable for a natural riding experience by reducing pain points on your body. The aluminum frame also has a glistening sheen to keep your bike looking new all the time.
Comfort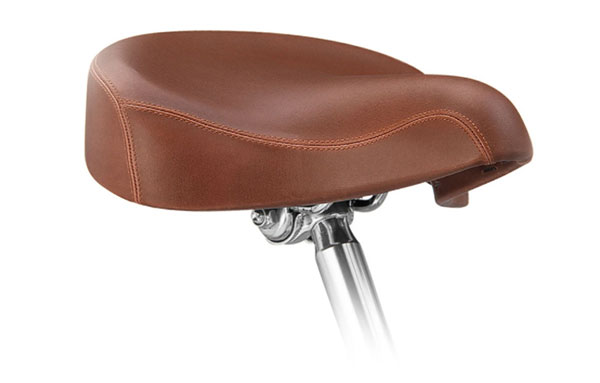 When it comes to comfortability, the Sixthreezero is a worthy choice. Aside from an upright riding position that will keep you riding tall for maximum comfort when on your bike, this model has a quality saddle as well. The seat is foam-engineered to offer quality softness and is extra wide for a better fit. You will feel like you are sitting on pillows, even on challenging terrain.
Your hands will also be comfortable maneuvering through the trails with the leather grips on this bike. The Sixthreezero EVRYjourney cruiser bike features easy to hold and soft grips for optimized comfort when cycling.
One size fits all
The Sixthreezero is a versatile bike model suitable for riders between 5' and 6'4" tall. With the maximum weight that this bike can carry being 300lbs, many cyclists can enjoy cruising around town on the EVRYjourney cruiser bike.
You can test your fit at Sixthreezeros's website as well. Since it's a one size fits all bike, only the stem is adjustable, but the bike truly fits all sizes.
For cyclists looking for a recreational riding bike or a rigid bike for commuting, this bike is good for you. It is also suitable for riding on paved surfaces like roads.
The design also fits riders with joint pains like knee pain because of the upright riding position. The 24" model of this Sixthreezero bike is sized for riders between 4'3" and 4′ 11″.
Customizable

The fantastic thing about the Sixthreezero EVRYjourney cruiser bike is that you can put your spin to the design and look.
You can customize the baskets and baby seats to suit your needs better when pedaling. The snap-on attachments make customization straightforward for you to do to your heart's satisfaction.
Cruiser bikes are for leisure riding, and there is a lot more you can customize.
You can change to your preferred cup holder to keep you hydrated and the ideal rear basket size when commuting.
You can also choose which speed you want when it comes to the various Sixthreezero cruiser bike models.
Different models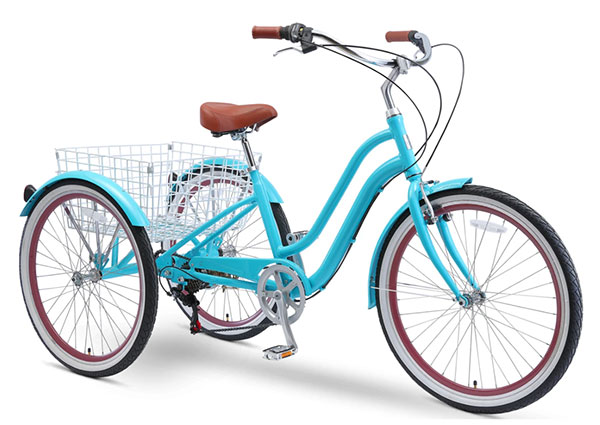 The Sixthreezero EVRYjourney Tricycle comes in Matte-Black, Teal, Navy, and Cream Colors. With 1'95" tires, you can glide smoothly over bumpy terrain without fear of falling.
They are great for commuters because of the broad rear basket and the comfortable free riding position that keeps your joints relaxed.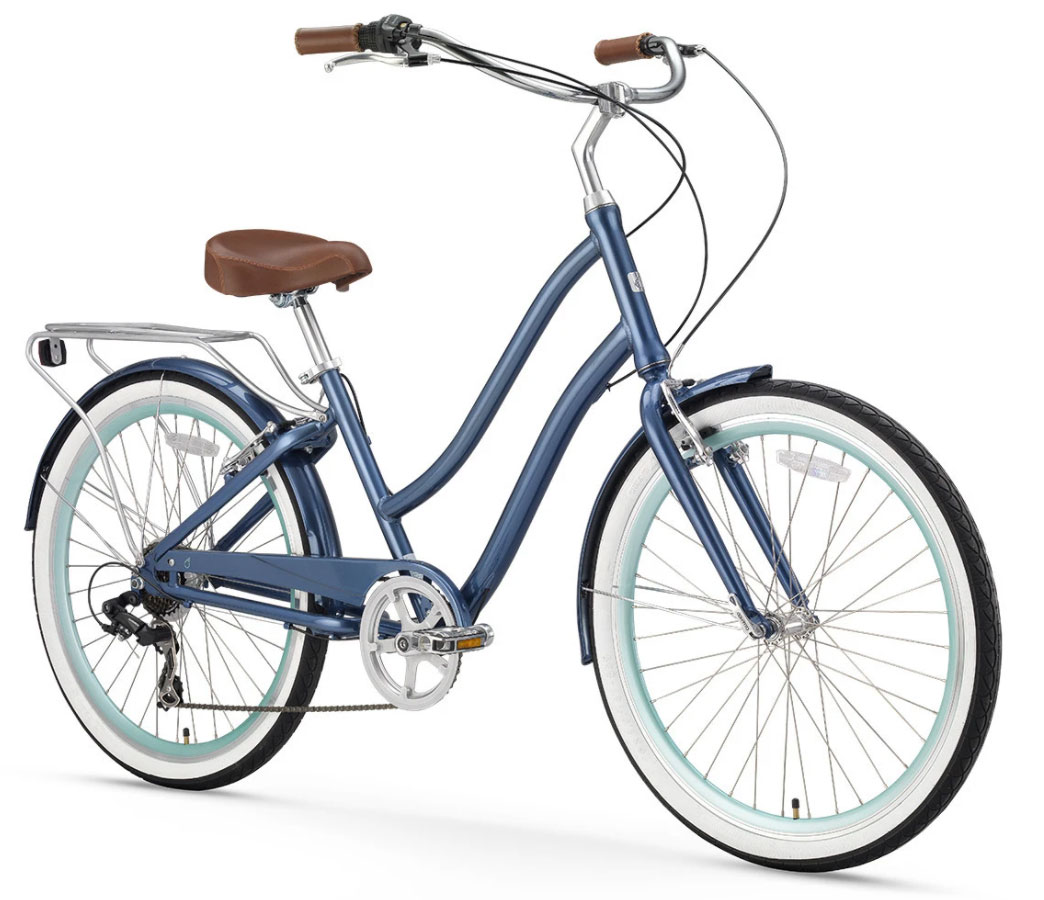 There is also the Sixthreezero Women's bike with a step-through design for easier mounting and dismounting. With 26" tires and various colors available, you will fall in love with this classic cruiser.
Both the 3-speed and 7-speed models have front and rear hand brakes for stopping power and long-distance commuting.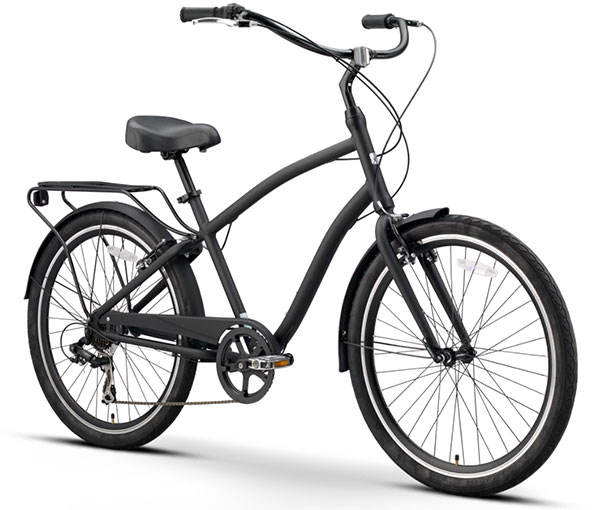 Another option is the new EVRYjourney Men's Ultimate Hybrid Cruiser. This 7-speed model also comes in unique colors like Red, Ashe-Amber, Pine-Pecan, and Denim Honey.
It features an aluminum frame with 26" tires for a steady ride. It also has a linear-pull brake style that provides excellent stopping power.
Our Thoughts
The Sixthreezero EVRYjourney cruiser bikes are affordable and comfortable for cyclists to enjoy. With an upright riding position and comfortable bike seat, you won't have to worry about aching joints.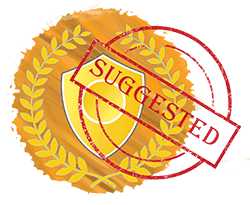 The classic design and low swooping frame make this cruiser really pleasing to ride.
The different models and colors make choosing the ideal bike for you pleasant because it offers 3-speed, 7-speed, and 21-speed bike models for casual riding, commuting, and riding on rough terrain.
These bikes are also lightweight and easy to maneuver whether riding to the beach or around town.
Check out our Best Comfort Bike Picks for more similar bikes.
There are no comments yet, add one below.