Comfort bikes (also known as comfort hybrid bikes) have a unique blend of components and geometry that help eliminate most pains and aches associated with riding a bicycle. See our choices of best comfort bikes below!
To be more specific, comfort bicycles have an upright geometry that will put you in a relaxed riding position that will not put unnecessary strain on your back, shoulders, and wrists. The saddle on such bikes typically has soft gel or even dual springs for even more support.
Comfort bicycles are becoming more and more popular nowadays, as a growing number of people are cycling to work, to the grocery store, or doing it just for fun.
If you're one of these people and you need a two-wheeler for happier leisure rides, you've come to the right place.
Check out our recommendations of the best comfort bikes below!
---
Best Comfort Bikes
---
Electra Cruiser 1
Winner! Best Comfort Bike For the Money
Step-over and step-through steel frames
26″ wheels
Single-speed drivetrain
Flat Foot technology
Electra Cruiser 1 is one of the best comfort bikes around judging by the sales figures. It's a beautifully simple machine that comes with all the features you need to enjoy daily leisurely rides.
It has a stylish, cruiser-style steel frame, available in step-through and step-over designs. Therefore, this comfort bicycle is suitable for men, women, and elderly riders.
Another key point is the Flat Foot Technology that's recognizable for Electra's comfort bikes.
This design puts the pedals forward relative to the saddle, making it possible for riders to get full leg extension while positioning them closer to the ground. This improves comfort, confidence, and stability.
If you want your entire family to enjoy Electra Cruiser 1, there's a kids' version with 24″ wheels as well!
Moreover, Electra Cruiser 1 comes with a single-speed drivetrain that's super easy to use and maintain. However, it doesn't have hand brakes but uses a coaster brake to slow down and stop. But as this comfort bicycle is built for slow leisure riding a coaster brake will suffice.
Of course, Cruiser 1's best trait is comfort. It rolls on 2.125″ balloon tires, includes a dual-suspension seat post, and features swept-back handlebars that will put you in a relaxed, upright riding position.
Get Electra Cruiser 1 if you need a simple, affordable, and stylish commuter, grocery-getter, and afternoon cruiser.
Co-op Cycles CTY 1.1
Best Hybrid Comfort Bike
Aluminum frame
40mm tires
24 gears
Mechanical disc brakes
We have a review on Co-op Cycles' CTY series, feel free to check it out!
Best comfort bikes come in various shapes and sizes. The Co-op Cycles CTY 1.1 is a hybrid comfort bike with wide tires, lots of gears, and upright geometry. It's built for leisure and fitness riders who need one bicycle that can do it all.
CTY 1.1 comes with a lightweight aluminum frame that, sadly, doesn't have internal cable routing. However, it does have numerous mounting points, so you can attach two water bottle cages, fenders, and a rear rack. Therefore, it's easy to transform it into a year-round commuter.
We love CTY 1.1 because it looks like a regular hybrid bicycle but it's incredibly comfortable. As such, it's ideal for both fitness and leisure riders.
This comfort bicycle costs just $599, which is a good deal considering the components. It's equipped with a Shimano Acera/Tourney 3×8 groupset, with Altus shifters, which is more than enough gears for any type of terrain. Plus, it has powerful Tektro mechanical disc brakes that lend sufficient stopping power no matter the conditions.
Talking about comfort, Co-op Cycles CTY 1.1 has 700 x 40c tires and double-wall aluminum rims. This combination will eliminate most road chatter and provide you with a smooth ride.
We recommend it to anyone who wants a modern, stylish, and versatile bicycle that can go fast, slow, up, and down.
Public C7
Best Women's Comfort Bike
Step-through steel frame
Available in seven colors
7-speed drivetrain
700x35c tires
Public C7 is a dream-come-true women's comfort bike. It's incredibly stylish and available in seven modern and attractive colors. Of course, it's super comfortable as well.
This comfort bicycle has a step-through steel frame with low standover clearance. Therefore, you can mount and dismount effortlessly, which is especially important if you have hip or back injuries.
Related: Review of Public Bikes
Everything on Public C7 screams style and comfort. The geometry puts you in an upright riding position with the help of swept-back handlebars. The saddle is plush and wide, so you won't feel any pressure on your sit bones on longer rides.
Thanks to the 7-speed Shimano Acera drivetrain, you can ride Public C7 uphill as well. It also features front and rear rim brakes that provide ample stopping power.
Moreover, Public Bikes equipped this model with full-size fenders and a kickstand, so you can ride in the rain and easily stop anywhere.
The only downside is that the cables are not internally routed, but that might be too much to expect from a bike that costs just $600.
Therefore, if superb looks and budget-friendliness are at the top of your priorities, you'll love every mile you cover on the Public C7 comfort bicycle.
Co-op Cycles Generation e1.2
Best Electric Comfort Bike
Step-through aluminum frame
Bafang motor and battery
7 gears
Hydraulic disc brakes
Co-op Cycles Generation e1.2 is one of the best electric comfort bikes for urban riders, jam-packed with modern features that take the cool factor to the next level.
First of all, the aluminum frame is complemented by a rigid fork with front and rear racks inbuilt. Therefore, you can easily carry groceries or other necessities.
The Bafang 80 Nm mid-drive motor will help you ride up to 20 mph and the integrated 672Wh battery will maintain that assistance for up to 64 miles. Keep in mind that this is a class 1 e-bike, so it does not have a throttle.
Co-op Cycles Generation e1.2 is an excellent unisex comfort bike that can be ridden by anyone.
Generation e1.2 also has a modern 1x7 Shimano drivetrain. This is an entry-level group, but this configuration reduces weight while still giving you all the gears you need. Moreover, you'll be braking with dependable Tektro hydraulic disc brakes that are easy to maintain and adjust.
However, the main reason Generation e1.2 made it on our list is the 20″ x 2.4″ tires. They're comfortable and suitable for different types of terrain. If you wish, you can go even wider than that for more grip and comfort.
Buy it if you love technology, gadgets, and simple elegance and feel like you need some assistance when the roads start going up.
Sixthreezero AroundTheBlock
Best Low-Maintenance Comfort Bike
Steel frame w/ low standover clearance
Dual-spring saddle with wide handlebars

Fits riders from 5 feet to 6 feet, 2 inches tall

26″ x 2.125″ waffle-tread tires
Sixthreezero's Around the Block is one of the most popular women's comfort bikes. It has everything you need and nothing you don't, wrapped up in a good-looking and affordable package.
It's built around a beach cruiser-style steel frame with attractive, curved tubing. Moreover, it comes with a practical rear rack that you can use to carry bags or attach a child seat. You also get front and rear reflectors instead of fully functional lights.
Around the Block emphasizes low maintenance. It has a single-speed drivetrain and a coaster brake, so you don't need to worry about adjusting brakes and gears.
Sixthreezero Around the Block is ideal for a casual ride around the neighborhood, grocery hauls, or a leisure ride on the weekends with friends.
Most importantly, this is one of the most comfortable bikes around. It has a soft, dual-spring saddle that feels like sitting on a sofa and wide 26×2.125 tires that feel like riding on a cloud.
The swept-back handlebar facilitates a relaxed riding position and helps you maintain an upright riding posture that will be easy on your back.
All of this makes Sixthreezero Around the Block one of the best comfort bikes for women who ride short distances but want to enjoy every moment.
Schwinn Suburban
Best Schwinn Comfort Bike
Step-through steel frame
26″ wheels
7-speed drivetrain
Fits riders 5'3″ to 6'1″ tall
If you love retro-looking bikes, Schwinn Suburban is the right choice for you. This Schwinn comfort bike has an old-school-cool appearance but offers all the modern bells and whistles you could ask for from one of the best comfort bikes around.
Related: Full Overview of Schwinn Bikes
First of all, the color is just spectacular. The frameset and the fenders are painted bright orange, whereas the saddle and grips are white for contrast.
However, Schwinn Suburban is not all looks and no brains. It's a capable and well-equipped bike as well. It features a practical 7-speed drivetrain that will help you conquer light to moderate hills with ease. When you decide to come down, you can easily slow down with front and rear V-brakes.
Schwinn Suburban is built for comfort, leisure, and easy-going Sundays when your main priority is to have fun.
This Schwinn comfort bike even comes with a front suspension fork. It will smooth out road vibrations and make the ride easier on your wrists, elbows, and shoulders. Plus, the wide tires will help here as well.
Still, our favorite part is the large cushioned saddle with memory foam that changes its shape to fit your body. As a result, you'll feel like you're riding on a bike that's built just for you.
Looking for more retro-bikes? Take a look at our Retrospec Review
---
Comfortable Bike Seats
---
A comfortable bike seat is one of the most important parts on all of the best comfort bikes on this list. Finding the right saddle is the difference between struggling with saddle sores and enjoying every mile of your ride.
If you still haven't found the perfect saddle for your delicate bum, here are a few recommendations that will narrow down your choices.
Sunlite Cloud-9 Saddle
Winner! Softest Memory Foam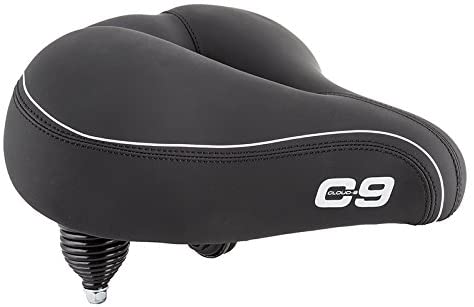 Dual-density gel foam padding
Dual-suspension springs
Easy to install
Airflow channel
Sunlite Cloud-9 is a superbly comfortable saddle that will support your body on short, medium, and long rides. It has a thick dual-density foam padding that's soft in the right places, but also supportive where that's necessary.
On top of that, this saddle also features dual-suspension springs that will eliminate road chatter and vibrations created by imperfect roads.
Down the middle, there's an airflow channel that will keep your body cool and also offer perineal relief, which is important for both men and women.
All things considered, this is an excellent unisex saddle that doesn't cost much but makes all the difference.
Best Women's Comfort Saddle
Cutout seat design
Thin gel layer
Weather-resistant synthetic cover
Tough chromoly steel rails
This Terry Butterfly comfort saddle is one of the best choices for women who worry about both performance and comfort. This model provides you with all the comfort you need but also lets you stomp the pedals hard when necessary.
It's filled with a multi-density injection-molded foam with a thin layer of gel on top. This combination gives you just the right amount of softness and sturdiness.
Moreover, this saddle has an airflow channel and it's covered with a weather-resistant cover that repels water. Get it if you love endurance rides but hate saddle sores.
Selle Royal Bike Seat
Best Dual-Suspension Design
Cutout saddle design
Dual Shock Absorbing Rubber Balls
Waterproof cover
Filled with high-density memory foam
Attaching a sofa to your chair is far from practical, even though a lot of riders would happily do it if they could. Instead, you can simply get the Selle Royal bike seat for the most enjoyable riding experience.
This saddle is filled with a thick layer of memory foam that will support your sit bones and provide softness against your skin.
On top of that, it features dual shock-absorbing rubber balls that act like air suspensions. They're even more comfortable than traditional springs.
Don't hesitate to get it if you want to take your comfort bicycle experience to the next level.
Not sure how to choose a saddle? See our guide to navigating between different types and shapes to find the perfect one for your body.
FAQ