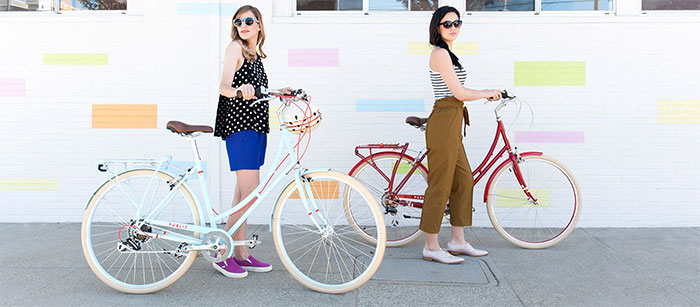 Public Bikes is a USA-based brand on a mission to help make US city streets look more like Amsterdam with more and more people choosing bikes over cars.
Public Bikes was born in 2010 after its founder Rob Forbes fell in love with the two-wheeled lifestyle that's so widespread in Amsterdam and the rest of Europe.
Dutch people are not cyclists but almost all of them ride bikes.
Bicycles were born out of necessity for more efficient, sustainable, and cheaper travel, which is the exact point of view shared by Public.
If you're looking for a bicycle to ride every day without having to worry about special clothing or technical gear, you'll surely find something you like in Public's diverse lineup.
Men's, women's, kids', step-through, step-over, mixte, geared, and single-speed bikes… you name it.
Find out more about the individual models below!
Step-Through Bikes
---
Public C7
7-speed drivetrain
Front and rear caliper brakes
700C x 35mm city-friendly tires
Public C7 is the most popular and most affordable multi-speed step-through city bike made for women but suitable for men as well.
C7 is a steel commuter with 700C wheels, available in eight modern and attractive colors. It has an easy-access frame design perfect for riding in a skirt or any other type of clothing.
This bike is made for moderate commutes and casual cycling, but you can definitely ride it on hilly terrain as well. This is possible thanks to the 7-speed Shimano Acera rear derailleur and dual-pivot front and rear caliper brakes.
Public C7 also boasts color-matching front and rear fenders, a chainguard, and a kickstand, all of which are going to come in handy for city riding.
Its geometry and the swept-back handlebars will put you in an upright position that's perfect for beginners and leisure riders.
Get it if you want to make a positive change in your life!
Public C1
Single-speed drivetrain
Step-through steel frame
Color matching fenders
If you look up the term "Dutch bike" in the dictionary, you should see a picture of Public C1. It is the definition of simplicity, sustainability, and efficient city transportation.
The C1 is very similar to the C7 model, but as you might guess, this is a single-speed bike. That limits your possibility of climbing hills but simplifies maintenance and upkeep in turn.
This is Public's most affordable Dutch bike, built around a step-through steel frame that's available in three elegant colors.
For an MSRP of $500, you get front and rear fenders, a kickstand, a chainguard, and leather-colored saddle and grips.
The only downside is the single-wall alloy wheels that are not as durable as double-wall ones. However, they're perfectly fine for casual everyday riding and commuting.
We recommend Public C1 to those who want to simplify their lives and focus only on the things that matter.
Diamond
---
Public V1
Retro design
Single-speed
Dual caliper brakes
Do you have a photo of your father or grandfather proudly standing next to their first bicycle? We bet the bike looks a lot like Public V1.
Public V1 features the evergreen retro diamond frame with mustache handlebars and simple components that get the job done.
The steel frame and fork are practically invincible and the single-speed drivetrain requires minimal attention to stay in mint condition.
The step-through design is perfect for men but works just as fine for women as well. If you plan to commute and ride year-round, you'll love the addition of front and rear fenders, a chainguard, and a kickstand.
Public V1 sports front and rear dual-pivot caliper brakes that will stop you on a dime in all conditions. It also features 700C x 35mm tires that are up to the challenge of surviving rough city streets.
It's easy to fall in love with it if you care about style, heritage, and speedy commutes.
Public V7
Seven-speed Shimano drivetrain
Five timeless colors
Excellent accessories
A single-speed drivetrain gets the job done for most people but it doesn't cut it for everyone. If you want to climb with a bit more ease and ride a bit faster, check out the Public V7.
This model is Public V1's twin, except for the 7-speed drivetrain. The 7-speed Shimano rear derailleur gives you the granny gear you need to pedal up that stubborn hill standing between you and your destination.
Public V7 is available in five breathtaking colors, incorporating all the bells and whistles that you expect one of the best city bikes to have. You can ride it in any type of weather thanks to the full-length fenders and heavy-duty Kenda tires.
If you want to ditch your car, save money, improve your health and well-being, Public V7 will make that transition as seamless as possible.
Public R18 Drop Bar
Drop bars
Shimano Sora 18-speed drivetrain
Double-wall aluminum rims
Do you always find yourself in a rush in the morning, feeling there's not enough time to get everything done? Then you need a bike that will speed up your commute. Public R18 Drop Bar might be the one.
This bike has a lightweight diamond-style steel frame with a versatile 18-speed drivetrain. It's the perfect choice for adventurers, commuters, and speed addicts.
R18's most distinctive feature is the drop bar. It will allow you to get more aero and ride faster, as well as provide you with more hand positions for better comfort.
It boasts high-quality Shimano Sora front and rear derailleurs, along with dual-pivot caliper brakes to slow down or stop with confidence.
Public R18 also has faster 28mm tires and double-wall rims that are much more durable compared to single-wall ones.
If you want a bike that blends speed with comfort and modern with timeless, don't hesitate to get the Public R18.
Mixte
---
Public M7
7-speed drivetrain
Mixte steel frame
700C x 35mm cream tires
The Mixte frame design combines all the best characteristics of step-over and step-through frames. It's easy to access, it looks cool, and it's incredibly strong and stable.
Public M7 is the most affordable mixte bike this brand offers, but that does not mean you'll end up lacking any important features.
The M7 is built with a durable steel frame available in four diverse colors and rolls on versatile Kenda Kwest 700C x 35mm tires in cream color.
Other features that make this one of the best city bikes include a 7-speed drivetrain, front and rear brakes, and a swept-back handlebar that puts you in a relaxed riding position.
Public M7 is a charming city commuter that's ideal for trips to work, school, college, or the store. It comes with fenders but you can also equip it with a rear rack to carry panniers or a child seat.
In short, this bike is everything an urban dweller needs.
Public M7i
Seven internal gears
Comes with a rear rack
35mm tires with reflective sidewalls
Do you like the idea of cycling but hate the idea of getting your hands dirty around the drivetrain? You're not the only one, but the Public M7i bike offers a solution.
This is a commuter/city bike with a mixte frame and a maintenance-free approach to gearing. Namely, it comes with a Shimano Nexus 7-speed internal gearbox that's completely sealed from the elements. Therefore, you don't need to clean it or lubricate it ever.
In addition to that, Public M7i has a sturdy rear rack that will let you attach a child seat or carry any other necessities. You can enjoy riding no matter the season thanks to color-matching, full-length fenders.
The only disadvantage is that this bike comes in only one color. But on the plus side, it's a dazzling Kimpton Red.
Shortlist Public M7i if you're looking for a clean, simple, and functional bike that does not cost a lot.
Kids' Bikes
---
Sprout Mini Balance Bike
Low-step frame design
Puncture-proof foam tires
Comfortable saddle and grips
Do your kids a huge favor and get them a balance bike instead of a pedal bike with training wheels. Balance bikes provide a much more natural and intuitive way of learning and make the transition to riding a real pedal bike seamless.
The Public Sprout Mini balance bike comes in one universal size that fits kids who are 2-6 years old. The seat and handlebar heights are adjustable, so the bike can grow with your child.
Sprout Mini is child-friendly as it has a low-step frame that's easy to mount and dismount and foam tires that will never go flat. Plus the tires have a knobby profile, so the bike can be ridden in the park, up and down the driveway, and anywhere else.
The seat and the grips are also quite comfortable, which is important to create a pleasant riding experience. Get the Public Sprout Mini if you want your child to learn how to ride in a jiffy!
Public Sprout C 16
16″ wheels
Fits most riders ages 5-8
Coaster brakes
The first bike needs to be memorable! While riding it, children create memories that they will remember and cherish for the rest of their lives.
Public Sprout C 16 is a charming kids' pedal bike with 16″ wheels that any young rider can instantly fall in love with. It's available in three colors suitable for boys and girls with adorable cream tires.
Sprout C 16 is a single-speed bike with a coaster brake, so it's ideal for learning the ropes. It's super-simple to ride by tiny riders. Plus, it has a step-through frame that's easy to access even by the smallest kids.
This bike also has fenders, a chainguard, and an adjustable seat and handlebar. You can use it as a balance bike as well by taking the pedals off and lowering the seat all the way down.
In a nutshell, Public Sprout C 16 is a dream come true for any adventure-seeking boy or girl.
Public C7 24″
Colors suitable for boys and girls
7-speed drivetrain
Front and rear caliper brakes
Public makes their iconic C7 model with youth-friendly 24″ wheels so that parents and their youngsters can rock matching bikes!
This model is very similar to the one with 700C wheels, except that it is suitable for riders who are 4'4″ – 4'10" tall. The bike comes with a step-through steel frame available in blue and pink finishes.
As its name suggests, Public C7 24″ features a 7-speed Shimano drivetrain that makes it suitable for areas with some hills.
The other standard equipment is there as well, including fenders, a chainguard, and a kickstand. What we like the most are the cream tires and brown seat and grips. They really make the design stand out.
All in all, this is a bike with the proven quality and wow factor, but built for shorter riders.
Public Bikes Accessories
---
Sourcing parts and accessories for bikes can sometimes be a huge pain in the neck. Especially if we're talking about specific and custom-made parts that cannot be easily replaced.
Luckily, in addition to selling complete bikes, Public also sells various replacement parts and accessories. To name a few, the selection includes:
Bags and baskets
Bells
Bottles and cages
Gloves
Handlebars and grips
Helmets
Maintenance and Parts
Saddles, etc.
No matter if you need a tool to maintain and repair your bike, a part to replace, or some gear to make riding easier and more enjoyable—you can find it on Public's official website.
The prices are reasonable as well and reflect the prices in most local bike shops, so you'll be getting some decent deals.
When getting your first bike, we advise you to also invest in a helmet, gloves, a bell, and a water bottle and cage combo. These pieces of gear will take your safety, comfort, and practicality to the next level.
Public Bikes Sizing
---
Getting a Public Bike in the right frame size is a breeze as this brand provides a detailed size chart for all of its models. Take a look at the chart below to find your height and choose the frame size accordingly.
When in doubt, you can always contact Public's customer service team via email at [email protected] or phone at 1-888-450-0123.
Make sure to also check out Public's Bike Buying Guide which will probably answer a lot of the questions you might have.
ADULT BIKES

PUBLIC C1, C7, C7i, C9-AL, C8i Disc

FRAME SIZE
YOUR HEIGHT
STANDOVER HEIGHT
Small/Medium
4'10" – 5'5″
26.5″
Medium/Large
5'6″ – 5'10"
30.7″

PUBLIC M7, M7i

FRAME SIZE
YOUR HEIGHT
STANDOVER HEIGHT
Small/Medium
5'0″ – 5'6″
28.3″
Medium/Large
5'7″ – 6'0″
30.7″

PUBLIC V1, V7, V7i

FRAME SIZE
YOUR HEIGHT
STANDOVER HEIGHT
Small/Medium
5'2″ – 5'8″
30″
Medium/Large
5'9″ – 6'2″"
32″

PUBLIC V9 Aluminum

FRAME SIZE
YOUR HEIGHT
STANDOVER HEIGHT
Small
5'3″ – 5'6″
29.4″
Medium
5'7″ – 5'10"
30.8″
Large
5'11" – 6'3″
32.6″

PUBLIC R18 Disc Flat Bar

FRAME SIZE
YOUR HEIGHT
STANDOVER HEIGHT
X-Small
4'10" – 5'2″
28.3″
Small
5'3″ – 5'6″
29.4″
Medium
5'7″ – 5'10"
30.8″
Large
5'11" – 6'3″
32.6″

PUBLIC R18 Drop Bar

FRAME SIZE
YOUR HEIGHT
STANDOVER HEIGHT
X-Small
5'0″ – 5'3″
28.7″
Small
5'4″ – 5'6″
30″
Medium
5'7″ – 5'10"
31.3″
Large
5'11" – 6'3″
32.8″

PUBLIC D8i, D8i Disc

FRAME SIZE
YOUR HEIGHT
STANDOVER HEIGHT
Small
5'2″ – 5'7″
30.6″
Medium
5'8″ – 6'0″
32.1″
Large
6'1″ – 6'6″
33.5″

KIDS BIKES

PUBLIC SPROUT C & V

FRAME SIZE
RIDER AGE
STANDOVER HEIGHT
Small/Medium (16″)
5-8
20″-26″
Medium/Large (20″)
7-10
23″-29″

PUBLIC SPROUT MINI

FRAME SIZE
RIDER AGE
STANDOVER HEIGHT
One Size
2-6
16.5″-21″
Public Bikes Return Policy
---
Purchasing online without test riding a bike comes with a set of risks. Luckily, Public has a 14-day return period during which you can request a refund or an exchange.
If for any reason the bike you bought does not match your needs or expectations, you can get a different model or ask for your money back.
Keep in mind that the bicycle needs to be in the original condition, without any scratches or other types of damages. If that's not the case, you will only get a partial refund.
Also, if you choose to send the bike back, you will need to pay for the cost of return shipping. According to the company, the entire process can take 1-2 weeks to complete.
FAQ
---
Final Verdict
---
To sum up, it's important to make it clear who Public Bikes' target customers are. This company does not build high-performance road, mountain, and fitness bikes for dedicated riders and enthusiasts.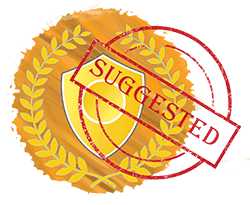 Instead, Public makes city bicycles that are perfect for daily commuters, casual weekend riders, and occasional leisure riders. That does not mean that these bikes are made with low-quality parts, the parts simply reflect the price tag.
If you ride regularly and cover significant mileage, we recommend getting one of the more expensive models. Otherwise, a more affordable model will do the work for you just fine.
All in all, if you want a bike that looks amazing, doesn't cost much, and has everything necessary to replace your car for short trips, don't hesitate to get a Public bicycle.