Haibike is a German e-bike manufacturer that pioneered ePerformance electric bicycles, invented eMTBs, and transformed the industry by developing the potential of sporty e-bikes.
Haibike manufactures electric bicycles that combine human performance with electric support to come up with a completely new concept called ePerformance.
The brand has been around since 1995 but introduced its first performance eMTB in 2010. Today, the company makes electric MTBs, road bikes, kids' bikes, and trekking bikes. However, at the moment, only eMTBs are sold on the USA market.
If you want an electric bicycle that will neither limit you nor do the hard work instead of you but enhance your physical abilities, a Haibike is the perfect choice!
The Story of Haibike
Haibike was founded in the small German city Schweinfurt in 1995.
At first, it was part of a parent brand Winora, which has a 100+ year tradition in the cycling industry.
The company continued to grow and improve during the first fifteen years and in 2010 presented the predecessor of all eMTBs—Haibike eQ XDURO. This was the first fully off-road capable e-bike, so the attention it received was huge.
Haibike is a big advocate of e-bikes, so it's natural that it believes in visible integration. Unlike other manufacturers, they don't try to hide electrical components, but rather integrate them in a functional and convincing manner.
After its first ePerformance bikes took off, Haibike has signed several top-class athletes to compete for its team, including Sabine Spitz, Guido Tschugg, Andi Wittmann, Sam Pilgrim, and others.
What's also important to note is that Haibike bikes are made in Germany rather than overseas. That bumps up the price but takes the quality to a whole different level as well.
FullSeven 5
Yamaha PW-ST System, 250W, 70Nm, 20 mph
500 Wh integrated Yamaha battery
150mm rear travel
4-piston Tektro hydraulic disc brakes
FullSeven 5 is Haibike's most capable full-suspension e-MTB. It's made to make short work of long, steep climbs and difficult descents. It boasts 150mm of rear travel and powerful 4-piston disc brakes, so you can be confident when riding over the rough stuff.
FullSeven 5 will assist you up to 20 mph, no matter the terrain, thanks to a Yamaha PW-ST mid-drive motor that delivers 250W of power and 70Nm of torque. Its 500Wh battery is integrated into the down tube and should secure a fairly long range.
The bike is built around an aluminum frame with thru-axles and features a RockShox Deluxe Select Plus Air rear shock and a RockShox FS 35 Silver Coil fork.
It also sports an 11-speed Shimano Deore rear derailleur, 27.5″ x 2.8″ Schwalbe Nobby Nick tires, and 4-piston Tektro hydraulic disc brakes. Therefore, you get good value for your money in components.
Get Haibike Fullseven 5 if you want a well-equipped, capable, and above all FUN e-bike that does not cost an arm and a leg.
HardNine 5
Bosch Performance Line Cruise motor w/ 500Wh battery
Shimano Alivio 9-speed drivetrain
Tektro hydraulic disc brakes
Haibike HardNine 5 is an electric hardtail MTB intended for longer days on the trails. It has a friendly and nicely balanced geometry that will get the most out of any rider—beginner or experienced.
This bike is built around an aluminum frame coupled with an SR Suntour XCM fork with 120mm of travel. It has 29″ wheels with 2.3″ wide tires, so it's best suited for flowy trails and XC-like efforts.
The most important components are the motor and battery. The Bosch Performance Line Cruise motor has 65Nm and will easily support you up to 20 mph. Its fed power by a 500Wh Bosch Powertube battery, so you can expect an enviable range.
Haibike HardNine 5 also features powerful Tektro hydraulic disc brakes and a Shimano Alivio 9-speed rear derailleur. Therefore, you'll be able to perform well on the trails with or without e-assistance.
We recommend this bike to all beginner or intermediate riders who wish to do more on the trails and spend more time exploring their favorite routes.
HardSeven 5
27.5″ wheels
Bosch Performance 65Nm motor and 500Wh battery
120mm front suspension
If you need a bike to go off-road and ride ANYWHERE without worrying about this or that category, HardSeven 5 is a model you should consider.
This is a versatile hardtail e-MTB that's similar to the HardNine model but comes with even more versatile 27.5″ wheels. As a result, it has quick and nimble handling combined with snappy acceleration.
HardSeven 5 has the same components as HardNine. It boasts a Bosch Performance 65Nm motor, a 500Wh battery, Alivio 9-speed components, and Tektro hydraulic disc brakes.
This model is also more suitable for shorter riders because of a lower standover clearance thanks to the Alex MD30 27.5″ wheels and WTB Ranger Comp, 27.5×2.25 tires.
The 120mm of front travel that you get from the SR Suntour XCM fork is not enough for extreme descents, but you'll get excellent performance when climbing and hitting moderate downhills.
You won't regret getting this bike if you're looking for all-around good performance at a reasonable price.
Related: Best Electric Mountain Bikes
AllMtn 5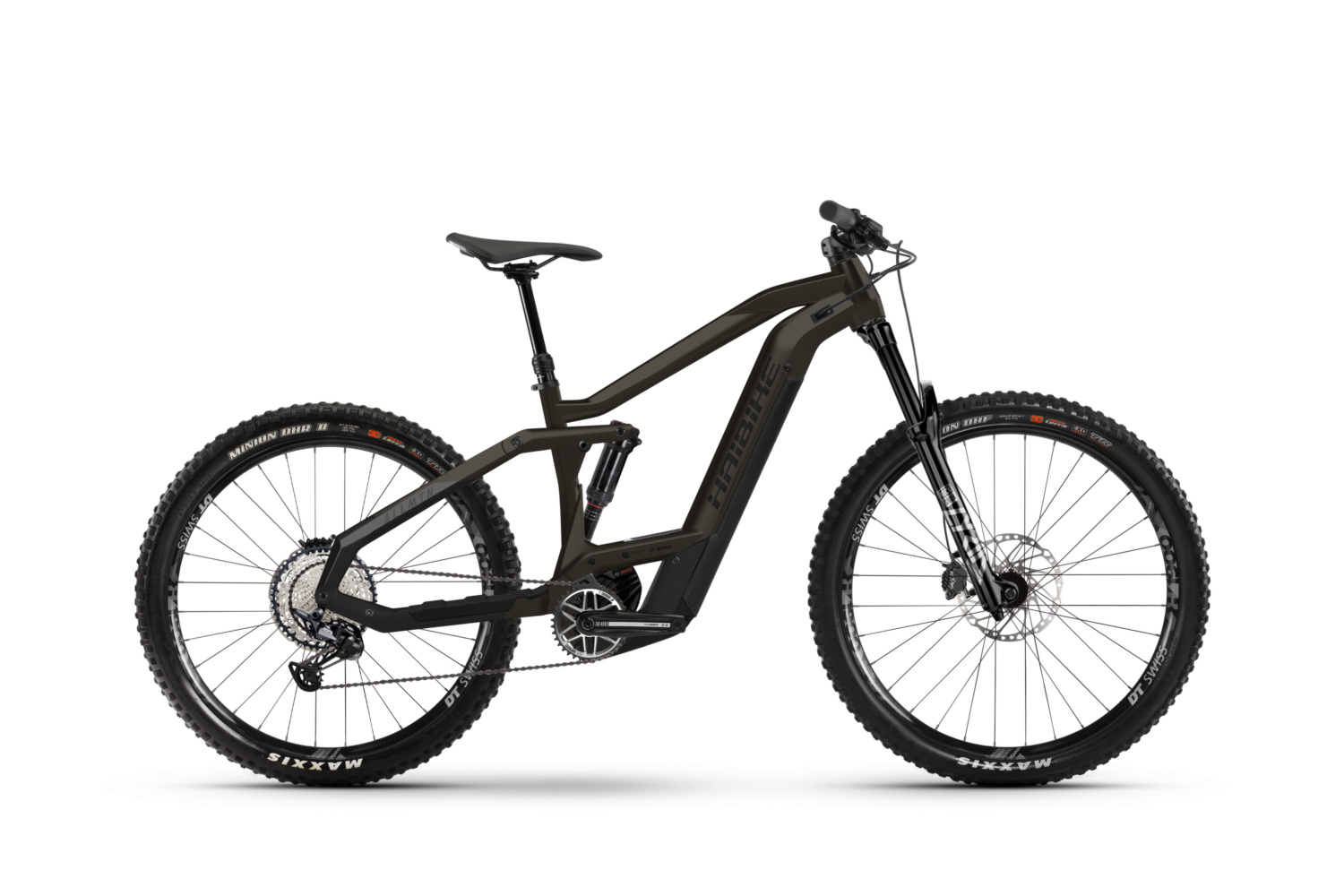 160/150mm of travel
Shimano XT components
Mixed wheels
Haibike AllMtn 5 is an electric beast of an all-mountain bike that feels unstoppable no matter the gradient you put in front of it or the surface you put underneath it.
This is a pricey full-suspension model, but the upcharge is well-worth it when you consider the specs.
The bike has a powerful and reliable Gen4 Performance CX 250W motor and 625Wh battery that provides more than enough range and assistance.
Another thing that gives AllMtn 5 its capability is the RockShox Lyric 160mm fork and the RockShox Deluxe Select+ rear shock. They'll provide you with the utmost control and poise when hitting rough sections on the trails.
No doubt the Shimano XT 12-speed drivetrain and XT 203/180mm brakes will help here as well. What's also important is that this is a mullet bike—it has a 29″ front and 27.5″ rear wheel. Therefore, you'll get excellent rollover ability without losing snappy handling.
If you're wondering what the concept of ePerformance is all about, Haibike AllMtn 5 will teach you all about it in great detail.
AllMtn 3
12-speed SRAM SX Eagle components
650Wh battery
Mullet wheels
Haibike AllMtn 3 is the type of bike that knows few limits. If you want just one two-wheeler to navigate the entire mountain—climb, descend, and pedal—this is the kind of bike that will put a big grin on your face.
AllMtn 3 is powered by a top-tier Bosch Performance CX motor and features a massive 650Wh battery that will ensure you get enough range to ride all day long.
Haibike claims that their e-bikes are capable of proper off-road riding, which is supported by the fact that this model has 160mm of travel front and back. It comes with a RockShox Yari RC fork and a RockShox Deluxe RT Air rear shock, which is an excellent mid-range combo.
AllMtn 3 also boasts a 12-speed SRAM SX Eagle drivetrain and Shimano MT420 4-piston hydraulic disc brakes. This combo will give you great pedaling abilities and infuse you with confidence and control when descending.
What we like the most is the 29″/27.5″ mullet wheelset that combines the best of both worlds—phenomenal rollover abilities and excellent handling and maneuverability.
Get it if you want to spend an entire day in the mountains, exploring any trail you can find.
Trekking 5 (And Step-Thru)
Powerful battery and motor
9-speed drivetrain
Rear rack, fenders, and lights
Are you yearning for adventure on two wheels? Haibike Trekking 5 is a bike that's built for that exact purpose. It's available with a step-over and a step-through frame so it's suitable for men and women alike.
An interesting fact about this bike is that Maximilian Semsch used it to travel around Australia in 2021, covering more than 10,000 miles. That's more than enough proof that this is a proper ePerformance bike.
When it comes to the components, Haibike Trekking 5 has a versatile Shimano Alivio 9-speed drivetrain coupled with Tektro hydraulic disc brakes. When you're tired of pedaling on your own, you can relax and let the Bosch Performance Line 65Nm motor do most of the work. It will assist you up to 20mph for miles thanks to a 500Wh battery.
This bike is ready for adventure or everyday commuting as it features a heavy-duty rear rack that can carry panniers or a child seat. It rolls on 27.5″ wheels with 2.4″ tires that can navigate paved and unpaved roads. On top of that, it also has fenders and bright lights.
If you're dreaming about big miles and long days on the road, you will love what Haibike Trekking 5 has to offer.
Sizes
---
Figuring out which size Haibike to get is pretty easy. Just take a look at the detailed size chart below and find your height.
If you happen to be in between two sizes, we recommend going for the bigger size if your priority is comfort and choosing the smaller size if you want more agility and better performance on the trails.
HAIBIKE ELECTRIC MOUNTAIN BIKES – HARDTAIL

HAIBIKE HARDLIFE/HARDSEVEN/ALLTRAIL/HARDNINE

Rider Height
Bike Size
Feet Inches
CM
CM
4'7″ – 4'11"
140 – 150cm
35cm
4'11" – 5'3″
150 – 160cm
40cm
5'3″ – 5'9″
160 – 175cm
45cm
5'9″ – 6'2″
175 – 185cm
50cm
6'2″ – 6'5″
185 – 195cm
55cm

HAIBIKE ELECTRIC MOUNTAIN BIKES – FULL SUSPENSION

HAIBIKE NDURO/SDURO/XDURO/DWNHILL

Rider Height
Bike Size
Feet Inches
CM
CM
5'3″ – 5'7″
160 – 170cm
40cm
5'4″ – 5'8″
164 – 175cm
42cm
5'7″ – 5'10"
170 – 178cm
44cm
5'8″ – 6'0″
175 – 185cm
46cm
5'9″ – 6'1″
176 – 184cm
48cm
5'11" – 6'2″
180 – 188cm
50cm
6'0″ – 6'4″
182 – 193cm
52cm
6'0″ – 6'4″
182 – 193cm
54cm
6'1″ – 6'6″
186 – 198cm
55cm

HAIBIKE ELECTRIC CROSS BIKES (SDURO CROSS)

Rider Height
Bike Size
Feet Inches
CM
CM
4'11" – 5'1″
150 – 154cm
40cm
5'1″ – 5'4″
154 – 165cm
44cm
5'4″ – 5'8″
162 – 173cm
48cm
5'8″ – 5'11"
173 – 180cm
52cm
5'11" – 6'2″
180 – 188cm
56cm
6'2″ – 6'5″
188 – 196cm
60cm
Warranty
Haibike is a company that stands behind its products so each bike comes with a warranty on the frame.
Interestingly, rigid frames have a lifetime warranty, for as long as the original buyer owns the bike. On the other hand, full-suspension bicycle frames have a five-year warranty on the front triangle and a one-year warranty on the swingarm. That's pretty standard in the cycling industry.
You also get a one-year warranty on the finish and decals, so you can rest assured that your bike will stay in mint condition during that period.
Of course, the warranty only covers manufacturing defects; Damage from abuse, normal wear and tear, and neglect are not covered by warranty.
Return Policy
Sometimes we change our mind about a purchase and that's perfectly fine. Haibike lets you return a bike you bought from them within 30 days of your purchase if you're unhappy for whatever reason.
Keep in mind that in order for your return to be accepted, you need to meet the following criteria:
The product is in new condition,
Original packaging is included,
Proof of purchase is submitted, and
The package is shipped within the United States.
Also note that if you bought your Haibike from an authorized dealer, your purchase is subject to the specific return or exchange policies of that dealer.
FAQ
Final Verdict
E-bikes made overseas are flooding the market and it's becoming harder for European and USA manufacturers to compete.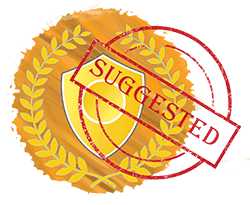 Don't get us wrong, bicycles made abroad are getting better and better and their prices are going down at the same time.
However, Haibike has stayed in the game by offering something else—tradition, innovation, and reliability that comes from having complete control of the manufacturing process.
If you want a real European bike with a pedigree, a long warranty period, and guaranteed high performance in the real world, Haibike poses itself as the right choice.
If you own a Haibike, please let us know what you think about it in the comments section below. Share your insights about the brand and your experience with riding your Haibike.