Commuting off the beaten path, shredding trails, or smashing your favorite DH track — Electric mountain bikes can do it all, and more.
What Is an Electric Mountain Bike?
Electric mountain bikes are bicycles with an electric motor and battery, intended for off-road riding. E-MTBs have wide tires, suspension, disc brakes, and trail-ready geometry, just like traditional mountain bikes. However, they also feature pedal assistance and/or throttle to help the rider pedal.
There is no doubt that electric mountain bikes spark a lot of controversies. Should they be allowed on trails? Does riding one equal cheating? Are electric-assist mountain bikes as capable as regular mountain bikes?
Regardless of how you answer these burning questions, electric mountain bikes are here, and they are here to stay. The number of people who ride these e-bikes is on the rise and it's becoming easier and easier to spot one both on- and off-road.
In this article, we are reviewing our 10 favorite models that will help you ride faster, go farther, and conquer climbs that you thought were out of the question before.
Are eMTBs Better Than MTBs?
The answer to this question depends on what kind of a rider you are and what requirements you have. Some people will answer with a definitive 'Yes', whereas others will scream 'No' at you. The reality is that electric mountain bikes have their strengths and weaknesses.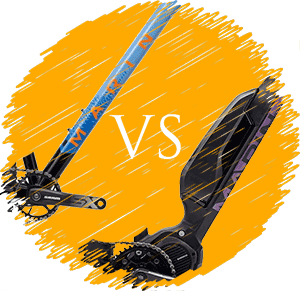 An eMTB performs very similarly to a regular mountain bike. But it also provides you with pedal assistance which makes it easier to overcome tough climbs or keep riding even after your legs are toasted.
Related: Best Electric Bikes
E-mountain bikes typically have three or more pedal-assist levels and/or throttle, so you can adjust how much help you want to get and how much of the hard work you wish to do by yourself. Therefore, even though you're on an e-bike, you can still get a very good workout.
Nowadays, modern electric mountain bikes have impressive trail capabilities, so an average rider won't notice a huge difference when making the switch.
Still, due to the addition of a motor and battery, the ride feel is slightly different. For example, companies often need to extend the chainstays to fit a mid-drive motor, so most e-MTBs have a longer wheelbase than their traditional counterparts. This affects handling slightly. Also, the electric components add extra weight to the bike, so riding without pedal assistance becomes more of a challenge.
But these are not things that would bother an average rider too much. If you're someone who struggles to ride as often, as long, or as hard as before, for whatever reasons, an electric mountain bike is definitely better than a regular MTB.
Why Did We Choose These Bikes?
The number of electrically assisted mountain bikes on the market is on the rise, so picking one model from a plethora of choices can become a problem. We created the selection you see below to give you an idea of what's worth the money and show you our favorite picks.
Every bike you see on this list was rigorously analyzed and researched before being given the green light. Before including each of the models, we analyzed the market, spoke to brands, checked user reviews, and relied on our prior experience as well.
For a bike to enter our top 10 selection, it had to have high-quality electronics (a strong motor and a dependable battery), reliable brand-name components, trail-worthy geometry, and it had to be built to last.
So scroll down to see our recommendations or check out each of the brand's selection to find a model that might fit your requirements even more.
---
RadRover 5
Our top pick! Best All-Around Performer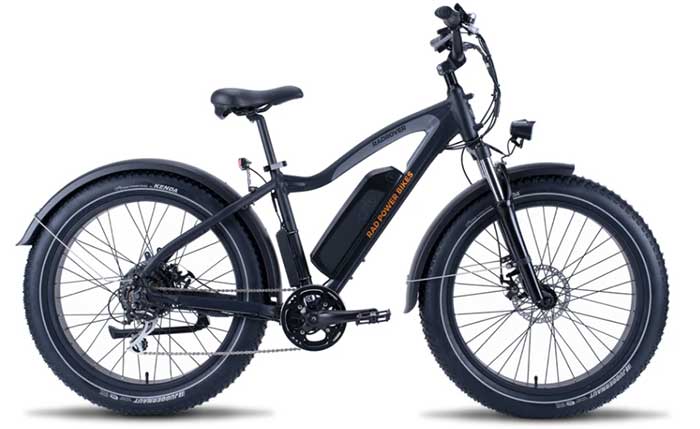 MSRP: $1,599
Battery & Motor: 672Wh battery and 750W motor
Features: Pedal-assist and throttle, 7-speed drivetrain, lights, kickstand, 4″ tires
This Rad Power electric mountain bike is our top pick for a large number of good reasons. This is a versatile bike that excels in different settings, so it could be the right pick for various types of riders.
RadRover 5 is not a bike built to be abused on rough, technical trails. Instead, it's a bicycle that can be used for city commutes, off-road detours, dirt and gravel explorations, and moderate singletrack adventures.
This is a class 2 e-MTB with a geared rear hub motor and a massive battery. That means that it offers both five pedal-assist levels and throttle.
---
Sturdy and low-slung aluminum frame that's easy to mount and dismount.
Meaty 4″ tires that are suitable for any type of terrain.
Comes with the necessary accessories to ride it in any weather and at any time of the day.
The 750W has all the 'oomph' you need and the battery provides 45+ miles of range.
A suspension fork with 80mm of travel improves comfort and stability.
---
RadRover 5 also has a Shimano Acera 7-speed drivetrain, mechanical disc brakes, and front suspension. Therefore, it's able to cover some serious ground both up steep hills and down breathtaking descents.
The most noticeable feature is the 4″ tires, which make RadRover an electric fat tire mountain bike. This electric MTB has fenders and bright lights, but you can add many other accessories, including racks, baskets, and more.
RadRover is one of the best electric mountain bikes under $2,000, so don't hesitate to get it if you're a MTB beginner or you need an affordable all-around performer and everyday workhorse.
Himiway Cruiser
Second-best! Best Fat-Tire Electric Mountain Bike
MSRP: $1,699
Battery & Motor: 840 Wh battery and 750W rear hub motor
Features: Class 2 motor, high-capacity battery, front suspension, aluminum frame, fat tires
Full review of Himiway Cruiser
Himiway Cruiser is a versatile fat-tire e-bike built for beginners and casual riders to enjoy any type of terrain and surface. This Himiway electric mountain bike is proof that eMTBs can walk the walk and not just talk the talk.
It's equipped with big 26″ wheels that roll on Kenda K-Shield 4″ tires that can conquer rocks, dirt, and mud equally well. Moreover, its front coil suspension fork will improve your comfort and give you all the confidence you need when descending.
When it comes to electronics, Himiway Cruiser is a class 2 e-bike that has the tried and tested brushless 750W/80Nm rear hub motor and an 840 Wh battery. They ensure a 20 MPH top speed and a 35-60-mile pedal assist range.
Himiway Cruiser is one of the best budget electric mountain bikes considering it comes with front suspension and good components.
---
Rear hub motor provides powerful, natural assistance.
Shimano 7-speed drivetrain gives you great MTB capabilities.
Mechanical disc brakes stop on a dime when you need it the most.
A capable 80mm travel fork improves comfort and stability.
Class 2 e-bike with throttle and pedal assist.
---
This electric mountain bike is built around an aluminum frame that comes with a massive rear rack and battery-powered front and rear lights. You also get a 7-speed Shimano drivetrain and capable mechanical disc brakes.
Himiway Cruiser has a relaxed geometry, so it performs well both up and down steep hills and it's suitable for beginners and experienced riders.
All in all, if you want an electric mountain bike that does not differ from a non-electric model and brings even more to the table, Himiway Cruiser is the right choice.
Niner RIP e9 3-Star
Third Place! Best Long-Travel E-MTB
MSRP: $5,995
Battery & Motor: Bosch Powertube 625Wh and Bosch Gen4 Performance Line CX
Features: Aluminum frame, Bosch electronics, SRAM SX Eagle drivetrain, hydraulic disc brakes, 160mm travel
Niner RIP e9 is a wildly popular electric mountain bike that eliminates much of the skepticism that usually surrounds e-MTBs. It's a fun bike that removes barriers and lets you experience trail riding the same way you would on a standard mountain bike.
To begin with, Niner RIP e9 is a 29″ long-travel shredder with 160mm in the RockShox Zeb R fork and 150mm in the Fox Float DPX2 Performance EVOL shock. It also features a wide-range SRAM SX Eagle rear mech and cassette, coupled with powerful hydraulic disc brakes.
---
Powerful Bosch motor and a high-capacity battery.
Beefy 29″ x 2.4″/2.35″ Schwalbe Eddy Current EVO/Hans Dampf EVO tires.
High-performing RockShox/Fox suspension with 160mm of travel.
SRAM SX Eagle components provide a 12-speed drivetrain.
Class 1 e-bike with pedal assistance up to 20 MPH.
---
The high-quality Bosch electronics are some of the best in the game. The setup provides you with a 20 MPH maximum assisted speed, and you can expect a decent range thanks to the 625Wh integrated battery. You can smash climbs and make short work of difficult terrain.
This Niner electric mountain bike is a slack mean machine with a slack head tube angle and a steep seat tube angle. It comes in three sizes and with 780mm bars.
The Stan's NoTubes Flow D Formula wheels and Schwalbe tires are tubeless-ready, so you can get rid of the tubes to prevent flats and improve traction.
Buy it if you can afford to spend $5,955 on getting a premium e-powered performance.
Yeti 160E C1
Best Carbon 29er E-Bike
MSRP: $10,100
Battery & Motor: Shimano 630Wh battery and Shimano EP8 motor
Features: 29″ wheels, carbon frameset, 170mm suspension, Shimano SLX groupset, Maxxis Assegai/Minion tires
Yeti 160E C1 is a 29″ trail bike, which means it's perfect for different types of trails. It's built around a carbon frameset and comes with excellent components for the money.
This Yeti electric mountain bike is a proper trail-ready machine thanks to the 170mm Fox suspension. The setup allows advanced adjustments, so you can tailor the suspension to fit your style of riding.
The full carbon frameset is light and stiff. It brings the weight down and improves performance despite the extra pounds added by the Shimano electronics.
---
Versatile 29″ wheels.
A great all-around performer with 170mm of front and rear suspension.
Mid-range Shimano SLX 12-speed drivetrain.
Powerful Shimano EP8 motor and a 630Wh battery.
Reliable SRAM Code R hydraulic disc brakes.
---
If you're struggling to ride uphill and get to your favorite descent, the Shimano EP8 drive unit will help you do it. Plus, the 630Wh Shimano battery will give you enough range to do it again and again until you find the perfect line.
This bike has aggressive modern geometry and high-end components, so it won't limit your trail riding in any way. Instead, it will enhance it and allow you to ride further and spend more time in the forest and on the mountain.
Yeti 160E C1 is definitely not a cheap electric mountain bike, but it is worth the money. If you like the 29″ setup and want dependable Shimano pedal assistance, you shouldn't hesitate to get it.
Niner WFO e9
Best Downhill Ready Electric MTB
MSRP: $6,295
Battery & Motor: Bosch Powertube 625Wh and Bosch Performance Line CX
Features: Mixed-size wheels, SRAM SX Eagle drivetrain, dropper post, 180mm suspension, 200mm rotors
Niner WFO e9 provides the biggest amount of travel you will see on this list. It's a slack and aggressive electric-assist mountain bike with 180mm of suspension travel and huge 200mm rotors ready for rowdy descents.
WFO e9 will expand your abilities when it comes to the trails and terrain you can ride on. This bike comes with a mullet setup which means it has a 29″ front wheel and a 27.5″ rear wheel. As a result, it has the speed and rollover of a 29er but does not lose swiftness and responsive handling.
---
Bosch high-capacity 625Wh battery and Performance Line CX motor.
Mullet wheelset brings you advantages of both 29″ and 27.5″ wheels.
Downhill ready 180mm of front and rear suspension.
SRAM Guide RE Brakes and massive 200 mm rotors.
Acceptable 55.5 lbs. total weight for an e-bike of this caliber.
---
What e-bike lovers will appreciate the most are the Bosch electrical components. This is a Class 1 eMTB with a 20 MPH top speed and a 625Wh battery that's fully integrated into the frame. Niner does not disclose the range, but this is among the biggest batteries you can get.
This Niner electric mountain bike also has a SRAM SX Eagle drivetrain, which is a slight drawback, considering the price. We feel that GX Eagle would be more appropriate.
In any case, by purchasing Niner WFO e9, you get a bike that descends like mad and climbs even better thanks to the electronics. You should have loads of fun on it.
Specialized Turbo Levo SL Comp
Most Breathtaking Spec List
MSRP: $7,000
Battery & Motor: 320Wh battery and Specialized 1.1 lightweight motor
Features: SRAM NX Eagle, aluminum frame, 150mm travel, 29er wheelset, wide tires, hydraulic disc brakes
Specialized Turbo Levo SL Comp is an electric mountain bike that has everything you could ever ask for when hitting a technical trail. However, it has something you might dislike as well, which is a very steep price of $7,000.
With that number in mind, it's worth considering if the features resemble the investment, and the answer is yes. This Specialized electric mountain bike has some mouth-watering components and features.
It is powered by a premium Specialized 1.1 motor that amplifies your pedaling by up to 240W. This way, you can get the most natural pedaling assistance when you need it the most.
---
Lightweight and stiff aluminum frame.
29″ x 2.3″ tires.
Specialized 250W motor combined with an integrated 320Wh battery.
High-Quality SRAM NX Eagle 12-speed drivetrain.
Dropper post, 150mm Fox suspension, hydraulic disc brakes, and more.
---
In addition to Specialized's proprietary electric parts, you also get a SRAM NX Eagle 12-speed drivetrain and SRAM Guide R hydraulic disc brakes. This trail beauty features a dropper post as well, so you can hit steep descents without second thoughts.
Specialized Turbo Levo SL Comp boasts Fox Float front and rear suspension with 150mm of travel which puts it in the all-around trail category. It can easily be your do-it-all off-road machine.
Related: Buying From Mike's Bikes
If your pocket is deep enough and pedal assistance up to 20 MPH up a steep hill sounds tempting, this Specialized full-suspension mountain bike is a foolproof choice. We recommend it to those who need help with pedaling, but still want to ride the real deal.
Ride1UP LMT'D
Best Step-Through Electric Mountain Bike
MSRP: $1,895
Battery & Motor: 672 Wh battery and 750W geared rear hub motor
Features: Aluminum frameset, integrated battery, front suspension, Shimano Alivio group
Ride1Up is well-known for building some of the best budget electric bikes in the industry. They're making a name for themselves in the electric MTB category as well. LMT'd is a fast and powerful hardtail electric mountain bike with an unconventional step-through frame design.
This is a 27.5″ wheeled aluminum MTB with dependable components from Shimano, Tektro, Schwalbe, and other big brands. It's propelled by a geared rear hub 750W motor and a 672Wh battery, which is more than enough juice for a day on the trails.
As a class 3 e-bike, this Ride1UP electric mountain bike provides pedal assistance up to 28 mph, so you'll be able to turn long and backbreaking days into casual trail excursions.
---
Lightweight and stiff aluminum frame.
Geared motor assists you up to 28 mph.
Excellent Shimano Alivio 9-speed drivetrain for easy climbing.
80mm air suspension fork
Massive 27.5″ x 2.4″ tires.
---
In addition to the excellent electronics, Ride1UP comes with an RST Asteria 80mm air fork. That is a serious suspension setup ready for moderate trails and gravel and dirt roads.
You also get a Shimano Alivio 9-spd drivetrain, Schwalbe Super-Moto X tires, hydraulic disc brakes, and a comfortable saddle.
Ride1UP LMT'D is the ideal hardtail mountain bike for casual riders who love moderate trails and want to enjoy a day in nature with the help of some electricity.
Juiced RipCurrent
Best Hardtail Electric Mountain Bike
MSRP: $1,999
Battery & Motor: Shimano 780Wh battery and 750W motor
Features: Aluminum frame, 26″ fat tires, coil suspension fork, 9-speed drivetrain, hydraulic disc brakes
Juiced RipCurrent is another bike on this list with powerful electronics. This model comes with a 750 rear hub motor and a 780Wh battery. The motor will assist you up to 28 MPH and the battery should give you enough juice for 45+ miles of riding.
RipCurrent is a hardtail e-mountain bike, equipped with a coil suspension fork. That makes it a good choice for trails and different singletrack difficulties.
It also features a Shimano Altus 9-speed drivetrain, so you'll get the best possible gear shifting. The hydraulic brakes are from Tektro and guarantee more than enough stopping power.
---
Lightweight and durable 6061 aluminum frameset.
Coil suspension fork.
Tektro Hydraulic disc brakes.
Shimano Altus 9-speed drivetrain.
750W rear hub motor w/ a 780Wh battery
---
This Juiced electric mountain bike will definitely draw your attention with its good looks and an attractive all-black paint job. This is a unisex two-wheeler, so both genders can enjoy riding it.
Once it gets your attention, it will motivate you to keep riding with its 26″ wheels and 4″ wide fat tires, front suspension, and powerful electronics. All prerequisites are met to crush some serious climbs and descents.
Juiced RipCurrent is a pretty good choice for hardtail enthusiasts and developing riders who are still not ready for an FS model. It offers excellent performance, even better components, and does not cost an arm and a leg, considering it's an electric-assist mountain bike.
Devinci AC 27.5 NX
Most Playful 27.5+ E-Bike
MSRP: $6,099
Battery & Motor: Shimano 504Wh battery and Shimano Steps E8000 motor
Features: SRAM NX drivetrain, plus-size tires, 180mm/170mm suspension, hydraulic disc brakes, dropper post
There's no doubt that Devinci has mountain bikes figured out. It's also pretty obvious that they've figured out how to turn them electric as well. Devinci AC 27.5 is a versatile long-travel trail bike that can also shred enduro, all-mountain, and some DH courses.
This Devinci electric mountain bike has the well-known Shimano Steps E8000 motor with a 250W nominal power. It's combined with a 504Wh Shimano battery that's completely hidden inside the downtube.
The aluminum frame boasts a Fox Float 36 performance 180mm fork and a Fox Float DHX2 170mm shock. Therefore, you have enough travel to go wild just as you would on a regular mountain bike.
---
Excellent all-around performer good for Enduro, Trail, All-Mountain, and Light DH.
Fox Float suspension with 180mm of front and 170mm of rear travel.
SRAM NX 11-speed drivetrain with a wide-range cassette.
Shimano Steps E8000 250W motor paired up with a 504Wh battery.
Massive Maxxis Minion 2.8″ tires ready for any terrain.
---
One of the most eye-catching features on Devinci AC is the tires. It rolls on 27.5+ wheels wrapped with Maxxis Minion 2.8″ wide tires. You'll get more than enough grip for rocky gardens, hardpacked singletracks, or muddy trails.
This bike also features SRAM Guide RE hydraulic disc brakes with massive 200mm rotors, a dropper post, and a versatile SRAM NX 11-speed drivetrain.
This is an excellent full-suspension mountain bike for versatile riders who love testing their limits on different types of terrain.
Vvolt Sirius Reservation
Consider Also: Affordable & Versatile Off-Road Commuter
MSRP: $2,799
Battery & Motor: 375Wh battery and 250W motor
Features: Lightweight aluminum frame, front suspension, a mid-drive motor, torque sensor, enviolo rear hub
Vvolt Sirius is not a trail-worthy or a race-ready full-suspension electric mountain bike, but we still decided to include it in our list. We did it because we think it would meet the requirements of many riders out there—it's fun, versatile, ready for paved and unpaved adventures, and it does not cost a fortune.
Sirius sports a 250W mid-drive motor, which is one of the most popular units on the market. It's combined with an integrated 375Wh battery that gives you an impressive range of up to 60 miles, according to the manufacturer.
---
Step-over aluminum frame suitable for male and female riders.
100mm air suspension fork makes off-road rides smooth and improves comfort.
Class 1 e-mountain bike with a 20 MPH maximum assisted speed.
Hydraulic disc brakes
Enviolo rear hub with stepless shifting
---
This Vvolt electric mountain bike is off-road ready, but we wouldn't put it through too much abuse. It features a 100mm air suspension fork, an enviolo stepless rear hub, and trusty hydraulic disc brakes. Therefore, it is well equipped for off-road routes.
What we also like is that Sirius is versatile and can be used for city commuting. It comes with fender and rear rack mounts, and powerful front and rear lights.
All things considered, this is the best value electric bike for the average rider. It's pretty much the only e-bike you need if you commute by bicycle, ride for fun, and take detours off the beaten path just for kicks.
Didn't find what you were looking for? Take a look at our list of the best mountain bike brands.
People Also Ask
Do you have any other questions about electric mountain bikes? You're not the only one!
What is the best electric mountain bike?
The best mountain bike is not the same for everyone. On our list, Rad Power RadRover took the first position because it is versatile, capable, and affordable. Thus, it can be the best electric mountain bike for different types of riders. Others might like another model on the list better, which is why it's hard to give a universal answer.
Is an electric mountain bike worth it?
An electric mountain bike is definitely worth it. For the right type of rider, an e-MTB does not really have any disadvantages. If you're struggling to ride as hard or as long as before due to an injury or age, an electric mountain will quite literally change your life.
How much does an electric mountain bike cost?
Electric mountain bikes cost anywhere between $1,000 and $10,000+. However, on average, you should expect to spend around $4,000 for a mid-range model with quality suspension, components, and electronics. Such a bike will be trail-ready and will allow you to ride as hard as before.
How long do e-mountain bikes last?
Electric mountain bikes can last just as long as non-electric bicycles. Over time, the battery capacity deteriorates, so you need to swap it every 3–5 years. However, all other parts should last for years with proper maintenance. Of course, regular servicing is a must.
Bottom Line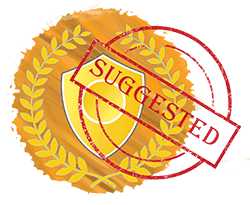 While creating this list, we aimed to include a wide variety of electric mountain bikes that would satisfy different types of riders. Therefore, we've reviewed off-road commuters, lively electric hardtails, and full-blown trail shredders with full suspension.
Whichever model you end up choosing, you may rest assured you'll be getting a well-built, high-quality e-bike that will give you more mobility and boost your fitness and health. The only drawback to many of them is the high price, but the benefits are often worth it.
Which one is your favorite? Let us know in the comments if we failed to include your top pick and we'll consider reviewing it in the future!