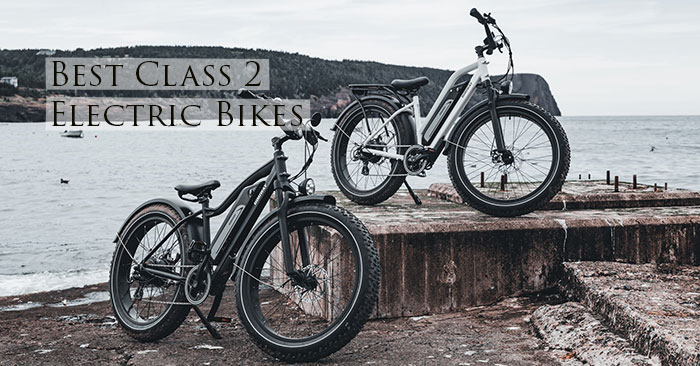 The advent of e-bikes has truly changed the cycling landscape. In 2023, any cyclist – no matter how tall or small, strong or tired – can climb any mountain in the world, and ride over 50 miles. Electric bikes have changed the game.
Electric bicycles are not motorcycles – they are electric-assist bicycles that help you put more power into the pedals at a given speed, help you climb hills easier than ever, and cut your commuting time in half.
E-bikes are for everyone, from beginner to expert-level riders, and are made for city bikes, road bikes, mountain bikes, and more.
You can hardly spot an e-bike just by looking at it, especially the smaller and comparatively mellower Class 1's. What is a Class, I hear you ask? These are the three delineations of e-bikes, which may vary from state to state or country to country.
But in general, they are speed-governed limits to the electric assistance that an e-bike will give you. Here are the three e-bike classes, in more detail.
A Short Introduction to Ebike Classes
---
Most states in the US (40/50 at the moment of writing this article) recognize three classes of ebikes based on their motor power, top speed, and the type of assistance they provide. These are:
Class 1 – Pedal-assist only, up to 20 mph, 750W max motor power.
Class 2 – Pedal-assist and throttle, up to 20 mph, 750W max motor power.
Class 3 – Pedal-assist only, up to 28 mph, 750W max motor power (depending on location, may require a speedometer, and may be allowed to have a throttle).
Class 1 electric bikes are the tamest of the lot, with no throttles available, you will have pedal assist only instead. These electric motors will assist your pedaling up to 20mph, which is far from supersonic speed. Most governments consider Class 1 e-bikes a "normal bicycle". You won't be restricted from using certain trails or bike paths.
Electric mountain bikes fall into the Class 1 category, which means that they are pedal-assist e-bikes up to 20mph, and do not include a throttle.
Next, we have Class 2 e-bikes. These bikes can come with a throttle in addition to pedal assist and are treated as scooters or mopeds under the law.
Finally, there are Class 3 e-bikes. These are confusingly similar to Class 1 e-bikes in that they are only available with pedal assist. The biggest difference between Class 1 and Class 3 e-bikes is that Class 3 e-bikes will have pedal assist up to 28mph, which means you can go flying down the road or bike path at a relatively easy pace.
Under the rule of law, Class 3 e-bikes are treated in the same way as Class 1 e-bikes or the same as a "normal bicycle."
Many commuter e-bikes fall under the Class 3 umbrella, as they allow for assistance at higher speeds compared to Class 1 e-bikes which are often mountain bikes.
Read More: How to Choose an Electric Bike
In this article, we're going to be looking at the best Class 2 Electric bikes, which are bikes with pedal assist and or throttles, with assistance up to 20mph. Here are our favorite picks.
---
Best Class 2 Electric Bikes
---
1. Cannondale Adventure Neo Allroad EQ
MSRP: $1,825
Bafang 250W rear hub motor
Tektro hydraulic disc brakes
2.6″ Kenda Booster tires
This is a 27.5-inch e-bike ready for city streets and off-road trails. The frame of the Adventure Neo Allroad EQ folds is Cannondale's SmartForm C3 alloy.
Despite its size and fully-equipped setup, this bike only weighs 52lb. The hub motor and throttle provide 20mph max speeds, and it can even last for up to 47 miles.
The Adventure Neo Allroad EQ is one of the cheapest Cannondale e-bikes available. Despite this, it has hydraulic disc brakes.
This bike has no shortage of features. That includes the 418Wh battery that takes four hours to charge, putting it on the same level as every other Class 2 e-bike on this list. It even comes with 7-speed microSHIFT gearing.
Finally, the rack, fenders, and lights make it the perfect commuter package right out of the box.
---
2. Aventon Soltera.2
MSRP: $1,399
350W brushless motor
41-mile range
Aventon Soltera is made to be practical and can be used for anything from commuting to general rides out with the family. The bike sports relaxed geometry, this is the kind of bike you can spend hours riding without the need to stop.
Aventon has equipped the Soltera with a 350W motor. It has a maximum speed of 20mph and will give you a range of up to 41 miles. You have 5 different levels of assistance and the LCD display on the bike will tell you everything you need to know, from your speed, cadence, remaining power, and much more.
The Soltera comes with pedal assist and throttle, which classify it as a Class 2 e-bike.
Aventon Soltera is available as a single-speed or as a 7-speed option, so it comes down to preference.
At less than $1,500 this bike offers good value and it comes without any serious drawbacks. It comes with either mechanical disc brakes or caliper brakes, depending on which build you choose.
---
3. QuietKat Jeep
MSRP: from $4,999
750W or 1000W mid-drive motor
LCD display
Samsung lithium battery
The QuietKat Jeep is a full suspension pedal-assist e-bike with a range of 58 miles. The 750W or 1000W rear hub motor is simultaneously powerful and quiet, delivering plenty of watts to the SRAM 9-speed groupset with an excellent range.
Like many e-bikes, the QuietKat Jeep is a very high performing machine. It has a totally upright riding position that is easy on the back and shoulders, allowing you to keep control of the bike while also taking in the sights and sounds of nature.
With such a large power capacity, you may worry about getting the QuietKat Jeep up a hill. The 48V 14.5Ah Samsung lithium battery will leave plenty of life in the motor for hours. It also comes with a customizable display so you can keep track of all your battery and metrics.
Unlike many other e-bikes, it comes in three different sizes and has a load capacity of 300lb. The large rear tires make it incredibly capable off-road and it's a lot of fun to ride.
---
4. RadCity 5 Plus
MSRP: $1,999
750W rear hub direct drive motor
Weighs 65 lbs.
Comfortable and upright position
The RadCity 5 is stylish, modeled after European city bikes. Rad Power Bikes has designed to get you around the city quickly and comfortably. It is also designed to replace your car, with an integrated aluminum rack for mounting panniers, bags, or even a child's seat. Despite being a city bike, the RadCity 5 has a pretty powerful motor in the 750W rear hub motor.
At the front of the bike and on top of the rider-oriented handlebars is the twist-grip throttle, which pairs with the pedal assist to create a smooth and fast ride. The RadCity comes with a 672Wh battery with a 50-mile range and is available in both step-over and step-through versions.
Some of the best features of the RadCity 5 are its seamless integrations in the rear rack, lights, kickstand, and fenders. There is even an adjustable front suspension with 50mm of travel, which is quite remarkable for a city e-bike. The RadCity 5 Plus even comes with a backlit LCD display.
However, the RadCity 5 is quite heavy at 64lb. It may be difficult to use for commuting if you need to move it up or down any stairs.
---
5. Lectric XP 3.0
MSRP: $999
500W brushless geared hub motor
Impressive range for a small battery
Affordable
It would be difficult to find a city bike as versatile as this Lectric XP 3.0. Built with 20″ x 3″ tires, this bike can get you around town and out on lighter trails. You'll never have to worry about a puncture, and you'll have plenty of stopping power in the Tektro mechanical disc brakes.
For a fat tire folding bike, you wouldn't have to ask for many more features, but the Lectric XP 3.0 has more. Variable front oil suspension helps cushion your ride against the harsh pavement or bumpy dirt, while the frame even comes with a full set of fenders, a rear pannier rack, and integrated LED lights for late-night commutes.
Don't let the compact frame fool you, this bike is plenty powerful. The Lectric XP comes with a 500W Brushless geared rear hub motor and 460Wh Lithium-Ion battery. The battery offers a range of up to either 45 or 65 miles. The Lectric's rear hub motor includes five levels of pedal-assistance, as well as electric-only modes.
All of that fits into a foldable and storable bike that costs $1,300.
---
6. RadRover 6 Plus
MSRP: $2,099
750W geared hub motor
45-mile range
Incredible value
The RadRover 6 Plus is one of the most popular e-bikes on the market, and for good reason. This model has so much to offer and at a reasonable price point too. With a range of up to 45 miles and a powerful 750W motor, the RadRover 6 Plus is arguably the best in class.
This model comes with giant 26" x 4" Kenda Juggernaut fat tires, but that doesn't mean this bike is slow. The 672Wh Lithium NMC Battery will keep the RadRover 6 Plus going for hours, and you can recharge the entire thing in just six hours.
Even at less than $2,000, the RadRover offers front suspension with 60mm of travel, as well as upright geometry and rider-facing handlebars for the most comfortable ride. The overall design of this bike improves its climbing along with 7-speed gearing and reduces rider fatigue on long rides.
Lastly, the RadRover 6 Plus comes with hydraulic disc brakes for plenty of stopping power. Auto-on LED lights will keep you shining and bright during midnight adventures. For so many features and such a wide range of capabilities, there is hardly any bike more valuable.
---
Frequently Asked Questions