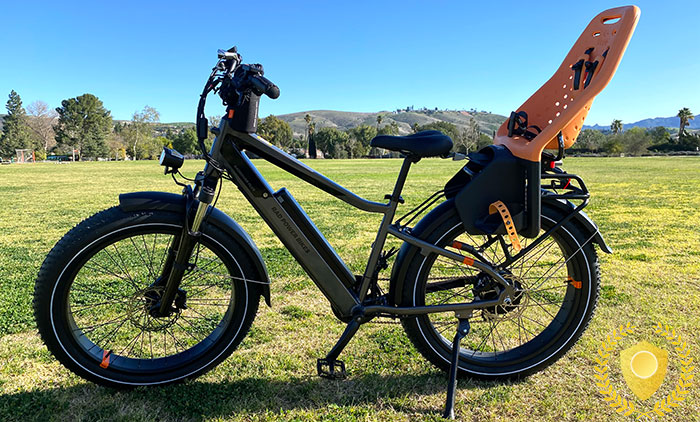 RadRover 6 Plus is a comfortable, capable front-suspension cruiser with dual sport capabilities and a stylish integrated battery look.
Rad Power Bikes stepped up their game with this premium version of their wildly popular RadRover.
The RadRover 6 Plus adds hydraulic disc brakes, a more powerful hill-climbing motor, and a sleeker and stylish design.
Compared to the RadRover 5, the RadRover 6 Plus feels more durable, capable, higher-end, and dialed in.
Let's dive in and see the details.
Quick Assessment
Yet again, Rad Power Bikes has done a great job improving its RadRover model. If you're looking for a high-quality, affordable dual-sport electric bicycle, the RadRover 6 Plus may just be for you.
With a powerful 750W rear hub motor, 26×4 inch all-terrain tires, hydraulic disc brakes, and nice attention to detail, this cruiser-style electric bike really delivers.
We like its integrated battery design, hill climbing capability, on-road/off-road capabilities, and even the big-numbered display. As an added bonus, there are endless accessories that are available for purchase.
You can easily take the RadRover 6 Plus to work, to the store, on moderate dirt paths, or even grass.
The motor and the knobby tires will pull you through without issue, and the suspension forks ensure a comfortable ride.
Motor: 750W (750W peak power) rear hub motor; 86Nm of torque
Battery: 48V, 14 Ah, 672 Wh battery with Samsung or Panasonic cells
Frame: 6061 aluminum alloy
Fork: RST spring fork with 60mm of travel (standard travel for an electric bike in this price range and style)
Number of gears: 7
Brakes: Hydraulic with 180mm rotors
Tires: Kenda Juggernaut 26″ x 4″ with built-in K-Shield puncture-resistant liner
Weight: 73.4 pounds
The Build
Unlike its predecessor, the RadRover 5, the RadRover 6 Plus has a sleek integrated battery design, which adds nice styling to the overall look.
Its two-toned black and gray finish and subtle branding (as opposed to the orange lettering many Rad Power Bikes have) give this electric bicycle a nice look that will turn heads. Its subtle yet cool look will give you pride. It's just impossible not to show it off to your friends and neighbors!
A little on the heavier side for electric bikes, the RadRover 6 Plus might be a handful for some to lift into the bed of a truck, but physically capable riders won't have much of an issue.
With a seat height of 27″ – 36.6″, the RadRover 6 Plus can accommodate most riders. We feel it is best suited for 5'8" to 6'2" individuals. Sadly, that means that shorter riders would have to go for other models, RadMini on RadCity for example.
Its comfortable flotation-device-like jumbo tires and front suspension forks (with preload and lockout) ensure a smooth ride over most terrains. The Radrover 6 Plus is not suited for heavy offroad, however, but it will do well on fire roads and moderate dirt trails.
Motor & Battery
750W rear hub motor with 5:1 planetary gear reduction. The watt meter on the display shows the RadRover 6 Plus never exceeds 750W of peak power. This tells us that its motor is likely a 500W motor which peaks at 750W.
More and more electric bike manufacturers are starting to blur the lines on motor size in this manner by expressing the wattage in terms of its peak power rather than nominal power.
Compared to the RadRover 5, the RadRover 6 Plus does have more powerful acceleration, especially in Pedal Assist Level 5.
At this level, the e-bike really takes off! There are videos on YouTube that show owners how to unlock the RadRover 6 Plus to exceed its rated 20 MPH top speed by reaching upwards of 26-27 MPH, depending on rider weight and terrain.
Its 48V, 14 Ah, 672Wh battery is standard for electric bikes of this size and price range. However, we would have loved to see a bigger Ah battery or even a 52V option to really round out the RadRover 6 Plus. Therefore, it would have been interesting to see it differ from its predecessor and the Himiway Cruiser, especially for the higher price point.
Rated at 25-45 miles of range, we believe this electric bicycle is more in the 25-30 mile range. Lighter riders who rely on Pedal Assist Level 1 or 2 may achieve slightly higher. However, most riders will struggle to reach even 25 miles with a battery this size.
Suspension
The RadRover 6 Plus comes with RST spring fork suspension with 60 mm of travel, which is standard for an e-bike of this type.
With preload and lockout adjustment knobs, riders can tune the suspension to their liking and riding style. For riders who plan to take the RadRover 6 Plus on light dirt trails, lowering the tire pressure to about 10-15 PSI will provide added comfort, as will the addition of a suspension seat post.
Components

A standard derailleur and 7-speed drivetrain give the RadRover 6 Plus a wide enough gear range to scale significant hills and reach 20+ MPH on straightaways.
Shimano Altus components are entry-level, but they get the job done perfectly.
Read more: Bike Groupsets
Hydraulic disc brakes with 180mm rotors provide ample stopping power even at higher speeds.
The RadRover 6 Plus features Rad Power Bikes approved aluminum alloy levers with motor cutoff switch and adjustable reach.
All in all, we like the upgraded hydraulic brakes over the RadRover 5's mechanical disc brakes. The hydraulics provide better stopping power and smoother deceleration.
Other Rad Power Bikes Models
Final Verdict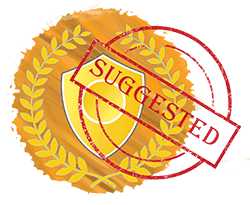 Overall, on a scale of 1-10, for the price, we give the RadRover 6 Plus a 9. We consider it to be superior to the RadRover 5 and the comparable Himiway Cruiser.
Its sleek and much-improved styling, semi-integrated battery, hydraulic disc brakes, upgraded hill-climbing capability, and a load of accessories available for the RadRover 6 Plus, make this an attractive electric bike at an appropriate price point for beginning to moderate riders of all ages.
Being on the heavier side, lighter riders may feel the RadRover 6 Plus is too much bike for them and may opt for the RadCity Plus.
All in all, we are fans of the RadRover 6 Plus.
Or Get the Step-Through Model
There are no comments yet, add one below.