Himiway Cruiser is an all-terrain electric fat bicycle with pedal-assist and throttle. It's built for paved and dirt roads, commutes and leisure rides, as well as beginners and experienced riders.
The e-bike market is becoming more and more accessible to ordinary people who do not have wads of cash sticking out of their pockets. The Himiway Cruiser Electric Fat Bike is a good example, as it costs little but delivers plenty for beginner and intermediate riders.
This is an entry-level e-bike with an upright geometry and extra-wide tires, which makes it a good contender on and off the beaten track.
Its $1,500 price tag imposes some limitations, but overall Himiway Cruiser did not disappoint in any area during our extensive testing, as you can see in the video below.
Himiway Cruiser Electric Fat Bike Key Specs
Frame: 6061 Aluminum
Fork: Alloy front suspension fork
Motor: 750W brushless gear motor
Battery: 48V 17.5Ah Samsung lithium battery
Range: 35~60 Miles
Gears: Shimano Altus 7-speed
Brakes: Tektro Aries 180mm
Tires: 26″ x 4″ Kenda fat tires
Weight: 72 lb.
Use the code BICYCLEGUIDER to get $50 OFF!
Himiway Cruiser Electric Fat Bike Full Review
During our test ride, we've ridden the Himiway Cruiser e-bike on different types of terrain, putting it through all sorts of challenges.
We wanted to see how its fat tires behave on paved and dirt roads, gravel, and grass. We also wanted to check how its electronics perform on steep and moderate hills, flat sections, and downhills.
Related: Full Review of Himiway Bikes
This is what we found.
Aluminum Frame
Himiway Cruiser is built around a solid aluminum frame with nicely shaped, oversized tubing and a sloping top tube. The alloy in question is 6061, which is very common on entry-level and mid-range bicycles across the industry.
Aluminum provides excellent strength to weight to price ratio, which is partly how Himiway ensures good value for the money with this e-bike.
The bike has a 350 lb. payload capacity, which includes both the rider and the cargo. That makes it a solid choice for overweight folks who want to burn a few extra calories.
One downside of this frame is the lack of bottle cage mounts because the massive battery takes all the space in the front triangle. You can, however, mount a front rack, which will help you carry necessities with more ease.
Aluminum is not as comfortable as steel, but it is much lighter. Luckily, Himiway Cruiser features a suspension fork, which soaks up most vibrations, so the ride is very comfortable overall.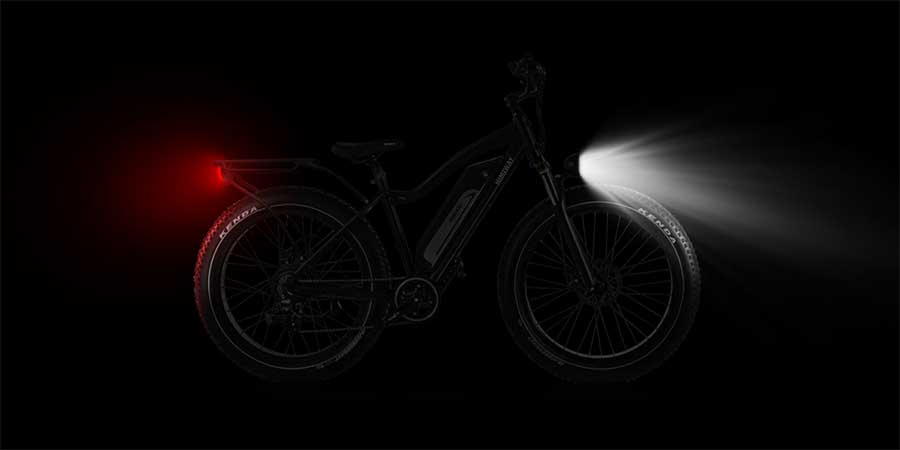 Motor and Battery
The electric parts on the Himiway Cruiser fat bike are pretty impressive. This e-bike boasts a 750W brushless geared rear hub motor with 80Nm of torque that can be utilized via pedal-assist and throttle.
The 48V 17.5Ah battery packs 840Wh, which is more than enough to give you ~30-60 miles of range, depending on how you ride.
This is a Class 2 e-bike, which means it has a throttle and the maximum assisted speed is around 20 MPH. This makes it perfectly legal in the US.
While riding, you can choose from five assist levels, which gives you a good range of assistance no matter how fit you are.
The backlit display is massive and shows you information about the battery, speed, assist level, distance, wattmeter, and more. It even features a USB charging port to charge your smartphone on the go.
In our test, Himiway Cruiser easily maintained around 16-17 mph up a very steep hill. It even started going up a hill from a dead spot just by using the throttle, without any pedaling. Therefore, the motor has sufficient power, even though it's not as strong as on some more expensive models.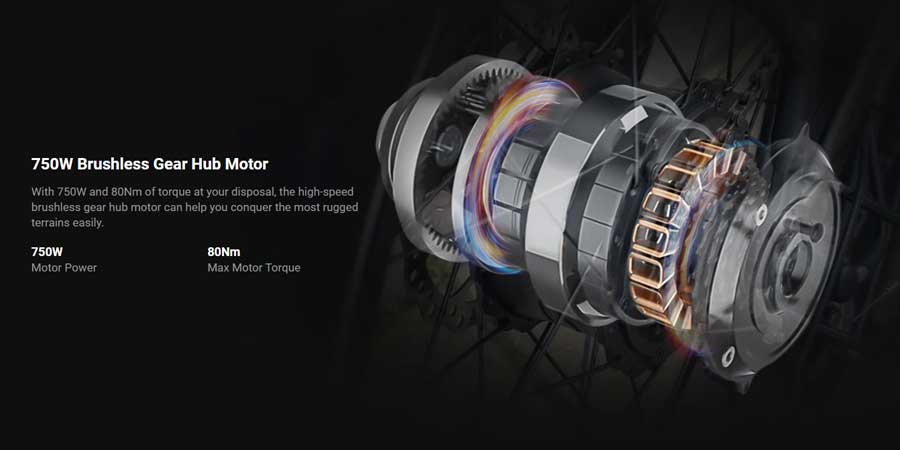 Shimano Components
The Himiway Cruiser Electric Fat Bike sports a nice combination of Shimano and Tektro mechanical components. Considering the $1,500 price point, it does not surprise that these are all entry-level components. Still, they perform without any issues and get the job done for the majority of riders.
The bike comes with a 7-speed Shimano Altus rear derailleur paired with a 14-28T freewheel. This will be sufficient to pedal up most hills, especially with the help of the 750W motor.
Once you reach the top of a hill, you can confidently descend knowing that you can stop on a dime thanks to Tektro Aries mechanical disc brakes. In our test, they offered great braking performance, and we even tested how they would brake in an emergency situation. Spoiler alert, they did an excellent job.
Fat All-Terrain Tires
One of the most eye-catching features on the Himiway Cruiser e-bike is the fat tires. These are Kenda's 26″ x 4″ fat tires that roll nicely on paved and unpaved roads. Of course, they lead to more resistance when riding on asphalt, but that's not an issue when you turn the pedal assistance on. Plus, it's a good trade-off considering how much comfort they provide.
These tires also feature a puncture-resistant layer and reflective sidewalls. You'll stay puncture-free and drivers will see you at night from all angles.
Related: Best Fat Tire Electric Bikes
Advanced Accessories
Apart from the abovementioned components, you also get your money's worth in the accessories. Himiway Cruiser comes equipped with front and rear color-matching fenders, a kickstand, a rear derailleur guard, a rear rack with a wooden tray, and a chainring guard.
You can ride this bike at night as well thanks to very bright front and rear lights. These are powered by the battery, so you can keep them on at all times as they don't use too much energy.
Additionally, you can also add a front-mounted basket ($89), a pair of mirrors ($49), as well as different bags and panniers to carry additional cargo.
Himiway Cruiser Geometry and Sizing
Himiway Cruiser is built around a one-size-fits-most frame. According to the company's manual, this e-bike is suitable for riders between ~5'3″–6'4″ tall. That's a pretty good range that ensures most people (except for extremes) can ride it comfortably.
The geometry is upright and relaxed, so you won't be leaning too far to the front of the bike. While riding, your back will be straight and you will have a good overview of the road ahead. This makes this bike a good choice for riders with a sensitive lower back, as it will help them maintain a relaxed posture.
Still, keep in mind that this is still a pretty big bicycle. It has a 75″ total length and weighs 72 lb., which can prove to be a challenge for some petite riders.
Final Verdict: Should You Buy It?
All things considered, we see no reason not to buy this e-bike, especially if you're a beginner. If you haven't ridden a bike in years or you're not riding much in general, Himiway Cruiser is an excellent choice.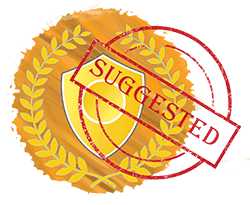 This entry-level bicycle keeps things simple and cheap but delivers great performance in all the necessary areas. It has solid Shimano and Tektro components, excellent electronic parts, and comes equipped with all the accessories you need.
Experienced fitness riders might bash it for its weight and its fat tires, but this is not something an average rider should worry about.
At $1,500, Himiway Cruiser is an affordable package that comes together nicely. Some details can be better, but the grand picture meets and exceeds our expectations for an e-bike in this price category.
Use the code BICYCLEGUIDER to get $50 OFF!
There are no comments yet, add one below.