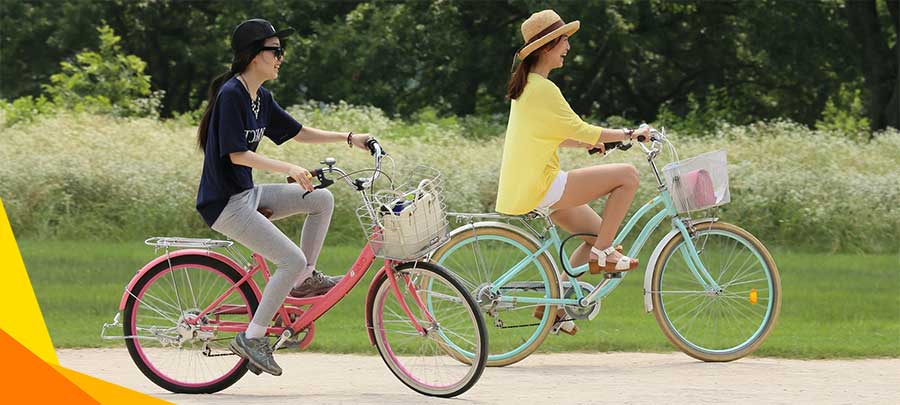 Finally, you can zip around town, commute to work, get fit, and participate in weekend group rides on one of the best hybrid bikes for women we'll show you below.
Hybrid bikes are the most versatile and the most popular kind around. If you want to buy a bicycle but you don't know exactly what type you need, chances are you will be more than happy with a hybrid.
Hybrid bicycles take the best traits of road bikes and the best traits of mountain bikes, blending them together in a comfortable, zippy, upright, and affordable package. As such, some models are more similar to road bikes, making them better for smooth, paved roads; other models are more similar to mountain bikes and better suited for mixed terrain.
Common Features Found On Hybrid Bikes
---
Hybrid bicycles nearly always come with flat bars.
They typically have aluminum frames with a relaxed, upright geometry.
Hybrid bikes usually have 28c to 38c tires—wider than road bikes, but narrower than mountain bikes.
Most modern hybrid bikes come with mechanical or hydraulic disc brakes, depending on the price.
You can also expect a wide range of gears and numerous eyelets to attach fenders, racks, and other accessories.
---
In this article, we'll take a look at the best hybrid bikes for women that money can buy. Our list includes a variety of models suitable for different uses, as well as a mixture of price points that fit everyone's pocket.
But, before we show you our top picks, let's answer one common question…
Can Women Ride Men's Bikes?
Bicycle brands usually advertise men's and women's bikes as completely different and unique. This makes riders believe that they can only ride one kind or the other, which drives sales up but is not 100% true.
We believe that all bicycles are UNISEX.
That means that, with small tweaks, women can comfortably ride any men's bike and vice versa.
Related: Men's vs Women's Bikes
Men's and women's bodies are built differently, so male and female bicycles do have some slight differences. These usually concern the geometry of the bike and some parts, such as the saddle. But these are far from dealbreakers.
Most often, women can ride men's bikes without making any changes, while sometimes small tweaks and adjustments are necessary. Though these are usually necessary with any new bike that you buy, unless it is custom-tailored to your body, so there's no big difference for the average rider.
On to the best hybrid bikes for women.
Ride1UP 700 Series ST
MSRP $1,695
Ride1UP 700 Series is one of the best affordable hybrid bikes for women and, on top of that, it is electric. This is the company's best-selling model as it offers the best bang for your buck.
Ride1UP 700 Series is a Class 3 e-bike, so it can assist you up to 28 MPH. It's available with a step-through (pictured above) and a step-over frame, so choose whichever you prefer.
Lightweight aluminum frame with a 100mm suspension fork.
Powerful 750W motor and a high-capacity 624Wh battery.
The step-through model has a swept-back handlebar that improves the riding position.
Wide 27.5″ tires guarantee a comfortable riding experience.
Ride1UP 700 Series will make you fall in love with cycling if you haven't already. Its 750W rear hub motor makes it easy to pedal no matter the gradient and the 48V15ah battery will give you a range of 30-50 miles, which is enough for an entire day of riding.
If you plan to commute year-round, we recommend paying $100 more and getting the rear rack and fenders upgrade, which the stock version does not include. However, you'll get bright front and rear lights and a kickstand, which are indispensable on urban rides.
For just $1,695, Ride1UP 700 Series also comes with Tektro hydraulic disc brakes, a Shimano Acera drivetrain, and WTB Groov-E 27.5″ x 2.4″ tires.
To sum up, if you need a reliable and affordable women's hybrid e-bike to ride on paved and unpaved roads and replace your car, you can't go wrong with Ride1UP 700 Series.
Rad Power Bikes RadCity 5 Plus
Rad Power RadCity 5 Plus is a popular Class 2 electric comfort cruiser able to serve a variety of purposes. Its low-step frame makes it an easy-access option and powerful electric parts make it ideal for everyday commutes and running errands around the city.
Comfortable low-step frame made from aluminum.
Powerful 750W direct-drive motor and a high-capacity 672Wh battery.
Lights, fenders, a rear rack, a kickstand, and additional eyelets
Pedal-assist and throttle functions.
Rad Power Bikes are an excellent gateway into urban cycling for those looking for affordable options. RadCity5 Plus has an attractive price, good design, and excellent components.
The 750W brushless geared hub motor is one of the strongest in class and the 672Wh battery is among the biggest ones around. Plus, the addition of the throttle makes it easy to get the right amount of assistance no matter the terrain.
This bike offers a lot of practicality through the accessories that it carries. These include fenders, a rear rack, a kickstand, and front and rear lights. Additionally, you can add many others to personalize the bike to your needs.
The 27.5″ x 2.0″ tires are on the thinner side, giving it a classical city-bike look, whereas the mechanical disc brakes offer great stopping power.
In our opinion, RadCity5 Plus is one of the best hybrid bikes for women with an e-motor that you can get at this price.
Co-op Cycles CTY 1.1 Step-Through
Co-op Cycles CTY 1.1 is one of the cheapest women's hybrid bikes on our list, perfect for riders with a tight budget and reasonable expectations. This bike is an excellent choice for regular, short urban forays, but don't expect top-end performance.
Built around a lightweight and streamlined step-through aluminum frame
24 speeds with a mix of entry-level Shimano components
Tektro mechanical disc brakes
CTY 1.1's 700c x 40mm tires provide confidence and comfort
Co-op Cycles offers a huge variety of affordable hybrid bicycles, CTY 1.1 being one of the cheapest and most accessible of those.
This is one of the best hybrid bikes for women that are new to cycling or don't plan to cover huge distances every single day. There's no doubt that this is a well-built bicycle that will last, but it lacks some speed and efficiency on long rides.
CTY 1.1 features all the components you'd expect to see on a typical hybrid bicycle: flat bars, 24 wide-range gears, disc brakes, versatile tires, and eyelets to mount accessories. Unfortunately, this bike does not come with any accessories out of the box, but you can easily mount fenders, lights, a rear rack, and a water bottle cage.
This bike has a 300 lb. total weight limit, as well as puncture-resistant tires, so you can pack it up and go without worrying about dealing with flats.
CTY 1.1 weighs just 26.8 lb., so it's a good choice for petite riders or those who need to carry their bike up and down the stairs before and after riding.
Sixthreezero Reach Your Destination
Sixthreezero Reach Your Destination is a versatile and practical hybrid bicycle that's perfect for women who want to commute to work, take their kids to school, or take all of the groceries back from the store. This is an affordable bicycle, but it comes with surprisingly good components and design solutions considering the price.
Lightweight aluminum frame for stability, comfort, and ease of use.
700C wheels make it fast to move around.
The Shimano drivetrain provides 7 easy gears.
Alloy V-brakes stop the bike with ease even when fully loaded.
Sixthreezero Reach Your Destination is one of the best hybrid bikes for women who are constantly on the go but don't want to drive their car everywhere. This is a fun, good-looking bicycle with great accessories that make it suitable for different terrains, weather conditions, and purposes.
Reach Your Destination sports a pair of color-matching fenders that will protect you from water and grit when it starts raining. It also features a heavy-duty rear rack, as well as a kickstand for making quick stops.
The 35mm tires on this hybrid bike are pretty wide, which is good news considering it is made for comfort and city riding. You can pack it heavy and even make a short off-road detour.
Reach Your Destination comes with 7 easy gears which is perfect for climbing hills and going fast on flat roads. However, keep in mind, that you will struggle going up very steep hills unless you are a strong rider.
You can buy this affordable bike if you need practicality, style, and ease of use in your daily life.
Cannondale Treadwell Neo 2 Remixte
MSRP $1,925
Cannondale Treadwell Neo 2 is a comfortable and fast hybrid bike, that surprisingly is an electric bike too. The bike is pretty customizable and comes in either a mint or a stunning and rich green paint job.
Stylish women's hybrid bicycle for everyday use
Hydrive MRC-250 250W motor and and 250Wh battery
650b 47mm tires
7-speed drivetrain and mechanical disc brakes
As we mentioned, the Treadwell Neo 2 is an electric bike. On first look, there's no indication of this. The Hydrive MRC-250 250W motor and a 250Wh battery will provide more than enough power for commuting.
It comes with a 7-speed microSHIFT groupset, which is perfect for city riding. Mechanical disc brakes take care of stopping the bike.
While this bike comes without accessories, there are cargo and rack mounts on the bike, so it is easy to customize.
Cannondale Treadwell Neo 2 will offer quality rides for many years to come!
Co-op Cycles Generation e1.2
MSRP $1,899
The Co-op Cycles Generation e1.2 is a city electric bike suitable both for men and women. It comes equipped with high-quality Bafang electric components that will make quick work of any hill you run into on your morning commute. It combines low price with Co-op Cycles' reliability.
Related: Co-op Cycles Generation e Series
Bafang 350W motor and a 48V/14Ah battery.
The low-step aluminum frame.
Pedal assistance in combination with the 7-speed Shimano drivetrain makes it a breeze to ride anywhere.
Estimated range of 40-50 miles.
Generation e1.2 is a high-grade electric hybrid bike that can be ridden by both men and women. However, its low-step frame makes it more suitable for female riders and also can be used as an excellent city and commuter bike.
This is a complete e-bike that's compatible with all the bells and whistles you need to ride it every day, no matter the conditions—front and rear rack and lights. Great for not just fun miles out with family and friends but also very practical for carrying goods.
Generation e1.2 has a low down weight and also small wheels. This makes the bike feel super nimble and it's very fun to use and control.
Co-op Cycles' Generation e1.2 also boasts sophisticated hydraulic disc brakes with large rotors and a decent entry-level Shimano 7-speed drivetrain.
With this best hybrid bike, you'll fall in love with cycling all over again, as it will do all the hard work for you if you want it to.
Electra Townie Go! 8D
MSRP $2,450
The Electra Townie Go! 8D e-bike takes commuting and leisure riding to the next level thanks to its supremely relaxed geometry and Bosch electronics that give the much-needed extra push. It's one of the best hybrid bikes for women and the rest of the family.
Super-wide 26 x 2.35″ tires offer all the comfort and grip you need.
The Bosch mid-drive motor will help you go faster and ride further.
Electra Townie Go! features mechanical disc brakes and Shimano components.
This bike comes equipped with all the necessary accessories.
Related: Best Bike For Women (All Types)
Electric bicycles have removed a lot of the barriers that are used to stop ordinary people from riding. The Electra Townie Go! 8D electric hybrid bicycle is ideal for women who are either new to cycling or simply don't want to get drenched in sweat when riding up a steep hill.
The Bosch Active Line 250W mid-drive motor will provide pedal assistance up to 20 mph, while the 400Wh battery will ensure 20-70 miles of range.
Electra equipped this bike with a Shimano Acera 8-speed rear derailleur that requires little maintenance and makes it super easy to shift gears. The 8 available gears will make pedaling easy and make it possible to ride the bike even when the batteries are dead.
In addition to that, you'll also like the performance and ease of use of the mechanical disc brakes, as well as the bright front and rear lights for nighttime riding. If you plan to ride in bad weather or carry additional luggage, it's good to know that you have all the accessories to do so anytime.
Rad Power Bikes RadRunner Plus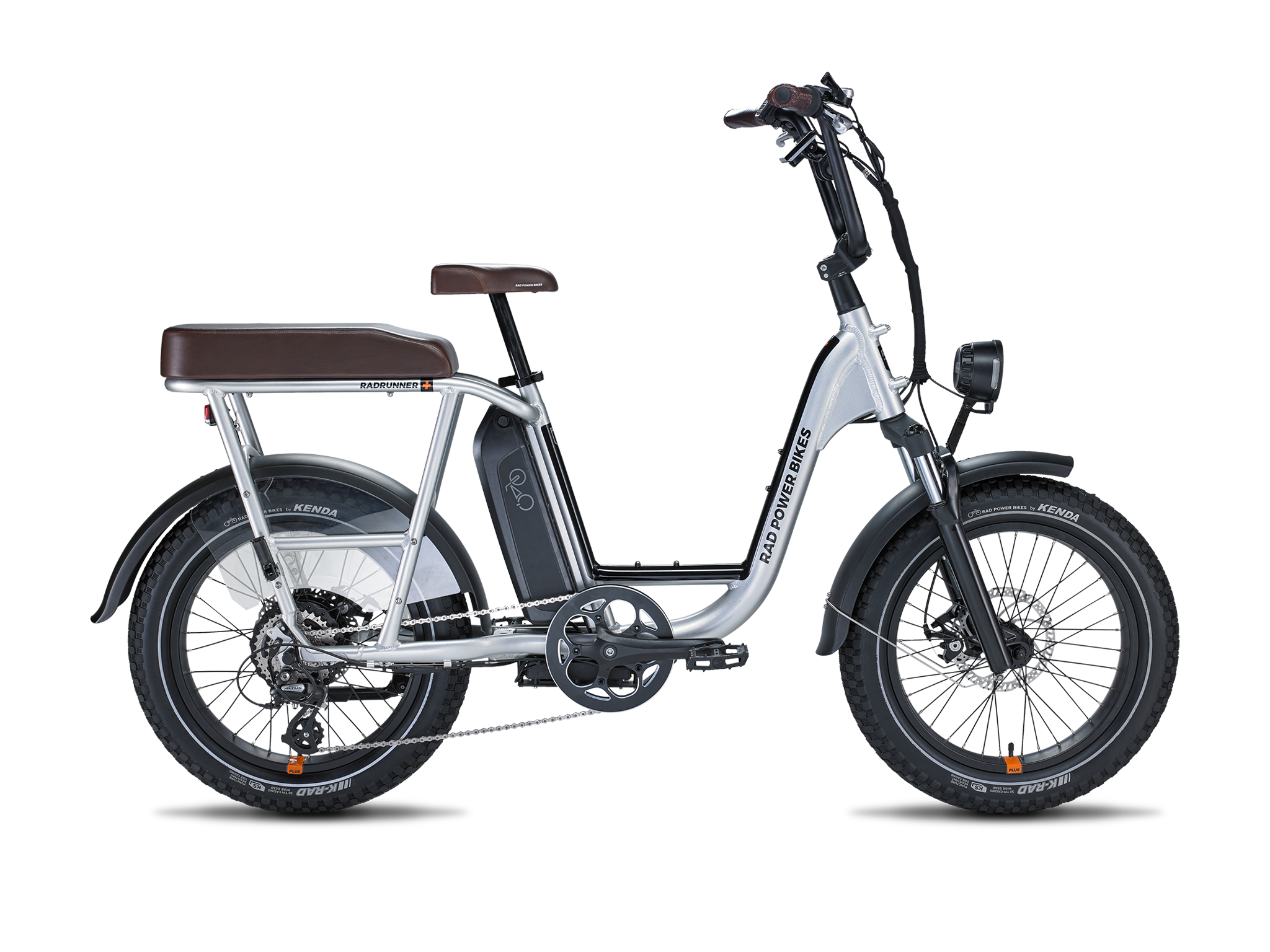 MSRP $1,799
RadRunner Plus is an electric utility bike, designed for everything from taking kids to school to grocery runs.
Simple aluminum frame
750W brushless geared hub motor and a 672Wh battery
Lightweight construction
Cargo design
Rad Power Bikes is a USA-based company well-known for packing their bikes with an unprecedented bang for the buck. The RadRunner is one of their best-selling hybrid e-bikes.
This bike offers a step-through design, coupled with a passenger seat on the rear rack. The rear rack is similar to cargo bikes, and the seat can be adjusted to align with the passenger seat.
The RadRunner Plus uses a Shimano Acera groupset, which is a nice touch. Coupled with mechanical disc brakes and 80mm of travel this bike is ready for lighter off-road adventures as well.
If you ride it on paved roads, you'll like Kenda's efficient 20″ x 3.3″ tires. The disc brakes are pretty much a standard on e-bikes nowadays; this time, they're mechanical.
RadRunner Plus, in our opinion, is one of the best hybrid bikes for women on a tighter budget who want to commute, get fit, or just spend more time outside.
Priority Turi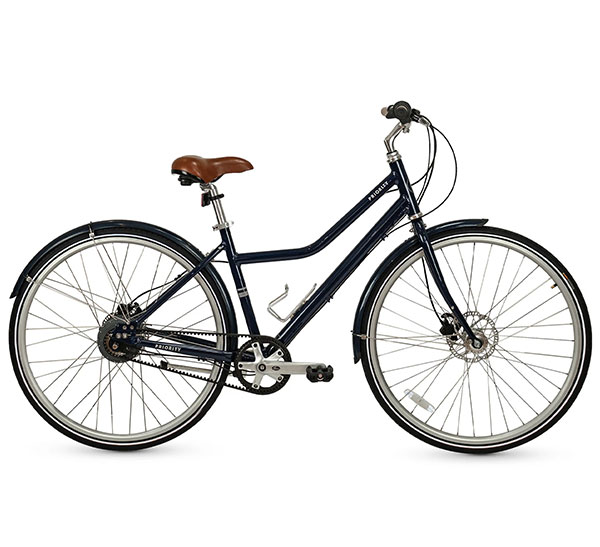 MSRP $899
If you're a fan of retro design, Priority Turi is one of the best hybrid bikes on this list for you. This is an affordable and stylish bicycle with a maintenance-free approach and some surprisingly good components considering the price.
Rustproof and ultralight low-step aluminum frame.
Gates Carbon Belt Drive.
Hydraulic disc brakes.
Comfortable, upright design
Priority Turi is everything a bicycle should be. Describing it with any modern-day adjectives feels a bit redundant. This is a straightforward, no-fuss, commuter machine that will get the job done without robbing you of time, money, and nerves.
Priority Turi comes with a simple step-thru aluminum frame painted in retro blue color and fitted with fenders. Instead of a chain, it has a Gates Carbon Belt that requires no maintenance. It's connected to the sealed enviolo City CVT rear hub with a 310% range. That's more than enough for relaxed urban riding and moderate hills.
This city hybrid bicycle also features maintenance-free hydraulic disc brakes and puncture-resistant tires. Both of these features are a must for daily commutes.
The setup includes a kickstand and a water bottle cage, but you can fit other accessories, such as a rear rack to carry more things.
If you love riding but hate doing maintenance work, Priority Turi is a great choice for you.
Schwinn GTX
Schwinn is one of the oldest bicycle manufacturers in the world. Even though they've recently lost some of their original fame, they still know how to make a good bike that does not cost an arm and a leg. Schwinn GTX is an entry-level women's hybrid bike ideal for mixed riding and relaxed outings.
Schwinn GTX is made around a dual-sport step-thru aluminum frame with a suspension fork.
The bike features 21 gears which is enough for most average riders.
Mechanical disc brakes offer good stopping power but require a bit more finger pressure to actuate.
Multi-use tires and double-wall rims provide good performance both on and off paved roads.
Read our full review of Schwinn Bikes
Schwinn GTX is a budget-friendly hybrid bike with pretty basic components intended for everyday use. This is not a performance-oriented bicycle, but it will get the job done if you want to commute, ride to the store, to the shop, or up and down a bike path on the weekends.
It's built around a lightweight aluminum frame but features a rather heavy suspension fork. However, the suspension, in combination with wide multi-sport tires, makes the GTX a comfortable ride.
This bike comes with 21 speeds provided by an entry-level drivetrain and mechanical disc brakes, which is a nice surprise at this price.
GTX does not come with any accessories out-of-the-box, but you can easily add fenders, lights, a kickstand, and even a rear rack. This will make the bike more practical for everyday use.
Royce Union RMY
Last but not least, Royce Union RMY is one of the best-looking and most feminine hybrid bikes on this list. This is an entry-level bicycle, which makes it a good buy for women who are still new to the sport or simply don't plan to ride their new bike too hard.
Easy to mount and dismount aluminum step-through frame.
Versatile 700c tires with durable aluminum rims.
Shimano derailleurs offer 21 wide-range gears for varying terrain.
Alloy V-brakes and suspension fork make this bike a good choice for mixed surfaces.
Royce union is a well-known contender in this price range. We've included it in many of our previous reviews as its bikes look good and offer decent bang for the buck. The same is true for the RMY hybrid bicycle model.
This bike rolls on sleek yet wide tires, so it's suitable for paved and unpaved roads. You can combine a commute through the town with a gravel outing to get to your home if that's what your usual route entails.
Moreover, the 21 gears are an improvement to the usual 7-gear setup on similar bikes. You'll get more range that will allow you to pedal more efficiently, especially uphill.
We like that Royce Union went the way of V-brakes. They might not be as powerful as disc brakes, but they are cheaper and a lot lighter. The suspension fork is heavy, but you'll like the added comfort it provides.
Get Royce Union RMY if you don't want to spend too much but need a dependable bike that you can use to commute every day.
Bottom Line
Have you found a bike that fits your needs? Our list of the best hybrid bikes for women includes models in different price ranges, intended for different types of riders.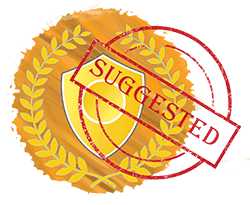 As you can see, most hybrid bicycles are not too expensive, they look good, and emphasize comfort and practicality. If these are things that matter to you in your daily life, we'd say you'll be quite happy with one of the models above.
Let us know if you have any other questions about women's hybrid bikes in the comments below. We're here to guide you and help you get a bike you will ride for years.
There are no comments yet, add one below.