Norco Bikes is Canada's biggest and oldest bicycle manufacturer with a huge fan base around the world. At the moment, they produce close to 150 models, including MTB, gravel, cyclocross, urban, kids, and BMX bikes in their lineup. Are these any good? You'll be surprised by the answer.
Canada is a vast country comprised of different regions with varying climates and terrain. This is what inspires Norco Bikes to design and manufacture bicycles that could flourish in different settings and make a wide array of riders happy.
If you're located in Europe or the USA, Norco might not be your first choice when you start browsing for a new bike. However, it is for Canadians. Do they know something we don't?
In this review, we'll tell you more about the brand, its beginnings, and technologies, as well as their humongous lineup of quality bikes.
Spare a few minutes if you want to learn more in our Norco Bikes review!
About Norco Bikes: Who Are They?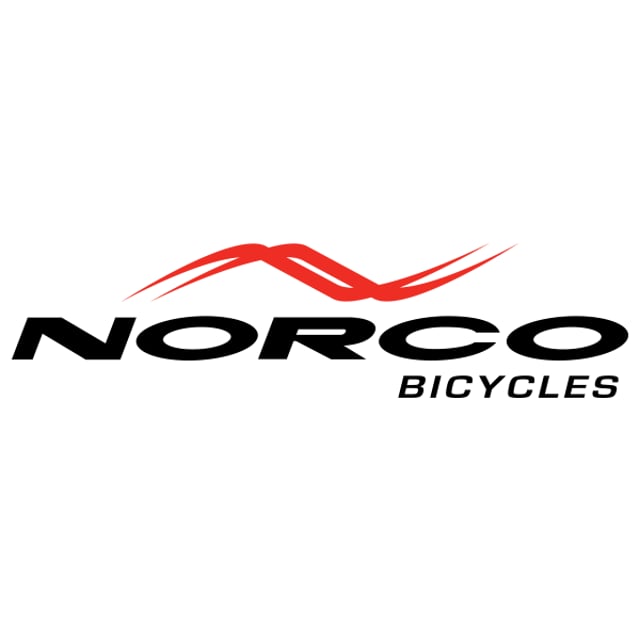 Norco is a popular Canadian bicycle brand that has been around for a long time. The company was established in 1964 in Port Coquitlam, British Columbia, where it is headquartered to this day.
The company was founded by Bert Lewis in a converted chicken coop in a rural area. Most bike companies start in parents' garages, but Norco had an even rougher start.
Against all odds, Norco's first bicycles became a big success and the company kept growing bigger and bigger.
Interestingly, Norco was one of the original manufacturers of 10-speed bikes and helped popularize BMX bicycles. In 1973, they built their first full-suspension BMX bicycle, in 1975 their first 10-speed drop bar road bike.
In 1984, Norco also became one of the first manufacturers of mountain bikes on the North American market, including North America's first front suspension-specific MTB—the Norco Rampage.
They began selling bicycles worldwide in 1995 and the rest is history. Today Norco has close to 150 models sold in all parts of the world.
Norco's Unique Design Approach
Norco takes a unique design approach when it comes to developing and manufacturing their bikes. This includes a careful selection of materials, a stringent engineering process that aims to provide the best fit for all riders, as well as the development of advanced technologies to improvise the ride quality and feel.
Here are a few of Norco's most important design approach highlights.
Gravity Tune
The easiest way to develop a bike frame is to design the geometry in a single frame size and then simply scale it to fit the reach of all other sizes. However, this is not the best way to do it.
Instead, Norco fine-tunes both the reach and the rear-center length, to ensure the best weight distribution for all types of riders.
As both the front and the rear center of the bike grow or shrink with different sizes, riders get better handling and control, as well as a more predictable grip.
Suspension Technologies
Norco's full-suspension mountain bikes are developed with unique layouts for different series, depending on the type. For example, a trail and an enduro bike are very different, and riders have different things in mind when they get on and start plowing the trails.
For that reason, Norco developed the Horst Hanging Link, Horst Rocker Link, and the High Single Pivot (HSP). These suspension linkage technologies aim to provide the best handling, climbing, and descending experience on different types of bikes, such as XC, trail, enduro, or DH.
Rigorously Tested
All Norco bikes are rigorously tested in the Canadian outback during the development process. Canada's wilderness is vast and diverse, so it provides the perfect playground for professional riders to fine-tune Norco's new creations before they hit the shelves.
Norco Mountain Bikes

Of all the different types of bikes Norco makes, mountain bikes are the most plentiful. Norco is a true specialist when it comes to MTBs, offering more than 120 models in the following subcategories:
Downhill
Enduro
All Mountain
Trail
Fat
XC Race
Cross Country
Dirt Jump
No matter if you plan to aimlessly ride around forests and off-road routes in your area or smash singletracks and descents, you will find what you like in Norco's lineup.
But, you don't need to worry about getting lost in all of that choice. Norco has a pretty good system to organize the bikes and divide the range.
For example, their entry-level models start with high numbers and high-end models have low numbers. The flagship model is always indicated with a '1'. Similarly, Norco always adds an S, A or C to indicate steel, aluminum or carbon frames.
Norco's full-suspension mountain bikes are ridden by some of the best off-road racers in the world, frequently helping them to get podium finishes.
If you're just a recreational rider looking to have some fun on the weekends, we recommend the Storm, Fluid, or Revolver series. These are budget aluminum bikes with decent suspension and dependable components.
Related: Review of Norco Storm
If you're more serious about trails, definitely consider Range, Sight, or Optic lines, to name a few. These are collections of mid-range and high-end FS bikes that can shred trails and downhill courses.
Norco also offers a few fat bikes, amply called Bigfoot. These come with or without front suspension and are an excellent choice for backpacking or all-year riding.
Norco Road Bikes

Even though Norco has a subcategory on the website that's called "Road," it does not really contain any road bikes in the pure form.
Instead, these are drop bar bikes intended for gravel, cyclocross, and all-road riding. This does not mean that they can't tackle pavement, but they're not suitable for pure roadies.
The closest models that fit the "road" definition are Section bikes, available with 32mm tires and steel, aluminum, or carbon frames.
Gravel and cyclocross fans will rejoice once they take a look at the impressive range of all-road bikes that Norco manufactures.
Gravel grinders can hop on one of the Search models that are compatible with 650b and 700c wheels and come with steel, aluminum, or carbon frames. The Search XR A model even has front suspension. These bikes are ideal for gravel explorations, gravel races, or bikepacking expeditions.
Pure cyclocross racers don't need to look further than the Threshold series, which is a lineup of fast and aggressive carbon and aluminum CX bikes.
All in all, Norco stays true to the off-road nature of its brand and stays on top of the game even when it comes to new cycling trends.
Norco City Bikes

In addition to performance-oriented bicycles for mountain bikes and gravel/cyclocross racers, Norco also manufactures hybrid and urban bikes. These are aimed toward fitness riders, commuters, and weekend warriors who don't want to break the bank.
Most of these are entry-level and mid-range builds that come with pretty reasonable prices. For example, fitness riders who wish to ride on mixed terrain have a choice of XFR models that come with wide tires and front suspension.
Urban dwellers and city commuters should easily fall in love with the Scene lineup.
Scene series contains step-through models with attractive and modern design, swept-back handlebars, and comfy tires and saddles. Bikes for pure hedonists.
All of Norco's Urban bikes are built around aluminum frames, so there's not much of a choice when it comes to materials. But when it comes to tire sizes, you get to choose from 29″, 700c, and 650b models.
If you simply need a two-wheeler to use and abuse every day on a mix of terrains and in all types of weather, one of the Norco Urban models should definitely do the trick.
Norco Youth and Kids Bikes
In addition to adult bikes, Norco also makes bicycles for young riders. They organize these into Youth and Kids models, depending on the wheel size.
The Youth models are basically scaled-down adult models with 24″ and 20″ wheels. These include Fluid, Storm, Rampage, and Check models, so the selection is pretty decent. Teenagers and school-kids can choose from FS and hardtail bikes, including a few dirt models and fat-tire models.
The youngest cycling fans have a decent choice of bicycles in Norco's lineup, no matter if they are just learning to balance, or are already skilled enough to smash trails.
The Kids Bikes section is comprised of 16″, 14″, 12″, and 10″ bicycles. These include both pedal and balance bikes, which is excellent both for toddlers who are still learning how to ride and for kids who have mastered balancing on two wheels.
Most kids models have wide and stable tires, front and rear brakes, and come in a plethora of fun and bright colors, suitable for boys and girls alike.
Norco VLT E-Bikes
Electric bikes have been gaining more and more popularity in recent years. Riders used to shy away from them because riding an e-bike was considered to be "not pro enough" or "cheating". But that's not the case anymore.
No matter if you're recovering from an injury, need some assistance due to old age, or simply don't want to grind up steep climbs, Norco's e-bikes are a good choice for you.
Norco offers many of its top-end MTB models with electric motors, so you'll not sacrifice any on-the-trail performance. You'll just get pure electric gainz.
Norco caters to the needs of both hardcore mountain bikers and casual riders by offering a large number of E-MTB and E-Urban models.
Norco E-MTB
At the moment, the series that are available in e-version include Range, Sight, Bigfoot, Fluid, and Charger. Therefore, you get a good selection of enduro, trail, XC, and fat e-bikes to choose from.
These are mostly paired up with Shimano STEPS motors and high-capacity batteries, so you won't need a chairlift to get to the top of the descent most of the time.
You can choose between hardtail and full-suspension models, with 29″ or 27.5″ wheels. The full-suspension models are powered by Shimano's flagship EP8 drive units and let you choose between 540Wh, 720Wh, or 900Wh in-tube batteries.
The hardtail models have slightly less powerful Shimano STEPS motors and 500Wh – 600Wh removable batteries. These are still pretty good components that deliver a smooth pedal-assist experience and a long range.
Norco E-Urban
In addition to e-MTBs, Norco also offers e-Urban bikes. These are flat-bar models equipped with multiple accessories and suitable for city riding.
At the moment of writing this review, there are three models to choose from:
Scene VLT
Indie VLT 1
Indie VLT 1 ST
These models are ideal for commuters and urban-dwellers who live in a hilly or windy area and need a smart way to commute to work or move around the city.
Norco's E-Urban bikes are propelled by Shimano STEPS mid-drive motors and have high-capacity batteries (504 Wh). Therefore, they'll help you climb a local hill with more ease and allow you to get to your destination without being drenched in sweat.
What's also interesting about these e-bikes is that they are equipped with accessories. The Scene VLT model only has a kickstand, but the Indie models also feature lights, fenders, rear racks, and front suspension.
---
Norco Ride Aligned™ System
Norco develops their high-end bikes with the Ride Aligned design system in mind. This is a unique approach to bike design that matches each individual bike to the person who rides it.
Ride Aligned takes into account your height, weight, gender, skill level, and body type. It then determines what size bike you need, what tire pressure you should use, how to fit the bike to your build, and how to set up the suspension.
The models that are designed in line with the Ride Aligned System include the following lines:
Optic
Sight VLT
Range VLT
Revolver FS
If you own one of these models, you can use Norco's Bike Setup Guide to find the right fit and dial in the correct setup. You'll be asked about your height, weight, and gender, which is going to be enough to receive all the info you need. You can then use a slider on the left to choose your skill level, which will affect the recommended setup.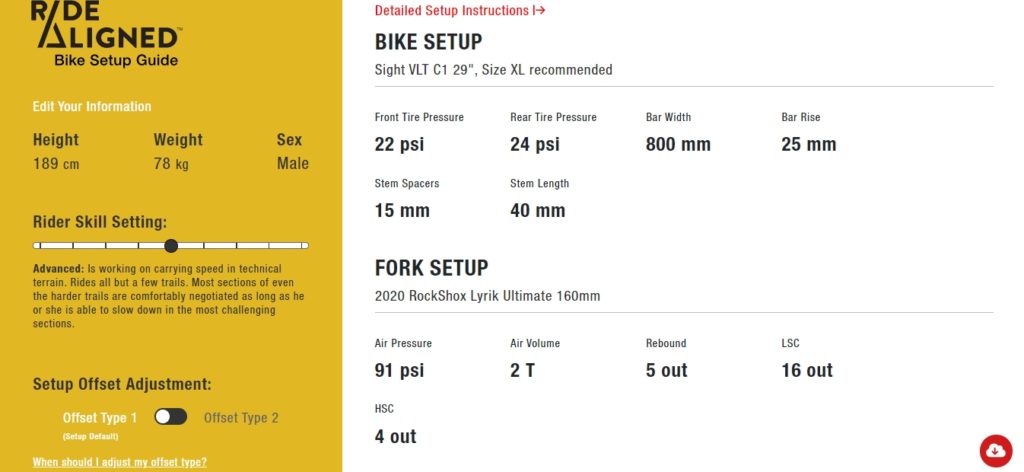 Norco claims that riders will be amazed at how confident their turns and descents are once they set up their bike using the Ride Aligned method. So, give it a try.
---
FAQ