Bike groupset hierarchies can be a confusing topic, especially when you're new to the sport. Choosing the right one for your needs and determining the best value for the money will give most people a headache. Our detailed guide to Shimano, SRAM, and Campagnolo groupsets is here to help you out and explain everything.
Shimano, SRAM, Campagnolo… Groupset, gruppo... 105, Ultegra, XT, XTR, RED, Force, Chorus, Super Record… If these words make little sense to you and sound as if we've just cast a spell, don't worry, things will become clearer soon.
In this guide, we'll tell you everything about bicycle groupsets from the three biggest brands, explain the hierarchy of road and MTB groups, and answer the most important questions.
So, let's start with the biggest one.
What Is a Groupset?
A groupset, group, or gruppo are terms used to describe a collection of parts that make up a bicycle's drivetrain. This includes front and rear derailleurs, shifters on the handlebars, cassette, crankset, bottom bracket, and the chain. Most of the time, the brakes and brake levers are also part of a specific groupset.
Related: Bike Brakes Explained
When buying a bike, the bike groupset is one of the most important things to consider, as it is predominantly this collection of parts that will determine the total price of your bicycle, in addition to the frame and the wheels.
Groupsets differ in terms of build quality, weight, materials used, performance, and the number of gears. When it comes to price points, you get what you pay for; but, with high-end groupsets, you're mostly paying for marginal gains that come from weight savings.
Two Main Brands – Shimano & SRAM
Shimano and SRAM are the world's leading groupset manufacturers. SRAM is a USA-based company, whereas Shimano is based in Japan. Both manufacturers make groupsets for road bikes and mountain bikes, which are available all around the world.
Both Shimano and SRAM have large hierarchies of bike groupsets suitable for beginners, intermediate riders, and professional cycling athletes.
Of the two, Shimano is a lot more dominant on the market, though SRAM is slowly shifting its focus onto the high-end road and cyclocross bikes, as well as gravel bikes.
We'll explain both Shimano groupset hierarchy and SRAM groupset levels in more detail shortly.
.
Campagnolo
Campagnolo is the third biggest bicycle groupset manufacturer in the world, coming from Italy. We've decided to write about it separately because its share of the market is much lower than Shimano's and SRAM's.
Nonetheless, "Campy" is still a very popular and iconic brand, especially among cycling enthusiasts and professional cyclists who appreciate the company's history, tradition, and artistic approach to cycling.
Unlike Shimano and SRAM, Campagnolo produces only road-specific groupsets and offers no mountain bike groupsets. However, have a gravel bike groupset, called Ekar.
MTB Groupsets

In this part, we'll cover Shimano MTB hierarchy and SRAM MTB groupset hierarchy. Both manufacturers have around a dozen different bike groupsets, with the addition of several specialist groups, such as for DH riding.
The lists are organized from low-end to high-end groups, from cheapest to most expensive.
Shimano Mountain Bike Groupsets
Shimano MTB groupset hierarchy can be classified into three subgroups—recreational, intermediate, and professional. These differ in the type of materials used, weight, number of gears, performance, durability, and intended use. The hierarchy starts with Tourney and ends with XTR and XTR Di2.
Tourney
Shimano Tourney is the company's cheapest and most basic bike groupset available. It's available in a few variations, such as Tourney TZ, Tourney, Tourney A070, and Tourney TX. It is intended for leisure and recreational riders whose needs are not very high and expectations are low. Shimano Tourney is also often seen on kids' bikes.
The components are mostly made from plastic and steel which makes them the heaviest around. At this level, you can expect to get a grip or a thumb shifter and 3×7 gears, neither of which is suitable for serious off-road riding.
Altus
Altus is another entry-level bike groupset that sits slightly higher than Tourney in terms of quality. It is often seen on recreational and budget mountain bikes. Altus is not intended for serious off-road riding, but it can definitely handle recreational off-road use.
Altus groupsets are available with 3×7, 3×8, or 3×9 drivetrains, as well as with 2×9 drivetrains. They're paired with RapidFire trigger shifters and the group also includes mechanical and hydraulic disc brakes.
Acera
The Acera groupset is very similar to Altus in appearance, the number of gears, and the intended use. It's usually available with 3×8 or 3×9 drivetrains, as well as with a 2×9 setup.
Acera is the group where we start seeing more aluminum instead of steel. This brings the weight down and increases durability thanks to aluminum's rust-free features. It includes hydraulic disc brakes, but it is still not considered a proper off-road training group.
Alivio
Alivio is the best you can get from Shimano's groupsets intended for beginner and recreational riders. This group is intended for off-road use, but it's still considered entry-level. It's substantially more rust-resistant than a cheaper groupset and offers a lot better shifting performance and feel.
However, it also has some major limitations compared to its more expensive siblings. For example, it lacks a clutch and only offers 2×9 and 3×9 gearing options. That's why serious riders steer clear of it, but recreational riders will find the best bang for the buck in it. The Alivio group also includes V-brakes and hydraulic disc brakes.
Deore
Deore is the first groupset that offers a clutch-enabled rear derailleur which makes it the cheapest group marketed toward real mountain bikers. At the moment, there are three Deore series—M4100, M5100, and M6100—with 10, 11, and 12 speeds, respectively.
Deore is reliable, durable, well-built, and shares numerous mechanical and design features with more expensive SLX and XT groups. It is often seen on mountain bikes that cost around $1,000. The M4100 and M5100 series can be ridden as 1x or 2x setups, whereas the M6100 series comes as a 1×12 setup.
SLX
SLX is basically the most value you can get for your money if you're a performance-oriented mountain biker who doesn't want to break the bank. This is a durable group built to be abused, much like the Shimano 105 in the road biking groupset hierarchy.
SLX is aimed towards serious mountain bikers or off-road riders (such as bikepackers), who can get it with a 1x or a 2x crankset. SLX is slightly heavier than XT or XTR groups but offers similar shifting performance.
Deore XT
Deore XT is probably the most popular mountain biking groupset. It is seen on the majority of mid-range bicycles used by intermediate racers in the MTB world. Deore XT is jam-packed with pretty much all the technologies the XTR group comes with. However, it weighs more than XTR which is why it also costs a lot less.
Deore XT is extremely durable and well-made, incorporating heavy use of rust-free aluminum and high-quality stainless steel materials. You can get it as either a 1x or a 2x setup, with 12 or 24 gears. Deore XT uses Shimano's Hollowtech crankset technology which saves a lot of weight compared to the lower groups. This groupset also includes hydraulic disc brakes and a selection of tubeless wheels.
Deore XT Di2
Deore XT Di2 is the electronic version of the XT groupset. Instead of cables, the front and rear derailleurs work wirelessly. At the moment, the M8050 series only supports 1×11 and 2×11 gear combinations, but shifting is superior to the mechanical version.
The only downside of this group is that it is slightly heavier than its mechanical counterpart. However, the shifting performance is seamless and it is not affected by external factors such as rain, mud, or dust. Once you adjust the shifting once, the derailleurs will work smoothly with next to zero maintenance.
XTR
XTR is the best of the best when it comes to Shimano's mechanical mountain biking groupsets. It is the holy grail of professional mountain bikers who want the best possible shifting performance and feel.
Shimano XTR is the lightest MTB groupset thanks to the fact that it uses a mixture of carbon fiber, titanium, and high-grade alloys to bring the weight down. This also brings the durability up as it makes the XTR group completely rust-free.
Shimano XTR's RapidFire Plus shift levers use internal bearings to provide the best possible operation. XTR incorporates the HYPERGLIDE+ system that lets riders pedal continuously while maintaining smooth shifting, which is crucial when racing.
At the moment, the XTR M9100 series comes as a 1×12 or a 2×12 setup, and it also offers a dropper post and hydraulic disc brakes.
XTR Di2
If you have money to spare and you're after the best electronic shifting experience in the MTB world, things can't get much more exciting than XTR Di2.
In terms of materials used, durability, and build quality, the XTR mechanical and electronic groupsets are pretty much the same. However, instead of on cables, XTR Di2 relies on wireless technology.
This is an 11-speed groupset, though, so if you want to get 12 speeds (and achieve some weight and financial savings) you should purchase the mechanical XTR group.
Downhill Groupsets
Zee
Shimano Zee is a downhill-specific bike groupset that perhaps not all riders have heard about. It's marketed as a DH group, but in reality, it can have a wider range of applications, such as DH, freeride, enduro, and trail.
In terms of quality build and shifting performance, Zee sits somewhere in line with SLX, so it's intended for enthusiasts. If you're a newcomer to gravity riding, Zee is a good place to start.
This is a 10-speed group, which is considered to be a bit outdated nowadays, but Zee brakes are still very competitive in the DH world.
Saint
Last but not least, Saint is the top-of-the-line choice for gravity riders. Its quality and performance are comparable to the XTR group, but it is built specifically for downhill, freeride, and enduro racing.
The current Saint groupset series offers 10 speeds in a 1×10 configuration. The most exciting part of the groupset is the brakes which feature Shimano's Ice Technology. It keeps the brakes cool for longer, ensuring consistent, responsive, and powerful braking.
SRAM Mountain Bike Groupsets

SRAM has an even bigger offering of MTB groupsets than Shimano, as you can see below. However, some of these are not considered to be complete groupsets.
Just like Shimano, SRAM has a rich offer for cyclists of all levels, including recreational, intermediate, and professional racers.
X3 and X4
SRAM X3 and X4 are the cheapest and most basic of all MTB groups this brand has to offer. They're not considered to be complete groups because they consist only of shifters and rear derailleurs.
Both of these groups are characterized by heavy use of plastics and low-grade alloys that make them quite heavy. They're intended for recreational use and are not recommended for true trail riding.
X3 and X4 offer 7, 8, or 9-speeds on the rear mech and are frequently seen on budget and kids' bikes.
X5
X5 is the first complete groupset in SRAM's hierarchy. It is an entry-level group, but it is considered to be trail-ready and is often seen on entry-level bikes costing around $500.
This group still doesn't incorporate heavy use of rust-free materials, but it is built with substantially higher-grade alloys and higher-quality plastic.
The rear mech is compatible with 7, 8, 9, or even 10-speed cassettes, which makes it attractive for aspiring trail riders who don't want to break the bank.
X7
The X7 is SRAM's first proper trail group as it comes with a clutch, which is not available with the X5 group. It helps retain chain tension on rough terrain and prevents chain slippage.
This is a 10-speed groupset that can be combined with a 2x or a 3x crankset from the same group. X7 is also better than X5 because it is compatible with the MatchMaker system which uses one clamp to secure both derailleur and brake levers.
X7 is no longer used as frequently as before. It is usually being replaced by SRAM's more modern 1×11 or 1×12 groups.
SX Eagle
This is SRAM's cheapest ticket to the world of 1×12 drivetrains. Though entry-level, this is an MTB groupset intended for real trail riding. The 1x cranks with 30, 32, or 34 teeth are paired up with 11-50 cassettes, offering a massive gear range close to 500%.
The SX Eagle groupset is also jam-packed with numerous technologies such as a clutch, Cage Lock (for easy wheel removal), X-Actuation, X-Horizon, X-Sync, and of course Eagle.
It's great for riders on a budget who want the benefits of a 1×12 drivetrain.
NX
NX is SRAM's most affordable 1×11 groupset. It shares most technologies seen on the SX Eagle group but has a lower gear range. The maximum teeth the rear mech can handle on the cassette is 42T. However, the cranksets are available with 28T, 30T, 32T, 36T, and 38T, which gives a lot more diversity.
This group is usually seen on $1,000 bikes.
NX Eagle
The NX Eagle group is another 12-speed groupset that sits in-between the entry-level SX Eagle and the mid-range GX Eagle groups. Therefore, it is mostly seen on trail bikes around the $1,500 price category.
NX Eagle's rear derailleur incorporates SRAM's X-Horizon tech, as well as the new Type-3 Roller Bearing Clutch technology. It can easily facilitate 11-50 and 10-50 gear ratios.
GX
GX is SRAM's do-it-all groupset. It provides the most versatility, as it comes in 1×11, 2×10, and 2×11 configurations. Therefore, it's pretty much aimed at replacing the outdated X7 and X9 groups.
The cassettes come in 10-42T, 11-36T, and even 11-23T variations. However, the first one is the most popular on mid-range trail bikes.
GX incorporates heavier use of lighter alloys, such as aluminum, which is what sets it apart from the cheaper 1x groups.
GX Eagle
The 1×12 GX Eagle groupset has been updated in redesigned in and is even better now than before. The biggest update is the biggest-so-far 10-52T cassette with a staggering 520% gear range.
After the update, the GX Eagle group also received a carbon crankset that sheds down weight, even though it is still heavier than the ones available with higher-end groups. The aluminum crank is still available as well.
GX Eagle is pretty comparable to X01 and XX1 groups in terms of performance. However, it comes with a weight penalty because it uses some heavier materials.
X01
X01 is the high-end 1×11 groupset incorporating carbon fiber materials. It uses a lightweight 10-42T, 11-speed cassette, and is considered the go-to choice for trail, enduro, and XC racing styles.
This bicycle groupset includes all the technology you need to pedal hard, such as cage lock, roller bearing clutch, x-actuation, x-horizon, and x-sync.
It's ideal for riders who want top performance but don't mind the slight weight penalty.
X01 Eagle (& AXS)
The X01 Eagle bike groupset used to sit at the top of SRAM's MTB hierarchy until it was replaced by XX1 Eagle. This group is available with mechanical and electrical shifting, the latter being called AXS.
After the latest update, the X01 Eagle groupset now features a 12-speed cassette with a 10-52T gear range. That's 520%!
X01 Eagle is considered to be a premium groupset, as it is built with a mixture of high-end aluminum, CNC-machined steel, and carbon fiber materials.
XX1
SRAM's XX1 group is the holy grail of lightweight bike components for XC racers looking to shed every gram of weight. This is a 1×11 group that uses an 11-42T cassette and shares most of its technologies with the XX1 Eagle group.
It has a Roller Bearing Clutch mechanism, as well as the X-Horizon and X-Actuation technologies. XX1's rear mech incorporates ceramic bearings and a carbon cage, both of which save watts and weight. It's the top 1×11 group you can find.
XX1 Eagle (& AXS)
SRAM's XX1 Eagle bike groupset is the best of the best you can get in the MTB world. It's the latest and most premium 1×12 groupset that saves weight at every possible step. It incorporates heavy use of high-grade alloys and carbon fiber to achieve this.
XX1 Eagle is also available in the AXS version with electronic shifting. It is slightly heavier than the mechanical iteration, but shifting performance and precision is on a different level.
The XX1 Eagle cassette and chain have gold titanium nitride coatings which improve durability. Plus, the newest upgrade gave this group a 10-52T cassette with a 520% range as well.
Special Groupsets
GX DH
The GX DH groupset was designed with gravity riders in mind, specifically for those who shred DH routes. It has only 7 gears and the groupset consists of a rear derailleur, shifter, chain, and the cassette.
X01 DH
The X01 DH bike groupset is a higher-end downhill groupset that's compatible with either a 1×7 or a 1×10 drivetrain. It's aimed toward more experienced DH riders and racers as it offers better performance and more durability.
EX1
This is a unique groupset as it is developed with the growing e-bike market in mind. Electric bicycles put more strain on the drivetrain components because of electric assistance, which is why there was a need for a more robust groupset. EX1 features an 8-speed cassette with a decent range for MTB riding.
Road Bike Groupsets
---
Road bike groupsets are no different than MTB groupsets. They consist of the same parts, including disc brakes, which are becoming more and more common on road bikes nowadays as well.
Shimano's road groups are the most popular choice around, but SRAM and Campagnolo are not far behind with their high-end choices.
Shimano Road Bike Groupsets

The biggest majority of road bikes on the market come with Shimano road bike groupsets. Entry-level models get Claris or Sora, mid-range models end up with Tiagra or 105, whereas high-end bikes usually boast Ultegra or Dura-Ace. Modern gravel bikes boast Shimano's exclusive GRX gravel groupset.
Claris
Claris is Shimano's entry-level group intended for beginner and recreational riders. It comes with a 2×8 drivetrain, but there's a 3x crankset option available as well. The latest R2000 series includes dual-pivot brake calipers, with no disc-brake options available. Claris is the heaviest group as well, using steel, heavy alloys, and plastic in manufacturing.
Sora
The Sora groupset received an overhaul in 2017 with new shifters, brakes, and redesigned rear derailleurs that now look more like higher-end groups. Sora has adopted some technology from higher level groupsets as well, so the R3000 series offers smooth and reliable shifting. It features 9 speeds on the cassette (up to 11-34), paired with a 2x (compact) or a 3x crankset. Its only downside is the 9-speed setup that leads to bigger jumps between gears.
Tiagra
In terms of shifting and aesthetics, the latest Tiagra 4700 sits very close to the Shimano 105 group. However, Tiagra is still a 10-speed group built from more robust materials, which increases its overall weight. Shimano classifies it as a Sports/Fitness/Endurance group and does not recommend it for competition.
The latest model is upgraded with cascaded technology from Dura-Ace and the brakes are now 30% more powerful than before. Tiagra can be used as a 2x or a 3x setup, with drop bars or flat bars, and offers both rim and disc brake options.
105
The 105 bike groupset is by far the most popular and the most prevalent groupset among fitness road cyclists and amateur racers. The newest R7000 series has been improved with trickle-down technologies from Ultegra and Dura-Ace in both aesthetics and mechanics.
This group is Shimano's workhorse, intended for fitness, recreation, and competition. It offers the best value for the money. This is an 11-speed group, available with disc and rim brakes, and only compatible with drop bars.
The cranks are very similar to those on Ultegra, available in three options (54-39, 52-36 or 50-34) and compatible with 11-30 to 11-34 cassettes.
Ultegra (& Di2)
Shimano Ultegra is the favorite option of road bike racers who don't want to go broke with the Dura-Ace group but get most of the weight gains and shifting performance.
The new R8000 series has been enriched with numerous technologies and solutions previously seen on its higher-end sibling. It looks a lot like Dura-Ace, has slimmed-down hoods, a grippy pattern, and heavy-use of light alloys.
Ultegra is compatible with 11-34T cassettes and its brake calipers fit with 28c tires, so it's a popular choice with gravel racers. It's available with electronic shifting as well, dubbed Ultegra Di2.
Dura-Ace (& Di2)
Shimano Dura-Ace is the pinnacle of cycling performance. This bike groupset is used by elite cyclists who race and win Grand Tour races. It's compatible with up to 30T cassettes and takes aesthetic principles from the MTB XTR group.
Dura-Ace is the lightest groupset with a carbon rear mech cage, offering the smoothest and most reliable shifting. The Di2 electronic version offers "synchronized shifting" which controls both derailleurs to prevent cross-chaining.
Dura-Ace R9100 comes with rim or hydraulic disc brakes. Disc brakes use Freza Brake Calipers that dissipate heat and ensure more consistent braking.
Gravel Bike Groupsets
GRX (RX400, RX600, RX800)
The GRX bike groupset is Shimano's latest creation, added to the hierarchy in 2019. It is designed specifically for gravel riding and racing, to meet the needs of the ever-growing gravel market.
At the moment, there are three GRX series available: RX400 10-speed, RX600 11-speed, and the RX800 11-speed Di2 option.
Some features that make it a good choice for gravel riders include grippy levers and hoods, front derailleurs with more outbound clearance, and Shadow RD+ rear mechs that decrease chain chatter.
All GRX series can be ridden as 1x or 2x systems, with 11 or 22 gears, and are available with hydraulic disc brakes.
SRAM Road Bike Groupsets
SRAM's road bicycle groupsets are not as dominant on the market as Shimano's. The only exception is when it comes to gravel bikes, which see a lot of SRAM's entry-level and mid-range groups like Apex, Rival, and Force. Still, SRAM makes high-quality groups and components that are suitable for riders of all levels.
S-Series
The S-Series is the name SRAM uses to group all of its time trial and triathlon components. This group includes components such as bar-end shifters, aero shifters, aero brake levers, trigger shifters, cranksets, brakes, and so on.
Apex & Apex 1
As you'll notice, SRAM does not make 8-speed or 9-speed entry-level groupsets. SRAM's beginner option is the Apex 10-speed group that's available in a 1x and 2x composition.
The available chainsets include 53/39, 50/34, and 48/35, which makes Apex suitable for road and gravel bikes alike. Of course, this is the heaviest road groupset SRAM offers so it's recommended for beginners.
Rival & Rival 1
Like SRAM Apex, the SRAM Rival groupset is available in 1x or 2x configurations. However, this is an 11-speed groupset, which means the maximum number of gears goes up to 22.
The components are still made from a combination of steel and aluminum alloys, but the end product is lighter compared to Apex.
Some technologies seen in this group include Aeroglide Pulleys, Exact Actuation (1:1 shifting), and WiFLi (accommodating 11-32T cassettes). The Rival 1 rear mech also has the X-Horizon system that prevents chain chatter.
Force / Force 1 / Force eTap AXS
The Force groupset is considered to be SRAM's answer to Shimano's Ultegra, as it provides similar performance and comes with a comparable total weight.
It's available as a 1×11 (Force 1), 2×11, and a 12-speed eTap AXS electric shifting version. You can get this group with both rim brakes and hydraulic disc brakes, which is becoming a more popular option.
The latest iteration of SRAM Force has given this groupset a lot of similarities with RED, SRAM's high-end solution. It's slightly heavier than its more expensive sibling, but the shifting is considered to be on par.
The Force AXS 12-speed version offers the 50-10 gear combination, which is faster than the highest 53-11 on Shimano's groups.
RED / RED eTap / RED eTap AXS
RED is the creme de la creme of SRAM's road bike groupsets. It sits in line with Shimano's Dura-Ace groupset, offering comparable performance, price, and weight. You can get it with 11 speeds (mechanical or electronic shifting) or with 12-speeds, the eTap AXS version.
SRAM RED incorporates heavy use of carbon and light aluminum alloys which makes it incredibly lightweight. Its uniqueness lies in the fact that each component has a battery of its own (unlike Dura-Ace Di2) and uses SRAM's AIREA system instead of Bluetooth or ANT+.
Shifting is incredibly smooth and cross-chaining is almost non-existent. SRAM even offers the RED AXS Power Meter for serious athletes.
Campagnolo Road Bike Groupsets
Campagnolo is one of the oldest players in the game that is trusted by some of the best athletes in the world. Its high-end Super Record bike groupsets are commonly seen on bikes used by athletes who win Grand Tours such as Giro, TDF, or La Vuelta.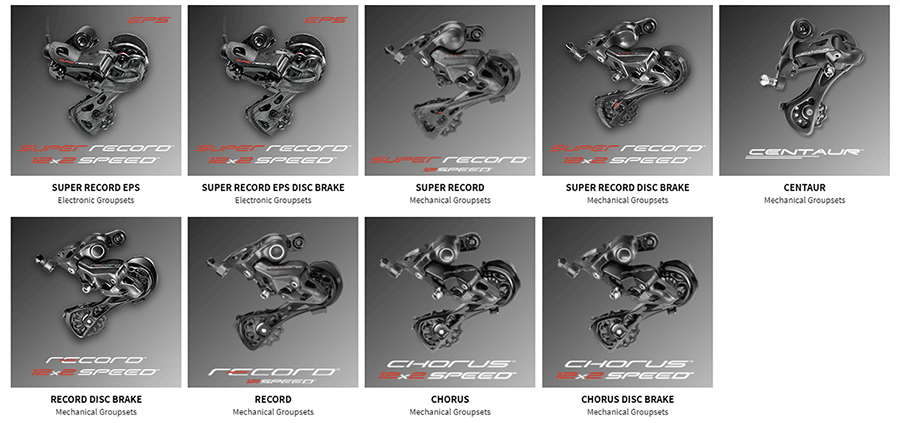 Campagnolo enters the market with a higher price point than SRAM or Shimano, so it is not likely to see it on budget bikes. However, it is very common on Italian and high-end bicycles.
Centaur
Centaur is Campagnolo's cheapest groupset available. It is an 11-speed group paired with a 2x crankset and rim brakes. Centaur is a prime example of how advanced technologies can trickle down to cheaper groups.
Centaur's shift levers are made from a mix of plastic and carbon fiber and allow multiple upshifts (up to 3 gears). The rear derailleur is compatible with up to 11-32T cassettes, eliminating the need for short and long cage variants.
It's the best choice available for recreational and amateur cyclists.
Chorus
Chorus is a 12-speed bike groupset that falls in the mid-range category. Campy advertises it as a groupset for sophisticated cyclists who want Super Record wireless performance at a price that won't break the bank.
The Chorus features a four-arm crankset made from carbon fiber and steel, so the entire group is just 117 grams heavier than Record. It is available with 34/50, 36/52, and 32/48 cranksets, compatible with cassettes up to 11-34T.
Campagnolo Chorus is now available with rim brakes or disc brakes, so it's a good choice for gravel and road cyclists. It incorporates heavy use of carbon fiber, giving it the best money to value ratio of all groups.
Record
The Record bike groupset is Campagnolo's high-end solution that comes with some shortcomings compared to Super Record but offers very comparable performance.
The latest version of Record is a 12-speed bike groupset, available with either rim or disc brakes. It features a lot of carbon fiber in the crankset and the rear derailleur which brings the weight down.
Record looks fantastic, comes jam-packed with Campagnolo's latest technologies, and is often compared to Dura-Ace and RED, even though it has another group sitting above it.
Super Record (& EPS)
Campagnolo Super Record is probably the best money can buy when it comes to road racing groupsets. It is the preferred groupset of elite cyclists competing in top-level races.
Super Record is a 12-speed group, available with mechanical or electronic shifting. The mechanical groupsets are available only with rim brakes, whereas the EPS comes with rim or disc brakes.
The differences between Record and Super Record are minor but noticeable. Super Record uses more carbon fiber, titanium, and ceramic bearing, which saves watts through lower weight and higher rolling efficiency. It supports cassettes up to 34T.
Gravel
Ekar
Ekar is the Italian company's first gravel-specific groupset. It is also the first and only 1×13 groupset available on the market.
Campagnolo claims Ekar is the lightest gravel group you can get. This might be true as it uses carbon fiber reinforced alloys for more durability and more weight savings.
Ekar offers four crankset options (38T, 40T, 42T, and 44T) and two cassette options feature 9-teeth smallest cogs (9-36T, 9-42T, 10-44T).
SRAM vs Shimano – Which Is Better?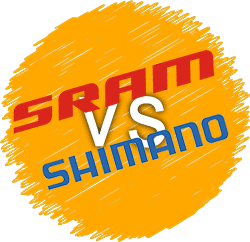 Some of our readers might not agree, but there is no definitive answer to this question. Both Shimano and SRAM are
excellent brands
that cater to large portions of the cycling market and have hardcore fans at all levels.
At the moment, though, SRAM seems to be more dominant on high-end bicycles, especially when it comes to mountain bicycles. However, Shimano services the majority of entry-level and mid-range segments in both road and MTB categories.
It's important to note that both Shimano and SRAM make heavy-duty components, jam-packed with advanced technologies, especially at the higher end of the range. If you're an average rider, you won't make a mistake with whichever brand you choose. However, if you are a professional athlete, you might be better off with one or the other depending on your category.
Related: All Cycling Advice articles
Some Quick Facts About SRAM
The company was founded in 1987.
SRAM's name is an abbreviation for the names of its founders: Scott, Ray, and Sam.
SRAM's biggest innovations are Eagle 1×12 drivetrains, eTap wireless shifting, double-tap shifting, Gripshift.
Its house brands include RockShox suspension, Zipp, Avid brakes, Quarq, Truvativ.
SRAM is the most innovative of the three big bike groupset brands.
Quick Facts About Shimano
The company was founded in 1921.
The company is still run by the Shimano family to this day.
Shimano's most popular innovations include Shimano Index Shifting (SIS), Di2 electronic shifting, SPD clipless MTB pedals.
Shimano sales constitute an estimated 70–80% of the global bicycle component market by value.
Shimano built a wind tunnel when designing some of their Dura-Ace components to make them as aero as possible.
Quick Facts About Campagnolo
Campagnolo was founded in 1933, in Vincenza, Italy.
Campagnolo's founder was Tullio Campagnolo, an avid racer who conceived several ideas while competing.
They've invented some of the most break-through technologies in the cycling world, such as the quick-release mechanism, front and rear derailleurs, and the rod gear for gear changing.
Campagnolo pulled out of the mountain biking market in 1994 after a series of flukes and became known as a road-only groupset brand.
Campagnolo invented the Compact Drivetrain to provide riders with lower gears than traditional drivetrains.
Cheap Groupsets—Should You Get One?
If you are a recreational or a beginner rider, there is nothing wrong with cheap groupsets. Groups like Shimano's Claris and Sora or SRAM's Apex and Rival are perfectly capable of lasting for thousands of miles if used properly.
However, you should keep in mind that you get what you pay for, which is especially evident when it comes to the number of gears and the overall weight.
If you're not a professional cyclist and you're not too worried about average speeds, a cheap groupset will do the trick without any issues.
Why Are Bike Groupsets So Expensive?
To answer this question, we can also ask, "Why are some watches so expensive?" Because a lot of technology, engineering, time, and research goes into them.
When it comes to bicycle groupsets, it's true that you pay a luxury tax on higher-end groupsets as well, but that's not the only reason they're expensive.
When you buy a bike groupset you don't only pay for a set of cogs, sprockets, and levers, even though it looks that way. You pay for the materials that go into their making, innovations, and labor-intensive production methods. Plus, it's worth noting the fact that these are low-volume products (you buy them once every few years at most), so the price needs to be a bit higher to cover the manufacturing costs.
Also, not all bike groupsets are expensive. The price range is quite large, so some entry-level groups are pretty cheap. However, if you want carbon fiber, light alloys, electronic shifting, advanced-cooling disc brakes, and other high-end features, you'll have to pay more.
Should I Get a New Bike or a New Groupset?
The answer to this question depends on a case-to-case basis. Buying a completely new bike groupset can be quite expensive, so the question is whether your current bike is good enough on the whole and worthy of such an upgrade.
If you're riding an old bike with a heavy frame there's little point in buying an entirely new bike groupset, unless the bike in question has sentimental value for you and you want to keep it.
However, if the frame is in good condition and you want better shifting and more gears, then go for it. Keep in mind that it will cost you a lot to install the new bike groupset if you're not doing your own labor.
FAQ
Bottom Line
As you can see, the bicycle groupset market is absolutely HUGE, so choosing the right group for your needs (that also fits your budget) is a major endeavor.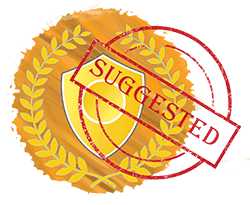 If you stick to the three biggest brands—Shimano, SRAM, Campagnolo—you can't really go wrong when it comes to the quality of the parts you will get. All three brands make durable components that will last for years, especially if you're a recreational rider.
If you're more serious about cycling and you want to compete or improve your PRs and Strava KOMs/QOMs, it's worth upgrading to better parts if you're running an entry-level group.
Hopefully, after reading this extensive guide, you have a clearer image of what's available on the market and what you should choose.
For any additional questions, feel free to ask us in the comments section below!