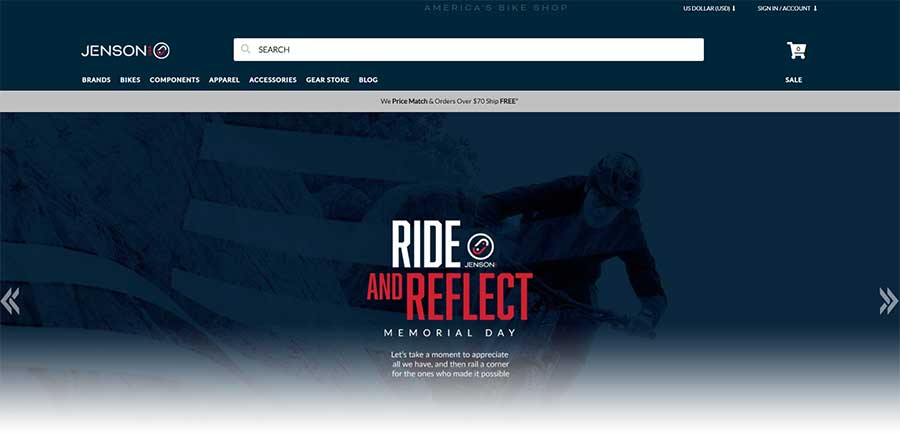 If you need a cycling-related item, Jenson USA likely has it. They're one of the largest cycling-related online retailers in the USA, stocking a huge selection of bicycles, gear, accessories, and apparel from all major brands.
Images from JensonUSA.com
This is part of our Best Bike Shops writing
Few cyclists (if any) haven't heard about Jenson USA or purchased something from their online store. Those who have, usually have nothing but great things to say about them — from the selection of items to prices and shipping.
Should Jenson USA be your go-to cycling gear resource as well? Find out below as we tell you all you need to know about their shop, products, business, and more.
What Is Jenson USA? What Is Their Contribution?
Jenson USA (also written as JensonUSA) is a USA-based online cycling retailer that has been around since 1994. The company started as a one-man project envisioned by Mike Cachat, who is also the current owner and CEO.

The company started growing rapidly from the get-go, on the premise of offering quality cycling items at competitive prices, helpful customer support, and putting customers in the first place.
Jenson USA is also very active in the cycling community by building and maintaining trails, organizing group rides and clinics, and advocating for cycling infrastructure in local politics.
Jenson USA's blog section is also one of the biggest resources for first-hand product reviews and cycling guides aimed towards both beginners and pros.
Shipping & Returns
Jenson USA stands out from many other online retailers in the cycling community by offering two convenient services:
Free Shipping (on most orders over $50)
90-Day Returns
Namely, you will get free shipping on most orders greater than $50. This offer is valid only for physical shipping addresses within the 48 continental United States. Also, keep in mind that oversize charges will still apply to some very heavy items.
A big advantage of buying from Jenson USA is also their 90-Day Returns policy. It allows you to return most of your new and unused items within 1 year from purchase for a full refund of the original price. Make sure that the item is in the original state/packaging, with tags included, without any signs of usage.
Cycling-Related Selection
Jenson USA's online store is pretty easy to navigate as it is organized into five major sections, each of which is separated into multiple subcategories:
Bikes
Components
Apparel
Accessories
Gear Stroke
As you can see, you can pretty much find everything you need here to start cycling, improve your rig and skills, or get ready for a big race.
Jenson USA stocks all types of bikes you can imagine, as well as all kinds of components, accessories, and apparel. It's not an exaggeration to say you could start from scratch, without a single cycling item, and equip yourself fully in just a few clicks.
The price range is very diverse as well. Basically, you can find something that fits your budget, no matter if you are a beginner or an experienced cyclist.
What Bikes Does Jenson USA Offer?
If you're looking for a complete bike, this is a phenomenal place to start. Jenson USA offers a wide selection of bikes built for different purposes by different manufacturers. The selection is really huge and caters to the needs of different types of riders.
The types of bikes you can find on their website include:
Mountain Bikes
Road Bikes
Cyclocross & Gravel
Electric
Commuter & Urban
BMX Bikes
Kids' Bikes
The majority of bicycles in stock are mountain bikes, which makes Jenson USA a remarkable resource for mountain bikers. However, cyclists with other affinities can also find something they like.
The selection of bikes includes models from some of the biggest brands in the cycling world, such as Colnago, Devinci, Evil, GT, Ibis, Kona, Look, Orbea, Santa Cruz, and so on.
No matter what kind of suspension, wheel size, tire size, frame material, or intended use you have in your mind, you'll find at least a few options on Jenson USA.
To help you navigate the huge selection, Jenson USA also has a nifty Bike Finder Tool that will help you find the perfect bike for your riding style, riding terrain, and height
Mountain Bikes on Jenson USA

As mentioned, the majority of complete bicycles on Jenson USA are mountain bikes. At the moment, out of 234 available bikes, 159 are in the MTB section. The selection includes models for a wide range of intended uses, such as:
Cross-Country
Trail
Gravity
Electric
Street, Park & Dirt
Jenson USA stocks up on both hardtail and full-suspension bikes. The price range usually starts at around $500 and goes above $10,000. Therefore, you can expect different quality classes, builds, and materials.
If you're looking for something specific, you can use the filter option on the left and filter by color, drivetrain, gender, features, price, wheel size, and a lot more.
The majority of bikes in this section are made by renowned brands such as Devinci, Evil, GT, Ibis, Kona, Marin, Niner, Norco, Orbea, Yeti, and many others.
Road Bikes on Jenson USA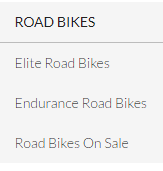 Jenson USA's selection of road bikes is good, but it could definitely be even better. At the moment, there aren't too many models, but all the different types of road bikes are included, such as:
Endurance
Touring
Urban/Commuter
Elite
Same as in the case of mountain bikes, the price range is wildly diverse and ranges between around $1,000 to $10,000 at the moment. This includes aluminum and carbon bikes intended for beginners, fitness riders, commuters, and elite cyclists.
You can expect to see models from brands like Orbea, Wilier, Masi, Colnago, and Argon 18, all of which are well-known in cycling circles.
One of the reasons why we like Jenson USA's selection of road bikes is that they often have unique brands and models that are hard to find elsewhere. So, if you're looking to get something a bit out of the ordinary, this is a good place to try.
Cyclocross & Gravel on Jenson USA

Gravel bikes have become incredibly popular in the last couple of years, so it's good to know that Jenson USA offers quite a few models in this category as well.
As a matter of fact, at the moment of writing this article, the number of Gravel and CX bikes was three times as high as the number of road bikes.
Jenson USA offers an enviable selection of models from high-profile brands such as:
Niner
Orbea
Sage
Marin
Evil
Ibis
Bjorn
Devinci
GT, and others.
Gravel bikes allow you to ride both on paved and unpaved roads and enjoy scenic gravel routes away from busy traffic, which is why they are the newest cycling trend.
You can get aluminum and carbon models with 1x, 2x, or 3x drivetrains, different size wheels and tires, as well as different geometries intended for racing or endurance riding.
Many of the bikes listed in this category are every gravel rider's dream come true.
Electric Bikes on Jenson USA

Electric bikes are another big trend in the cycling world at the moment. More and more people are accepting e-bikes and using them for mountain biking, road riding, and commuting.
Jenson USA has a well-stocked section dedicated to electric bikes that include different subcategories, like:
The electric and mechanical components on these bikes differ greatly depending on the price and the model. Battery capacity ranges between 250Wh and 630Wh, whereas motor manufacturers include Bosch, Ebikemotion, and Shimano.
When it comes to mountain bikes, you can get both hardtail and full-suspension models, with high-end or mid-range quality groupsets and suspension.
Some of the brands you can expect to see include names like Norco, Orbea, Intense, Haro, Benno, Batch, and so on.
Other Bicycle Types on Jenson USA
Apart from the ones we talked about above, Jenson USA offers a few other popular types of bikes, such as:
Commuter & Urban
BMX
Kids'
If you need a reliable and dependable bike to commute every day or ride in the city, you're likely to find it on Jenson USA's website. These bicycles are often equipped with fenders and racks, so they're practical for all-year riding and hauling some additional weight. At the moment, the models on offer are not too expensive and prices go up to around $2,000.

The same can be said for BMX and Kids' bikes as well. Jenson USA is a decent resource for bicycles intended for the entire family, even for those members who like getting the adrenaline rush from doing tricks and jumps.
What Are Jenson USA Exclusive Builds?
Jenson USA Exclusive Builds are unique bicycles built by the company's product team in collaboration with some of the best brands in the bike industry.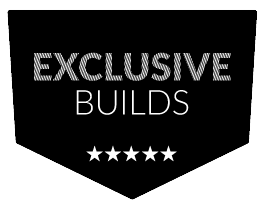 The idea is to offer bikes that are a little bit out of the ordinary, catering to the needs of buyers with specific needs. So far, Jenson USA has assembled some incredible road, mountain, gravity, and even gravel bikes.
When making these exclusive builds, Jenson USA has four main criteria in mind:
Choosing frames from renowned brands.
Using on the latest materials, geometry, and components.
Prioritizing performance and durability.
Offering excellent bang for the buck.
Jenson USA's exclusive builds are usually limited editions made in small batches, so they often go out of stock quickly. Check them out to find unique bicycles from brands such as Colnago, Ibis, Evil, Kona, Niner, and so on.
Cycling-Related Accessories and Components

Apart from selling all types of bicycles you can imagine, Jenson USA is also an excellent resource for cycling-related accessories and components.
If you rode too hard and you need a replacement part or you want to upgrade your outdated setup, you can take a look on Jenson USA to find drivetrains, brakes & shifters, tires, forks, frames, wheels, handlebars, and a lot more.
You can also check out their Accessories section if you're looking for bags, tools, books, cameras, computers, lights, foods and drinks, trainers, and so on.
Most of the time, Jenson USA is a place where you'll pretty much find anything cycling-related that you're looking for. At the moment of writing this review, there were more than 7,500 unique items for sale on the website.
All of these accessories and parts are pretty reasonably priced and sourced from famous brands like:
Niner
Ibis
Shimano
SRAM
Yeti
Specialized
Rockshox
Maxxis
Fox, and more
Huge Selection of Apparel
Cycling apparel not only makes you feel good when riding, but it makes you look good as well. Well, at least to other cyclists, the general public might not be such a big fan of lycra.
Jenson USA's Apparel section is jam-packed with cycling-specific apparel, such as:
Shorts
Jerseys
Gloves
Shoes
Socks
Helmets
Jackets
Vests, and more
They cover all intended uses as well, so you'll find quality clothing items for road and mountain riding, gravel, gravity, street, touring, triathlon, BMX, or trail riding.
Depending on the brand and the item, the prices go from very cheap to very expensive. Think $6 for a pair of cool cycling socks, all the way to $550 for a helmet or a pair of cycling shoes.
The focus is on the value for the money, so these clothes are produced by renowned brands like Giro, Maxxis, Surly, Yeti, Sugoi, Specialized, Shimano, Scott, Oakley, Fox, and many others.
Jenson USA Supports
Apart from being a go-to place for purchasing quality bikes, parts, accessories, and apparel, Jenson USA contributed to the cycling community in many other ways.
One of these is by selling the Keep Pedaling Advocacy Hats. They donate 100% of the proceeds made from the sales to cycling and trail advocacy groups that riders select themselves.
This way, Jenson USA manages to help build and maintain trails, organize group rides and clinics, as well as develop cycling infrastructure through advocating in local politics.
Below are just some of the cycling organizations Jenson USA has been supporting in the previous years:
IMBA – International Mountain Biking Association – Has been creating, enhancing, and protecting great places for mountain biking for more than 30 years.
SDMBA – San Diego Mountain Biking Association – A non-profit organization working to improve trail access for mountain biking in San Diego County.
World Bicycle Relief – A non-profit organization that donates specially designed and locally assembled bicycles to people in developing countries, thus helping communities achieve independence and thrive.
Bike For Bender – A California non-profit organization founded in memory of Robert Bender with the aim to support young athletes and develop and improve local trail systems.
Jenson USA Suspension Service
Jenson USA recently came out with its own suspension service.
Read More: Jenson USA Suspension Service
Jenson USA wanted to give the customer an OEM equivalent service of their fork or shock. They do that by offering mid-level and factory-level services.
Gear Stoke
Gear Stoke is a unique section on Jenson USA's website that provides you with an insight into hot items on the website.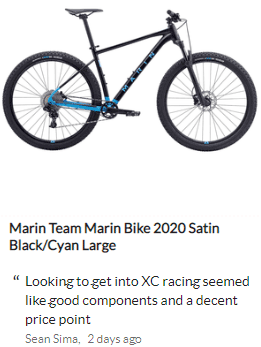 This section is a feed that consists of names and images of products, followed by customer comments and reviews. Therefore, it allows you to see the most popular cycling gear at the moment, as well as quickly learn what other riders think about it.
Gear Stoke shows all types of components, accessories, apparel, and bikes you can imagine, from different sections of the website.
By clicking on the image, you'll be taken to the item's sales page, and there are also options to easily share the page on Facebook, Twitter, or even Pinterest.
It's a good way to quickly skim through Jenson USA's offer and find something you like.
Commonly Asked Questions
PROS
Great customer support on each step
Premier brands
Good TrustPilot score
Good sizing charts
CONS
Limited sizes for some bikes
A limited selection of road bikes
Sale Section
One of the reasons why a lot of cyclists love Jenson USA is because they often have tempting sales that let you save a lot if you shop smart.
Depending on the product and the time of the year, you can save up to 90% on some smaller items and up to about 40% on bikes.
Make sure to check out the sales sections available for each category of products Jenson USA sells.
See Other Bike Shop Reviews
Or see our list of the best bike shops (in our opinion).
Do We Recommend Jenson USA?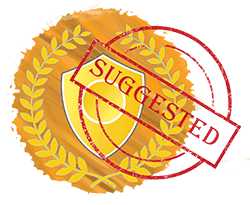 Jenson USA is one of the biggest cycling retailers in the United States, beloved by thousands of cyclists from different subgroups, so we definitely recommend it.
This is a reliable and safe place to shop for complete bikes, frames, accessories, clothes, replacement parts, and a lot more.
Plus, Jenson USA also gives back to the cycling community by supporting non-profit organizations and thus advancing the sport, which is another reason to consider buying from them.