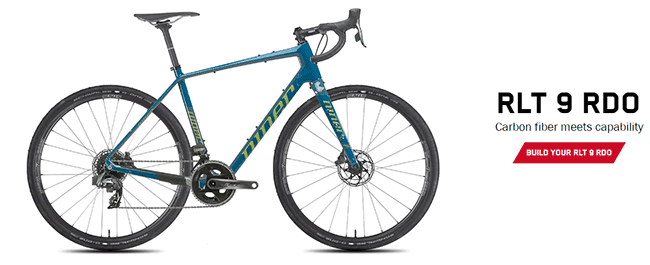 If you love the outdoors and your typical cycling day is spent on the dirt, then Niner Bikes is a brand that you should learn more about. They are still a growing company, but they have done a lot to make a name for themselves among the fierce competition within the cycling industry. Here, we take a look at the Niner RLT 9 series.
Niner Bikes are focused exclusively on the outdoors and the dirt, so they make just two types of bikes: Mountain and Gravel/Cross.
Because of that, they have managed to perfect their trade in a very short time and have become the favorite choice of many experienced riders out there. They mostly make high-end bikes that cost as much as a new hatchback car. But, there are some affordable mid-range models as well.
The chances are small that you still haven't heard about them, but if that's the case (or you're just interested in learning more), you should keep reading to get a good idea of who they are and the masterpiece off-road bikes they make.
A Short History of Niner Bikes
Like many bike brands out there, this one began out of love of cycling as well. However, unlike most other stories which started in old garages, this had its beginnings on the trails. The Niner Bikes business was founded by Chris Sugai back in 2004 when he had his first encounter with a 29-inch bike. He fell in love with it immediately and recognized its advantages.
Therefore, soon after, he decided to start his own company and began making single-speed, 29-inch Niner bikes. The first shipment was quickly sold out, so he decided to sell his original business and dedicate all of his time to his new bike company.
It seems that he made the right choice since Niner Bikes are on a good path to dominating the 29-inch bike market. Today, this is a company run by cycling enthusiasts and lovers of the dirt and the outdoors. They enjoy the process of making and perfecting bikes and bringing off-road cycling closer to people.
Niner RLT Models

As we mentioned, Niner makes two types of bikes: Mountain and Gravel/Cross. When it comes to MTB, they have several different series which we will talk more about some other time. However, as far as Gravel/Cross bikes go, they have one line called RLT (Road Less Traveled), which contains three models. Their names are RLT 9, RLT 9 Steel, and RLT 9 RDO.
Their prices range between $2,599 and $6,399. This makes them an excellent choice for both dirt enthusiasts and pros who want to compete. The three more expensive models have drop bars, whereas the cheapest one has flat bars. They all come with 700c wheels, which are a must on gravel bikes and have the same diameter as 29-inch wheels.
Let's learn more about each of these three models by considering the components and finding out who they are built for.
RLT 9
The RLT 9 is made for serious outdoor dwellers who want a capable aluminum gravel bike that they can take anywhere, and that can take them anywhere.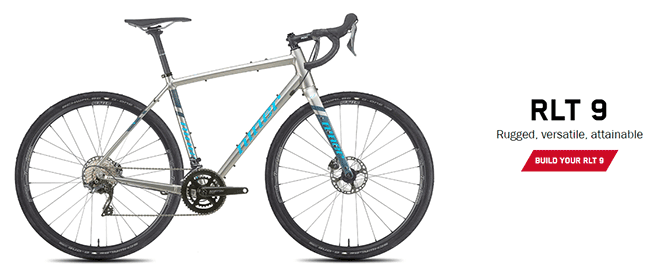 The RLT 9 costs a lot more than the old RLT 9 Apex, but its price is well justified. To be precise, you would have to pay $5,099 for it, while you can get it for $2,599 with the cheapest set of components. But for that money, you will get an extremely light Niner hydroformed and welded aluminum frame with a carbon fork.
This model also touts top-of-the-line Shimano gravel-specific GRX800 components, such as the 2×11 drivetrain, and many other pleasant surprises.
A Setup for Serious Explorers
Apart from what we mentioned today, RLT 9 can also be customized and fitted with both 29-inch and 700c tires. This makes it versatile and suitable for different riders. It also sports front and rear mounts allowing you to carry up to 100 lbs., and the Fireroad geometry allowing you to ride for longer.
RLT 9 is seriously beautiful as well, painted in gray, with black, orange, and sky blue details. In addition to the good looks, you will also be happy to see it equipped with Schwalbe G-One tubeless tires and Shimano RT800 hydraulic disc brakes. Thus, you'll have maximum confidence on the roads less traveled.
This model is, without a doubt, a fantastic choice for adventurers and competitors who are looking for a good aluminum gravel bike with a high-value price.
RLT 9 Steel
The RLT 9 Steel model is the perfect Niner bike for you if you love adventure and cherish all of the numerous benefits of steel frames.
A lot of manufacturers have started completely abandoning steel in favor of lighter aluminum and carbon. Niner offers carbon and aluminum models as well but also recognizes the benefits of steel. Therefore, RTL 9 Steel, as you can guess, has a smooth and durable steel frame, that performs fantastically both on and off-road.
Steel is easier to fix than other materials, it lasts longer, and it's much more comfortable. Therefore, it's an excellent choice for gravel bikes.
Carbon Fork and High-End Components
The RLT 9 Steel will set you back $5,599, but they will be pretty well spent. The fantastic steel frame comes with a carbon Niner fork that keeps the weight down and makes the ride even more comfortable.
Moreover, similar to the RLT 9, it comes with a Shimano Ultegra front derailleur and Shimano GRX800 rear derailleur that offers 22 speeds with a 2×11 drivetrain. Of course, the brakes are part of the same groupset, in the form of reliable and robust hydraulic discs.
The RLT 9 Steel comes with 700c wheels and 45mm-wide Schwalbe G-One tires. Just like other models, it comes with both front and rear rack mounts, so it's capable of carrying some serious weight if your legs can handle it.
Since this model has a steel frame, it weighs 10kg, which is one kilogram heavier than the previous model. But, that's a small price to pay for getting an awesome steel frame that will last you a long time.
RLT 9 RDO
RLT 9 RDO is the ideal choice for riders who plan to compete in Gravel/CX races and need a high-end carbon bike to do that.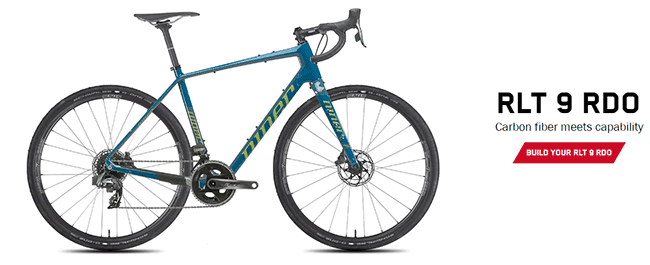 If you have money to spare and you want the crème de la crème when it comes to Niner bikes, then look no further. The RLT 9 RDO costs $5,999, but if you buy it, you won't question the decision even for a second. It has a top of the line Niner carbon frame that's SRAM eTap ready.
The fork is also made of carbon, so the whole bike weighs just 8.7kg. You can choose the color as well, as it comes in Grey/Blue and Black/Orange (our favorite).
RLT 9 RDO: A Capable Bike for Capable Riders
When it comes to the components, this high-end model is the same as the previous two. However, all of these components come attached to a lightweight and extremely attractive Niner carbon frame. Therefore, thanks to the overall lower weight, the Shimano GRX components will perform even better in all conditions.
If you are looking for a bike that will help you finally win some off-road competitions, we're confident that you will find it in this RLT model. Cyclists often say that participating is primary and winning is secondary, but why not have both?
Of course, you can also take this bike on any off-road and on-road adventure that you have in mind since the reinforced carbon frame can carry a lot of weight. Your imagination is your limit and not RLT 9 RDO's capabilities.
RLT Build Kit
One important thing to keep in mind is that Niner gives you a lot of options when it comes to customizing their RLT bikes.
The components that we have mentioned in the overviews above are optional for the three most expensive models. The cheapest, RLT 9 Apex is not customizable and comes with SRAM Apex 1 components.
However, if you choose one of the other three models, you can choose one of the following build kits:
5-Star
4-Star
3-Star
2-Sta
Frame Only
Of course, the price decreases significantly as you go down the groupset ladder. If you prefer building your own bike, but you like the Niner frames, you can choose the Frame Only option and start working on your dream ride.
This is an excellent feature as it allows riders to choose between an aluminum, steel, and carbon frame and equip it with any setup they like. If you want a high-end carbon frame with a Tiagra groupset — nobody's stopping you!
Available Sizes
Proper sizing is very important, especially when it comes to gravel/cross bikes. You will spend countless hours on them, in harsh off-road conditions, so it's important to get the right fit. Choosing a correctly sized bike is the biggest problem most riders have, which is why we get a lot of requests to help.

Many bike manufacturers out there offer five frame sizes or even fewer. This is usually enough, but it's not ideal, as it leaves some riders in-between two sizes. However, Niner RLT models are available in six sizes:
47 cm (4'11" – 5'3″)
50 cm (5'2″ – 5'6″)
53 cm (5'5″ – 5'9″)
56 cm (5'8″ – 6'0″)
59 cm (5'11" – 6'3″)
62 cm (6'2″ – 6'6″)
These are suitable for riders between 4'11" and 6'6", so it's highly unlikely that you won't be able to find the size that you need.
If you visit the official Niner website, you will find a comprehensive explanation of each bike's geometry, which will make it easier for you to choose the size that you need. If, however, you still find yourself struggling, feel free to write to us, and we'll help you out!
*Pictures are from Ninerbikes.com
Where to buy
Niner RLT bikes are available in a large number of online bike shops. They sell really well because of how good-looking and affordable they are, so online retailers gladly feature them. If you wish to buy one, these are the best choices that you have: