GT Bicycles has been mixing fun with performance since 1972 by developing trendsetting BMX, MTB, and Road bikes for professionals and amateurs alike.
Part of Best Bike Brands
GT Bicycles has been manufacturing high-quality bikes for all types of riders for decades. The brand's name is an acronym for Good Times, but is that still true?
Judging by the results GT bikes achieve in top-level racing and the fun factor they offer to the average rider, we'd say the answer is a resounding Yes.
Overview of the Company
GT Bicycles has its roots in Southern California, where the brand was established by Gary Turner in 1972.
After accumulating experience by working on drag racing cars as a welder, he decided to apply his knowledge on bikes as well. In 1972, he created the first BMX GT frame for his kid to use on a local race circuit. The frame ended up being a huge hit among the local riders, and the rest is history.
During the 1980s, GT became known for durability and performance, consistently winning top-level BMX races by a large margin.
By the beginning of the 1990s, the company spread out to include other cycling disciplines in its portfolio as well, such as the emerging sport of mountain biking. At the end of the decade, GT started working on full-suspension development and introduced its ultra-reliable and efficient i-Drive® suspension system.
Due to financial problems, the company went public in 1998 and was acquired by Schwinn. After a few more hand-me-overs, GT was finally bought by Dorel Industries in 2004 that also owns Cannondale, Schwinn, and Mongoose.
Today, GT bikes are as strong and popular as ever, offering a huge selection of bicycles in different categories and at different price points, intended for elite riders and complete beginners.
On top of that, GT also sponsors numerous successful athletes (Wyn Masters, Marting Maes, Noga Korem, etc.) as well as BMX and MTB Factory Racing Teams.
GT Bicycles Range Overview
---
GT's success stems from BMX racing, but today the brand stands for a lot more, even though BMX bikes still constitute a large part of its selection.
Riders of all levels and affinities can find a suitable two-wheeler by scrolling through the GT bikes lineup that consists of multiple subcategories:
BMX
Mountain (Hardtail & Full Suspension)
Road
Electric
Lifestyle
Dirtjump
Women's
Kids
Most GT bikes come in several different builds, named Sport, Comp, Expert, Elite, and Pro, based on the price tag and level of components.
Learn more about what you can expect from the most popular categories below.
Mountain Bikes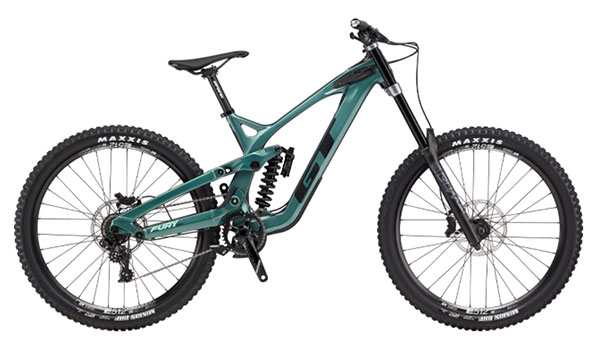 GT specializes in off-road bikes intended for mountain, trails, dirt, and gravel roads.
Its selection of mountain bikes consists of Full Suspension and Hardtail models, suitable for recreational and competitive cyclists.
When it comes to Hardtail bikes, the most popular recreational models include Aggressor, Laguna, and Palomar. Avalanche is the most popular trail-ready HT model.
Force, Fury, and Sensor are GT's best-known Full-Suspension models. They come with carbon or aluminum frames and constitute the Trail, Enduro, and Gravity offering.
Learn More: Bike Frame Materials Explained
When it comes to the suspension, mid-range and high-end FS models use GT's LTS (Linkage Tuned Suspension) four-bar system that was first developed in the 1990s.
The LTS suspension system also features Flip Chip technology that changes the geometry by altering BB height and head tube angle.
It allows riders to fine-tune how the suspension behaves and play with bump absorption, braking, and pedaling performance.
The most expensive GT mountain bikes boast Fox Factory and RockShox suspension, whereas more affordable builds sport SR Suntour suspension.
Beginners can get a GT mountain bike for as little as $500, whereas World Championship hopefuls can spend upwards of $8,000 on their dream build.
See More: Best Mountain Bikes
Whichever group you belong to, you'll be sure to find a model that suits your needs.
Road and Gravel Bikes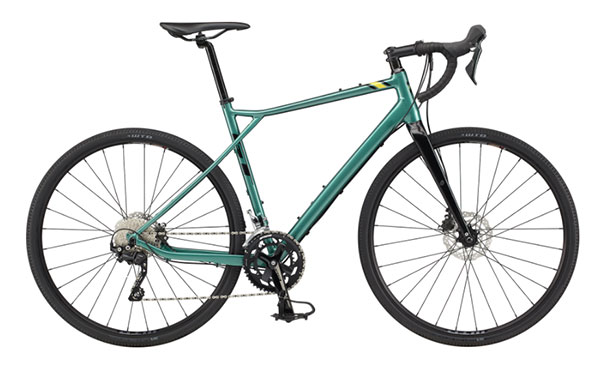 No matter how much you love dirt and the mountains, sometimes you'll have to steer toward the pavement. That's where GT's road bikes come in.
But GT's road selection doesn't actually include any purist road bikes. Instead, it offers a few gravel and all-road models suitable for multi-surface riding.
Read More: Gravel vs Road Bikes – the main differences
The flagship model is called GT Grade. This is a drop-bar gravel bike available with a carbon or aluminum frame. It's suitable for intermediate riders and amateur racers.
GT's iconic triple-triangle frame features floating seat stays for more compliance and is Di2 and dropper post compatible.
Moreover, the Pro and Expert builds come with a Flip Chip fork that lets you adjust the geometry and handling. With Shimano components and WTB 40mm tires, GT Grade is quick on pavement and confident off-road.
GT's Road category also includes the Transeo road fitness bike. This is a flat-bar hybrid with front suspension, multi-surface tires, and upright geometry. Its affordable pricing makes it ideal for absolute beginners and recreational riders looking for durability and dependable performance.
Related: Best Road Bikes For Beginners
Even though none of these models is a road bike in the pure sense of the word, you can easily equip them with narrow tires and have one bike that's suitable for all types of roads.
BMX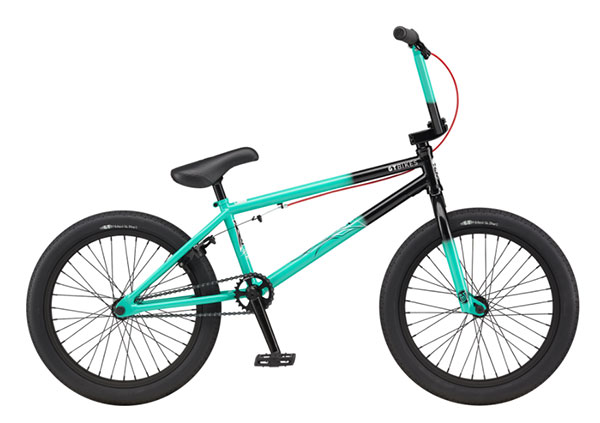 BMX bikes are where the GT story began back in 1972. It's what GT does the best and what it is most popular for.
The current GT BMX lineup consists of four types of bicycles:
Freestyle
Race
Heritage
Life+Style
At the moment, there are 40+ models that you can choose from, which is by far the largest selection compared to all other GT categories.
Related: Best BMX Bikes
If you love doing tricks at a local BMX park or your city square, you should check out the Freestyle category. It offers a plentitude of lightweight bikes with 20″ wheels that will allow you to easily learn bar burns, 180s, 360s, barspins, alleyoops, and more.
On the other hand, the Race category consists of race-ready models, some of which are used by GT's official BMX Factory Racing Team. These are fast, light, and high-tech bikes with varying wheel sizes that you can use to win podiums. Choose from model families such as Speed Series and Mach One.
The Heritage and Life+Style categories consist of leisure-style BMX bikes with larger wheels (up to 29″). If you want to commute in style or ride around the town with a huge smile on your face, you'll likely find something that fits your needs here.
Kids' Bikes
What's the best time to discover cycling and fall in love with it for the rest of your life? The answer is—as early as possible. That means it's good news that GT manufactures high-quality kids' bikes for all age groups.
The lineup includes 12″ balance bikes for the tiniest of riders, as well as pedal bikes for those who are ready for their first pedal strokes.
The entire category was recently redesigned by GT to give each model the same quality and durability you expect from GT bikes for adults. Because young riders deserve nothing short of that.
Once your little cyclist masters a balance bike, you can choose from a variety of pedal bikes with 16″, 20″, 24″, and even 26″ wheels.
Related: How to Choose A Kids Bike
Most of these are versatile kids' mountain bikes with suspension forks and wider wheels. The bikes are suitable for having fun on all types of roads.
However, there are also a few BMX and hybrid models that are great for doing tricks or riding on pavement.
Of course, in addition to the models in the kids' category, you can also check out the BMX category. It has a great choice for kids due to its smaller wheels and raised bars.
FAQ
Final Verdict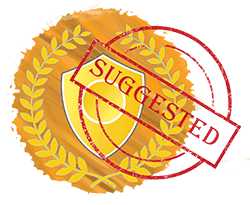 GT's reputation suffered a bit during the early 2000s due to management issues caused by multiple acquisitions. However, the brand is now stronger and more successful than ever.
It produces reliable and durable bicycles around tried and true frames that have passed the test of time. Its bikes run similar levels of components comparable to other big bike brands such as Cannondale, Specialized, Trek, or Giant.
If you're a recreational rider or an aspiring racer looking for your next bike, there's no reason not to shortlist GT. You'll get a much better deal compared to a boutique brand such as Yeti or Santa Cruz, but end up with indistinguishable performance.