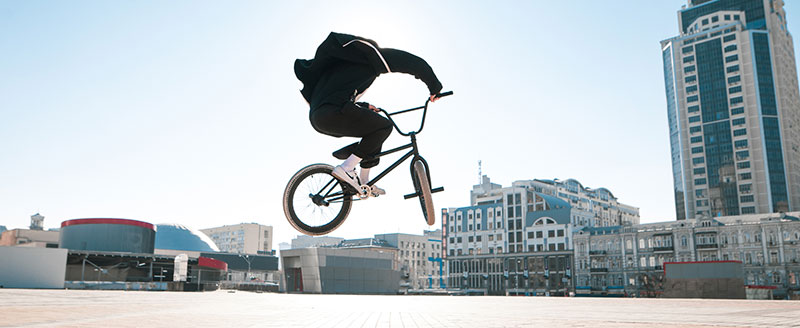 BMX bikes may be the most diverse type of bike in the world – you can find them on street corners, back-flipping through the air, racing down a pump track, or being ridden around the block.
The first thing that pops to mind when you see a BMX, is how different they look. The frame size, geometry, and wheels are completely different from other types of bikes, but still, there's something familiar about them.
Built for all ages and abilities, BMX bikes are also one of the most inclusive categories of bikes, and they are affordabele too.
Here's everything from the best BMX bikes to how to choose one.
What are BMX Bikes?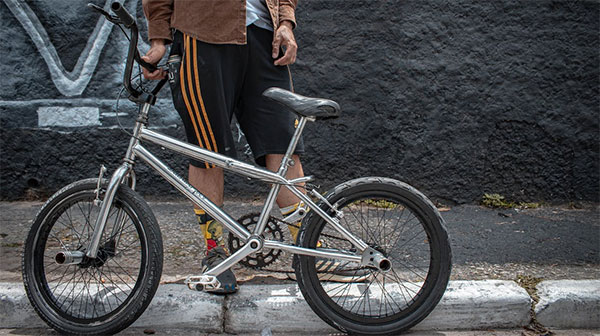 BMX stands for "bicycle motocross," and it makes sense when you think about it. One of the most popular uses for BMX bikes is racing – these races take place on a short and explosive circuit filled with jumps, tight turns, and steep berms.
BMX bikes are built for jumps, tight turns, and quick pedaling, making them one of the most unique styles of bikes today.
Most BMX bikes are very small – with a small frame and around 20" wheels – which means that an adult would never fit on a BMX bike in the way that they would fit on a road bike or hybrid. Even mountain bikes have fitted frames and plenty of seat height which makes them ideal for long climbs and enduro riders.
Going back to BMX bikes, these small frames are most often designed for racing, stunts, jumps, and street riding.
They are cheap and lightweight compared to most other bikes, and you can throw them around with little worry of them breaking.
On the street, you'll see BMX bikes with pegs on both the front and rear wheels which give the rider a platform to step on during more extreme tricks. You can even take your friend for a ride by having them stand on the rear pegs while you pedal.
Main Types of BMX Bikes
While we won't cover every type of BMX bike in this list, it is important to know that there are six main types of BMX bikes
Race – built for racing on dirt or paved tracks with jumps and berms
Flatland – stunt-specific bikes designed for performing tricks and spins on a flat surface such as a paved parking lot
Vert – bikes designed for extreme jumps like you'd see in the X-Games. Lots of big air off of half-pipes and giant ramps
Dirt, Park, or Street – versatile bikes rated for small jumps, some stunts, dirt courses, and skate parks
Retro – designed to look like BMX bikes of old from the 1970s and 1980s
"BikeLife" – a newer style of BMX bike designed for city riding, wheelies, and some tricking. These use much larger wheels such as 26" or 29".
Most of this list consists of Dirt, Park, or Street-style bikes which is one of the most well-rounded types of BMX bikes.
Let's jump (no pun intended) into our list of the best BMX bikes which includes BMX race bikes, kids BMX bikes, cheap BMX bikes, trick bikes, and more.
---
Best BMX Bikes
---
Mongoose Title Elite Pro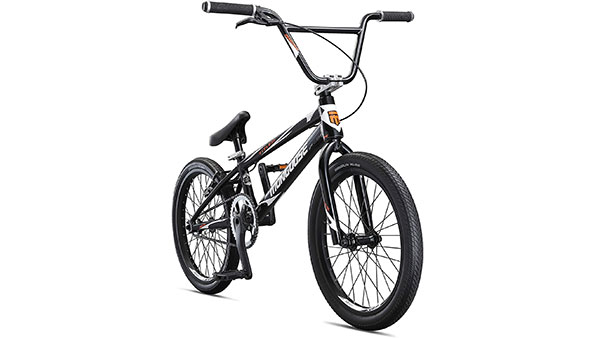 MSRP: See on Amazon
Tectonic T1 Biaxial Hydroformed aluminum frame
Size options fit riders over 6ft tall
20" wheels
The Mongoose Title Elite Pro wins our award for the best BMX bike of 2023. Built with a 6061 Tectonic T1 Biaxial Hydroformed and butted aluminum frame and internal cable routing, this is a BMX bike designed for intermediate riders, experts, and pros. There is a huge range of sizing that can fit riders all the way up to over 6' tall.
Its entire frame weighs just over 30 lbs, and there is a 86mm bottom bracket shell, tapered headtube, and 4130 Chromoly handlebars. The 50mm stem gives you the most control in corners and in the air, while the linear-pull brake and Radius brake levers will help you stop in a second.
Grip is plentiful with the Title Elite Pro's Arisen XLR8 20" tires on the aluminum double-wall rims. The rear hub is a 16T cog while the front offers a 44T alloy chain ring that will help you get up to speed fast. The cranks are Mongoose's own 275mm two-piece hollow spindle cranks.
Overall, this bike can handle almost anything you throw at it but is specially designed for jumps and racing.
Haro Steel Reserve 1.1
MSRP: $679.99
Robust Weinmann XM260 Alloy Double-Wall Rims
Chromoly steel frame
Rear disc brake
Haro Steel Reserve is designed to be the ultimate dirt jumper – seriously, this bike is meant to be in the air rather than on the ground. Built with an extremely strong Chrmooloy steel frame, Haro Steel Reserve 1.1 can handle everything you throw at it; even if you throw it.
In addition to the frame, the Haro Steel Reserve 1.1 comes with a suspension-correct rigid Chromoly fork that is as strong as you'd find on a bike.
There is single-speed shifting, but there is a high-quality crankset in the Haro Chromoly 8 Spline, 3-piece 28T setup.
One of the best features of the Haro Steel Reserve is its Weinmann XM260 Alloy Double-Wall Rims with pivot alloy disc hubs. These hubs are extremely durable and can handle large jumps and harder landings. You can also upgrade the fork from a rigid fork to a suspension fork.
There is one disc brake in the rear, the Tekro Aries MD-M280. The tires are Kenda's K-Rad 26 x 2.3" which provide plenty of grip and durability whether you are in the air or hitting the ground.
Elite Stealth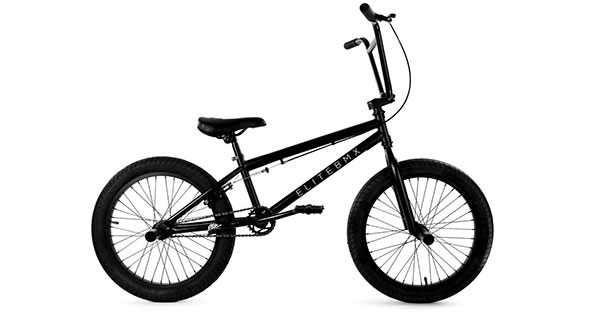 MSRP: See on Amazon
Chromoly one-piece cranks
Hi-tensile steel frame
Front and rear pegs included
The Elite Stealth is an entry-level dirt/park/street BMX bike with a number of high-quality features. You could certainly use this as a freestyle BMX bike or a trick bike. The hi-tensile steel frame will handle solid jumps and hard landings, as well as the occasional crash.
Other features include a Stealth Allot top load steam and Chromoloy one-piece cranks. There is 25-9 gearing (that's 25T in the front chain ring and 9T in the rear), and low-profile rims. The tires are wider than some comparable BMX bikes, with the Elite Stealth coming with 2.4" tires. This helps increase grip and makes for a smoother overall ride.
There is one Alloy Cease U-brake in the rear and no front brake which is the more traditional style for dirt/park/street BMX bikes and freestyle BMX bikes.
Both front and rear pegs are included which gives you plenty of options for tricks, and the 20" wheel size helps as well. There are more than 10 colors to choose from which really adds to this cool BMX bike.
This bike is designed for kids and adults as it fits in that unique sizing range for more basic riding. This bike suits 4' to 5' 10" riders, whereas taller riders could still use it as a freestyle BMX bike.
See more: Best Bikes For Teenagers
Elite Stealth comes in at a low-to-mid price range that is suitable for almost anyone looking at their first dirt/park/street BMX bike.
Tony Hawk Jargon
MSRP: See on Amazon
Freestyle handlebar rotor
Custom Tony Hawk graphics
Custom handlebar grips
Of course, the namesake will draw lots of attention to the Tony Hawk Jargon, a freestyle BMX bike designed for kids. Built by the Dynacraft brand, the Jargon includes 20" wheels and custom Tony Hawk design and graphics. There are even custom grips that add to the uniqueness of this bike.
Front and rear pegs and brakes add to the versatility of this freestyle BMX bike, and both brakes are built in the caliper style. It also comes with 48 spoke wheels which are atypical for a BMX bike – the 48 spokes add sturdiness to the already sturdy frame.
There is a freestyle handlebar rotor, full cover chain guard, and a kickstand which is great for kids.
Weighing just 30.8 lbs, the Jargon is on the lighter side for a freestyle BMX bike which makes it even better for kids.
GT Pro Series 29 Bike
MSRP: $550
Promax mechanical disc brakes with 160mm rotors
100% Cr-Mo fork and handlebars
Includes a 3-piece pad set
GT Pro Series 29 is designed for tricks, jumps, and all things BMX. The GT Pro Series Design 6061 alloy frame comes with big tires in the GT Smoothie 29 x 2.5".
See more: Review of GT Bikes
Specifically designed for this frame are the 100% Cr-Mo fork and 100% Cr-Mo 7.785" handlebars which make for the best handling and comfort.
Unlike most other BMX bikes, GT Pro Series 29 comes with powerful mechanical disc brakes – specifically the Promax brakes with 160mm rotors.
The frame itself has a number of other features including a 14mm rear axle, alloy knurled pegs, a chain tensioner, and a 3-piece pad set to help protect both the rider and frame.
The crankset is a GT Pro Series Cr-Mo 3-piece 170mm 25T, and there is a 16T freewheel at the rear. KMC Z410 chain is strong and durable, as are the Alloy Double-Wall 36H rims and sealed bearing hubs.
Overall, the GT Pro Series 29 is a fantastic street and BMX bike with all the features that you'd hope for in such a frame.
Schwinn Sting Pro
MSRP: See on Amazon
Multiple wheel sizes available
Sting top tube pad
Retro design and features
Schwinn Sting Pro is somewhere in between a dirt/park/street BMX bike, race BMX bike, and retro BMX bike. You could even say it is a retro BMX bike for its shiny look and brown-walled tires.
According to Schwinn, the Sting Pro is the ultimate racing machine with a Schwinn Hiten steel BMX frame based on the iconic 1989 design.
Fitting riders 4'8" to 5'4", the Schwinn Sting Pro isn't perfect for everyone, but it can fit both kids and adults.
The frame includes a classic BMX handlebar with a period-correct laid-back seat post and Sting top tube pad. This helps hide the rear brake cable, as well as protect the top tube from potential damage.
The entire bike includes period-correct details such as decals, paint, and parts that create a cool retro look.
As with most bikes in this range, the Schwinn Sting Pro comes with a single-speed drivetrain and rear caliper brake which keeps maintenance to a minimum. The rims are available in either 20" or 24" and are made from sturdy aluminum.
The crankset is tubular which adds additional strength and stiffness – this all provides faster acceleration when needed.
Diamondback Youth Nitrus
MSRP: See on Amazon
36-spoke wheels
Knobby tires
For the younger crowd, the Diamondback Youth Nitrus is one of the best kids BMX bikes. Designed for ages 7-9, this bike is simple and easy to use, making it perfect for younger kids and beginner BMX riders.
Built with a hi-tensile steel frame and fork designed for safe handling, the Youth Nitrus comes with a linear pull rear brake which is powerful enough for young kids to use in all situations.
The single-speed drivetrain is simple and reliable, and the entire frame rides on 20" wheels with knobby tires. These tires help provide plenty of grip both on- and off-road which allows you to explore a wide variety of terrain.
There is a super basic drivetrain that isn't super versatile but it helps keep the price down for an entry-level BMX bike for kids.
The wheels are 36 spokes, which is quite a lot for a beginner bike of this size. But this does help increase the strength of the wheels and the bike's overall durability. The tires are nice and thick which helps smoothen the ride whether on pavement or light dirt.
Redline Roam
MSRP: See on Amazon
Tall handlebars
20 x 1.95" tires
Redline Roam is a great BMX bike for beginners and for kids. With race-inspired geometry, Redline Roam is almost like an entry-level BMX racing bike, but it also has all the features of a freestyle BMX bike. Built with a hi-tensile steel frame, the Redline Roam has tall handlebars which help increase overall handling.
The Redline Roam is the perfect stepping stone for kids graduating from coaster brakes as the Roam features a freewheel and a rear handbrake. Some sporty graphics give the Redline Roam the look of a cool BMX bike, as does the slick color scheme.
Redline Roam comes with 20" wheels and 20 x 1.95" tires which are a bit narrower than other BMX bikes in this range. This means that you'll have a little bit less grip than wider and knobbier BMX bike tires, but you will save some weight and roll faster on narrower 1.95" tires.
The groupset is quite different from comparable kids BMX bikes – the Redline Roam has a 42T front sprocket and a 16T rear cog. Available in two different colors, Redline Roam is an affordable and high-quality option for a kid's first BMX bike.
Avasta ELVET K30
MSRP: See on Amazon
Threadless sealed integrated headset
Super lightweight
Avasta's BMX Bike is an entry-level freestyle BMX bike. There are six different colors to choose from, and the overall look of this bike is that of a cool BMX bike. You can get it at an affordable price, too, which makes the Avasta ELVET K30 appealing for both kids and adults.
Without pegs – four are included – the bike weighs just 25.8 lbs which makes it one of the lightest BMX bikes on our list. It comes with 25/9 gearing like most other freestyle BMX bikes, as well as a hi-tensile steel frame.
Avast ELVET K30 is certainly suitable for kids and teenagers, but it has a recommended height range of over 48". The max rider weight is 220 lbs which means that almost anyone can try out this entry-level freestyle BMX bike.
The drivetrain features a 170mm one-piece forged steel crank with an American loose ball bottom bracket. ELVET K30 comes with 20 x 2.4" tires on aluminum 36H rims that are sturdy and durable.
There is one brake in the aluminum rear U-brake, and the hi-tensile handlebar and fork are held together by a 45mm stem. The threadless sealed integrated headset helps enable maximum steering performance.
At this price point, it's hard to steer away from the Avasta ELVET K30 as your first freestyle BMX bike.
Redline Rival
MSRP: See on Amazon
8" big-box handlebars
Light at 26.4 lbs
20 x 2.25" tires
At a slightly higher price point – but still very affordable – than the Redline Roam is the Redline Rival. This bike is a freestyle BMX bike better suited for tricks and urban riding than the Roam. The tires are, again, 20", but after that, there are quite a few differences between the two bikes.
Designed for kids, Redline Rival includes 8" big-box handlebars and a top load stem for wheelie assist.
As you may be able to tell, the Rival is for more experienced BMX riders, even kids. The steel frame is even shorter than comparable freestyle BMX bikes and includes a 19" top tube suited to smaller riders.
A Redline Monster saddle is well-padded and comfortable, and the tire size is back to the standard 20 x 2.25". This helps increase grip and comfort on all sorts of riding terrain, and 2.25" tires can better handle jumps and skateparks than 1.95" tires.
The entire bike weighs just 26.4 lbs making it one of the lighter options for a freestyle BMX bike.
Experience Levels
Experience plays a big part in choosing a BMX bike, and in this list, we've covered everything from beginner kids BMX bikes to high-end pro BMX bikes. When you're first starting out with a BMX bike, you should choose a low-to-mid level BMX bike that fits your needs.
For example, if you want to try out the skatepark on a BMX bike, you should choose an entry-level dirt/park/street BMX bike. This will give you the best balance between comfort, agility, and versatility in your first BMX bike.
More experienced riders may want to try their hand at bigger jumps, tricks, or maybe even racing. At this point, you should look for more specialized BMX bikes such as BMX racing bikes, vert BMX bikes, trick bikes, or freestyle BMX bikes. The more experience you have and the higher your skill level, the more you will benefit from a specialized BMX bike.
These pro BMX bikes will certainly be more expensive, but experienced riders will immediately notice the difference between a specialized bike and an entry-level BMX bike.
How to Choose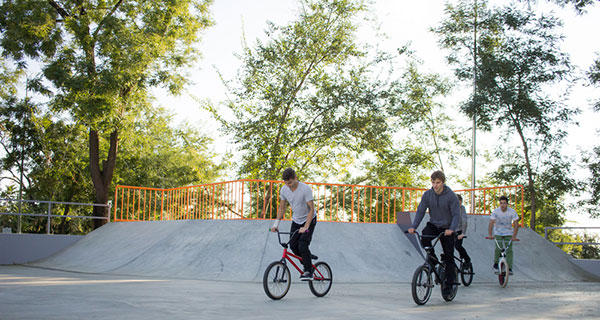 When looking for a BMX bike, there are a few things to consider before making your final purchase: your riding goals, price, sizing, and wheel size.
First and foremost, you should look for a BMX bike that matches your riding style and goals. Beginners shouldn't start with a Vert BMX bike designed for massive jumps, and elite BMX racers shouldn't go after a Flatland BMX bike.
If you're looking for a BMX bike, you probably have some idea of where and how you want to ride it. And if you're still not sure, then ask yourself these questions:
Where will I be riding my BMX bike?
Do I want to race my BMX bike?
Do I want to go off of big jumps with my BMX bike?
Price
Once you know where and how you want to ride your new BMX bike, it's time to narrow down your options.
Price is one of the biggest factors in any bike purchase, and with BMX bikes it is no different. Thankfully, BMX bikes are significantly cheaper than any other kind of bike due to their materials and simplicity.
But still, there is a wide range of BMX bikes that can cost anywhere from $200 to over $1,000.
The main differences between cheap BMX bikes and pricier BMX bikes are the frame, materials, features, and capabilities.
Highly-tuned Race BMX bikes are some of the most expensive, whereas Dirt/Park/Street BMX bikes are some of the cheapest.
If you know what kind of BMX bike you want, then you should already know about your riding goals. A beginner should stick with cheaper BMX bikes to start out since you can learn BMX skills on almost any bike. But once you graduate to the intermediate or expert level, you can start thinking about taking your riding to the next level with a high-end BMX bike.
Sizing
Lastly, you should consider the size of you and your BMX bike before making the final purchase.
BMX bike sizing can be a bit tricky because the riding position is not that straightforward. On a BMX bike, you may be riding, jumping, tricking, racing, or all of the above. It's very important to get the sizing right.
A BMX bike's sizing will significantly affect the bike's handling, as well as the rider's overall comfort and performance.
BMX bike sizing comes in two different forms: wheel size and frame size.
In general, riders under 155cm tall should be riding 16" or 18" BMX frames with 16" or 18" wheels. For even smaller kids – those under 120 cm tall – a 12" BMX bike frame and 12" wheels are the best size.
Most BMX riders (from 155cm to 184+cm tall) will use a 20-22" BMX bike frame with 20" wheels. On traditional BMX bikes, the wheel size never exceeds 20". Only styles such as "BikeLife" BMX bikes have BMX bikes with wheels larger than 20".
Of course, rider height is not the only factor that you should consider when choosing a BMX bike size. Your riding style and goals should be the next biggest consideration.
A smaller/shorter frame will be quicker to maneuver and is better for tricks and technical riding. On the other hand, larger/longer frames are more stable and better for racing, stability, and big jumps.
Frequently Asked Questions
There are no comments yet, add one below.