In 2013 the Aluminum Giant Revolt was released, and it turned heads. Giant had made something that had more ability than most bikes on the market, and it flew to the top of many people's most wanted bike list.
Each year the model just keeps getting better and the current model of Giant Revolt 2 is a living proof.
When it comes to gravel bikes, this is one of those bikes that should be at the top of your most wanted bike list. Is the Giant Revolt as good as everyone says it is?
In this Giant Revolt review, we'll give you all the information you need to know.
Specifications
Giant is known for making good-quality bikes for every experience level, and the Giant Revolt is no different. Here's everything you get on the bike:
Frame: ALUXX-Grade Aluminum, 12x142mm thru-axle, disc, flip-chip dropout
Fork: Advanced-Grade Composite, full-composite OverDrive steerer, 12mm thru-axle, disc
Rear Derailleur: Shimano Sora, long cage
Cassette: Shimano HG400, 11×34
Brakes: Tektro MD-C550 mechanical disc brakes
Shifters: Shimano Sora, 2×9
Wheelset: Giant S-X2 Disc wheelset
Tires: Giant CrossCut AT 2, 700x38c, tubeless
Seatpost Clamp: Giant D-Fuse, alloy, 14mm offset
The Frame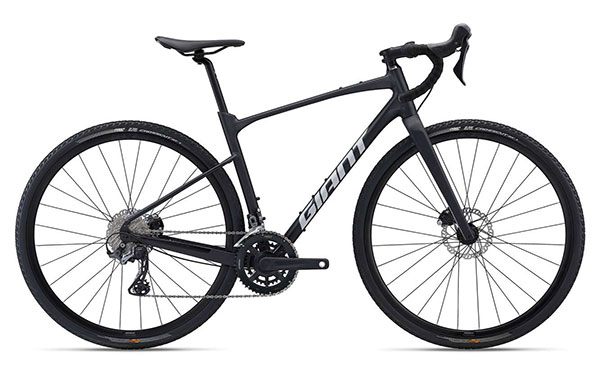 The first thing to mention about the Giant Revolt 2 is its frame. It's made from Giant's ALUXX- Grade Aluminum. It is lightweight, super-strong, and produced to a very high standard. The design is beautiful, and it comes in a few different paintjobs.
The geometry is worth mentioning. The bike is not just quick, but also to have the ability to keep you comfortable all day while riding. It will make not just a perfect gravel bike but also a fast endurance road bike.
It is designed with the weight low down, giving the bike an incredible amount of control when used. The extended rear A-frame and lengthened chainstays make this bike excellent on gravel and also great on the road.
A flip-chip dropout makes it possible to further adjust your geometry to suit your riding style and even fit larger tires if required.
The fork on this bike is made from carbon, more specifically, it's made from Giant's advanced grade composite. So it's very lightweight and stiff, making the bike feel very agile.
Both the fork and frame both use 12mm thru-axles instead of quick-release skewers, making taking the wheel and putting it back in easier and much safer.
Gearing and Brakes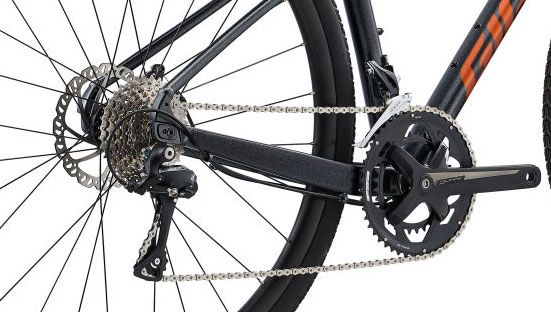 Giant Revolt 2 has been equipped with a Shimano Sora 2×9 speed gearing, which will give you 18 different gears and a huge range of gears to choose from that will get you up and down hills efficiently.
As Shimano gearing goes, it's mid-range and good value for money. The components are durable and reliable in many ways.
The front is a 32/48 crankset, and the rear has an 11/34 on the rear, so you have a lot of excellent gear to climb the steepest of hills and stay upright on nasty sharp gravel climbs.
Paired up with this groupset, you have Tektro mechanical disc brakes. They are great for braking in different conditions, unlike rim brakes that suffer in the wet.
However, we would have preferred hydraulic disc brakes as they are a bit more powerful, but mechanical disc brakes suit this bike well too.
Another great feature of this bike is the Giant D Fuse Seatpost. It is designed to be lightweight but also offers a small amount of suspension. It was invented in 2014 and just makes the rides much more comfortable with practically no weight penalty for it.
Wheels and Tires
The wheels on this bike are Giant's own, and if you have ever used Giant's wheels before, you will know they are excellent.
Giant uses the S-X2 Disc wheelset on this specific model. It's lightweight, and it has a large internal width for using wider tires. Not only is it a great wheelset, but also it comes tubeless as standard. This is where instead of using inner tubes, you use a sealant instead, which can self-heal after getting punctures.
Paired with these wheels, you have Giant's Crosscut AT 2 tubeless tires. They come in at 700x38c, so great for gravel and the road too. You could fit up to 53c tires if you wanted to go bigger as well.
Other Models
If the Revolt 2 is not quite what you're looking for, Giant offers some similar models alongside, which might be worth thinking about if you are in the market to buy a Revolt. Here are the differences you will find in these other models.
Giant Revolt Advanced 3 – Full carbon fiber frame and forks, GRX 400 groupset, D Fuse suspension seat post and handlebars, and hydraulic disc brakes.
Giant Revolt Advanced 2 – Full carbon fiber frame and forks, Mixed GRX 600/800 groupset, D Fuse suspension seat post and handlebars, Deep Blue in color with hydraulic disc brakes.
Giant Revolt Advanced 1 – Full carbon fiber frame and forks, SRAM AXS Rival groupset, D fuse suspension, hydraulic disc brakes, and comes in a deep green color.
Giant Revolt Advanced 0 – Best model available, comes in full carbon fiber frame and forks, Shimano GRX 810 groupset, carbon fiber CXR 2 wheels, D Fuse suspension, and hydraulic disc brakes.
FAQ
Final Verdict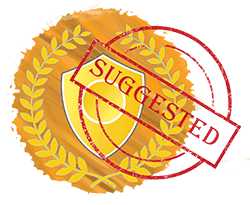 Overall, Giant Revolt offers a lot of value for its price.
The frame and forks are solid and on every model especially the Revolt 2 they use great components from the best brands on the market.
Giant hasn't cut any corners and we can't see why anyone wouldn't like this bike. You also get great add-ons like the D-Fuse seat post and flip-chip dropout.
The Revolt is ready for almost every kind of adventure, from riding on simple gravel roads to more technical trails.
There are no comments yet, add one below.