There is nothing that will put a smile on a child's face like riding a bicycle. But imagine that smile is ten times wider, with the help of the motor pushing them up a hill, helping them ride longer, and increasing their confidence on the bike.
Kids' electric bikes are special tools, and here, we have some of the very best.
Riding a bike is very intimidating to children, often from the moment they sit on a saddle.
As soon as they learn to balance, kids are left on their own to, pedal, brake, and shift. It is a lot to handle, and many are intimidated by steep hills and long distances, too.
Electric bikes have changed the landscape of the cycling world, and not just for adults.
Kids' electric bikes can change the way that kids grow up with cycling, making a once-scary activity into something that is fun and confidence-building.
But first, we hear the question.
Do Kids Need Electric Bikes?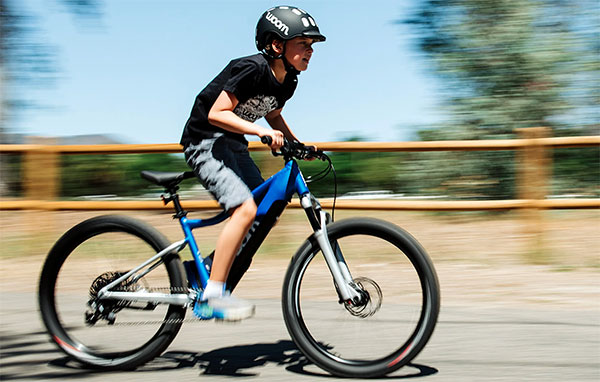 Kids' electric bikes enable children to ride farther and faster while still getting the full experience of riding a bike. That means they can explore new routes, commute longer distances, and tackle roads and trails that used to be too hard for them.
A kids' electric bike is great for traveling long distances with the help of a motor, while still providing a great form of cardiovascular exercise on the bike.
Related: How to Cycle With Kids
Rides that were previously too long and too boring can be transformed into exciting adventures on an e-bike.
Of course, there are some dangers related to kids' electric bikes. Many can be avoided with proper education and learning.
One of the biggest fears related to electric bikes is seeing them throttling down the street at 25mph – like a kids' electric motorcycle.
While a small number of kids' e-bikes make this possible, it is rare for kids' electric bikes to have a high-power motor and throttle assist.
Most kids' e-bikes are pedal-assist only, with the intended use of aiding their pedaling with a small amount of power. In other words, most kids' electric bikes are not designed or intended to go 20+mph.
It is important to teach children how to use e-bikes properly. Kids' electric bikes typically have powerful brakes – often disc brakes – which provide plenty of stopping power. Ride safety, road etiquette, and traffic laws are of the utmost importance as well, and kids should be taught these as soon as they swing their legs over a bike.
Read more: Bicycle Safety
Without further ado, let's jump into the best electric bikes for kids, from ages 2 to 18, and for all ability levels.
---
Best Electric Bikes For Kids
---
Hiboy BK1 Electric Bike
Suitable for ages: 3-5
Wheel size: 12″
Electric balance bikes can be a good option for some families (for example motorcyclists, etc). But overall, we wouldn't encourage this behavior, especially for learning how to ride.
The Hiboy balance bike is one of the lightest and sleekest kids' e-bikes on the market.
The frame houses a 100W motor that is quiet and powerful, helping you reach a speed of 9mph with pedal assist. There is even a push-strat design to the motor which prevents kids from accidentally starting the motor.
Adding to the safety element is a double brake design that uses both the e-brake and V-brake to slow both the front and rear wheel to a stop in seconds.
As for the specifications, the Hiboy BK1 comes with a 21.6V, 2A battery that lasts for 30-50 minutes, with a range up to 6.2 miles.
See age-appropriate options: Best Balance Bikes
woom UP 5
Suitable for heights: 4'1″-4'7″
Wheel size: 24″
Built for kids from ages 7 to 11, the woom UP 5 is a powerful e-bike that is among the best electric bikes for kids. This bike is all about making your child faster and more capable on mountain bike trails, so it is designed for adventure-seeking kids with some mountain biking experience.
The dynamic electric mountain bike has cadence and torque sensors built into the motor, and kid-specific geometry, plus enhanced safety features.
Its motor has a FAZUA drive system that offers three different levels of pedal-assist, which is more than most kids' e-bikes.
One of the biggest reasons that the woom UP 5 is so pricy is its lightweight design and aluminum frame. The superlight material includes sports butted hydroformed tubes, a long wheelbase, and a flat steering angle designed specifically for kids shredding the mountain bike trail. There is even a curved top tube that allows for quick and easy dismounts.
The motor is a pedal-assist system that offers assistance up to 12mph, so this kids' e-bike is not about going fast.
Instead, it's about helping kids on the steepest and hardest sections of mountain bike trails, and then letting them take over for the rest of the ride. There is also an SRAM NX trigger shifter and 11 gears to choose from.
See more: Best Mountain Bikes For Kids
Weighing in at 35.6 pounds, the woom UP 5 is quite heavy for a general kids' bike, though it is hardly half the weight of many adult e-bikes such as commuters or hybrids.
Considering the battery, motor, and suspension fork, the woom UP 5 is actually lightweight for a kids' e-mountain bike.
Swagtron EB-6 Bandit
Suitable for ages: 8-16
Wheel size: 20″
The Swagtron EB-6 Bandit is a unique kids' electric bike that happens to fit adults, too. It is a hybrid electric bike with fat tires and features that allow for off-rado shredding.
Specifically, the 4″ tires fit around 20" rims that maximize traction on all surfaces and help smooth out the ride for all ages. There are seven gears to choose from, and disc brakes for efficient stopping power.
Built with a durable 6061 aluminum frame, the Swagtron EB-6 Bandit has a 350W motor that is more powerful than most kids' electric bikes, and a 36V 7.8Ah battery with a 20-mile range that is quite impressive for an electric fat bike.
Related: Best Bikes For Teenagers
This e-bike has both throttle and pedal-assist options, with the throttle assisting up to 18.6mph. There are even more features for safety and efficiency. That includes a bell for alerting pedestrians and a kickstand with a built-in lock.
Sealed with high-quality materials, the bike is IPX rated. The electronics are safe from splashing water and off-road terrain.
woom UP 6
Suitable for heights: 4'6″-5'4″
Wheel size: 26″
The woom UP 6 is the slightly larger version of the woom UP 5 designed for older and taller kids. Many of the features and capabilities are the same, including SRAM NX trigger shifters, mechanical disc brakes, and a powerful motor.
The woom UP 6 is a kids' electric mountain bike designed to help kids tackle the harder mountain bike trails and steeper climbs.
For kids 10-14 years old, this bike is slightly heavier than the woom UP 5 at 37.3 pounds, though this is impressively lightweight considering the number of features on this bike.
The e-motor with FAZUA drive system provides pedal-assist power up to 12mph. It offers three different levels of assistance, plus the option to ride without pedal-assist.
Just like the woom UP 5, the woom UP 6 is built using a lightweight aluminum frame. The bike has kid-specific geometry that includes a longer wheelbase, flat steering angle, and curved top tube.
There are also powerful disc brakes that provide plenty of stopping power. Ergonomic contact points specifically designed for kids' anatomy, and Schwalbe Rocket Ron tires with ADDIX SPEED rubber which provides extra grip off-road, and pristine durability are in the mix too.
Jetson Bolt
Suitable for ages: 12+
Wheel size: 12″
Like a kids' electric balance bike, the Jetson Bolt is a small and lightweight electric bike perfect for short rides and easy commutes. The frame folds at its head and weighs just 34 pounds. It's easy to carry for the recommended ages of 12 and up.
Built with an aluminum alloy frame, the Jetson Bolt can support riders up to 250 pounds, which puts it in a category above most electric kids bikes which support riders from 30-100 pounds.
Somewhat rare for a folding commuter bike is the twist throttle and cruise control features of the Jetson Bolt. This can make your commute faster and easier than ever, and then you can fold up the frame and grab it with the built-in carrying handle. There is even an LED headlight, and charger included for the 250W motor.
The wheels are incredibly small at just 12" in diameter. This is perfect for quick cornering and great handling, especially in the city.
For those with relatively short commutes, the Jetson Bolt is the best electric bike companion. You can go up to 15 miles on a single battery charge, which is more than enough for most kids to make it to school or their summer job.
Healy Ridge 24
Suitable for heights: 4'8″-5'6″
Wheel size: 24″
The Schwinn Healy Ridge 24 is built for adolescents who want to tackle some longer and harder off-road trails.
This kids' electric bike has 1.95″ wide, knobby tires, and mechanical disc brakes. Plus, there's a front suspension fork to handle medium off-road terrain, and a powerful motor to help kids up the steeper gradients.
See more: Overview of Schwinn Electric Bikes
With a pedal-assist motor up to 16mph, you don't have to worry about kids flying off the trails at high speeds. The battery will last up to 20 miles per charge to help power a longer day on the trails. An 18-speed twist shifter will provide plenty of options for climbing and descending, as well as city riding or school commutes.
The motor comes in the form of a 250W pedal-assist hub motor with several levels of assistance. The battery is housed internally in the downtube and can recharge all of its 280Wh in four hours with a standard household outlet.
The best thing about the Schwinn Healy Ridge is that it's great for adults too. There's no restriction to using it, as long as the fit is comfortable.
Electra Townie Go! 7D
Suitable for heights: 4'11" – 5'11"
Wheel size: 26″
Designed for older and taller children, the Electra Townie Go! 7D is an electric townie bike designed for easy cruises.
Available in five different colors, this bike has a step-thru frame which makes for easy mounts and dismounts, as well as a 250W Hyena motor.
The battery has a capacity of 250Wh and pedal assistance up to 20mph.
With 40Nm of torque inside the geared-hub motor, this bike can go for 16-40 miles on pedal-assist, and offers a 7-speed drivetrain with an optical gear display. This is a large range compared to many other townie bikes.
The frame is made from aluminum, though the entire bike weighs 47 pounds. This is pretty heavy for a kids' bike, so this is a better choice for older kids.
The battery is fully integrated which helps maintain the center of gravity. Along with Patented Flat Foot Technology, it ensures an upright and relaxed position.
The 2.35" tires increase comfort as well, while there are also mechanical disc brakes for quick and easy stopping.
With a powerful motor, seven gears to choose from, and a super comfortable design, the Electra Townie Go! 7D is one of the best electric bikes for teenagers, especially those looking for an easier commute or a vehicle for a summer cruise.
How to Choose?
---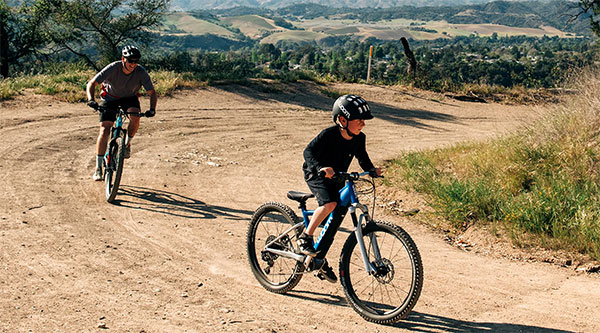 In order to choose an electric bike for kids, you should have three main considerations: price, power, and weight.
The price of the bike is arguably the most important factor in choosing a kids' electric bike, as e-bikes can be very expensive. However, as we've seen in our list, there are a number of high-quality and affordable options out there.
You can sell your kid's electric bike once they've grown up and outgrown their frames. Bikes are in high demand these days and the trend is only increasing.
As long as the electric bike is not significantly damaged, you should be able to sell the used bike for a large portion of the original price.
Power
One of the #1 questions posed by parents shopping for a kids' electric bike is, "How much power should a kids' electric bike have?"
To help break this down, there are three classes of electric bikes: Class 1, Class 2, and Class 3.
These classes are divided by the presence (or non-presence) of throttle, and the maximum speed to which the motor will provide assistance.
Class 1 electric bikes do not have a throttle and can assist up to 20mph. Class 2 e-bikes do have a throttle and can assist up to 20mph, and Class 3 electric bikes may or may not have a throttle, and can assist up to speeds of 20-28mph.
Most kids' electric bikes are Class 1 e-bikes, while some Class 2 e-bikes are designed for teenagers and adolescents.
We recommend Class 1 e-bikes for kids, as this will help them develop all the skills of pedaling and bike-riding without the mechanical assistance of a throttle.
Weight
Another important factor to consider is weight, especially since e-bikes can be very heavy. Most kids' electric bikes are quite small – but kids are small too.
That means that it will be very difficult for most kids to lift up a kids' e-bike, especially over their heads.
This is an important factor to consider if the child will ever be having to lift their bike up – perhaps for packing it into the car, walking it up the stairs outside the school, or lifting it over a fallen tree on a mountain bike trail.
Lightweight kids' electric bikes typically come with smaller motors and less battery life. So, they are ideal for shorter commutes and mountain bike rides.
Larger and heavier kids' e-bikes are best for long-distance and road rides because of their big power and extended battery life.
Frequently Asked Questions
There are no comments yet, add one below.