Specialized is one of the biggest, most popular, and most innovative cycling brands in the world right now. We delve deeper to find out more about its unique bikes, history, and groundbreaking technologies.
Part of Best Bike Brands
There's little chance that you haven't heard about Specialized if you have even the slightest interest in cycling.
This California-based company is an industry leader and one of the most influential cycling brands ever to exist.
Specialized came a long way from being an importer of Italian bike parts to manufacturing tires to producing revolutionary bicycles in all categories.
According to Specialized itself, the brand has always been about "building bikes and gear that solve a problem and fill a need." The brand has always looked toward the future, which is probably why it is still around today.
Keep reading to learn more about the brand's history, new technologies, and mouth-watering Specialized bikes.
Specialized History: How It All Began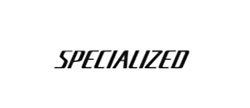 Specialized's story began in 1974 when Mike Sinyard sold his Volkswagen Microbus for $1,500 and bought Italian bike parts that were in high demand at the time.
A few years later, in 1976, Specialized made its first product—a road tire. Mike believed that tires were the part that affected the ride quality the most but was not happy with the options on the market, so he decided to solve that problem.
After that, in 1981 came the first Specialized-labeled bicycle—the Stumpjumper.
This was not the first mountain bike, but it was the first mass-produced MTB, which helped popularize mountain biking and make it more accessible.
Around this time, the company also made the Allez road bike and the Sequoia touring bike, both of which were huge successes.
In 2001, Mike Sinyard had to sell 49% of his ownership to Merida bikes due to financial struggles caused by poor business decisions made during the mid-1990s.
However, today Mike still owns 51% of the company's shares and the headquarters remain in Morgan Hill, California, where it all started almost 40 years ago.
Unique Features and Technologies
Specialized's mission has always been to improve the cycling sport by researching and developing technologies that solve problems. Sometimes, these were problems that cyclists didn't even know they had until the solution appeared.
For example, in 1993 Specialized introduced the FSR four-bar suspension system (still in use today), followed by the Brain shocks and the Future Shock suspension.
In 1999, the brand started working on "Body Geometry" to make its bikes and gear more efficient and more comfortable and even designed its own wind tunnel to take the aerodynamic properties to the next level.
Brain Technology
The Brain is a suspension technology that is used in Specialized's Epic forks and shocks. Its job is to keep the suspension firm on smooth terrain and activate it when things get rough.
Brain suspension does all of this automatically, so riders can simply focus on riding. Moreover, the system can distinguish pedaling forces from bump forces, so it makes pedaling more efficient as well.
Unlike other similar suspension technologies, there's no need to press any levers to change ride feel, Brain does it all on its own.
FACT Carbon Fiber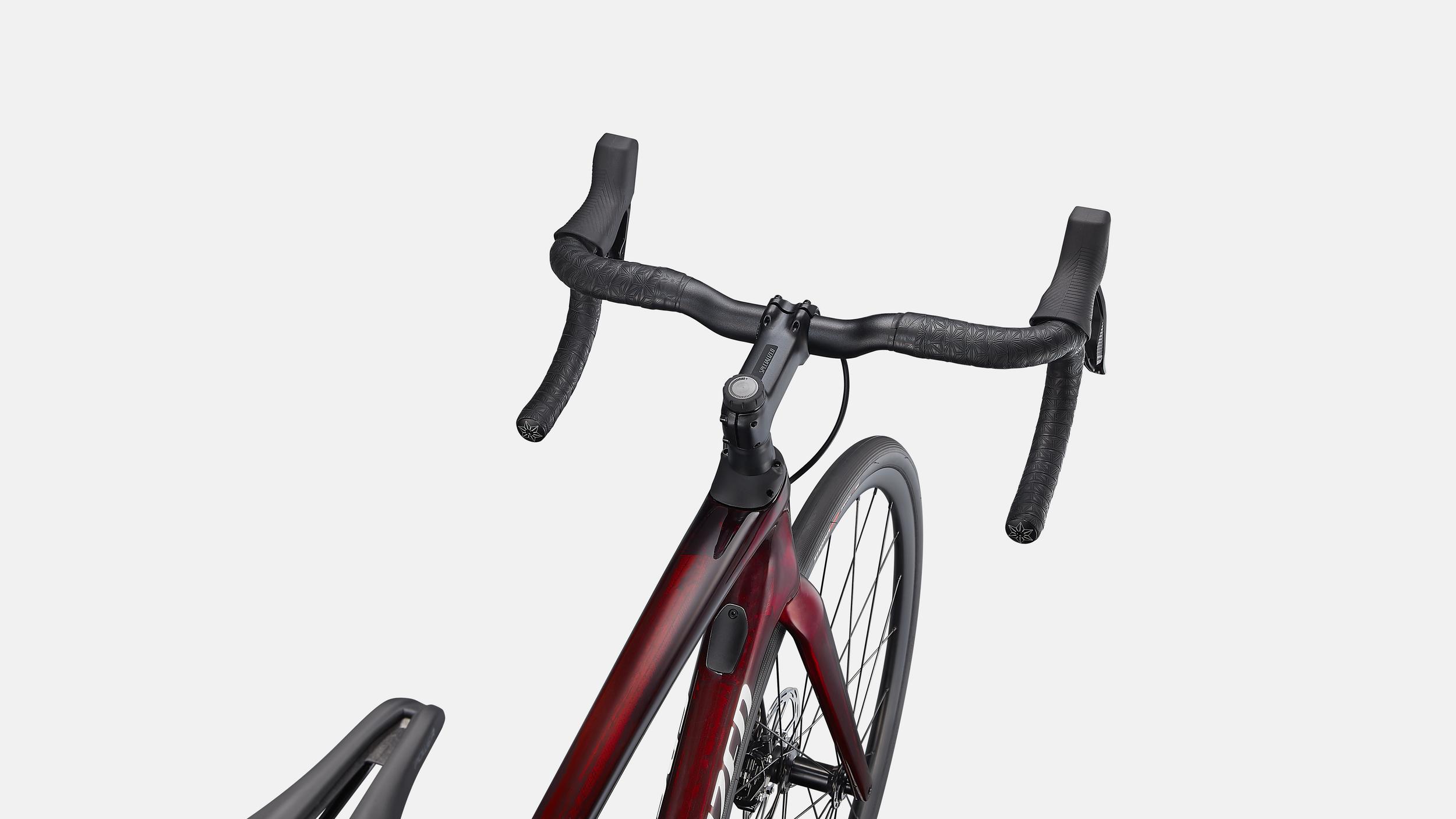 FACT stands for Functional Advanced Composite Technology and represents Specialized's approach to carbon composites used for the production of frames and components.
This does not just stand for the carbon fiber material but for the entire process of designing and manufacturing a carbon product. Again, this is a problem-solving procedure that aims to make carbon equipment more efficient and more durable.
The result? Every carbon bike has a frame with a different fiber layup for maximum stiffness and best performance.
Advanced Aerodynamics
There's no doubt that Specialized makes some of the best aero road bikes available on the market today. That doesn't come as a surprise considering that the company has its own wind tunnel.
The brand has a team of aerodynamic experts who use tools such as Computational Fluid Dynamics (CFD) and on-bike Data Acquisition (DAQ) to reduce drag and increase speed.
So, when Specialized says their new bike is more aero than ever before, you know they have actual data to prove it.
The Future Shock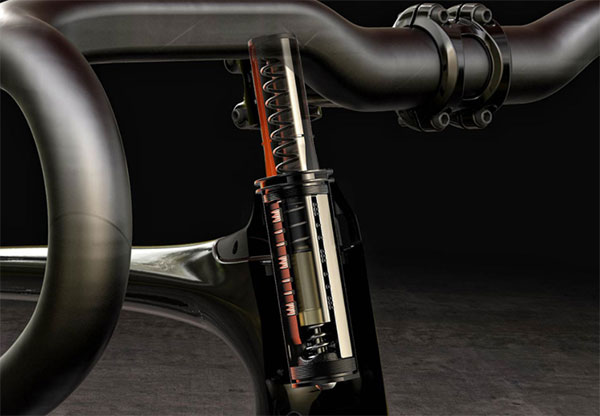 The Future Shock is a suspension mechanism that fits inside the headtube and provides riders with 20mm of front travel. This technology is found on Specialized's gravel and all-road bikes, such as the Roubaix and Diverge. It has numerous benefits, in addition to improved comfort.
Unlike other front suspension technologies, the Future Shock sits between you and the bike, rather than between the bike and the surface. As a result, you experience improved comfort without losing power and forward momentum as the tire rolls over bumps.
Specialized Branded Equipment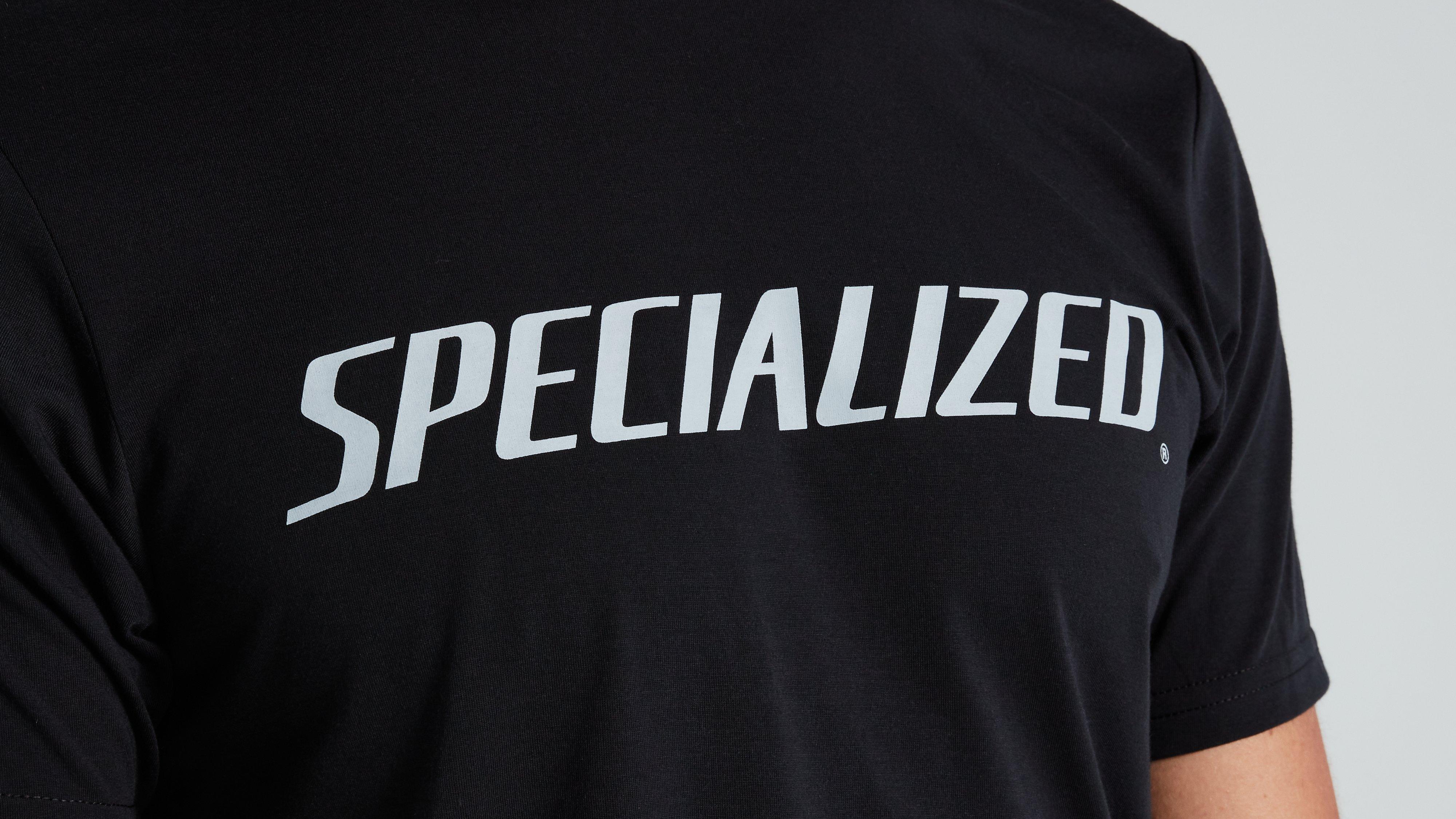 Specialized is best-known for its mouth-watering bikes, but the company also makes a huge variety of cycling equipment. The selection includes men's and women's apparel, bike components, and bike gear and accessories.
Basically, if you wish to do so, you can clad yourself in Specialized-branded cycling apparel from head to toe. You can also purchase everything you need to equip your bike or yourself, such as saddles, handlebars, stems, wheels, helmets, lights, bottles, and a lot more.
Specialized also makes race-oriented bikes and equipment under the S-Works label, used by numerous elite riders. There's also a selection of specialty equipment, such as indoor cycling gear, high-vis gear, and the Peter Sagan collection.
Specialized Bikes Range Overview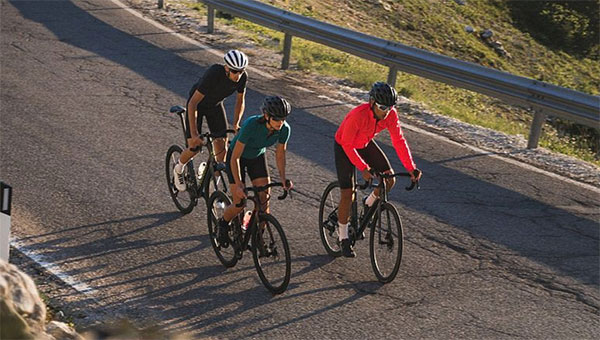 Specialized makes a huge variety of bikes and a massive number of models. However, this Californian brand is best-known for its high-end bicycles. It does offer mid-range and entry-level bikes, but that's not where the real value lies.
Basically, no matter what type of bicycle you need, you can find it in Specialized's lineup:
Mountain: Cross Country, Trail, Downhill, BMX/Dirt Jump
Road: Performance, Gravel, Cyclocross, Triathlon
Active: Fitness, Transport, Comfort
Turbo E-Bikes: Road, Mountain, Active
Kids: Toddler, Little Kids, Big Kids
Like many other manufacturers, Specialized typically offers each model in several different builds.
The hierarchy of builds from cheapest to most expensive is: Base, Sport, Elite, Comp, Expert, Pro, and S-Works. These differ in the frame material and the components.
As we've mentioned above, Specialized is not popular for its entry-level bikes. The reason is that these don't offer as much value as similarly priced bikes made by less-known manufacturers. However, its high-end bikes more than justify the high price tags by incorporating innovative technologies, premium components, lightweight materials, and unprecedented performance.
A quirky thing about Specialized is that it adopted a "gender-neutral" approach to building bikes.
That means that it doesn't make men- or women-specific bikes. The reason is that Specialized noticed that two random male bodies can differ more than a male and a female body, so gender-specific bikes seem pointless.
If you want to learn more about different types of Specialized bikes and individual models, check out the overview below.
Mountain
If riding off-road is your preferred type of cycling, you're on a good path to becoming a fan of Specialized. Within its lineup, you'll find all kinds of bikes made for off-road riding, at all price points.
Related: Best Mountain Bike Brands
Specialized boasts a selection of cross country, trail, downhill, BMX, and dirt jump bikes suitable for professionals, enthusiasts, and complete amateurs. The models are available in different build levels, including the race-ready S-Works builds.
Some of the most popular Specialized mountain bikes are:
Chisel
Epic
Fuse
Rockhopper
Demo
What sets these bikes apart from other brands is Specialized's proprietary suspension and a perfectly balanced tune.
Namely, all full-suspension bikes feature the well-known FSR suspension technology invented more than 20 years ago. It delivers more comfort and efficiency than any other suspension design, which is why it has withstood the test of time.
There's also the Brain technology that we talked more about above, as well as the fact that Specialized mountain bikes are custom-tuned to ensure the best performance from the suspension.
The only downside is that their high-end models are not the cheapest, though there are lots of entry-level and mid-range builds to choose from as well.
Road
Specialized road bikes set the standard by which all others are measured, as the brand puts it itself. Road riding is the discipline that Specialized is most popular for thanks to lightweight carbon frames, great aero characteristics, and enviable components.
No matter if you're an elite rider looking for a rig to win the Tour on, or an amateur wanting to buy their dream bike, you'll find something of interest below.
You can choose from performance, gravel, cyclocross, and triathlon bikes.
Related: Road Bike Types
Even if you lived your whole life under a rock, you must have heard about some of these models:
Allez
Diverge
Roubaix
Tarmac
Venge
Aethos
Shiv
Specialized road bikes selection also includes gravel and all-road bikes such as Diverge and Roubaix. These have been gaining in popularity in recent years with the advance of gravel riding.
The Allez model is budget-friendly and has been around since the early 1980s, as it was one of the company's first models. On the other hand, the Tarmac lineup is fully race-ready and ridden by some of the best elite cyclists in the world.
Specialized gravel bikes boast the Future Shock front suspension, whereas all models are made with the Rider-First Engineered™ philosophy and an emphasis on aerodynamics.
Related: Best Road Bike Brands
Active bikes
You don't need to be a performance-oriented cyclist to ride Specialized bikes. Though that's what this North American brand is best-known for, it also makes fitness, transport, and comfort bikes intended for everyday lifestyle riding and commuting.
Some of the most popular models in the Active category include:
Sirrus
Sirrus X
Crossroads
Roll
Turbo Como
Turbo Vado
Don't get fooled, Specialized hybrid bikes can be used both for casual and for more serious riding. Its fitness bikes have fast, narrow tires, lightweight frames, and the Sirrus models even feature the Future Shock suspension.
However, if comfort is your main priority, we recommend checking out the Crossroads and Roll models, which are perfect for city riding and short commutes.
The Active category also includes a large number of e-bikes that will make it easier for recreational cyclists to commute, cover longer distances, and enjoy cycling more.
Many of these bicycles come with handy accessories that are a must for urban riding. That includes fenders, racks, lights, and some models even boast front baskets.
Kids
Specialized kids' bikes are perfect for young cycling fans of all ages. Unlike some other brands, Specialized doesn't skimp when it comes to the components and build quality of their kids' models.
The brand believes that kids' bicycles should be as equipped as adult models, just smaller in size. That way, little riders get the best first bikes that will make them fall in love with cycling for the rest of their lives.
In terms of sizing, there are three types available:
Toddler (1.5Y – 4Y)
Little Kids (4Y – 7Y)
Big Kids (7Y – 10Y+)
However, Specialized also has a four-step approach to defining kids bikes based on complexity:
1st Step: Balance bikes
2nd Step: Pedal bikes with coaster brakes
3rd Step: Pedal bikes with hand brakes
4th Step: Bikes with gears and hand brakes
The most popular models your little rider can choose from include Hotwalk, Riprock, and Jett. These are available in different build levels, suitable for complete beginners to serious tiny trail riders.
The most unique and a bit controversial model is the Hotwalk Carbon balance bike that costs $1,000. So if you want to treat your kid with the best Specialized kids bike ever made, feel free to empty your account.
Looking for kids' bikes? See our list of best kids' bikes.
E-bikes
Specialized e-bikes are the result of blending Swiss precision and engineering with the Californian laidback outlook on life. Namely, instead of using off-the-shelf motors and batteries, Specialized decided to build its own. This allows them to fine-tune the assistance feel and the battery range.
All e-bikes from this brand have the word "Turbo" in their name. That's good as sometimes the motor and battery are not obvious at first glance.
The most popular models of e-bikes you can choose from are Turbo Como, Creo, Kenevo, Levo, and Vado. This includes different types of bikes such as road, gravel, mountain (FS and hardtail), and hybrid bikes.
Related: Best Electric Road Bikes
What's interesting to point out is that Specialized makes Class 1 and Class 3 e-bikes that will assist you up to 20 mph or 28 mph. The maximum battery range is typically estimated at between 80 and 120 miles, or up to 5 hours for mountain bikes.
The biggest advantage Specialized's e-bikes have is the natural ride feel that they offer. Riding them feels like riding a regular bike, just having much stronger legs.
What we also like is the Mission Control App that connects your phone to the e-bike and lets you manage your battery's range, record rides, and adjust motor output.
Related: Best Electric Bike Brands
---
Top Models
---
As mentioned previously, Specialized makes a huge number of models, so finding the one that meets your needs perfectly can be time-consuming.
Check out our favorite models in various categories if you want to narrow down your choices and get the best Specialized bike for you.
---
Mountain
---
Rockhopper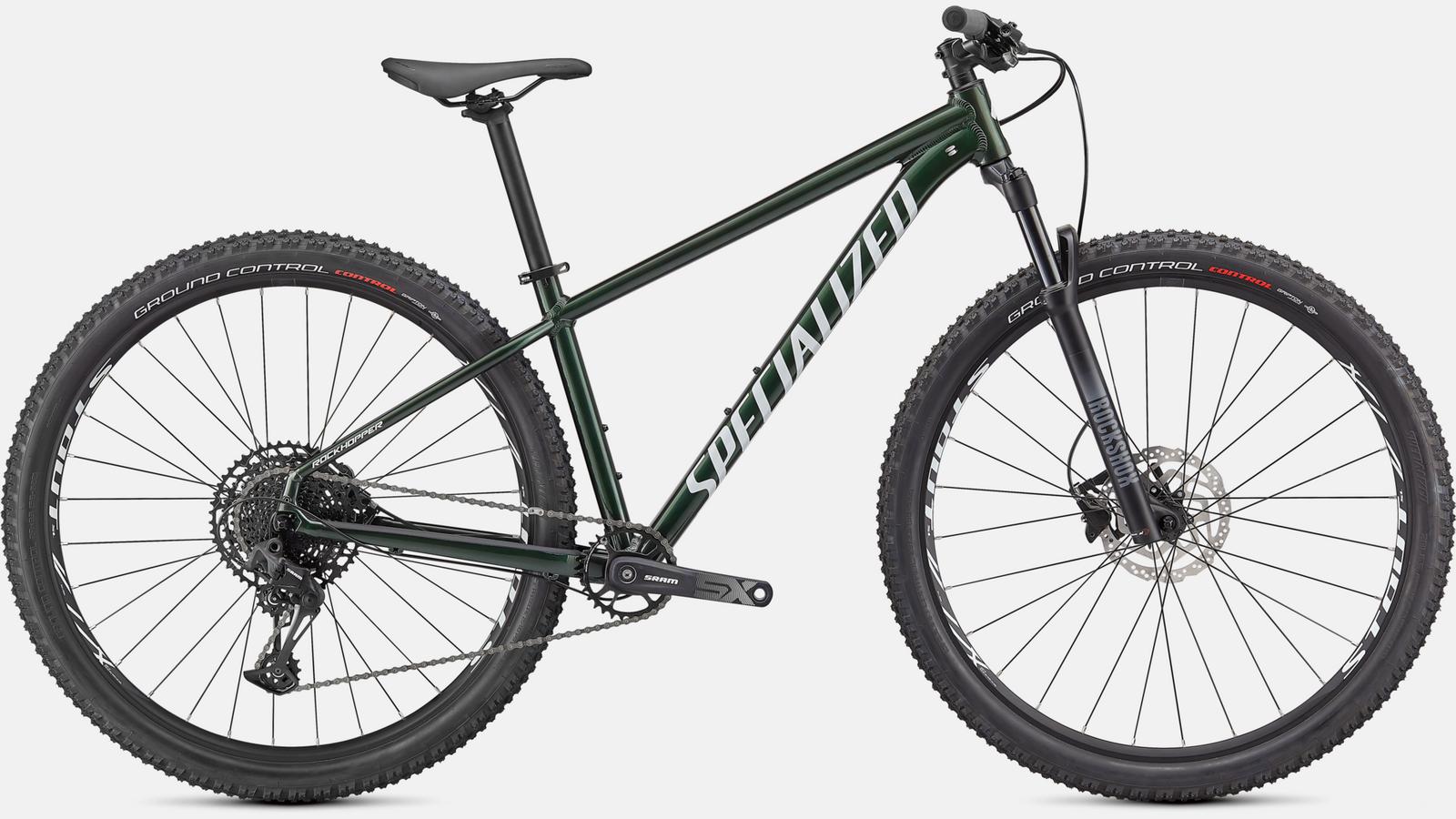 Specialized Rockhopper is a lineup of entry-level and mid-range XC hardtail mountain bikes. This series is ideal for absolute beginners and experienced mountain bikers who ride recreationally.
The selection includes men's and women's models with 1x and 2x drivetrains, as well as Shimano and SRAM components. All Rockhopper bikes also feature disc brakes and roll on 27.5″ or 29″ wheels and tires.
Enduro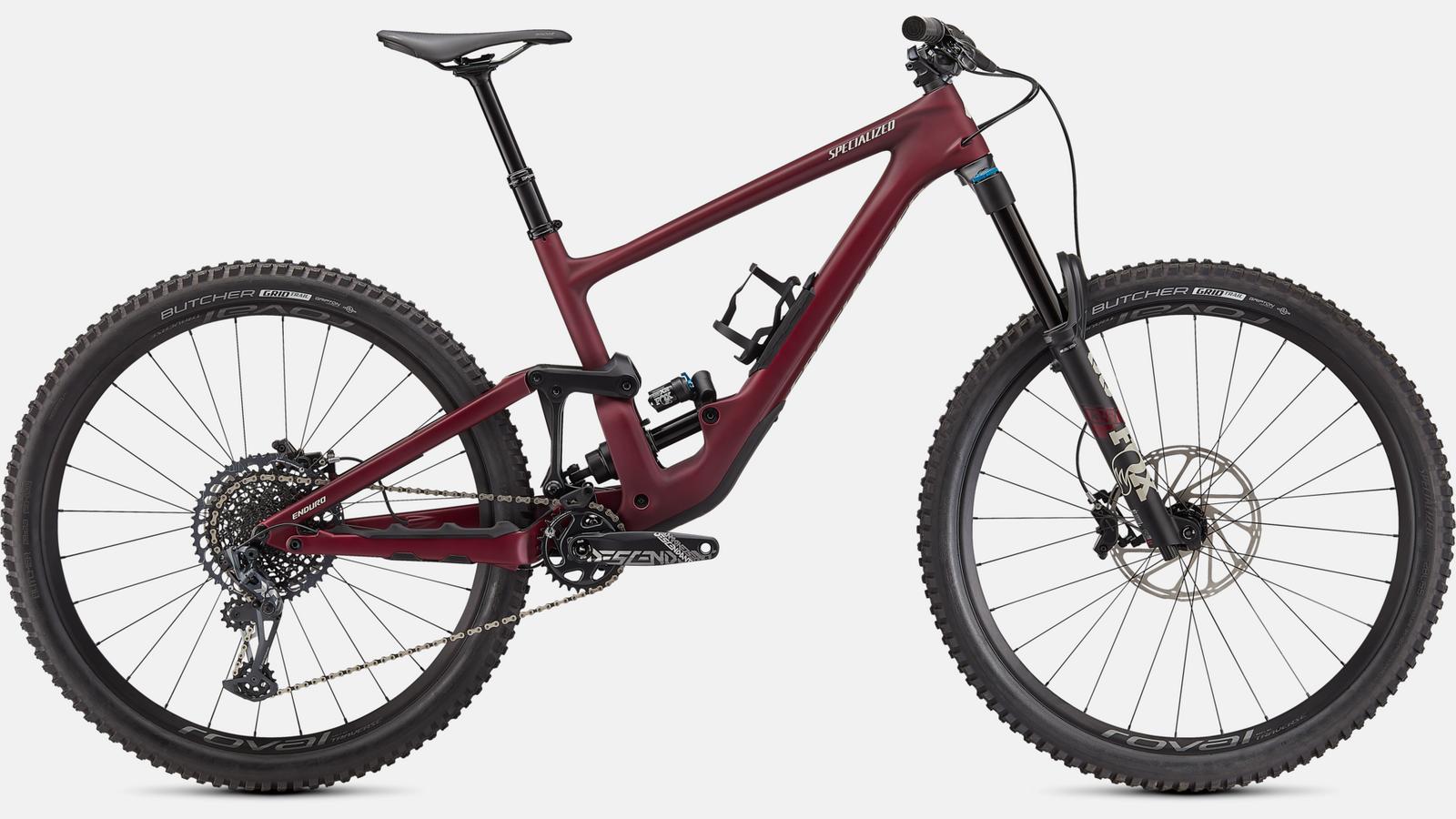 As the name tells you, this bike is Specialized's answer to the needs of enduro riders. It's a bike that's synonymous with the MTB category it represents.
Specialized Enduro features a lightweight carbon frame, top-tier Shimano XTR components, a 1x drivetrain, and 170mm of high-performance travel.
Its massive 29″ rims and tires roll over obstacles with ease making Enduro ideal for racers and competitive riders.
Stumpjumper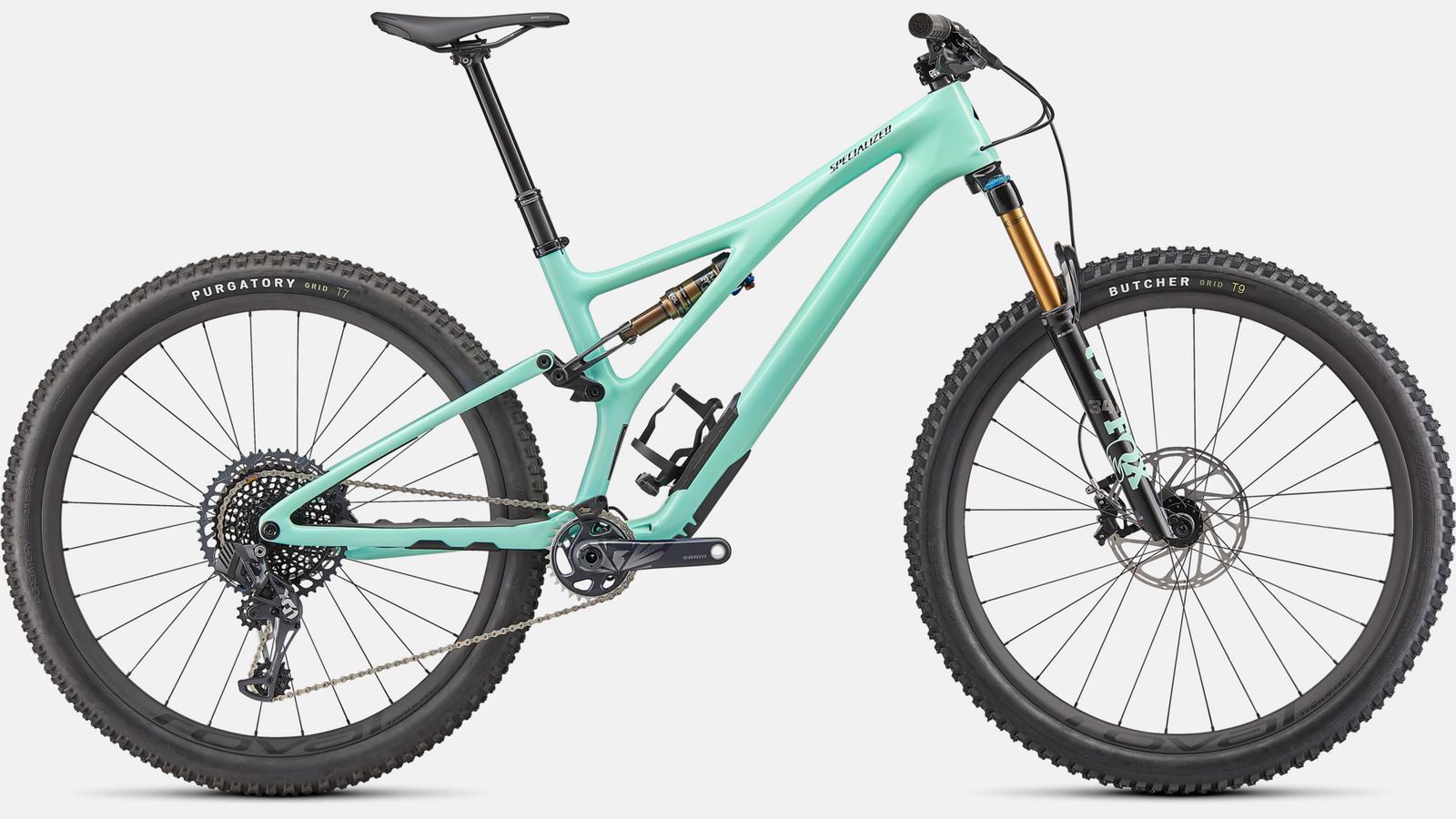 The Stumpjumper is a high-performance full-suspension trail bike suitable for top-tier pros and MTB enthusiasts. It's available in two versions—Stumpjumper and Stumpjumper EVO.
Related: Full Overview of the Stumpjumper Series
The difference is in geometry, as the EVO models are longer and more aggressive than the regular ones.
Stumpjumpers come with carbon or aluminum frames that allow for between 140–160mm of travel, depending on the model. All bikes feature gnarly 29″ wheels and dependable components and brakes suitable for demanding rides.
---
Road
---
Allez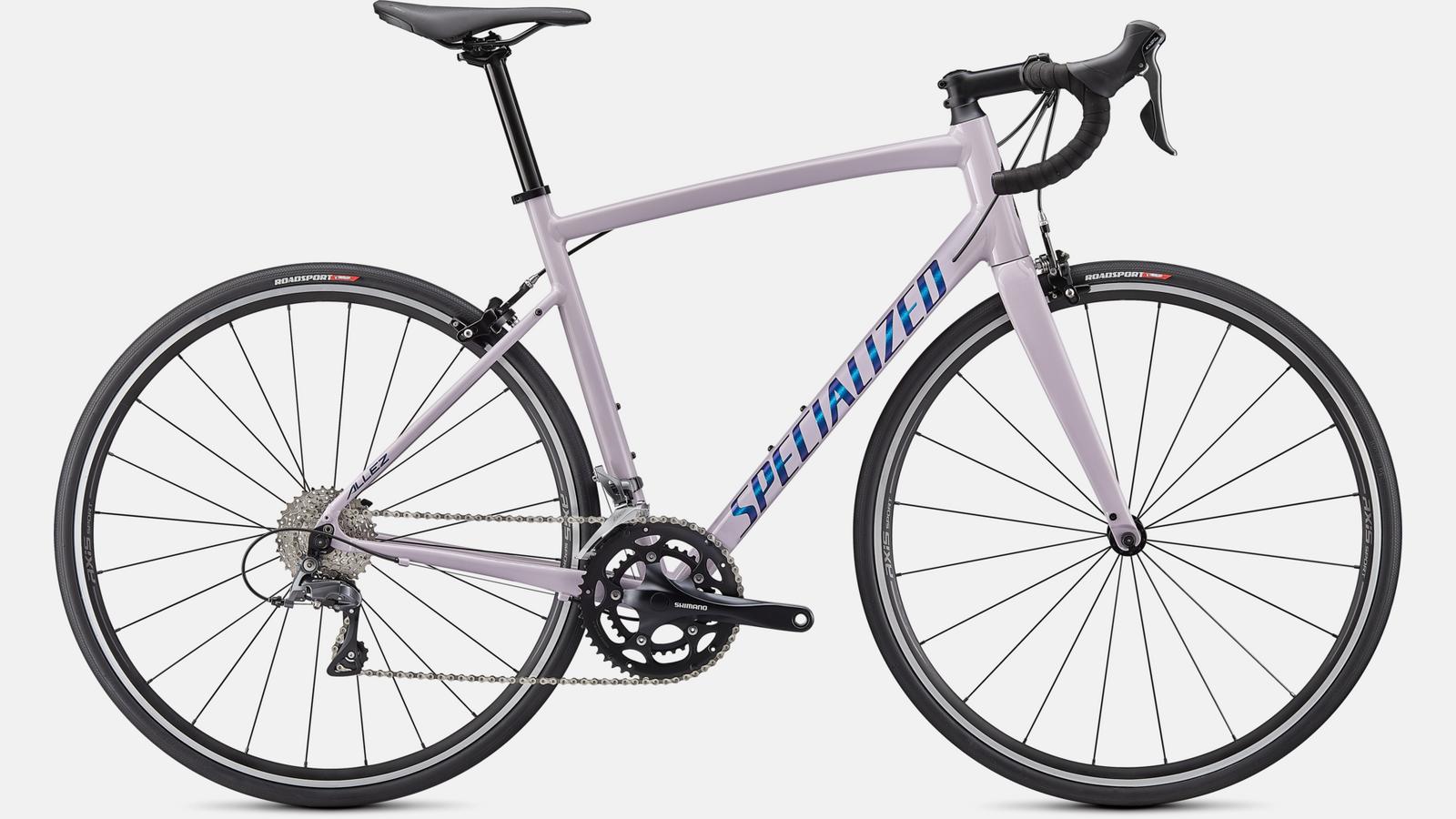 The Allez is one of Specialized's oldest road models. This is an entry-level road bike with endurance geometry, an aluminum frameset, and low-to-mid-tier components. It's perfect for beginners and intermediate riders.
Specialized Allez features compact 2x drivetrains, Shimano groupsets, and 26mm tires. The selection includes both rim and disc brakes, so it follows modern trends. It's ideal if you're looking for your first road bike!
Diverge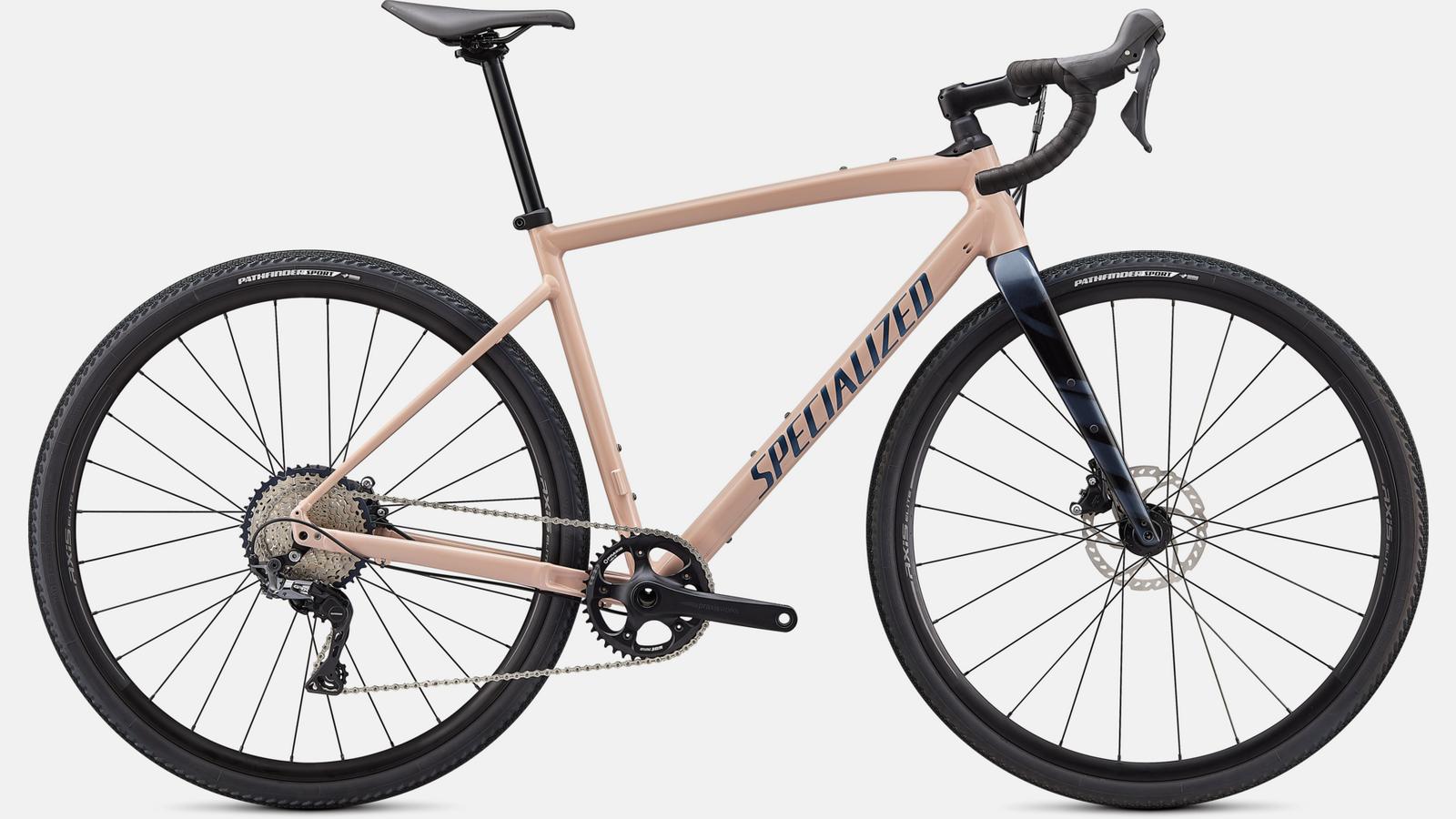 Keep riding even when the perfectly smooth tarmac turns into gnarly gravel with Specialized Diverge. These are high-quality gravel grinders built around lightweight carbon or versatile aluminum framesets.
The price tags range between $1,300 and $10,500, so there's a model for every type of rider out there. You can use the Diverge to race, finish gran fondos, or simply explore exciting gravel routes in your area.
Tarmac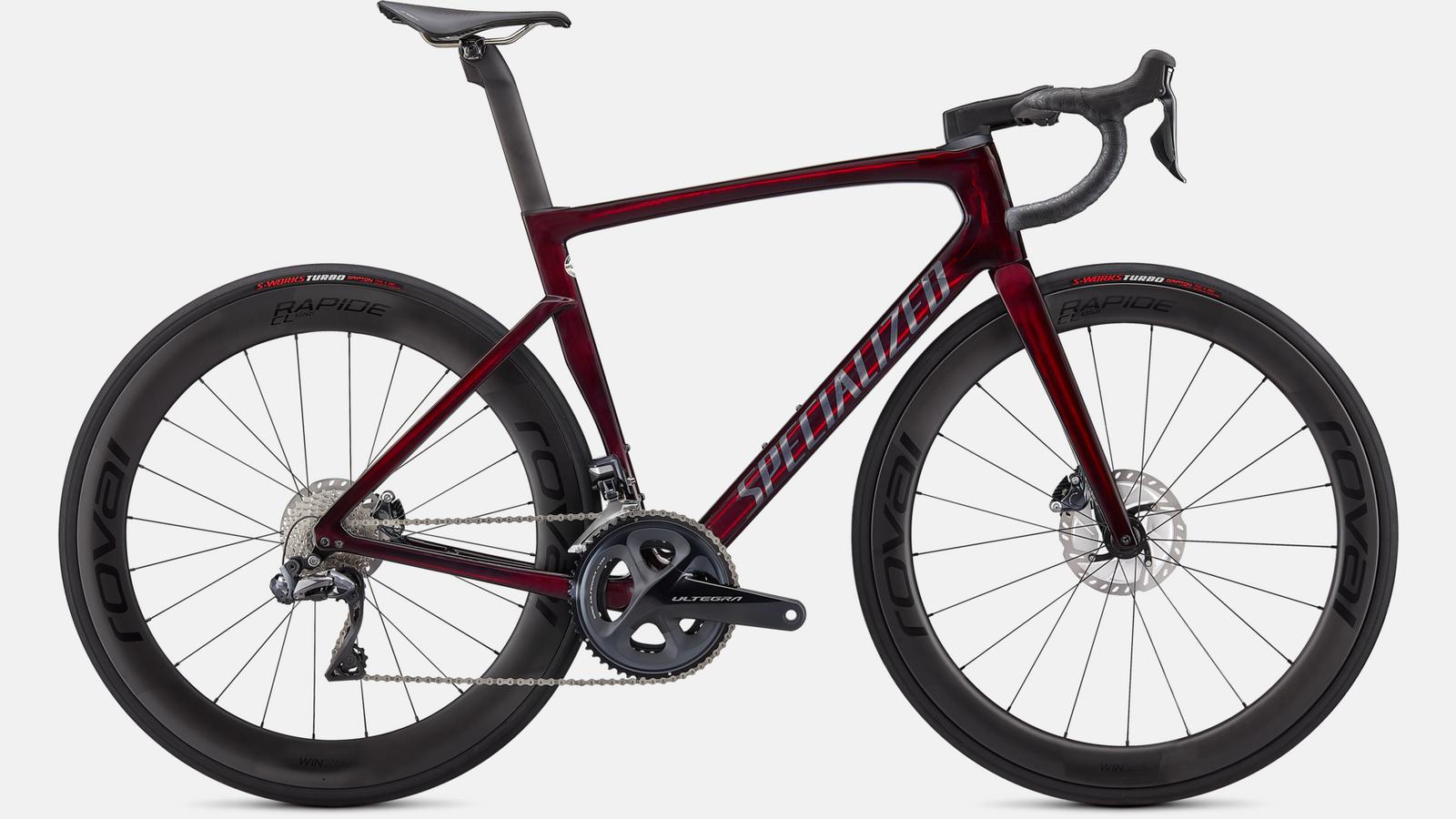 If you want the best of the best when it comes to Specialized's road bikes, then there's no debate to be had—get a Tarmac.
This is a high-end carbon road bike lineup endorsed by some of the best roadies in the world, such as Sagan and Alaphilippe.
Tarmac abounds in aero features, weighs as low as permitted by UCI, and comes equipped with top-end components, including powerful disc brakes.
---
Active
---
Crossroads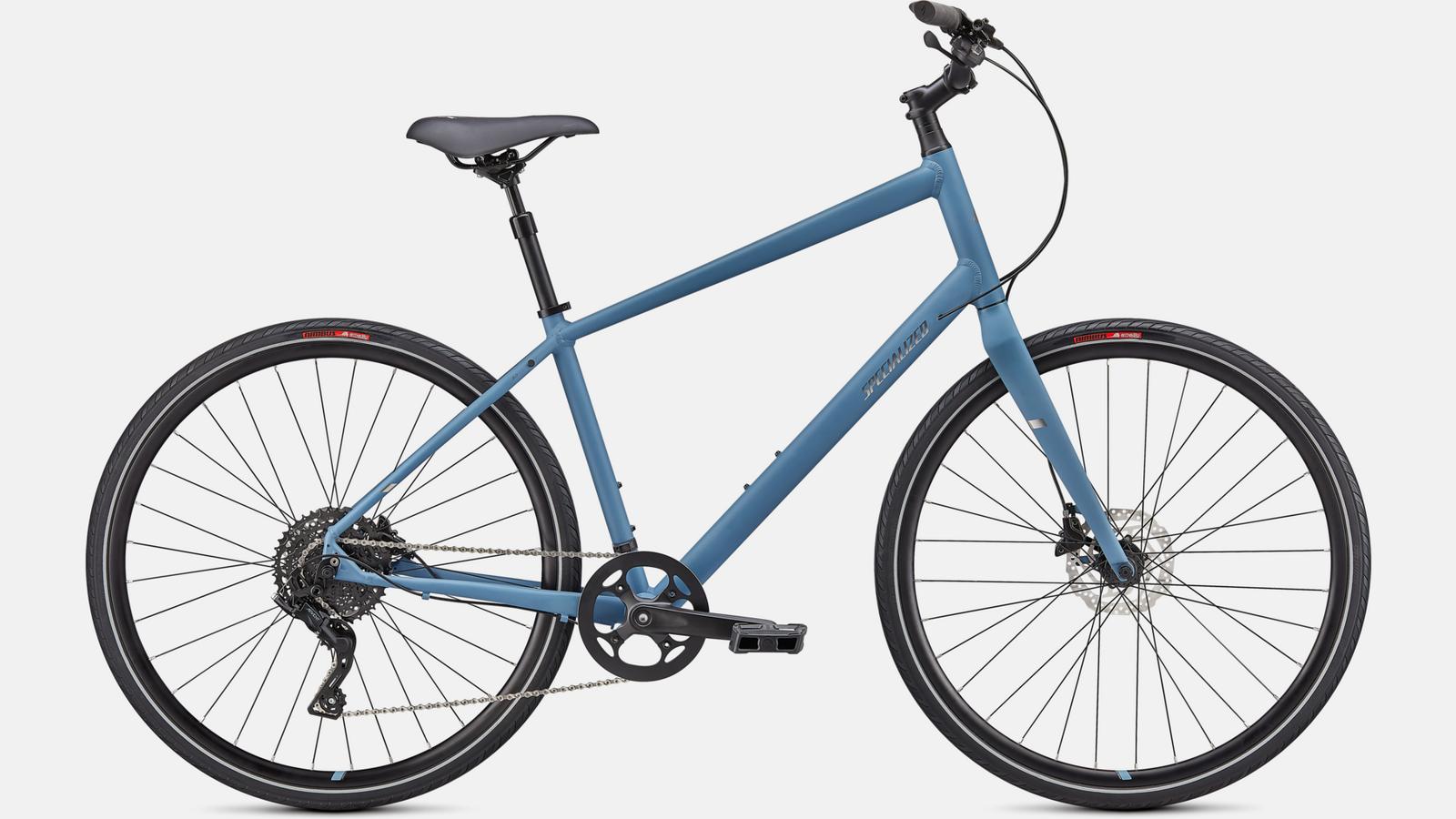 If you want to be more active, drive your car less, and simply enjoy the outdoors, you'll love Specialized Crossroads. This is a lineup of comfort/fitness/city bicycles with aluminum step-over/step-thru frames and affordable pricing.
These bikes are perfect for commuters, weekend warriors, and grocery haulers who want good-looking bikes with dependable entry-level components.
Equip yours with fenders, racks, or a front basket and turn it into a year-round workhorse.
Sirrus
The Sirrus is a capable fitness bike with flat bars, narrow tires, and road bike components. It's intended for riders who like speed and versatility, as well as for commuters who are always in a rush to get to work on time.
Specialized Sirrus boasts 2x and 3x drivetrains, as well as rim or disc brakes. If you want to take off-road detours and shortcuts, we recommend checking out Sirrus X, which is basically a flat-bar gravel bike capable of taking you on an adventure.
---
Electric
---
Turbo Kenevo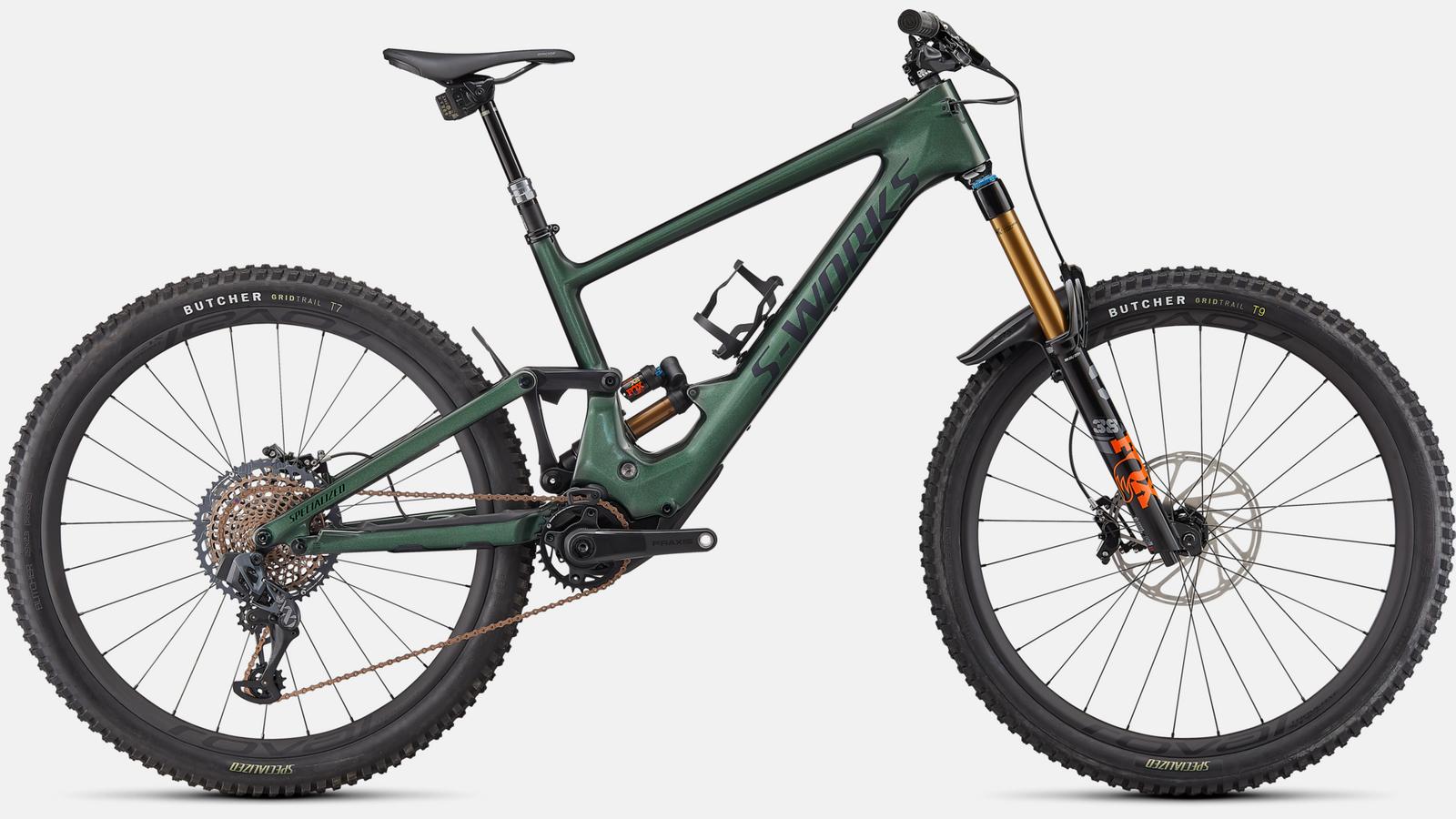 Turbo Kenevo is Specialized's highest-performing electric mountain bike and one of the best e-MTBs on the market. It boasts the Specialized 2.1 mid-drive motor that can amplify your power input by 410%.
You also get 180mm of front and rear suspension, so you can do everything that a standard MTB can do, and then some more.
If you don't need as much assistance and want to reduce some weight, consider the Specialized Turbo Kenevo SL. It is 12 lbs lighter, offers up to 200% of assistance, and sports 170mm of front and rear suspension.
Looking for more? See our list of top electric mountain bikes.
Turbo Creo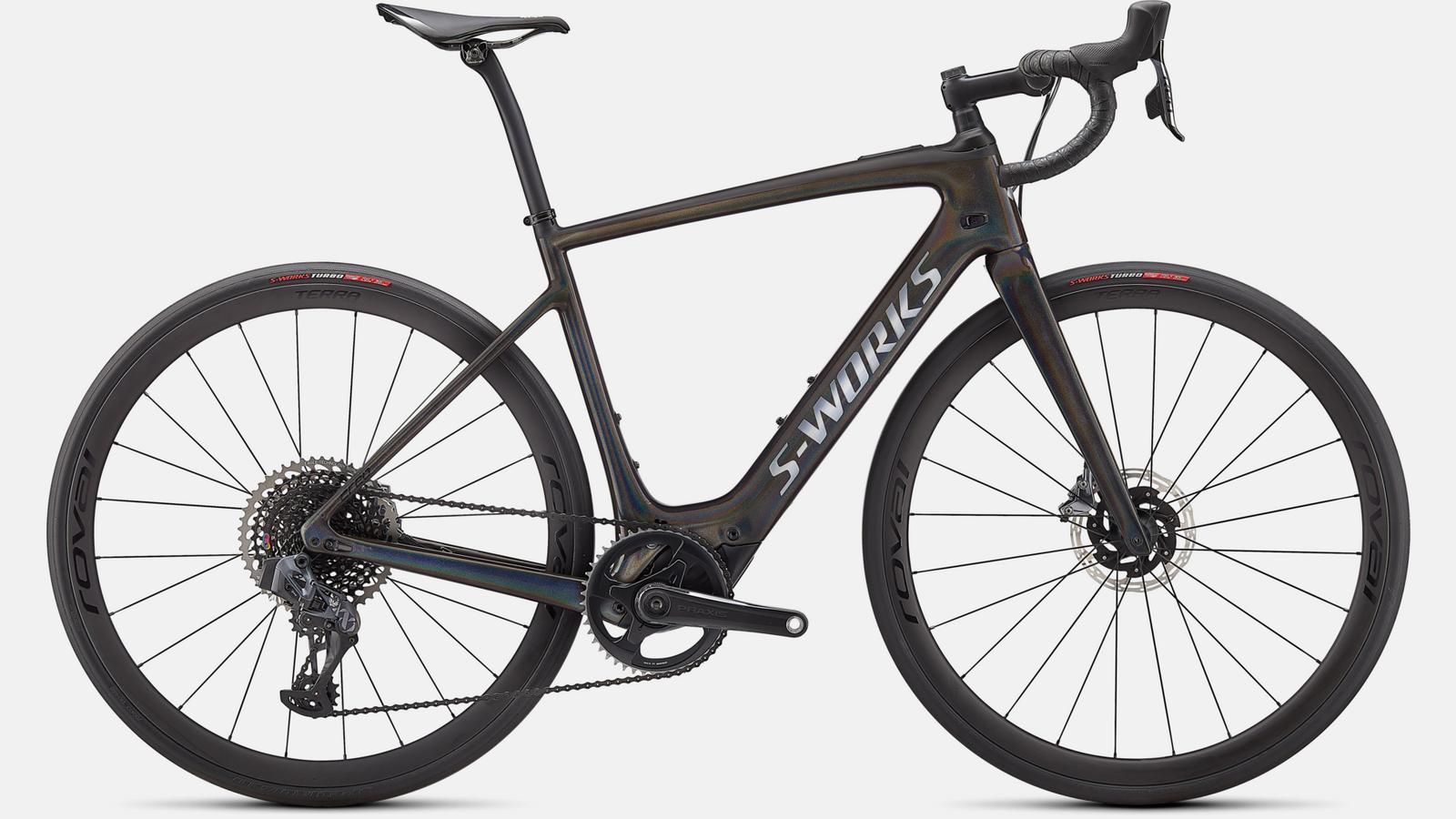 Turbo Creo is an electric road bike that will enhance your ride, rather than completely take over. As Specialized says, "It's you, only faster!"
These are budget-denting high-end e-road bikes with mid-drive motors and concealed batteries that come with a minimal weight penalty. They're ideal if you want to keep up with a faster group or match the speed and distance of your prior self.
Turbo Vado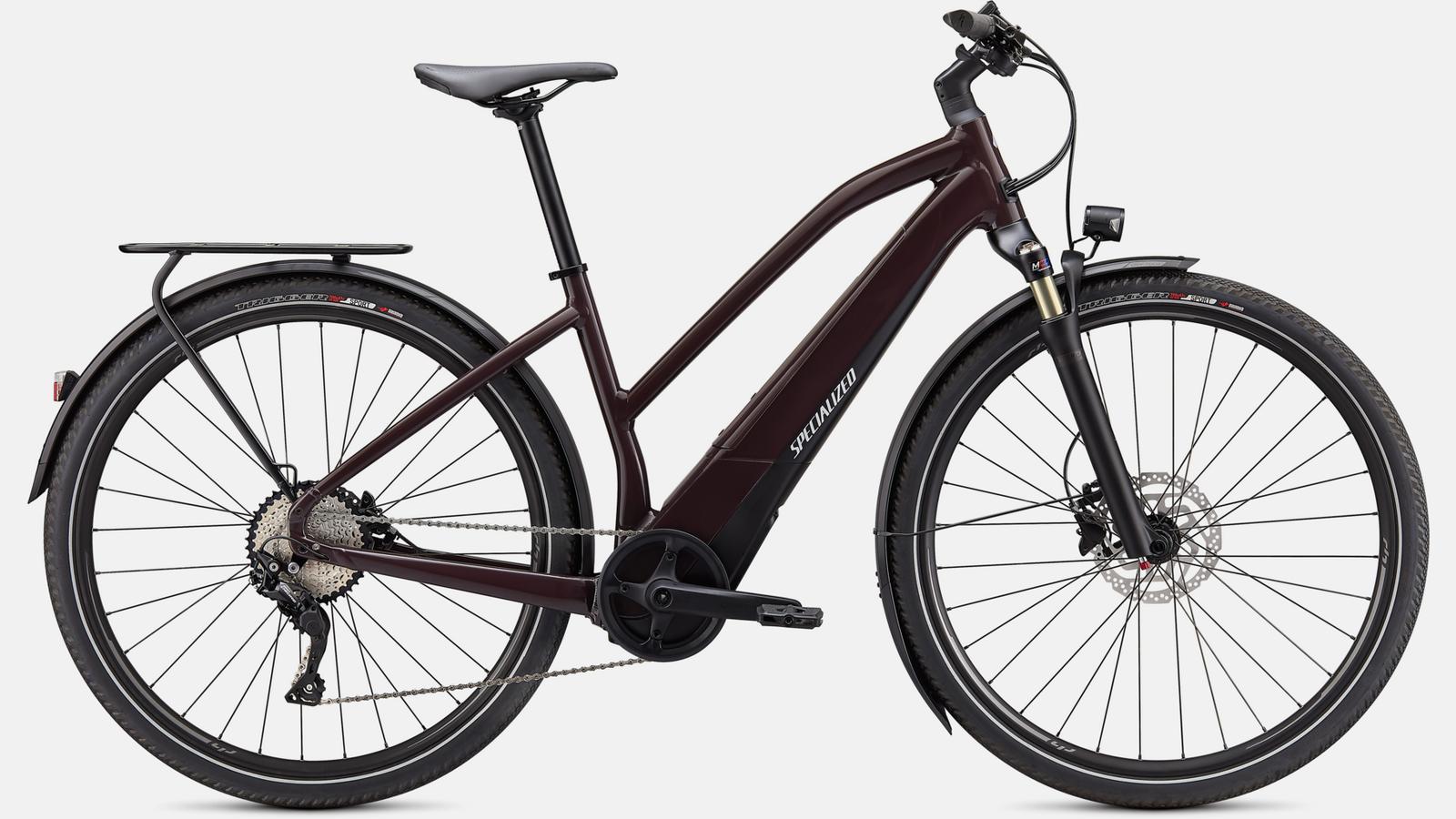 Specialized Turbo Vado is every commuter's dream bicycle. It's a city bike designed to get you from point A to point B as fast as possible, with minimal effort on your end. It's equipped with front and rear fenders, a rear rack, front suspension, and powerful disc brakes.
Turbo Vado's motor will enhance your power by 400% and the integrated battery will give you a range of 80 miles. If you want a lighter setup, go for the Turbo Vado SL, with a range of up to 120 miles and a 28 mph maximum assisted speed.
If you're interested in similar bikes, take a look at our review of Gazelle Bikes.
FAQ
Our Thoughts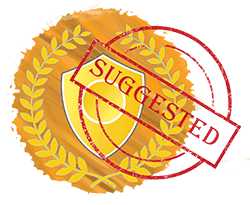 Specialized's bicycles are trendsetters and their technologies often dictate the direction of the sport.
To sum things up, there's no doubt that Specialized is one of the biggest and most successful bike brands in the world right now.
However, even though Specialized makes bikes in all categories and price ranges, they're not the best choice for everyone. Entry-level models come with a "brand upcharge".
That means that you'll get less for the same amount of money compared to getting a model from a less popular brand.
On the other hand, high-end models fully justify the price with premium components and game-changing features.
Either way, by purchasing any Specialized bike, you'll get premium quality, recognizable performance, and an admittance ticket into a fan club that numbers millions of riders around the world.