These electric road bikes will help you overcome your limitations, ride farther, faster, and stay with the pack on Sunday group rides.
Electric road bikes are rising in popularity because they open up the sport to people who don't find suffering particularly fun.
If you need a helping hand on steep climbs but don't want the e-bike to remove the exercise element or kill the fun factor, a road bike with electric assistance is a choice worth considering.
The selection of modern electric road bikes is growing rapidly and they're becoming almost indistinguishable from their non-electric counterparts.
Scroll below to see the best electric road bikes we recommend for a chance to find exactly what you're looking for.
A Short Introduction to Electric Road Bikes
In many ways, electric road bikes are no different from any other type of e-bike. Still, there are a few important distinctions that might affect your decision.
Motor
Modern electric road bikes often use motors from Bosch, Shimano, or Yamaha. However, the best e-road bikes out there typically come with Ebikemotion or Fazua lightweight drive units.
In most cases, the motors are inconspicuous. They're integrated into the bottom bracket or inside the rear hub and offer between 250W and 500W of power.
The controllers are also usually small—one button on the top tube that lets you select the level of assistance and keep track of the battery charge.
Battery
Unlike other types of e-bikes, most electric road bikes have batteries that are hidden inside the down tube. Since their capacity is smaller than on other types (250-350Wh), it's usually difficult if not impossible to spot them.
Some manufacturers, such as Fazua, let you take the battery out to charge it off the bike. Additionally, you can leave the battery at home to reduce the weight of the bike and ride without assistance.
Weight and Ride Feel
Electric road bikes are pretty lightweight. Mid-range and high-end models tip the scales at around 12kg, which is not much heavier than an entry-level non-assisted road bike. By removing the battery, you can decrease the weight even further.
In addition to low weight, the best electric road bikes usually also have sporty geometry, so riding one doesn't differ significantly from riding a non-electric road bike.
To learn more about electric bikes, see our guide on how to choose an electric bike.
---
Best Electric Road Bikes
---
Cannondale Topstone Neo Carbon Lefty
Best Electric Multi Purpose Bike
Lightweight carbon frame
Front Suspension
Shimano GRX components
Cannondale Topstone Neo Carbon Lefty is one of the best e-road bikes with incredibly well-integrated parts. At first glance, it's hard to tell if this is an e-bike or a race road bike.
The culprit is the Bosch mid-drive motor and the integrated 250Wh battery that's hidden inside the frame. This motor is going to assist you all the way up to 28mph.
The bike is built around a carbon frame and boasts mid-range Shimano GRX components. The carbon frame is lightweight and stiff, so the bike rides well even with the assistance turned off.
The Cannondale Topstone Neo is ideal for riders who need help when tackling steep climbs but want an e-bike that offers the experience of riding an unassisted road bike.
The bike uses 650b wheels which are slightly smaller than road bike wheels. Don't let this put you off though with the oversized tires just makes it more agile and comfortable.
The Cannondale Topstone Neo doubles as an all-road or even gravel bike thanks to a large tire clearance. Therefore, you can use it for multi-surface riding and stray off the beaten path.
Buy if: You want one of the best electric road bikes on the market that can tackle paved and unpaved roads.
Trek Domane+ AL 5
Best Electric Road Bike For Beginners
Optional 250Wh Range Extender
Shimano 105 components
Comfortable riding design
Is Trek Domane+ AL 5 even an electric bike? Honestly, we wouldn't be able to tell if it weren't for the list of specifications. Spotting its covered HyDrive 250W hub motor and the 250Wh battery is a challenge even upon closer inspection.
The Domane+ AL 5 is the definition of an electric road bike that aims to enhance your ride and take it to the next level, rather than do all the hard work instead of you.
But what makes this electric road bike so special? The Domane+ AL 5 is a simple electric machine and comes in at an affordable price (when compared to other e-road bikes). That might just be the highlight of this bike – this is just proof of how simplicity is the key.
The Domane + AL 5 has a lightweight aluminum frame and Shimano 105 components, so it doesn't surprise that the total weight of the bike is much lighter than you think.
Trek also equipped it with Shimano hydraulic disc brakes with 160mm rotors. The Bontrager Paradigm tires are 32mm wide, that are perfect for smooth road riding.
You can easily control the assistance with a button on the top tube or by downloading the Ebikemotion app.
Buy if: You are looking for a simple electric road bike to boost your rides.
BMC Roadmachine 01 AMP X Two
Most Comfortable Electric Road Bike
Carbon frame
TQ-HPR50 motor
SRAM Rival XPLR eTap AXS 12-speed groupset
BMC is best known for its high-end grinders, and the Roadmachine 01 AMP X Two is no different.
The TQ-HPR50 drive unit and TQ 360 Wh battery are ready to power your every ride. Together with the premium carbon frame, this bike weighs less than 13kg. This is a very light e-bike.
The aerodynamic, yet relaxed geometry of the BMC Roadmachine 01 AMP X Two mean that you will be fast both on climbs and on flat sections, with or without electric assistance.
This electric road bike also boasts a high-end SRAM Rival XPLR eTap AXS 12-speed groupset, paired with Shimano GRX hydraulic disc brakes.
Its endurance geometry is comfortable, fast, and handles itself great, and the 35mm tires will move you forward.
Buy if: You want a capable electric road bike.
Cannondale SuperSix EVO Neo 3
Premium Quality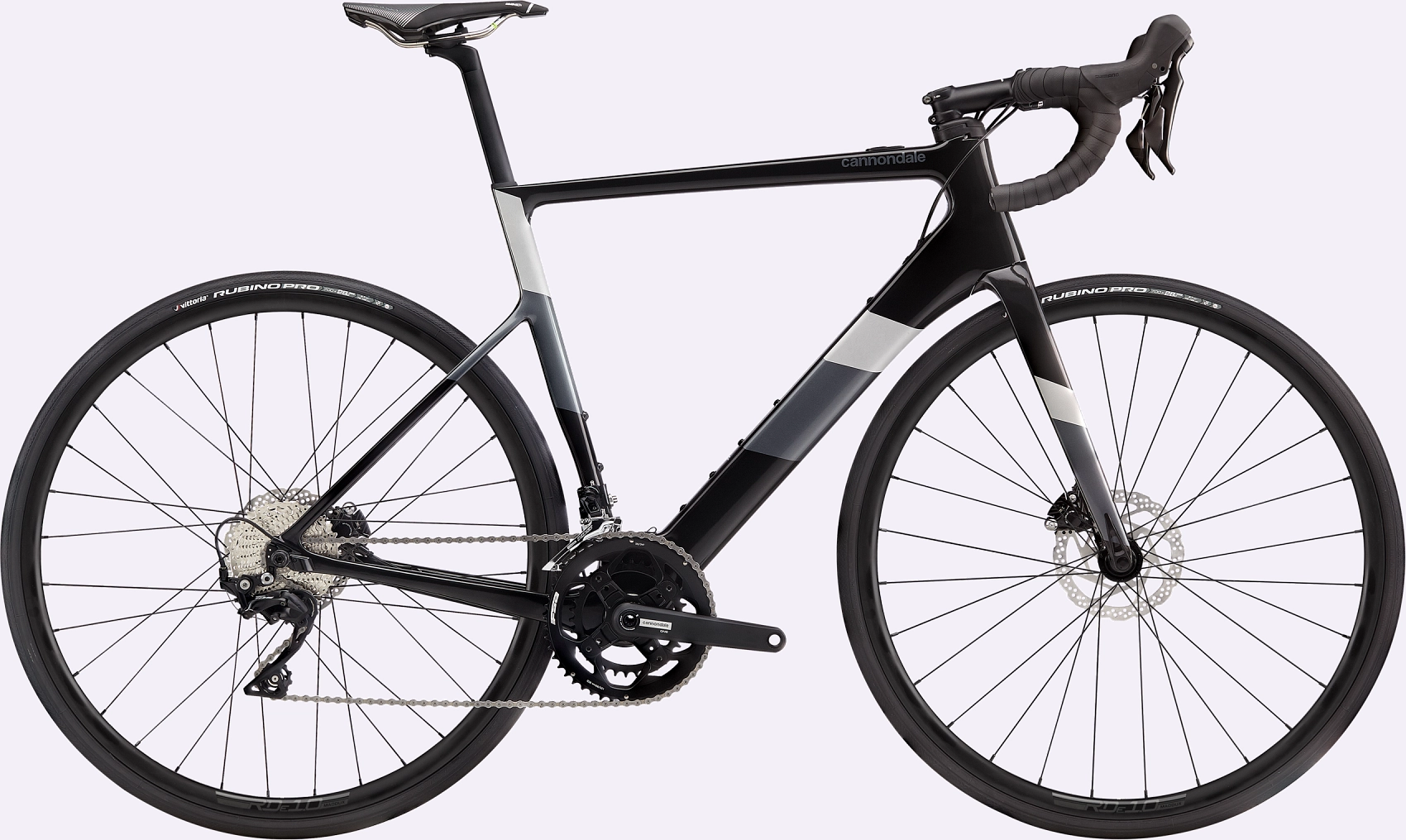 SuperSix EVO Neo Carbon
MAHLE ebikemotion X35 250W motor
Shimano 105 components
Cannondale SuperSix EVO Neo 3 is not the cheapest electric road bike out there by any stretch of the imagination. But don't let that deter you if you want a good-looking and sporty race bike that will make long climbs fun again.
Related: Full Review of Wilier Bikes
Namely, SuperSix Evo Neo 3 boasts the MAHLE ebikemotion X35 drive unit and battery. The motor provides 250W of power and the battery is 250Wh.
Shimano 105 components handle gear shifting, as well as braking with hydraulic disc brakes. These are components that guarantee smooth and precise performance and a natural ride feel.
Like other popular models in the niche, Cannondale SuperSix EVO Neo 3 rolls on 28mm tires that improve comfort and handle the additional weight.
Surprisingly, there's not much extra weight to bear, since the SuperSix EVO Neo 3 weighs just 26 lbs—much like a non-electric hybrid bike.
Buy if: You want one of the best-rated electric bikes with a stiff carbon frame that won't stand out on group rides in any way.
Bianchi Aria Ultegra 11V
Impressive List of Reliable Components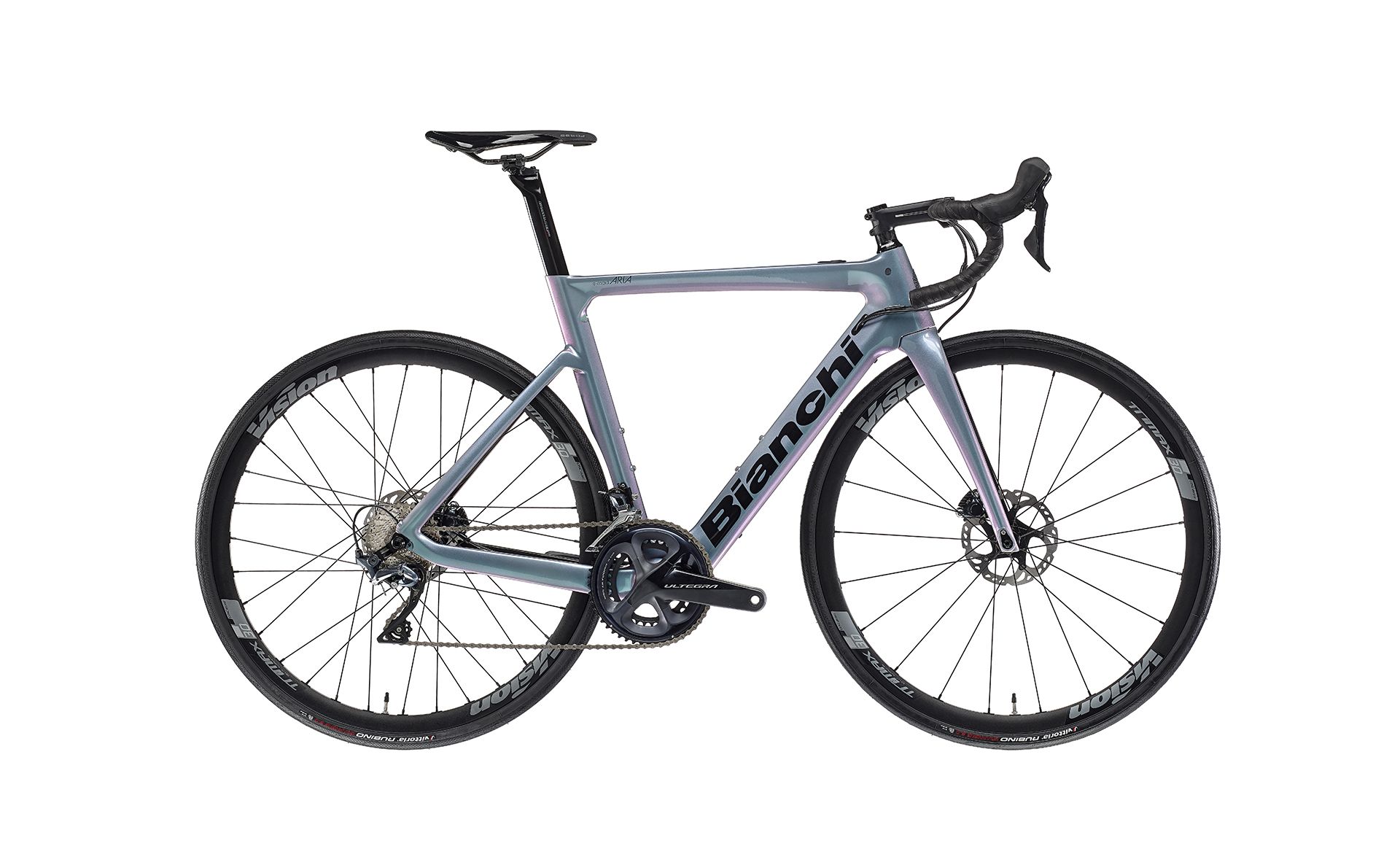 Ebikemotion X35 Plus 250W motor
Aria E-Road carbon
Shimano Ultegra groupset
Bianchi Aria Ultegra 11V is one of the top-rated electric bikes you can get. It's equipped with a lightweight Carbon frame and top-drawer components, so it makes sense why it's riders' favorite.
Learn more: Bike Frame Materials Explained
One of the reasons why this electric road bike is great is because of the powerful and reliable Ebikemotion X35 motor. It's a strong 250W motor with plenty of power. The battery is not too shabby either – offering
This setup will assist and double your effort by up to two times. Designed for training and longer rides, there are not many electric road bikes to oppose this bike.
The Bianchi Aria electric road bike isn't just made to be fast but also comfortable, so it is going to be ideal on those long rides.
When it comes to the components, you'll be working with a Shimano Ultegra groupset and Shimano BR-R8070 hydraulic disc brakes.
Buy if: You're looking for one of the fastest electric road bikes out there, with a reliable Ebikemotion motor.
Trek Domane+ SLR 7
Best E-Road Bike For Enthusiasts
800 Series OCLV Carbon frame
TQ-HPR50 motor
Shimano Ultegra components
Trek Domane+ SLR 7 is the type of lightweight electric road bike that will help you push your boundaries without you even noticing it.
It has a stiff and efficient carbon frame that boasts internal routing and wide tire clearance for tires up to 700c x 32mm wide.
Regardless of the gradient and the surface, the tried and tested TQ-HPR50 250W motor will help you conquer any hill you come across. It will assist you up to 20 mph and the integrated 360Wh battery will ensure hours of fun.
Trek Domane+ SLR 7 doesn't lack when it comes to other components either. The Shimano Ultegra R8170 Di2 12 speed drivetrain and Shimano MT800 disc brakes are excellent value for the money.
If you care about looks as well, it's good to know that you can choose between five bright colorways—black, white, grey, red, and green.
All in all, Trek Domane+ SLR 7 guarantees a smooth ride, natural electric assistance, and a race bike ride feel.
Buy if: You want the best e-road bike that makes you feel like a superhuman but still lets you get a good workout.
---
Alternatives to Consider
---
Vvolt Proxima
A Beginner-Friendly Option
Enviolo TR CVT rear hub w/ stepless shifting
Gates CDX Belt Drive
250W mid-drive motor
If you're not a die-hard roadie, but you still want a bike that's fast and efficient on paved roads, Vvolt Proxima is a solid option to consider.
Related: Full Vvolt Bikes Overview
This hybrid electric bike features a lightweight aluminum step-over frame with an upright geometry that's more relaxed compared to a purebred road bike.
It's powered by a 250W mid-drive motor (500W peak) with 80Nm of torque and a 20 MPH top assisted speed. The 375 Wh battery is fully integrated and secures up to 60 miles of range per charge. That's more than enough for lengthy commutes or weekend adventures.
Gear nerds will also love the Enviolo TR CVT rear hub with stepless shifting and a 380% gear range. Of course, it comes in combination with a Gates CDX Belt Drive, so you can forget about maintenance, lube, and grease.
A few other specs that set this bike apart from other options in the same price range include powerful hydraulic disc brakes, clearance for 42mm tires, and front and rear rechargeable lights.
The onboard computer offers 4 levels of assistance, walk mode, Bluetooth connectivity, and USB charging to keep your devices topped.
Consider Also: Vvolt Sirius
Buy if: Vvolt Proxima is a no-brainer for commuters and urban cyclists who want a versatile hybrid bike for paved and gravel roads.
FAQ
There are no comments yet, add one below.