Fat bikes are the ultimate off-grid freedom machines. Ride anywhere and shoot right across mud, rocks, snow, or sand with one of the best fat tire electric bikes on this list.
With their beefy 4″+ tires, fat bikes provide unprecedented comfort, confidence, and rollover capabilities. By equipping them with an electric motor, you eliminate their only trade-off—the power required to move those big, heavy tires.
No wonder the fat tire e-bike market is booming and you can now find reliable options for under $1,500. Riders use them to navigate snow, mud, or sand, but also to commute on gravel and rough pavement.
Scroll below for more advice on how to choose and check out the 10 best fat tire electric bikes you can buy right now.
Choosing the Best Electric Fat Bike
Electric fat tire mountain bikes are similar to standard mountain bikes but come with a few unique quirks. Here's what you should pay attention to when choosing the best one for yourself.
Wheel and Tire Dimension: Fat bikes typically come with 26″ or 27.5″ wheels and tires that are between 4″ and 5″ wide. Wider tires let you ride with lower air pressure which improves comfort and off-road capabilities. On the other hand, narrower tires with higher pressure will be faster on paved roads.
Electric Assistance: Fat bikes are heavier than other types of bicycles, so it's wise to invest in a model with a stronger motor. In most US states, e-bike motors are limited to 750W. However, there are more and more brands that offer fat tire electric bikes with 1000W motors and with 28mph+ top speeds.
Frame Material: Fat-frames are made from different types of materials, such as steel, aluminum, carbon, and even titanium. Due to its comfort and durability, steel is a much more common choice in this category than elsewhere because the added weight is not a deal-breaker.
Suspension or Rigid: A lot of fat bikes come with rigid or suspension forks, but very few models have a full-suspension setup. However, the ability to run low pressures on 4″+ fat tires offers great vibration dampening even without any added suspension.
To learn more about finding the right e-bike, see our guide on choosing an electric bike.
---
Best Fat Tire Electric Bikes
---
RadRover 5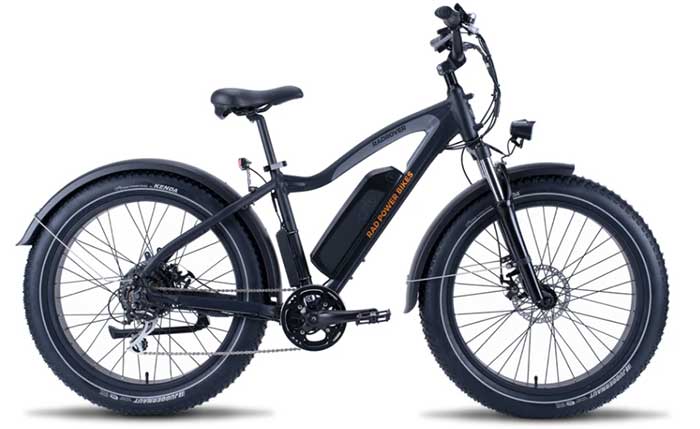 Pedal-assist and throttle
26″ x 4″ knobby fat tires
45+ mile range and 20 mph top speed
Rad Power Bikes' RadRover 5 is by far one of the best-known and best-selling fat tire e-bikes out there. The brand was even included on TIME's list of 100 Most Influential Companies, which didn't come as a surprise at all.
Related: Full Review of RadRover 5 (Plus the updated RadRover 6 model)
Essentially, this is an aluminum fat tire electric bike with 4″ tires, a rear hub motor, and a massive battery. It has a reputation for stability and versatility, which makes it one of the riders' favorites when it comes to off-road adventuring and paved-road commuting.
RadRover's massive success can be attributed to the incredible bang for the buck it provides: it's cheap, reliable, good-looking, and fits everyone's bill.
RadRover 5 boasts a 750W brushless geared rear hub motor with 80 Nm of torque. It's supported by a 672 Wh battery that guarantees a range of around 45 miles per charge. As a class 2 electric fat tire mountain bike, it features a throttle and 5 levels of pedal assist, with a top speed that's limited to 20 mph.
This snow-plowing machine also comes with Tektro Aries mechanical disc brakes, a 7-speed drivetrain, an 80mm suspension fork, and a large LCD screen.
In true Rad Power Bikes' fashion, it's also jam-packed with accessories, including fenders, lights, and a kickstand. It's easily the best fat tire electric bike in 2021.
Buy if: You want a reliable and affordable fat tire electric bike that's suitable for on- and off-road applications.
Rambo The Krusader
2WD electric assistance
Maxxis Minion 26″ x 4″ tires
Front suspension fork
Rambo is an up-and-coming USA-based brand that specializes in making electric off-road bikes for hunting, fishing, and off-road adventuring purposes.
Related: Best Electric Bikes For Hunting
One of the things that Rambo is popular for is 2WD bikes. The Krusader is one of the most powerful models in its lineup as it features two 500W motors—one in each hub.
In addition to that, it also has a 672 Wh battery that provides you with a range of up to 38 miles. Even though this is slightly less than the competitors, keep in mind that this bike prioritizes power and speed rather than the range.
Rambo The Krusader offers unrivaled climbing prowess with its combined 1000W of power, 160 Nm of torque, and 26″ x 4.0″ tires.
The Krusader's mechanical components don't fall behind either. It's equipped with two-piston hydraulic disc brakes, a GT MRK suspension fork, and an easy-to-maintain single-speed drivetrain.
All of this taken into account leads to the conclusion that this Rambo bike offers hard-to-match performance when tackling deep snow, loose sand, or sticky mud.
Buy if: You need the best electric fat bike that can handle extreme terrains.
Ecotric
500W rear hub motor
Throttle and PAS
Front suspension & disc brakes
Ecotric's money to value ratio is hard to beat when it comes to the best fat tire electric bikes. For less than the price of a non-electric fat bike, you get one with an electric motor and battery.
This bike's biggest selling point is the 500W rear hub motor combined with a 432 Wh battery mounted on the down tube. The top speed is limited to 20 mph, which you can reach with PAS or throttle.
With the extra push from the motor, the 26″ x 4″ tires can ride over snow, ice, mud, or sand with little effort. Many riders even use this bike for commuting on paved roads due to the comfort that the wide tires provide.
Ecotric is an affordable choice that's ideal for beginner riders, budget-constrained people, and leisure cyclists looking for comfort and stability.
The only downside is that the Ecotric fat tire e-bike is available in one size only that fits riders 170–190cm tall and up to 265 lbs.
On the other hand, a few additional features that make it a great choice in this price range include disc brakes, front suspension, a 7-speed drivetrain, and a kickstand.
Buy if: You have a limited budget and need one of the most affordable electric fat bikes to explore off-road.
Engwe EP-2 Pro
750W motor
Mechanical disc brakes
Bright front and rear lights
The Engwe EP-2 Pro folding fat tire electric bike can easily be recognized in the wild due to its five interesting colorways. Apart from the stunning appearance, there are a few other things working in its favor that influenced our decision to include it on this list.
Firstly, EP-2 Pro boasts a 750W rear hub geared motor that will help you reach a 28 mph speed. There is also a 615 Wh battery that will allow you to maintain that speed for 50+ miles. The battery is integrated into the frame and removable, so it stays out of sight and it's easy to recharge it off the bike.
If you want an all-season fat tire e-bike that you can ride come rain or shine, Engwe EP-2 Pro is a strong contender.
Like most other entry-level folding fat bikes on this list, this one also has a front suspension fork and a 7-speed Shimano drivetrain. But its frame also folds in the middle which makes it very easy to store it when not in use or bring it along on vacation.
Engwe's 20 x 4″ tires are knobby and beefy, meaning they're ideal for light to moderate trails and gravel roads in all weather conditions.
Buy if: If you value appearance, off-road performance, and a reasonable price tag.
Rambo The Venom
Fat tire electric bike with 1000W mid-drive motor
4-piston hydraulic disc brakes
14-speed internal gear hub
The Venom is a high-end electric fat tire mountain bike from one of the most popular USA brands in the hunting and fishing niche. Its stats and components are truly impressive, but so is its $8,000 price.
Rambo The Venom is one of the best fat tire electric bikes as it carries the best of the best components, starting with the Ultra Drive 1000W mid-drive motor that uses three sensors to gauge assistance and speed. It delivers up to 160 Nm of torque and 1500W of peak power for uncompromised climbing performance.
Rambo The  Venom performs reliably in harsh conditions thanks to dependable and powerful components from well-known brands.
Its 817 Wh battery is fully integrated into the down tube and provides you with a 40-mile maximum range, depending on how wild you go with the assistance.
Other jaw-dropping features include the 26 x 4.8″ Maxxis Minion tires and 4-piston hydraulic disc brakes. Rambo The Venom also boasts a new Rohloff internal 14-gear hub that shifts gears smoothly and keeps everything protected and sealed away.
In addition to that, the air fork improves off-roading performance and takes comfort to the next level.
Buy if: You can stretch your budget enough to get one of the most powerful and reliable fat tire e-bikes for hunting, fishing, and off-road exploring.
Himiway Cruiser
750W rear hub motor
840 Wh battery
Bright front and rear lights
Himiway Cruiser is a solid choice for commuters who want to reap the benefits that a fat tire electric bike provides in terms of comfort. The entry-level components this bike comes with are not ideal for hard abuse on trails, but they're more than suitable for gravel, dirt, and paved roads.
Himiway Cruiser rolls on 26 x 4″ tires that don't negotiate with the terrain and obstacles but go straight over them. Luckily, you can rely on the 750W rear hub motor to be able to do this on climbs as well.
The battery packs 840 Wh of capacity, which makes it one of the biggest you can find in this category. This translates to 35-60 miles of range per charge, which is perfect for long weekly commutes.
Himiway Cruiser is an affordable electric fat tire mountain bike that's perfect for multi-surface commutes on weekdays and all-road adventuring on the weekend.
Like most other options on our list, Himiway Cruiser is also built around an aluminum frame, has a 7-speed drivetrain, and has mechanical disc brakes. So there are no surprises here.
It also features a front suspension fork for additional comfort, bright lights for night riding, and a heavy-duty rear rack, all of which makes it the best fat tire electric bike in this category.
Buy if: You want a versatile and reasonably priced fat tire electric bicycle that will shorten your commute and unlock new routes to explore in your area.
RipCurrent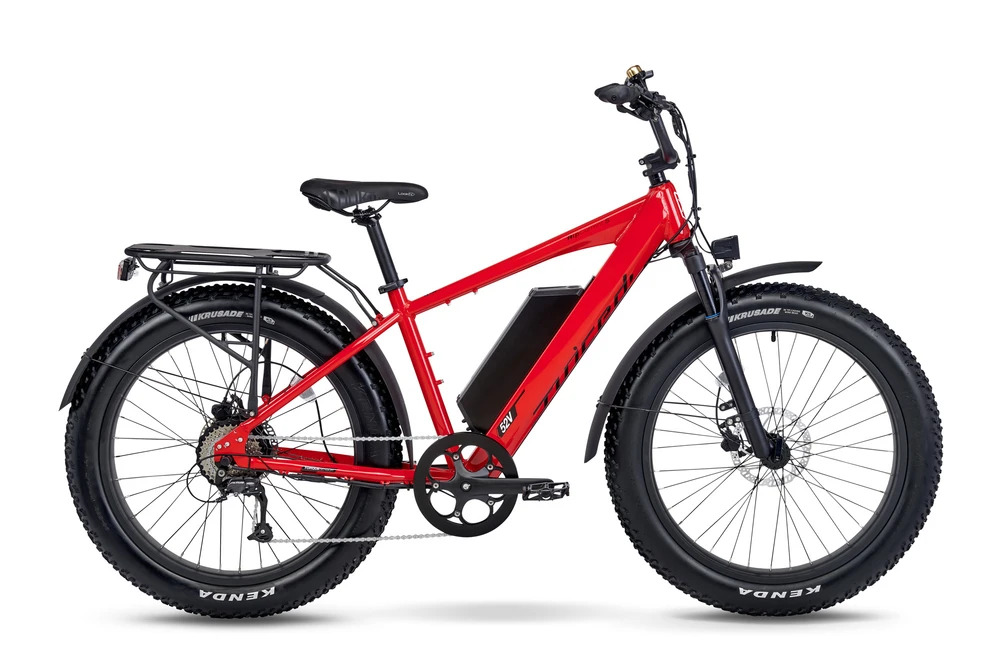 1000Wh battery
28 mph top speed
Hydraulic disc brakes
Juiced Bikes is a brand that stands out for making fast and uniquely designed fat-tire e-bikes. The RipCurrent S is one of the fastest they make. It has a 28 mph top speed that you can reach with pedal assist or the throttle.
On top of that, this model is also known for having a respectable 70+ mile range. This is possible thanks to the 1000 Wh battery that powers the 750W geared rear hub motor.
There's a lot to like about this bike apart from the electronics. It comes with huge 26 x 4″ tires, front suspension fork, a 7-speed Shimano Altus groupset, and hydraulic disc brakes.
Commuters and year-round cyclists will also appreciate the fenders and bright front and rear lights. The stock model also includes a rear rack, ergonomic grips, and an upright handlebar.
Buy if: This is the best fat tire electric bike if your main priorities are speed, range, practicality, and you're not willing to spend a fortune.
Wallke X3
Foldable aluminum frame
60-mile range
Great accessories and components
Even though electric fat tire mountain bikes are incredibly fun and practical, there's no denying they take up a lot of room at home. Unfortunately, this is a deal-breaker for many people.
The Wallke X3 Pro electric fat bike solves the storage problem by having a foldable aluminum frame. By folding it in half, you can easily store it in a corner of your garage or room.
When not in storage, you can ride this bike on any terrain thanks to its front and rear suspension and knobby 26 x 4″ tires. It even features a rear rack, fenders, and lights, so you can also use it for bikepacking or commuting on gravel roads.
Wallke X3 Pro is powered by a 750W rear hub motor and has a 60-mile range, which is one of the longest on this list. We also appreciate the fact that it has an 8-speed drivetrain and hydraulic disc brakes, so it's rideable even if the battery runs out.
Buy if: You lack storage at home buy you want a full-size electric fat bike with powerful electronics and big wheels and tires.
RadMini
Foldable frame
750W motor, 672Wh battery
20 x 3″ Tires
Rad Power Bikes designed the RadMini to be practical and easy to store. But it also made it to be capable enough to easily handle a rough detour on the way home.
Its aluminum frame is foldable in half and leaves a small footprint in a corner of your house or apartment. Though undersized, the RadMini is all but underpowered.
Like all other models made by this USA-based brand, RadMini boasts a 750W motor, 672 Wh battery, PAS and throttle, and a 7-speed drivetrain.
This folding fat tire electric bike doesn't lack accessories either, considering it comes with fenders, a kickstand, and front and rear lights. You can add additional ones as well, including racks, baskets, and more.
Its 20″ x 3″ tires are narrower than on most other models on this list, but they're still wide enough to tackle gravel and dirt roads, as well as light trails.
Buy if: You want one of the smallest and most popular folding fat tire electric bikes that would be just as powerful as a full-sized model.
Lectric
Foldable frame
Excellent accessories
500W motor, 45+ mile range
With 20″ x 3″ tires and a frame that folds in half, Lectric XP 2.0 is a dream-come-true for urban dwellers who love leaving the city on weekends.
Related: Full Review of Lectric Bikes
A 500W motor and 460Wh battery will give you all the torque and range you need. You can climb hills and cover distances of up to 45+ miles.
Lectric XP 2.0 is an affordable folding fat tire electric bike with fat tires that will take you across the city and onto your favorite trails and forest roads.
The dual-suspension saddle improves comfort and so does the front suspension fork. Lectric XP 2.0 also sports a 7-speed drivetrain and mechanical disc brakes. That represents good value considering the $1,200 price tag.
When it comes to everyday usability, this bike offers front and rear fenders, a rear rack, a kickstand, and battery-powered front and rear lights.
Buy if: This is the best fat tire electric bike if you want a model with a minimalist footprint but maximalist power, practicality, and comfort in the entry-level category.
Interested in more fat tire bikes? See our list of the best non-electric fat bikes.
You Might Also Ask
Are fat tires better for electric bikes?
Riding an electric off-road bike has both advantages and disadvantages. Fat tires provide more traction which means they slightly decrease the range of the battery. However, the comfort and the rollover ability they offer are unmatched. If you ride off-road or want the best vibration dampening, an e-bike is a good choice.
What is the fastest fat tire electric bike?
The fastest fat tire electric bikes on our list are Rambo Krusader, Rambo Venom, and Juiced RipCurrent S. They have powerful motors and batteries that can deliver top speeds of 28+ mph. They are also the fastest options for climbing hills, reaching speeds of close to 20 mph on steep sections.
What should I look for in a fat tire eBike?
The most important things to consider when buying a fat tire electric bike are wheels and tires, electric assistance, suspension, frame material, brakes, and gears. With the exception of very wide tires, fat bikes are no different from any other bike type out there. Therefore, take the entire package into consideration.
Are Fat tire e-bikes good on the pavement?
Yes, electric off-road bikes are good on pavement. Many riders buy such bikes in order to commute on paved roads because the wide tires provide excellent comfort and vibration dampening. However, keep in mind that they can be slower and more sluggish than other types on the pavement.
What are the benefits of fat tires?
The main benefits of fat tires are comfort and roll-over capability. Namely, wide tires improve comfort by allowing you to run lower air pressures which smooth bumps and vibrations. At the same time, wide tires have better traction and a larger contact patch which lets you ride on snow, sand, mud, and even over rocks.
There are no comments yet, add one below.