Engwe bikes blend low pricing, good looks, decent performance, and out-of-the-box thinking that help them stand out in the oversaturated e-bike market.
Part of Best Bike Brands
Engwe is a new face on the electric bicycle playground, manufacturing budget-friendly foldable e-bikes ideal for e-biking newbies or the average urban commuter.
Engwe's e-bikes' main selling points include 750W rear hub motors, a respectable range, foldable frames, suspension (hardtail or full-sus), and all the accessories you could ask for.
Delve deep time: Find out more in our Engwe Bikes review below!
Overview of the Company
Engwe is a novel brand that took a well-known approach to manufacturing e-bikes. That means that it makes foldable, fat-tire, electric bicycles with rear hub motors, somewhat reminiscent of Lectric XP or Rad Power Bikes' RadMini.
However, Engwe's approach comes with a fresh twist—some of its bikes are available in bright colorways, others have front and rear fenders, and all are jam-packed with useful accessories.
According to the information on the company's official website, Engwe has sold more than 600,000 e-bikes around the world, having been around for more than 20 years. However, they've only recently expanded their reach to the US and EU.
The company is based in China, but it has warehouses in the US and Poland, so its products ship quickly when in stock.
Lineup
At the moment of writing this review, Engwe's lineup consists of four models. Both of these e-bikes are similar—they have foldable frames, rear hub motors, accessories, 20″ wheels, and suspension.
Still, each model comes with a few important differences that make it more or less suitable for a particular purpose, such as commuting, climbing, or off-road riding.
Learn more about each model in the reviews below.
EP-2 Pro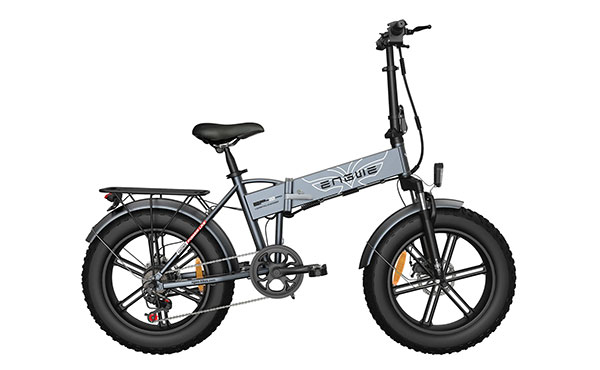 750W 80Nm motor
Numerous accessories
50+ mile range
MSRP $1,050
Engwe EP-2 Pro is the less expensive and more popular model, equipped with a foldable aluminum frame and front suspension.
EP-2 Pro is powered by a 750W geared rear hub motor that delivers 80 Nm of maximum boost torque, so it's capable of climbing some seriously steep hills.
The 48V 12.8 Ah battery packs 615 Wh of capacity, which results in a 50+ mile range, according to the company. Since the bike comes with five pedal assist modes and throttle, the range will differ depending on how much assistance you use.
The battery is fully integrated inside the frame, so it's protected against theft. However, you can easily take it out to recharge it off the bike, which takes 5-7 hours.
The reason why most people will consider buying Engwe EP-2 Pro is the foldable frame. It folds down pretty small in three steps, though the bike weighs 74 lb, so it's not that easy to carry it around.
The frame comes packed with a suspension fork for improved stability, control, and comfort, as well as 20 x 4″ all-terrain fat tires. EP-2 Pro also features a 7-speed drivetrain, mechanical disc brakes, and great accessories such as bright lights, fenders, a rear rack, and a kickstand.
All of these features are nothing new—similar bikes in this price range also have them. But, what sets Engwe EP-2 Pro apart is a better range and a 28 mph top speed. Plus, the frame has a 330 lb payload capacity and fits riders 5'2″–6'4″ tall.
Related: How to Choose an Electric Bike
We recommend Engwe EP-2 Pro if you want a fun and nimble e-bike that can make short work of morning or evening traffic and that you can easily store away during winter.
Engine Pro
Dual suspension
750W motor
8-speed drivetrain
MSRP $1,450
At first glance, Engwe Engine Pro looks very similar to its lower-priced cousin. They do have a lot in common, but the reality is that Engine Pro is a lot more capable machine. Which explains the $400 higher price tag.
To begin with the similarities, they share exactly the same electric setup. A 750W geared rear hub motor combined with a 615 Wh battery, 5 assist levels, and a half-twist throttle. However, this model has a colored LCD screen, whereas EP-2 Pro's screen is only backlit.
The frame is also foldable and made from lightweight aluminum. However, it's equipped with both front and rear suspension, which makes this model a lot more comfortable and off-road ready. We wouldn't exactly ride it on rough trails, but it can easily handle gravel and dirt roads, as well as some light trails.
Engine Pro's 20″ x 4″ tires are massive and do not lack grip unless you try to corner hard on some loose surface, in which case they might lose traction.
Engwe Engine Pro also boasts an 8-speed drivetrain and mechanical disc brakes, so it can climb and descend well. The disc brakes are also a good safety precaution on urban commutes if you ever need to brake hard to avoid a crash.
When it comes to everyday practicality, Engine Pro doesn't disappoint thanks to numerous accessories. These include a heavy-duty rear rack, fenders, bright lights, and a kickstand. Where it does disappoint is the 83 lb total weight. Even though this e-bike folds down small, don't expect to lift it into your truck's bed without some struggle.
See More: Best Electric Folding Bikes
You'll enjoy riding Engwe Engine Pro if you want to commute on paved and unpaved roads or explore local gravel and dirt roads on an exciting and maneuverable bike.
T14 Mini eBike
350W motor
Numerous accessories
Range of 21 miles (electric mode)/50 miles (moped mode)
MSRP $499
Engwe T14 Mini is the most affordable model, still including many of the same features as more expensive Engwe's.
It comes with a foldable iron frame and front suspension, and the entire bike weighs 68lbs.
T14 Mini eBike is powered by a 350W geared rear hub motor which is perfect for city riding. This bike can climb up to a 10% gradient.
The 48V 10 Ah battery has a 35km range in electric mode, and an impressive 80km range in moped mode, according to Engwe.
Most people will consider buying the Engwe T14 for its low price and foldable frame. If you live in a big city or have a short commute to work, you could replace your car with the T14 Mini eBike for less than $500.
Though the frame does fold down, it is quite heavy, which is something to consider if you have to haul your bike up and down stairs or into storage.
The frame comes with a small suspension fork which improves stability, control, and comfort. Unlike other Engwe bikes, the T14 Mini eBike comes with narrower tires not designed for all-terrain.
T14 Mini eBike comes with a single-speed drivetrain, mechanical disc brakes, and a number of accessories such as bright lights, fenders, a rear rack, and a kickstand.
The T14 Mini eBike stands out for its price and features. You'd be hard-pressed to find an e-bike with as many features and capabilities as the T14 for under $1000, and the T14 Mini eBike is available now for just $499. Plus, it has a 100kg payload capacity and fits riders 5'1″–6'5″ tall.
We recommend Engwe T14 Mini eBike if you want a quick and foldable e-bike that can be used for quick commutes and city riding and a bike that you can easily store away during winter.
C20 Pro
Bafang 250W motor
Puncture-resistant all-terrain fat tires
Range of 95 miles
MSRP $1,200
Engwe C20 Pro is the mid-range Engwe model which shares many features with their other bikes. It is equipped with a foldable aluminum alloy frame and front suspension.
C20 Pro is powered by a 250W geared rear hub motor and it is capable of climbing up to 20% grades.
It comes with a 36V 19.2 Ah battery which has a huge range of 95 miles in moped mode and 40 miles in electric mode. There are five pedal assist levels and the motor can power the C20 Pro up to a maximum speed of 25kph.
Shimano provides the drivetrain in their 7-speed groupset, and there are mechanical disc brakes that provide plenty of stopping power.
The battery is fully integrated inside the frame and protected against theft, but it can easily be removed for recharging. A full recharge takes approximately 6 hours.
Like other Engwe models, the C20 Pro comes with puncture-resistant all-terrain tires, specifically 20 x 3" anti-puncture fat tires.
The C20 Pro frame comes includes a front suspension fork for improved stability, control, and comfort, and an LCD instrument display. C20 Pro doesn't feature all the great accessories of other Engwe models, such as bright lights, fenders, or a rear rack.
The Engwe C20 Pro has an impressive 330 lb payload capacity and fits riders 5'2″–6'4″ tall.
We recommend C20 Pro as a mid-range all-terrain folding e-bike that can use for commuting, gravel rides with the family, or beginner off-road adventures.
Shipping and Warranty
As mentioned previously, Engwe has warehouses in the US and Poland, which significantly speeds up shipping. Depending on your location, your Engwe e-bike will be shipped from one of these two locations.
Shipping is completely free for all Engwe e-bikes and the estimated shipping time is around 7-10 days. Of course, this might vary now on a case-to-case basis due to Covid 19 shortages, lockdowns, and travel bans.
Read More: Will Bikes Ever Be Back In Stock Again?
When it comes to warranty, all Engwe bikes have a one-year all-inclusive warranty against manufacturing defects, for the original owner. This includes the frame, fork, wheels, tires, electric components, as well as all other components and accessories.
On its official website, Engwe claims to issue replacement parts upon receiving photo and video evidence that proves a particular part is defective or damaged without user error.
FAQ
Engwe makes entry-level e-bikes equipped with basic components that reflect the price tag. These are not high-performance machines, but the value for money is still good. You get a decent motor and battery, excellent accessories, and great extras such as front and/or rear suspension. Perfect for beginners or commuters.
Engwe bikes are made in China. This is a Chinese-based company, but they have warehouses in the US and the EU. The bikes are made in China because that's where the company's headquarters are, but also in order to lower production costs.
Final Thoughts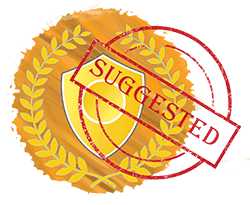 Engwe is a good option to consider if you are new to the e-biking world and you want to see what all the fuss is about. These are entry-level e-bikes with decent components and pretty good performance on the road.
Despite the affordable pricing, there's little we can criticize Engwe for. Sure, we can bash its low-tier components such as mechanical disc brakes, basic drivetrains, or heavy suspension. However, that would be unfair and set unrealistic expectations.
For around $1,500, you get reliable, practical, and super fun foldable e-bikes that will get you from point A to point B, save you lots of time and energy, and put a silly smile on your face. That seems like a pretty good deal to us!