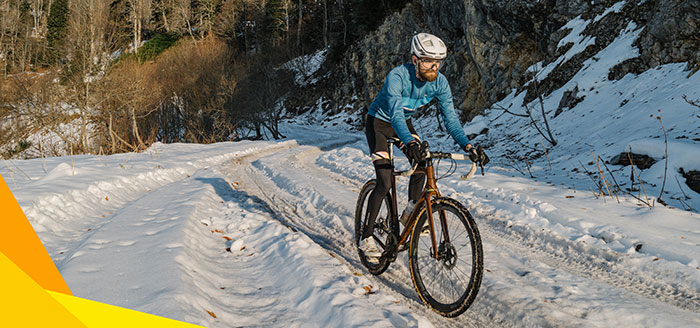 Say goodbye to winter blues by continuing to ride through the cold months with these winter cycling gear essentials.
Come colder months, most cyclists simply stop riding and completely fall out of shape. But what if we told you that you could ride your bike in any weather, no matter how cold it was?
Despite how it looks, riding in sub-50-degree temperatures doesn't have to be uncomfortable and has many benefits: you often have roads for yourself and you get a huge sense of accomplishment knowing that you got out of your comfort zone.
"There's no such thing as bad weather, only bad clothing," we're all familiar with that saying, but we seem to keep forgetting it. In this article, we'll show you the best winter cycling clothing and gear that will turn any weather into rideable weather.
Check out our recommendations below and then scroll a bit more to read our quick guide on how to choose the best winter cycling gear!
---
Best Base Layers
---
Contains recycled materials
Polyester/Merino wool
Sizing runs one size too small
This long-sleeve cycling base layer made by PEARL iZUMi is just the winter cycling gear you need to extend your cycling season throughout winter.
It's intended for road cycling, but feel free to also get it if you do gravel, CX, or even XC riding. It will keep you warm, dry, and help you enjoy the ride.
This sleek base layer is made part from recycled polyester and part from merino wool. Both materials are known for excellent moisture transfer and thermal regulation.
Another reason we would go for this PEARL iZUMi base layer is that the polyester is sourced from recycled plastic bottles, which makes it environmentally friendly as well.
Specialized Seamless Base Layer LS Women's
Slim-fit design
Moisture-wicking properties
Two sizes
This Specialized Women's base layer is everything you've been looking for on chilly and exceptionally cold days.
It's made using a blend of synthetic fibers that feel soft and stretchy and, most importantly, have excellent moisture-wicking properties.
The slim-fit design means this base layer will hug your body snuggly, which makes it perfect for road or cyclocross cycling.
On cool days, you can wear it on its own, with a rain jacket on top, whereas on arctic days you can use it as the first layer to retain warmth and eliminate moisture.
Helly Hansen LIFA Merino Baselayer – Men's
Hood + turtleneck
Mix of merino wool and polypropylne
For cold rides
When you're looking for something to layer up for extra cold weather, this Helly Hansen LIFA Merino Base Layer could be it.
It's made of merino wool and polypropylene, so it's not the lightest, but it will keep you warm and dry.
The slim-fit shape fits snuggly around the chest and the arms but leaves some room for comfort around the waist, that's great if you're getting off the bike frequently and need some freedom.
See More: Best Cycling Jerseys
Something interesting about this Helly Hansen baselayer is that it has a hood. So this is perfect for these cold-cold days.
Under Armour Women's ColdGear Authentics Compression Mock
Multi-sport design
4-way stretch
100% polyester
Winter is the perfect time to do some cross-training, such as running. In that case, it's a good idea to get a multi-sport base layer that you can use for both types of activities.
This Under Armour women's base layer stretches in four directions, which means it will not pull up while running (or pushing/carrying your bike).
It's made from 100% polyester which boasts high degrees of breathability, comfort, and warmth. Most importantly, the flatlock seams are smooth and prevent chafing.
You'll also like the extended turtleneck that you can combine with a buff to prevent the cold air from creeping in and cooling you down. It's a must-have piece of winter cycling gear.
---
Best Winter Jackets
---
GORE C5 WINDSTOPPER® Thermo Trail Jacket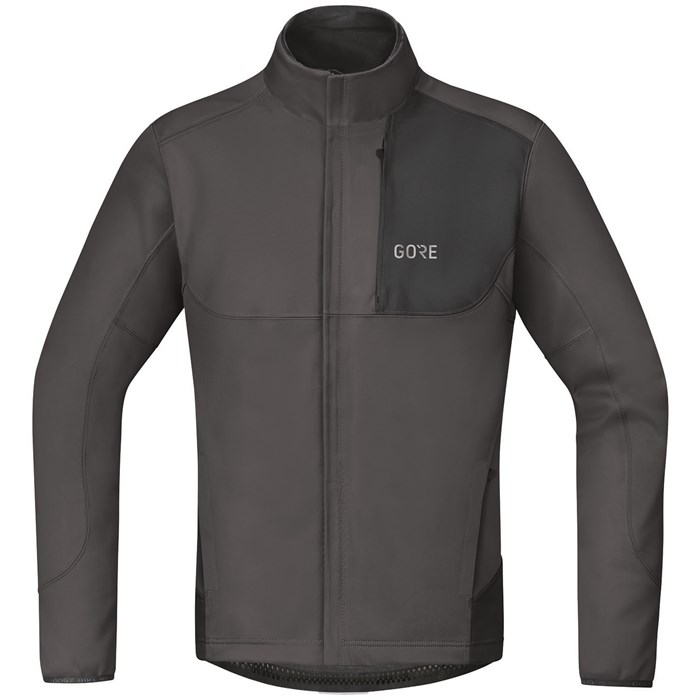 Windstopper membrane
Lots of zippered pockets
Durable outer repels water
Winter cycling jackets can have one or more purposes: protect you from wind/rain and keep you warm. This Gore C5 Windstopper Thermo trail jacket does both things.
The outside layer is made from 100% polyester, including a Gore-Tex Infinium Windstopper membrane that keeps the wind out while letting moisture escape. On the inside, there's a fleece lining that will keep you warm even on very cold days.
Other features include two back zip pockets, one chest pocket, and a media pocket with cable routing. There are also two front ventilation zippers to stay comfortably warm.
All in all, we like the Gore C5 Windstopper Thermal jacket because it's made from durable, high-quality materials and it's made to fit snuggly without constricting your movement.
Rated up to 10,200mm
Numerous pockets available
Unmatched breathability
Showers Pass Cloudburst is one of the best winter cycling jackets around. It has excellent reviews online from happy customers, so let's see why that is.
First of all, this women's model looks amazing thanks to a trim-tailored fit and high-vis orange colorway.
The jacket itself is designed to keep you dry on wet days, which is the first step to feeling warm in winter. It offers 10,200mm of protection while allowing breathability and vapor transmission, making it the best winter cycling gear to own.
The Cloudburst also features large core vents to let warm air out, numerous pockets, a reflective trim, and it packs down small to fit in your jersey pocket.
Feel free to use it for other sports as well!
Pearl Izumi Quest Barrier Jacket
Wind/Rain jacket
Eco-friendly
Two-way zipper allows ventilation
We understand that staying warm is the objective here, but we can't avoid noticing that Pearl Izumi Quest is a great-looking winter cycling jacket as well.
This is a simple wind jacket that doesn't have much insulation, so you should wear it over some thermal layer. However, it should keep you sufficiently warm in 50-60-degree weather on its own.
It's made from 100% recycled polyester (eco-friendly) that has a durable water repellent treatment that sheds precipitation.
Pearl Izumi also thought about usability, so you get features such as reflective elements, a two-way zipper, and a dual-side waist cord.
Perfect for chilly days with pesky light rain that would otherwise keep you inside.
Sometimes the weather is too cold to go out without a winter cycling jacket and too warm to ride with a jacket. In that case, what you need is a cycling vest.
The Rapha Brevet Insulated Gilet is the perfect piece of clothing to bring when you'd otherwise be too warm on the climb and too cold on the descent.
This vest will keep you warm, and cool you down at the same time.
The Rapha Brevet vest fits snuggly and doesn't impair aerodynamics, so it is ideal for road rides or fast-paced gravel and CX rides.
This west is lightweight and full of quality.
---
Best Winter Bib Tights
---
GORE Wear C5 Thermo Bib Tights​+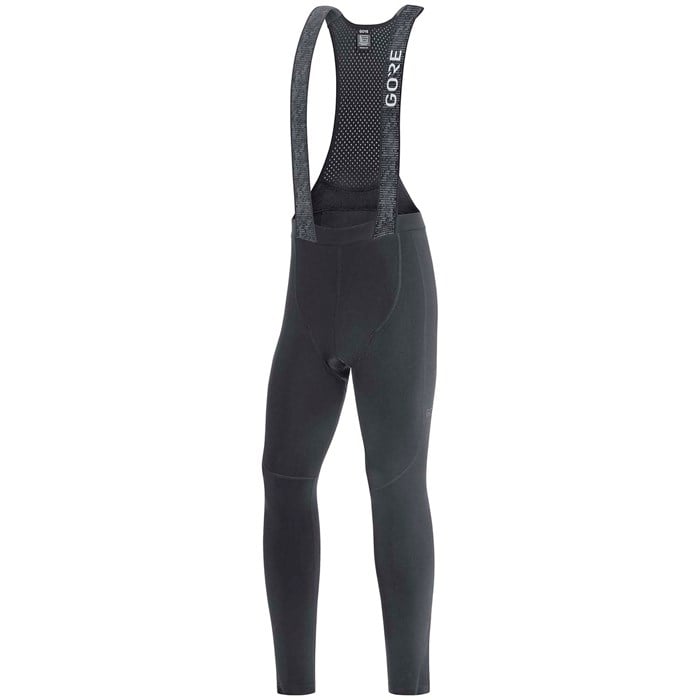 Reflective details
Wind & rain protection
DWR treatment
The Gore Wear C5 Thermo Bib Tights go hand in hand with the Gore C5 Windstopper we showed you above.
These thermo bibs will keep you warm and dry by providing a layer of insulation and protection against wind and rain.
They're made from 84% polyamide and 16% elastane, so they fit snuggly and wick moisture away.
Gore even included spray protection along the groin and inner thigh protection to protect you from wheel-spray.
Related: Best Bibs and Shorts For Cycling
Keep in mind that we recommend these thermo bibs as cold-weather cycling gear for commuters and urban riders—they might be too warm on high-paced road rides.
RION Women's Cycling Bib Pants
For 40-60 degrees
4-way stretch fabric
High-quality stitching and materials
The RION cycling bibs are an example of winter cycling gear for women road cyclists and commuters who ride year-round.
They're made from 85% polyamide and 15% spandex, which means they are stretchy, comfortable, and sufficiently breathable.
The combination of materials makes them suitable for 40-60-degree temperatures, which is typically enough for most winter days unless you live far north.
Other features include a 4-way-stretch design, a mesh back, reflective elements, and a thick chamois.
Related: Best Bibs For Women
We recommend this winter cycling gear because the quality is surprisingly high, the stitching is solid, and the materials are warm and soft.
Warm fleece liner
Breathable synthetic materials
Comfortable and stretchy
Rapha is by far one of the most popular manufacturers of cycling apparel today, including the best winter cycling gear. The secret to its success lies in high-quality materials and breathtaking looks.
These men's Rapha Core winter bib tights meet both of those criteria. They're made from 83% polyamide and 17% elastane, plus they're lined with fleece to keep you warm.
Cyclists love them because they are light, breathable, and stretchy, and the chamois is comfy enough for moderately long rides.
We recommend them for road cycling in all conditions and even daily commutes, due to reflective elements that improve visibility.
Here's a piece of winter biking gear for mountain bikers, commuters, and even year-round bicycle tourers. The Sugoi Resistor Pants are waterproof, windproof, and incredibly warm.
They are made from a 3-layer Dri Shield fabric that stretches in four directions and provides water protection and mobility.
The two zippered side pockets are perfect to carry your phone, wallet, keys, or energy gels and bars. There are also two side zippers that you can unzip to increase ventilation and cool down.
We love that there are five sizes to choose from and that reflective panels on the legs increase visibility at night and on gloomy winter days.
---
Best Headbands/Hats
---
Did you know that you lose roughly 10% of your body heat through your head? That's a lot of warmth to gain by wearing a simple and affordable piece of winter gear such as a headband or a cap.
The REI Co-op Polartec Fleece Headband is our headband of choice because it provides extensive coverage of the ears and the back of your head.
The fabric is stretchy, warm, breathable, and windproof, which you will appreciate on those especially chilly days. Like every headband, this one is open at the top, so it works well with ponytails or buns.
POC Thermal Cap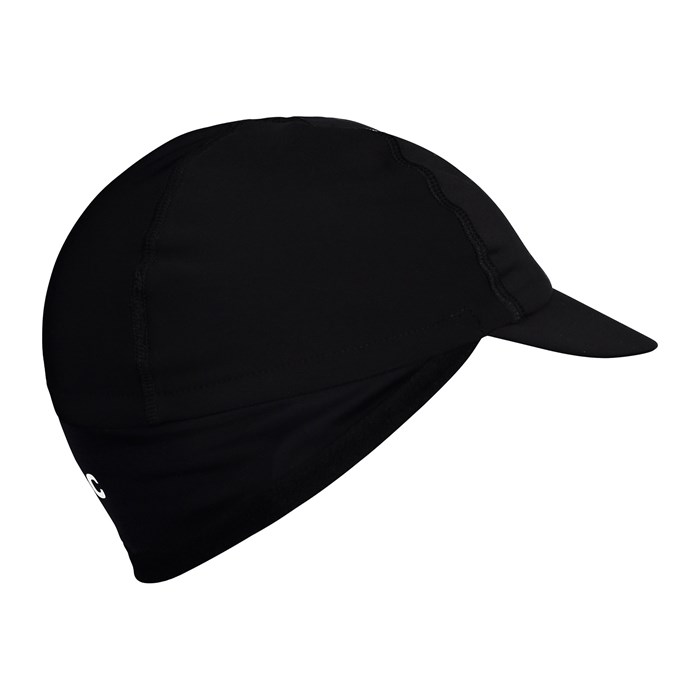 Extended coverage of ears and neck
Water- and windproof front panel
Reflective elements
The POC Thermal cap looks like an ordinary cycling cap, but it's much thicker and offers more coverage for your ears and the back of your head.
The front panel is wind and rain resistant, which means you can keep riding even on exceptionally windy and wet days.
We recommend it for urban riders and commuters, who will especially appreciate the reflective elements that increase visibility. However, even purebred roadies can rock this POC cap on freezing cold days.
The Friendly Swede Ear Warmer Headband
Affordable option
Two headbands in the pack
Multi-sport usability
If anyone knows how to stay warm during frigid winters it's the Swedes! This Friendly Swede headband is an affordable option that's suitable for men and women alike.
The pack includes two headbands, which is great if you're still not sold on winter riding and you don't want to spend too much.
The inner fleece material is soft and warm and sits well under a cycling helmet. You can choose from multiple colorways depending on the rest of your kit.
You can also choose between a full-fleece and a regular model, depending on the temperatures in your area.
Full-face coverage
Stretchy and breathable fabric
Wind protection and water resistance
If you're truly unstoppable and wish to ride in freezing sub-30-degree weather, then it's a smart idea to wear a Balaclava.
The PEARL iZUMi Barrier balaclava that you see here offers full protection of the head and the neck, leaving just your eyes exposed.
The fabric is soft, breathable, and stretchy, so you can easily pull it down if you get too warm or if you want to speak to someone.
Most importantly, it easily fits under the helmet and reflective elements mean you can ride into the dark.
---
Best Socks for Winter Cycling
---
Fox 8″ Ranger Lunar Women's Shocks
Mesh upper
Arch support
Reflective elements
The Fox 8″ Ranger Lunar women's socks are thoughtfully designed to provide female riders with comfort, support, and warmth on chilly days in fall and winter. Moreover, they have reflective accents that will keep you seen in low-vis conditions.
The Ranger Lunar women's socks have a mesh upper that provides breathability on long rides and a compression arch support ensures comfort. The toe area is flat-stitched, so it won't cause you any discomfort even after hundreds of kilometers.
See More: Best Cycling Socks
These socks are specifically designed for trail riding, but feel free to use them for gravel as well.
Merino wool is incredibly warm, but it is not very durable. That's why SockGuy combines Merino with polypropylene, making it five times stronger and more durable.
The SGX Wool 6″ socks are perfect for mountain bikers, urban riders, and commuters who want comfort and warmth on chilly fall and winter rides.
It has a mesh upper that improves breathability and prevents your feet from getting soggy. A snug arch support improves comfort, and a seamless toe prevents rubbing and calluses from forming.
If you want durable, comfortable, and simple bike socks for everyday riding, you won't be disappointed by this SockGuy SGX model.
The Giro Seasonal Merino Wool cycling socks have excellent reviews online, mostly thanks to the durability and comfort they provide.
They're made from a mix of merino wool and polyester, which is the most popular combination of materials for winter cycling socks.
A 6″ height is modern and offers ample coverage on chilly rides and there are 10+ designs to choose from.
These socks are made in Italy and come with a 1-year manufacturer warranty. Plus, they can be used for other sports apart from cycling, such as hiking, running, or just as casual footwear.
---
A Guide to Choosing Winter Cycling Gear
---
No matter what you read online and how much research you do, finding the right winter cycling gear combo that suits your needs won't be easy.
It typically takes some trial and error to see what works and what doesn't. The reason is that we all experience hot and cold differently.
That said, there are still some rules of thumb that you can follow, as they apply to most riders out there.
The two most crucial pieces of advice we can give you when it comes to cold winter rides.
1. Layer Up
It's always better to wear multiple thin layers than one thick layer on winter rides. By wearing several layers, you can easily take layers off and put them back on to regulate temperature.
Moreover, warm air gets trapped between the layers, providing better insulation and ensuring better breathability so you won't get soaked from inside out. One thick layer will probably get sweaty, heavy, and you won't be able to take it off to cool down.
2. Stay Dry
All the best winter cycling gear won't keep you warm if it gets wet. Therefore, if there's any chance of precipitation, make sure to wear a high-quality rain jacket and shoe covers that will prevent the rest of your gear from getting soaked.
Dress your bike as well. Use mudguards to prevent road spray from soaking your feet, hands, and back. This can be a huge problem even if it's not raining and the moment since the roads are usually wet in winter.
To learn more about the basics, see our guide to choosing cycling clothing.
Materials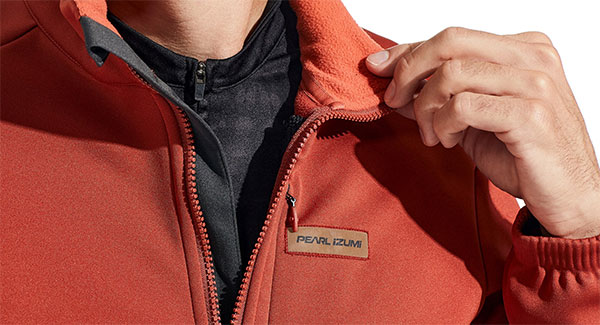 Despite what it might seem, cotton will not keep you warm on winter rides. Cotton retains moisture and takes a long time to dry, so it will just make you feel cold and miserable.
Instead, make sure to buy winter cycling gear made from merino wool and synthetic materials. Merino wool has incredible insulation properties and retains heat even after it gets wet.
On the other hand, synthetic materials don't provide the same insulation, but they have excellent breathability and don't retain moisture, which is just as important.
When it comes to rain jackets, make sure to get a model with a waterproof-breathable construction, such as Gore-Tex or similar—it will repel water and wind, keeping you dry and warm for longer.
Winter Cycling Gear Essentials
As we've mentioned earlier, your list of essential winter cycling gear is influenced by how harsh the winters are in your area and how well you handle cold weather.
Here's a simple example of winter gear essentials we recommend you should get based on the outside temperatures:
| | | | |
| --- | --- | --- | --- |
| 60 Degree Weather | 50 Degree Weather | 40 Degree Weather | Below-Freezing |
| Long-sleeve jersey | Leg warmers or lightweight bib tights | Thermal bib tights | Merino wool baselayer |
| Lightweight gilet | Light jacket or an insulated vest | Insulated jacket | Insulated jacket |
| Mesh base layer | Overshoes | Shoe covers | Insulated bib tights |
| | Buff and/or a headband/cap | Gloves | Buff |
| | | Cap/headband | Insulated cap |
| | | | Thick gloves |
| | | | Shoe covers |
FAQ
There are no comments yet, add one below.