Have you been experiencing any saddle soreness or chaffing when your ride? If your bike is the right fit for you, the problem might be your cycling gear. According to veteran cyclists wearing cycling shorts can completely transform the way you ride.
You might not like those infamous biking shorts you see on other cyclists, but once you try them, there is no going back.
The best women's cycling shorts are breathable and include padding in the right places to be comfortable even for long rides.
Whether you want to add to your set or try something different, this article will show you what to look for when choosing women's cycling shorts and the best pairs in the market today.
Let's get started!
Cycling Shorts
Cycling shorts and bibs are a piece of must-have cycling equipment for many cyclists. They might look bulky and uncomfortable for beginners, but they help relieve so much discomfort.
With so many different options, choosing between the right kinds of materials and padding can be a long process.
See the guide to choosing the best cycling shorts.
Best Women's Cycling Shorts
---
Pearl Izumi Attack Bike Women's Shorts
Moisture Wicking
Standard Chamois
80% Nylon/20% elastane fabric
Pearl Izumi is known for making quality biking apparel, and these bike shorts are no different.
The Pearl Izumi Attack shorts are ideal for road cycling with a form-fitting short style that most cyclists will find appealing. The Nylon fabric of these shorts offers impressive comfort with an 8inch inseam and reduced paneling.
Related: Best Bike Seats For Women
With a blended-thickness women's SELECT Escape chamois, you can stay dry and chafe-free during your rides thanks to its moisture-wicking properties.
It also has a wide waistband to prevent it from digging into your stomach when cycling. These Attack bike shorts are not only stylish but also safe to use at night because of the reflective elements.
These women's shorts are available in sizes from extra small to extra large to fit all cyclists. You can opt for the PEARL iZUMi Attack Bike Bib shorts if you are more comfortable with straps.
BALEAF Women's Bike Shorts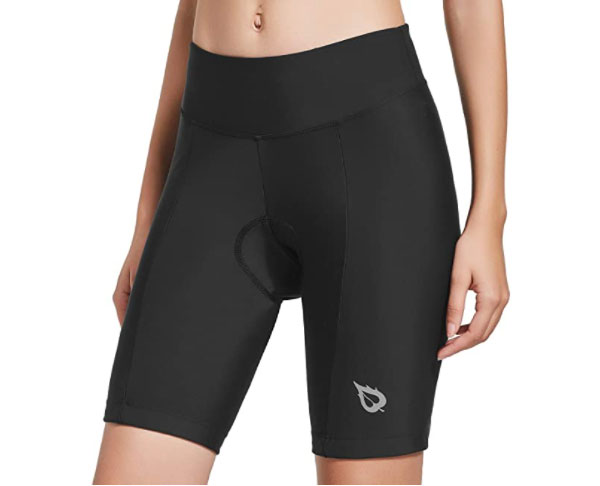 3D Gel Padding
Anti-slip leg grip
Wide Waistband
The BALEAF cycling bike shorts are the ideal choice if you have a tight budget. If you want to match your gear, they come in various colors and are durable for mountain biking.
These shorts are made of 80% Nylon and 20% spandex to be breathable and comfortable for those rigorous rides and hot seasons.
Like most women's cycling shorts, this pair features 3D gel padding with 3D gel chamois inserts for adequate protection when riding long distances. The wide waistband prevents any ride-ups and feels good around your stomach even when crouching on your bike.
If it bothers you when the hem rides up, you will love the anti-slip grips on these shorts. The non-silicone gripper design also helps keeps the shorts in place.
Being that these shorts are machine-washable, cleaning them after every ride will be easy. With a reflective logo, you'll be safe riding at night.
Castelli Premio Black Women's BibShort
Woven fabric
Gripper elastic pads
Perforated back panel
The Castelli Premio shorts is a new high-end bib that is worth the price tag. With quality woven fabric that is thin and breathable, you will be relaxed and comfortable in this pair of bib shorts. The material also provides ideal muscle support with flat bib straps to prevent bunching up around the shoulders.
It also features the Progetto X2 Air seamless Donna two-layer pad. The upper skin care layer of this pad is soft on the skin with a medium density cushioning layer for breathability and additional comfort.
This is an excellent pair of cycling shorts for different weather conditions meant for road cycling. It is available in all sizes, from extra small to extra large, to cater to most women cyclists.
NOOYME Women's Cycling Bike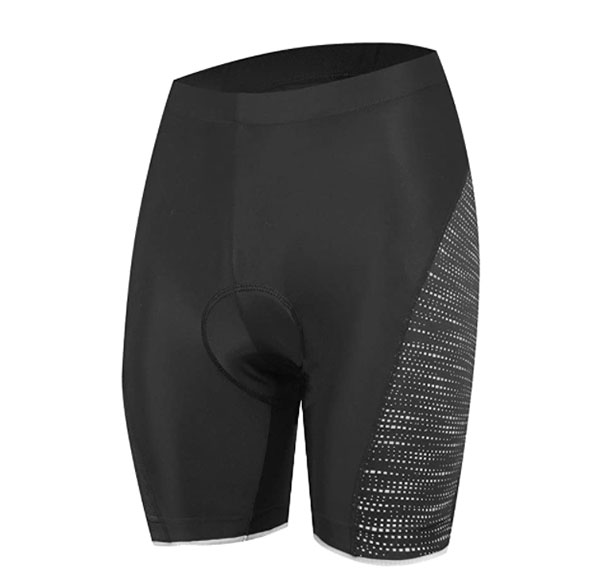 Elastic closure
Padded chamois
80% Polyamide, 20% Spandex
Another budget option is the NOOYME Women's bike shorts. These shorts feature high-quality lycra spandex fabric that comes in bright colors to match any tops or jackets. The flatlock seams easily stretch and add softness to the material to prevent saddle sores.
Related: How to Choose Bike Saddles
Sadly these shorts don't have any pockets, but they have all the padding you need for a comfortable ride.
The gel padded chamois is breathable and excellent for support to ride as long as you want. These cycling shorts have a wide waistband that won't roll up and feel great on your skin to prevent discomfort.
The NOOYME cycling shorts have soft silicone grippers to hold the legs in place. These shorts have reflective tabs on the hems so you can ride with ease at night.
You can get these shorts in either size small or extra-large to fit you with the help of the size chart.
SHREDLY The MTB Curvy Shorts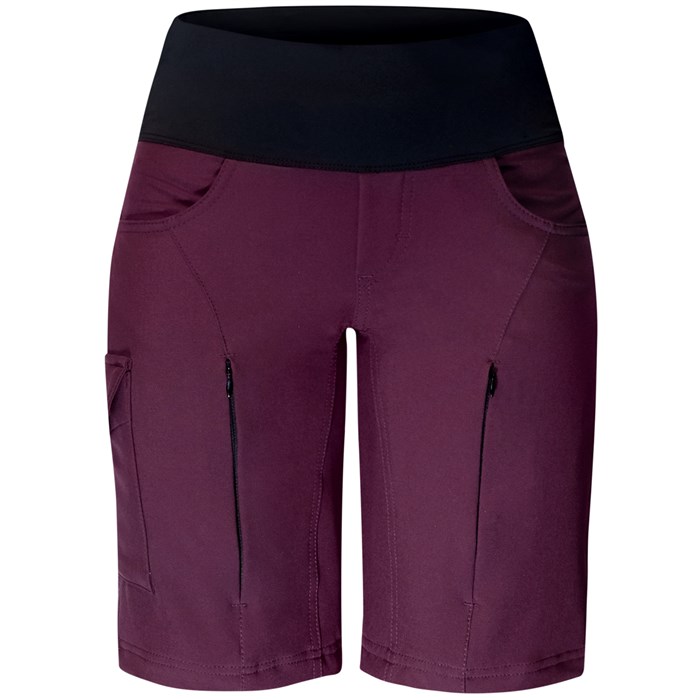 Lightweight
Synthetic material
Curvy fit
If you are looking for relaxed mountain bike shorts, the SHREDLY curvy shorts are perfect for you. The construction of these shorts is suitable for mountain biking with lightweight and durable fabric that can handle the challenges of those trails. The shorts are available for sizes from 2 to 20 and they come in four different designs.
Related: Best Bike Seats
Unlike the previous option, these curvy cycling shorts come with secure side pockets to carry essentials during your rides. Yes, that includes your phone too. With a mid-rise yoga waistband and a drawcord, these shorts will fit well without riding down or being too tight for your stomach.
The airflow on these shorts is excellent during rigorous rides thanks to the invisible zipper thigh vents. The back panel on the SHREDLY curvy shorts also adds to the shape and offers more room to accommodate your hips better.
Sadly, the Chamois liner is only available separately, so you will have to add that to your budget with this choice.
PEARL iZUMi Interval Cargo Cycling Bib Shorts
Dual cargo pockets
Mesh panel
80% Nylon,20% elastane fabric
These are the best shorts to get for those long rides that you need to carry more items than just your phone. The PEARL iZUMi cargo bib shorts can store your gadgets, food, and other essentials with dual side cargo pockets.
The construction features recycled mesh paneling for better moisture transfer when it gets too hot. Unlike other bibs, this pair features a drop tail design that makes taking a bathroom break easy. The raw edge upper straps are tight even when riding in an upright riding position without being uncomfortable.
Like other PEARL iZUMi cycling shorts, the Women's Elite Escape chamois has a floating top-sheet design to reduce friction and keep you on the saddle longer. Riding at night will be stress-free with the reflective elements of these shorts. These cargo bib shorts are available in medium to XXL sizes with printed leg grippers to keep them in place while pedaling.
SUGOI RS PRO BIB Shorts
80% Nylon, 20% Spandex fabric
Pitstop 2 Technology
Moisture-wicking chamois
The SUGOI Women's RS Pro Bib shorts are the best choice for comfort during long rides. The aerodynamic stretch fabric feels soft and has a vibration dampening pad for a smoother ride on different terrains.
The moisture-wicking Formula Fx chamois keeps you dry and cool while protecting sensitive areas. SUGOI added an infused silicone leg band for a more secure fit that keeps the shorts in place. The multi-panel design of these shorts offers a better fit for the rider's body while still looking good.
This bib is different from the rest with convenient Pitstop 2 technology to make bathroom breaks quick and easy. This includes straps that stretch when you need to take it off. These high-end SUGOI bib shorts are available in color black with sizes ranging from small to extra large.
Beroy Women's Bike Shorts
Pull-on closure
Machine wash
3D Gel Padded
The Beroy women's bike shorts are durable cycling shorts made of polyester and spandex. This material has excellent elasticity to give you enough room to pedal.
They feature a pull-on closure that makes dressing easy and fast. The in-care layer is soft for a better fit and flexible to move with you as you ride.
Like most cycling shorts, these come with 3D gel padding inside and multi-density foam. The foam makes it breathable and comfortable enough to use when riding long distances. If you want these shorts to last longer, you should machine wash and air-dry after each use.
These Beroy shorts fit snug and close to the skin, helping suck the sweat to keep you dry. Sizes extra small to XXXL are available in various colors.
Yeti Cycles Norrie 2.0 Women's Shorts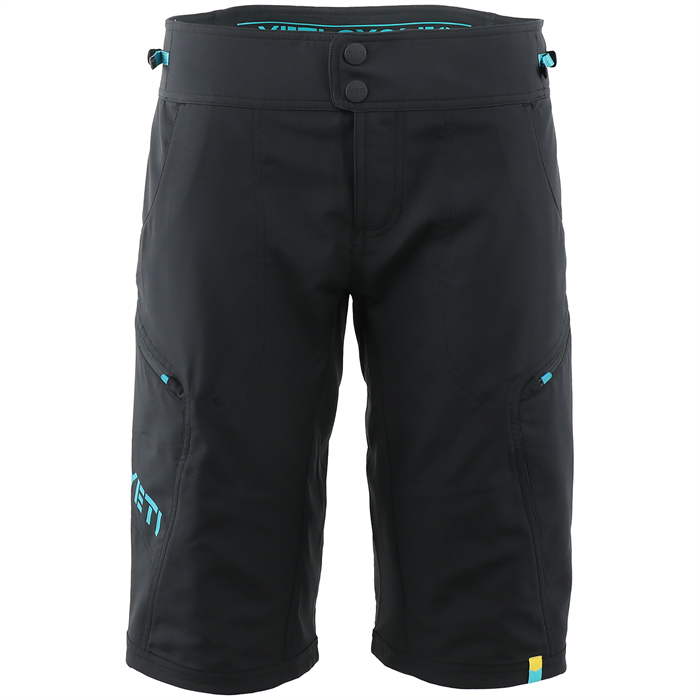 woven fabric
100% Polyester
Two pockets
For women cyclists with a preference for baggies, the Norrie 2.0 shorts are what you need. Suitable for all MTB trails, these enduro-style shorts are comfortable for superior performance on your bike. With secure button closure, it will be easy to close and open these shorts when necessary.
The synthetic fabric efficiently promotes airflow for maximum comfort despite the weather. For excellent mobility, you can rely on the two-way stretch construction of these cycling shorts.
They also fit well, thanks to the adjustable waist and silicone grip dial that keeps them in place.
You don't have to leave your essentials behind if they can fit in the zippered cargo pockets. Remaining dry is not a problem when it rains, thanks to the DWR finish that repels rain showers and wheel-spray.
With this pair of shorts, you can comfortably wear knee pads too.
7Mesh WK2 Women's Bike Shorts
Moisture-wicking
Five panels
Polyester knit mesh fabric
These quick-drying 7Mesh WK2 cycling shorts are soft and ideal to use the next time you go road cycling. They feature a 3D molded elastic interface chamois with a mesh hammock that works well to reduce chafing.
To keep you at ease when in a riding position, you can rely on the yoga-style waistband for lasting comfort even when you sweat. For additional safety when cycling at night, these women's cycling shorts have a reflective logo visible under low light conditions.
Get these form-fitting cycling shorts with a 5-panel construction to make your rides more enjoyable. They weigh 5.75 ounces and are available in small to extra large sizes for women. It comes in the color black that easily blends with other cycling gear.
---
How To Choose?
---
When choosing the best women cycling shorts, you need to remember they should be snug and fit your riding on any given day. With women's cycling shorts ranging from as low as $20 to over $100, there is a lot more to consider before buying a pair.
Here are some tips to help you choose the best women cycling shorts for your next ride.
Related: How to Choose Cycling Clothing
Materials
The cycling shorts you chose should be made of the suitable material to keep you cool and comfortable when riding.
Most common materials for cycling shorts include spandex, lycra, polyester, or nylon. These materials offer more freedom when cycling, not to mention flexibility.
They are moisture-wicking materials that absorb sweat and keep you dry during hot seasons. For example, Women's bike shorts for off-road cycling feature more durable material to handle the rough trails better.
If you ride frequently, you can get more than one pair of cycling shorts because they need washing after every ride.
The materials are selected to be suitable for certain weather conditions or different types of cycling like road cycling or mountain biking.
Types
You can either choose cycling shorts or bibs, depending on what you find most comfortable. When trying out shorts, make sure to bend and see how the waistband feels.
Some shorts have tight waistbands that dig into your tummy when in a forward riding position. Shorts might be better for long rides because they are not challenging to get in and out during a bathroom break, unlike cycling bibs.
Despite this, some women still opt for cycling bibs because they give the chamois a snug fit against your crotch to reduce any irritation when cycling.
Bibs feature lightweight shoulder straps to keep them in place, unlike shorts that keep shifting when your ride.
Although bibs are more expensive, we included some excellent pairs that are a little easier to work with when you need to use the bathroom.
Fit
While it is advisable to get fitting shorts, they shouldn't be too tight that your legs can't breathe.
Cycling shorts should be snug with slight compression that won't hinder your ability to pedal on different terrains comfortably.
The only sure way to get the right fit is to try them. If you're buying online, take advantage of the available size chart.
Although they might feel baggy when you first put them on, they become snug when crouching on your bike in a forward riding position.
You always want your cycling shorts to stay in place so you can focus more on the scenery and enjoying your ride.
Panels
The panels on women's cycling shorts help with contouring so they fit your body well when seated on your bike. The benefit of panels is to contour the shorts to fit your body when in a riding position on your bike.
More panels can give cycling shorts a more natural feel. Shorts with multiple panels will cost you more money.
The best women's cycling shorts feature a unique construction with flat seams so that any additional panels don't cause discomfort or chafing.
Padding

Comfort is one of the primary reasons why women go for cycling shorts after riding for some time. Aside from breathable and wicking fabric, the best women's cycling shorts feature quality padding to prevent discomfort in the pelvic area when cycling.
If you've been cycling for a while, you know that padding in men's and women's cycling shorts is different due to their anatomy.
The different thicknesses in padded bike shorts offer superior shock absorption on the trail.
The best women's cycling shorts have a pad inside called a chamois. This pad cushions your sensitive areas during rides reduces friction between your legs and prevents saddle sores.
When choosing your first pair of cycling shorts, more padding is not necessarily the best choice.
You want padding that fits well so that you aren't sitting uncomfortably on your bike seat.
Padding has also evolved to feature 3-ways stretch material for a better feel and perforations for additional breathability to keep you cool. You can also use anti-chafe creams with padded cycling shorts for a more comfortable ride.
Compared to Men's Cycling Shorts
It is better to go for women's cycling shorts because they are narrow at the waist, and the padding is designed specifically for women's anatomy. Ensure not to wear any underwear with these cycling shorts because they can give you minor cuts when cycling. Yes, cyclists don't wear any underwear under those shorts!
Related: Best Cycling Shorts and Bibs For Men
One of the significant differences between men's and women's cycling shorts is the Chamois.
As a cyclist, you will be spending most of your time on the saddle, and it's better if your shorts are comfortable in the places that matter.
Women's shorts often have a pillow in the center and front of the pad and become wider toward the back for additional comfort. The great thing is these shorts are shaped and padded according to the gender of the cyclist.
When it comes to the hips of the cycling shorts, women's shorts are thicker because women carry more weight around this area than men. Women's cycling shorts are also shorter in comparison to those that men wear.
Keeping this in mind will help you choose comfy cycling shorts that fit and feel right.
See our top cycling jersey picks (for both men and women).
FAQ
Conclusion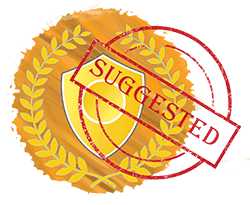 Your rides will be more enjoyable with cycling shorts or bibs. These shorts are designed to be breathable, soft, and padded to absorb shock from the trail and keep you comfortable while cycling at any distance.
Whether you are mountain biking or road cycling, there are cycling shorts you can choose that offer superior performance.
As long as you make sure to try them out before wearing them out on a ride, you are sure to get comfy cycling shorts that don't hurt your backside.
There are no comments yet, add one below.