Best bike saddles for all types of riders! Check out our top picks for road and MTB cyclists, commuters, and women, and learn how to choose the best bike seat for you.
No other part on the bicycle affects your comfort as much as the bike saddle.
Selecting the right bike seat means you'll eliminate saddle sores, avoid injury, and maximize power transfer.
Unfortunately, finding the best bike saddle that fits your bum perfectly is often a hit-and-miss kind of thing. That's why we've compiled a list of our favorite models that will narrow down your options and help you choose more easily.
Before you check out our top picks for different types of riders, make sure to read our tips on how to choose the best bike saddle below.
How to Choose the Best Bike Saddle?
In order to choose the right bicycle seat that fits your anatomy and your needs, you should ask yourself a few questions and take several factors into consideration.
Read our short guide before you go on and choose one of the best bike seats we recommend below.
Determine What Size You Need
Bicycle saddles come in different sizes, which is something that many beginner cyclists often overlook.
The size refers to the width of the saddle, measured from edge to edge on the widest point on the saddle.
To get the right size, you first need to measure the width of your sit bones. Once you have that measurement, you can add 20mm to it, which will be the width of the saddle that you need.
Consider the Type of Riding You Do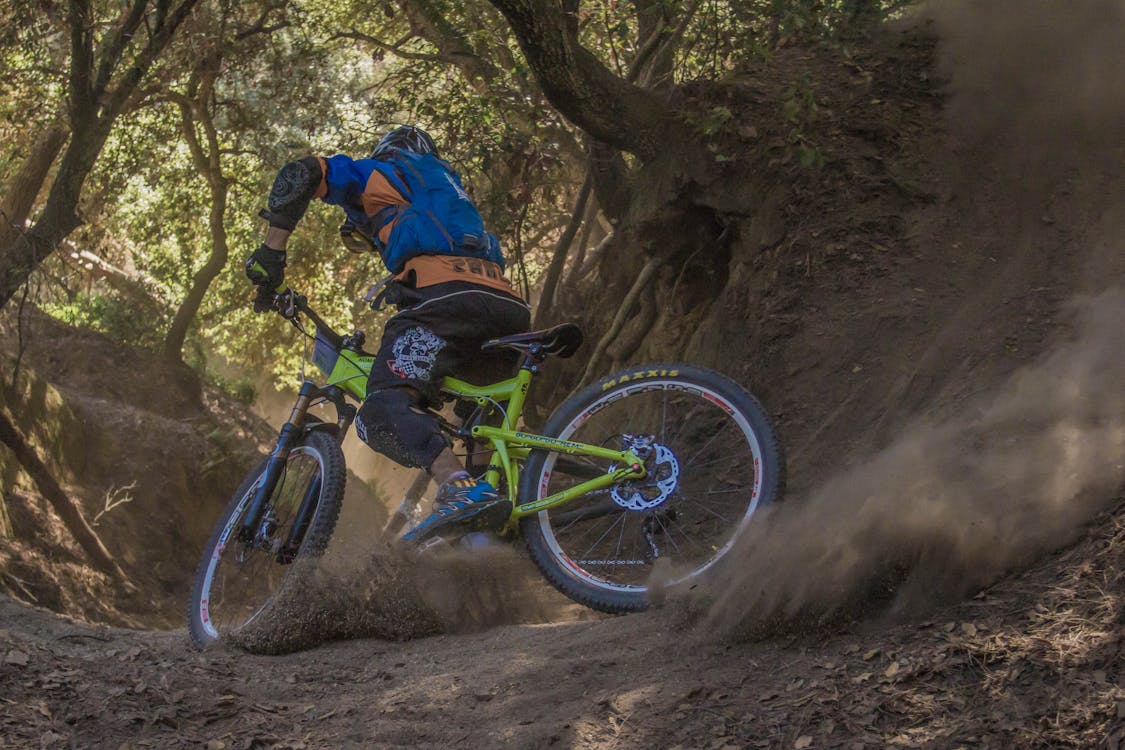 Every type of cycling requires a different type of saddle in order to get maximum comfort and be as efficient as possible while pedaling. Determine whether you need a road bike saddle, MTB saddle, or a saddle for touring or commuting.
On top of that, consider the shape of the bike seat as well.
Flat, wavy, and curved saddles have their unique advantages and disadvantages.
The type you need depends on how you ride your bike.
Flat bicycle seats are ideal for endurance riders, whereas wavy saddles are perfect for those who ride in a more aggressive position.
New to the cycling world? Don't know where to start? Check out our thoughts on different types of bikes.
Saddle Material and Padding
Bicycle seats are made from different materials and feature different types of padding. Some even come with no padding at all.
The most popular cover materials are synthetic and leather covers, but some saddles are also made of cotton or even have no cover at all.
When it comes to padding, gel and foam are the most popular. Gel bike seats are cheaper and comfier, but the gel gets compressed over time. Foam lasts longer, but it might not be the best choice for beginners and recreational riders.
With or Without a Cutout
Some riders prefer a central cutout whereas others feel that a central groove gives them enough comfort and relief. If you have pain or numbing in your perineal area, you should consider getting a saddle with a cutout.
However, the only way to determine whether or not you need it is to try different saddles and see for yourself.
This is a very subjective matter that depends on your body anatomy and how you ride, so it's difficult to take advice from others.
Want to learn more about bike seats and see more examples? See our in-depth guide to choosing the perfect bike saddle.
What Budget Do You Have?
Last but not least, consider your budget. Bicycle saddles can cost as little as $20 or sell for hundreds of dollars. As with all other bike components, the more money you spend, the more quality you will get—up to a point.
If you're an amateur fitness rider, spending between $100 and $200 will get you plenty in terms of comfort, durability, and performance. If you're a casual rider, you can get a comfortable bicycle seat for less than $100. However, if you're a performance rider and you're looking to save weight, go for more expensive saddles made from the most lightweight and durable materials.
Without further ado, here are the 15 best bike seats for road racers, mountain bikers, commuters, and female riders.
---
Road Bike Saddles
---
Fizik Antares R3 Open Saddle
MSRP: $119.99
Synthetic weather-resistant cover
Lightweight shell
Two sizes: regular and large
The Fizik Antares R3 Open Saddle is ideal for riders who want the best balance of comfort, support, and low weight. This is a mid-range saddle with an accessible price tag that uses durable materials and a thin foam bicycle seat cushion for maximum performance.
Its flat design is ideal for a variety of riders, including endurance roadies and even amateur racers. Fizik Antares R3 Open also features a central cutout that will relieve perineal pressure and greatly improve airflow.
Finally, the cover is made from weatherproof microtex, whereas the shell is made from Carbon-reinforced nylon that's lightweight and flexible.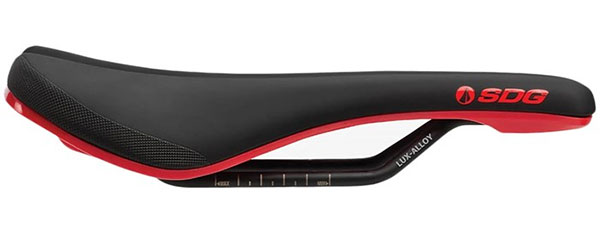 MSRP: $89.99
Four color options
Lightweight injection-molded foam
Flat-forward design
SDG Bel-Air 3.0 is an affordable road bike saddle intended for avid amateurs and fitness riders. It boasts a nylon glass base bridge combined with an injection-molded foam which will give you all the comfort and performance you need.
Its flat-forward design allows you to shift your weight around more easily, so you can ride in an upright or aggressive position. The peri-canal runs along the middle of the entire saddle which guarantees maximum relief in all positions.
Plus, the SDG Bel-Air 3.0 saddle is available in four accent colors, so you can easily match it to the color of your bike.
Velmia Bike Seat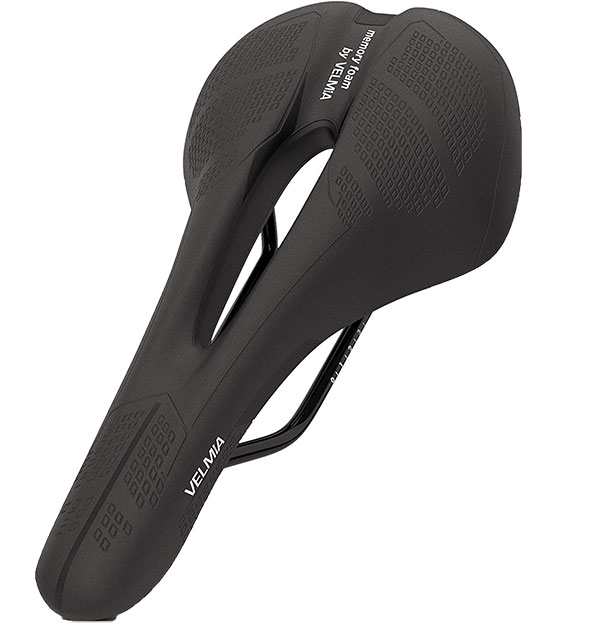 MSRP: Check on Amazon
100% waterproof cover
Memory foam padding
Central cutout
An extremely affordable road bike saddle that has thousands of excellent user reviews on Amazon for a good reason. Velmia is a German company that offers great value for the money.
This road bike seat is 100% waterproof thanks to a synthetic cover and welded seams that repel water. The central cutout reduces pressure, improves comfort, and promotes airflow that will keep you dry and prevent chafing.
Moreover, the Velmia bike seat has high-quality memory foam as padding that will mold itself to the shape of your body.
This is the best road bike saddle for beginners and recreational riders who want a comfortable bicycle seat that doesn't cost much.
Fabric Scoop Shallow Elite
MSRP: $79.99
Versatile shallow design
Flexible nylon base
Lightweight hollow cro-mo rails
Fabric Scoop is one of the most popular road bike seats. It boasts a simple yet effective design that suits a large variety of riders.
It's ideal for long-distance rides thanks to its shallow profile that sits in between an aerodynamic and upright riding position. Therefore, you can easily ride both ways.
The Fabric Scoop saddle is made from a flexible nylon base that reduces vibrations and a durable microfiber cover. The foam bike seat cushion ensures just the right amount of comfort and support.
This is an extremely versatile saddle, suitable for road racers, recreational roadies, gravel, and CX riders.
---
Mountain Bike Saddles
---
Wittkop Bike Seat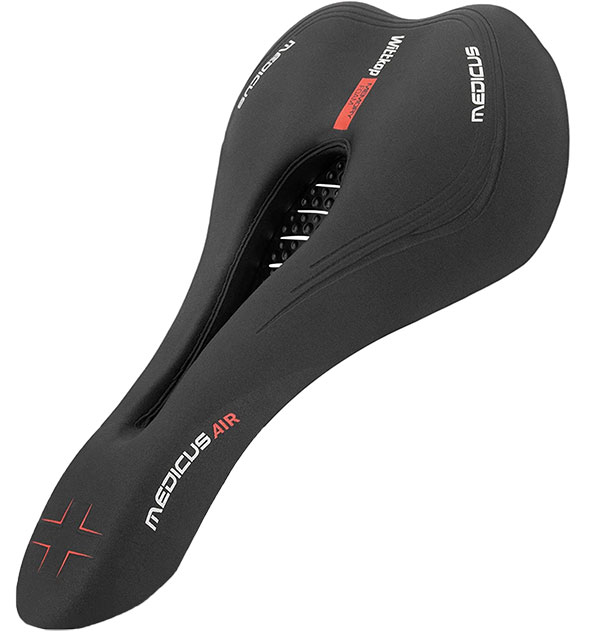 MSRP: Check on Amazon
5-zone foam padding
Waterproof cover
Suitable for MTB, city, and touring rides
The Wittkop seat is an all-around mountain bike seat that's perfect for different types of mountain biking. It's suitable for beginners, but even experienced riders will love it thanks to its build and features.
Wittkop has an innovative 5-zone bicycle seat cushion that's plush and comfy where it matters and supportive in all other areas. The central cutout will keep you cool and dry and relieve pressure in the delicate areas.
This saddle is also 100% waterproof so you can ride in all weather conditions. Moreover, it's available in three versions suitable for MTB, city, and touring riders.
Get it if you have a limited budget but high expectations of your next MTB saddle.
MSRP: $169.95
Active technology allows the saddle to flex
The central groove relieves pressure
Comfortable mountain bike seat for men and women
This is one of the best mountain bike saddles when it comes to features that guarantee comfort. The innovative active technology allows the saddle to flex as you pedal, conforming to your anatomy and improving pedal efficiency.
SQlab saddles actually come with three types of elastomers so you can customize the amount of flexibility based on your weight and riding style.
This bicycle seat also has lightweight titanium rails, foam padding, and weatherproof synthetic cover material. It's suitable for both genders and supports riders up to 220 lbs.
SPANK OOZY 220 SADDLE

MSRP: $74.90
Hollow cro-mo rails
Unique design with a rear kick-up
Best MTB saddle for versatile trail riders
Spank Oozy 220 is a trail MTB saddle that's specifically designed to provide you with maximum support when riding uphill and downhill.
Its unique shape features a kick-up on the back that prevents you from sliding while climbing and supports your lower back while pedaling.
Spank Oozy has a minimalistic foam seat cushion and hollow cro-mo rails which reduce the weight quite a bit. It also boasts a central groove for perineal relief and comes in six diverse colors to match the design of your bike.
Get it if you ride a little bit of everything and want maximum value for your limited budget.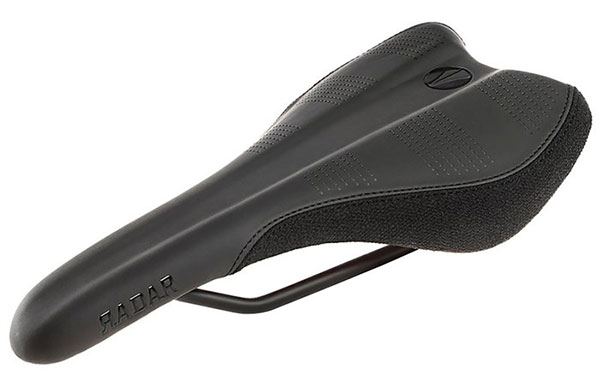 MSRP: $99.99
Lightweight titanium-alloy rails
Microfiber cover with Kevlar sides
Flat forward design
The SDG Radar saddle features titanium-alloy rails combined with a nylon glass base bridge that decrease weight and increase comfort, support, and flexibility as you pedal.
The microfiber top with kevlar protected sides is extremely durable and resistant to abrasions from falls or scratches. On top of that, it is completely waterproof.
What we like the most is the flat forward design that makes it easy to shift your weight around and sit in a variety of positions.
SDG Radar is the best mountain bike saddle for trail, all-mountain, and enduro applications.
---
Commuting
---
Ergon SFC3 Fitness Gel Bike Seat
MSRP: $49.95
Ergonomic design
Thick gel bike seat cushion
Large seating area
When it comes to commuting, a mix of comfort and support is what matters the most. That's exactly what you get with the Ergon SFC3 fitness gel bike seat.
It has an ergonomic design that reduces saddle sores and numbness and durable gel pads that increase comfort. The steel rails make this saddle extremely durable and suitable for heavy riders.
Ergon SFC3 is not lightweight, it weighs 370g—390g depending on the size (small/large), but that's to be expected considering its large seating area.
Get this wide bicycle seat if you want to enjoy your time spent on the bike and not regret it afterward.
MSRP: $129
Sustainable organic cotton cover
Steel rails and vulcanized rubber base
Suitable for men and women
Brooks has been around for more than 120 years, giving it the advantage of a lot of experience when it comes to making saddles.
You're looking at a maintenance-free, waterproof saddle with an organic cotton cover that will follow the shape of your body.
It features heavy-duty steel rails and a vulcanized rubber base, which means you can expect it to last years or decades.
Brooks England Cambium C-17 is by far one of the most comfortable bike seats, requiring no break-in period for most riders.
Selle Royal Ellipse Relaxed
MSRP: $49.99
Durable RoyalGel
Two elastomer bumpers
Unisex saddle
Selle Royal Ellipse is a riders' favorite saddle when it comes to pure, unadulterated comfort. This is a unisex wide bike seat that features a thick layer of RoyalGel that does not migrate or compact over time.
The Ellipse also has two elastomer bumpers that provide vibration dampening and serve as a sort of rudimentary rear suspension. They will greatly reduce your saddle sores.
The central cutout is an awesome feature as well that will reduce pressure in your nether region and keep you cool and dry.
This is a relaxed saddle that's perfect for commuters and casual riders who cycle in an upright position and want to be as comfy as possible.
Giddy Up! Bike Seat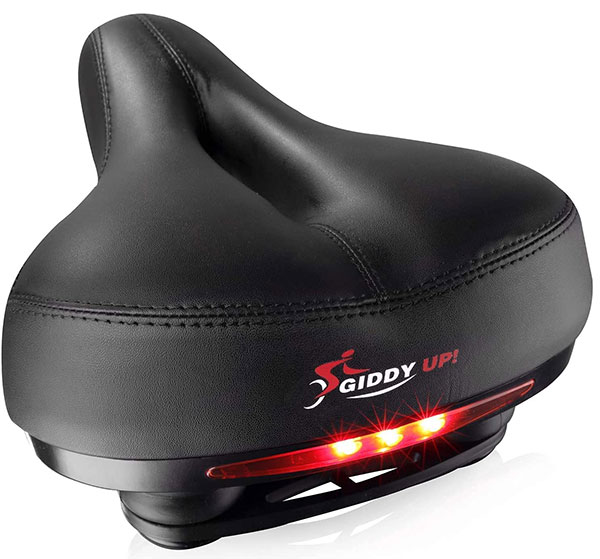 MSRP: $39.95
Built-in LED tail-light
Two shock-absorbing balls
Central cutout
Giddy Up! is one of the most affordable bicycle saddles for commuters on this list, but it has some surprising features for the money, which is why we decided to list it.
Related: Most Comfortable Bike Seats
Namely, this is a comfortable bike seat with a thick memory foam bicycle seat cushion that's soft where necessary and supportive in other areas. It also boasts two shock-absorbing balls that will significantly reduce road vibrations and improve comfort.
We recommend this wide bike seat if you don't ride long distances and you want to feel comfy without wearing padded cycling shorts.
Related: Best Cycling Shorts for Women
Best of all, if you ride at night, you'll love the built-in LED tail-light and a reflective band that will make you visible in all conditions.
---
Women's
---
WTB Deva Chromoly Saddle
MSRP: $95.95
Short-nose design
Ideal for road, MTB, or gravel
Most comfortable bike seat for women w/ gel
WTB Deva is a women-specific saddle suitable for road cycling and mountain biking. It's a versatile saddle with a short nose that makes it easy to shift your weight around and ride in both an upright and a forward-leaning position.
This saddle's flat design makes it suitable for a large variety of riders and the deep central groove ensures perineal relief.
WTB Deva has a perforated synthetic cover and gel padding which means you'll enjoy ample levels of breathability and comfort.
If you ride a road, MTB, or gravel bike in different positions and conditions, this saddle will suit you like a glove.
Specialized Power Mimic Saddle
MSRP: $129.99
SWAT mounts offer integrated storage
Short-nose design
Breathable synthetic cover
Specialized's Power Mimic is a road and MTB saddle specifically designed for women. However, a lot of male riders have liked its short design as well, according to online reviews.
The Mimic boasts a durable, water-resistant synthetic cover that hides a medium-density foam that molds itself to the shape of your body.
It also features a short nose that relieves pressure when riding in an aggressive position and a central groove also relieves numbness and pressure.
As an additional touch, you get SWAT mounts for seamless, integrated storage. Get it if you want the best bike seat for women that's been lab-tested for best results.
Selle Royal Respiro Moderate Women's
MSRP: $59
Thick gel padded bike seat
Vibration-reducing elastomers
Central cutout reduces pressure and numbness
The Selle Royal Respiro Moderate is a comfortable women's bike seat that provides as much cushioning as you can ask for.
This is a wide bike seat with a thick layer of gel padding and a weather-resistant cover that will stay dry no matter the amount of rain.
It's made with durable steel rails that support heavier riders and boasts a central cutout that will eliminate pressure on gentle areas.
On top of that, Selle Royal Respiro has elastomers that further reduce road vibrations. If you ride in an upright position you will love the support this affordable saddle provides.
Didn't find what you were looking for? See our best picks for women's bike seats.
There are no comments yet, add one below.