Let me ask you one thing: Have you ever decided against going for a bike ride because of terrible saddle sores?
If your answer is YES, you should really consider getting a different bike seat.
Saddle sores are not a normal part of cycling. The saddle you use should feel like an extension of your body that perfectly supports your sit bones.
It should not feel like a torture device that you're sentenced to suffer on for the rest of your life.
The solution to this problem that many endure needlessly is easy—get the most comfortable bike seat for your body type.
You can start below with our recommendations for happier and more comfortable rides!
Best Comfortable Bike Seats
Bike seats come in different shapes and sizes. Some are thin and narrow, others are wide and thick. Some have a cutout in the middle, others are made of leather and adjust their shape to fit your body better.
Not sure how to choose one? See our detailed guide to different bike seats and how to choose them.
In this article, we'll show you our favorite comfortable bike seats. They're ideal for leisure riding and commuting, but there are a few models for performance cyclists as well.
Related: Best Comfort Bikes
Most Comfortable Bike Seat For Women
---
Giddy Up! Reflective Band and Waterproof Protection Cover
Best Comfort Bike Seat for Commuting

LED tail light
Dual shock absorbing balls
If you're looking for a blend of comfort, safety, and visibility, then the Giddy Up! saddle is a smart choice. It's ideal for commuters who ride year-round, even in the rain or at night.
First things first, this seat is built for comfort as it has a thick memory foam filling combined with dual shock absorbing balls.
However, what makes this the best comfortable bike seat in our opinion is the LED taillight. It will make you a lot more visible at night or on dark and gloomy days. You'll also get a reflective band in the bundle that you can use to improve visibility even more.
The Giddy Up! saddle also has a waterproof protection cover that will keep your buns dry in all conditions. Get it if you want the best comfort and safety.
Most Comfortable Bike Seat for Women

Shock-absorbing elastomers
Comfortable RoyalGel filling
Selle Royal Respiro is one of the best-known comfortable bike seats around. It is the go-to choice for men and women who need to get rid of pain and discomfort on moderate to long rides.
The Moderate model that you see here is the most comfortable bike seat for ladies, though Selle Royal makes a men's version as well.
It has a central cutout that ensures airflow and perineal pressure relief, which is the most important feature. The saddle itself uses the RoyalGel as a filling that does not degrade over time. It also includes two elastomers that eliminate road vibrations from bumps and potholes.
If you want to ride more but suffer less, the Selle Royal Respiro Moderate is the foolproof choice.
Sunlite Cloud-9
Most Comfortable Bike Seat for Cruisers

Dual-density gel foam padding
Chrome coil spring suspension
The Sunlite Cloud-9 bike seat has a unique short and wide design (just like Schwinn), that makes it comfortable and ideal for short to moderately long rides. It's intended for cruiser and comfort bicycles, but you can attach it to any bike thanks to its universal rails.
The saddle is filled with dual-density foam padding that offers both softness and firm support. It will position your sit bones ideally for maximum comfort.
The Sunlite Cloud-9 also has chrome coil dual-spring suspension that will smooth out road chatter and vibrations. Road imperfections contribute greatly to saddle sores.
We recommend it to all riders, along with numerous other best comfort bike seat reviews.
For even more women's bike seats, see all our top picks for women's bike seats.
Most Comfortable Bike Seat for Men
---
Wittkop Bike Seat
Best Comfort Bike Seat for City Bikes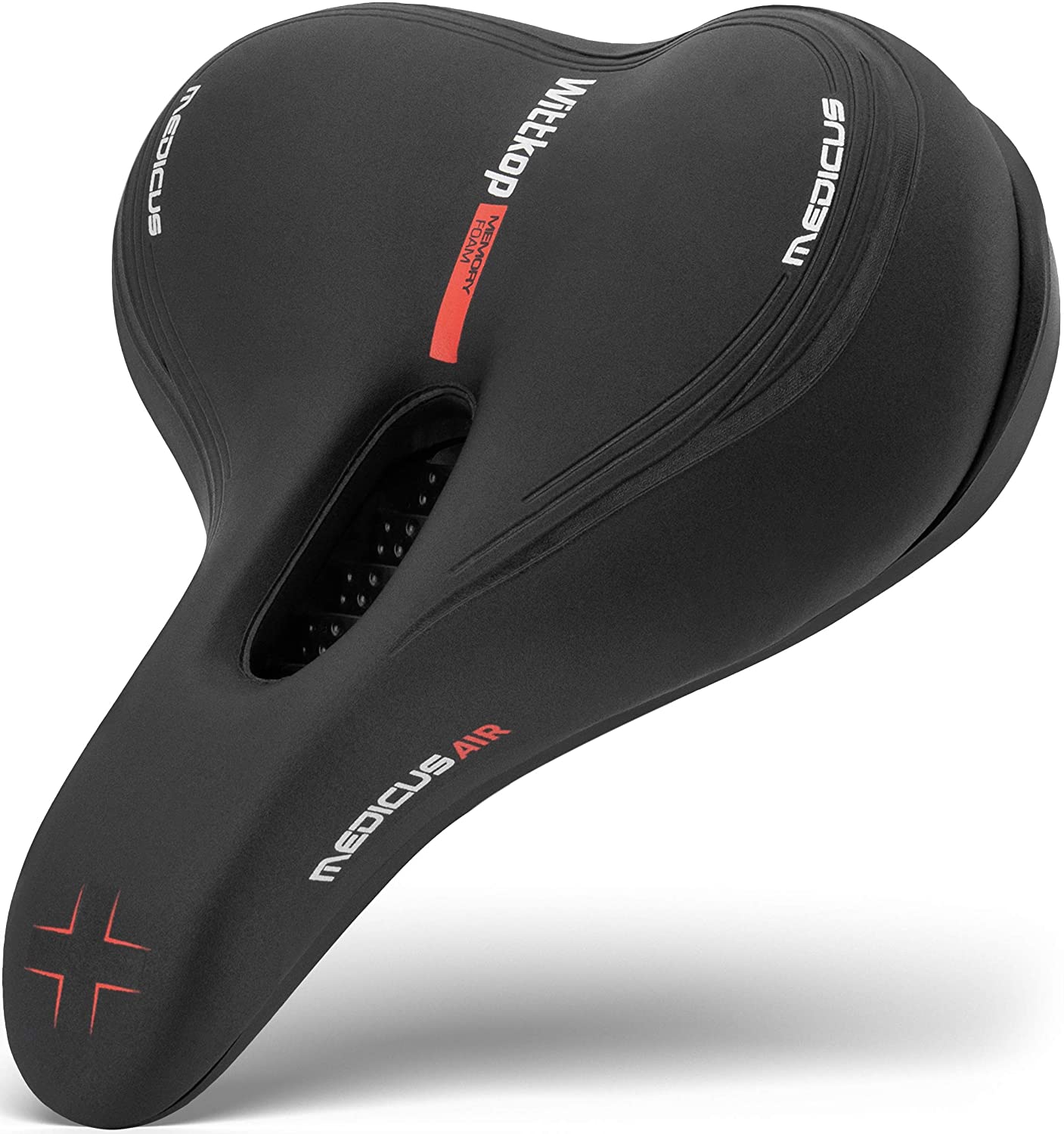 Innovative 5-zone comfort concept
Enhanced airflow system
Wittkop is a German company that has been around since 1898. Therefore, they definitely know how to make a good bike saddle. The model we're showing you here is intended for city and comfort bikes, as it is quite wide and soft.
The innovative 5-zone memory foam concept separates the saddle into five areas for maximum support and comfort. On top of that, there's a central cutout that ensures airflow and reduces pressure on your body.
The Wittkop saddle is 100% waterproof and easily attaches to any type of bicycle. It's ideal for city bikes, but it can serve as a comfortable mountain bike seat as well.
We recommend it to both men and women who value quality and low price.
Most Comfortable Bike Seat for Long Rides
Injection-molded foam and gel filling
Weather-resistant Dura-Tek synthetic cover
The Terry Butterfly saddle is one of the pricier models on this list, but it is still quite affordable. This is a comfortable women's bike seat that's perfect for performance and endurance riders.
Do you love completing centuries, gran fondos, or brevets? This saddle will provide you with the right amount of softness but also give you the support to be able to maintain consistent watts throughout the day.
The insides consist of injection-molded foam with a thin gel filling on the surface, wrapped up in a weather-resistant Dura-Tek synthetic cover.
This saddle is also quite light as it has a wide central cutout and tough Chromoly steel rails that are lighter than traditional steel.
The Terry Butterfly is one of the most comfortable bike seats for ladies who want to ride centuries with a smile on their face.
Looking for road bike or MTB seats? See our best saddle picks.
Bikeroo Oversized Comfort Bike Saddle
Most Comfortable Bike Seat for Overweight Riders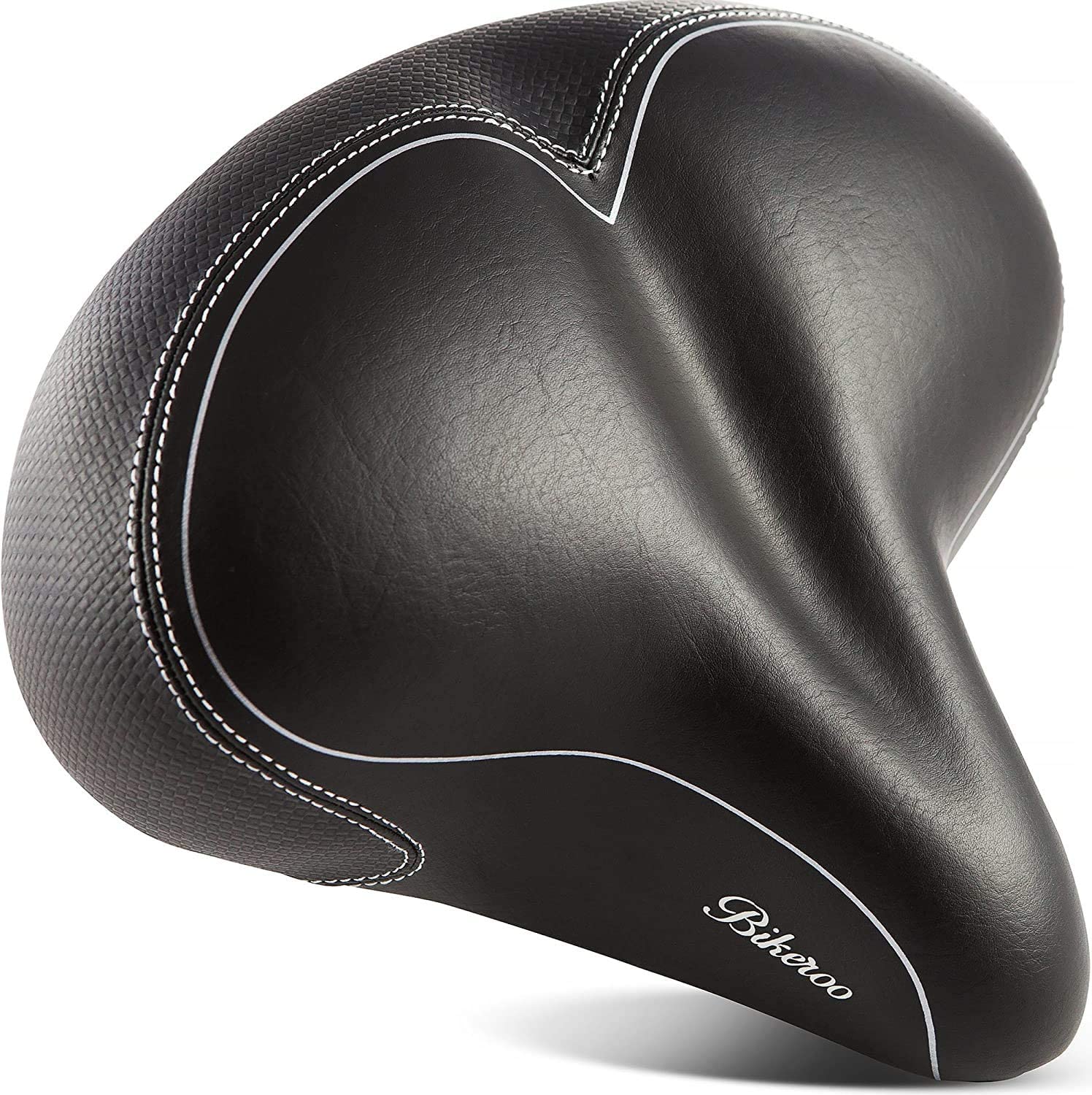 Oversized design with extra padding
Fits any type of bike
The Bikeroo Oversized Bike Seat has close to 10,000 reviews (at the time of writing this) on Amazon and an overall rating of 4.4/5 stars. If so many riders bought it and liked it, there has to be something about it that simply works.
This saddle is ideal for overweight people who don't find standard seats to be comfortable. It has a wide, oversized design, with extra padding that provides softness and support.
The Bikeroo saddle is suitable for all types of bikes, including hybrid, city, comfort, trekking, MTB, and so on. Plus, it comes with a waterproof rain cover, so you can keep it dry at all times.
Additionally, this model has elastomer springs, but a version with steel springs is available as well. Therefore, you can use this saddle both for indoor and outdoor cycling.
Best Comfortable Moun
tain Bike Seat
---
Ankuka Bike Seat
Best Affordable Comfort Bike Seat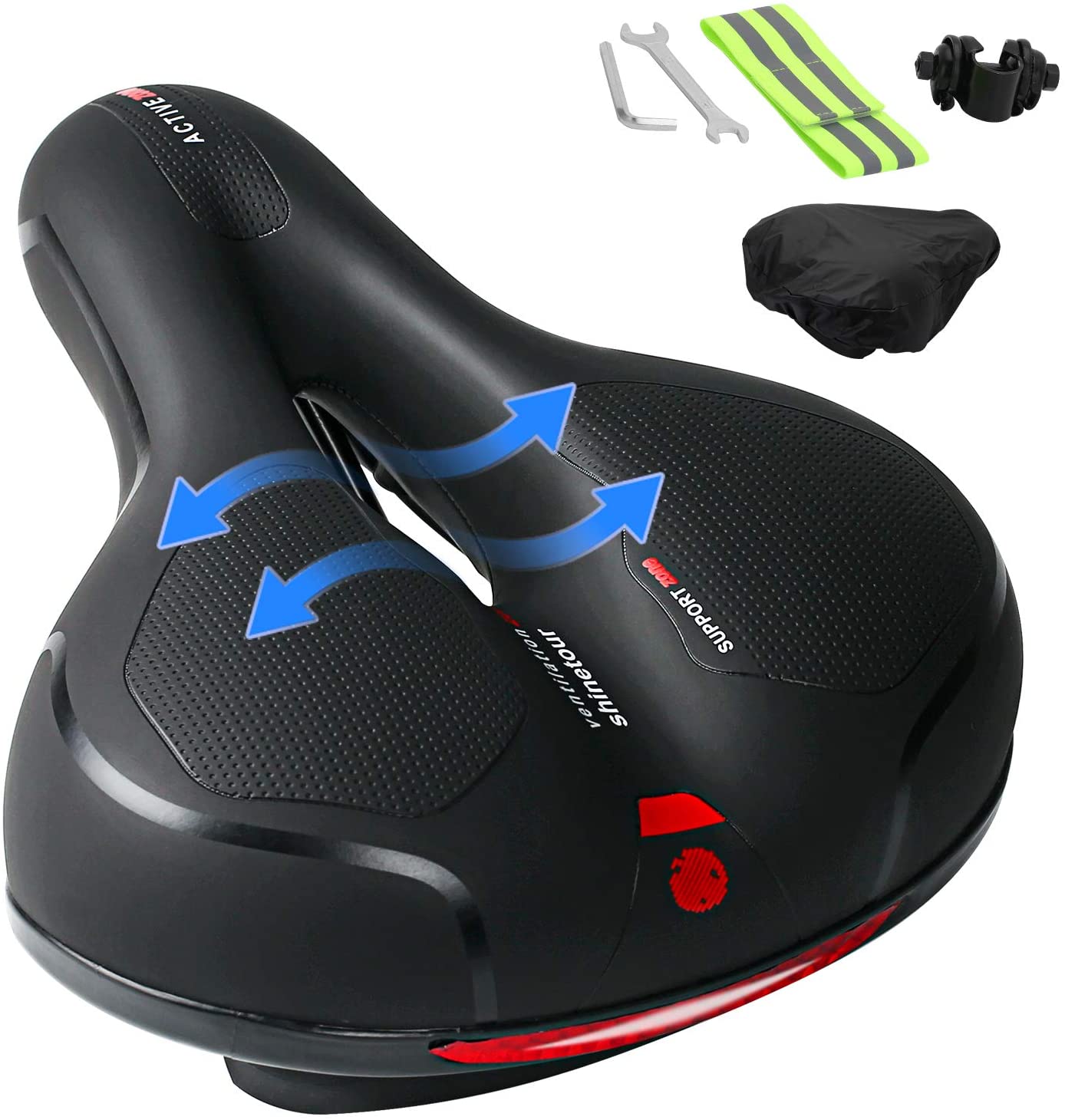 Includes a rear reflector
Double anti-vibration rubber balls
This Ankuka bike seat is one of the most affordable options on our list. Still, it offers surprising comfort and a few advanced features for the money.
First of all, this saddle comes with a reflector on the back that will improve your visibility at night or on rainy days. The bundle includes a reflective band that you can attach to your bike or your body to be even more visible.
Second, the Ankuka saddle is made with thick high-density memory foam padding and two anti-vibration rubber balls, so it's incredibly smooth and comfortable.
The design also incorporates a cutout in the middle, which will improve comfort and airflow. Get it if you want an excellent budget-friendly option.
Best Road Bike Seat (for Comfort)
---
Active Zone Road Bike Saddle
Best Road Bike Seat for comfort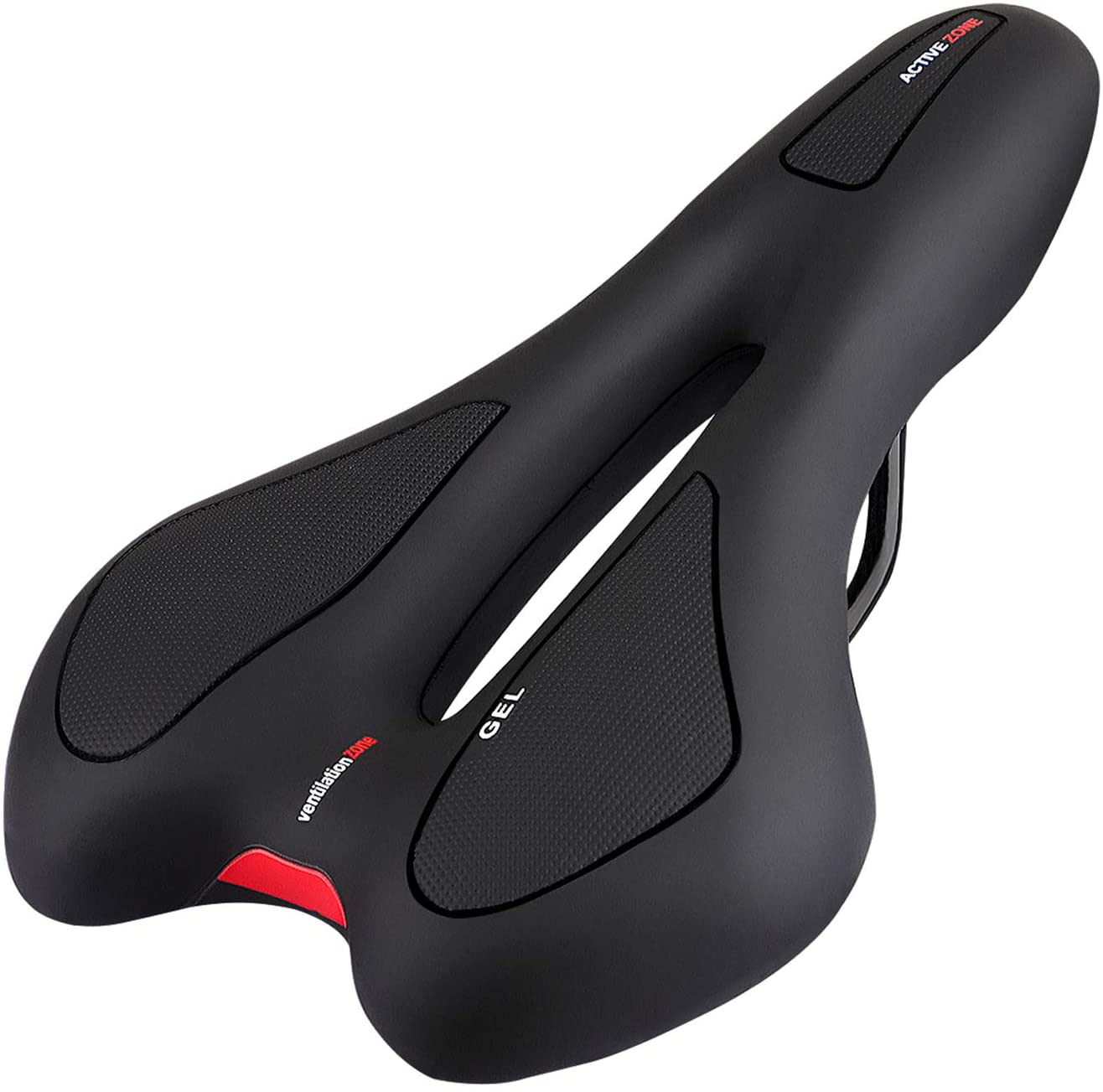 Firm and soft in the right places
Air canal, reflector, non-slip material
Despite how it looks, riding a road bike should not make you feel miserable. Road bikes typically come with thin and hard saddles, so it's a good idea to replace yours if it's causing you discomfort.
This Active Zone model is the one we recommend for several reasons. The saddle itself is narrow, so it's suitable for hard efforts, but it's filled with firm foam padding and a thin layer of gel. It's ideal for long endurance rides when you need maximum support.
It also features an air canal, a red rear reflector, and a non-slip material. It's perfect for road bikes, but it's one of the best mountain bike seats for comfort as well, especially if you do long days.
Buy it if you want to break your distance records without waking up with a sore bottom.
How to Make a Bike Seat More Comfortable
---
Making a bike seat more comfortable is neither complicated nor expensive most of the time. If you're having troubles with persistent saddle sores, check out the tips and tricks we share below.
Some of these are quick and simple, whereas others take some time and money. Try them out until you feel that your sit bones are resting against a cloud.
Get the right saddle: This is the most important tip. Get the right type of saddle for the kind of cycling you do. Moreover, get a saddle that is the right size for your sit bones
Adjust the saddle position: Make sure that the saddle position on your bike is correct. The three main parameters to consider are saddle height, saddle angle, and the fore/aft position.
Sit on the right part of the saddle: Next, make sure that you are sitting on the right part of the saddle. Your sit bones should be resting on the widest and softest part.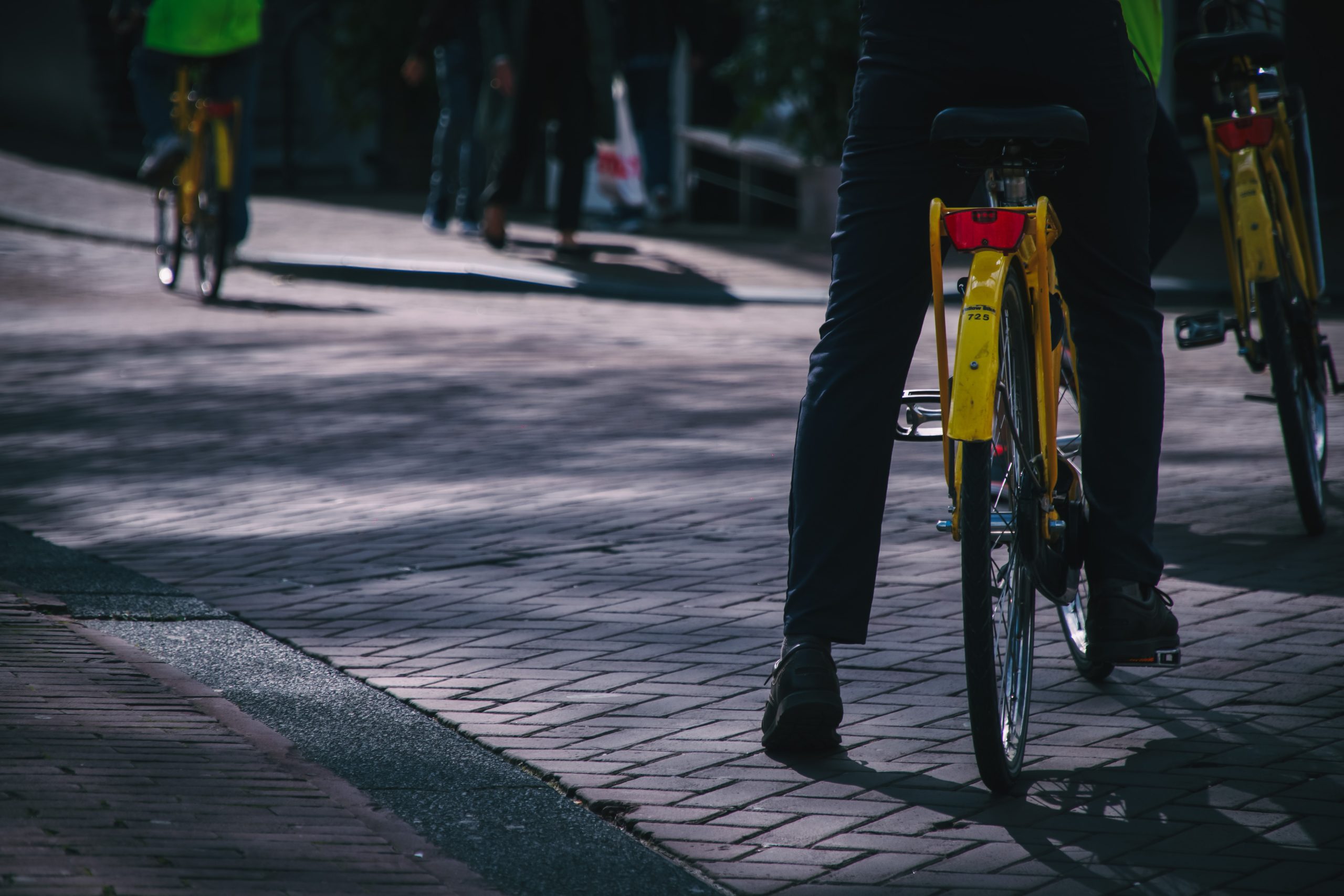 Stand up from time to time: Pedal out of the saddle from time to time to relieve pressure. This is especially important when climbing for long periods.
Wear bibs: Good-quality bibs or bib shorts can be quite expensive, but they are worth the money. Remember not to wear any underwear when you put these on. They should go against your bare skin.
Related: Best Bibs and Shorts For Women
Use saddle padding: Adding a thin saddle padding can be a good solution to make your bike seat more comfortable. However, this is only recommended for beginners who ride short distances.
Strengthen your core muscles: Surprisingly, strengthening your core muscles can prevent saddle sores by helping you maintain the right position and making you more stable, thus reducing friction.
Keep riding: Last but not least, just keep riding your bike and give your bottom some time to get used to the saddle. If you're new to cycling, saddle sores are completely normal to some degree.
Comfortable Bike Seats F.A.Q
---
Final Verdict
---
Hopefully, by now you have a clearer image of what type of saddle is right for you. Remember, saddle sores are not normal (unless it's your first time on a bike) and should not be ignored.
You can easily get rid of them by purchasing the right saddle or adjusting your current one better.
Lightweight, performance saddles for road and mountain biking can be quite expensive.
However, if you're looking for the most comfortable bike seat for commuting and leisure riding, you don't need to spend a fortune.
Most of the saddles we recommend above cost between $30 and $40.
With the right bike seat under your butt, you'll be able to ride faster and longer, as well as enjoy your rides more!