You need to be comfortable when cycling. That's why choosing your next bike saddle is essential. The most comfortable bike seats for women are the right height, material, and design to keep you riding longer.
It is easier to enjoy your ride and focus on your trail and scenery when you don't have to worry about discomfort every time you get on your bike.
We've picked out the best bike seats for women, which are available in different size options, prices, and for different riding styles to suit various cyclists. It can be hectic to find the best bike saddle for women with all the options available today. To make it easier for you, we made a list of the best bike saddles for women you can test out today. You will find the most comfortable bike seat for a woman on this list.
Choosing A Bike Seat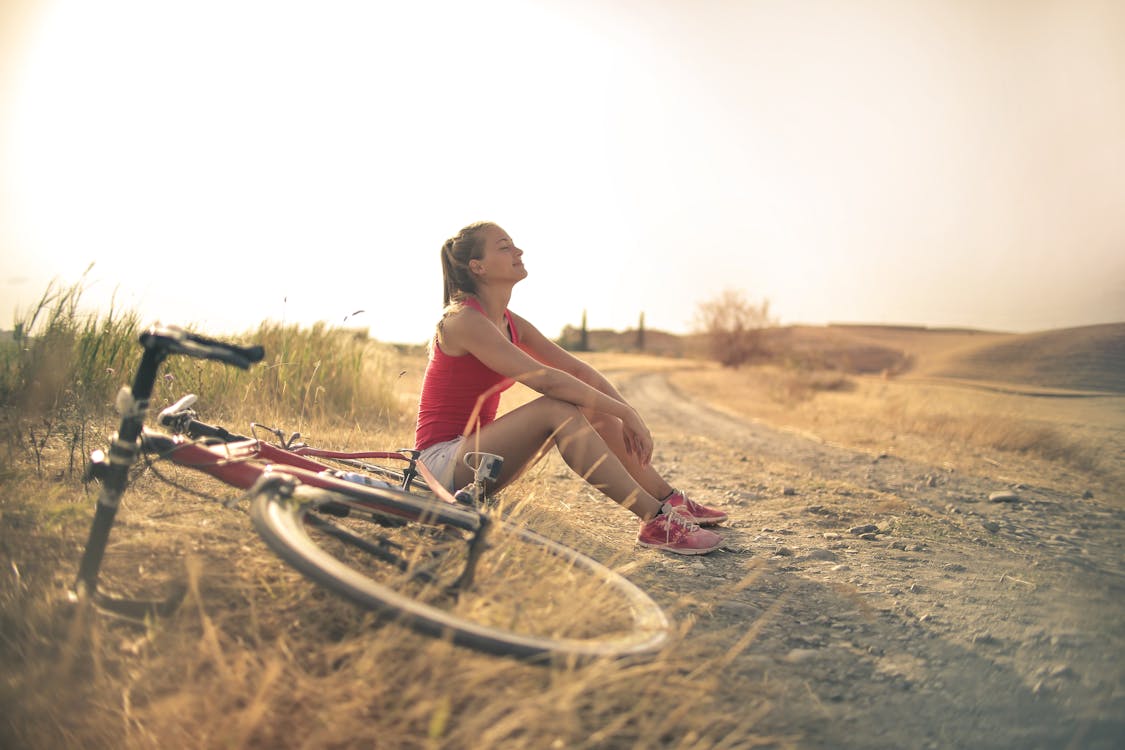 The bike saddle is more than just another part of the bike that connects to your body. It takes most of your body weight, positions you on the bike, and helps you better control the bike when cycling. The most important step is to think about your needs – what kind of bike do you have and what are your habits. After that, it comes down to choosing the right one. Here are a few considerations to make before you choose the right one for you.
Materials
When choosing the material of your bike saddle, you should consider the price of the material, quality, and waterproof nature. Saddle covers will affect your comfort and determine how long you use the saddle on your bike. You will find most bike saddle covers are made of synthetic materials. This material is lightweight and requires little maintenance for the everyday cyclist.
Unlike synthetic materials, leather will require some time to break in before it becomes comfortable to use. Although leather isn't waterproof, it quickly molds to your shape and weight for a more comfortable experience. You can use a leather conditioner to prevent the leather from drying due to excess UV exposure.
Another saddle material option you can choose is cotton. With this material, you don't need time to break it in and it is flexible without moving every time you cycle. You always get adequate control when pedaling on your bike.
Cushioning
The best bike seat for a woman will have padding or springs to help absorb bumps on the road when biking. Too much cushioning isn't always the best because it can be uncomfortable. You can choose between gel cushioning and foam cushioning, depending on the type of cycling you intend to do. If you are looking for a mountain bike or road bike seat, then these are different.
Foam cushioning offers support while still being comfortable. This material is ideal when choosing bike seats for overweight women and long-distance rides. Gel cushioning better molds to your shape and offers additional comfort during casual rides. You can also choose to go without any popular cushioning because they remain cool during hot rides. This is one of the best women's comfortable bike seat.
Related: Most Comfortable Bike Seats
Size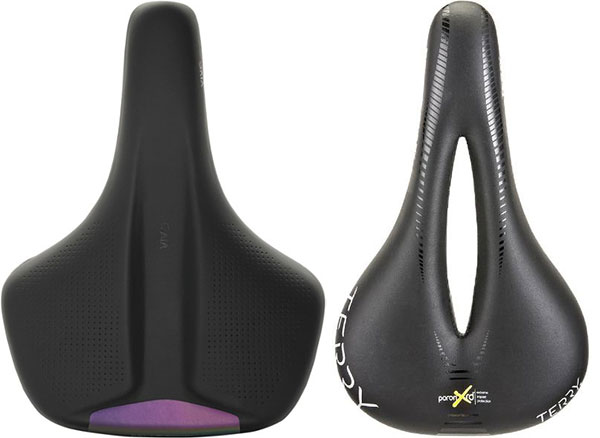 Bicycle seats for women are available in different sizes to better suit different body types. The right bike saddle size should fit your sit bones and offer support when riding your bike. It should also not be too wide to cause chafing, which can be uncomfortable for any cyclist. The best way to measure the best bike saddle for you is to try it out. If you can, testing the bike saddle and taking it out for a spin to make sure it is the best one for you.
Available Options
There are different bike seats in the market that include men's bike seats, women's bike seats, and unisex seats suitable for both. Men's and women's bodies are differently structured, which means they need different types of bike seats. When it comes to design, men's bike seats are long and narrow, while women's bike seats are wide because of women's wide hips.
Unisex bike seats are excellent for both men and women due to their universality in design. They are popular when you intend to use the bike for a short period. Although you can use unisex bikes, women are advised to go for saddles designed for the female anatomy.
Discomfort
What causes it?
To avoid bike soreness and discomfort, you need to choose the right bike seat for you. Factors like bike saddle height can cause discomfort because you are not in the right position when cycling. Your position to the bike's handlebar can cause poor weight distribution, which leads to discomfort.
Other causes of bike seat discomfort for women can be that you need more time to adapt to the saddle, size, and shape. A change in riding pattern and saddle quality can also lead to seat discomfort.
How to get rid of it
There are many ways to get rid of bike seat discomfort. You can start by changing the saddle of your bike. Going to the store and trying out various saddles can help you find comfortable for you. Changing your cycling gear can also get rid of bike seat discomfort. Wearing padded shorts of the right length is vital. For cyclists going on long rides, you will want shorts that are padded to prevent soreness.
To prevent discomfort when cycling, you can stand up occasionally. Standing every ten to fifteen minutes can give your back a break and help relieve pain. If you are breaking in a new bike saddle, you can give yourself more time to adapt to its shape and size. Spending more time on your saddle can help you get comfortable with its design faster.
Your saddle seat should be the right height so that you are well-positioned on the bike when riding or stationary. The distance to your handlebar and pedal should be fitted so that you don't sit too forward or too far back when cycling. Getting properly fitted is essential to enjoy the right bike seat angle that won't cause any back pain.
Related: Bike Fit – How To Fit A Bicycle
How To Choose The Perfect Saddle?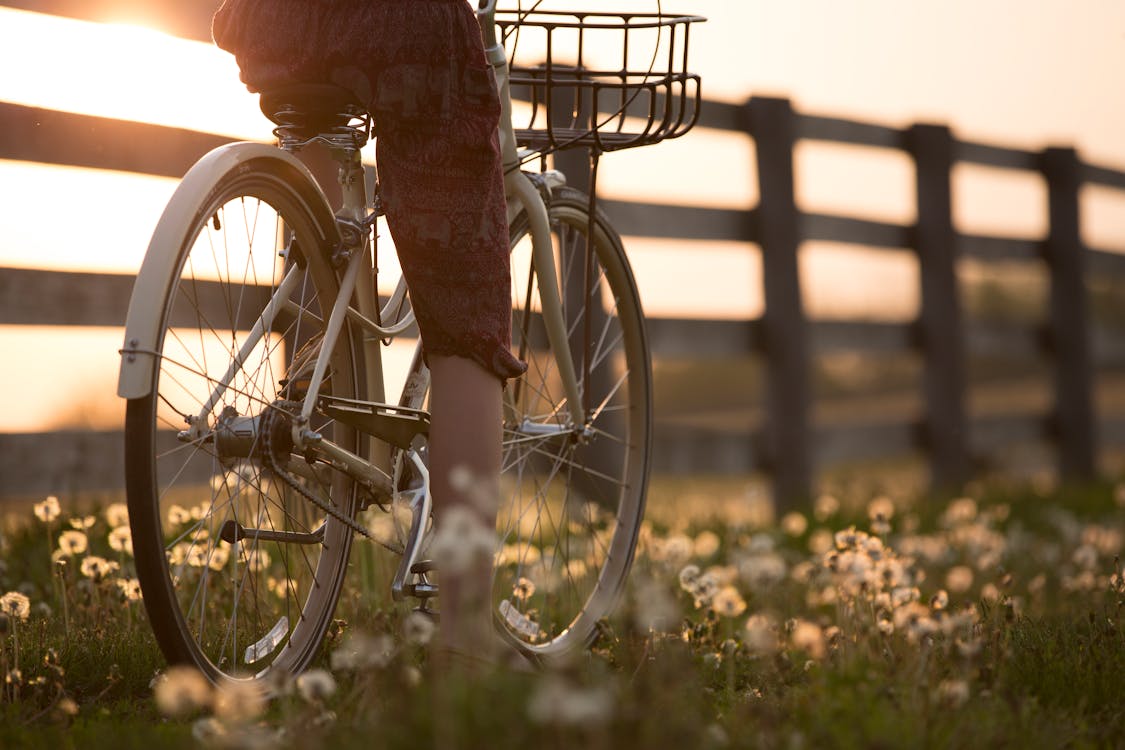 Choosing the right bike seat for women is now easy with the tips we have below.
A professional bike fitting can ensure that you get the right saddle for you. They can properly measure you and get the right size and shape for your body. Knowing how wide your sit bones are will help you get the right design for you. Professionals can also identify if your saddle is too forward or too far back which can be causing back pain and discomfort.
Different types of cycling will determine your riding position on the bike. It can also affect the type of saddle you want to use. You might need a wider saddle or additional padding for your backside bones for bikes with upright riding positions. The saddle on a road bike will be different from the saddle required for trail mountain biking.
Saddles are available in different sizes at different prices. The different range of models includes cheap entry-level saddles and expensive premium saddles. The more money you spend on a saddle, the more lightweight the materials tend to be. Entry-level saddles will not have complex features like cut-outs or grooves.
Still not sure how to choose one? See our even more detailed guide.
Best Bike Seats For Women
---
Specialized Women's Phenom With Mimic Comp Saddle
MSRP: $129.99
Features
Synthetic cover
Level 3 padding
Road & mountain biking
This phenomenal bike saddle for women is designed to ensure blood flow to sensitive arteries with padding to provide additional cushioning from road vibrations. It is suitable for road and mountain bikes with Mimic technology that maintains equilibrium while minimizing swelling in soft tissues. This saddle also features Hollow Cr-Mo rails that are light and durable.
Selle Italia Diva Gel Saddle
MSRP: Check on Amazon
Features
Titanium rails
Extra padding
Gel layer
The Selle Italia bike saddle for women offers comfort on your road or mountain bike. The design features a gel layer that provides comfort to soft tissue areas. With the thin silicone gel layer, this bike seat for women can absorb all road vibrations.
The extra padding on this women's saddle protects against skin inflammation and ensures it is durable. Compared to traditional rails, the titanium rail on this bike saddle reduces weight by 15% while increasing resistance and durability.
Specialized Women's Romin Evo With Mimic Comp Saddle
MSRP: $129.99
Features
Level 2 padding
Curved profile
Synthetic padding
With this Specialized's bike saddle, you can comfortably go road and mountain biking. The Mimic technology of this bike seat for women makes it easily adaptable to your body for the support you need when cycling. It has a long nose, curved profile with Chromoly rails. The design also ensures proper blood flow to the arteries of your body. The padding offers extra cushioning from road vibrations when cycling on rough terrain.
Terry Butterfly Cromoly Gel Saddle
MSRP: $88.95
Features
Synthetic cover
Gel cushioning
Alloy rail
This gel saddle for women is ideal for cycling with a weight of 36g grams. The Dura-tek synthetic cover is weather-resistant and durable for long time use. You will be comfortable during longer rides with the thin gel layer on top of the molded foam. The complete dut-away design of this saddle provides flexibility and reduces pressure when biking. This saddle is also wide and flat to provide support on your sit bones.
Bikeroo Bike Seat Cushion
MSRP: Check on Amazon
Features
Unisex bike seat
Waterproof pad
Wide design
Ride comfortably with this thick padded bike seat for men and women. This universal saddle is suitable for mountain bikes, road bikes, and cruisers. They are ideal for exercise bikes, where you will spend most of your time spinning without feeling like you are sitting on a rock.
It features shock-absorbing strings and a waterproof rain cover to use longer. You can enjoy better ventilation with the deep center cutout that also keeps you dry. The soft foam padding will protect your sit bones and conforms to your body shape.
Most Comfortable Bicycle Seats For Women
---
Bikeroo Oversized Bike Seat
MSRP: Check on Amazon
Features
Wide cushion
Extra padding
Universal mount
When it comes to comfortable bike seats, one of the best models is the Bikeroo Oversized bike seat. This bike seat has extra padding and elastomer spring to keep you comfy and prevent aches. The design of this seat distributes the pressure evenly which makes it ideal for exercise bikes as well. You will get a waterproof bike seat cover on this saddle and it is simple to mount on your bike with tools.
Roguoo Bike Seat
MSRP: Check on Amazon
Features
Artificial leather cover
Waterproof pad
Long soft nose
With this comfortable bike saddle, you can enjoy your rides with the long soft nose design that doesn't hinder thigh movement. This design also alleviates pain while riding and offer ventilation to keep you cool.
The memory foam padding and anti-shock rubber ball will protect you from the sharpness on the road. It is wear and tear-resistant to last as long as you need with a microfiber artificial leather cover. The round edge absorbs shock with the cushioning on this saddle offering superior comfort for female cyclists.
To keep you safe during the darker times, there's a strip of reflective tape in the back.
Schwinn Comfort Bike Seat
MSRP: Check on Amazon
Features
High-density foam
Wide design
Black in color
This bicycle seat for women from Schwinn comes in the color black to easily match various bikes and gear. It features high-density foam padding for a cushioned experience when cycling. The soft foam interior is supported by suspension coils for a smoother experience on bumps so you can enjoy longer rides. You will get additional comfort on this saddle with the super-wide design. Bad weather won't stop you from riding on this saddle because of the durability of the high-density foam padding.
Planet Bike A.R.S Bike Seat
MSRP: Check on Amazon
Features
Gel pads
Weather-resistant cover
Steel rails
As far as saddles go this is one of best gel bike seat for ladies. This women's bike saddle features sit bone gel pads with foam padding to relieve pressure from soft tissue areas and keep you comfy when cycling. The design includes a full-length center recess with a cutout for anatomical relief. With a weather-resistant cover, you can ride your bike during hot and cold conditions without fear of wear and tear. The material is abrasion-resistant as well. This is a sporty bike seat that you can use for your daily bike rides.
Best Women's Bike Seat For Long Distance
---
Ergon ST Gel Saddle
MSRP: $69.95
Features
Nylon material
Foam padding
Synthetic shell
No matter how long your next ride will be, you can ride with the Ergon ST Gel saddle for women to remain comfy all through. This bike seat for women comes in the color black with rails made of Steel. The saddle is weather resistant with lightweight foam padding beneath the microfiber.
If you are looking for performance on long-distance rides, this is the ideal bike seat for you. They have standard rails that ensure easy compatibility with bikes.
Fizik Aliante Saddle
MSRP: Check on Amazon
Features
Nylon shell
Road saddle
Kium rail
For women cyclists with speed in mind, the Fizik Arione saddle offers the performance you need when long-distance cycling. It features a PU foam so that your bike seat feels comfy for both short and long-distance rides. It offers better support due to its wide shape. The carbon shell is reinforced with nylon for better performance when on the trail. The twin flex technology enables flexibility when pedaling your bike.
Selle SMP Extra Cycling Saddle
MSRP: Check on Amazon
Features
Synthetic cover
Steel rail
Nylon shell
This bike saddle, like others on this list, features a durable synthetic cover with a unique design that limits compression on the pelvic floor. This allows for a more comfortable riding position during long rides. The Selle SMP saddle also features an extra-wide central channel to eliminate pressure in sensitive areas.
The synthetic cover is breathable for comfortable riding with the nylon 12 carbon fiber shell to provide lightweight strength. It is an excellent bike seat for women that allows eliminates thigh chafing due to the stable base.
Wheel Up Bike Seat
MSRP: Check on Amazon
Features
Ergonomic shape
Breathable
Comfortable
Padded with high-density foam and gel, this bike seat is one the comfiest you can find in this price range. It's not easy to find good bike saddles that are on the cheaper side, but this one is a win.
For the price range, this seat is really durable. You can easily use it every day for years. The seat has reflective patches that make you (and your bike) more visible in the dark.
Best Road Bike Seat For Women
---
WTB Deva Chromoly Saddle
MSRP: $71.95
Features
Synthetic cover
Gel cushioning
Steel rail
Get this unisex road bike seat for women suitable for road and mountain biking. This saddle was designed to suit the female form with a wide and generous padding and a short nose for additional comfort for various cyclists. The flat profile also allows for easier positioning on the bike. It has medium thickness with HLX+ gel padding to keep your sit bones comfortable when cycling.
Bontrager Aeolus Comp Bike Saddle- $90
MSRP: $100
Features
Synthetic cover
Performance saddle
Foam cushioning
For cyclists looking for comfort when road biking, this road bike seat for women is an excellent choice for you. It is short with a wide nose and full cutout. This cutout design minimizes soft tissue pressure and allows for a forward-rotated position. The lightweight shell of this saddle offers strength and compliance compared to traditional saddles. It also features a synthetic cover with foam cushioning to relieve pain. This is a unisex bike saddle to use on road bikes.
RICYRLK Full Carbon Road Bike Seat
MSRP: Check on Amazon
Features
Carbon fibre material
Colour black
No padding
If you are looking for a unique bike saddle, the RICYRLK is as unique as it gets. This versatile bike seat is easy to mount and suitable for road racing and mountain biking. The full-carbon bike saddle is stable, simple, and extremely quiet because it doesn't have any other materials. It also doesn't feature any additional padding making it hard and lightweight. You can easily install this efficient road bike seat for women with its modern design to keep you comfortable riding.
WTB Deva Saddle
MSRP: $95.95
Features
Chromoly rails
Synthetic cover
For road and gravel bikes
The WTB Deva is one saddle that will improve your comfort when road biking due to its specific design for women. The flat design is still comfortable due to adequate padding, especially when racing. The inlay on this saddle offer optimum pressure distribution. It is more reliable and lighter than gel on other bike saddles. You get a larger relief zone with the wide front of this bike without interfering edges. Your pelvic bone is also well supported with the V-shape design of the WTB Deva saddle.
Comfortable Bike Seats For Women's Mountain Bikes
Ergon SMC Sport Gel Saddle
MSRP: $89.95
Features
Nylon Composite Sheel
Chromoly Rails
Water-resistant cover
The Ergon SMC Sport Gel saddle for women features body geometry that reduces numbness and ensures blood flow to sensitive arteries in your body. You get ample support and comfort with the microfiber padding on this bike seat when mountain biking,
With high-end technology, you can quickly adapt to this saddle with a short nose to relieve soft tissue pressure during intense rides. With two different widths available, every woman can find the best bike saddle for their size.
Selle Italia SLR Lady Boost Saddle
MSRP: Check on Amazon
Features
Shortnose
Light gel layer
Titanium alloy rails
The Selle Italia SLR saddle comes in black with a short nose design that improves thigh clearance and provides a better fit for women. With a light gel layer, this saddle absorbs vibrations from your trail while reducing pressure. The Fibra-Tek cover is made of lightweight microfiber material, which is highly durable and strong for cycling. Unlike traditional rails, the titanium alloy rails on this bike seat reduce weight and increase resistance when on your bike.
Terry Topo Women's Saddle
MSRP: $99.95
Features
Foam padding
Synthetic cover
Mountain biking saddle
Increase your riding comfort with this Terry Topo Women's saddle. This mountain bike saddle is ideal for mountain and enduro riding. It features a large surface to distribute pressure evenly throughout your pelvic and sit bones.
The relief channel also help relieve numbness with the flat contour allows for faster changes when riding in different positions. This mountain biking seat is available in small, medium, and large sizes for all cyclists.
Fizik Luna X5 Women's Saddle
MSRP: Check on Amazon
Features
Aluminum rail
Comfort core foam padding
Carbon-reinforced nylon shell
This Fizik Luna Women's saddle features a Central cut out for flexible support to your sit bones while reducing pressure on your sensitive areas. With this saddle being designed for outstanding power transfer and lasting comfort, you will better enjoy long-distance rides. The advanced shell of this saddle is made with three different materials to create a strong and flexible bike seat for women. It is available in the color black, which matches various bikes and cycling gear.
Looking for more saddles? See our top picks.
Final Verdict
You might enjoy riding your bike but feel uncomfortable due to the wrong bike saddle. Bike seats for women are designed specifically for the female anatomy.
With the right bike seat, you can say goodbye to back pains, aches, and chaffing so that you can focus more on enjoying your ride.
The most comfortable women's bike seat will be very different from the men's.
These seats feature padding for additional comfort, springs for shock absorption when riding on bumpy terrain, and quality weather-resistant covers to use for longer. You will need to try out a couple of bike seats to find the best one but with the right measurements, you can get the best bike seat for women's comfort bike seat and ride long distances without any discomfort.
There are no comments yet, add one below.