Buzz is a USA-based e-bike manufacturer that boasts surprisingly affordable mid-drive electric bikes and trikes. They're perfect for commuting, cruising, and city riding.
Part of Best Bike Brands
Electric bicycles are becoming more and more popular thanks to their numerous attractive features. Still, as they often come with a very high price, many people decide against buying one. But that's not the case with Buzz.
Could Buzz e-bikes be the best affordable mid-drive option out there? That's the question we will be answering in this detailed overview.
At first glance, there's a high chance that the answer will be positive. Buzz e-bikes and trikes come with upright step-through frames, lights, metal fenders, a front basket, powerful electronics, and disc brakes, to name a few features.
Find out more about these features and the brand itself below!
Overview of Buzz Bikes
Buzz Bicycles is an e-bike manufacturer based in Dayton, Ohio. This is where all the magic happens and where its products are designed and thought through.
The company's goal is to manufacture high-quality electric bicycles and tricycles that will be accessible for everyone. That means that affordability is one of its main priorities.
Even though Buzz is a lesser-known brand, it is actually part of United Wheels. This is a global holding company that also owns Niner, Huffy, Batch, Royce Union, and Allite. Therefore, Buzz seems to be in good hands.
At the moment of writing this review, the brand has just two models on offer—one e-bike and one e-trike. In addition to that, you can also order Buzz's proprietary rear rack and a spare battery.
All in all, if you're looking for a reliable brand that doesn't charge for its name and sells affordable and well-designed products, Buzz seems to be a good choice.
Buzz E-Bikes: Top Features
Even though Buzz e-bikes are very affordable (selling in the range of $999 to $1,699 at the moment), they come jam-packed with useful features that you would be hard-pressed to find elsewhere for the same price.
There are a few areas where the company has cut corners to save money, but the overall package is very attractive and well-equipped.
Here are some of the features we appreciate the most:
Mid-drive electric motor: Buzz products have 350W Tongsheng motors with a 20 mph top speed. This is a nice surprise as most e-bikes in this price range have lower-specced hub motors.
Easy-to-ride geometry: The relaxed, upright geometry makes it easy to ride a Buzz bicycle even if you haven't sat on a bike in decades. Plus, the step-through frame makes it easy to get on and off.
Lockable battery: The 36V 10.4Ah 375Wh battery is seamlessly integrated into the down tube. It's lockable and can be quickly taken out to charge off the bike.
Large LCD display: Buzz e-bikes have a massive display that's easy to read and tells you everything you need to know about your ride—speed, battery level, PAS level, and odometer.
Disc brakes: A pair of mechanical disc brakes with 160mm rotors ensures reliable and powerful braking at all times.
Front and rear lights: You can ride Buzz bicycles at any time of the day thanks to bright front and rear battery-powered lights.
Torque sensor: Most e-bikes in this price range have cadence sensors, but Buzz features a torque sensor that delivers smooth pedal assistance without any lag.
Buzz Cerana
The Buzz Cerana is a powerful two-wheeler with some interesting design solutions and a few surprisingly good components for the money.
At first glance, you notice the step-through aluminum frame with oversized tubes that hosts the bike's 36V 10.4Ah 375Wh battery. Once you start riding, the 350W (500W peak) mid-drive Tongsheng motor becomes apparent as well.
This e-bike will assist you up to 20 mph, for around 15–30 miles, depending on which of the four assist levels you use the most. As mentioned previously, Buzz uses a torque sensor that comes as a treat at this price. Moreover, its LCD display is massive and shows easy-to-read ride and battery data.
Interestingly, the Buzz e-bike rolls on 24″ wheels and oversized tires. The smaller wheels lower the standover clearance making it easy to mount and dismount, whereas the burly tires improve comfort and grip.
Other features that justify the $1,499 price include a 7-speed Shimano Tourney drivetrain, bright front, and rear lights, metal fenders, a kickstand, a front basket, and rear rack bosses.
Powerful disc brakes are also a part of the package and the LCD display allows you to charge your devices via a USB port. That's a very thoughtful feature.
Considering the price and the quality of the components, Buzz could easily be the best affordable e-bike out there.
Related: Best Electric Bikes
Buzz Centris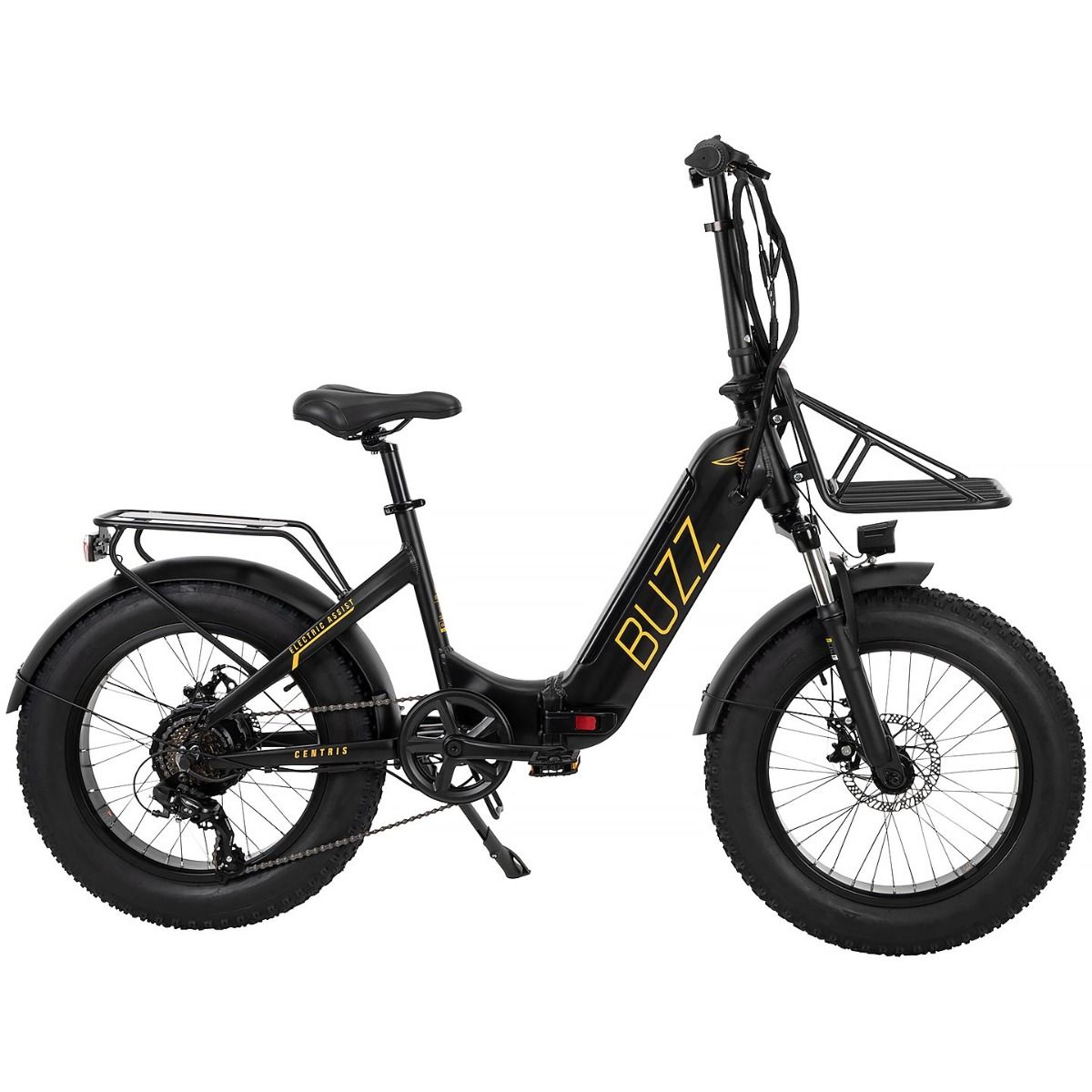 The Buzz Centris is a folding fat tire e-bike with a fascinating array of capabilities. Boasting pedal assist and thumb throttle, you don't have to choose between pedaling or cranking the throttle – you will always have both at your disposal.
Like many other Buzz e-bike frames, the Centris is a step-through aluminum body with oversized tubes, though not quite as bulky as the Cerana. The Centris houses a 48V battery that can be easily removed from the frame. Also powering the ride is a 500W rear-hub motor that will be more than capable of helping you up hills and around the city.
The Centris will assist you up to 20 mph, for around 20–40 miles based on the payload weight and riding terrain. Also influencing the battery life is which of the five levels of assistance you use the most. The Centris even comes with a front rack, , an LCD display, and front fork suspension.
Different from the other Buzz e-bike models, the Centris uses 20" x 4″ wheels and oversized tires that are wider than most other bikes' in this e-bike category. Its smaller wheels also lessen the standover clearance, making it easy to mount and dismount over the step-through frame. The hefty tires increase both comfort and grip on all sorts of terrain thanks to their fat tire design.
For the $1,199 price tag, you also get a 6-speed Shimano Tourney drivetrain, mechanical disc brakes, front and rear lights, fenders, a kickstand, and both front and rear racks.
With all things considered, the Buzz Centris is one of the most unique e-bikes out there. The powerful battery, foldable frame, and fat tires truly make this bike capable of so much more than city riding.
Buzz Cerana T
E-bikes are fun and capable, but electric tricycles can be even more so. In addition to an e-bike, Buzz also makes an e-trike that makes riding effortless and takes cargo-hauling capabilities to the next level.
As a matter of fact, the Cerana and Cerana T have a lot in common. They're built around the same platform, so the frames look similar. However, Buzz Cerana T has a 24″ front wheel and two 20″ rear wheels.
The rear end holds a massive basket that's easy to load and unload thanks to the small rear wheels. It can carry a week's worth of groceries or any other necessities you need on hand. If you want something to be within arm's reach, you can just put it in the front basket.
Related: Best Adult Tricycles
The electric components are completely the same as on the e-bike. You get a 350W mid-drive motor, a 375Wh battery, and a modern LCD display and control panel. By using one of the four available pedal-assist levels, this bike will support you up to 20 mph with the help of a torque sensor.
Buzz Cerana T also boasts front and rear lights, 7 speeds, metal fenders, and powerful disc brakes. The only disadvantage that both models have is that the brakes do not have motor inhibitors.
Get it if you want a stable, fun, powerful, and capable electric tricycle that costs little but delivers a lot.
For more similar electric bike brands, see our reviews of Royal Dutch Gazelle Bikes, Ride1Up, and Rad Power Bikes.
Sizing
Buzz e-bike and e-trike are available in one size only so the range of people who can ride it is limited. Unfortunately, the company does not provide a recommended height range, but it does share geometry information that could help you determine if these products are suitable for you.
Check out the geometry chart we've created below to see if Buzz bikes and trikes are the right fit for you.
| | | | | |
| --- | --- | --- | --- | --- |
| | Seat Tube | Reach | Standover Height | Minimum Saddle Height |
| Buzz E-Bike | 17″ | 23″ | 18″ | 32.5″ |
| Buzz E-Trike | 17″ | 23″ | 18″ | 32.5″ |
Warranty and Shipping
Buzz stands behind its products and offers a warranty on the frame and fork, electric components, and all other components found on the bike. This includes:
A 10-year limited warranty for the aluminum frame against all manufacturing defects.
A 2-year limited warranty for the electric mid-drive motor, 36V Samsung battery, LCD control panel, and electric-assist quick control remote panel.
A 6-month limited warranty for all other bike components.
When it comes to shipping, Buzz ships its products to US addresses only, within the 48 continental states. E-bikes ship free of charge, via Fed Ex, within 1-5 business days, depending on the availability of the products.
FAQ
Buzz bikes are designed in Dayton, Ohio but the frames are made overseas. This way, the company saves money on production costs, which enables it to offer complete bikes at a lower final price. This business model is used by the majority of USA bicycle manufacturers nowadays.
According to the company, the Buzz e-bike weighs 53 lbs, whereas the Buzz e-trike weighs 83 lbs. This is a pretty average weight for e-bikes and e-trikes in this price range.
Electric bicycles that have a throttle can work without pedaling. However, Buzz e-bikes and e-trikes do not have a throttle. Therefore, their mid-drive motor will only assist you while you're pedaling. Once you stop pedaling, the motor will turn off.
Our Thoughts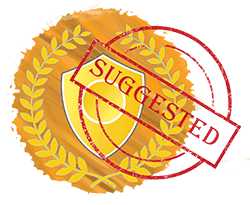 To sum things up, Buzz makes affordable entry-level e-bikes and e-trikes, so you should keep your expectations realistic. While there is always some room for improvement, you can't beat the price considering the mid-drive motor, frame-integrated battery, disc brakes, and other components.
For just $1,499, Buzz outfits its bikes with front and rear lights, metal fenders, an LCD screen, a torque sensor, and a heavy-duty front basket. What more is there to ask for?
If you're looking for a smart way to move around town, commute to work or to school, or just have fun in your free time, Buzz will give you more value than you've bargained for.