If for some reason you can no longer ride a traditional bicycle, it's not yet the end of the road for you. Adult tricycles are fun, practical, and comfortable machines that give you the same workout and pleasure as their two-wheeled counterparts. Learn more about them below!
Tricycles offer the freedom of cycling with an added bonus of stability, comfort, and extra cargo space. No matter if bicycles are not a viable choice for you anymore because of old age, lack of stability, injury, or disability, you should consider the three-wheeled option—the adult tricycle.
For most people out there, tricycles are a bit of a mystery. Most only consider them to be a kids' toy, a solution to haul cargo, or carry passengers. But they're a lot more than that.
In the rest of the article below, we'll provide you with a quick trike buying guide and recommend a few of our favorite models that you can't go wrong with.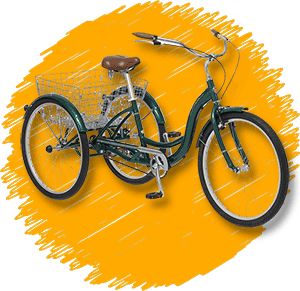 What is a Tricycle?
A tricycle is a pedal-propelled vehicle that resembles a bicycle but instead of two comes with three wheels. Tricycles usually have two wheels in the rear and one in the front, but there are models with two wheels in the front as well.
Adult tricycles work on the same principle as bicycles, but they come with a few differences. They are bulkier, heavier, and slower than bikes. However, they are more stable, more comfortable, and offer more storage solutions.
Who Should Consider Buying a Tricycle?
Adult tricycles can be a good solution for anyone who feels that traditional bicycles don't fully meet their requirements. They are mostly aimed towards people with injuries or disabilities, as well as for the elderly and those with impaired balance.
However, you can consider getting a tricycle even if you don't fit the image above and you are a young and healthy individual. Trikes usually come with large baskets fitted between the two wheels that can carry lots of items, which makes them great for hauling cargo.
Tricycles are a popular cycling vehicle in some European countries such as the Netherlands, Denmark, or Sweden, where people use them to move around the city and take their necessities along.
So, how to find the best adult tricycle?
What Is the Best Tricycle for Adults?
Choosing only one adult tricycle to recommend is hard, which is why we are showing you five instead. You can take a look at the list below to see which ones and learn more about each.
We chose these brands and models because, in our opinion, they offer the best bang for the buck. They're high-quality cycles built to last, with attention to detail that makes them comfortable and practical for the majority of potential users.
Spare a few minutes of your time to find out more about each model below!
---
1. Rad Power Bikes RadTrike
Best for accessories options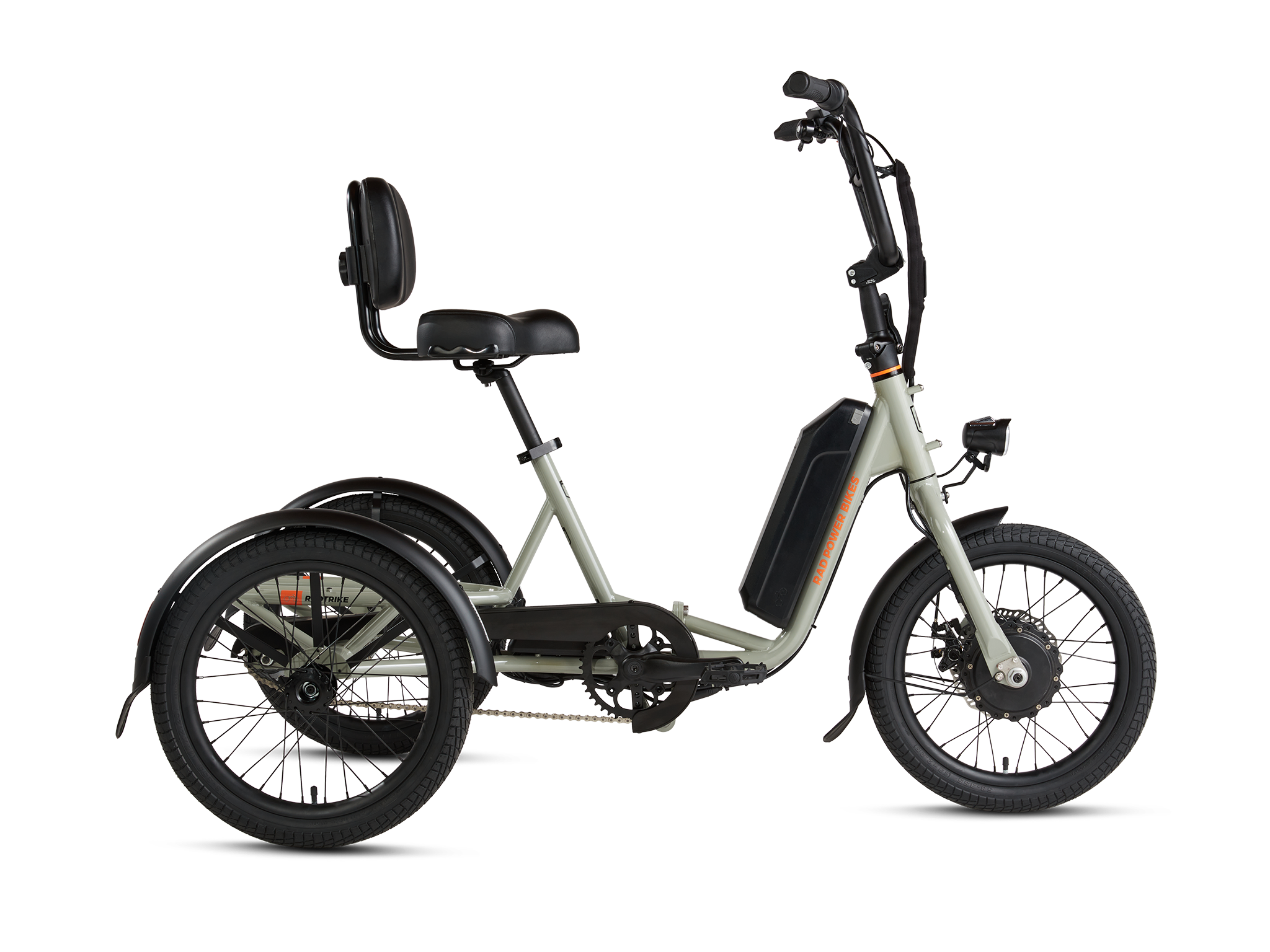 Gears: Single-speed
Fits: R

iders from 4'10" to 6'4″

Key features: Excellent accessory options, seat with backrest, front and rear fenders, reverse feature, parking brake
The RadTrike is a high-quality electric tricycle by one of the most popular e-bike brands. The company's attention to detail is evident in the design, which is intuitive to use and functional.
Rad Power Bikes offers a broad and unique selection of accessories for this model, which makes it ideal for riders who want to customize their e-trike for different jobs and uses. The high-power motor ensures you can effortlessly haul as much cargo as you want, up to 60lb on the back and 30lb on the front.
The 18″ wheels are slightly smaller than we'd hoped, so they don't provide the smoothest ride. However, the seat with a backrest has plenty of padding and keeps you in a comfortable upright position.
Some other useful features of the RadTrike include its parking brake and reverse mode on the throttle, both allowing you to park without stress. Although not the cheapest, this Rad Power trike brings long-lasting quality. Choose it if you have a decent budget and want to personalize the bike with accessories.
---
2. Lectric XP Trike
Best for carrying cargo

Gears: Single-speed
Fits: R

iders from 4'10" to 6'4″

Key features: Hydraulic disc brakes, dual differential axle, integrated lights, 500W motor, parking brake, 60-mile range
The Lectric XP Trike is the best value e-trike on the market. It costs just $1,499 but comes with standout features like hydraulic disc brakes, a 60-mile riding range, and parking brakes.
The XP Trike's rear axle is dual differential, meaning each side turns independently, allowing for greater stability while cornering, which is an issue with tricycles. Another great safety feature is the high-strength hydraulic disc brakes.
Load this tricycle up with 75lb in the front basket and 35lb in the front, or a total of 415lb, including rider and cargo. Thankfully, with a 500W motor, you'll never feel underpowered, even if you max out the carrying capacity.
Add this bike to your list if you want unbeatable affordability from a reliable brand.
---
3. Buzz Cerana E-Trike
Best tricycle for women
Gears: 7
Weight capacity: Up to 250 lbs.
Key features: 24″/20″ wheels, aluminum frame, spacious basket, 350W mid-drive motor
The Buzz Cerana electric tricycle is one of the best models on this list, perfect for men, women, and the elderly.
This electric trike is built around a super-strong aluminum frame that can carry 250 lbs. of weight and rolls on 24″ front and 20″ rear wheels.
If you weight more than you'd want to and you wish to get rid of a few extra pounds, the Buzz Cerana adult tricycle is the right choice.
The Cerana is equipped with a 7-speed drivetrain that's operated by a grip shifter located on the handlebar. By shifting gears up or down, fighting a headwind or a hill will be much more bearable.
Its 350W mid-drive motor will help you here as well, as it offers assistance of up to 20 mph and a 20-40-mile range per charge.
As expected, this is another adult tricycle with a basket large enough to fit a backpack and a few bags, a pet, or groceries. The dual-spring saddle is very comfy but doesn't come with a backrest.
The Buzz Cerana E-Trike is a Class 1 vehicle, so it doesn't have a throttle, but it does come with powerful front and rear disc brakes that will improve your confidence.
We recommend it to heavy riders, but the reality is that anyone will enjoy it for this price.
---
4. MOPHOTO Adult Tricycle
Best for hilly areas
Gears: 7
Fits: R

iders from 4 feet 11 inches to 6 feet, 2 inches tall

Key features: Multi-speed drivetrain, a big rear basket, front and rear fenders, dual-spring saddle, comfortable riding position…
The MOPHOTO adult tricycle is one of our favorite adult tricycles because it costs little but offers a lot to anyone who needs some extra balance.
The bike is available in many exciting colors and comes with color-matching fenders, an eco-leather seat and grips. The large rear basket is huge and has enough room for anything that you want to take along with you.
The MOPHOTO tricycle features a durable aluminum step-through frame that makes it incredibly easy to get on and off the bike, even if you have some injuries that prevent you from lifting your leg high.
The MOPHOTO adult tricycle is our top pick for hills because it comes with a 7-speed drivetrain paired up with a Shimano derailleur. This setup provides you a wide enough gear range to cross over moderate hills without having to dismount.
This cheap tricycle for adults is also great for your knees because of the Flat Foot technology that puts the pedals in front of the saddle. This gives you a forward-pedaling motion and lets you touch the ground with your feet even when sitting on the saddle.
---
5. Schwinn Meridian
Best for short riders
Gears: 1-speed, 3-speed, 7-speed
Weight: 77 lbs.
Key features: Multiple colors, several gearing options, adjustable handlebar, fenders, brakes, large basket, chainguard
Schwinn is one of the oldest and most popular manufacturers of leisure bicycles in the world, but they make tricycles as well.
Schwinn Meridian is a sturdy steel trike that can handle a lot of abuse. The frame has a step-through design, so it's easy to get on the saddle. Once you're on, you can find the right fit by changing the position of the adjustable handlebar and bringing it closer or further away from you.
Schwinn Meridian offers several gearing options for different types of terrain, which makes it a good choice for different rider profiles.
Depending on where you live, gears may or may not play an important role for you. If you live in a flat area, consider saving and buying the single-speed model, but if you live somewhere hilly, it's good to know that this Schwinn adult tricycle comes with 3 and 7 gears as well.
Meridian is also equipped with strong front and rear brakes, as well as with front and rear fenders. The basket behind the rear wheels is huge enough to carry a pet with you or haul all of your weekly groceries.
Finally, Schwinn Meridian is available in multiple colors and fits riders between 5'4″ and 6'2″, so get it if you want a versatile trike that looks good and doesn't cost much.
---
6. DWMEIGI Adult Electric Tricycle
Best for riders who want a electric tricycle
Gears: 7
Brakes: Front and rear discs
Key features: Aluminum frame, steel fork, red finish
Simplicity is key, the DWMEIGI adult tricycle and has been made with quality and comfort in mind and a large motor to take you anywhere.
This tricycle for adults is made with an aluminum frame and fork, it doesn't only look great but it's super easy to jump on and ride.
The drivetrain provides you with seven gears that you can use to pedal more easily, they are made by Shimano so you will get silky smooth shifting and long-term reliability.
The DWMEIGI has a 350w motor and 13AH battery to take you from 25-40 miles in range on a single charge.
The spacious rear basket, fenders, lights, disc brakes, and chainguard are there as well to give you an amazing experience when riding.
All in all, this is a good-looking tricycle made with quality and durable parts, it will offer a great ride for anyone even when fully loaded
---
7. Viribus 3-Wheel Electric Bike
Best adult bicycle
Gears: Single-speed
Weight load: 220 lb
Key features: Step-through frame, wide tires, large rear basket, 250W motor, 15.5 mph max speed
The Viribus 3 electric tricycle is all you really need if you want to get back on the street and start pedaling again.
This fun three-wheeled machine is powered by a 250W front hub motor that will assist you up to 15.5 mph. The 36V, 10.4Ah battery is not the biggest out there, but it will provide you with a 20-mile range, according to Viribus
The Viribus bike is a fantastic electric tricycle and is perfect for popping to the shops and back or just to head out for a ride.
The battery is conveniently set behind the seat tube, so you can easily get on the bike's step-through frame. This electric tricycle also comes with a massive rear basket that you can use to carry whatever comes to your mind.
It has three modes, manual if you want to do the work yourself, hybrid for a little bit of assistance, or full power and it will do the work for you.
In short, this electric tricycle for adults is all you really need to pedal around town, get a good exercise, finish errands, and do groceries.
Things to Keep in Mind When Buying a Trike
---
Adult tricycles have a lot in common with traditional bicycles. They have wheels, brakes, a chain, cogs, sprockets, handlebar, saddle… you get the point.
However, since the frame and the overall design are a bit different, some might be confused when it comes to choosing the best adult tricycle that fits their budget and needs.
Here is a rundown of the most important parts of an adult tricycle that you should pay attention to when making the purchase.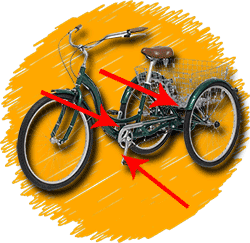 Brakes: The majority of budget adult tricycles come with a V-brake/drum brake combination. The front wheel usually has a V-brake, whereas a drum-brake stops the rear wheels. However, some more expensive models may have mechanical or hydraulic disc brakes instead. In our opinion, any option is good enough for standard everyday use.
Shifters: Shifters are used to operate derailleurs and change gears, making it easier for you to keep pedaling when going uphill or against a headwind. Most inexpensive adult trikes have entry-level Shimano parts that get the job done without any issues.
Drivetrain: The drivetrain is one of the most important parts of your trike. It includes the pedals, front sprockets, rear cogs, and the chain. Make sure that they are high quality because the drivetrain handles a lot of strain, especially if you are a heavy rider or you ride up a lot of hills.
Gearing: Most cheap tricycles for adults have between 1 and 7 gears. If you live in a flat area, 1 or 3 gears should be enough for you. However, if you live somewhere with hills or strong headwinds, you should consider getting a 7-speed model, or even an electric model.
Handlebar: The handlebar on most tricycles is height and reach adjustable. This is important because it allows you to fine-tune your position on the trike and enjoy long rides without any pains or aches. Still, even if your tricycle comes with handlebars that don't suit you, you can easily change them for a few bucks.
Basket: All tricycles come with a basket fitted on the side that has two wheels. If you plan to ride with a dog or carry a lot of groceries or other types of cargo, make sure that the basket is sufficiently large for your needs.
Frame: The frame on adult tricycles is usually made from steel, but some models come with aluminum frames as well. Steel is an excellent material for trikes because it is strong, durable, and easy to repair. A certain percentage of people buying trikes are overweight, which makes this type of cycle ideal for them because it can handle the extra weight.
Accessories: Apart from the basket, your trike may or may not come with a few other accessories. The most common ones include fenders, a kickstand, chainguard, water bottle cages, reflectors, and lights. Usually, the more accessories there are, the more expensive the trike will be. So think about which ones will make a difference for you before you start shopping.
Maintenance: Keep in mind that you need to maintain your tricycle the same way you need to maintain a bicycle if you want it to keep running smoothly for a long time. This includes washing it when it gets dirty, cleaning and lubricating the drivetrain, re-greasing hubs and bearings, adding air to the tires, and re-tightening nuts and bolts. You can do most of these things by yourself, but if you're not mechanically inclined, take your adult tricycle to a local bike shop and let the professionals do it for you.
Storage: Unfortunately, storage is one factor that you need to consider when purchasing a tricycle. You need a lot more room to store it compared to a bicycle, which is a dealbreaker for some people. It's best if you live in a house and have a garage, a shed, or a backyard since a tricycle would take too much room in an apartment.
FAQ