Santa Cruz has been refining their full suspension and hardtail mountain bikes for almost 30 years. The lineup is huge and meets the needs of amateurs, enthusiasts, and pros alike. Learn more about the best they offer below.
Santa Cruz is a USA-based company established by bike lovers that builds premium full-suspension and hardtail bikes, as well as top-of-the-line gravel bikes.
The selection of models is absolutely massive, and even though the prices are steeper than the competition, it seems that you get serious value and unprecedented quality in return.
So are Santa Cruz Bikes worth the often outrageous price? Find out below.
If you are looking for a specific model, feel free to use the shortcuts:
The Story Behind Santa Cruz Bikes
Santa Cruz Bikes was founded in 1994 by the skateboarding legend, Rob Roskopp. Somewhat a cliche, but the company started in a space the size of a single-car garage in Santa Cruz, California, and went on to become one of the biggest and most influential bicycle brands in the world.
The first bike Santa Cruz built was Tazmon, a single-pivot dual-suspension bike that caused a stir in the West Coast mountain biking circles.
Emboldened by the initial success, Santa Cruz continued to improve and refine their bicycles and today offers a wide range of high-performance models for true cycling enthusiasts and pros.
Santa Cruz owns the company Juliana Bicycles, which makes similar bicycles, but their bikes are oriented towards female riders.
---
Santa Cruz Models
---
Nomad
Type: Full suspension
Tire size: 27.5″
Travel: 170mm
FULL REVIEW of Nomad
Santa Cruz Nomad is a long-travel 27.5″ full-suspension bike that pushes the limits of conventional bike handling. This a dynamic and exciting trail bike that can handle long descents, grueling climbs, and tight bends without a second thought.
The new nomad is longer and slacker than ever before, with 170mm of travel front and back. It comes in eight different builds, available with carbon C or Carbon CC frames.
Depending on which build and which frame material you choose, Santa Cruz Nomad can be yours for as little as $5,150 or as much as $10,250. The price is bold, but so is the bike!
Bronson
Type: Full suspension
Tire size: Mixed
Travel: 160/150mm
Bronson is perhaps one of the most versatile full-suspension bicycles in Santa Cruz's rich collection. It's an all-mountain bike that excels no matter the terrain and the degree of the climb/descent you put it against.
It bounces on 160mm in the front and 150mm on the rear, and Santa Cruz made it available with a Carbon C or Carbon CC frame. Therefore, you can either get it relatively cheap or you can splurge.
Bronson features Santa Cruz's lower-link mounted shock that gives it the best possible balance between stability and agility. Its wide mixed-size wheels are ideal for navigating technical trails and descents.
5010
Type: Full suspension
Tire size: 27.5″
Travel: 140/130mm
Santa Cruz 5010 has to be one of the most capable and most popular full-suspension bikes Santa Cruz offers at the moment. It's a trail bike with a moderately long travel that makes for a fast and responsive ride and lets you descend, hop, jump, and explore challenging routes.
It has a 140mm fork that's paired with a 130mm rear shock and a lower-link VPP configuration that changes how the bike feels.
Santa Cruz 5010 comes in three builds with a Carbon C frame and two builds with a Carbon CC frame. The price starts at around $4,800 but goes up to $9,600.
Megatower
Type: Full suspension
Tire size: 29″
Travel: 160mm
Santa Cruz Megatower is the tank in the cycling world that can do anything and go anywhere. The combination of huge 29″ wheels and a plentitude of front and rear suspension travel lets it deal with obstacles without any negotiations.
This bike is inspired by the Hightower model but it's infused with a lower-link VPP suspension derived from the V10. Santa Cruz calls it the most confidence-inspiring bike in their lineup.
At the moment, it comes in 8 unique builds — four with a Carbon C frame and another four with a Carbon CC frame. The component groups include the likes of SRAM NX/GX Eagle, Shimano XT, X01 Eagle, and XX1 Eagle.
Hightower
Type: Full suspension
Tire size: 29″
Travel: 150/145mm
If you want to get a little bit of everything Santa Cruz has to offer in terms of technology and engineering, you should get the Hightower model.
The reason why the Hightower has been in the lineup for quite a long time is that it is a do-it-all-well bike that can fill a spot in any rider's garage.
It has 150mm of fork and 145mm of rear shock travel coupled with the lower-link shock design and adjustable geometry thanks to the flip-chip feature. Best of all, Hightower pricing starts at $3,500 as it's available with aluminum and carbon frames.
If you really want just one bike to rule all the trails, Hightower is a safe bet.
Tallboy
Type: Full suspension
Tire size: 29″
Travel: 130/120mm
Some might wrongly think that short-travel bikes are not as exciting as their long-travel counterparts, but Santa Cruz Tallboy is here to prove all of them wrong.
Tallboy has 130mm of squish on the fork and 120mm on the rear shock, with an adjustable lower-link VPP suspension system. Plus, the 29″ wheels will encourage you to accelerate whenever there's a chance.
It also has quite slack geometry with a 65.7-degree head tube angle and a short fork offset, which is something that's not often seen on short-travel bikes.
You can get it in one of seven builds with either aluminum or carbon frames.
Blur
Type: Full suspension
Tire size: 29″
Travel: 100mm to 115mm
Do you know why Santa Cruz called this bike "Blur"? Because you'll be so fast that you'll appear to be a blur when storming the straight sections of the trail.
Blur has between 100mm and 115mm of rear travel and with a dual remote lockout and the stiffest and lightest carbon frame that Santa Cruz has ever made it is a seriously exciting XC bike.
This bike is available in two beautiful colors, Salmon red or Black, and comes equipped with different levels of SRAM Eagle or Shimano XT 1x groupsets, depending on how much money you're willing to spend.
Get it if you love speed, distance, and all-day-long rides.
Highball
Type: Hardtail
Tire size: 29″
Travel: 100mm
If you think that hardtail bikes are boring, you've probably never ridden one that resembles the engineering of Santa Cruz Highball.
This is Santa Cruz's flagship XC race hardtail bike that rolls on massive 29″ wheels. It's built around a lightweight Carbon C or Carbon CC frame.
Highball has a 27.2mm diameter seat post that will make your long hardtail rides not hard at all, mounts for up to three bottle cages, a threaded BB, and SRAM NX, GX, or X01 Eagle components.
If you want to race cross-country, bikepack, or just explore the wild, Santa Cruz Highball can do it all.
Chameleon
Type: Hardtail
Tire size: 27.5+ and 29″
Travel: 120 – 130mm
Santa Cruz Chameleon is a shape-shifting masterpiece of a hardtail bike. It is finally available with a carbon frame, though the good-old aluminum version is still around as well.
Chameleon is a crazy-versatile bike as it can fit either 27.5+ or 29″ wheels and run a single-speed or geared drivetrain. That's possible thanks to plenty of tire clearance and adjustable dropouts.
You can get Chameleon with 120mm or 130mm of travel, depending on the wheel size. It also comes with either SRAM NX or SX Eagle drivetrains, which makes it quite affordable — prices vary between $2,599 and $3,199.
Stigmata
Type: Gravel/CX
Tire size: 650b, 700c
Tire Clearance: 45mm (700c) or 2.1″ (650b)
In addition to building unique and capable full-suspension and hardtail mountain bikes, Santa Cruz has proven that they can make a top-class gravel bike as well with the Stigmata model.
Stigmata has generous tire clearance which lets you choose between 700C and 650B wheels, internally-routed hydraulic disc brakes, as well as thru-axles.
Stigmata is only made with the premium Carbon CC frame, equipped with mid-range and high-end SRAM or Shimano components. You can fit it with three water bottles, but there are no rack mounts.
If you want to smash gravel and CX races and routes on a sub 20 lb. carbon bike with thoughtful engineering, I don't know what you're waiting for.
Jackal
Type: Hardtail Bike Frame
Tire size: 26″
Travel: 100-160mm
If you're an experienced mountain dweller then you probably know exactly what you want out of your next trail bike, including all the tiny details, to the last bolt.
If none of the Santa Cruz models quite meet your demands, you can make your own using the aluminum Jackal hardtail frame.
It's intended to roll on the traditional 26″ wheels, coupled with anywhere between 100mm and 160mm of front travel. So, you can turn it into an extreme dirt jump bike or into a tame companion. You can also ride it as a single-speed or geared bike thanks to sliding rear dropouts.
V10
Type: Full suspension
Tire size: 27.5″, Mixed, or 29″
Travel: 215mm
Extreme routes and rides require extreme bikes to get them done. If your array of reasons for riding bikes includes winning races and taking photos on podiums, Santa Cruz V10 will be a good teammate for you.
It's a Downhill Carbon CC bike with 200mm of front travel and 215mm of rear travel. That's probably the most you can get in the DH world.
The frame is versatile, so you can build it to fit your preferences by riding 27.5″ or 29″ wheels, as well as a mixed variant. Simply said, Santa Cruz V10 is the bike of future DH world champions.
---
Santa Cruz E-Bikes
---
Bullit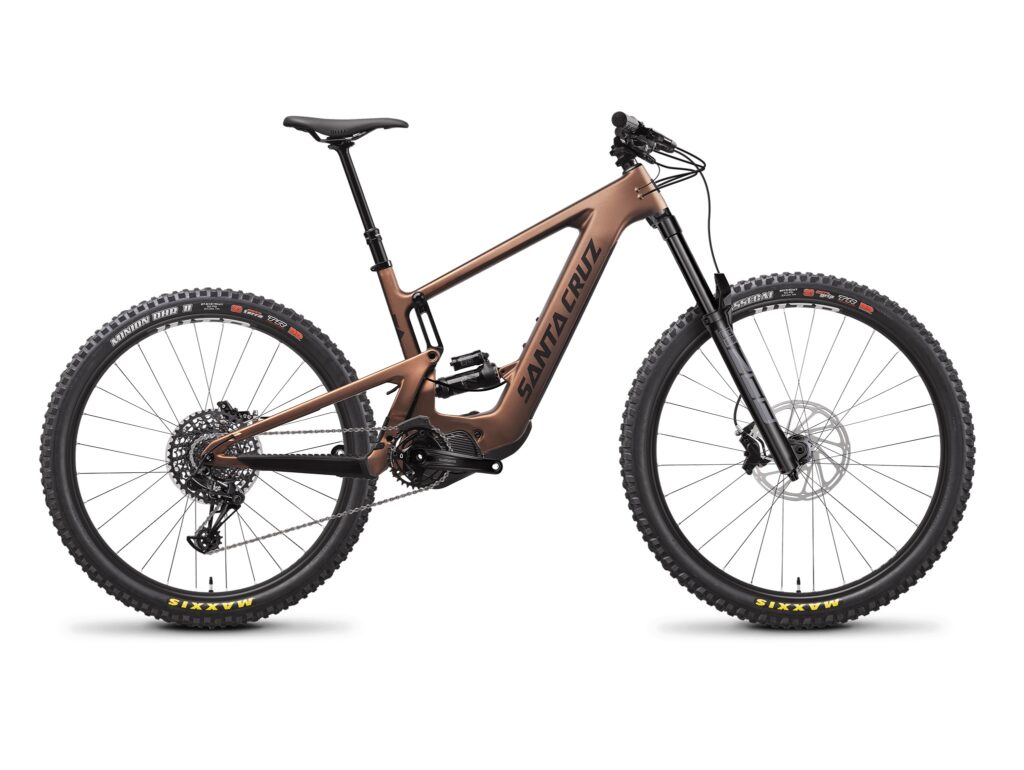 Motor & Battery: Shimano DU-EP800 & 630Wh Battery
Tire size: Mixed (29″ front, 27.5″ rear)
Travel: 170 mm
Santa Cruz Bullit is a serious weapon on the trails due to its long suspension and powerful drive unit. As you can guess from its name, this bike is as fast as a bullet, no matter if you point it uphill or downhill.
Bullit is powered by Shimano's high-performance DU-EP800 mid-drive motor with 85Nm, so you won't lack the zippiness no matter the gradient. The drive unit is coupled with a 630Wh integrated battery that translates into a long PAS range.
Santa Cruz wanted to make this bike just as capable as its non-electric brethren, so it equipped it with 170mm of front and rear travel and mixed wheels for maximum rollover and maneuverability.
The bike comes complete with a premium carbon CC frameset, and it's available in six diverse builds and two unique colors.
Heckler
Motor & Battery: Shimano DU-EP7000 or DU-EP800 720Wh Battery
Tire size: 29″
Travel: 140mm (MX) 150mm (27.5″)
In addition to "traditional" mountain bikes that carve new lines on mountain trails, Santa Cruz also makes e-bike models that offer pedal assist, yet retain serious off-trail performance.
This serious electric mountain bike is powered by a Shimano DU-E8000 motor, rolls on 29″, and comes in four different builds. The batter has a 720 Wh capacity, which should ensure a long enough range to help you get up the trail as many times as you'd like.
Heckler offers 160mm of front travel and 150mm of rear travel with 29″ wheels and 150mm /140mm with mixed wheels. This hefty suspension is coupled with an ultra-lightweight carbon CC frame available in four colors.
If you have between $8,749 and $11,149, it can be yours.
FAQ